Netflix has a massive movie catalog these days, both original productions and entertainment licensed from studios across the globe. Not all of it is great—for every The Irishman you'll encounter two or three bombs like The Kissing Booth—so finding something worthwhile to watch can be a challenge if you don't have the time or patience to sift through thousands of titles. Here we focus on the best that Netflix has to offer, so you can spend more time watching and less time searching.
Updated May 19, 2022 to add new recommendations. Jeff's earlier recommendations follow, also in alphanetical order, starting with Christine.
Forgetting Sarah Marshall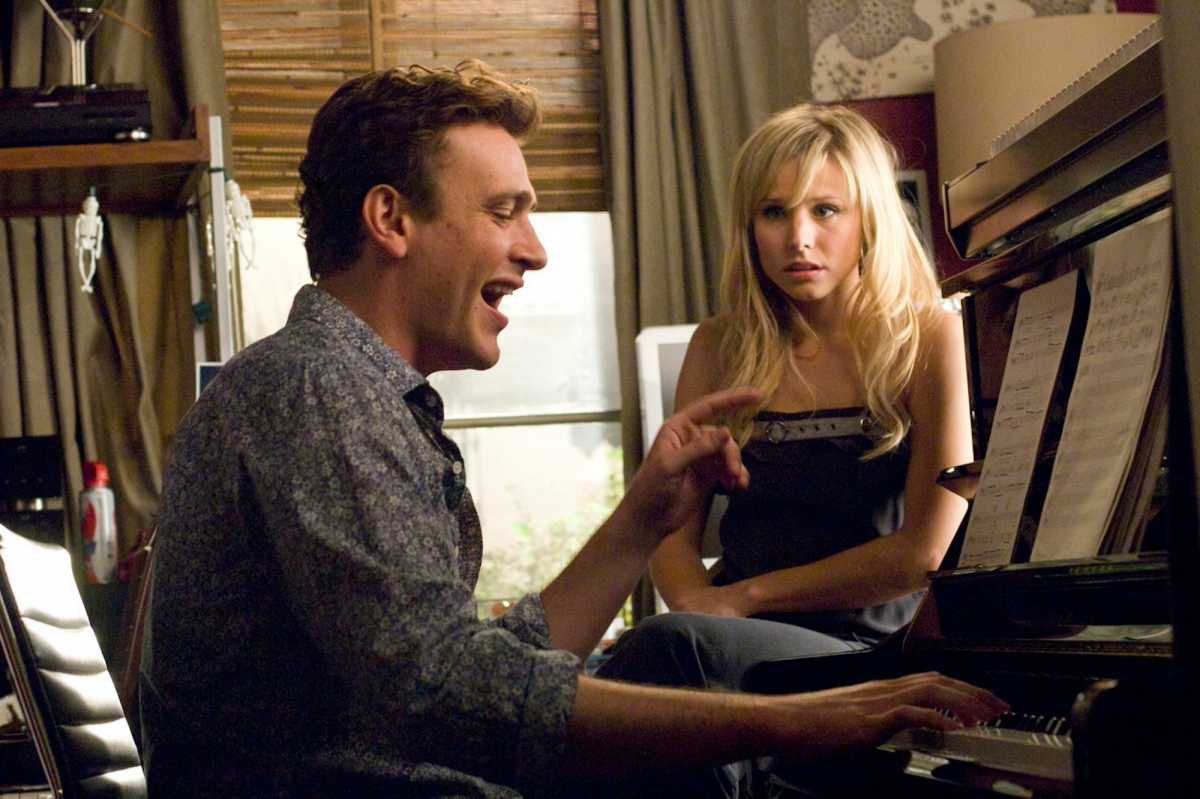 Universal
Jason Segel wrote this comedy quadrangle that features an astounding array of talented comedy stars being almost constantly funny. TV actress Sarah Marshall (Kristen Bell) dumps her boyfriend Peter Bretter (Segel), so he goes to Hawaii to try and get over her. Unfortunately, Sarah is also there, staying in the same hotel, with her new boyfriend, rock star Aldous Snow (Russell Brand). Happily, a cute desk clerk, Rachel (Mila Kunis), befriends him and things begin to look up again.
Forgetting Sarah Marshall (2008) also features Bill Hader, Jack McBrayer, Jonah Hill, Paul Rudd, and Jason Bateman; Kristen Wiig's hilarious scenes as a yoga instructor were unfortunately deleted from the theatrical cut, but it can be seen in the "extended" cut. Yet, perhaps the funniest line belongs to Da'Vone McDonald, as he pronounces the name of the state fish of Hawaii. At the climax, Segel gets to perform part of his Dracula puppet musical, a creation that some say led to his job co-writing the screenplay for The Muppets (2011).
42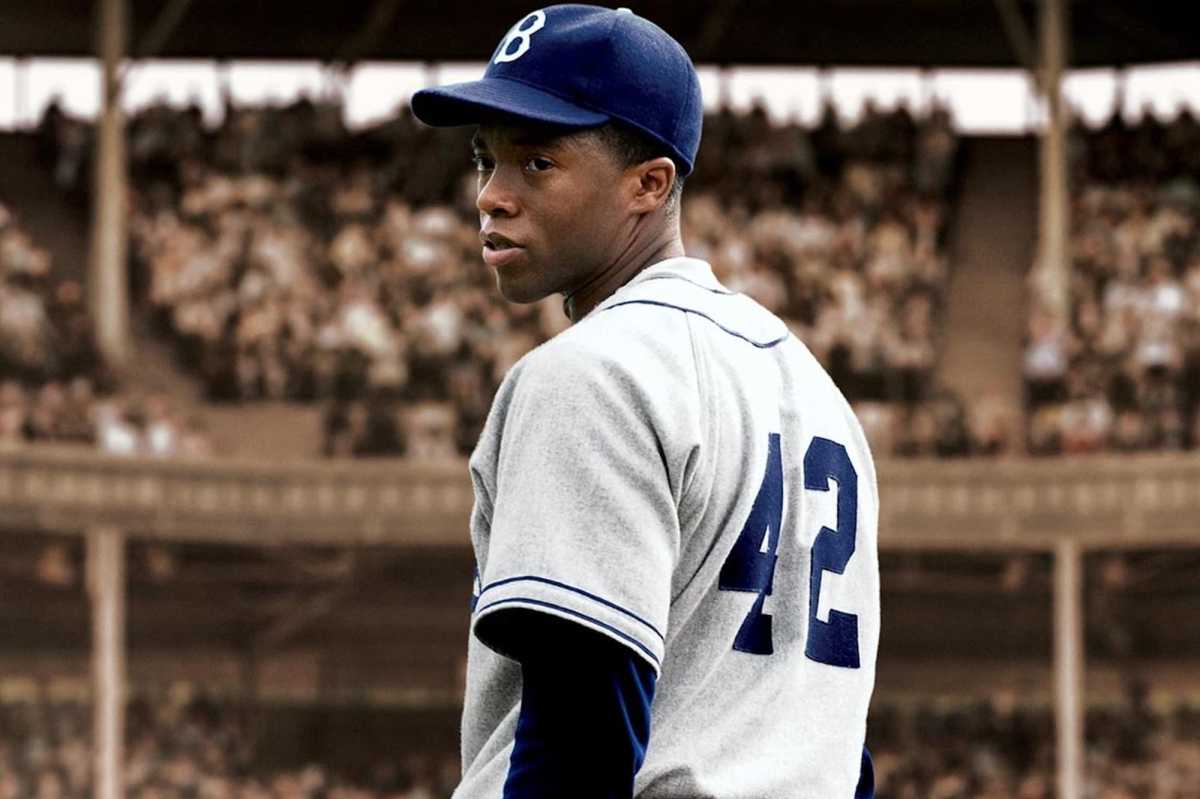 Warner Bros.
Brian Helgeland's 42 (2013) is unabashedly sentimental and larger-than-life, but deservedly so. The late, great Chadwick Boseman stars as Jackie Robinson, the ballplayer that, in 1947, broke the color barrier in Major League Baseball, and gave hope to generations. This was not as easy as it looked, and Robinson was, and is, inarguably a hero.
If the movie has a flaw, it's that this character is difficult to create as a relatable human being (he's more like Superman). And many of the supporting characters, including Nicole Beharie as Rae and Andre Holland as black baseball journalist Wendell Smith, are a tad underwritten, relating only to the legend, and without their own inner lives. But Harrison Ford is truly magnificent as Brooklyn Dodgers GM Branch Rickey, delivering his lines in a rumbling drawl, half-smoked cigar forever perched in his hand. He's a complex character; he knows he's doing something important by signing Robinson, but he also knows that he'll sell lots of tickets. Helgeland—who won an Oscar for co-writing L.A. Confidential—handles the period detail exquisitely, and his baseball footage is never less than exciting.
Menace II Society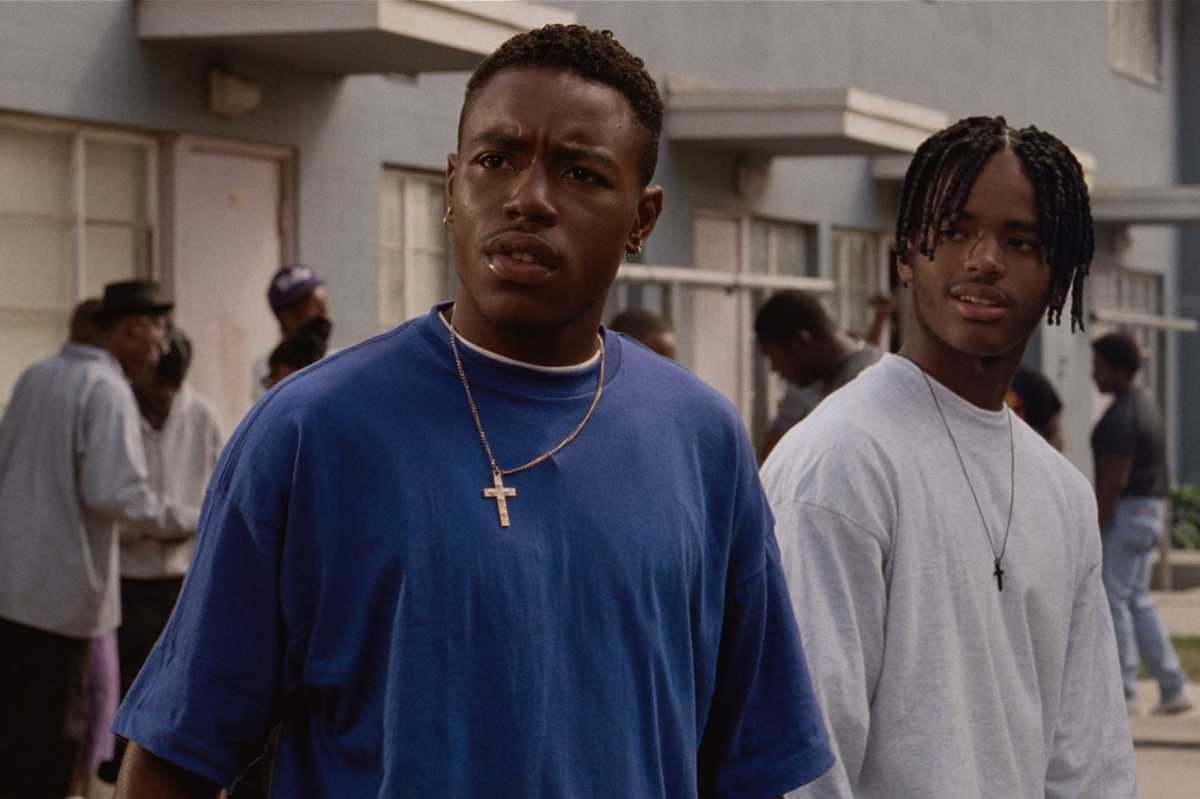 New Line
Directed by twins Allen and Albert Hughes, in their feature debut, Menace II Society (1993) still has the power to shock and devastate, as it tells its frank story about growing up without hope in a lower-class, all-Black neighborhood. It's stylish and slickly directed, but without losing out on its rawness or its howl of rage. Without ever preaching, the movie illustrates its sad cycle as disgracefully matter-of-fact.
Caine (Tyrin Turner) has been raised in Watts around murder, guns, drugs, alcohol, and sex, and yet, he somehow still seems to have a good heart. His pal, O-Dog (Larenz Tate), on the other hand, is a loose cannon. When they enter a liquor store to buy beer, it turns into a bloodbath when O-Dog suddenly kills the proprietor. Later, a botched carjacking links Caine to the crime. Jada Pinkett has her first role as a young mother, perhaps the only character with a plan, and veterans Samuel L. Jackson, Charles S. Dutton, and Bill Duke appear in smaller roles.
Here are Jeff's earlier recommendations of what to watch on Netflix.
Christine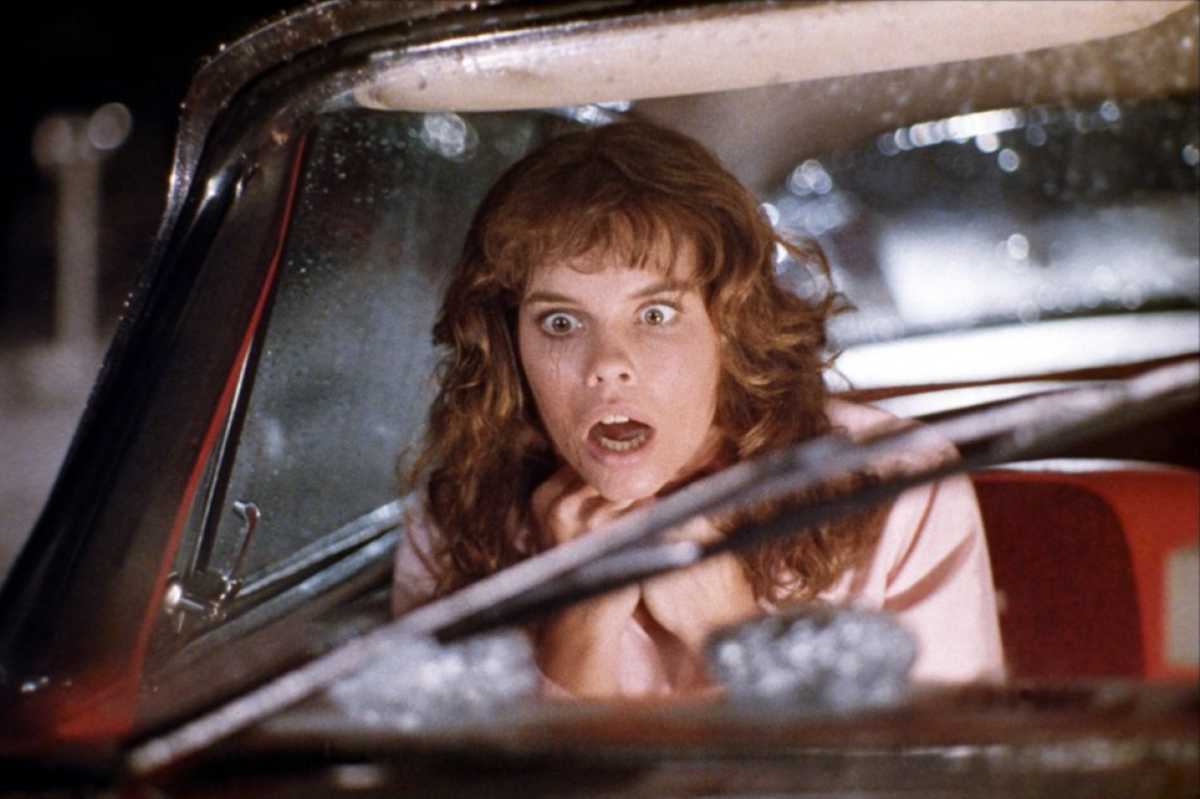 Columbia Pictures
This adaptation of Stephen King's haunted car novel may have seemed like a silly idea, but, as it was made during a prolific decade of superb genre work by director John Carpenter, Christine (1983) is filled with glorious, innovative widescreen filmmaking that has stood the test of time. It's the classic story of a nerd, Arnie (Keith Gordon) and a car, the 1958 Plymouth Fury called "Christine."
As Arnie repairs the beat-up old car, he also transforms into a smooth, tough-talking rebel, who badgers his new girlfriend (future "Baywatch" star Alexandra Paul) and his football-playing best friend (John Stockwell). At the same time, some bullies that picked on Arnie wind up dead, and a police detective (the always-welcome Harry Dean Stanton) begins nosing around. Carpenter focuses on the nuts and bolts of the story, and the emotional wreckage of it, coaxing decent performances from his cast. It also has a great soundtrack of 1950s oldies, used to brilliantly spooky effect.
Concrete Cowboy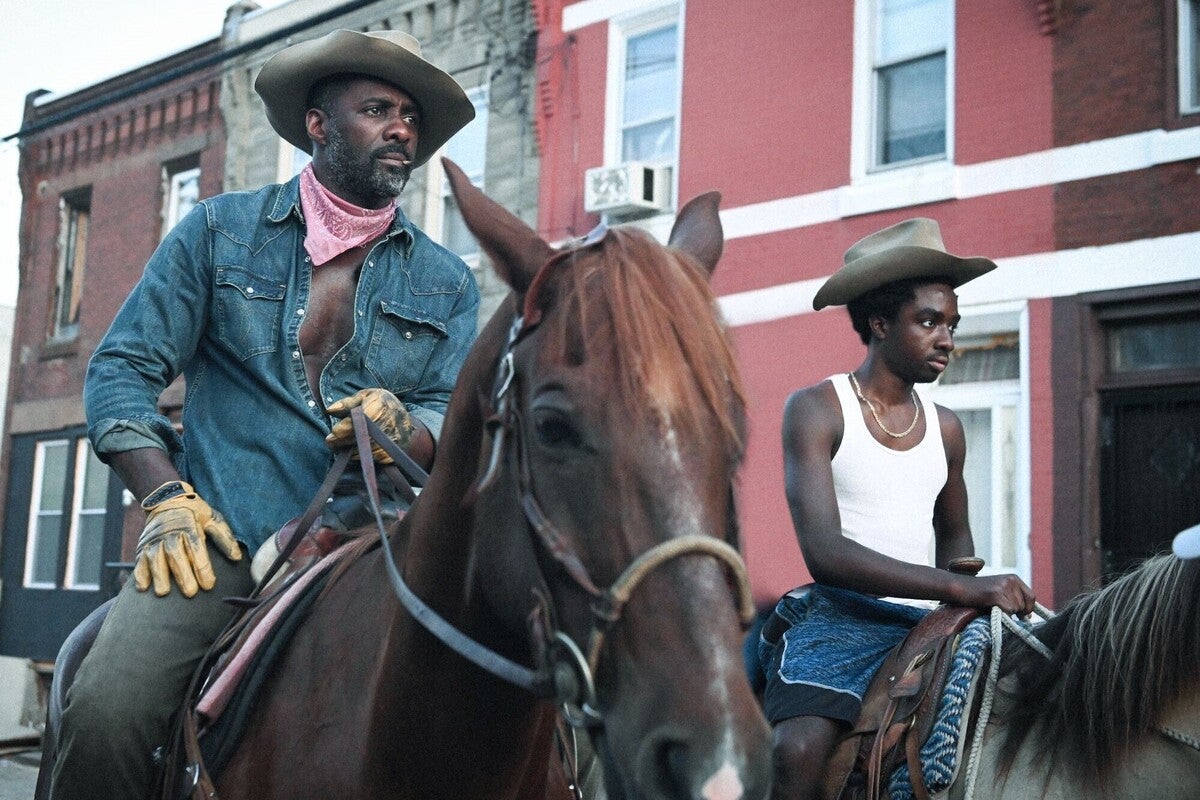 Based on a novel by Greg Neri, Concrete Cowboy (2021) moves with a most familiar story arc, but its setting is wonderfully unusual. Teen Cole (Caleb McLaughlin, from Stranger Things) has been in one fight too many in his Detroit high school, so his mother sends him to live with his father, in Philadelphia. The father, Harp (Idris Elba), is part of a community that raises and rides horses amongst the big city hustle-bustle. Of course, father and son are going to clash and Cole will get into more trouble, and then, eventually the son will fall in love with horses, bond with one horse in particular (a troublemaker named Boo), connect with his father, and become a better person.
But the setting—the ramshackle, slightly illegal stables—and the connection to the past (many American cowboys were Black, a fact that white history tends to overlook) make it endlessly fascinating and lovable. A scene with a man in a wheelchair riding a horse may have viewers wiping away tears. Clifford "Method Man" Smith, of the Wu-Tang Clan, plays a sympathetic cop.
Don't Look Up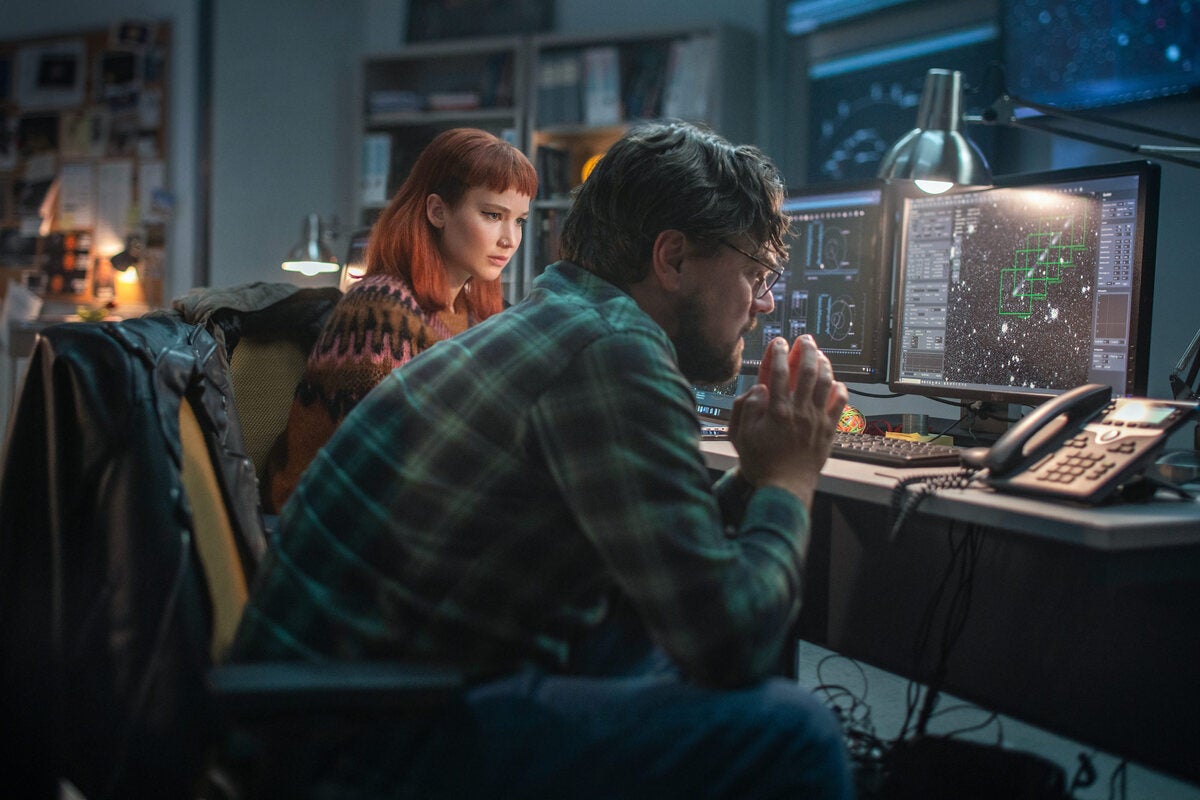 Wildly popular and aggressively divisive, Adam McKay's follow-up to his The Big Short and Vice, Don't Look Up (2021), is building awards momentum even as it rocks a rotten 55 percent rating on Rotten Tomatoes. It's a satire that isn't particularly funny—Jonah Hill, as the United States President's idiot son, provides the movie's precious few laughs—and doesn't really skewer anything so much as it simply points and rages righteously.
Leonardo DiCaprio and Jennifer Lawrence play astronomers who discover a planet-killing comet headed directly toward Earth; yet, they find they can't get anyone to pay attention or do anything. The U.S. President (Meryl Streep) only leaps into action when it suits her, image-wise, and then, when the comet is discovered to contain valuable minerals, an internet billionaire (Mark Rylance), takes over, risking humanity to preserve the comet's riches. Whichever way you feel about the movie's manipulations, it's difficult to watch without being affected.
The Exorcist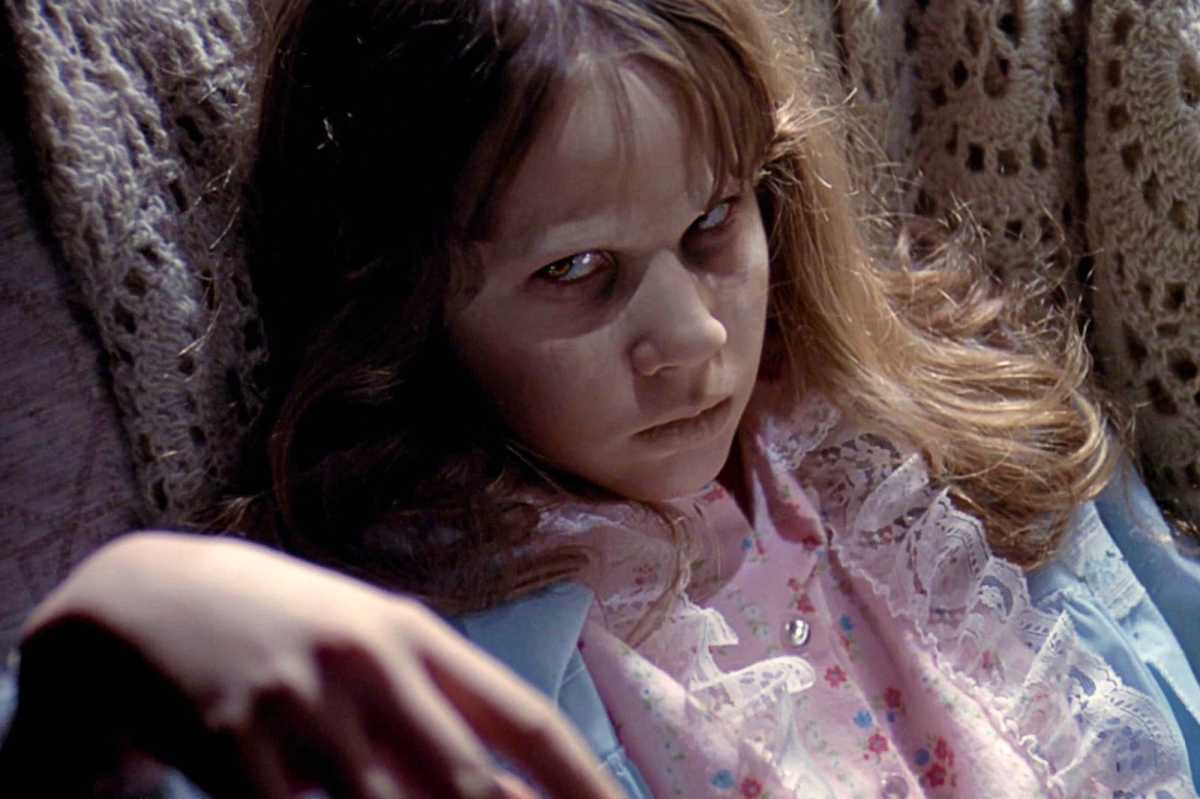 Warner Bros.
On the day after Christmas, 1973, people lined up for blocks and blocks to see this, one of the scariest movies ever made. Adapted from William Peter Blatty's novel and directed by William Friedkin, The Exorcist (1973) gets its power from Friedkin's realistic approach, emphasizing process over sensation. Indeed, the scariest scene in the movie doesn't involve demons at all; it's the moment in which young Regan (Linda Blair) gets an angiogram test in a cold hospital room, the machine clanging mercilessly as Regan screams.
Ellen Burstyn plays Regan's actress mother, who begins to notice strange things going on, Jason Miller and Max von Sydow play Fathers Karras and Merrin, who try to exorcise the demon, and J. Lee Cobb plays Lieutenant Kinderman. In a bit of brilliant casting, Mercedes McCambridge provided the demon's voice. The gorgeous Georgetown autumn exteriors provide a quiet calm that clashes with the events to come. It became one of the highest-grossing films of all time, and received 10 Academy Award nominations. Netflix offers the original 121-minute theatrical cut.
Fear Street Trilogy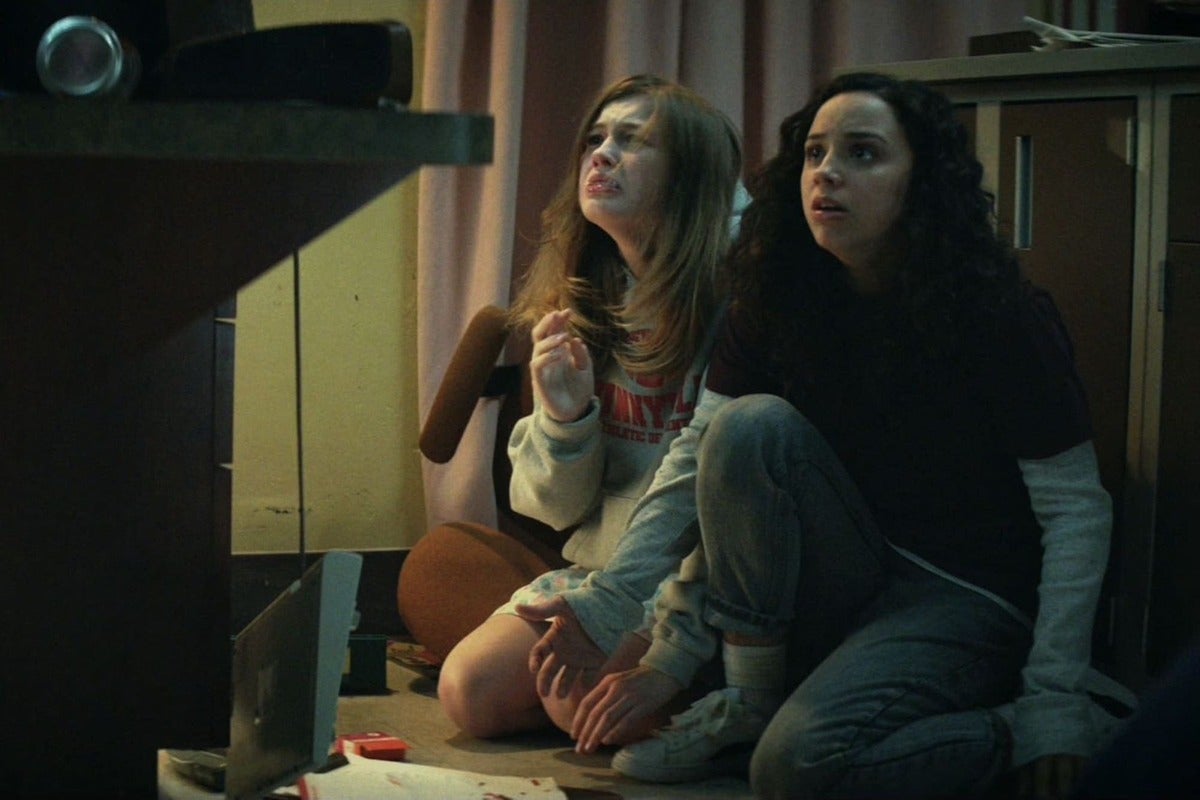 Based on a series of Young Adult novels by R.L. Stine and directed by Leigh Janiak (Honeymoon), the three Fear Street movies achieve the neat trick of feeling like YA stories, but including grown-up gore to please more sophisticated horror fans. Fear Street: Part One – 1994 sets up the tale about a centuries-old witch, "Sarah Fier," who possesses the bodies of teens and goes on murderous rampages (accompanied by some cool, vintage alt-rock tunes).
Fear Street: Part Two – 1978 is a summer-camp movie with high socks (think Meatballs meets Friday the 13th). And Fear Street: Part Three – 1666 transports all the actors back in time, playing earlier incarnations of themselves and ingeniously wrapping things up.
The Harder They Fall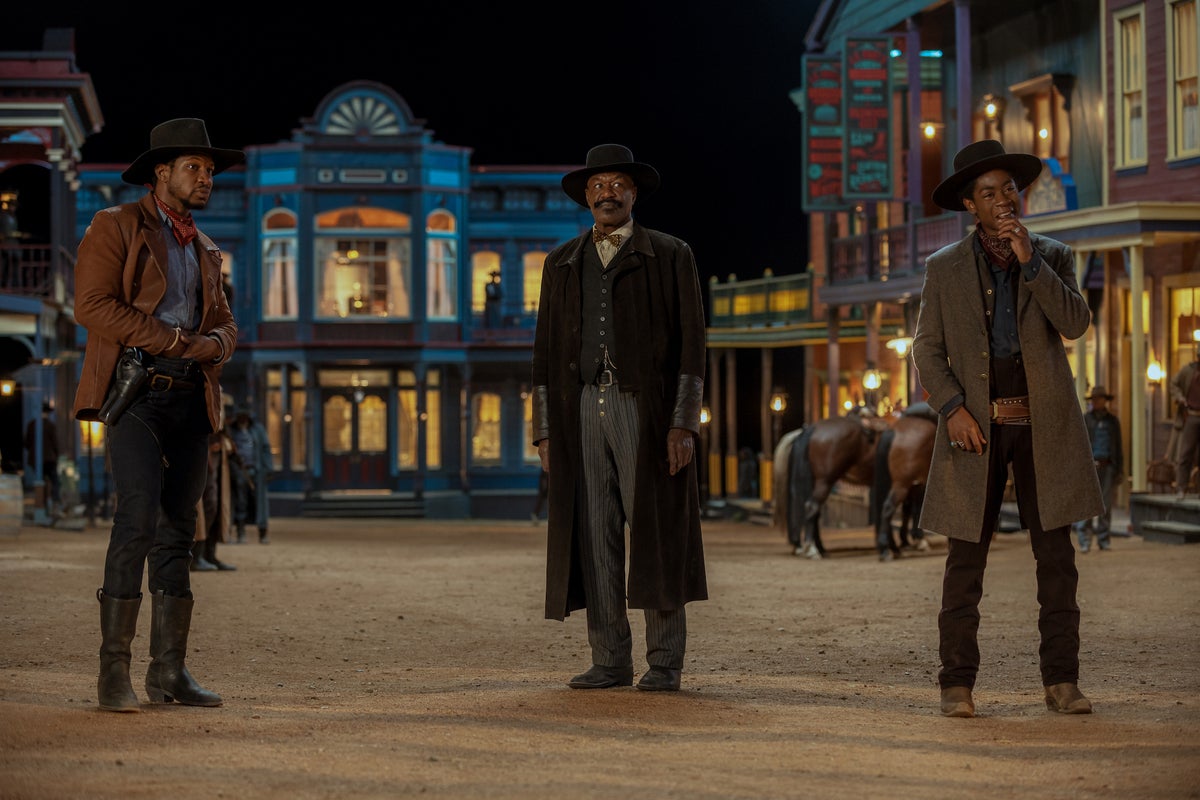 An exciting mess of a movie, lit as if shining the frontier sun through a prism, Jeymes Samuel's bold, kinetic all-Black Western The Harder They Fall (2021) is a must-see for anyone who can handle gore in the name of art. The complex 139-minute tale has Nat Love (Jonathan Majors) seeking revenge against Rufus Buck (Idris Elba) for killing Nat's family when he was a child (and also carving a small cross in the boy's forehead). They each form gangs—Stagecoach Mary Fields (Zazie Beetz) and Bass Reeves (Delroy Lindo) join up with Nat, and Trudy Smith (Regina King) and Cherokee Bill (LaKeith Stanfield) are on Buck's side—and go to war, with bloody headshots aplenty.
Director Samuel emerges full force, with fluid, confident use of color, space, and rhythm, where characters sizing one another up is as important as the shooting, and it all becomes a rumination on violence itself. While the story is fictional, and practically unreal, the characters' names come straight out of the history books.
The Lost Daughter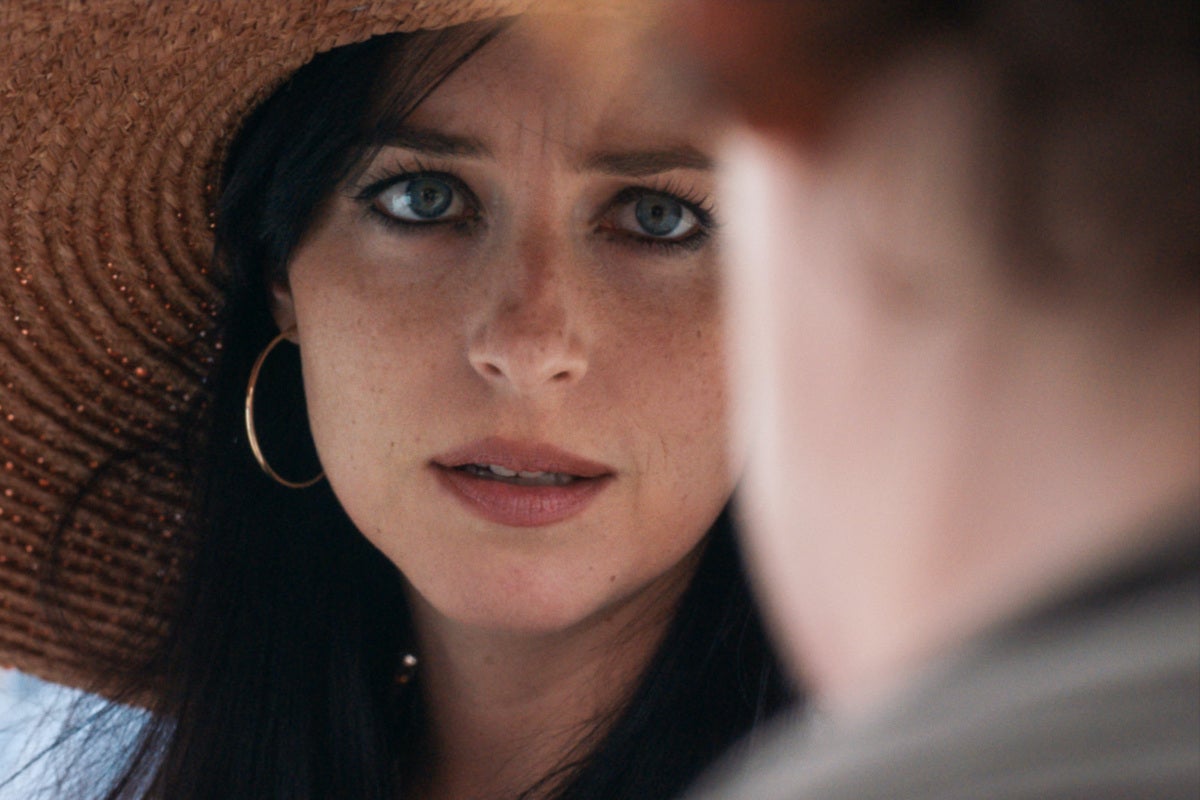 Maggie Gyllenhaal makes her feature writing and directing debut with The Lost Daughter (2021), based on a novel by Elena Ferrante. It concerns a professor, Leda (Olivia Colman), who takes a solitary beach vacation and finds her quiet interrupted by the arrival of a large family. Leda helps Nina (Dakota Johnson) find her lost daughter, but also decides to steal the child's beloved doll.
In flashback, young Leda (Jessie Buckley) faces the overwhelming challenges of being a new mother and finds a kind of freedom when she attends a conference and meets a charismatic colleague (Peter Sarsgaard). Gyllenhaal films with a confident dreaminess and slowness, though the flashback sequences feel more rushed and cluttered. Even if occasionally frustrating, it's an accomplished film, which has the courage to assert—against the grain of traditional Hollywood movies—that motherhood might not be for every woman.
The Mitchells vs. the Machines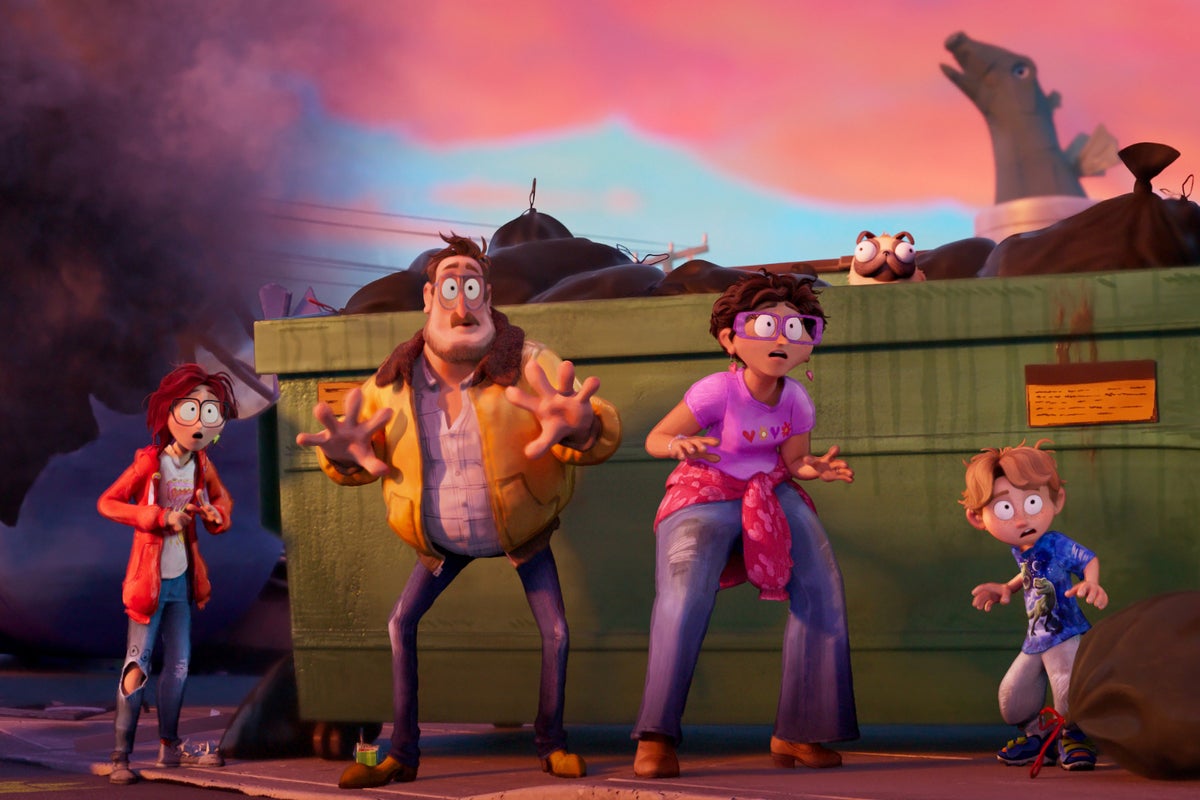 An animated feature from Sony Pictures Animation, The Mitchells vs. the Machines (2021) is a zany, lunatic scramble, but it's also endlessly creative, lots of fun, and kinda lovable. The eldest daughter of a Simpsons-like family of misfits, Katie Mitchell (voiced by Abbi Jacobson) is getting ready to go across the country to film school and leave her annoying family behind. (She uses the vacant-eyed family dog for a series of creative videos called Dog Cop.)
On the day of her flight, her well-meaning, doofus dad Rick (Danny McBride) decides to take a family road trip and drive there instead. Unfortunately, the machine apocalypse has just begun, and flying robots (commanded by a renegade Siri-like operating system voiced by Olivia Colman), are imprisoning all humans. Through sheer luck, and maybe some stupidity, the Mitchells survive, and it's up to them to save the world. Maya Rudolph voices mom Linda Mitchell, and Mike Rianda voices the young dinosaur-loving son Aaron.
A Nightmare on Elm Street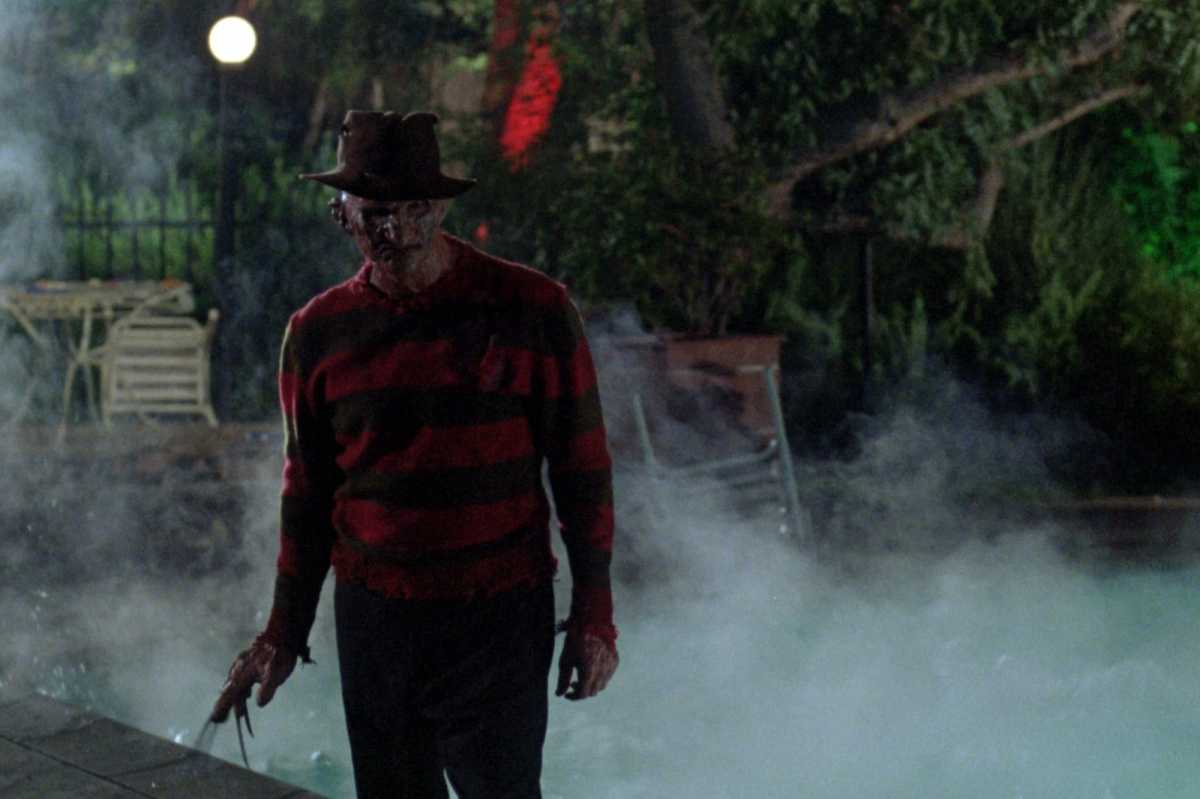 New Line Cinema
For A Nightmare on Elm Street (1984), Wes Craven came up with most a nefarious idea for a slasher movie. How about a killer that could attack you in your dreams? It was simple and yet so wonderfully, horribly primal, an attack on the most private and protected of human spaces. (You can stay awake only so long…). And his creation, Freddy Krueger (Robert Englund), with his striped sweater and finger blades, entered the annals of horror forever.
Heather Langenkamp stars as "final girl" Nancy Thompson, the one who is not promiscuous and who fights back. Johnny Depp has an early role as her boyfriend Glen, and John Saxon—a veteran of many horror and drive-in films—plays her father, a cop. Credit must be given to Charles Bernstein's powerful, chilling synthesizer score, the chords of Freddy's theme are still capable of inducing nightmares. The film generated huge profits and inspired eight more movies (including an ill-conceived 2010 remake).
No One Gets Out Alive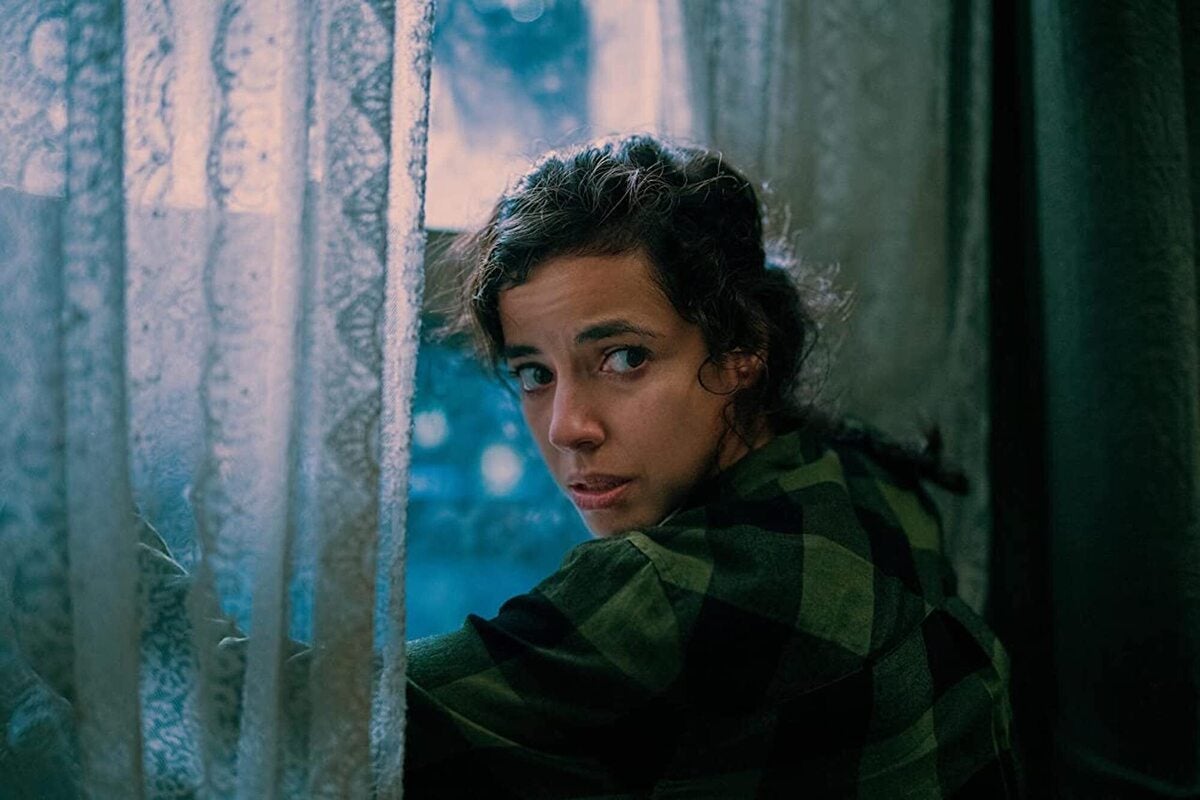 Ambar (Cristina Rodlo) is an undocumented immigrant from Mexico; she dropped out of school to take care of her sick mother, and now she's trying to make a go of it in Cleveland, working at a sweatshop, desperate to earn enough money to purchase a phony American ID. She finds a cheap place to live, in a huge house run by the grumbly, matter-of-fact Red (Marc Menchaca) and his sinister brother Becker (David Figlioli). Before long, she begins hearing strange noises, and creepy figures lurk in the dark.
Based on a novel by Adam Nevill, No One Gets Out Alive (2021) isn't exactly even-handed in its attempt to combine real-world troubles and supernatural horrors, but it manages many potent moments in both camps, and Rodlo is appealing enough to draw us in. You won't believe the truly strange thing that lies at the center of all the trouble; it has inspired both laughter and awe.
The Old Ways
Journalist Cristina (Brigitte Kali Canales) finds herself locked in a room. She had traveled to Veracruz to do a story. She's of Mexican heritage but can't speak Spanish. She tries to understand what's going on as an old woman (Julia Vera), face covered in paint, and an unsmiling man (Sal Lopez) with floppy gray hair, occasionally look in on her. Suddenly Cristina is shocked to see her cousin Miranda (Andrea Cortés), who explains in English that she, Cristina, has a demon inside of her, and they hope to exorcise it.
That's the start of The Old Ways, an outstanding horror film written by Marcos Gabriel and directed by Christopher Alender, that crosses cultural commentary with powerful, creepy tension. The film equates the confined space of the room with Cristina's limited knowledge of her culture, and cleverly builds the mystery of just what the demon inside her could be (if there is one). The brilliant ending only increases the mystery and expands the discourse.
Passing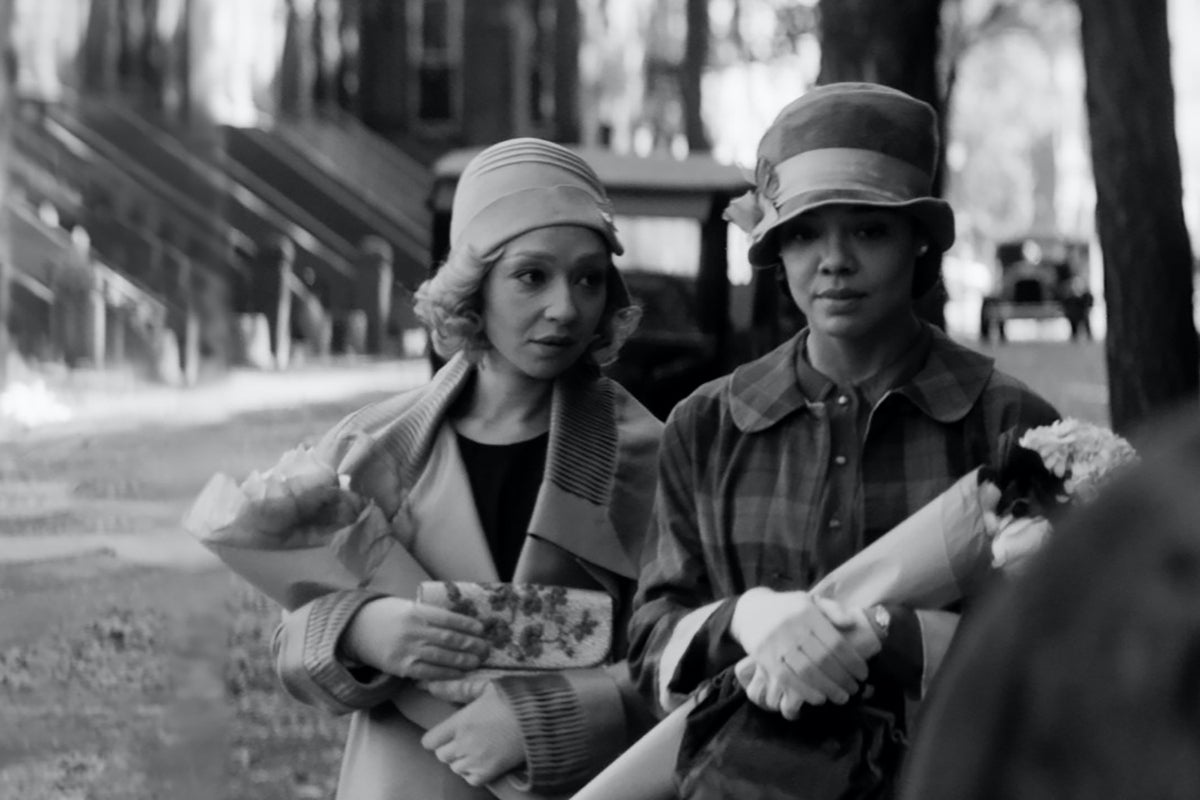 Netflix
A truly astonishing, impressively assured writing and directing debut by actor Rebecca Hall (Godzilla vs. Kong, The Night House), Passing (2021) is based on a 1929 novel by Nella Larsen. It tells the simple story of Irene (Tessa Thompson), who is able to "pass" for white while shopping or having tea, etc., but happily returns to her Harlem home with her Black husband (André Holland) and children. One day she runs into an old friend, Clare (Ruth Negga), who is "passing" full time, with platinum-blonde hair, and even married to a handsome white racist (Alexander Skarsgård). After spending a little time with Irene, Clare begins to hunger for her real self, begins clawing at her carefully-constructed facade, making more and more frequent trips to Harlem.
The "waiting for the other shoe to drop" plot is a bit simple, but Hall handles it with incredible honesty and finesse, and it all feels just right. Best of all is the film's look: plain black-and-white cinematography compressed within an old-fashioned 1:1.33 frame, emulating old movies while also suggesting the rigidity and constriction of the movie's themes.
The Power of the Dog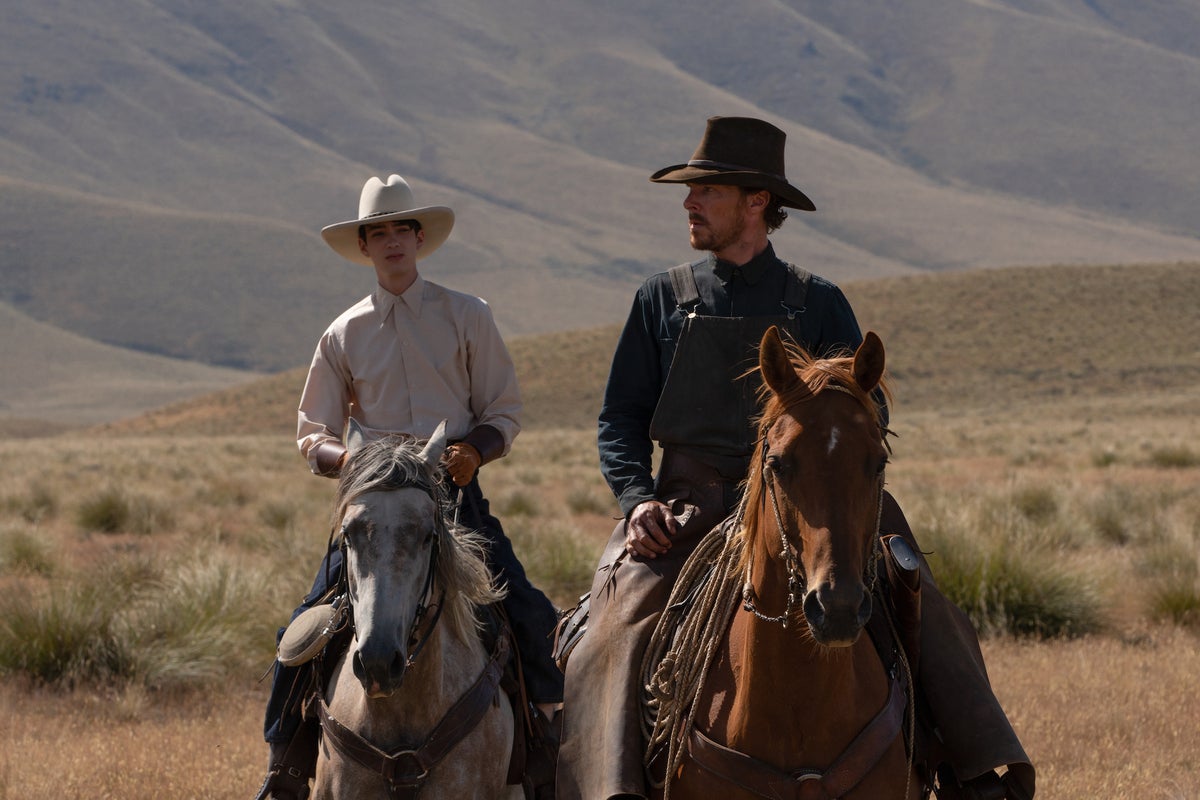 Oscar-winner Jane Campion (The Piano) returns with her first feature film since 2009's Bright Star (she'd spent time working on the series Top of the Lake). The Western The Power of the Dog, based on a 1967 novel by Thomas Savage, shows that Campion has lost none of her potency. She uses the landscape, and even the earth itself, to tell this primal, feral story. The Cain-and-Abel brothers are alpha-male Phil (Benedict Cumberbatch), who bathes only occasionally and uses his vast, drawling vocabulary and steely eyes to cut others down, and clean-cut, soft-spoken George (Jesse Plemons), whose carefully chosen words make him seem simple.
The two run a successful cattle empire, and while on a drive, Phil ridicules the thin, un-masculine young Peter (Kodi Smit-McPhee), who waits on their table at an inn. George comforts the boy's distraught mother, Rose (Kirsten Dunst), and winds up marrying her. Back at the ranch, the power games ramp up, with subtle acts and wrenching moments, vanquishments tilting into defeats, with the twist of a rope.
Red Notice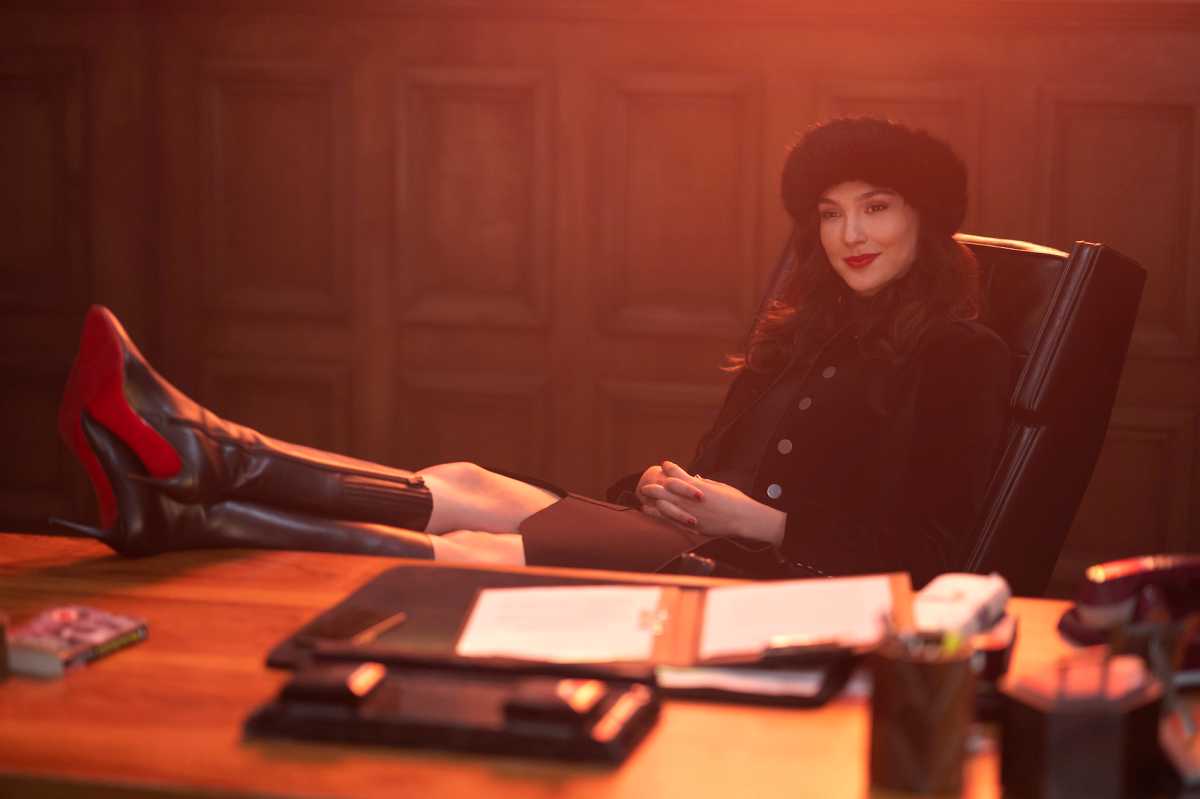 Netflix
A massive hit for the streaming service, this Netflix Original has the look and feel of a big-screen romp, with big stars, silly laughs, and lots of heists, double-crosses, globetrotting, chases, and explosions. Red Notice (2021) is far from great, or even memorable, but it has a brisk, jubilant tone, making it the perfect diversion for an evening.
John Hartley (Dwayne Johnson), a profiler for the FBI, reluctantly teams up with wisecracking thief Nolan Booth (Ryan Reynolds) to find three Egyptian jeweled eggs that once belonged to Cleopatra. Their goal is to prevent a criminal mastermind called The Bishop (Gal Gadot) from getting the eggs herself. Writer/director Rawson Marshall Thurber previously worked Johnson in both Central Intelligence and Skyscraper, which should give you an idea of what this one is like. The title refers to Interpol's highest alert for most wanted criminals. There's a good chance these three will return.
Scary Stories to Tell in the Dark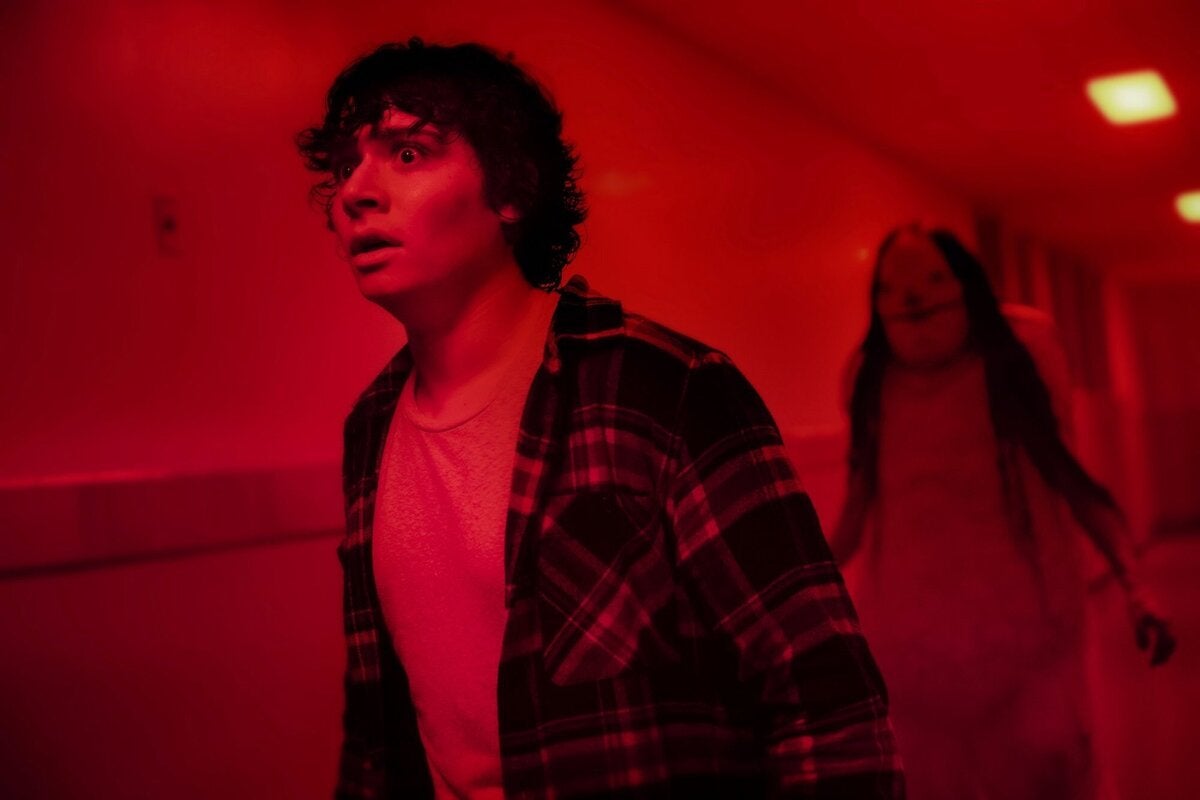 Based on a 1981 children's book, a collection of little urban legends by Alvin Schwartz with horrific illustrations by Stephen Gammell, Scary Stories to Tell in the Dark (2019) takes place on and around Halloween, 1968, when horror-loving outcast Stella (Zoe Margaret Colletti) and her two misfit best friends, Augie (Gabriel Rush) and Chuck (Austin Zajur), discover a book that once belonged to Sarah Bellows, who is now said to be a ghost that makes children disappear. Lo and behold, Sella's friends also begin disappearing.
Co-written by Guillermo del Toro and directed by Norwegian director Andre Ovredal (Trollhunter, The Autopsy of Jane Doe), the movie perfectly uses its period setting, both social and political, to paint an unsettling atmosphere, and the movie's use of space, especially inside a haunted house, a creepy hospital, and in a cornfield, create genuine surprises and shocks. The movie's innovative monster designs are also guaranteed to raise the hairs on your neck.
Sorry to Bother You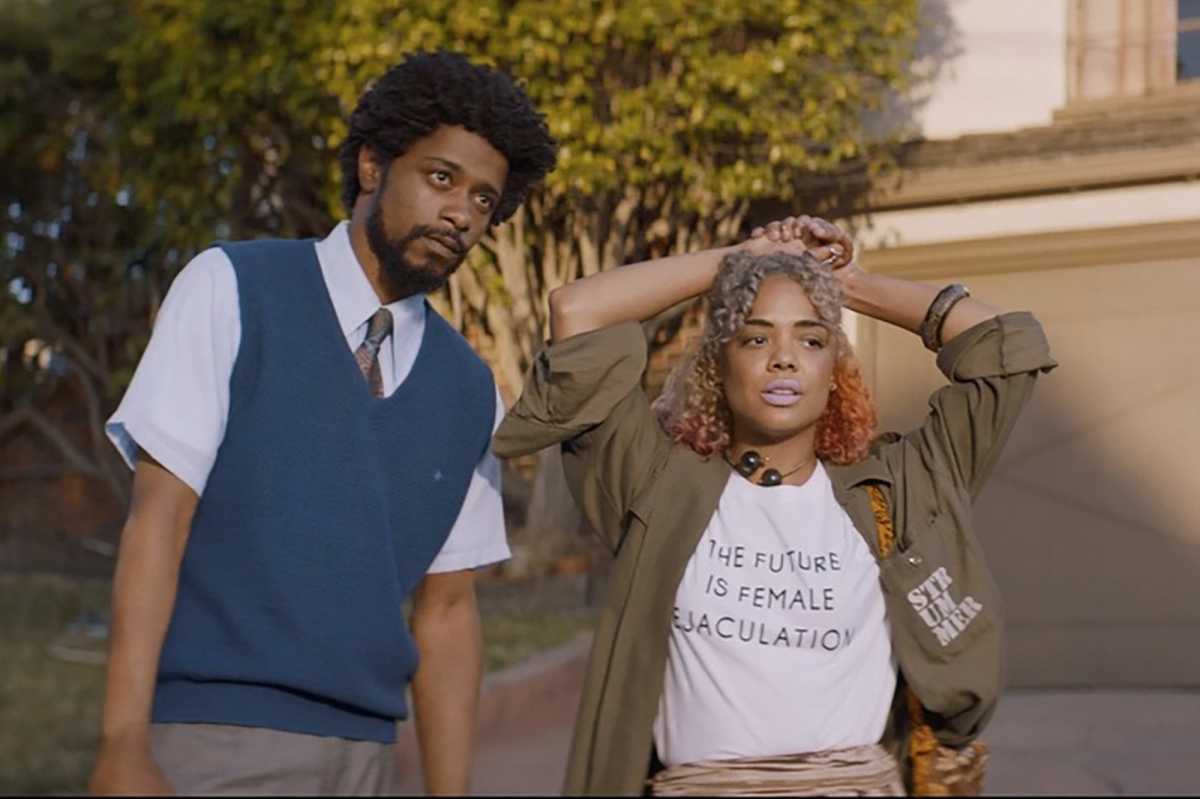 Focus Features
Oakland rapper Boots Riley's feature writing and directing debut Sorry to Bother You (2018) is one of the most outrageously original movies of recent years, often squeamishly so. It takes place in an alternate reality version of Oakland, California, where Cassius Green (sounds like "cash is green") (Lakeith Stanfield) gets a job as a telemarketer. He struggles for a while, until he begins using a "white voice" and suddenly advances through the ranks. (Patton Oswalt and David Cross loaned their voices to the movie for this purpose.)
Freakishly disturbing things are brewing behind the scenes, however, and a revolution is stirring in the streets; Cash must decide what he truly stands for. The movie takes some hard, bumpy turns that can leave viewers unsettled, but it's certainly different, often brilliant, and not easy to forget. Tessa Thompson, Terry Crews, Danny Glover, and Armie Hammer co-star.
Starship Troopers
Sony Pictures
At a glance, Paul Verhoeven's Starship Troopers (1997) looks like a dumb, fun sci-fi blast, full of lasers, spaceships, and exploding aliens. But a re-assessment shows that it's one of the most subversive movies of its decade, daring the audience to root for the bad guys in a parable about jingoism and prejudice. A twist of perspective and it's easy to see the alien "Bugs" as victims, eradicated just for being different, while the perfectly-sculpted, chiseled humans (Casper Van Dien, Denise Richards, etc.) are actually creepy Aryan Hitler love-children. Co-star Neil Patrick Harris actually struts around in a sinister-looking SS-like black uniform.
Based on a novel by Robert A. Heinlein, director Verhoeven reportedly based his movie on WWII propaganda films, deliberately taking fun-seeking moviegoers and putting them in a shocking space outside the normal comfort zone. It's a Rorschach test that still fascinates today.
True Grit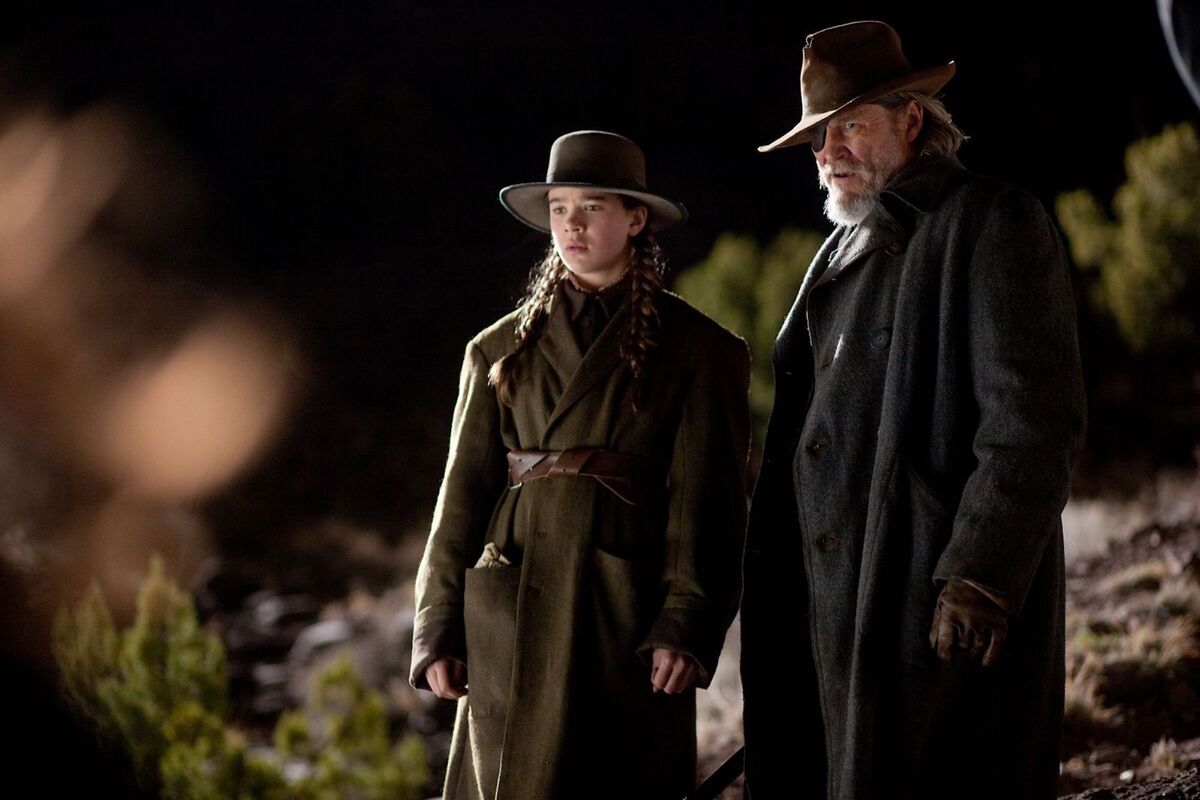 Twenty-six years after their own debut, Joel and Ethan Coen gave newcomer Hailee Steinfeld a shot at the Mattie Ross character in their remake of True Grit (2010). She pulled it off brilliantly, earning an Oscar nomination for her work. A bandit, Tom Chaney (Josh Brolin), kills Mattie's father in cold blood, so she hires Rooster Cogburn (Jeff Bridges, taking over an iconic role from John Wayne with no trouble) to catch him and bring him back for a proper hanging.
Mattie is prim and balanced and with a pristine vocabulary, while Rooster is a one-eyed wreck, a drunk teetering in his saddle, and the Coens have great fun with the extreme juxtaposition between the two. (Their hilarious, precocious dialogue comes largely from the novel by Charles Portis.) The snowy setting makes the movie seem slower, more like an odyssey than an adventure; this is one of the few remakes that's better than the original; it's is masterpiece in its own right.
tick, tick… Boom!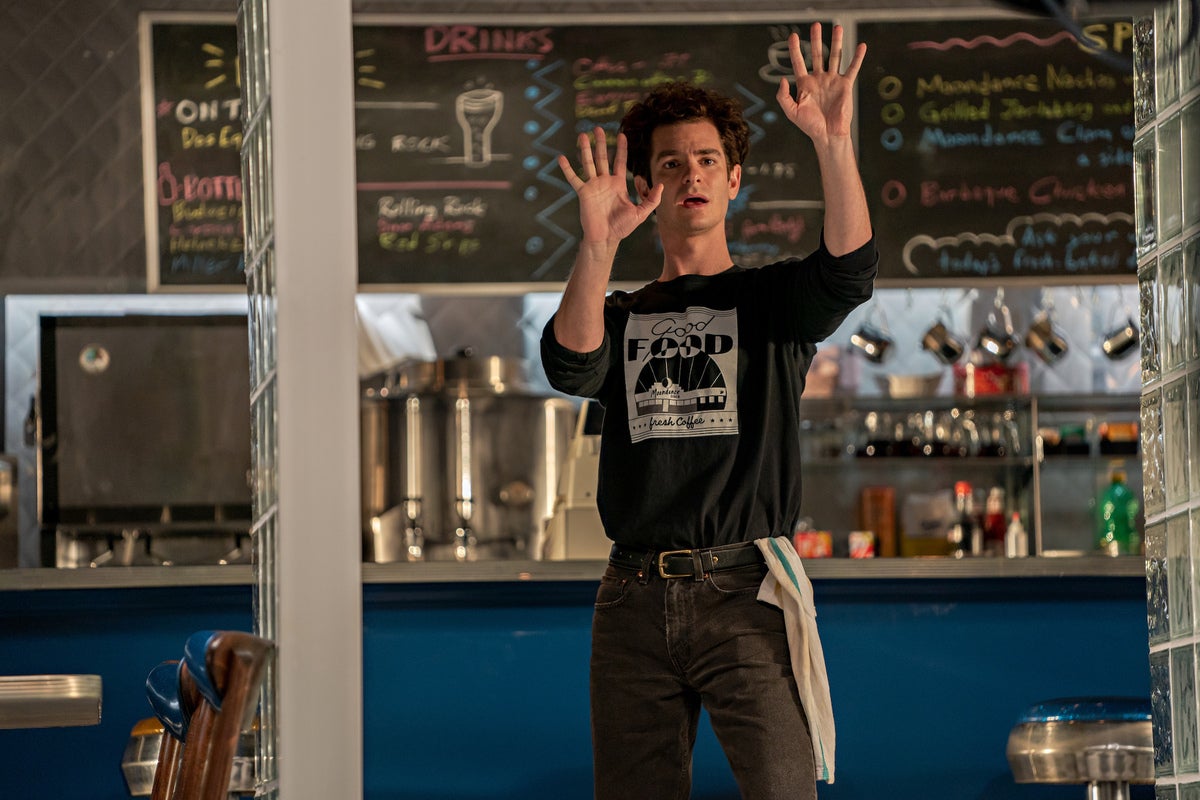 Lin Manuel-Miranda was everywhere in 2021, and in addition to writing songs and acting, he made his feature directing debut with this extraordinary, emotional adaptation of a play by Jonathan Larson, best known as the creator of Rent. The semi-autobiographical tick, tick… Boom! was written before that hit, during the days of struggle. Jon (Andrew Garfield) is seen performing the play, which was conceived as a one-man show and later expanded, and he serves as narrator.
It's 1990 in New York City, and he has been trying to stage his first play, Superbia. It has taken years, and his chance to workshop it is right around the corner. But, acting on the advice of Stephen Sondheim (Bradley Whitford), he realizes he must compose one more song to fully flesh out the play, and with his thirtieth birthday approaching, he's stuck. Meanwhile, his friends are contracting AIDS all around him, and his girlfriend (Alexandra Shipp) is considering taking a job in Massachusetts. Garfield is the whirlwind at the center of this, giving a deeply enthusiastic, anguished performance, with enough energy for a dozen movies.
Under the Shadow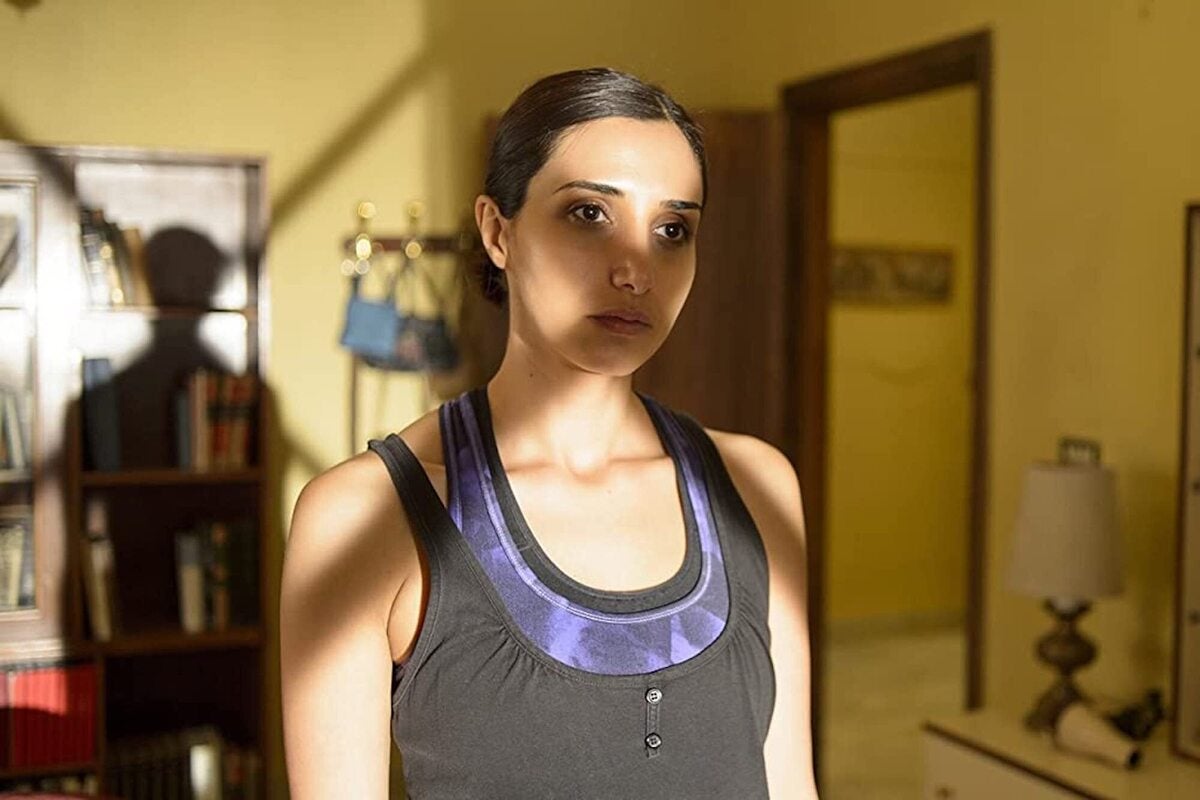 Written and directed by Babak Anvari, the horror movie Under the Shadow (2016) is all the more powerful for being steeped in world affairs, and for vividly capturing the emotional sense of what it might be like to be caught in a war. It's the 1980s, during the long Iran-Iraq conflict, and Shideh (Narges Rashidi) is forbidden to re-enter medical school because of her past as a political demonstrator. Her husband has been called off to serve in the war effort, and she must take care of her daughter Dorsa (Avin Manshadi) alone, with the threat of Iraqi bombs falling on their Tehran home. Worse, a djinn has become attached to Dorsa, and the girl, sick with fever, refuses to evacuate until her missing doll is found.
The film—best viewed in its original Persian with English subtitles—concentrates on realism and on small details of life rather than elaborate visual effects of scares, but the film nonetheless remains a satisfyingly unsettling experience.
Note: When you purchase something after clicking links in our articles, we may earn a small commission. Read our affiliate link policy for more details.