If you've been wondering why you keep paying for Netflix, TechHive's resident film critic can point you to the streaming service's best original movie productions that justify the cost of a subscription. From time to time, he'll also point out which films aren't worth your precious time. Netflix has a strong batting average, but not every one of its movies is a stellar production. Scroll down to the bottom of the article for those.
If you don't already have one, it easy to sign up for a Netflix subscription. The $6.99-per-month "Basic with ads" tier with streams in 720p resolution is your least-expensive option. If you want to download videos for offline viewing, choose the $9.99-per-month Basic plan with the same resolution. The Standard tier bumps video resolution to 1080p and includes downloads; it costs $15.49 per month. The $19.99-per-month Premium tier delivers entertainment in 4K resolution with high dynamic range and also includes downloads. You'll find additional information about Netflix with ads at the preceding link.
Updated March 31, 2023 to add four new reviews. Jeff's earlier picks follow, starting with the Academy Award-winning All Quiet on the Western Front.
The Strays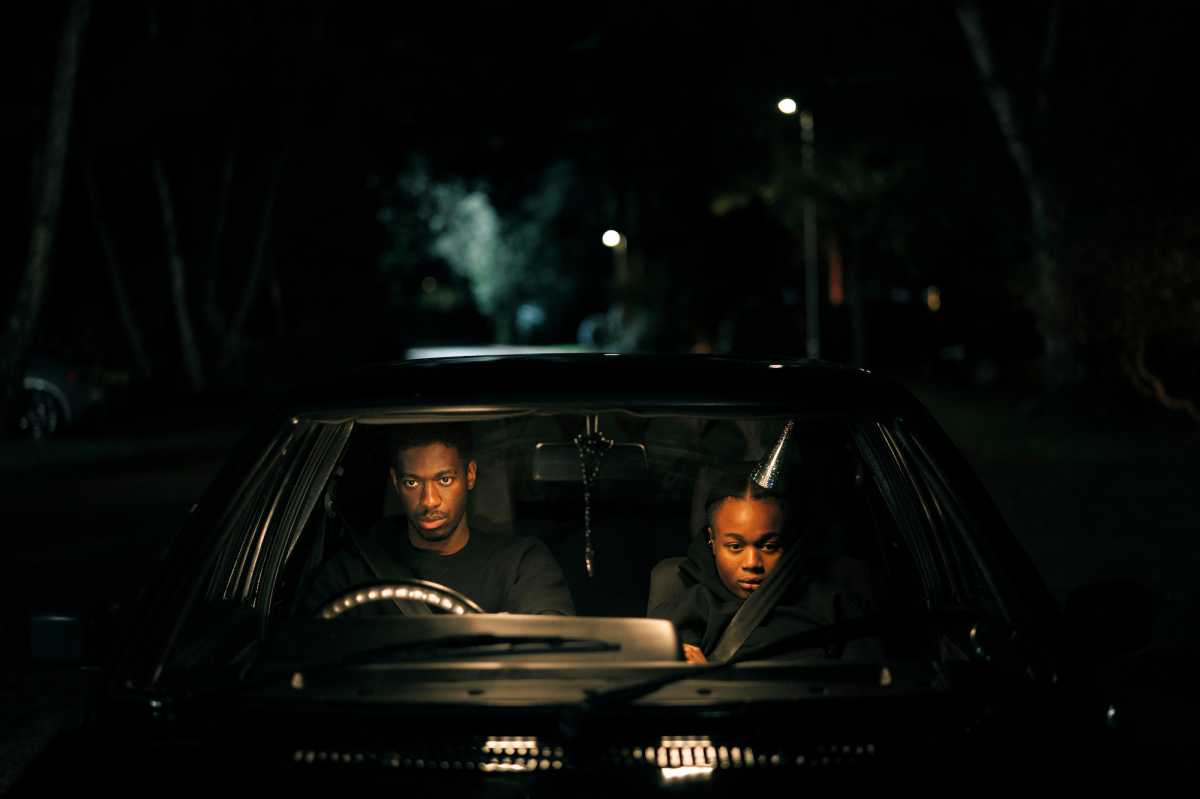 Netflix
A debut feature by writer/director Nathaniel Martello-White, The Strays (2023) is a social satire that may feel a bit shallow, touching on certain themes that feel under explored, but some of its imagery hits hard, and lead performer Ashley Madekwe really nails her role. She's an upper-crust English housewife called Neve, who is Black and light-skinned, but identifies as White.
In fact, she seems to bristle at the very idea of Blackness. She's married to a white man (Justin Salinger) with two mixed-race kids and throws fund-raising parties to benefit those less fortunate. But her carefully cultivated life starts to come undone when two young Black people (Bukky Bakray and Jorden Myrie) arrive on the scene. Martello-White cooks up a truly demented third act, like Funny Games crossed with Jordan Peele, and that's followed up with a stinger of an ending that underlines just how deeply toxic racism really is.
Unlocked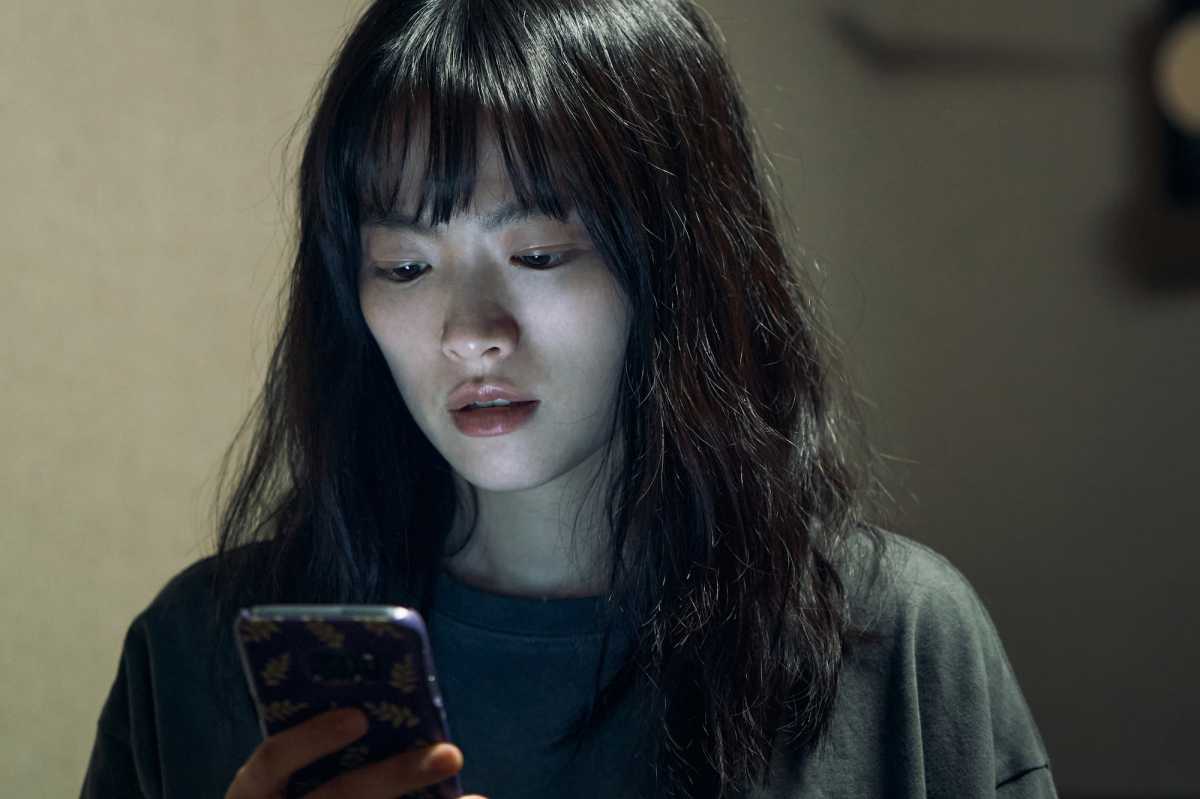 Netflix
Kim Tae-joon's crisply written and tensely paced Korean thriller Unlocked (2023) is a cyber-terror tale that feels eerily possible. After a night of drinking with friends, a passed-out Na-mi (Chun Woo-hee) sleepily stumbles off the train, having left her cell phone behind.
A young man named Jun-yeong (Yim Si-wan) finds it and launches a truly evil and masterful plan. He secretly installs spyware on her phone and keeps a clone of it for himself, instantly digging into her most intimate secrets, damaging her relationships and costing her her job. He even taunts her by anonymously visiting her at her father's cafe and requesting a special off-menu item, a plum juice. (Plums are a sinister symbol here.) His plan is so airtight that all her attempts to get her life back are turned around and spat back at her. Meanwhile police detective Ji-man (Kim Hie-won) is dismayed to discover that he may have a personal connection to the case.
We Have a Ghost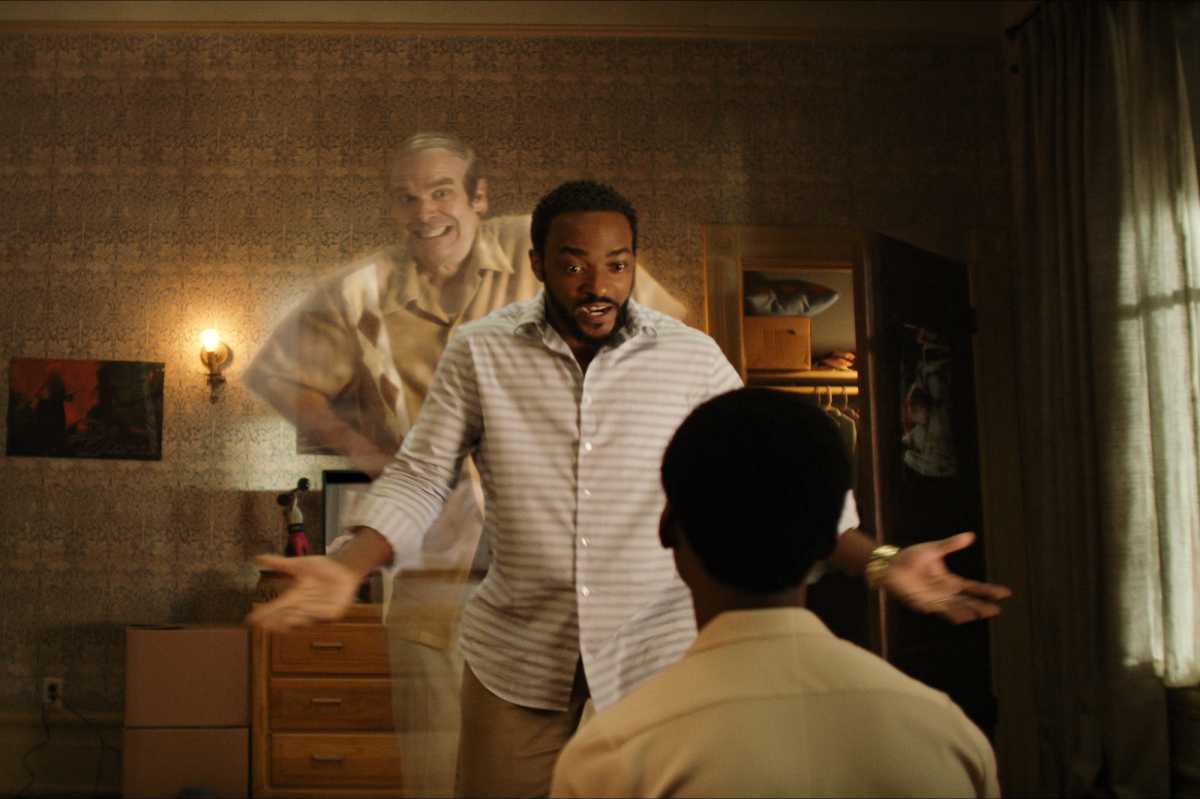 Netflix
Christopher Landon, of the Happy Death Day movies and Freaky, returns with another solid horror-comedy that happily avoids dumb slapstick in favor of an actual story. In We Have a Ghost (2023), the Presley family buys a new home in a nice neighborhood, and it's not long before youngest son Kevin (Jahi Winston) discovers that it's haunted. But rather than running in fear, Kevin sits down and talks to the ghost (David Harbour), whose bowling shirt sports the name Ernest, but who can't speak and can't remember details of his life.
Kevin's father (Anthony Mackie) posts a video that Kevin shot and the family quickly becomes famous. Meanwhile, Kevin and neighbor Joy (Isabella Russo) begin the hunt for Ernest's true identity, while the CIA swoops in to disrupt things. Without being able to speak, Harbour gives an amazing physical performance, Tig Notaro is terrific as a CIA agent who believes in ghosts, and Jennifer Coolidge brings her brand of kookiness to her role as a medium. The bittersweet ending is uniquely satisfying.
Your Place or Mine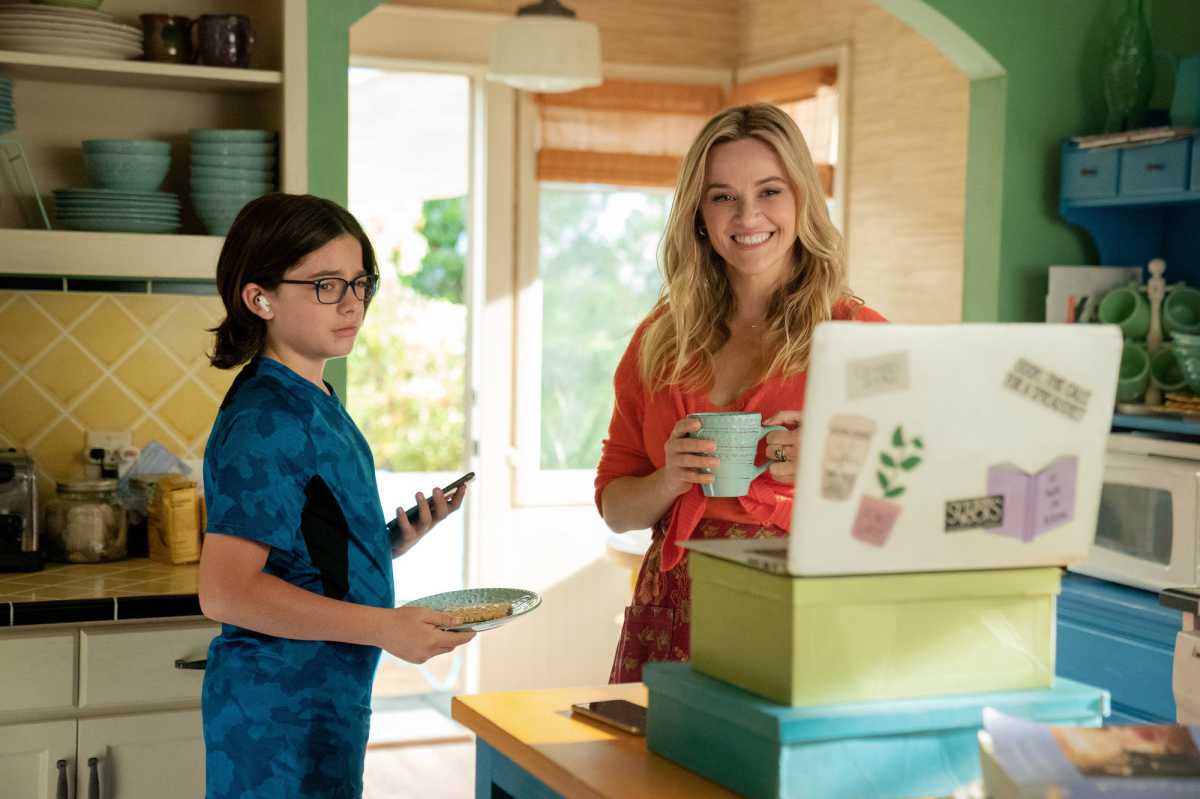 Netflix
A directorial debut by the screenwriter of such dubious romantic comedies as Laws of Attraction and 27 Dresses, Aline Brosh McKenna's Your Place or Mine (2023) is surprisingly… not terrible. Debbie (Reese Witherspoon) and Peter (Ashton Kutcher) are, for some reason, best friends, even though he lives in New York and she lives in L.A. When Debbie must go to New York for business, but can't find a babysitter for her middle-schooler Jack (Wesley Kimmel), Peter, who has just lost his job, volunteers to fly over and help out.
Of course we get the usual thing about one character being too controlling and uptight and the other being a little too carefree, and there's a "lie plot" about a supposedly secret novel Peter has written, but weirdly, while many films of this type are obnoxiously shrill and abrasive, this one unfolds at a nice pace and in a low-key tone that goes down easy.
Here are the rest of Jeff's picks, in alphabetical order. The movies Jeff recommends you skip are at the bottom of the page.
All Quiet on the Western Front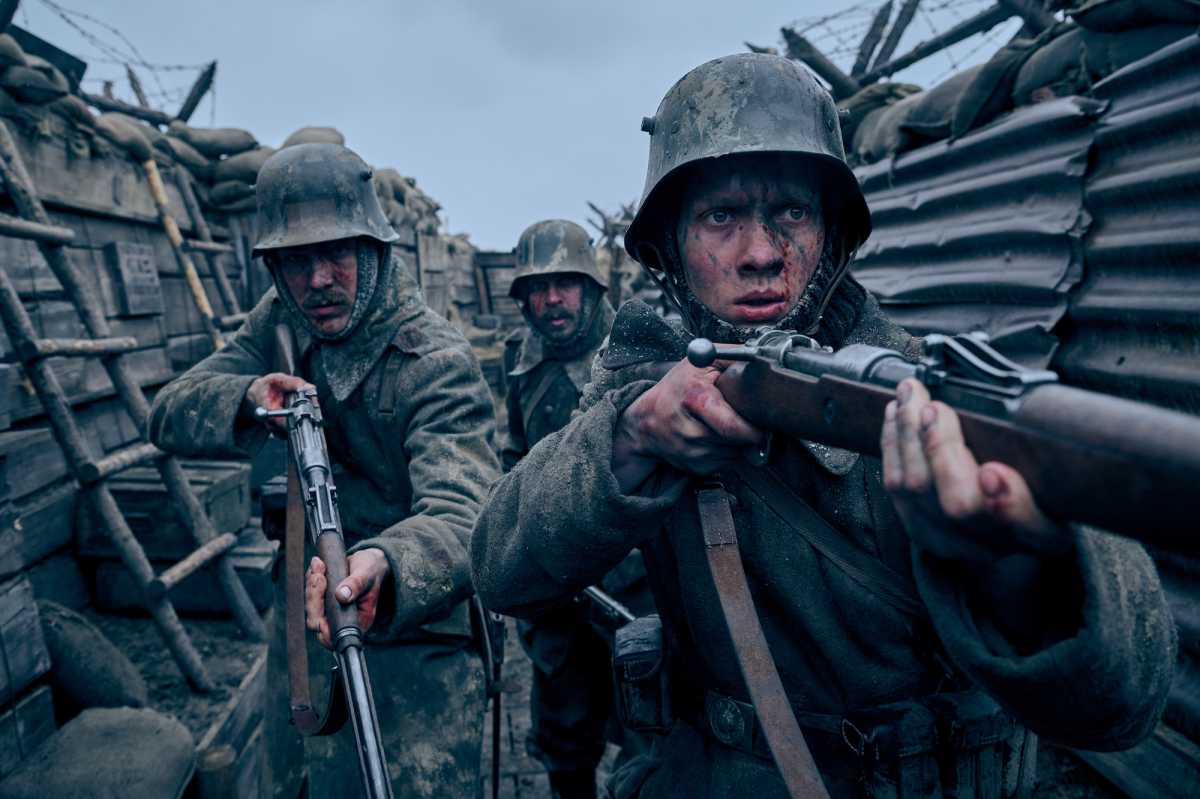 Netflix
Erich Maria Remarque's landmark 1929 novel was first adapted into a masterful 1930 Hollywood film, and then a 1979 television production. The new All Quiet on the Western Front (2022) is the first time it has been made in its original German, and it's just as much a powerhouse as it was nearly a century ago. (It's generally considered one of the few genuinely anti-war war stories.) It focuses on Paul (Felix Kammerer) who excitedly enlists in the German Army in 1917, expecting adventure and the honor of serving his country. What he finds instead is trenches filled with horror and inhumanity enough to deaden the soul.
Director Edward Berger uses a fluid, wide-eyed, epic style that might otherwise be called "beautiful," but it captures shocks and cold astonishments, including the involved process of stripping uniforms and boots from dead soldiers, and repurposing them for newcomers. The most famous scene has Paul trapped with an enemy soldier in a pit in the middle of No Man's Land; Paul stabs him to death, but is unable to escape back to safety. He must remain there with the dead man, and the reality of what has happened. The devastating ending is the epitome of irony itself. Daniel Brühl (Captain America: Civil War) co-stars as anti-war activist Matthias Erzberger. (Be sure and set the language to the original German and turn on English subtitles.)
The Ballad of Buster Scruggs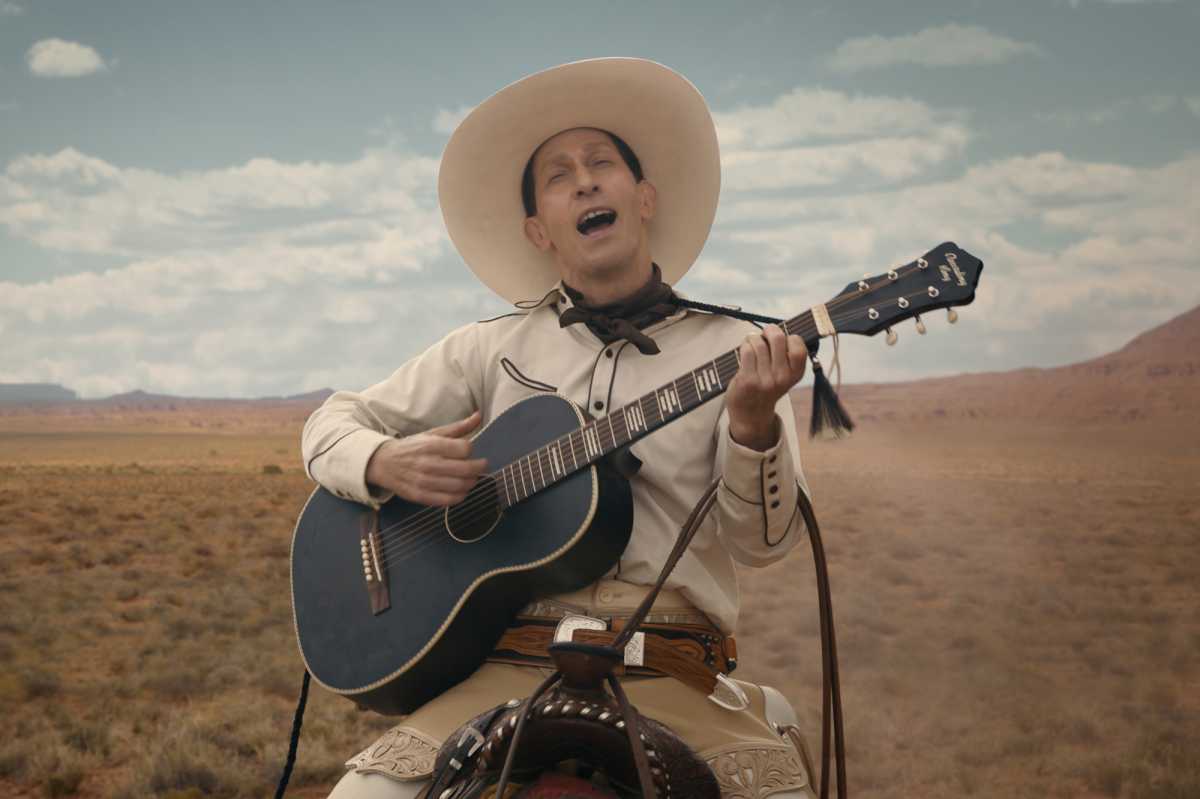 Netflix
The amazing Coen brothers, Joel and Ethan, offer up this anthology Western with six strange stories, ranging from the hilarious—Tim Blake Nelson as the verbose sharpshooter in the title story—to the disquieting; i.e. Liam Neeson and Harry Melling in "Meal Ticket," about an armless, legless actor.
The Ballad of Buster Scruggs (2018) is as expansively beautiful as the Coens' other Westerns True Grit and No Country for Old Men, but it's also as dark and as mysterious as Barton Fink.
James Franco is very funny in a beautifully constructed episode about winding up at the wrong end of a rope, Brendan Gleeson plays a rider on a stagecoach whose destination is uncertain, Zoe Kazan stars as a troubled woman on a wagon train, and Tom Waits appears in a wonderful episode, "All Gold Canyon," faithfully adapted from a Jack London story, although Waits's gravelly warbling of the song "Mother Macree" as he works is probably not something London envisioned.
Dolemite Is My Name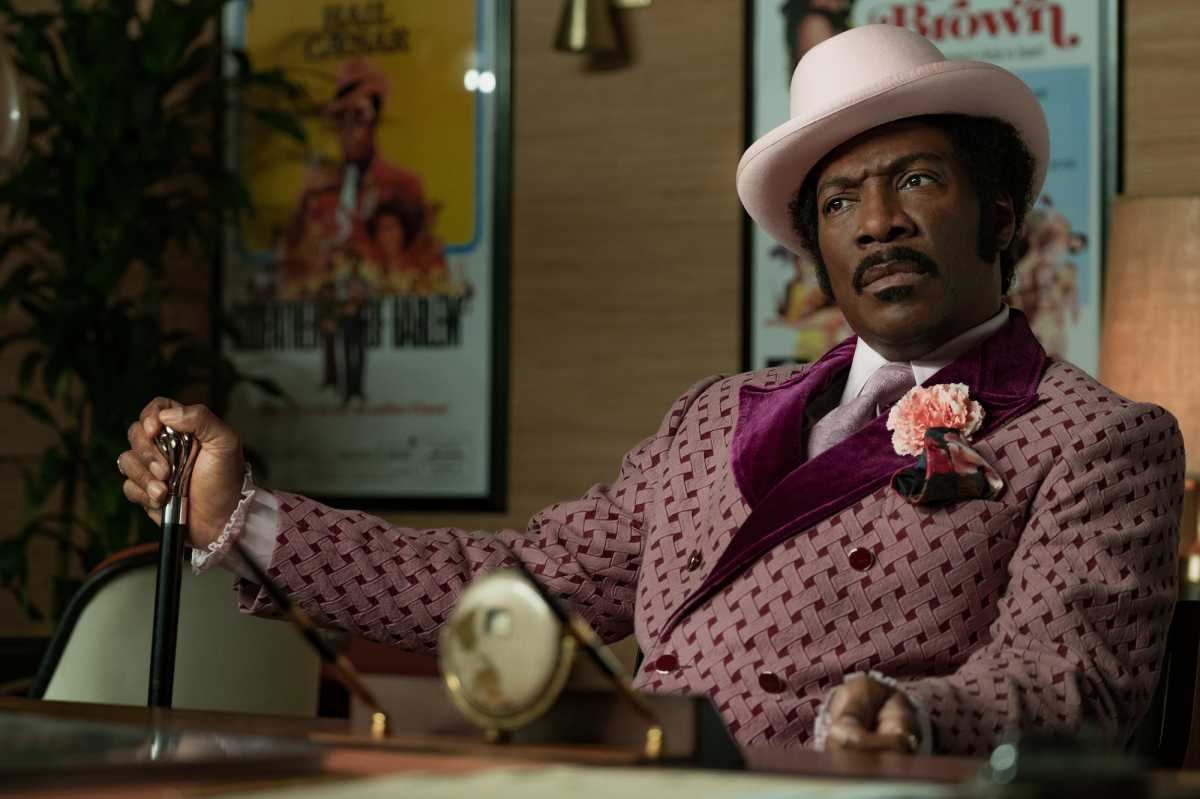 Netflix
The biopic Dolemite Is My Name (2019), written by the masters of the biopic, Scott Alexander and Larry Karaszewski (Ed Wood, The People vs. Larry Flynt, Man on the Moon, Big Eyes), focuses on what some might consider a marginal talent, Rudy Ray Moore. He was a struggling musician and comedian who finally finds a hit with his "Dolemite" character, and decides to make his very own, low-budget movie, regardless of talent or know-how.
Eddie Murphy gives a masterful performance as Moore, one of his career best, finding moments of pride, humanity, and humility in the offbeat character. Wesley Snipes is hilarious as the dubious director D'Urville Martin, but Da'Vine Joy Randolph, as performer Lady Reed, is the key to the whole thing. On the day of the premiere, she tells Rudy, "I'd never seen nobody that looks like me up there on that big screen," and it's a moment for the ages.
Glass Onion: A Knives Out Mystery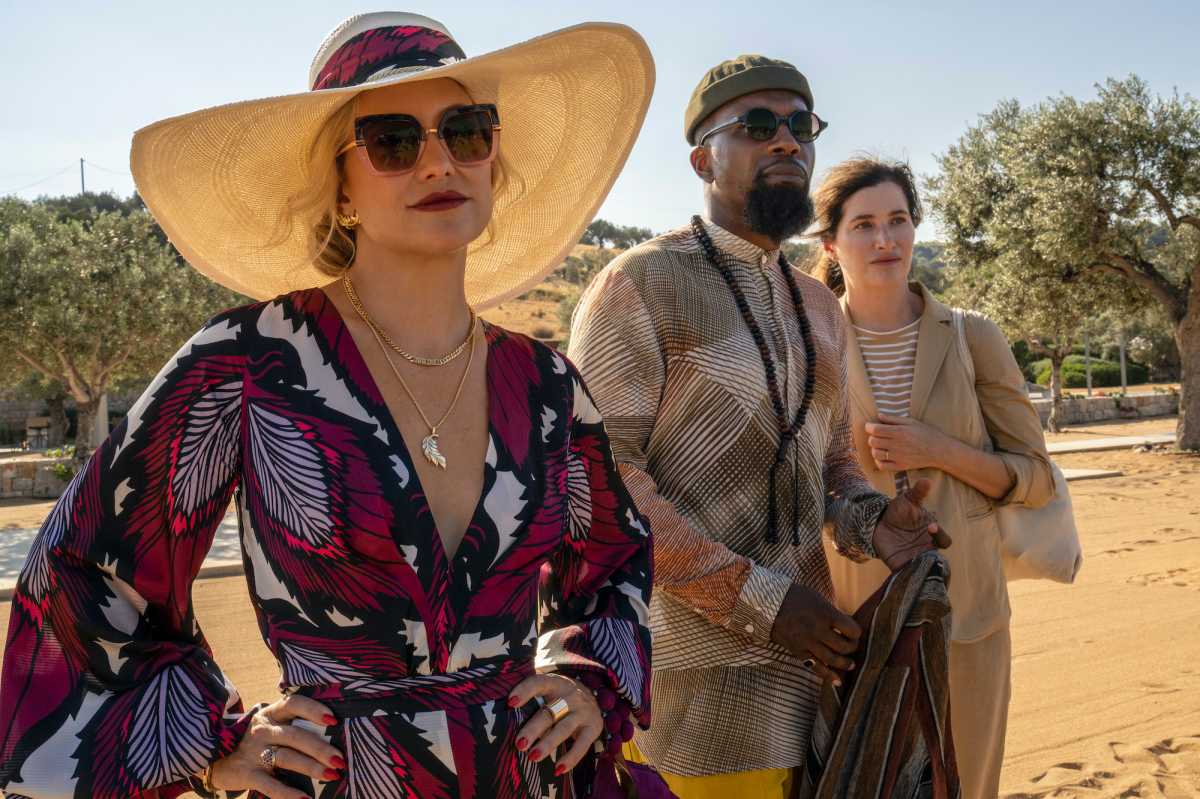 Netflix
The sequel to Rian Johnson's Knives Out (2019), Glass Onion: A Knives Out Mystery (2022) already feels like a classic. It is impeccably plotted, creating its mystery with clever deceptions, clues dropped so quickly you won't see them, and ultimately satisfying denouncements. The rhythmic dialogue is just as playful, sprinkled with spiffy word choices that the actors devour. You may feel like you miss the stellar cast from the original film, but within minutes you'll love this new cast just as much.
During COVID, detective Benoit Blanc (Daniel Craig) is bored and very happy to be invited to a "murder party," thrown by billionaire genius Miles Bron (Edward Norton), on his private island. All of Miles's old friends are invited: politician Claire (Kathryn Hahn), who is currently running for the Senate, scientist Lionel (Leslie Odom Jr.), former model and current fashion maven Birdie (Kate Hudson), and gun-toting YouTuber Duke (Dave Bautista). The film's fluid images resonate and double back upon one another, tying into each other, and everything clicks together beautifully. Janelle Monáe, Jessica Henwick, Madelyn Cline, and Ethan Hawke are also on hand. Glass Onion: A Knives Out Mystery is coming to Netflix December 23.
The Good Nurse
Netflix
Directed by Danish filmmaker Tobias Lindholm (A Hijacking, A War), the true-crime tale The Good Nurse (2022) has a thick, still quality, as if everything was filmed late at night in the half-darkness and whispers. Amy Loughren (Jessica Chastain) is a single mom who works crazy hours as a nurse. She has a fatal heart disease and is keeping silent on the subject until she qualifies for health insurance in just a few months. She becomes friends with a new hire, Charles Cullen (Eddie Redmayne), and their bond makes the nights go by a little easier. But then a strange rash of mysterious deaths begin occurring, each with a common pattern.
Chastain is typically fine here, and Redmayne undergoes a weird actorly transformation, appearing as if he's wearing a dark cloud over his head. Nnamdi Asomugha and Noah Emmerich co-star as the detectives on the case. The good cast generally overcomes the movie's talky, inert quality, as elements are stretched out to fatten up what is really a lean story.
The Gray Man
Netflix
Directed by Anthony and Joe Russo (Avengers: Endgame), The Gray Man (2022) is another expensive, star-studded Netflix movie that is, at best, diverting and forgettable, but subscribers seem to be enjoying it. (It's fast becoming one of the service's all-time biggest hits.)
Ryan Gosling stars as a former convicted felon-turned-secret CIA assassin known only as "Six." During an attempt to stop a target from potentially leaking national security secrets, he discovers that the organization he works for may be corrupt. So, with the help of his former handler (Billy Bob Thornton), he snatches an encrypted drive filled with evidence and goes on the run.
But sociopathic ex-CIA man, Lloyd Hansen (Chris Evans, with a bad mustache and acting nutty) is called in to find him. Ana de Armas, Jessica Henwick, and Alfre Woodard round out the fine cast, although no one is asked to do much more than run, fight, and explain the complex plot to each other. It's based on the first in a series of novels by Mark Greaney, and sequels are promised.
Guillermo Del Toro's Pinocchio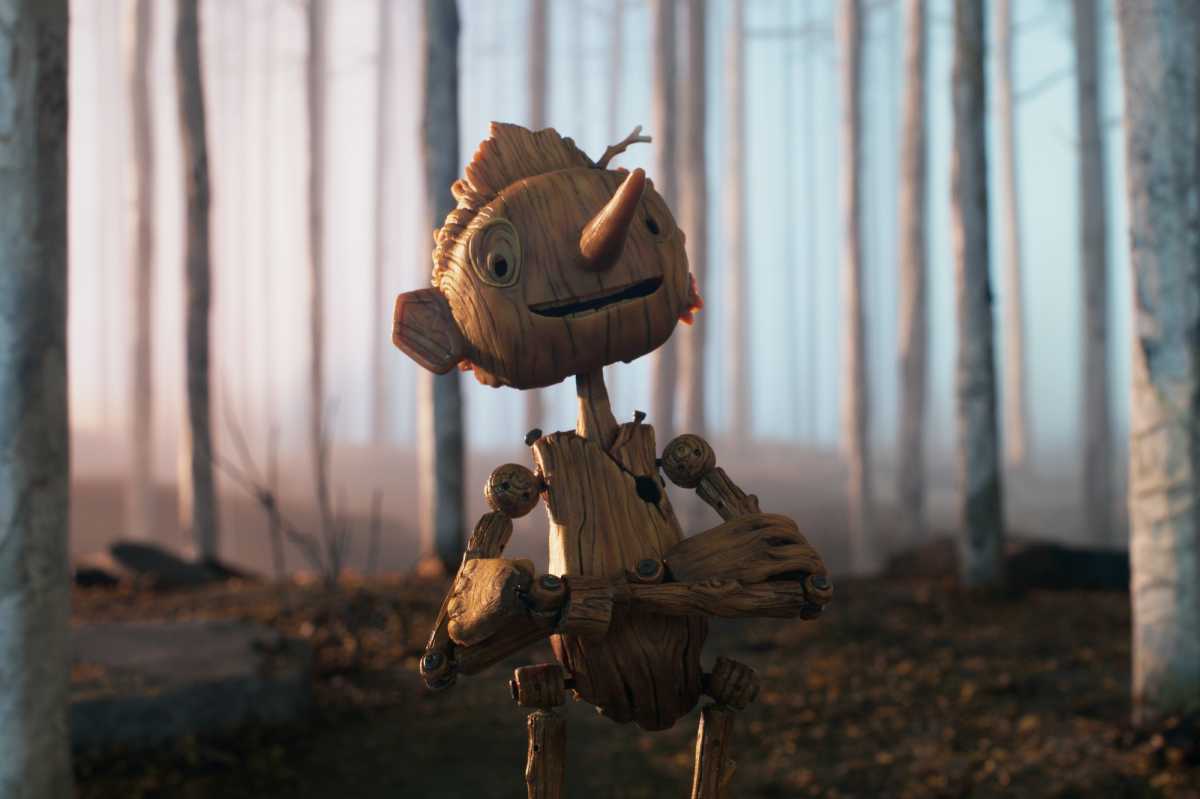 Netflix
Working with animator Mark Gustafson, the amazing Guillermo Del Toro directs his first stop-motion-animated feature, Guillermo Del Toro's Pinocchio (2022), not to be confused with the live-action Disney+ release from a few months ago. One might expect Del Toro to dive in and offer up a pitch-dark, and even horrific, vision of the original story, one to rival Disney's 1940 version (which, incidentally, is much darker than its reputation suggests). Instead, it's a kid-friendly, PG-rated movie, complete with songs (which are its weakest link), and a happy, yappy hero.
It's a gorgeous movie nevertheless, with dizzying designs that eventually lure us away from the old familiar cartoon images and into its cruel, but hopeful world. Interestingly, the movie takes place during the rise of fascism and takes aim at figures like Mussolini. And Pinocchio's wish to be a real boy isn't merely granted through being good; he must die and be reborn to understand what life really means. Ewan McGregor narrates and provides the voice of Sebastian J. Cricket, while John Turturro, Ron Perlman, Finn Wolfhard, Cate Blanchett, Tim Blake Nelson, Christoph Waltz, and Tilda Swinton provide other voices.
The House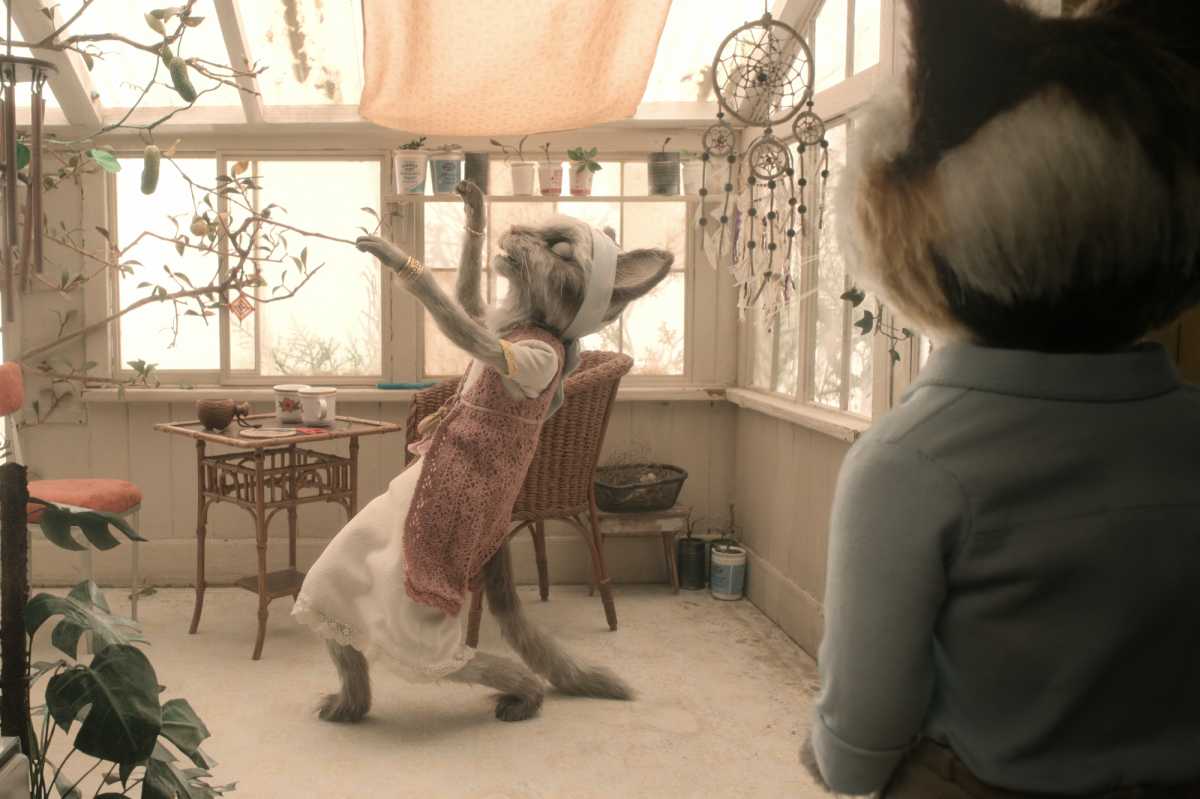 Netflix
The very strange, stop-motion animated The House (2022) was originally intended to be a series, but three episodes were instead edited into a feature-length film. In the first segment, a family of humans living in poverty is offered a chance to move into a huge house for free, but the parents become obsessed with the place, to the point of ignoring their children. In the second, a mouse in a suit has spent his life fixing up a beautiful house to sell, only to find it inhabited by unwanted guests. In the third—and best—segment, a cat struggles to collect rent and fix up her crumbling building, while flood waters rise outside.
The tone here is often strange and disturbing, but sometimes clever and beautiful as well. Irish playwright Enda Walsh wrote the script, and Mia Goth, Matthew Goode, Miranda Richardson, and Helena Bonham Carter, among others, provide voiceovers.
Hustle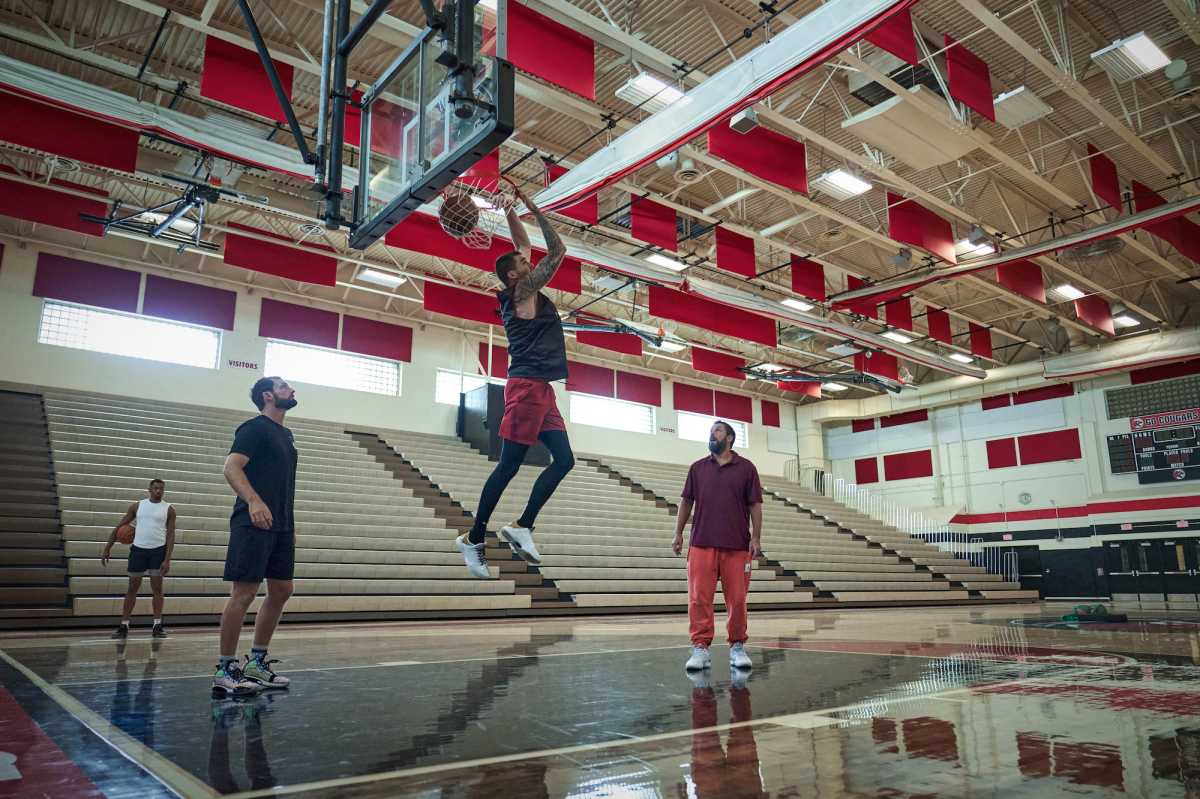 Netflix
Adam Sandler had one of his best recent roles in Uncut Gems, an anxious, jittery, Jenga-tower of a performance that left you wrung out. He maintains that level of quality in the excellent Hustle (2022), thankfully at a much more relaxed pace. In a film that incorporates Sandler's lifelong love of basketball, he plays Stanley Sugerman, a scout for the Philadelphia 76ers, who has been on the road too long, eating too much junk food, and missing out on life with his wife (Queen Latifah) and teen daughter (Jordan Hull). At long last, the team owner (Robert Duvall) gives Stanley his shot with an assistant coach position. Unfortunately, Duvall's character suddenly dies, leaving the team in the hands of his ruthless son (Ben Foster), who sends Stanley back out on the road.
In Spain, Stanley meets the raw, young Bo Cruz (Juancho Hernangómez), who may just be his ticket back. Hustle is an unapologetically old-fashioned sports drama but given a dose of organic life that keeps it feeling constantly fresh. Look for a spate of real-life NBA stars, including Seth Curry, Julius Irving, and Charles Barkley.
I Came By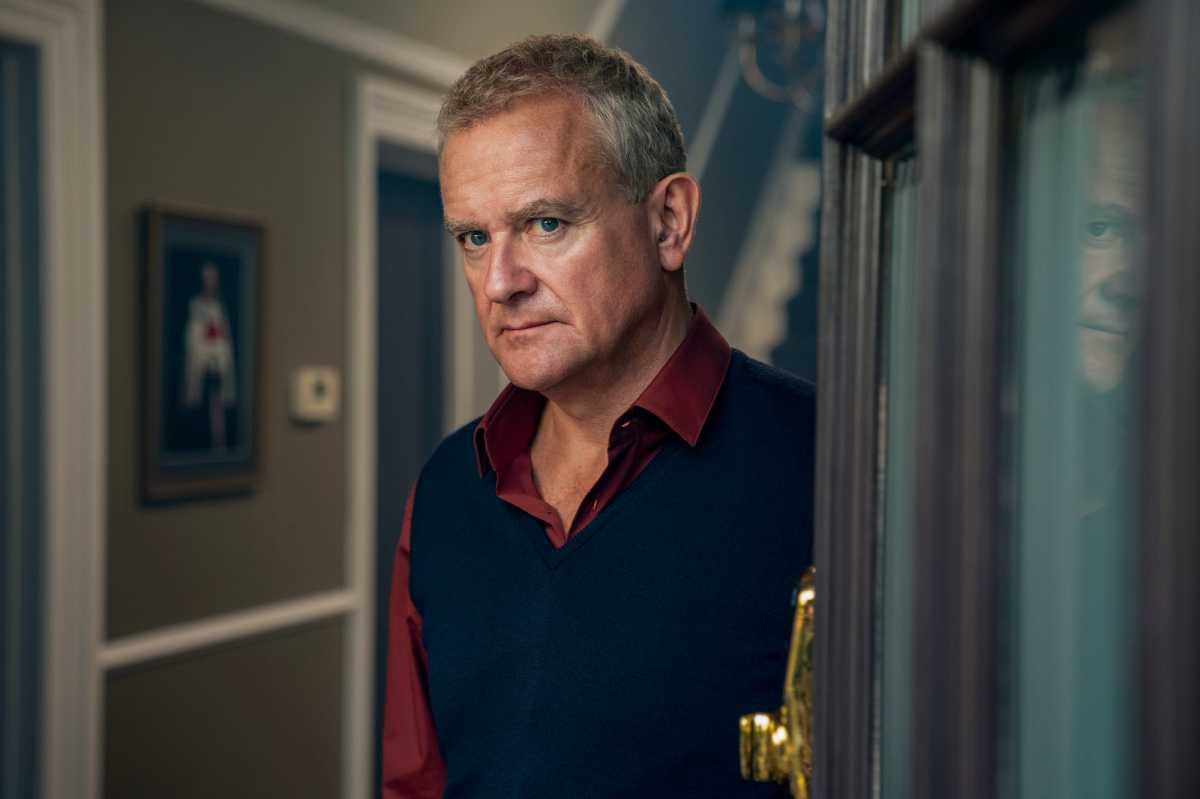 Netflix
The Iranian-British Babak Anvari—whose excellent chiller Under the Shadow (2016) is also available on Netflix—returns with this English-language nailbiter, a portrait of pure evil hiding in the guise of a confident, powerful, intelligent human. I Came By (2022) begins, deceptively, with the story of two graffiti artists, Toby (George MacKay) and Jay (Percelle Ascott), whose métier involves breaking into the homes of the wealthy and powerful and tagging the walls with "I Came By," an alarming wake-up call, and a lesson that even the sturdiest strongholds can be invaded.
As they prepare for their latest job, Jay learns that his girlfriend (Varada Sethu) is pregnant, and decides to quit the life. Toby goes it alone, breaking into the house of a beloved judge, Hector Blake (Hugh Bonneville). But everything goes south when he finds something disturbing in the basement. The movie never quite goes where it seems to be pointed, eventually turning into a tense procedural; we watch as puzzle pieces almost fall into place, and then are cruelly swatted away. Kelly Macdonald co-stars as Toby's mother.
Is That Black Enough for You?!?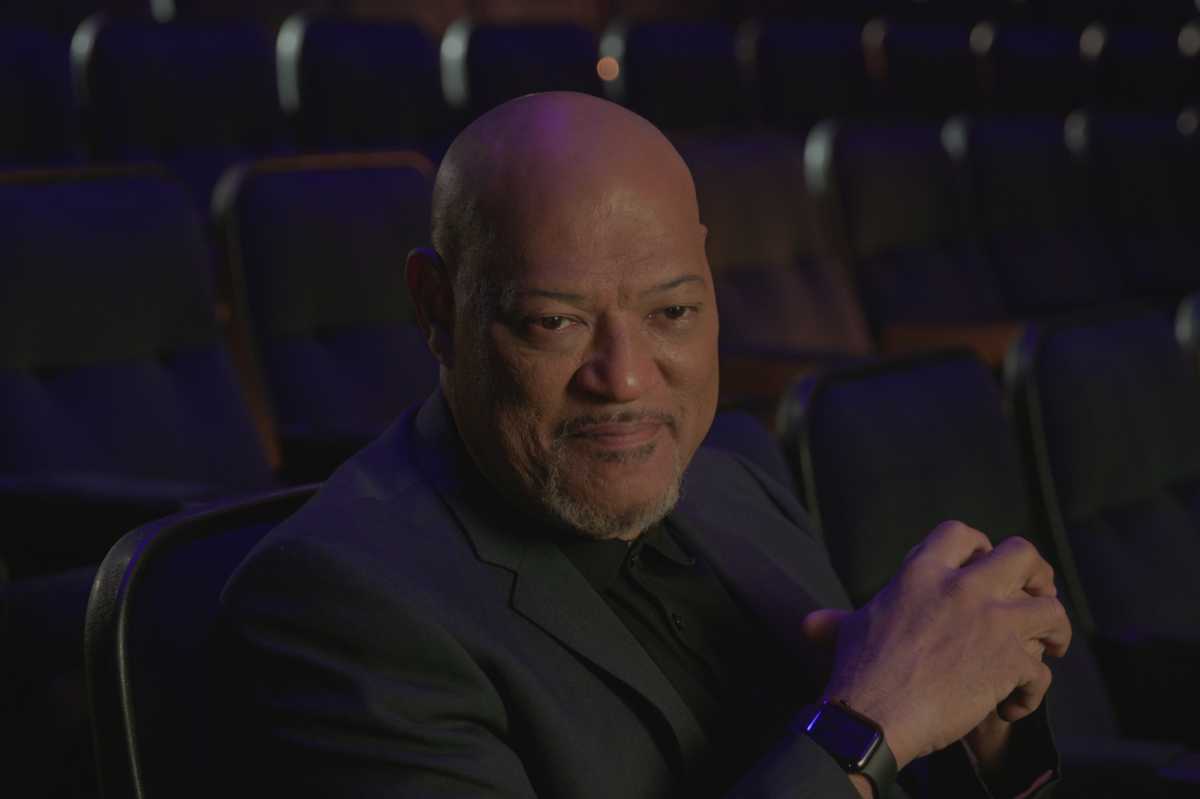 Netflix
Former New York Times film critic Elvis Mitchell directs this documentary, a deeply thoughtful and stirring personal essay on Blackness and cinema. Is That Black Enough for You?!? (2022) covers the history of film from the beginning—and has things to say about Gone with the Wind—but is essentially rooted in the 1970s, when Mitchell himself would have been seeing these movies. He dissects the "Blaxploitation" movement, labeling it as both a moneymaking scheme for whites, but also as an open demonstration of Black power (during a time when white actors were playing sad anti-heroes).
Pam Grier, especially, was a star who packed sensuality, strength, and humanity into every role. The documentary traces the notable films of each year of the decade, up through the genre's decline, and reaching the pinnacle of Charles Burnett's masterpiece Killer of Sheep (1977). Interviewees include Margaret Avery, Harry Belafonte, Burnett, Laurence Fishburne, Whoopi Goldberg, Samuel L. Jackson, Billy Dee Williams (he describes his entrance in Lady Sings the Blues: "I fell in love with myself!"), and Zendaya.
Lady Chatterley's Lover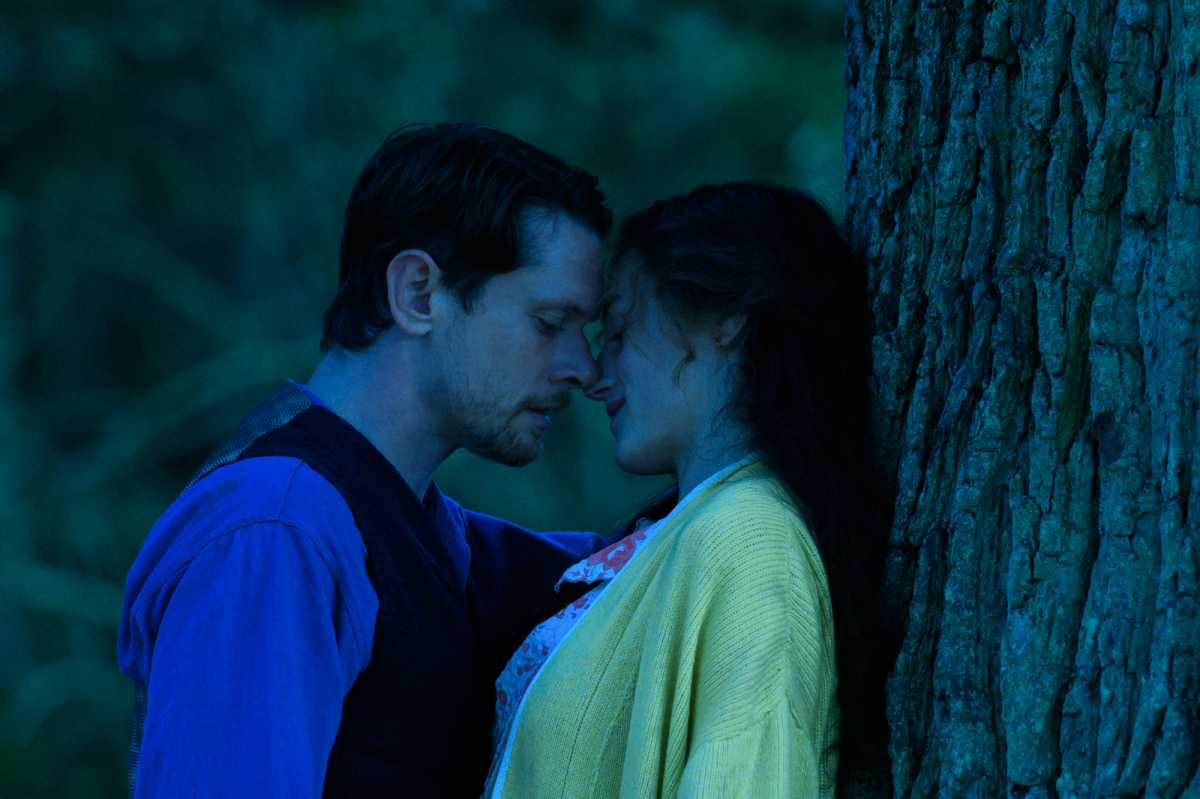 Netflix
Several movies have been made of D. H. Lawrence's 1928 novel, notably the trashy 1981 version by the director and star of the softcore sex film Emmanuelle. This classy, modern version from director Laure de Clermont-Tonnerre (the excellent The Mustang), is pretty straightforward, breezing through its first 15 minutes checking off boxes. Constance Reid (Emma Corrin) marries Sir Clifford Chatterley (Matthew Duckett). Check. He goes back to the front lines. Check. He's paralyzed from the waist down. Check. They move into a huge mansion, but he no longer wants to be sexual with her. Check. They hire new servants, including the handsome brooding game-keeper Oliver Mellors (Jack O'Connell). Check.
From there, Connie starts going to his cabin for some getaway time, and the movie surprisingly begins to build in an emotional, sensual way. The actors have a genuine chemistry, and they project their desire and guilt and excitement and shame in an openly honest way. And, yes, it's a steamy movie as well, refreshing in a time when most other movies seem to be avoiding sex at all costs. Joely Richardson is great as Mrs. Bolton, who is hired to care for Clifford.
Ma Rainey's Black Bottom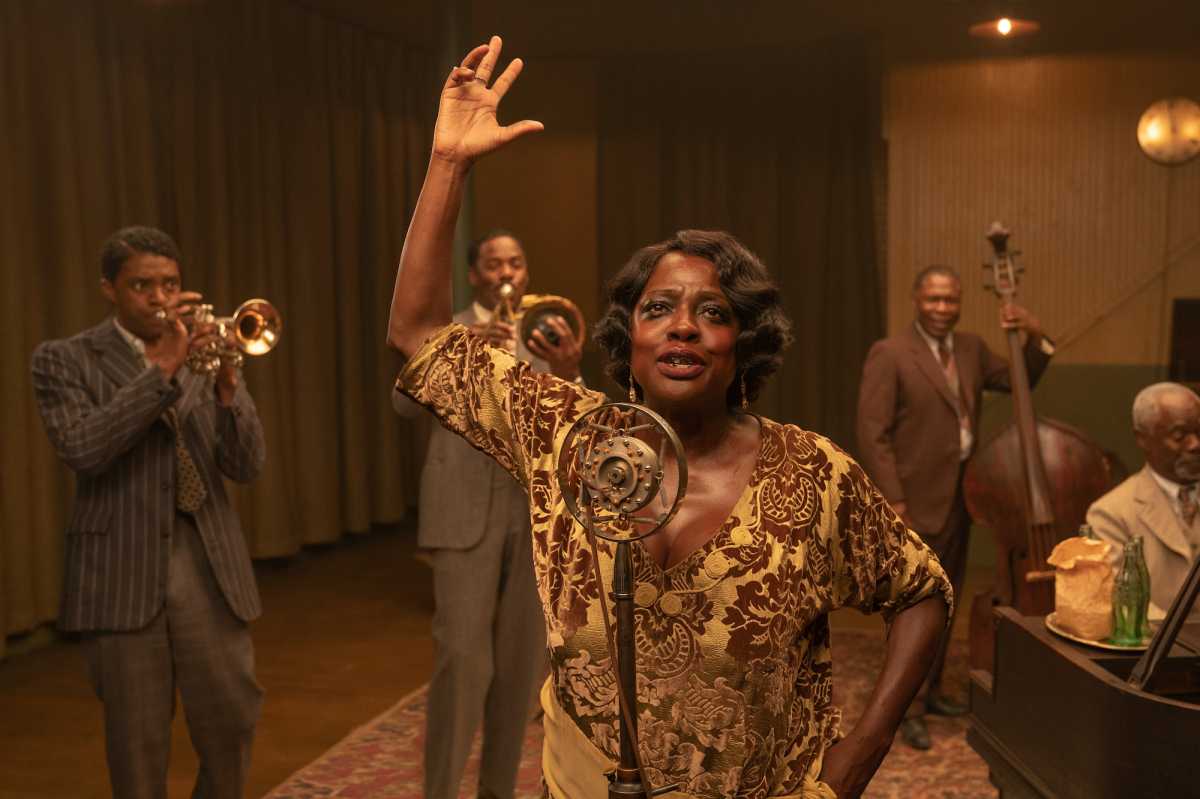 Netflix
Produced by Denzel Washington, Ma Rainey's Black Bottom (2020) is the second of August Wilson's plays to be adapted to the screen, after Washington's own Fences. It's an incredible film, far more dynamic than most adaptations of plays, and blasting through its 94 minutes with jumping, stomping, and sweating.
In the 1920s, blues singer Ma Rainey (Viola Davis) and her band arrive to cut some sides in a white-run recording studio in Chicago. In her panda-bear makeup and sinister gold teeth, Ma is a fierce figure, wielding a certain amount of power, but only for her immediate gratification, and Davis' performance is masterful. Even more powerful is the final work by the unparalleled Chadwick Boseman as the swaggering trumpeter Levee. Director George C. Wolfe uses the studio's spaces, its high windows, its dank basement, and a mysterious door, as part of the movie's fabric, with all the pieces snapping together as it sings through its rage.
Metal Lords
Netflix
After a run-in with the school bully, Hunter impulsively signs them up for the Battle of the Bands competition, but they need a bass player. Enter Emily, a Scottish student who is kicked out of the school band, but is actually a brilliant cello player. Kevin tries to convince Hunter to allow Emily into the band ("no Yoko Onos!"), while many other obstacles arise before the big show. It might be familiar stuff, but it's lively and "metal" enough to rawk on its own terms.
Mr. Harrigan's Phone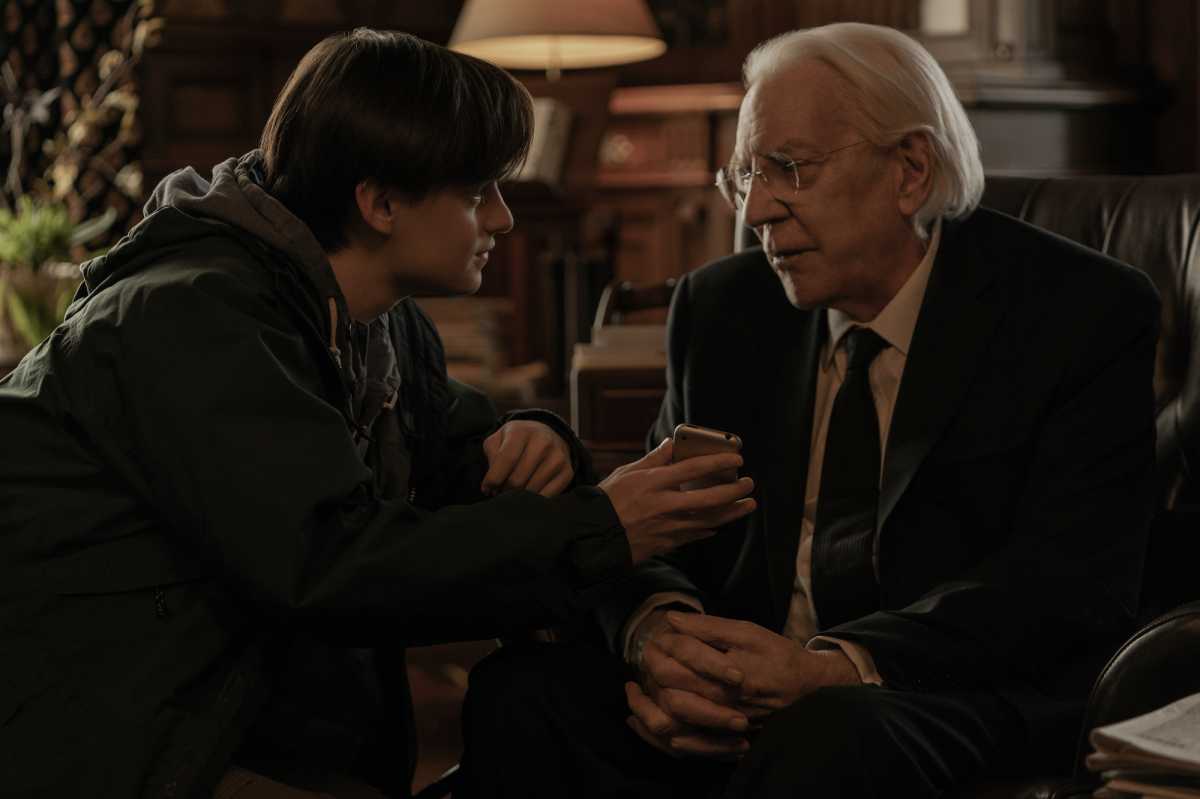 Netflix
Writer/director John Lee Hancock (The Blind Side, Saving Mr. Banks) adapted a Stephen King novella from the 2020 collection If It Bleeds and came up with this rather sweet horror tale. Jaeden Martell (also in the King movies It and It Chapter Two) stars as Craig, who is hired to read to wealthy, grumpy Mr. Harrigan (Donald Sutherland) three times a week. After a few years, they form a strong bond, and when Harrigan gives Craig a winning lottery ticket, he buys the old man an iPhone. After Harrigan dies, Craig finds that he can text vengeful requests to the afterlife and that they will be carried out.
It's a pretty simple "be-careful-what-you-wish-for" scenario, handled softly and without many scares, but Martell and Sutherland really sell their deep friendship, and it's easy to forgive Craig for the things he does in grief. Joe Tippett plays Craig's kindhearted father, Kirby Howell-Baptiste plays a beloved teacher, and Cyrus Arnold is memorable, and terrifying, as the gigantic bully Kenny Yankovich.
Pamela: A Love Story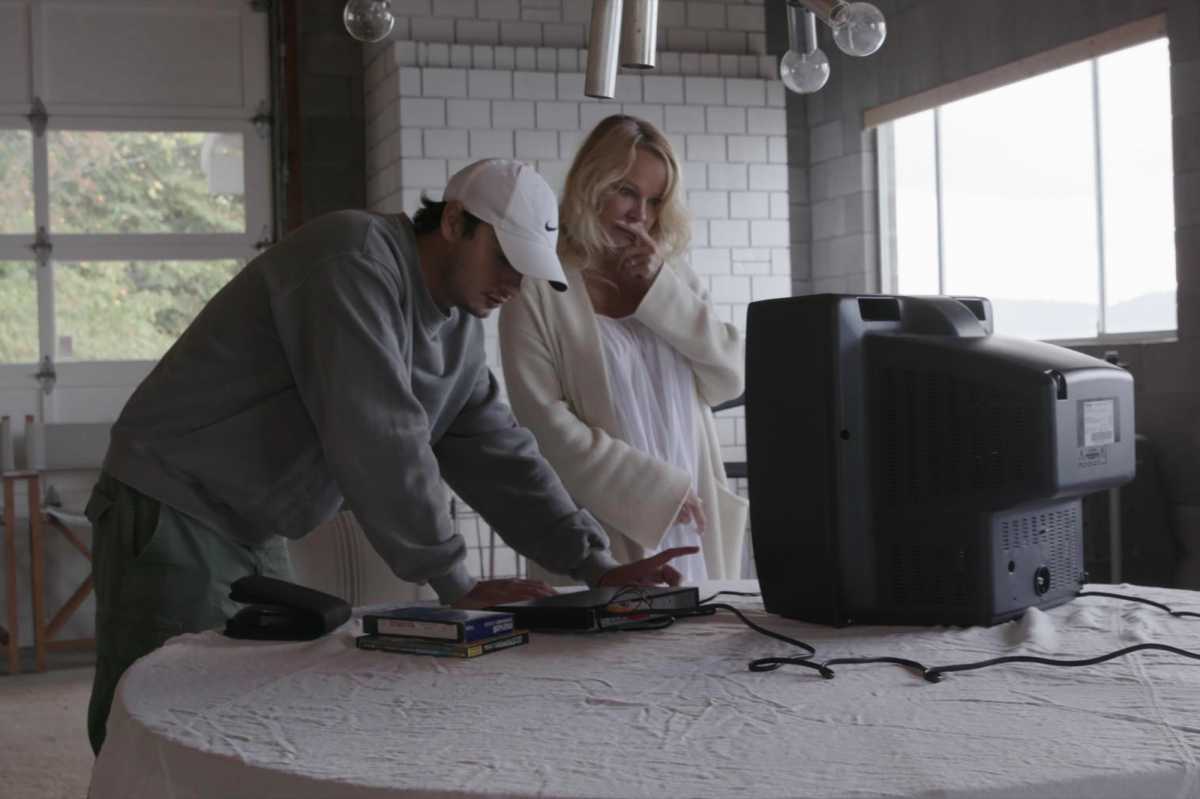 Netflix
Much like the monumental documentary O.J.: Made in America (2016), but on a smaller scale, Pamela: A Love Story (2023) calmly and thoughtfully revisits a hysterical media frenzy and makes sense of it. Directed by Ryan White (his equally good documentary Good Night Oppy is available on Amazon Prime), the story is told from the point of view of Pamela Anderson herself, here in her mid-50s and appearing as-is, without makeup, and with her two grown boys in tow. We hear of her meteoric rise to fame, her whirlwind romance with Mötley Crüe drummer Tommy Lee, and their infamous sex tape.
In the midst of that scandal, the couple were the butts of many jokes, but here, finally able to tell her side of the story, her status as victim becomes clear. She becomes a compassionate figure, sidelined by her fame as a sex symbol and forever prevented from doing anything personal or artistic. Some might say the doc is biased; for example, Anderson's work with PETA is discussed, without touching on that organization's controversial nature. But overall, it paints a fascinating portrait of a person who is more complicated than most people thought.
Okja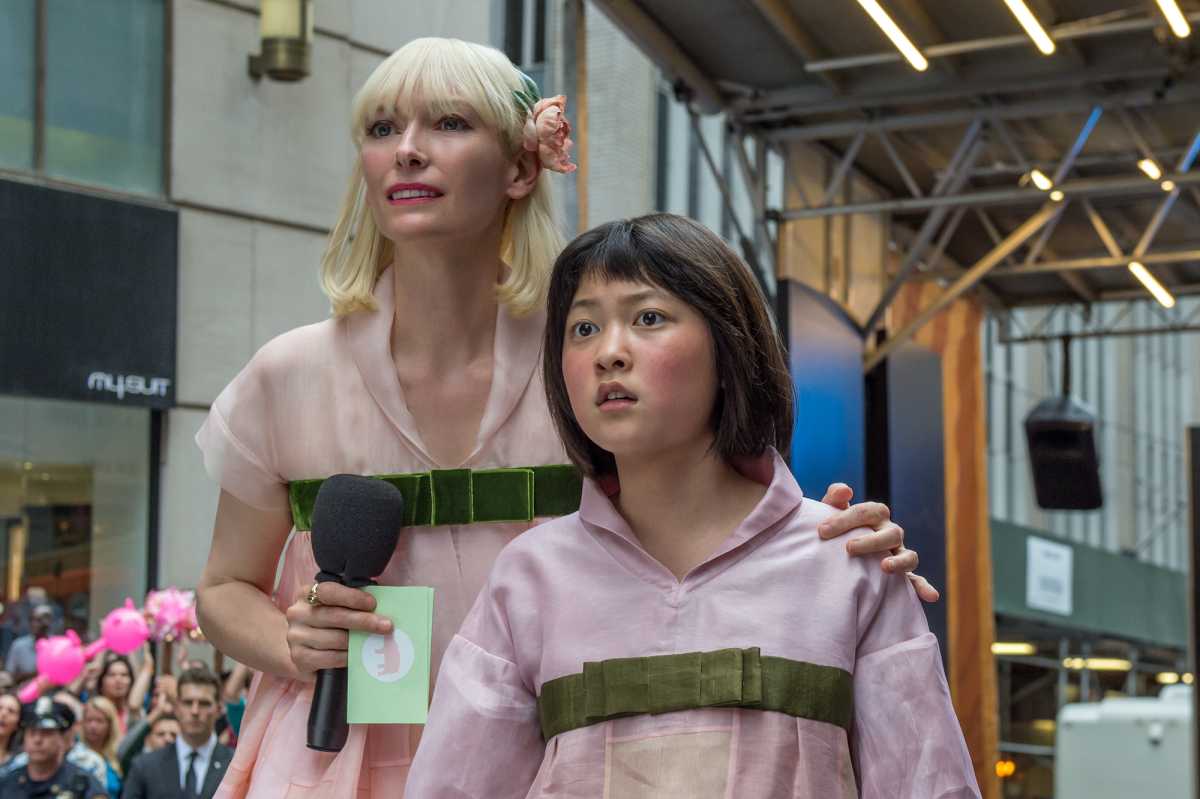 Netflix
The Korean director Bong Joon-ho became something of a household name after winning multiple Oscars for his great Parasite. His earlier film, the slick, international, all-star Okja (2017), contains some of the same themes; i.e. humanity as monsters. It's perhaps his busiest, but most playful work, offering laughs, thrills, weird visuals, and some disconcerting thoughts about food.
CEO Lucy Mirando (Tilda Swinton) has developed a kind of super-pig designed to ease world hunger and bolster her company's image. The pigs have been sent to the four corners of the world to be raised by local methods, to see which works best. A young girl in rural Korea, Mija (Ahn Seo-hyun), is clearly the winner, but she has also bonded with her pig, Okja. When Okja is picked up and shipped off to the city, she follows, like a pint-sized action hero.
She meets a group of eco-terrorists called the Animal Liberation Front (members played by Paul Dano, Lily Collins, and others), who have a plan. Shirley Henderson and Giancarlo Esposito co-star, and Swinton has a dual role as her own twin sister, but Jake Gyllenhaal steals the show as an outlandish television host, in the looniest performance he has ever given.
Operation Mincemeat
Netflix
John Madden (Shakespeare in Love) directs Operation Mincemeat (2022), a WWII story that's too static and relies too much on dialogue and exposition, but the story itself is so bizarre and the movie is so well-acted that it's well worth seeing.
In 1943, the Allied Forces are expected to invade Sicily. But the problem is that the Germans are expecting this and will surely be there to counter the attack. So, Lieutenant Commander Ewen Montagu (Colin Firth) becomes part of a secret team whose job is to put together a ruse that will convince the Germans that the Allies actually plan intend to invade Greece. The ruse involves fake papers, a dead body, and any number of strange puzzle pieces that must be assembled to perfection, with time running out.
Oh, and another member of Ewan's team is none other than young Ian Fleming (Johnny Flynn), who would go on to write a series of books about a secret agent named James Bond! Matthew Macfadyen, Kelly Macdonald, and Jason Isaacs also star.
The Perfection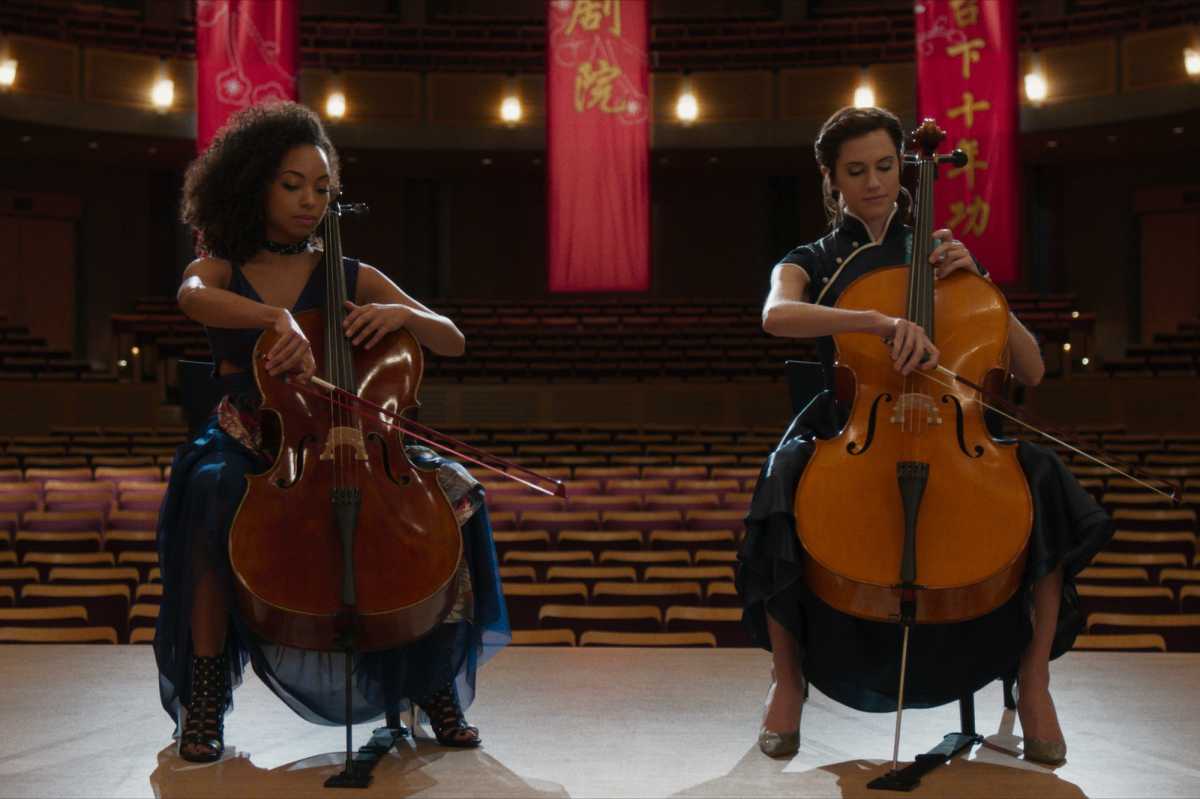 Netflix
A kind of horror-thriller with humorous elements and a playful structure, The Perfection (2019) is centered on two brilliant cellists, Charlotte (Allison Williams, from Get Out) and Lizzie (Logan Browning, from the Netflix series Dear White People). When the older Charlotte was forced to quit her training to look after her sick mother, the younger Lizzie became the new star. But after Charlotte's mother dies, she returns to the fold, thus leading to a twisty symphony of passion and revenge, told through clever, time-twisting measures.
Steven Weber plays their teacher who has a room so acoustically perfect that only the most special students are invited there. Director Richard Shepard, a criminally underappreciated filmmaker, provides a brisk, smart, agile touch, moving easily between gripping suspense and bright comedy in a way that's almost Hawksian.
The Power of the Dog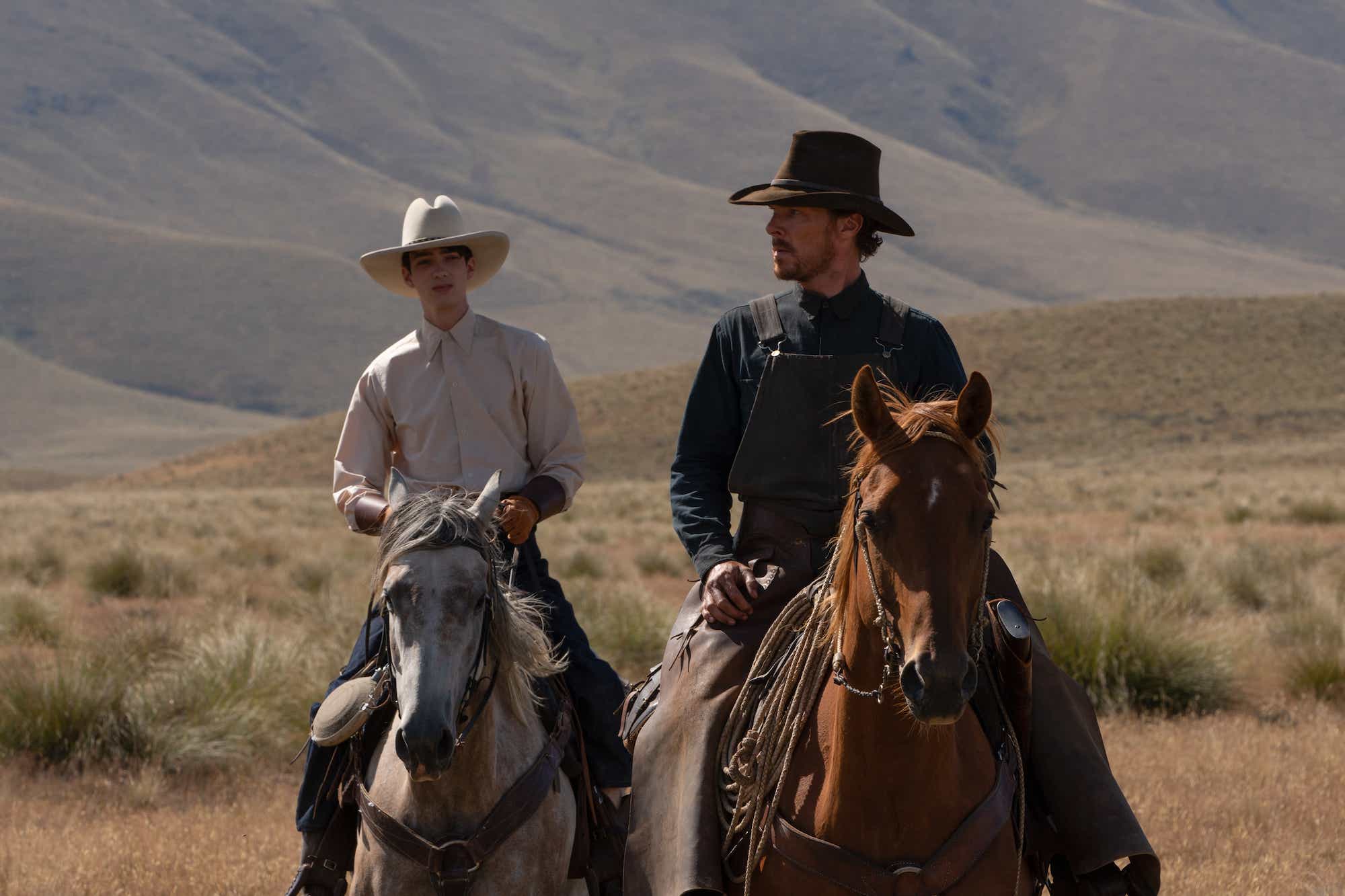 Netflix
Oscar-winner Jane Campion (The Piano) returns with her first feature film since 2009's Bright Star (she'd spent time working on the series Top of the Lake). The Western The Power of the Dog, based on a 1967 novel by Thomas Savage, shows that Campion has lost none of her potency. She uses the landscape, and even the earth itself, to tell this primal, feral story. The Cain-and-Abel brothers are alpha-male Phil (Benedict Cumberbatch), who bathes only occasionally and uses his vast, drawling vocabulary and steely eyes to cut others down, and clean-cut, soft-spoken George (Jesse Plemons), whose carefully chosen words make him seem simple.
The two run a successful cattle empire, and while on a drive, Phil ridicules the thin, un-masculine young Peter (Kodi Smit-McPhee), who waits on their table at an inn. George comforts the boy's distraught mother, Rose (Kirsten Dunst), and winds up marrying her. Back at the ranch, the power games ramp up, with subtle acts and wrenching moments, vanquishments tilting into defeats, with the twist of a rope.
The Sea Beast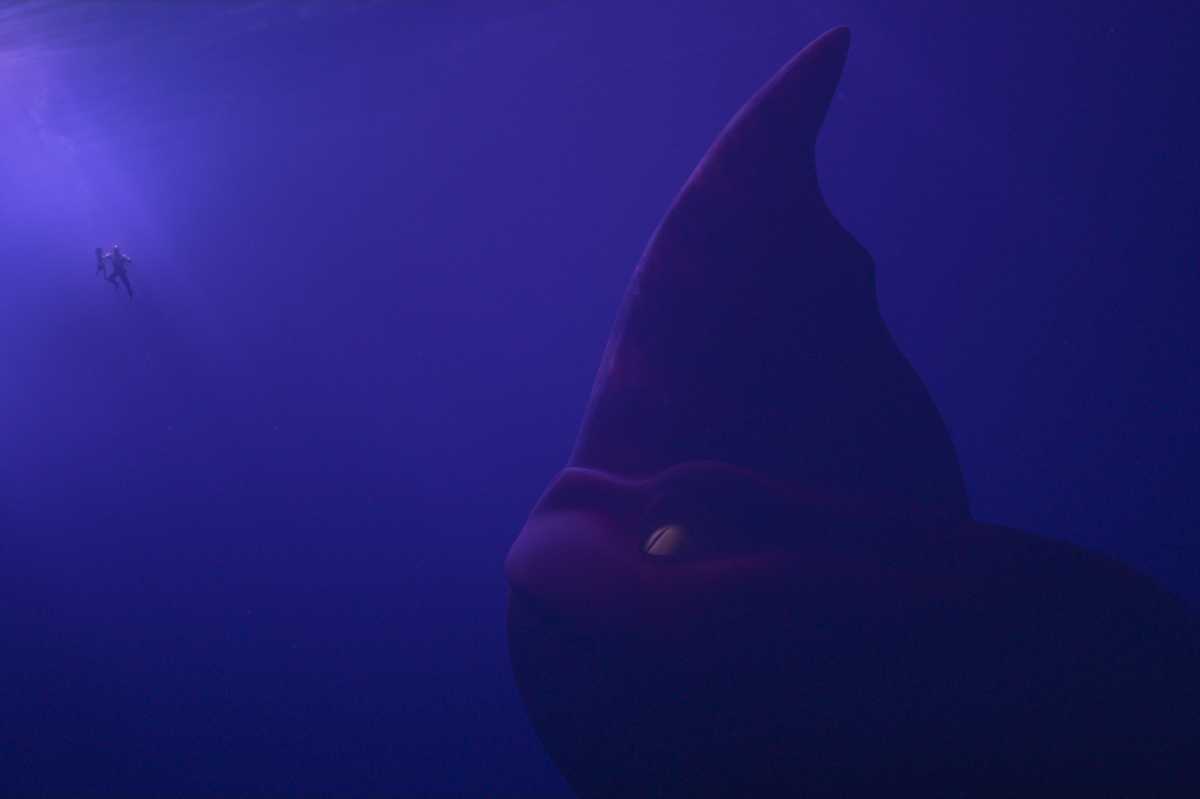 Netflix
Directed and co-written by Chris Williams (Moana and Big Hero 6), the animated adventure The Sea Beast (2022) has certain things in common with the How to Train Your Dragon series but is quite a bit more daring in its themes, and more tactile in its physical presentation. A ship called The Inevitable—led by the crusty Captain Crow (voiced by Jared Harris) and his scowling first mate Sarah Sharpe (voiced by Marianne Jean-Baptiste)—is charged with hunting giant sea monsters. The Captain is nearly ready to pass on his mantle to his adoptive son Jacob (voiced by Karl Urban), but on this voyage, a young stowaway, Maisie (voiced by Zaris-Angel Hator), upsets things. She and Jacob discover that the beast known as the Red Bluster actually means no harm.
The superb animation captures the feel of the sea; the size, weight, and texture of the monster; and plenty of other vivid details. During the final denouement, the story subtly equates the monsters—innocent but painted by those in power to look dangerous—with immigrants, creating an emotional, rather than contextual, impact.
Slumberland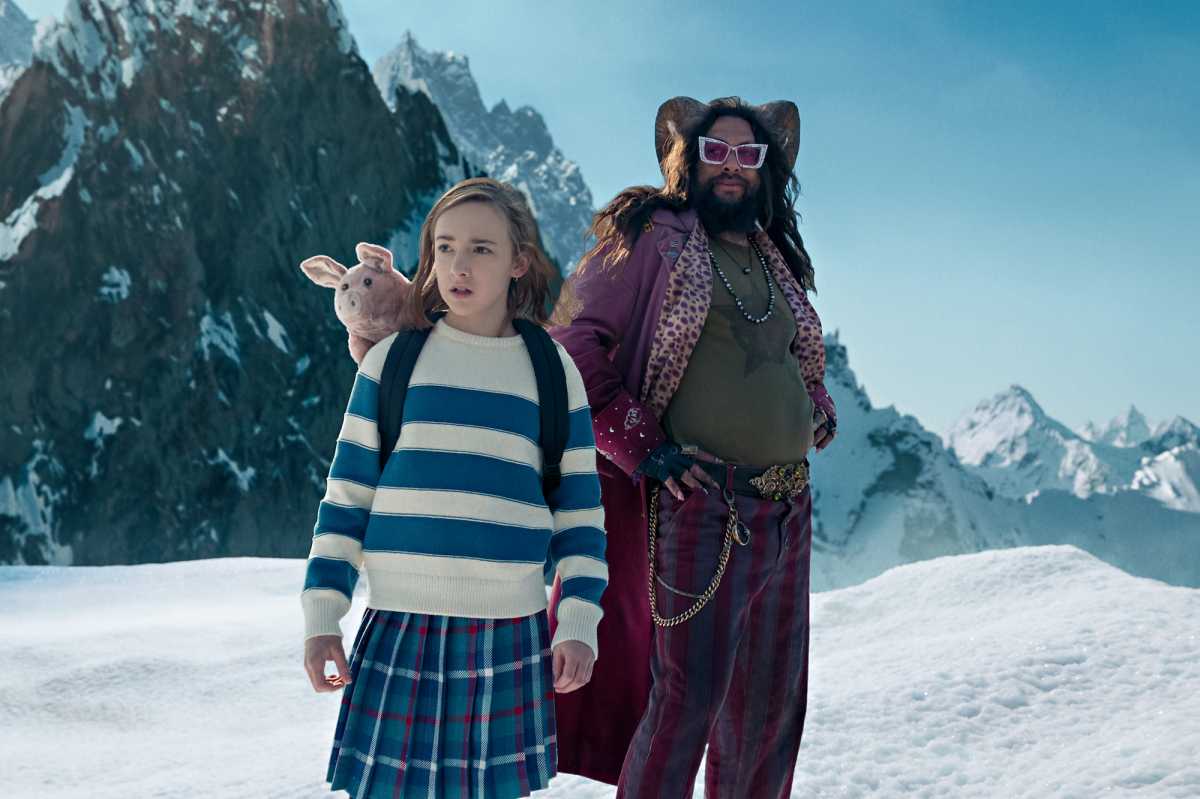 Netflix
In the 1900s, Winsor McCay's beautiful, bizarre Little Nemo comic strips ran in newspapers, basically depicting the title character's weird dreams after eating too much "rarebit" (cheese toast) before bed. The kid-friendly Slumberland (2022) is a more modern take, about fathers and daughters and how we see ourselves. Nemo is now a girl (Marlow Barkley), living happily in a lighthouse with her father (Kyle Chandler). When her father disappears at sea during a rescue, she is forced to live with her uncle (Chris O'Dowd), a doorknob salesman.
One night she finds herself transported to Slumberland, meets the zany outlaw Flip (Jason Momoa), and begins a quest to find a map that could lead them to a bed of magical wishing pearls. Director Francis Lawrence is normally a generic man-for-hire on empty blockbusters like the Hunger Games movies, but here he finds a fleet-footed lightness, taking joy in the movements and colors of the dream world, and easing into humor and excitement.
The Stranger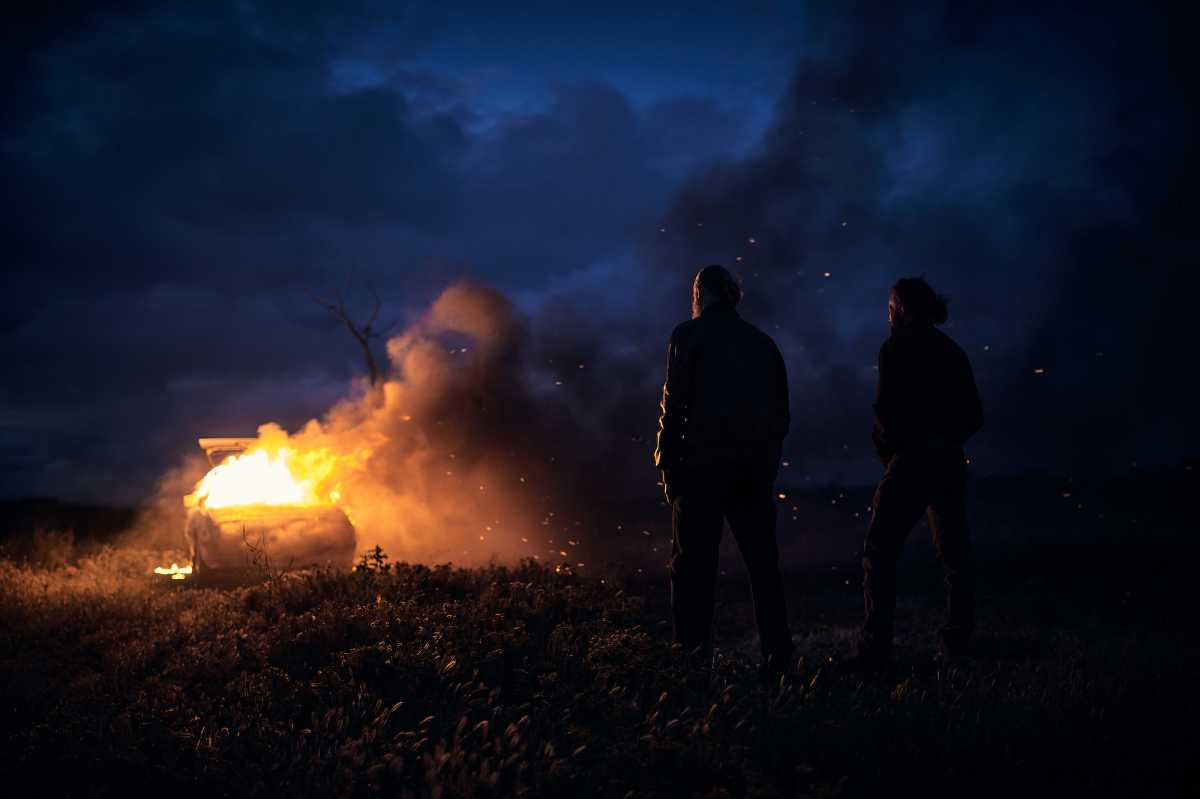 Netflix
Based on a non-fiction book by Kate Kyriacou, The Stranger expertly doles out just enough information to keep us riveted. Director Thomas M. Wright maintains a muted, no-nonsense atmosphere, forgoing fireworks in favor of cold realism (and featuring a great deal of facial hair).
This quiet, sly crime movie is yet another gem from Australia's Blue-Tongue collective, which gave us Animal Kingdom (2010), The Gift (2015), and many others. The Stranger (2022) is a slippery procedural, peeling back layer after layer to reveal an elaborate, yet rickety, house of cards. It begins when two men, Paul (Steve Mouzakis) and Henry (Sean Harris) meet on a bus. They strike up a friendship, and Paul tells Henry about another friend, Mark (Joel Edgerton), who might have work for him. It would entail joining a close-knit criminal organization, but Henry is reluctant, saying that he doesn't "do violence," adding that he has a past that he would rather leave behind. Then, Paul is unceremoniously ousted from the organization, as Henry and Mark begin to form a friendship.
Trees of Peace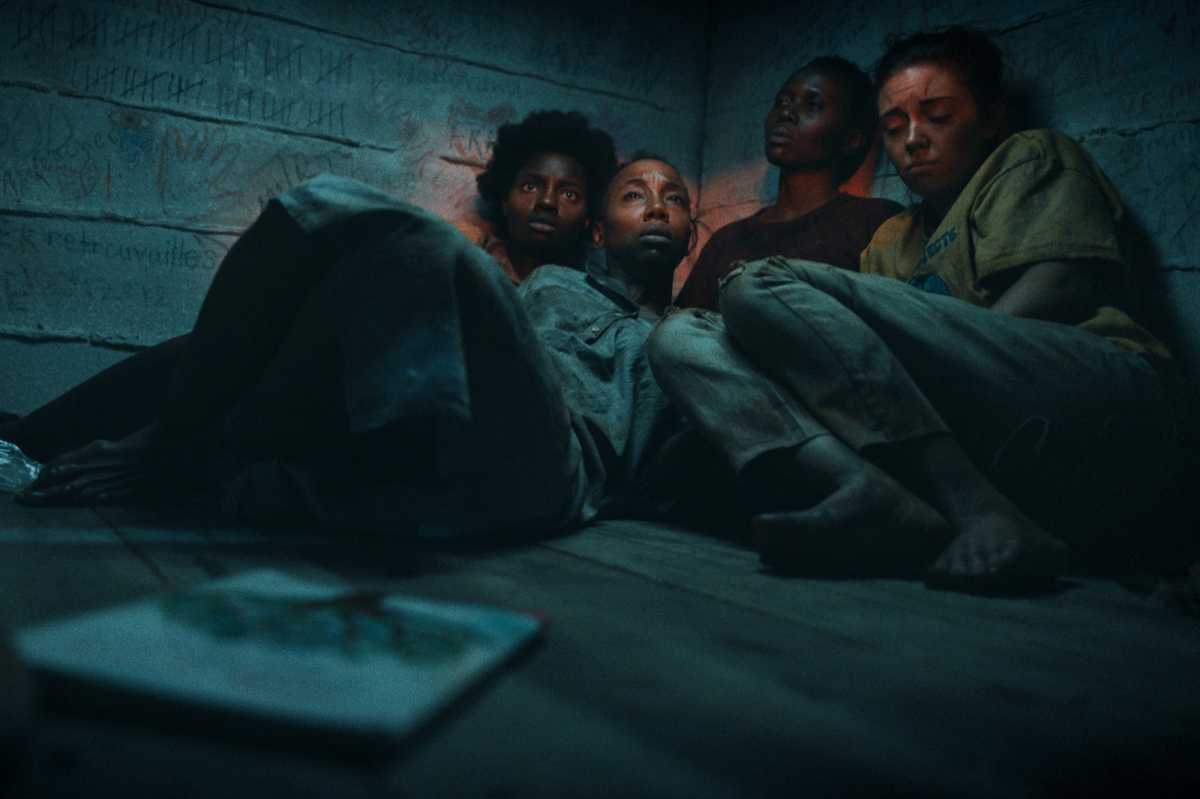 Netflix
Alanna Brown's Trees of Peace (2022) is one of the most harrowing movies you will ever see, inspiring viewers to curl up into a tight ball, both physically and emotionally, but its power is undeniable, and its rewards are many. It takes place in 1994 in Rwanda, when the Hutu people began killing the Tutsi people, en masse, sparking a genocide. (According to an opening crawl, hatred was whipped up between the two groups by Belgian colonizers.) Four women escape the killings by hiding in a small food cellar, fitted with one tiny window, for what they expect will be only a couple of days. As time drags on, their stories come out.
Annick (Eliane Umuhire) is pregnant after several miscarriages, Sister Jeannette (Charmaine Bingwa) is a nun and a teacher, Mutesi (Bola Koleosho)—with blood on her collar throughout—is cynical and hostile, and Peyton (Ella Cannon) is a volunteer from America with a dark past. The women argue, talk, tell stories, support one another, and just generally try to survive, while Brown deftly balances existential dread with small moments of hope.
Troll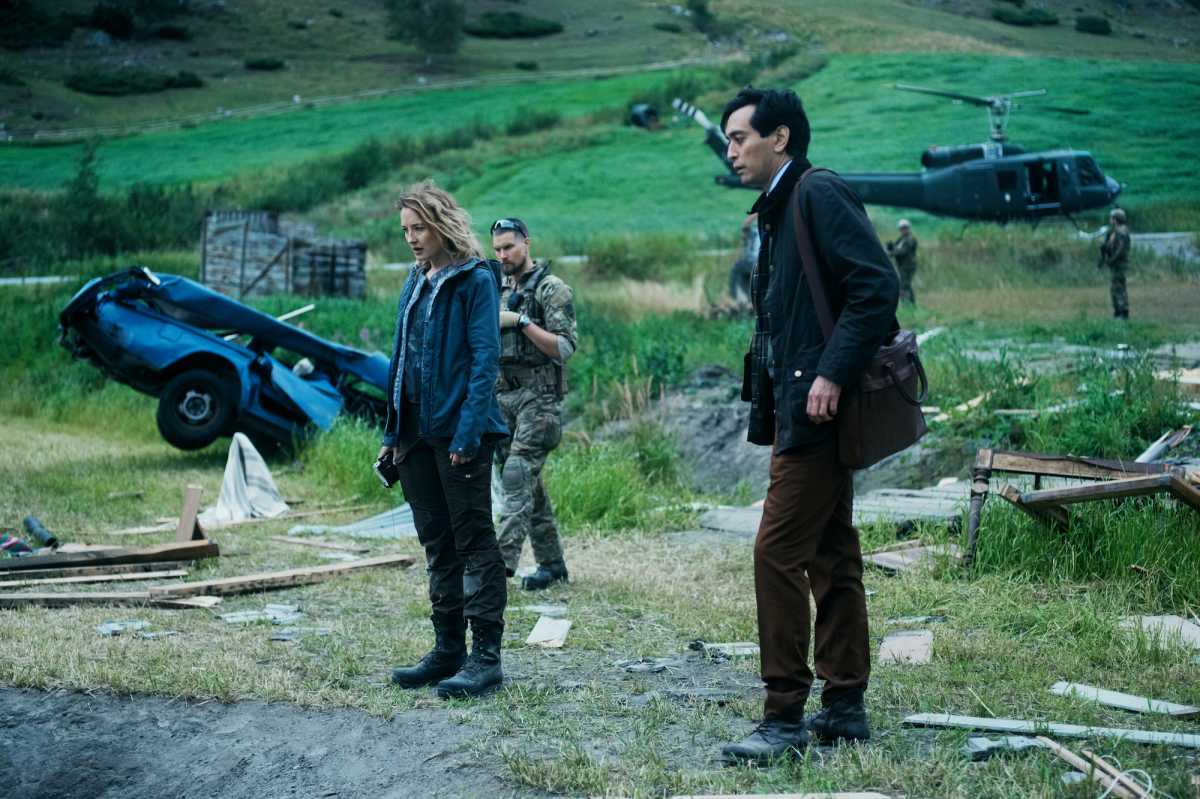 Netflix
After a visit to Hollywood to make the dull Tomb Raider reboot in 2018, filmmaker Roar Uthaug returned to Norway for the giant monster movie Troll (2022). It was a good move. Even though the movie is utterly generic, with every single moment recognizable from many other movies, it still pulses with its own fresh energy. It begins with a flashback to young Nora Tidemann, learning about folklore from her passionate father. In the present day, Nora (Ine Marie Wilmann) is a paleontologist, whisked away from her current dig to help with a problem. A giant troll is rampaging the countryside, and appears to be heading for Oslo.
Unfortunately, short-sighted members of government and the military think she's nuts, and they insist on shooting guns and missiles at the beast. Only the prime minister's assistant, Andreas (Kim Falck), and military man Kaptein Kristoffer Holm (Mads Pettersen) are willing to listen to her, and to dig through her father's clues to find out what is really going on. It all builds to a big chase and showdown, which are expertly executed. (It's best to watch this one in its original Norwegian, with English subtitles.)
Wendell & Wild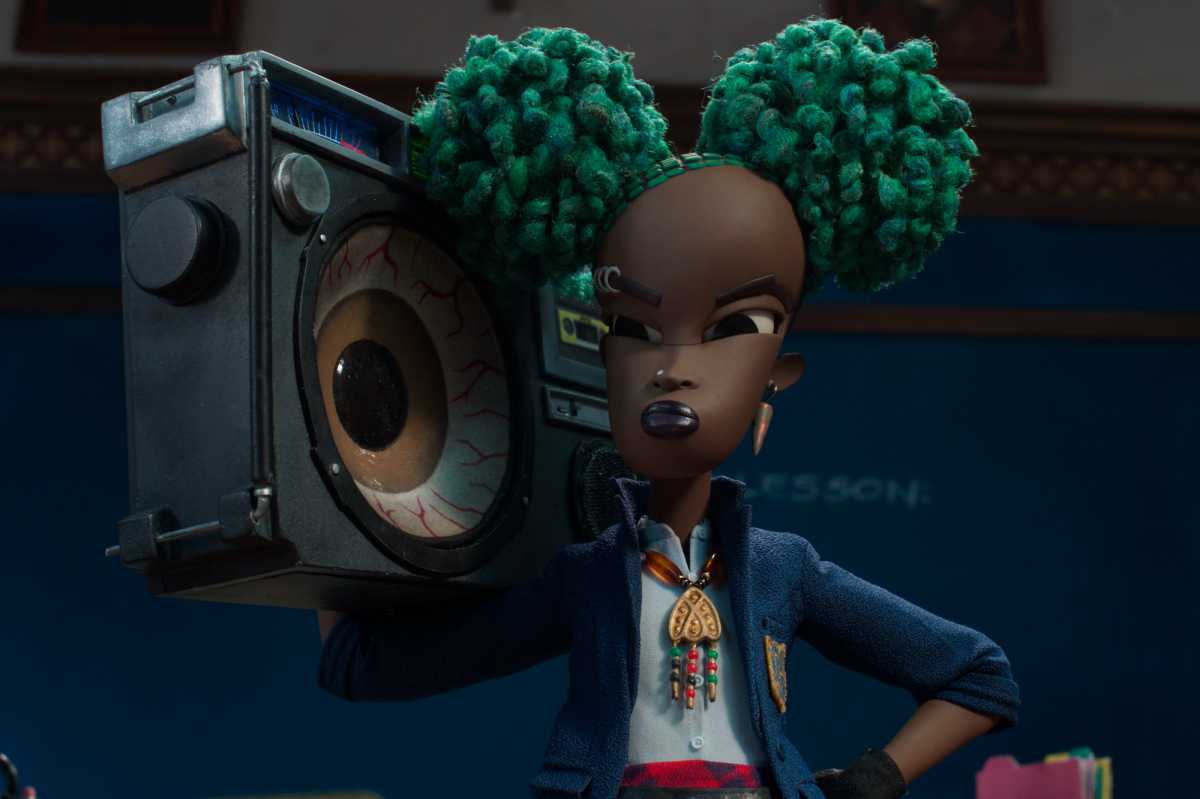 Netflix
Filmmaker Henry Selick, who is the actual director of The Nightmare Before Christmas (1993), as well as the man behind the masterful Coraline (2009), returns with more stuff from which nightmares are made. Co-written by none other than Jordan Peele, and featuring almost all Black characters, Wendell & Wild (2022) has an unsettling look, with odd-shaped faces and bodies full of sharp edges and hinges. Peele and his comedy partner Keegan-Michael Key play the title demons, who work for their bullying father, Buffalo Belzer (voiced by Ving Rhames), and dream of building their own amusement park.
In the real world, young Kat (voiced by Lyric Ross) loses her parents in an accident and blames herself. She grows into an angry, rebellious teen (who listens to the English punk band X-Ray Spex). She summons Wendell and Wild to the land of the living, where they promise that they can use a magic hair cream to resurrect her parents, if only she'll do their bidding. Truthfully, the fantasy plot is pretty convoluted, with hell maidens and zombies and spells and an evil corporation and secret conspiracies, but just watching this thing move and listening to the voice talent (which also includes Angela Bassett and James Hong) is more than enough.
White Noise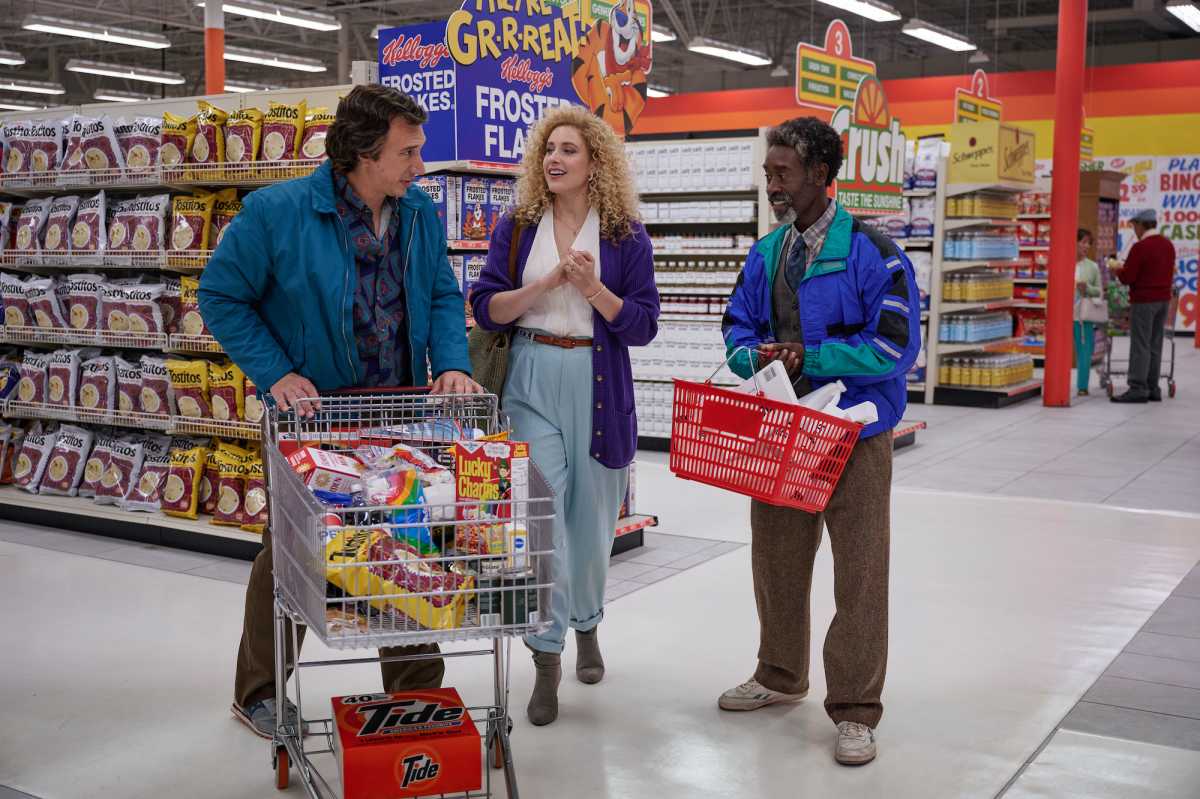 Netflix
Filmmaker Noah Baumbach (Marriage Story) usually makes talky character pieces, focused on highly educated, upper-middle class creative types in New York, but White Noise (2022), adapted from Don DeLillo's supposedly unadaptable classic novel, is something different: big, ambitious, bizarre, wildly uneven, sporadically funny, and weirdly worth seeing. It's the 1980s, and Jack Gladney (Adam Driver) is a professor of Hitler studies, while his wife Babette (Greta Gerwig) gives exercise classes to seniors. They are both on their fourth marriages and have amassed several children. Their lives are chaotic but happy, especially when they visit their town's massive, shiny new supermarket. Then, after a delivery truck crashes into a train and releases an "airborne toxic event," the family must evacuate, leading to a series of hectic adventures.
The movie features blocky chunks of artificial-sounding dialogue and a cacophonous soundscape. And Baumbach tries like crazy to be "visual," with poetic camera movies and pinwheeling shots. But every so often, some odd combination of things feels just right, especially a closing musical number, with pastel colors popping and Andre 3000 from Outkast shimmying with a box of cookies. (Coming to Netflix December 30.)
The Wonder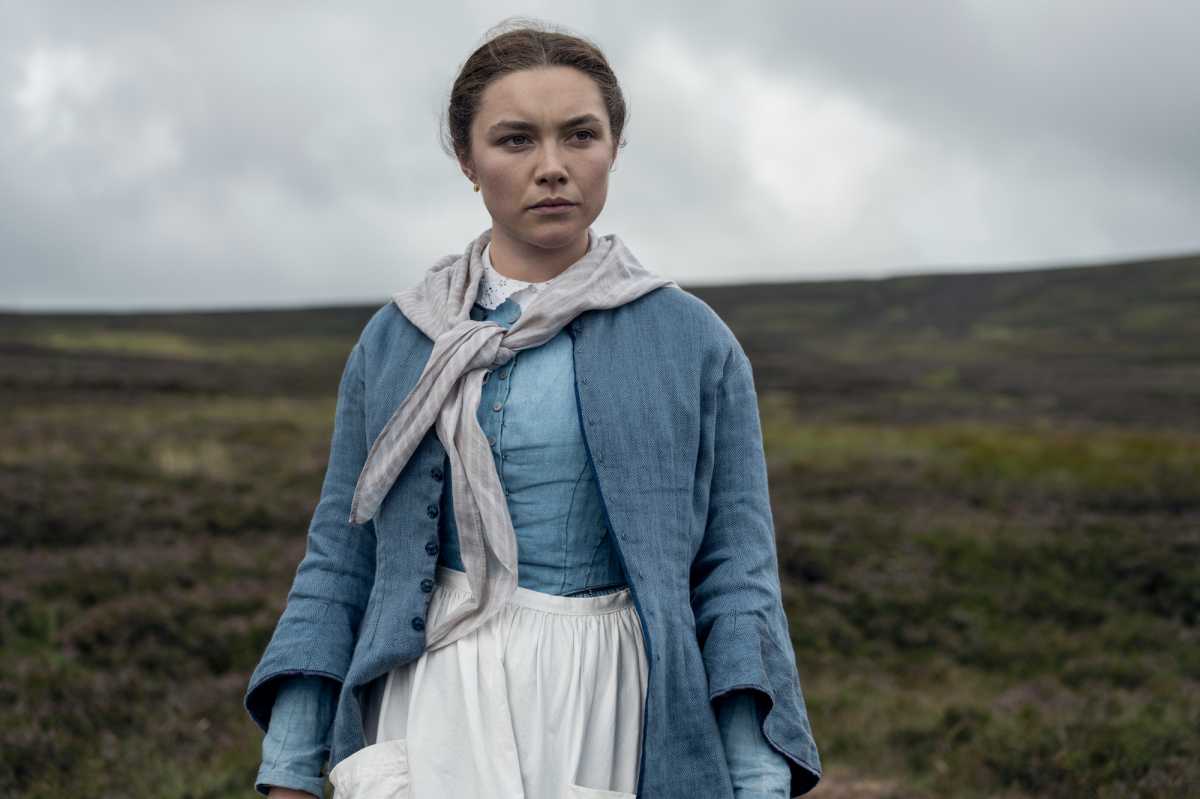 Netflix
The talented Argentinian director Sebastián Lelio (Gloria, A Fantastic Woman, Disobedience) crafts this entrancing mystery, set in Ireland in the mid-19th century. The equally gifted Florence Pugh brings gravity and fire to her role as nurse Lib Wright, who is tasked with watching over a young woman, Anna (Kíla Lord Cassidy), who has—apparently—not eaten a bite in four months. (She claims that she is surviving on "manna from Heaven.") Lib is to either discover if the child is a miracle or a fraud.
A reporter, William Byrne (Tom Burke), is also interested in the story, and tries to pry information from Lib. The Wonder (2022) is set in a small village, all gray skies and mud—the hems of Pugh's dress are forever stained—and it feels earthy and fleshy, so much so that food and hunger are a part of the fabric. The screenplay, adapted from Emma Donoghue's novel, constantly shifts power and prejudice (men are in charge here), so that everything feels constantly on edge. The great cast also includes Toby Jones and Ciarán Hinds, and Pugh gives a great performance, but it's young Cassidy who knocks it out of the park with her full-throated, intensely suffering miracle girl.
An unusually delightful high-school coming-of-age story, Metal Lords (2022) is a big, huggable movie, with, surprisingly, a bit of a sledgehammer edge. Long-haired metal fan Hunter (Adrian Greensmith) and his unlikely best friend, nerdy Kevin (Jaeden Martell, from It and Knives Out), are in a band together. Kevin practices playing on a full drum kit after playing a single drum in the school marching band.
These Netflix original movies just aren't worth your time
Bardo: False Chronicle of a Handful of Truths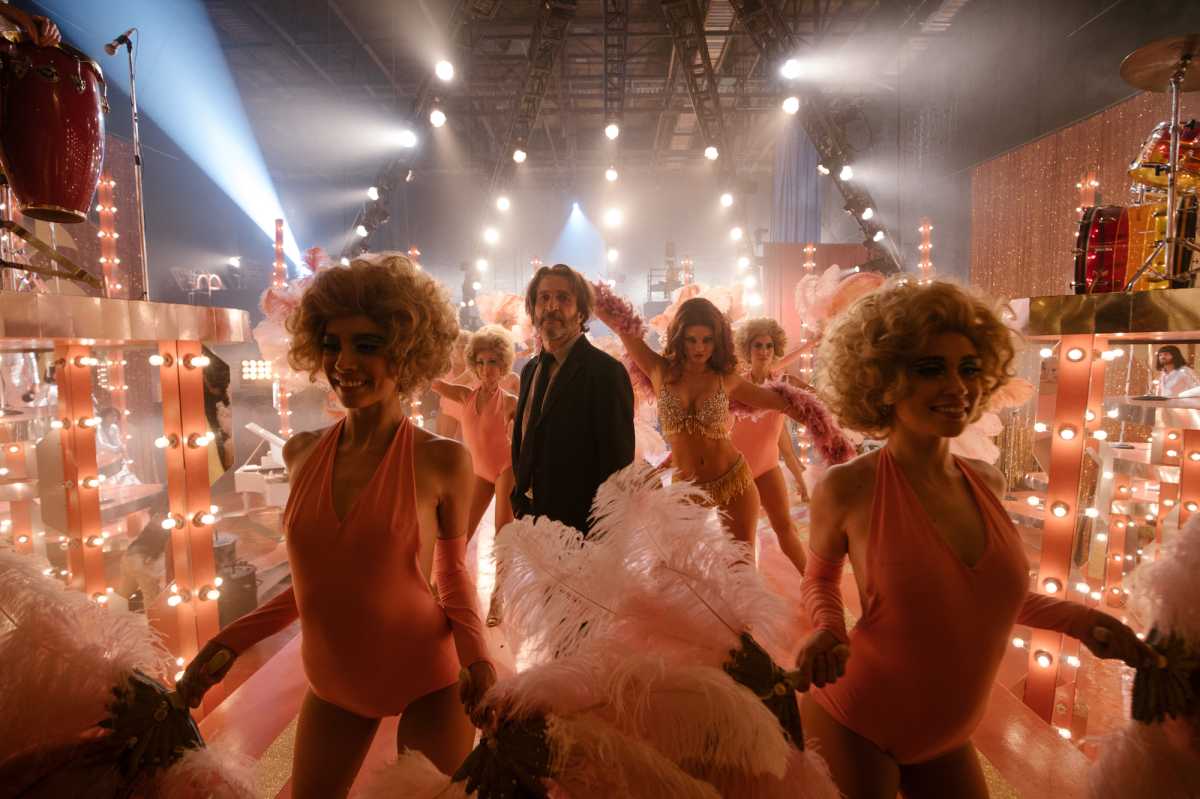 Netflix
The over-celebrated filmmaker Alejandro González Iñárritu—who won back-to-back Best Director Academy Awards for Birdman and The Revenant—is back with perhaps his most bloated, grossly self-indulgent movie yet. Bardo: False Chronicle of a Handful of Truths (2022) tells the story of a documentary filmmaker, Silverio Gama (Daniel Giménez Cacho), who is chosen to receive a special award, and will be the first Latin person to do so. A Los Angeles dweller, he returns to his native Mexico for interviews, parties, and so on. But the film is designed as a series of imaginary sequences, or hallucinations, or dreams, or nightmares, or what have you.
Iñárritu cooks up tons of strange, preposterous images, such as Gama climbing a mountain of human bodies (the scene turns into a film shoot), or splashing about in a foot of water on the floor of a moving train (which then merges seamlessly into an apartment). It's so woozy and disconnected that it's often difficult to follow for the ludicrous running time of 159 minutes, and there's little to care about. The show-offy cinematography, on the other hand, received an Oscar nomination.
You People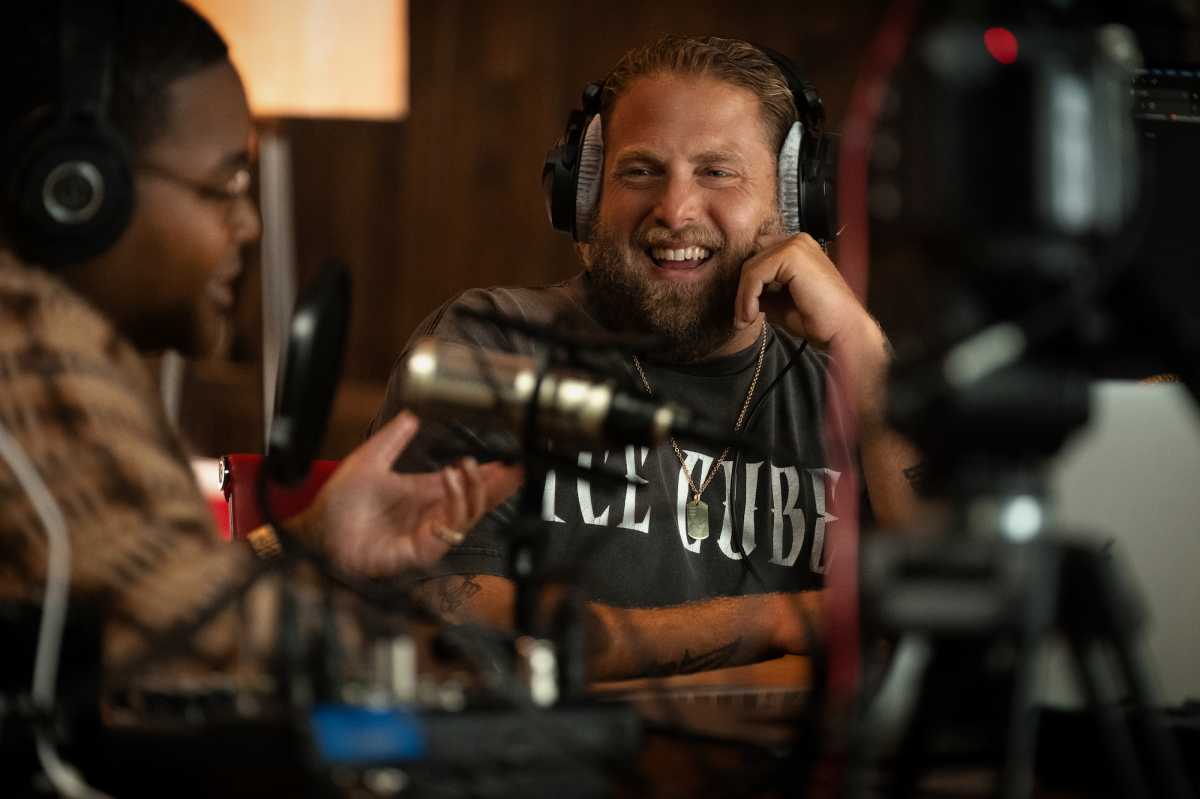 Netflix
Featuring a great cast and a strong idea, You People (2023) nonetheless fumbles it, awkwardly wobbling between rom-com clichés and half-thought-out racial discourse. Ezra (Jonah Hill) does a podcast with his best friend Mo (Sam Jay), a Black woman. He meets and falls in love with Amira (Lauren London), and they decide to get married. This leads them to the meeting of the parents, Ezra's clueless, white, Jewish folks (Julia Louis-Dreyfus and David Duchovny) and Amira's proud Black parents (Eddie Murphy and Nia Long). The white folks try too hard and say the wrong things, and the Black folks get indignant, and—other than some dumb slapstick (Louis-Dreyfuss accidentally set's Murphy's kufi on fire)—that's about it.
The pressure drives the couple apart, and we wait for them to make up at the end. Hill wrote the screenplay along with "Black-Ish" creator Kenya Barris (who also makes his feature directing debut), and it simultaneously skitters close to the edge while forever playing it safe. Perhaps worse: neither Murphy nor Hill get to be very funny; they're both just kind of obnoxious.