If you have an Amazon Echo smart speaker or display in a room that tends to get loud, such as the laundry room or a kitchen, you might find yourself straining to hear Alexa's answers to your queries.
Mentioned in this article
Amazon Echo Dot (4th Gen)
Even Alexa's clear voice can have a hard time cutting through the noise of dishwashers, laundry machines, or a group of chatty people. And while you can always just turn Alexa's volume up, it's no fun being jolted by a too-loud Alexa when the room falls quiet.
Well, good news: Amazon is rolling out a new Alexa update that can help her raise her voice when the surrounding noise gets to be too much.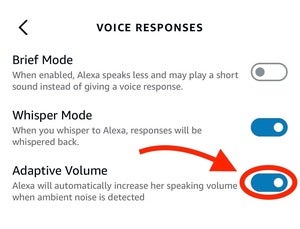 Adaptive Volume is a feature that lets Alexa boost the volume of her speech when she detects loud ambient noise, perfect for keeping Alexa's voice at just the right level.
The feature should already be available via the Alexa app or Alexa herself. Don't see it yet? Be patient, as the roll out only began in the past week or so.
How to turn on Alexa's Adaptive Volume setting
The easiest way to turn on Adaptive Volume is to simply ask Alexa. Just say "Alexa, turn on Adaptive Volume," and she'll obediently turn on the feature for all your compatible Echo devices.
You can also enable Adaptive Volume using the Alexa mobile app. Once you fire up the app, tap the More tab, then tap Settings > Voice Responses. Finally, make sure the Adaptive Volume setting is toggled on.
If you ever want to disable the Adaptive Volume setting (although I'm not sure why you would), you can ask Alexa to do it for you.