I have a morning Alexa routine that gives me a weather report, some good news, and (of course) a rooster crow when I say "Alexa, good morning." The only problem? I rarely use it, and it's my own dang fault.
Mentioned in this article
Amazon Echo Dot (4th Gen) with Clock
In the rush of getting ready in the morning, I often forget to say "good morning" to Alexa, which means I frequently miss hearing the day's weather—and worse, no rooster.
An alternative would be to set my morning Alexa routine to go off at 6:50 a.m., when my bedroom smart lights automatically switch on and as my alarm starts blaring, but I'd probably be too groggy to register Alexa's morning greeting.
But there's a third option that's even more effective, and one that I'd never considering using until recently: triggering an Alexa routine by dismissing an alarm.
Now, I never forget to trigger my morning routine; after all, Alexa's alarm is tough to ignore. I'm also in a clearer state of mind when Alexa briefs me on the coming day.
Of course, there are other uses for alarm dismissal triggers aside from morning routines. For example, you could trigger a lighting scene by dismissing an alarm, start a Spotify playlist, or change an Echo setting, such as the volume or "do not disturb" status.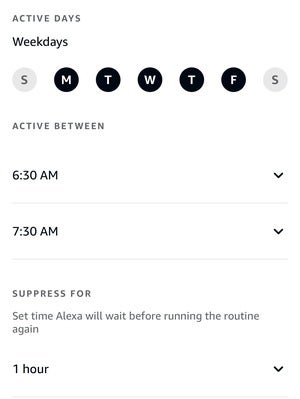 Once you choose to use an alarm dismissal as a trigger, you can decide which days of the week the routine will be active (such as only on weekdays), and at what times (maybe just for an hour in the mornings). That way, your routine won't be triggered every single time you dismiss an alarm (although that is an option).
You can also set Alexa to "suppress" the routine for anywhere from a minute to 12 hours, handy for keeping Alexa from needlessly repeating the routine shortly after it was first triggered.
How to trigger an Alexa routine by dismissing an alarm
First, let's create a fresh Alexa routine. Open the Alexa app, tap More > Routines, tap the "+" button in the top-right corner of the screen, then give your routine a name.
Next, tap When this happens and then Alarms; when you do, you'll come to a screen that says "Alarm is dismissed" (that's the only option). Tap Next to confirm.
If you want Alexa to trigger your new routine anytime someone dismisses an alarm, you can skip ahead to programming what will happen when the routine runs. But if you only want Alexa reacting to a dismissed alarm during certain time periods—only during weekday mornings, say—you'll need to set those windows. To do so, tap Change next to Anytime.
Now, you can pick which days of the week you during which you want the alarm dismissal trigger to be active (perhaps Monday through Friday only), as well as which time windows (maybe between 6:30 and 7:30 in the morning). You can also set Alexa to "suppress" the routine for up to 12 hours.
Finally, tap Add action to decide what happens during your routine, such as the crowing rooster (which is the only proper way to start the day), a friendly Alexa greeting, a smart lighting scene, and so on. All done? Tap Save.
Keep in mind that dismissing an alarm either by voice command ("Alexa, stop") or manually (by pressing a button on your Echo speaker, or swiping the screen of an Echo Show) can trigger a routine. Snoozing an Alexa alarm, however, doesn't count.