Amazon deserves a measure of credit for taking risks and producing artful movies to stream on Amazon Prime Video. The service is second only to Netflix when it comes to producing original movies. And original productions are the only ones we'll point out here.
Amazon Prime members get Prime Video as part of their membership, which costs $14.99 per month or $139 per year. You can sign up for an Amazon Prime 30-day free trial at the preceding link. You can also subscribe to Amazon Prime Video by itself for $8.99 per month, and there's a 30-day free trial for that available as well (click the preceding link).
Updated March 3, 2023 to add three new recommendations. Jeff's earlier picks follow in alphabetical order.
Argentina, 1985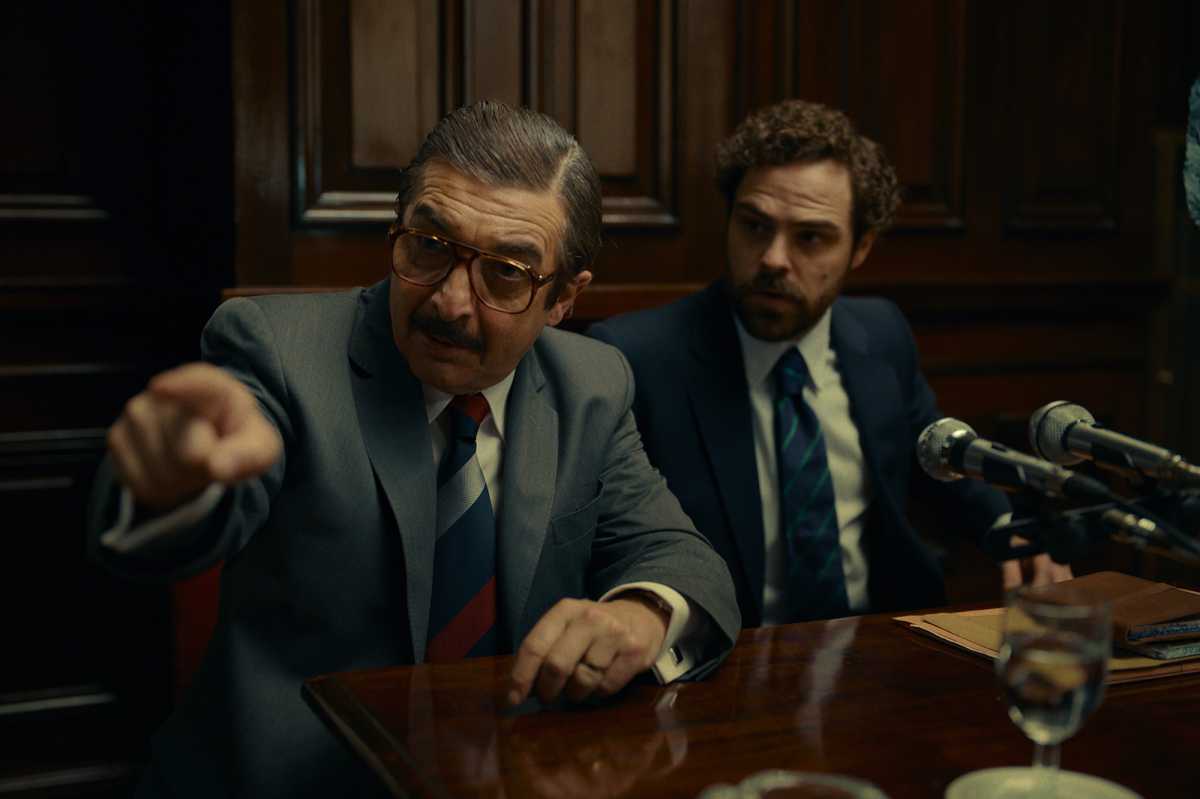 Amazon Studios
Nominated for a Best International Feature Academy Award, Santiago Mitre's Argentina, 1985 (2022) is really a familiar courtroom drama, with the pure-hearted underdogs fighting against the powerful and corrupt, but it tells an essential historical tale. From 1976 to 1983, Argentina was ruled by a cruel oligarchy, a military government, known as a junta. This era of persecution was finally ended by a democratic election, and then it was decided—incredibly—to bring the leaders to trial.
This difficult job falls to prosecuting lawyer Julio César Strassera (well-known Argentinian actor Ricardo Darín, of The Secret in Their Eyes, et al) and deputy prosecutor Luis Moreno Ocampo (Peter Lanzani). None of their colleagues will join their team, so they are forced to recruit fresh-faced law students to build a case over just a few months. Narratively, it unfolds about as one would expect, but spiritually, it contains a bold cry for justice that rings true.
Good Night Oppy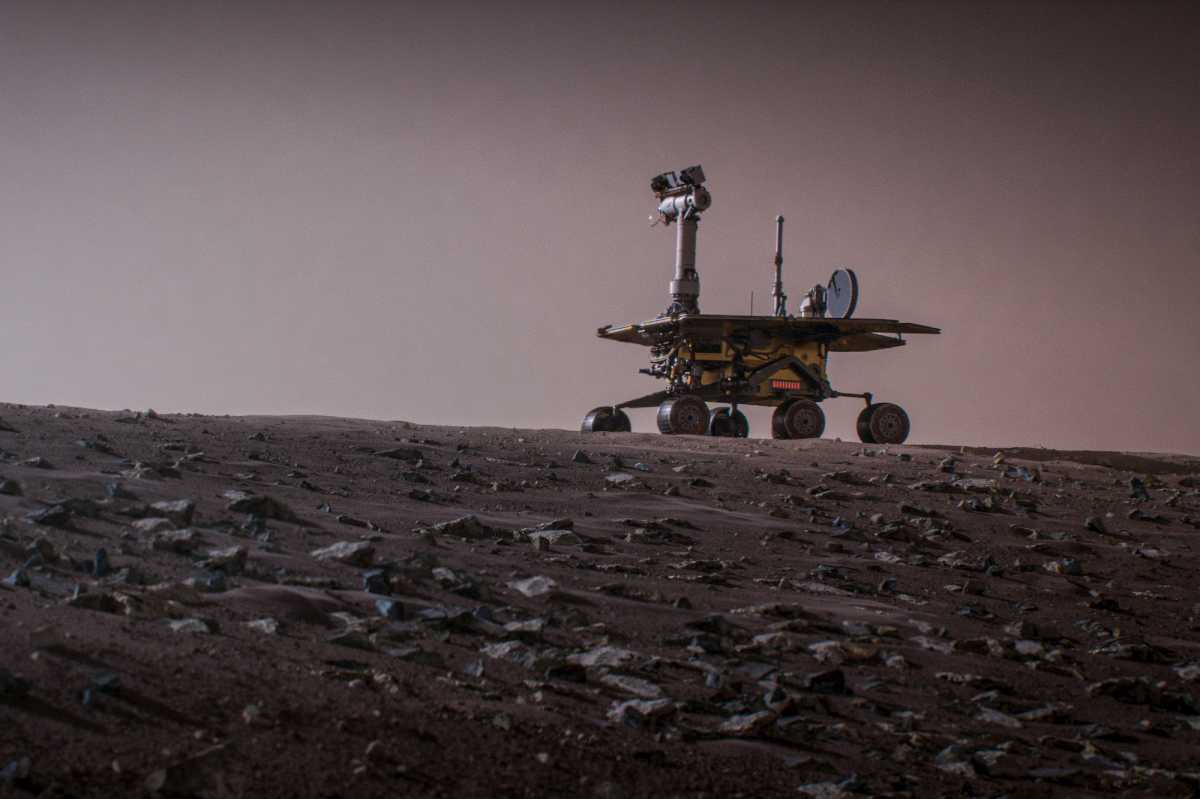 Amazon Studios
Directed by Ryan White (Pamela: A Love Story), the amazing, optimistic documentary Good Night Oppy (2022) tells the story of two Mars rovers, Spirit and Opportunity, built to explore the surface of the fourth planet from the sun for 90 sols, or 90 Martian "days" (which are slightly longer than an Earth day). But Opportunity, nicknamed "Oppy," somehow lasted fifteen years! During that time, any number of obstacles, from weather to fizzled parts came up, each of which must be solved remotely.
The crew of humans in charge of Oppy develop an almost paternal relationship with their creation, and it's surprisingly touching to hear the way they talk about "him." He lasted so long, that the children of the original creators grew up and came to work with Oppy as well. In addition to interviews, the film offers beautifully detailed re-creation footage, with vivid visual-effects-driven views of what Mars might have actually looked like under Oppy's gaze. Angela Bassett's smoky narration is the icing on the cake.
Somebody I Used to Know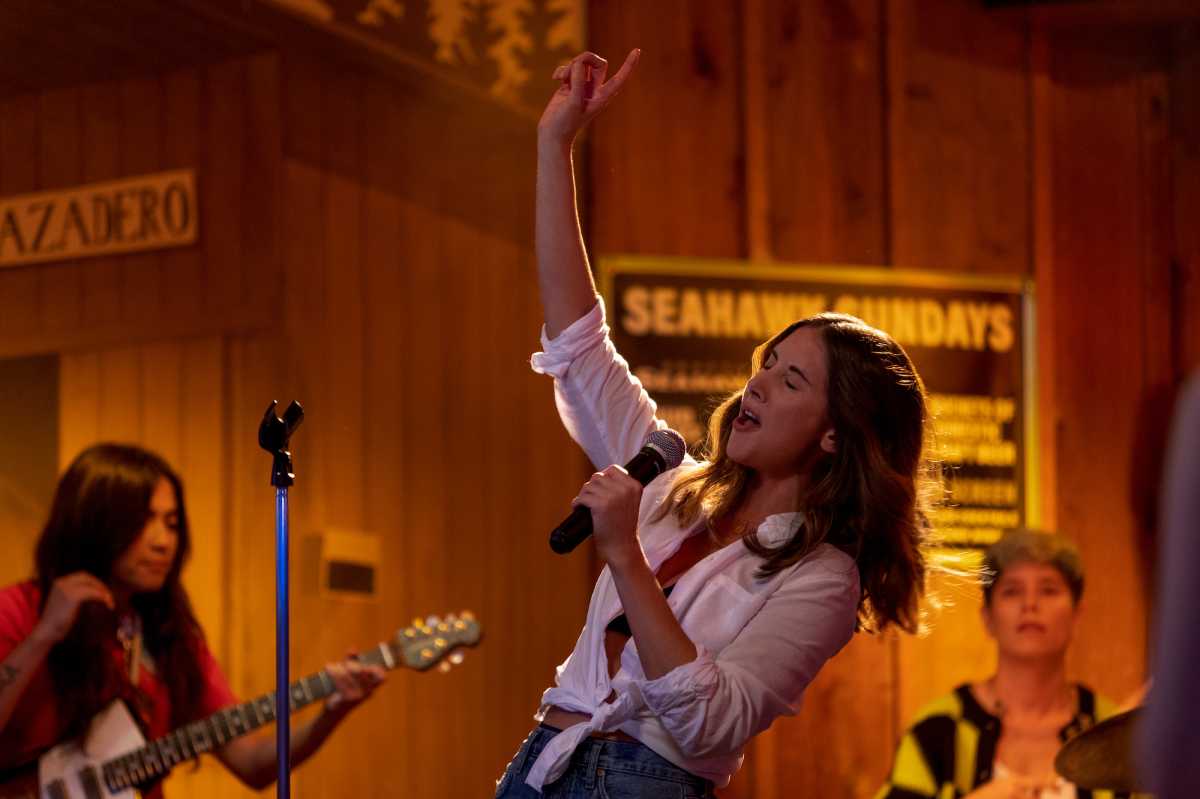 Amazon Studios
Romantic comedies might be floundering in the 21st century, but if they were thriving like they did in the 1980s and 90s, then Alison Brie would certainly be in line alongside Julia Roberts, Sandra Bullock, and Meg Ryan in competition for the title "America's Sweetheart." Brie co-wrote Somebody I Used to Know (2023) with her husband Dave Franco, who directed, and they travel the well-worn grooves of the genre, while simultaneously creating something progressive and fresh.
Brie plays Ally, who once dreamed of making documentaries, but has become the showrunner for a successful reality show. When the show gets canceled, she travels back home to visit her mother (Julie Hagerty), but runs into an old flame, Sean (Jay Ellis), and spends a spontaneous, magical day with him. Little does she know that he is due to get married, to Cassidy (Kiersey Clemons), in just a few days. Though a lie starts the proceedings, what follows is refreshingly honest. Haley Joel Osment, as the adopted Sean's brother, is especially funny here.
Here are Jeff's earlier recommendations, in alphabetical order.
Anything's Possible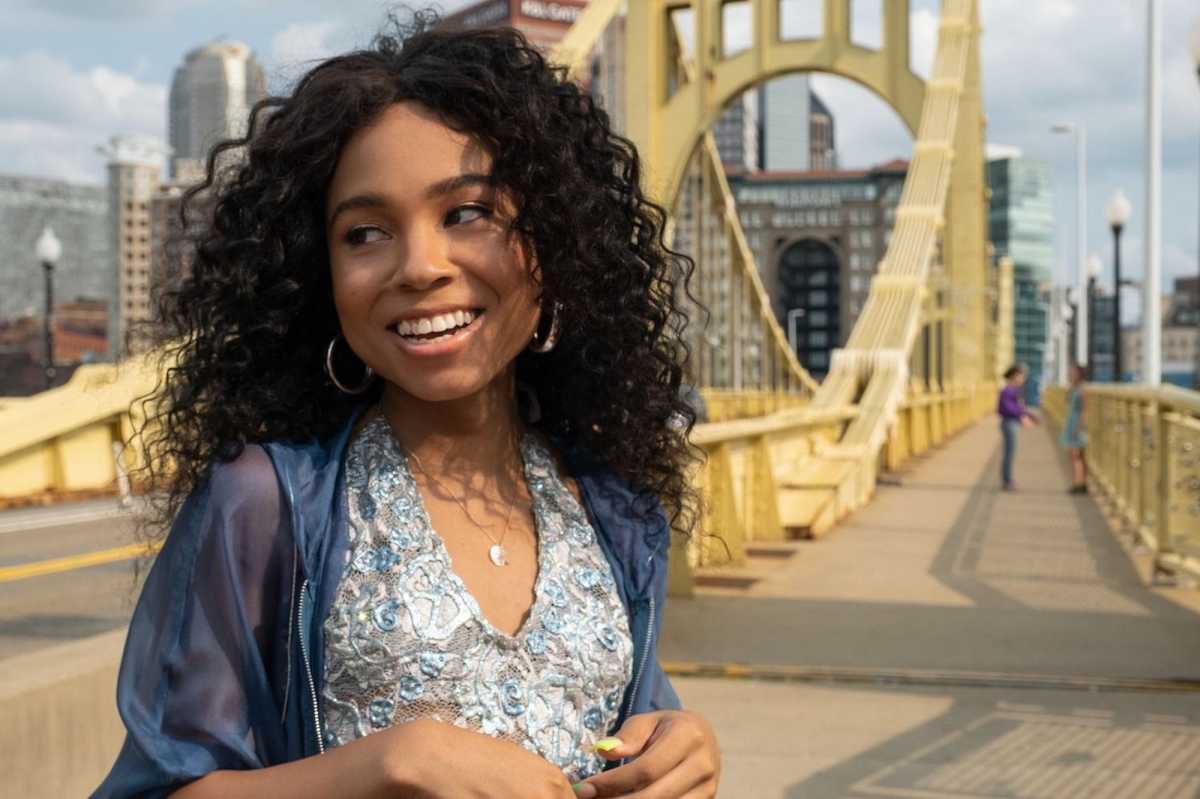 Amazon Studios/United Artists Releasing
A Broadway star and Emmy winner for the TV series Pose, Billy Porter makes his directing debut with Anything's Possible (2022), an inclusive, progressive high-school comedy-romance that goes a long way toward rectifying the social and cultural errors of movies of similar movies from the 1980s and 1990s.
Kelsa (Eva Reign) is a proud Black trans girl, and Muslim Khal (Abubakr Ali) has a crush on her. She likes him back and they begin dating, but their relationship causes chaos with Kelsa's friend Em (Courtnee Carter), who also liked Khal, and with Khal's best friend Otis (Grant Reynolds), who is trans-phobic. The dialogue is open and exploratory, with characters expressing strong opinions, listening to one another, and adjusting ideas. It's remarkably direct and mature for a high-school movie, even if it shies away from exploring the physical side of the relationship (aside from lots of smooching). Kelly Lamor Wilson plays Kelsa's other best friend, the "honey badger" Chris.
My Best Friend's Exorcism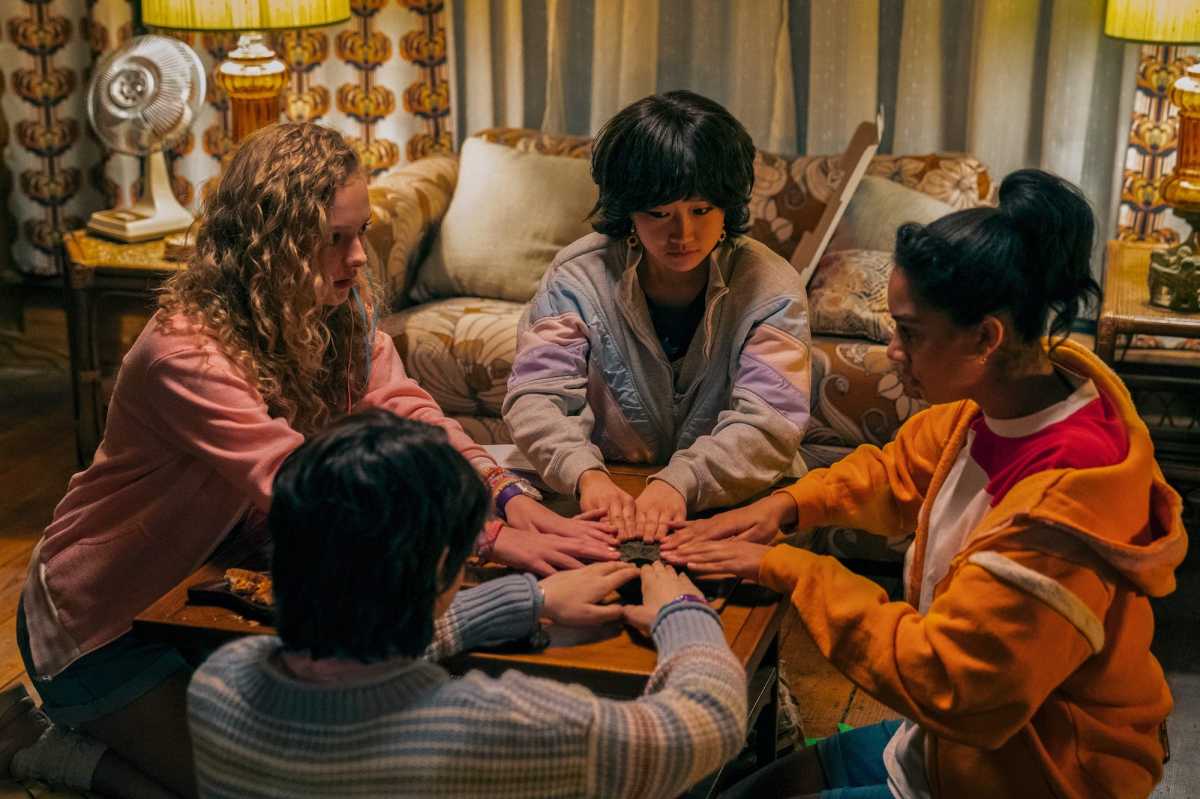 Amazon Studios
Despite not being even a little scary, and despite many of the jokes not quite landing, My Best Friend's Exorcism (2022) is still somehow likable, mainly thanks to the talented Elsie Fisher (Eighth Grade) as the "My" of the title. It's 1988, complete with all the music, colors, and Aqua Net fumes of the day. Abby (Fisher), with short, brunette hair, and Gretchen (Amiah Miller), with long blonde hair, are best friends, though they worry what will happen after Gretchen moves away at the end of the summer.
At a house party with their two other friends, Margaret (Rachel Ogechi Kanu) and Glee (Cathy Ang), they explore an old and creepy abandoned house, and the next thing anyone knows, Gretchen begins acting strangely, being both alluring and conniving. With nowhere else to turn for help, Abby enlists the aid of the Lemon brothers, a trio of weight-lifting Christians who give pump-you-up pep talks at school rallies, to conduct an exorcism. Fans of its 2016 source novel by Grady Hendrix say that it lacks some of the best stuff from the book, but it's nonetheless silly, passable fun.
Catherine Called Birdy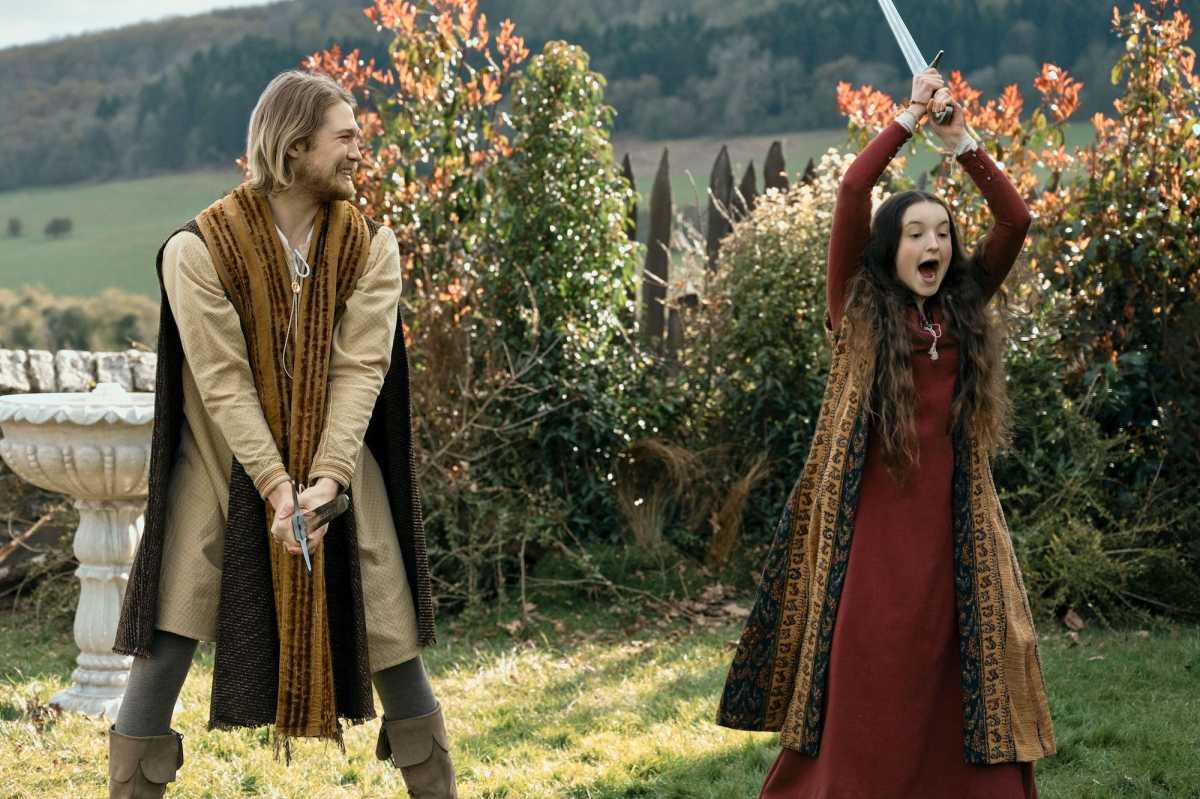 Amazon Studios
Adapted from a 1994 children's novel by Karen Cushman, Lena Dunham's Catherine Called Birdy (2022) takes place in medieval England, where precocious young women like 14-year-old Birdy (Bella Ramsey) aren't allowed to do much and do not have much to look forward to, other than a husband, and probably not one of their choosing. This plucky, cheerful comedy-drama—which is probably more for teens than children—follows as Birdy does everything in her power, including clever manipulations and tricks, to get what she wants within the rigid prejudices of her time.
The movie gets a lot out of its playful language, managing to incorporate old-timey talk with some very funny zingers (especially in the written, onscreen text that introduces each new character). A fantastic cast, including Billie Piper and Andrew Scott as Birdy's Lord-and-Lady parents, helps the production feel fully rounded. The delightful soundtrack consists of well-known pop songs re-tooled to sound ancient, using only percussion and soaring vocals.
Don't Make Me Go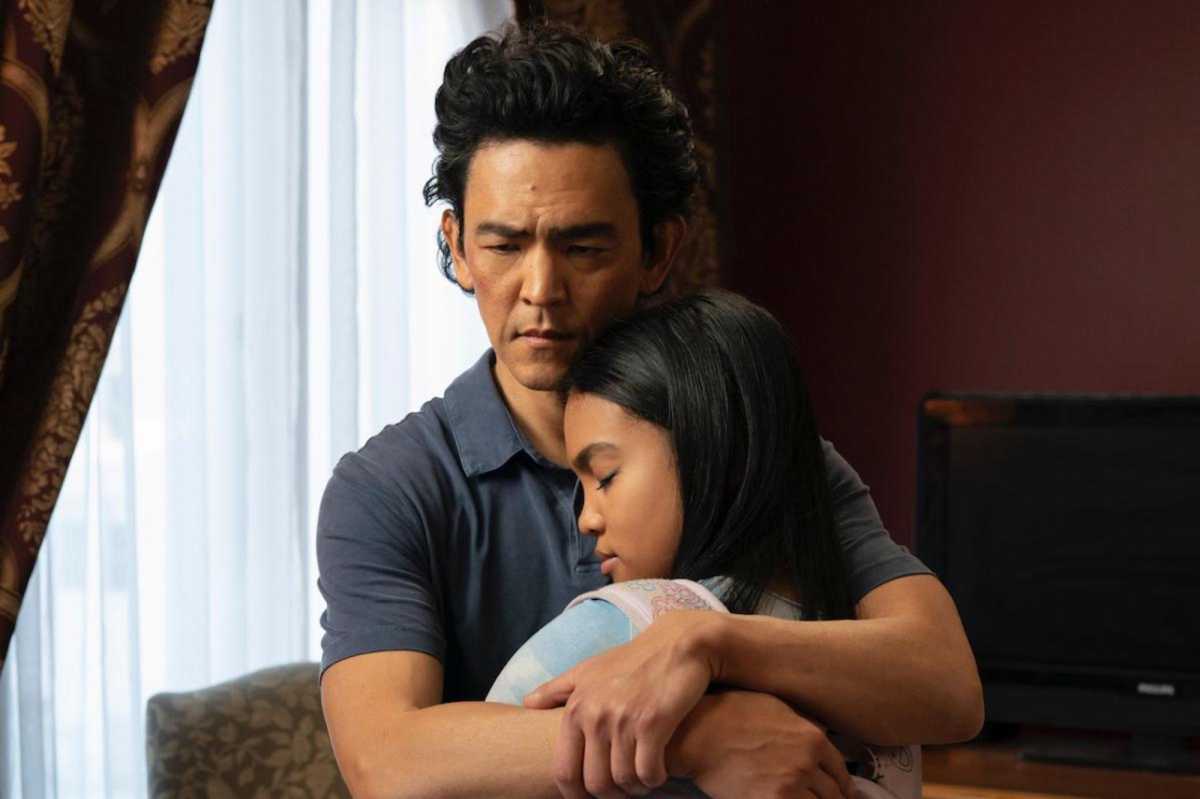 Amazon Studios)
Written by Vera Herbert (This Is Us) and directed by performer Hannah Marks, Don't Make Me Go (2022) is a road movie about a father who discovers that he's dying and hopes to spend some quality time with his strong-willed teen daughter—and perhaps introduce her to her estranged birth mother—before he goes. Happily, it's a whole lot better than this description makes it sound, given that it doesn't always follow the comfortable old formula, taking surprise detours into, say, a nude beach for no reason.
The finely-tuned characters played by John Cho and incredible newcomer Mia Isaac (who also appears in Hulu's Not Okay) are the main reason for the movie's success. Even when the scenes are carved out from familiar material—such as a college reunion or karaoke night—the players bring an organic energy that makes the scenes crackle. There are things genuinely at stake here, and we begin to care for these road-trippers and their weird twists of fate.
Thirteen Lives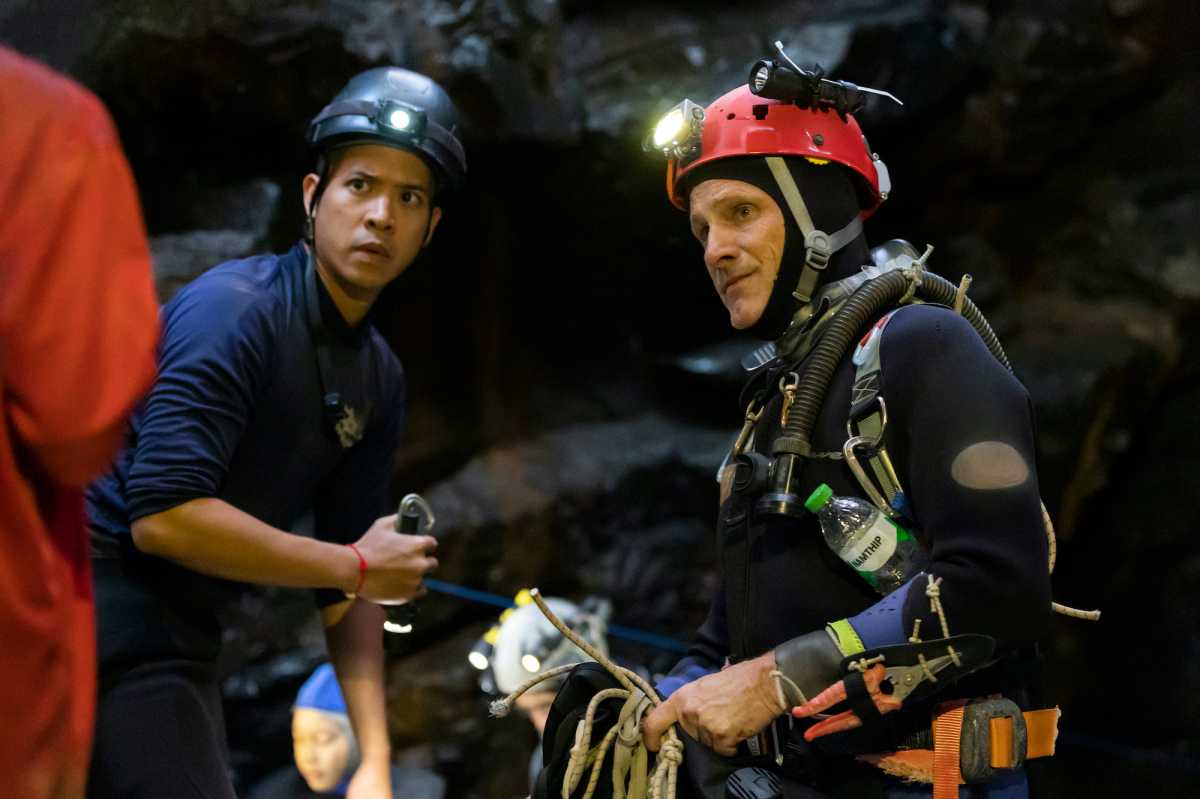 Metro Goldwyn Mayer Pictures
Ron Howard directed this feature, telling the tale of the 2018 rescue of 12 kids and their soccer coach from the flooded Tham Luang cave in Thailand. It had already been told in the excellent National Geographic documentary The Rescue (2021), but it's a great story and it gets the pulse pounding again in Thirteen Lives (2022).
Viggo Mortensen and Colin Farrell—both with impeccable English accents—star as Rick Stanton and John Volanthen, the experienced cave divers who found the kids, while Joel Edgerton is Harry Harris, whose specialty in anesthesia eventually saved the day. The movie sometimes resorts to little screenwriter's tricks (such as a character dropping his hypodermic needle in the water just as a fresh injection is required) to up the drama, and it's sprawled with so many characters that we never really get to know anyone well. But Howard pulled off this kind of tense rescue mission story before, with Apollo 13 (1995), and his thorough craftsmanship comes through again. Even at nearly 2.5 hours, Thirteen Lives moves at a swift clip and stirs the soul.
Here are Jeff's earlier recommendations of the best movies on Amazon Prime Video:
Annette
Amazon Studios
Acclaimed French director Leos Carax (The Lovers on the Bridge, Holy Motors) brings us this strange, beautiful, and devastating musical, entirely written by the cult band Sparks. Even if viewers do know the works of those artists, Annette (2021) is still like nothing you may expect. A comedian, Henry (Adam Driver), whose shows are more like angry rants, falls in love with an opera singer, Ann (Marion Cotillard). (Henry talks about his audiences in terms of "killing them," while Ann likes to think she's "saving" hers.) They marry and have a child, Annette, who is embodied by a series of creepily beautiful marionettes.
There's a murder or two, and it's discovered that baby Annette can sing, beautifully, when exposed to moonlight, so Henry decides to take her on the road and show her off to the world. What could go wrong? The songs are (perhaps purposely?) a bit repetitive and not terribly catchy (at least not right away), but the movie has so many moments of gorgeousness and heartbreak, that adventurous streamers will find it worth a look.
Chi-Raq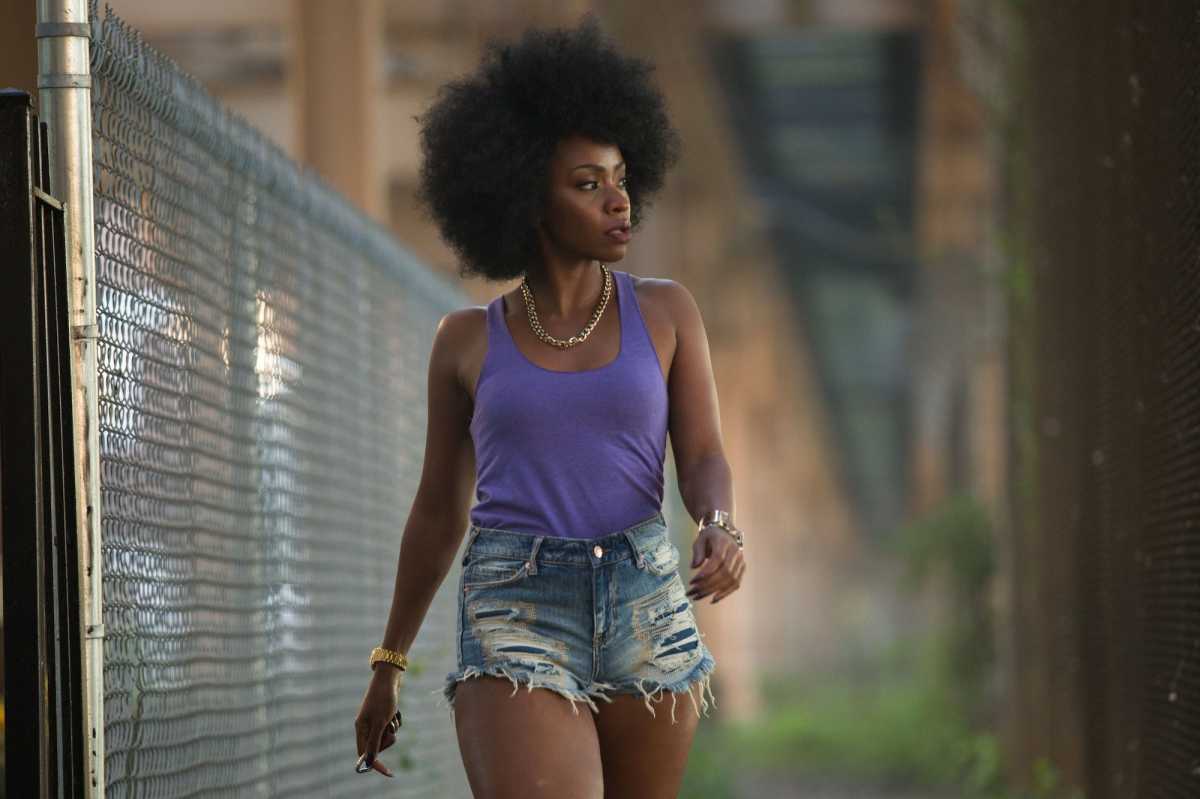 Amazon Studios
Spike Lee's explosive career proves that there's hardly anyone quite so talented, prolific, or foolhardy working today. He takes risks and fails quite often; some of his more recent efforts are close to unwatchable, and certainly some viewers will think that of Spike Lee's Chi-Raq (2015), Amazon's first original film. It's based on the ancient play Lysistrata by Aristophanes, and largely written in a hip-hop rhyme scheme with some musical numbers thrown in, but it's also set in a modern-day, violence-ridden Chicago, nicknamed "Chi-Raq" to sound like "Iraq."
Chi-Raq (Nick Cannon) is also the name of the leader of a gang, the Spartans, at war with the Trojans, headed by the one-eyed Cyclops (a loony Wesley Snipes). When a woman (Jennifer Hudson) loses her son to a stray bullet, Chi-Raq's sexy girlfriend Lysistrata (Teyonah Parris) decides to rally all the women and withhold sex from their men until arms are laid down and peace is at hand. Angela Bassett co-stars as an older woman who reads books (gasp!), John Cusack is a preacher, and Samuel L. Jackson is a kind of Greek chorus. It's messy, over-the-top, and repetitive, but it's undeniably passionate, and even oddly optimistic.
The best media streamer for most people
Roku Streaming Stick 4K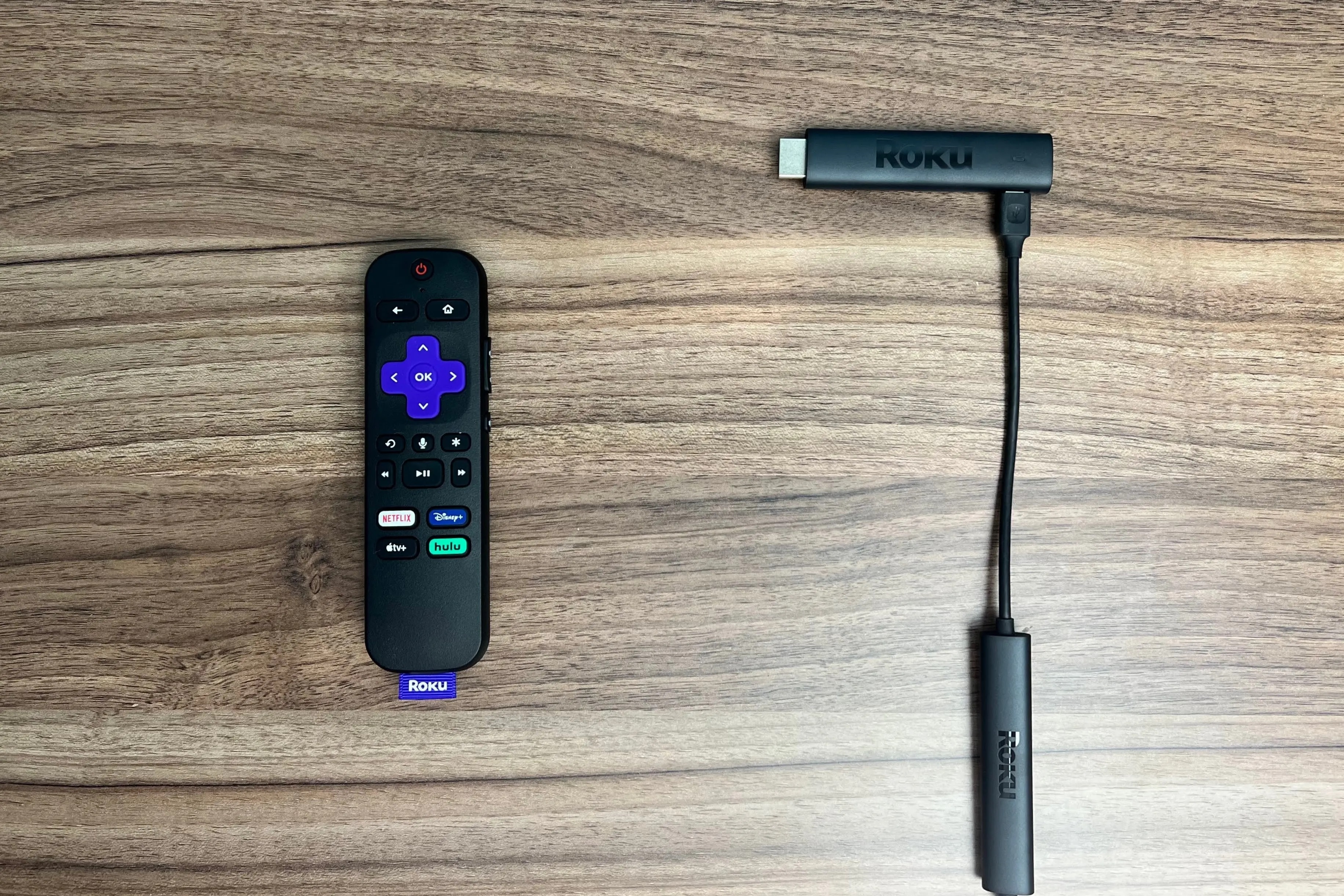 Price When Reviewed:
$49.99
Don't Worry, He Won't Get Far on Foot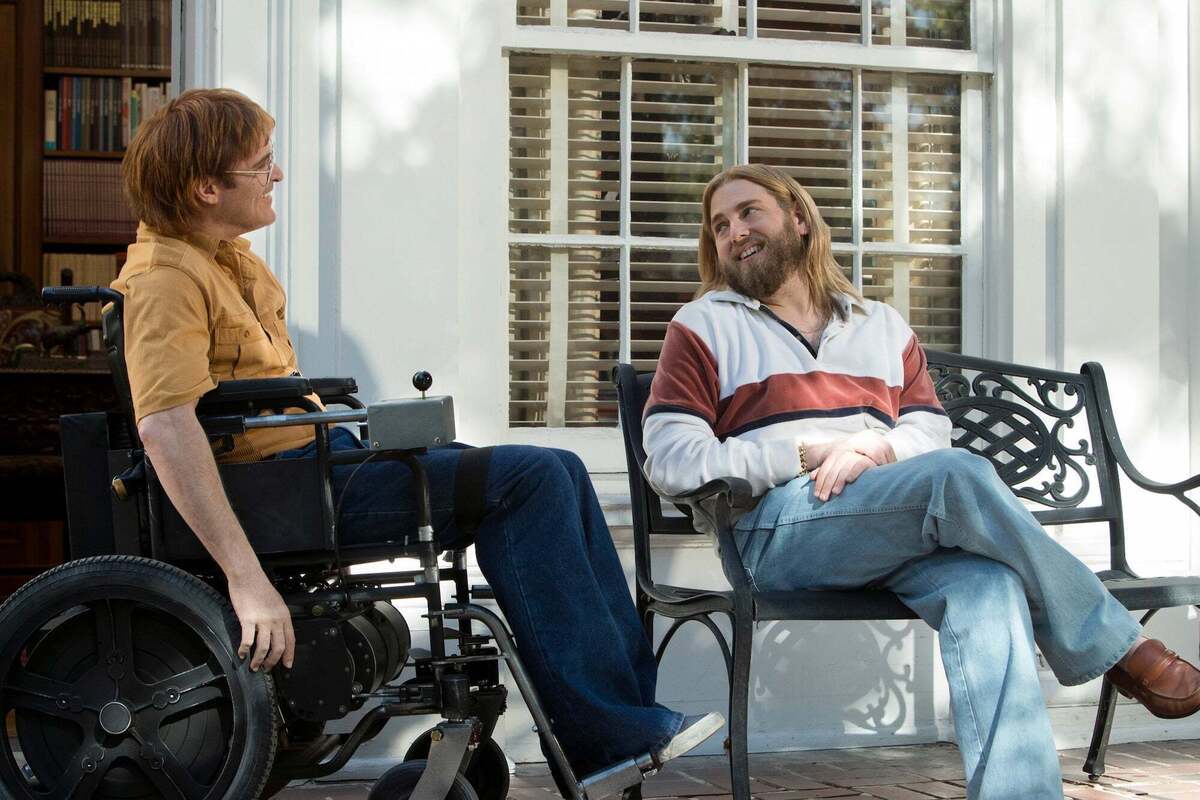 Gus Van Sant's biopic of cartoonist John Callahan might have fallen into goopy self-importance, but instead it's loose and rambunctious, and at times exhilarating, and bathed in warm, orange tones. It's even more irreverent than his Oscar-winning Milk (2008). The film Don't Worry, He Won't Get Far on Foot (2018) begins with Callahan (Joaquin Phoenix), abandoned as a child, and now an alcoholic.
At a party, he meets Dexter (Jack Black), and decide to head to an even better party. But, driving drunk together, they get into an accident that leaves Callahan a quadriplegic, with only some limited mobility in his hands. He begins drawing his infamous, near-blasphemous cartoons, often with disability as a subject, but even after becoming published, he still has demons that need wrestling. Rooney Mara plays a physical therapist, a sadly underwritten role, but Black and Jonah Hill, as an AA sponsor, are both top-notch.
Emergency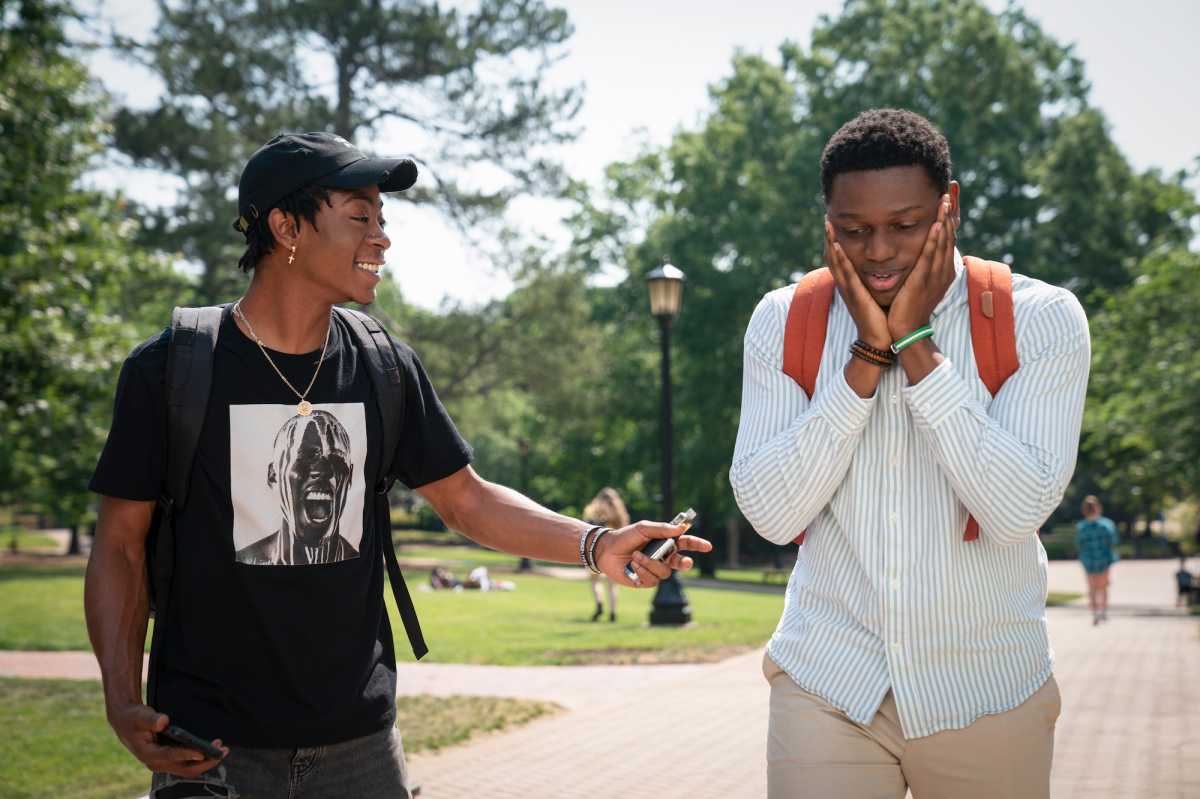 Amazon Studios
Confidently directed by Carey Williams, the funny, touching comedy-drama Emergency (2022) starts confidently with some big laughs before it veers cannily into a commentary on racial identity, yet still maintaining balance. Two college seniors, Sean (RJ Cyler) and Kunle (Donald Elise Watkins), prepare for a "legendary tour," which entails hitting seven different parties in one night; they hope to be the first Black students to complete this task.
Sean is a constantly-vaping, good-time guy, while his best friend Kunle is more studious, concerned about the welfare of his biology cultures, which must be kept at a certain temperature. Their evening gets off to a rocky start, however, when they find a passed-out drunk white girl, Emma (Maddie Nichols), on their living-room floor, with no idea of how she got there. If they call the police, they and their Latin roommate Carlos (Sebastian Chacon) could be arrested. So, what starts off as a quick task to help her eventually turns into a night-long odyssey, filled with strange twists.
Best high-end media streamer
Apple TV 4K (2021)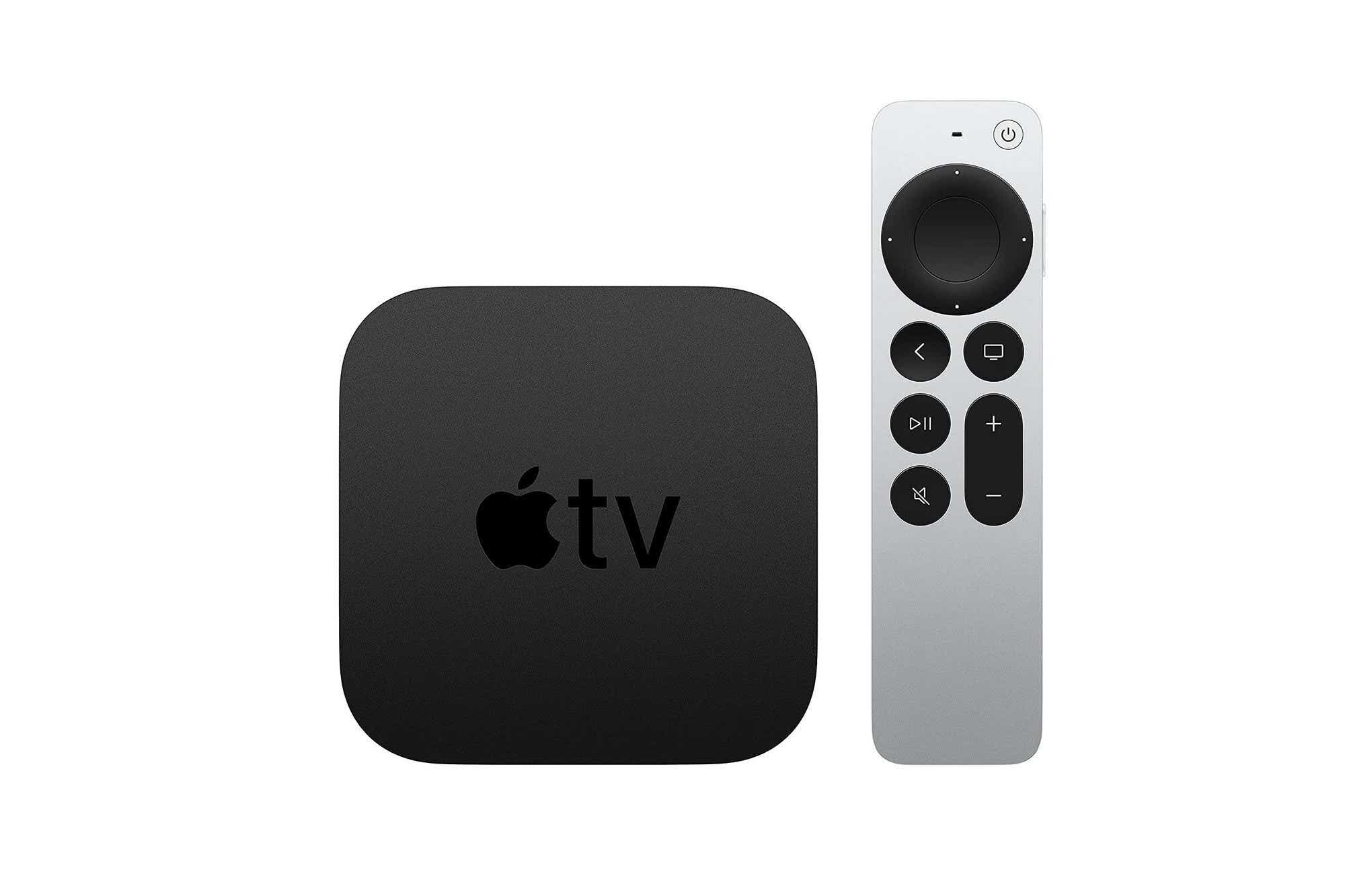 Price When Reviewed:
$179
I Am Not Your Negro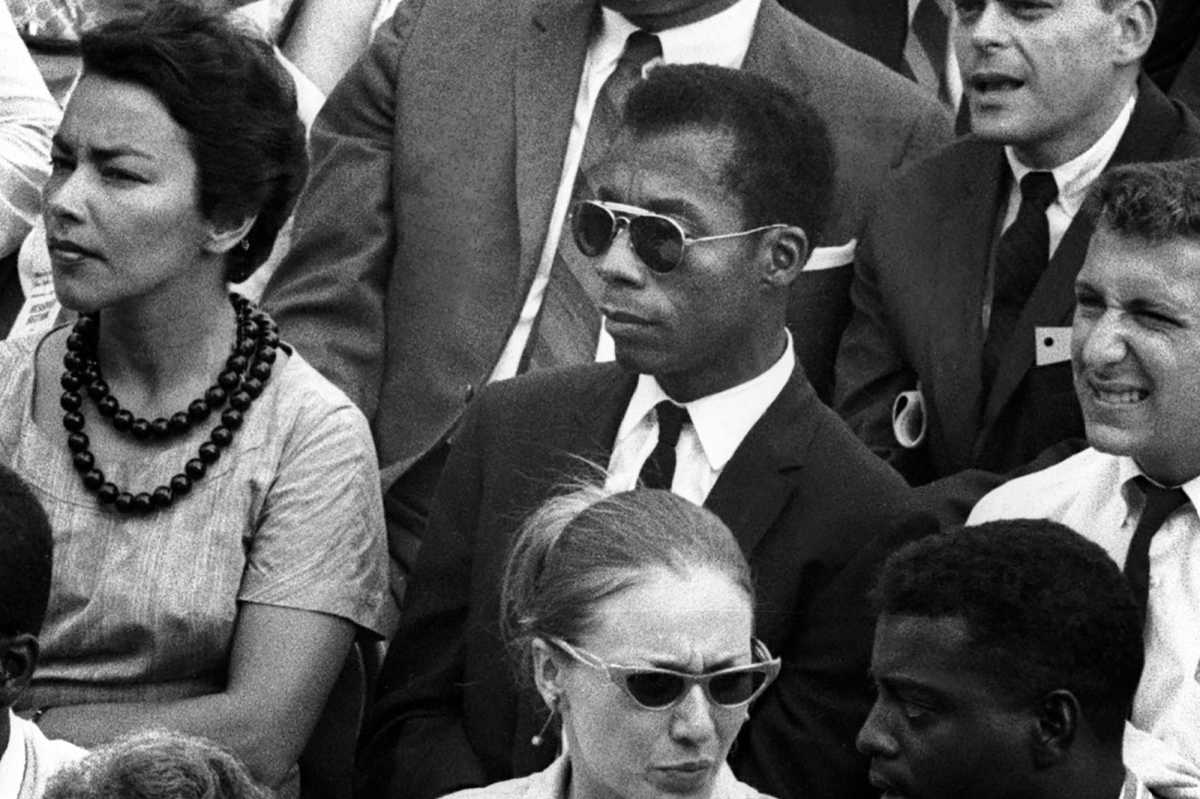 Amazon Studios
At the end of 2016, this was one of a trio of extraordinary documentaries about racism in America (along with Ezra Edelman's O.J.: Made in America and Ava Duvernay's 13th), which seemed to arrive just when they were needed most. The acclaimed Haitian-born filmmaker Raoul Peck (Lumumba) based his film on an unfinished manuscript by the writer James Baldwin, discussing Baldwin's relationships with Civil Rights leaders Medgar Evers, Malcolm X, and Martin Luther King, Jr. specifically, but in the service of describing a bigger picture of America.
Although it deals largely in the 1960s, I Am Not Your Negro (2016) is an essential piece of history, it's also shamefully relevant today. Samuel L. Jackson provides the measured, sincere narration, reflecting Baldwin's own beautiful, intelligent speaking manner, and the documentary offers a series of powerful photographs and archival footage. Baldwin speaks about race with a clarity that was shocking at the time, and remains quite bracing. He is captured not only outraged and defiant, but also in moments of weariness and sadness, as the deaths of his friends affect him in a most ordinary, human way.
Master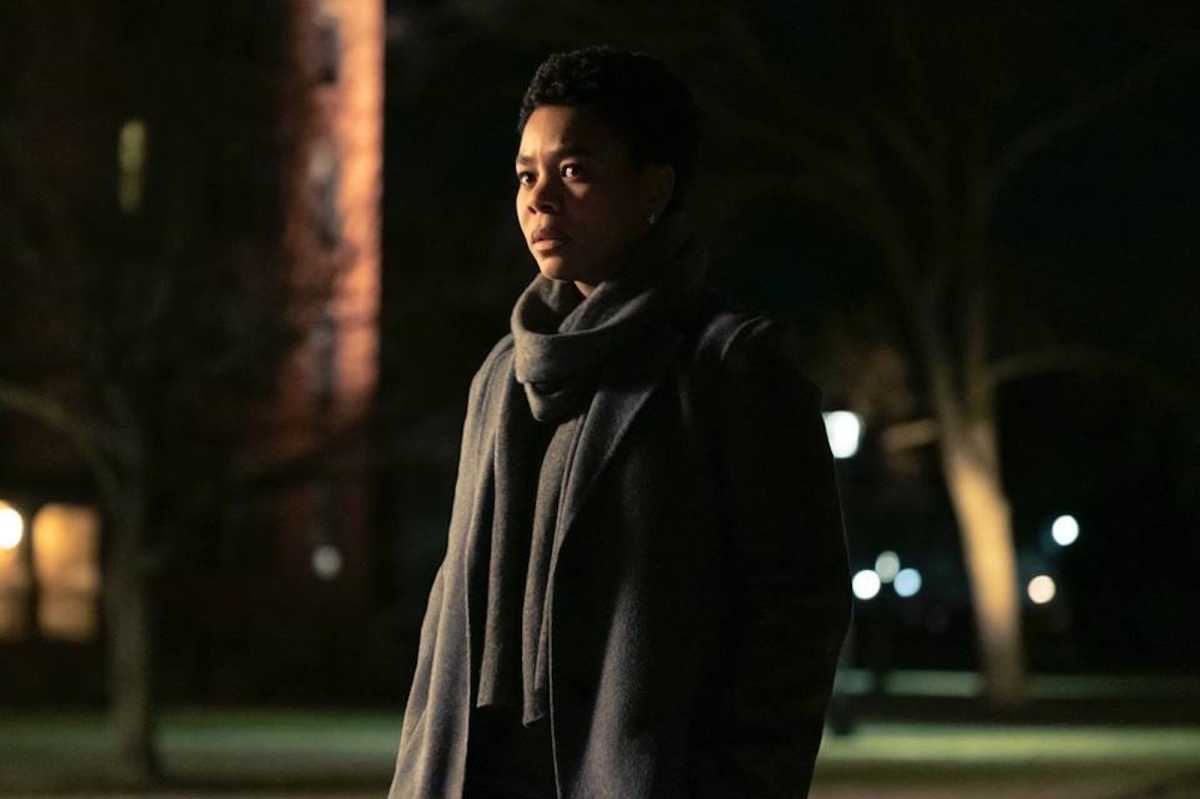 Amazon Studios
Mariama Diallo's Master is something of a horror film, with a thesis on Blackness in America; it's not as expertly realized and as effortlessly terrifying as Get Out, but it's still very much worth a look. The film cuts back and forth between the stories of two characters: Gail Bishop (Regina Hall), the first-ever Black master of the elite university Ancaster, and Jasmine Moore (Zoe Renee), a Black freshman. Jasmine is assigned to dorm room 302, which is believed to be haunted; another Black student in the 1960s hanged herself there. Jasmine suffers mysterious attacks (a noose on her door, etc.) and, try as she might, can't quite get along with her white roommate and her friends.
A teacher, Liv Beckman (Amber Gray), starts giving Jasmine bad grades for no discernible reason. Gail, meanwhile, is trying to get Liv tenured, adding some diversity to the all-white staff, and faces maggot trouble in her on-campus housing. The details don't always flow together, and the horror stuff doesn't quite tingle, but the overall effect is nonetheless powerful.
best budget-priced media streamer
Roku Express 4K+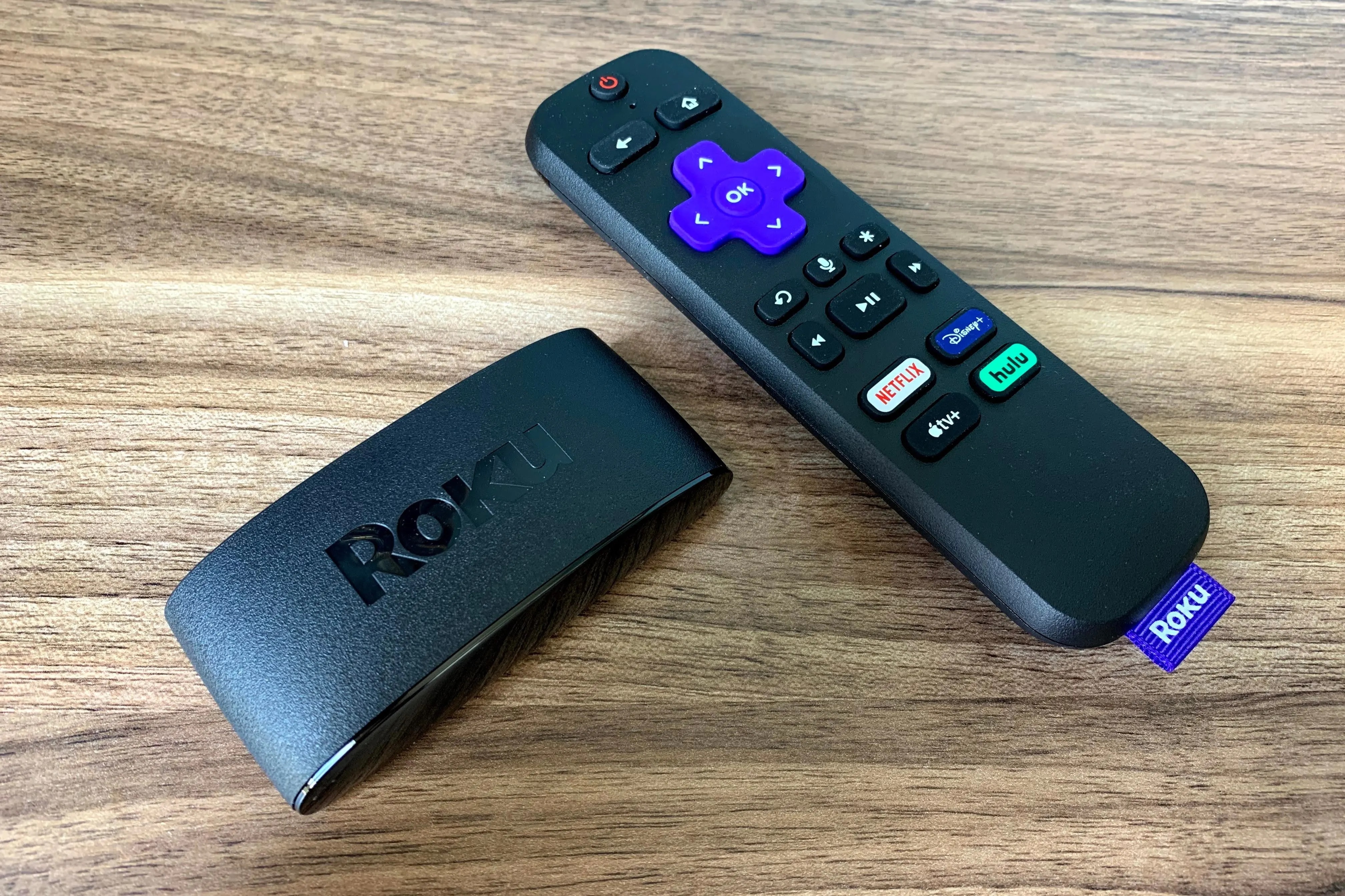 Price When Reviewed:
$39.99
Nanny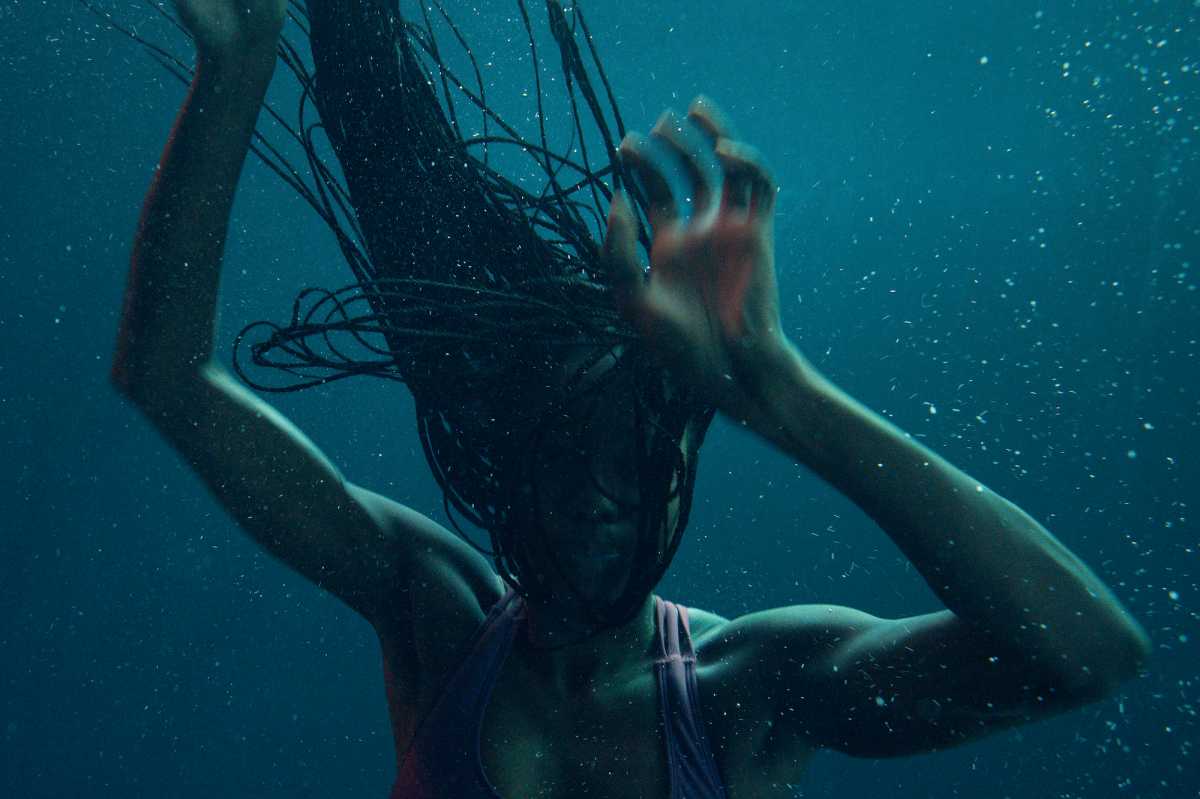 Amazon Studios
Nikyatu Jusu's feature-writing and directing debut, Nanny (2022) already displays an expert level of filmmaking, with its stark thesis on inequality, its nervy music and soundscape, and its striking performances. Former teacher Aisha (Anna Diop) has left her son behind in Senegal, while she goes to New York City to raise money working as a nanny for wealthy families. She gets a job looking after Rose (Rose Decker), whose father Adam (Morgan Spector), a photojournalist, is hardly ever home. Rose's mother, Amy (Michelle Monaghan), is frazzled and overworked, and highly controlling of Rose's diet.
Things go smoothly at first, and Aisha even begins dating doorman Malik (Sinqua Walls), but things quickly grow dire, and Aisha begins to see things. The film is up-front about the bitterly ironic situation of taking care of another family's child, so she can raise money to get hers back. Diop's strong, empathetic performance conveys the pain of this, how every waking moment without her child hurts; there's a lot to endure.
Sound of Metal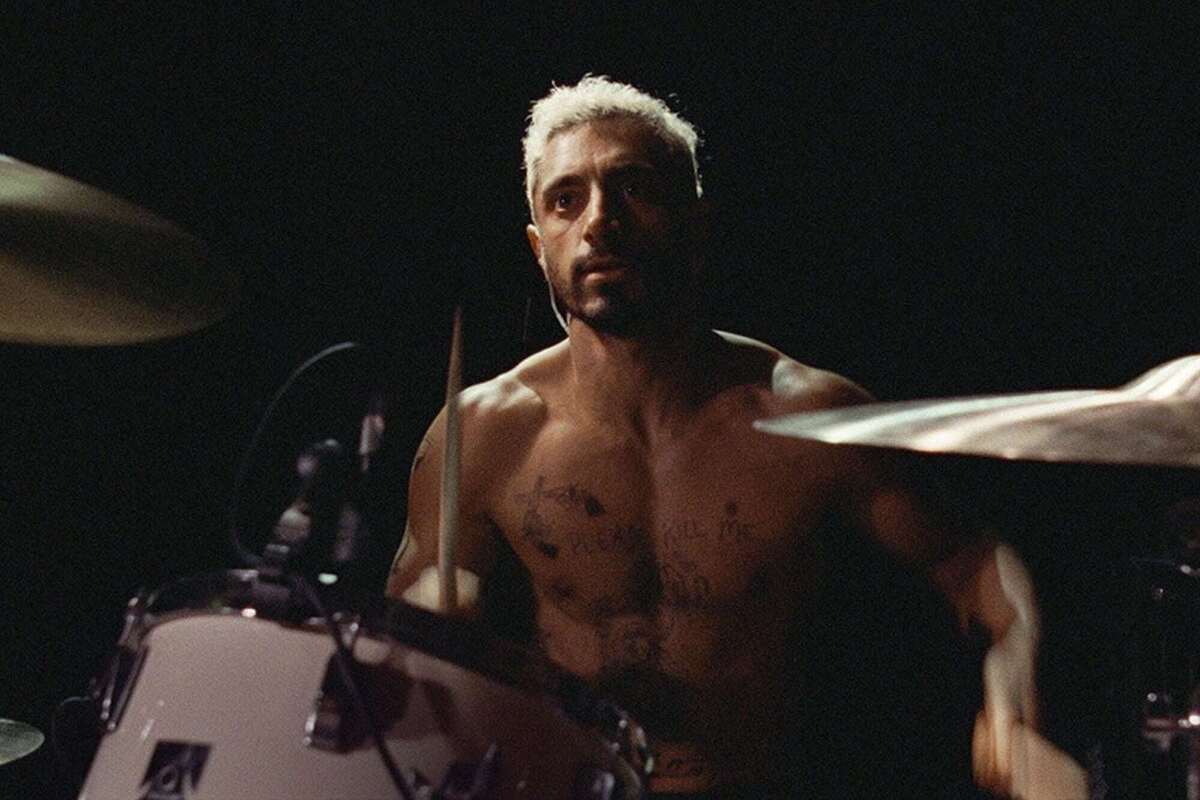 In the powerful, disquieting Sound of Metal (2020), Ruben Stone (Riz Ahmed) plays thundering drums for a metal band called Blackgammon. His girlfriend Lou (Olivia Cooke)—her eyebrows bleached ghostly white—plays clamorous guitar and shrieks unintelligible lyrics. One day while assembling the merch table, Ruben experiences a drop in his hearing. The Oscar-winning sound design tells us what it's like; everything is muffled and distant. A doctor informs Ruben that he's already lost most of his hearing. He winds up at a camp for deaf and hearing-compromised individuals, run with tough love by Joe (Paul Raci).
Ruben is determined to raise the money for cochlear implants and resume his music career, but Joe argues that deafness is not something that needs to be "fixed." It's a fascinating conundrum, and the movie makes it fully universal and touchingly human, all the way up to its shattering climax. In their roles, both Ahmed and Raci (who, in real life, is the child of deaf parents and a rock musician who performs in ASL) are extraordinary.
Time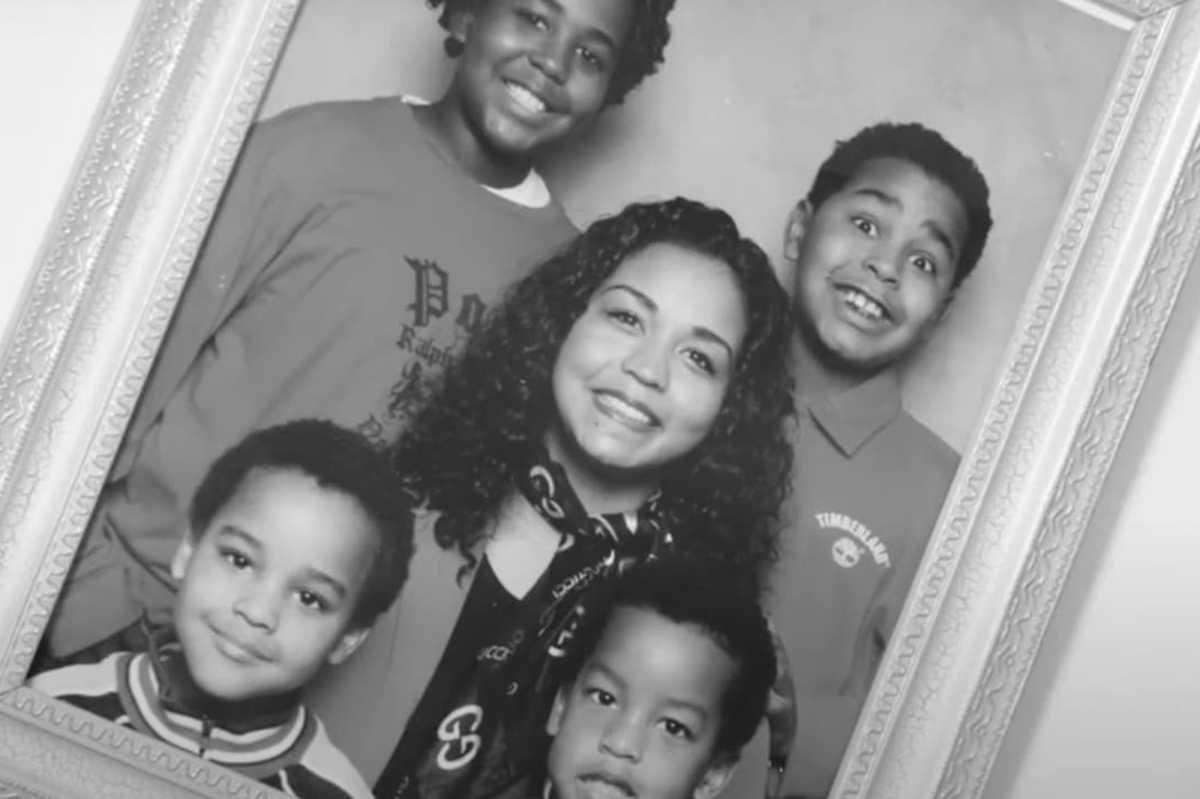 Amazon Studios
The powerful, moving documentary Time, from director Garrett Bradley tells the story of Fox Rich (full name: Sibil Fox Richardson), who spends 18 years fighting for the release of her husband Rob from prison. The film contains home video footage dating back to the beginning of the story, which director Garrett Bradley then converted to black-and-white and assembled around her own, modern-day, black-and-white footage, as Fox—who is also raising six children by herself—turns her fight into a full-time profession.
The kids grow up without a present father, but with the fight in their blood; they have names like "Freedom" and "Justus." It's a gripping story, all about the power of love and the pieces that make up a family. But, as the bold title indicates, it's also heartbreakingly symbolic of a larger issue: Black men targeted, captured, and trapped in a justice system that cares nothing about them.
The Vast of Night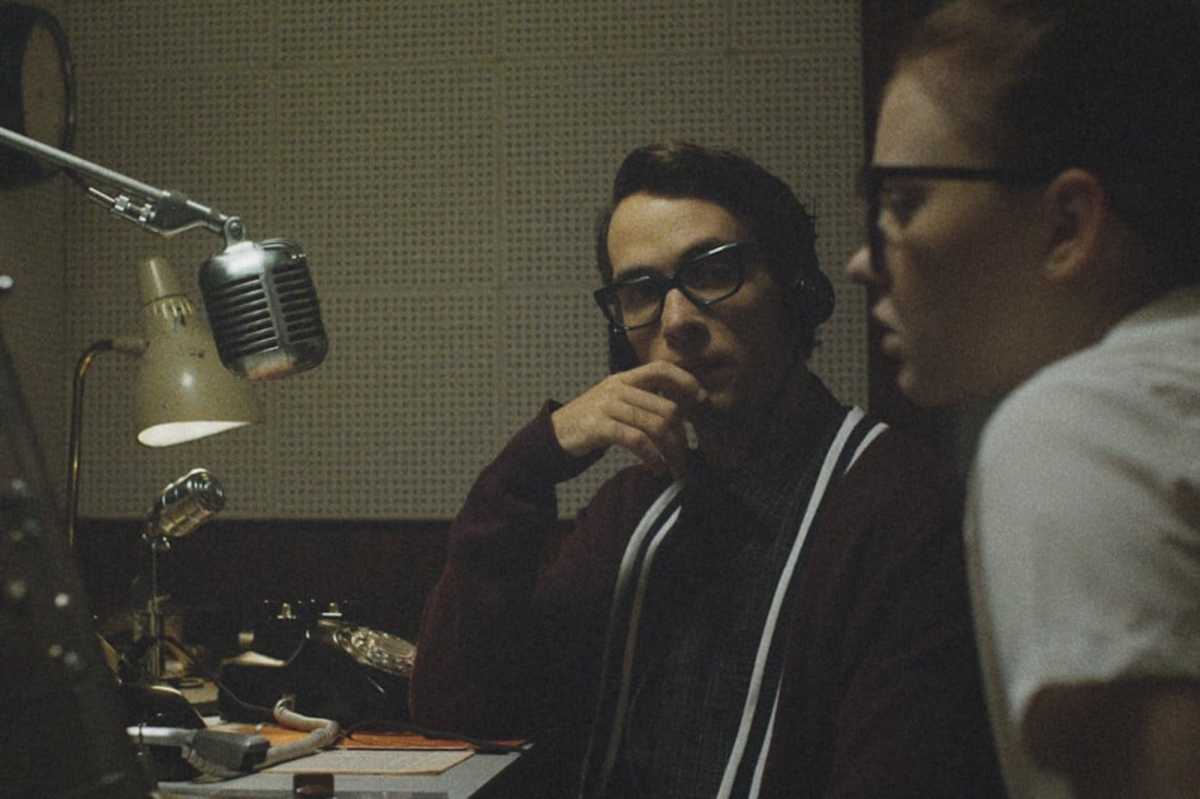 Amazon Studios
Written by James Montague and Craig W. Sanger and directed by Andrew Patterson, The Vast of Night (2020) is arguably one of the best debut films of the past several decades. It's a mind-blowing, whirlwind sci-fi movie that is ostensibly about an alien visit, though it's also about much more. It's the 1950s in a small town in New Mexico, and fast-talking nerd Everett Sloan (Jake Horowitz) helps set up the sound equipment for the big high school basketball game before beginning his shift as a radio DJ. Fellow student Fay Crocker (Sierra McCormick)—who works as a telephone switchboard operator—walks a bit with him, enlisting his help in operating her new tape recorder.
At work, Fay hears a strange sound on the line and sends it over to Everett, who plays it on the air. He receives a call from an ex-military man named Billy (Bruce Davis), who claims he heard the same sound once before. And thus begins a strange and exhilarating night, captured with astonishing, long-take camerawork, mesmerizing close-ups, rapid-patter dialogue, and moments of eerie silence.
best media streamer for android users
Chromecast with Google TV (4K)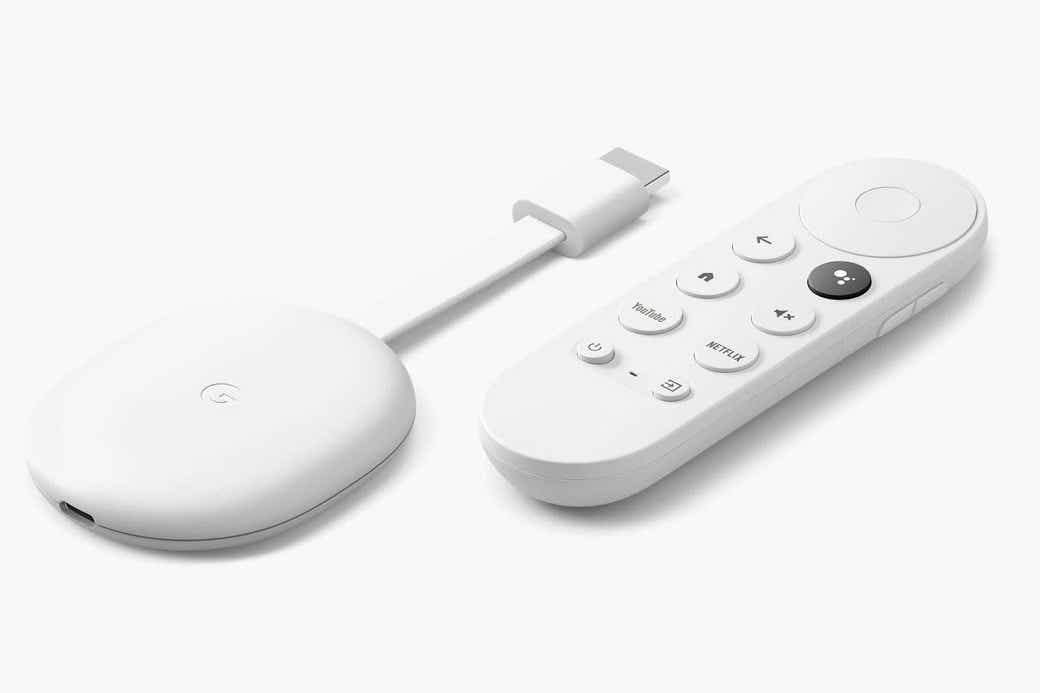 Price When Reviewed:
$49.99
Wonderstruck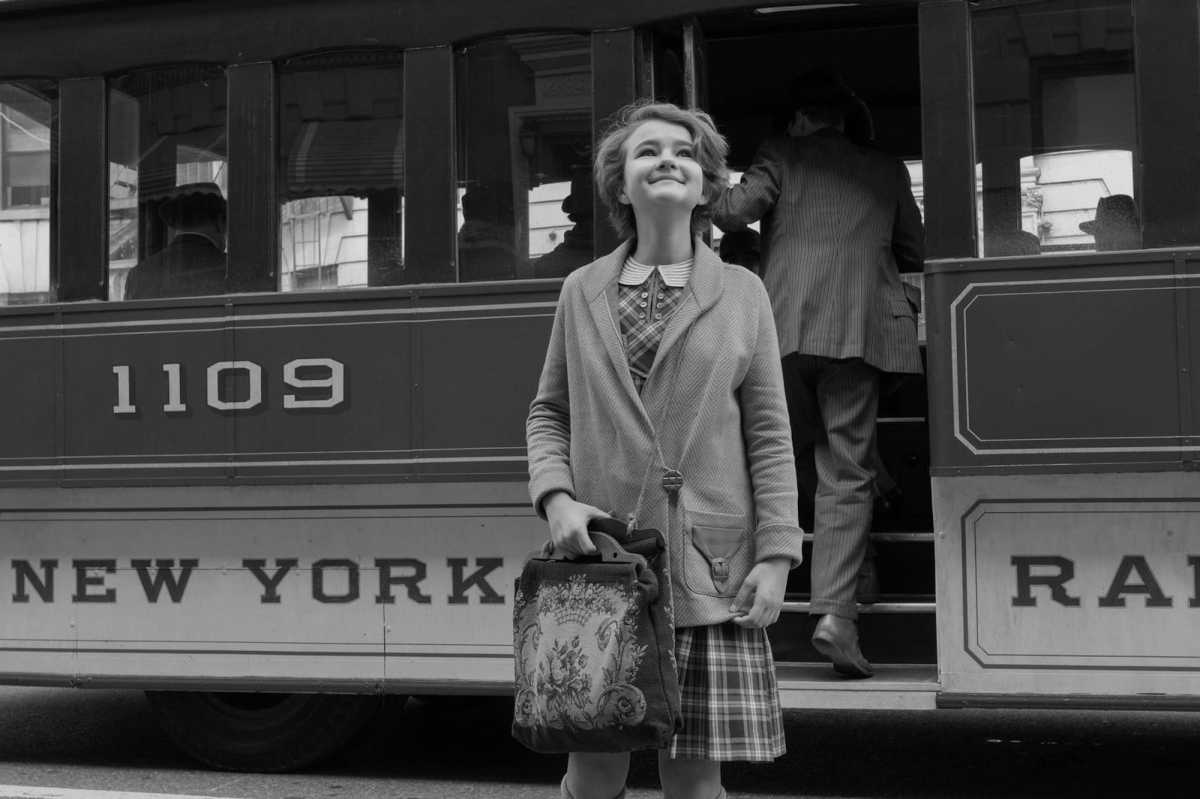 Amazon Studios
Todd Haynes's brilliant, underrated Wonderstruck (2017) is, like his best work (Safe, Far from Heaven, I'm Not There, etc.), an involving story and, simultaneously, a thoughtful commentary on that story. Based on a book by Brian Selznick (Hugo), it takes place in two time periods. In the 1920s, a deaf girl, Rose (Millicent Simmonds, also in A Quiet Place) searches for a connection with her mother (Julianne Moore), an actress in silent films. Fittingly, this segment is presented as a black-and-white silent film. Then, in the 1970s, Ben (Oakes Fegley) is struck by lightning and loses his hearing. His mother (Michelle Williams) refuses to tell him anything about his real father, so when he discovers a book with a clue in it, he hits the road to New York.
As Haynes switches back and forth between sequences with brilliantly intuitive visual and aural rhyming, a kind of passionate magic emerges, involving history, books, movies, cities, and changing times. Carter Burwell's gorgeous music score, amazingly, also emphasizes quietness.
You Were Never Really Here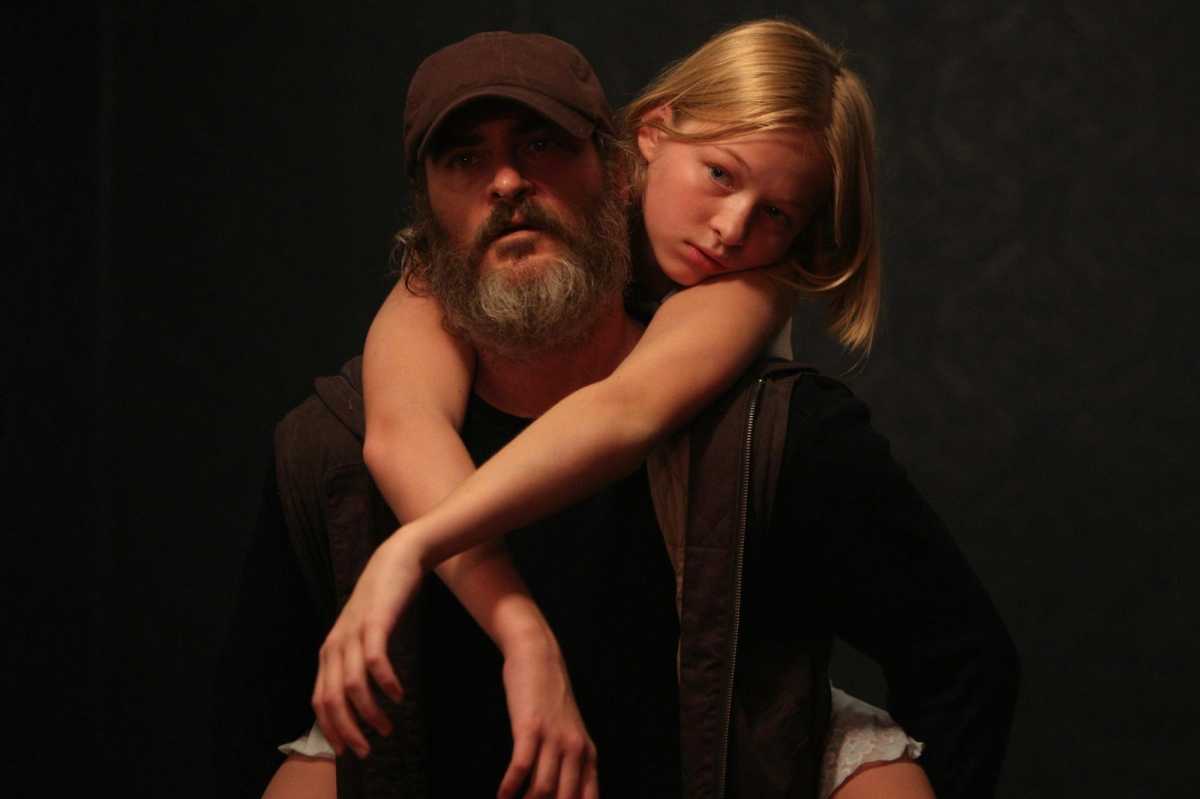 Amazon Studios
Taken from a novel by Jonathan Ames and directed by the formidable Lynne Ramsay (Ratcatcher, Morvern Callar, We Need to Talk About Kevin), the incredible neo-noir You Were Never Really Here (2018) is painted in a woozy, daydream fabric, with rational thoughts coming in-between impulse and intuition. Stabbing flashbacks and unreal horror, combined with Jonny Greenwood's eerie music score heighten the one-of-a-kind mood.
Joaquin Phoenix gives one of his greatest performances—massive and lumpen, but strong, moving like a trapped animal—as Joe, a kind of hitman/problem solver. His latest task is to rescue a senator's daughter, Nina (Ekaterina Samsonov), who is likely being used as a sex slave. Getting her back is no problem, but the fallout is something else entirely. It's a classic noir plot, but Ramsay makes it feel new and bracing, like something essential for our times.