At a Glance
Expert's Rating
Pros
Highly portable
Rugged, with a large comfortable handle
Good sound (after EQ), with lots of volume and bass
IX7 water resistant
Cons
Lackluster sonics out of the box
Only available in black
Our Verdict
The Motion Boom's sound didn't blow us away out of the box, but EQ'ing with the provided phone app fixed things right up. Small but powerful, we wouldn't hesitate to take this speaker for a swim.
Best Prices Today: Anker Soundcore Motion Boom
If there was ever a speaker likely to stand up to a day around the pool or at the beach, it's Anker's $100 Soundcore Motion Boom. It's easy to lug, IPX7-rated, and sports a rather massive integrated handle that gives it a very sturdy feel. As a matter of fact, my first thought was that I could heave the unit quite a ways out into the water. Yes. Nothing like starting a review with evil thoughts.
Design and features
I think Anker might've missed a bet by not offering the Motion Boom in bright colors. Not that the staid all-black the company chose isn't attractive in a dark knight sort of fashion. But should some brat bring to fruition my devilish thoughts by flinging this beauty into the ocean, fluorescent orange or bright yellow would be a lot easier to spot. IPX7 means its waterproof under one meter of water for 30 minutes (you can read all about IP codes in this other story).
This review is part of TechHive's coverage of the best Bluetooth speakers, where you'll find reviews of the competition's offerings, plus a buyer's guide to the features you should consider when shopping for this type of product.
I measured the Motion Boom at approximately 12 inches wide, 4 inches deep, and 4 -inches high with the aforementioned, integrated handle adding another two inches to the overall height. I mention my measurements, as they didn't jive with the larger dimensions I saw on Amazon. The unit weighs around four and a half pounds.
Sound is pumped through twin 2.5-inch drivers facing forward, and passive radiators on either end of the unit. There was no power rating for the internal amplifier, but from what I heard, I'd guess between 10 and 15 watts RMS per speaker.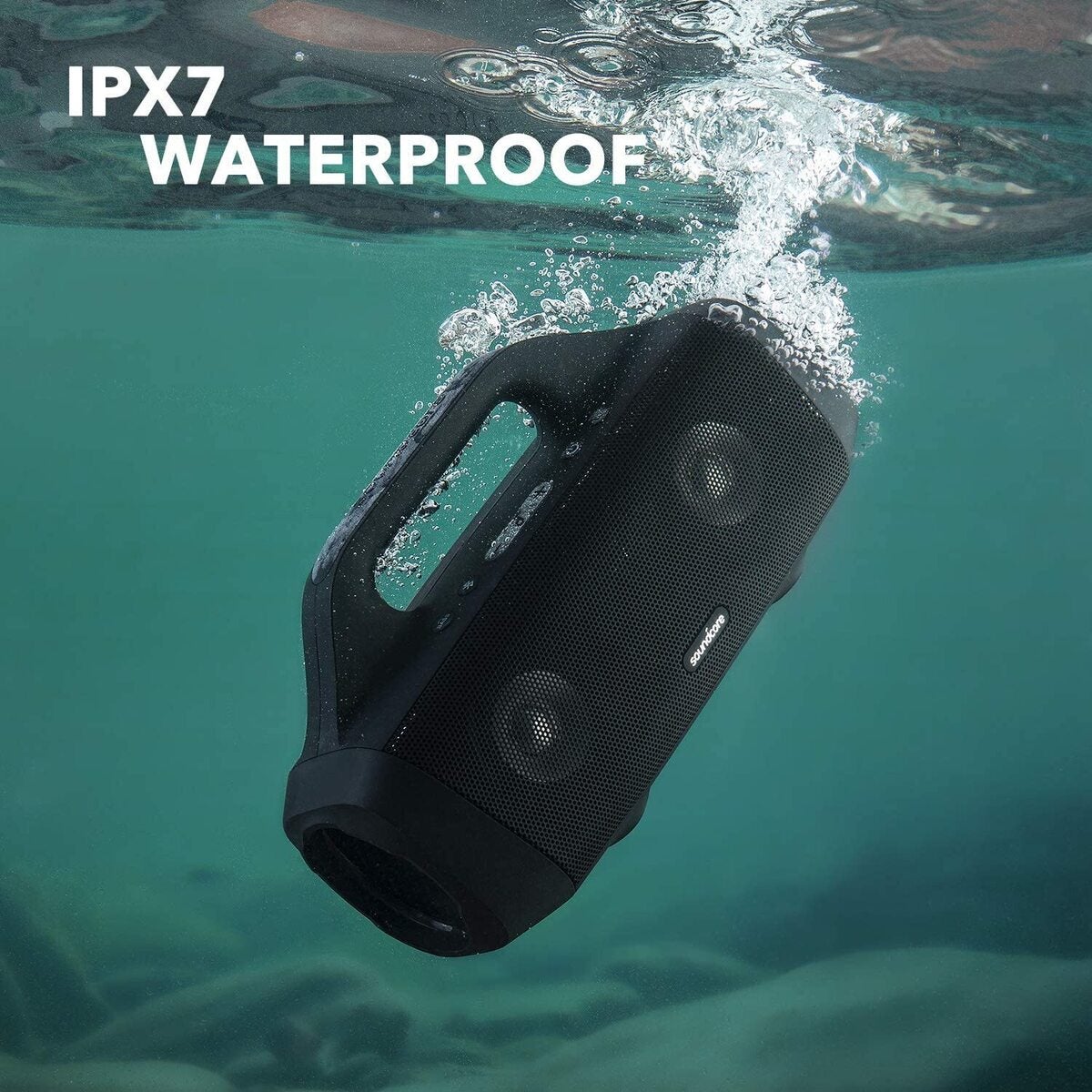 The controls for the Motion Boom are located on the top of the unit closest to the speaker face and include Bluetooth (5.0) pairing/status, power, BassUp (80Hz boost), volume up/down, and a multi-function button in the middle. The MFB takes care of play/pause/FF/rewind/answer/hang up and summoning your phone's voice assistant. There's also a TWS (True Wireless Stereo) button to link the speaker with another TWS-capable unit to form a stereo pair; i.e., one speaker reproduces the right channel, and the other the left.
On the back of the Motion Boom is a hefty rubber plug concealing both a USB Type-C port for charging the speaker, and a Type-A port for charging other devices. Anker handily includes a, you guessed it—Type-C to Type-A cable. It's a rather clever arrangement to be sure. There's no auxiliary analog input.
Sound and run time
Out of the box, I found the Motion Boom's mid-range somewhat cloudy, which is a shortcoming in weatherproof speakers. It wasn't horrible mind you, it just wasn't what I'd call audiophile quality. I won't say it recovered once the speaker got loud (and it gets very loud for 2.5-inch speakers), but the cloudiness was less noticeable.
What did make a huge difference was EQ-ing the unit using Anker's Soundcore app. Dropping the 600Hz band a notch or two and upping the 2.5- and 5kHz bands gave me the clearer sound I was looking for. It still wasn't audiophile level, but it sounded a heck of a lot better.
One thing there was more than enough of right out of the box was thump. The BassUp function is engaged by default and it produces a very round and prominent low end. The BassUp function won't engage when you customize the EQ, however, so I just upped the 80Hz band to compensate. Voila! Same deal and more than listenable.
With the drivers so close together in the enclosure, there's not a lot of separation of the right and left signals. However, Anker thoughtfully sent two Motion Booms, so I could pair them using the supported True Wireless Stereo featire. This resulted in a very loud, very bass-y, and decently sonorous combination that would be welcome at just about any beach party.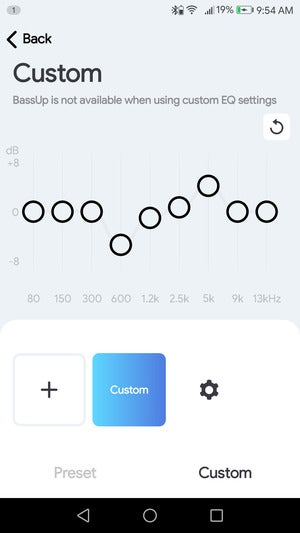 I wouldn't call the Motion Boom sonically excellent under any circumstance, but the EQ saved the day as far as I was concerned. It was still running on the factory charge on the 10000 mAh battery at about the 4-hour mark. Anker claims 24 hours of run time (go home!) and 4 hours to a full charge. This of course will drop if you use the Motion Boom's battery to charge your phone.
You'll need your own USB AC adapter or a 12-volt power adapter to tap you car's battery, as Anker doesn't provide one. Chances are you have more than one already.
Conclusion
After EQ, the Motion Boom sounded good enough that I can recommend it without hesitation for outdoor use, and perhaps some time in the kitchen or garage. There's no arguing the design's ability to stand up to the rigors of the pool, beach, or playground. For the price of a similar JBL, you can buy two and have bona fide, recognizable stereo separation—albeit with a small deficit in audio quality compared to that worthy brand.
Best Prices Today: Anker Soundcore Motion Boom