At a Glance
Expert's Rating
Pros
Pumps the volume and bass
Great overall sound
Long battery life
Cons
Pricey
Bulky and heavy (understandbly so, given its size)
Our Verdict
The JBL Boombox is extremely loud, bass-y (if you want it), sounds great at all volumes, and is easy to carry around despite its 13-pound heft. It can also serve as a power bank when needs be.
Price When Reviewed
$400
JBL named this product well: the Boombox booms and then some. It's easily the loudest portable Bluetooth speaker I've tested, and even better—one of the best sounding. Considering that it employs waterproof materials and carries an IPX7 rating, something I've found often inhibits successful sound reproduction, color me impressed.
This review is part of TechHive's coverage of the best Bluetooth speakers, where you'll find reviews of the competition's offerings, plus a buyer's guide to the features you should consider when shopping for this type of product.
Design and features
As you might expect from its moniker (assuming you're old enough to get the reference), the Boombox is on the large side: 19.48 inches long, 7.69 inches high, and 10.01 inches deep to be exact. It also weighs a rather hefty 11.57 pounds. Fortunately, the thick and comfortable handle makes that less of a burden than you might expect.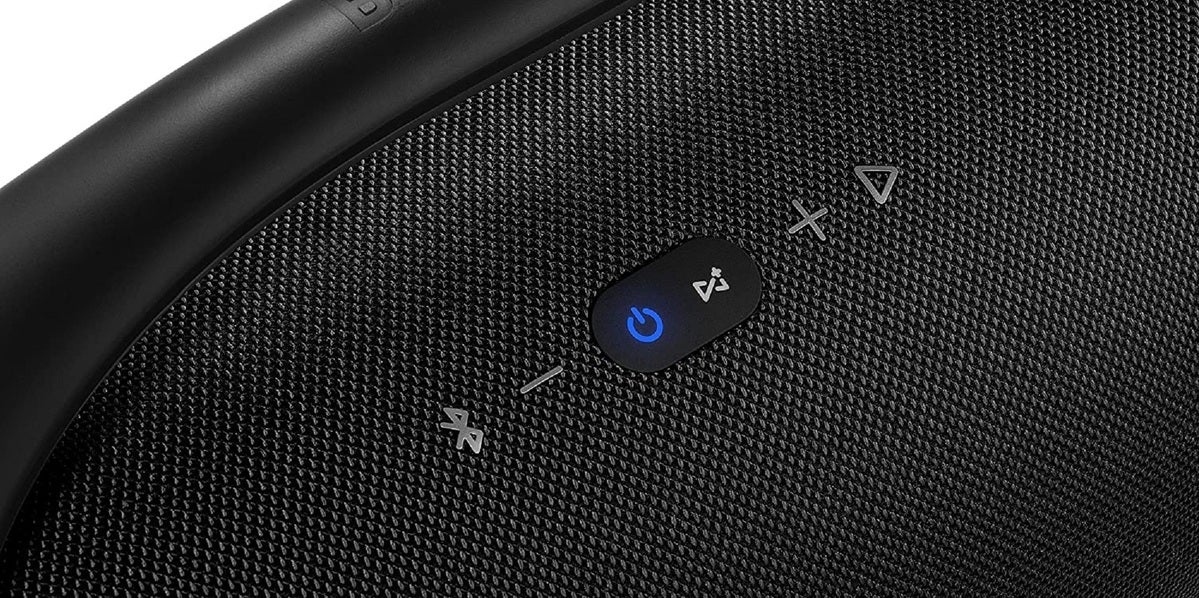 The buttons are on the upper front of the Boombox. In the center are the Power button and pairing status light. Surrounding those are the Bluetooth pairing, volume up and down buttons, as well as a multifunction play/pause/next (double-click). While the image above shows the non-power buttons in a lighter gray, on my shipping version they were the same black as the rest of the speaker and from certain angles, the volume lower button was very difficult to make out. Lower down on the face of the Boombox is a battery status indicator.
The Boombox also features an AC port which resides under a sung-fitting water-proofing plug on the back of the speaker. Sharing this hideaway are a 3.5mm auxiliary input, two USB-A ports for charging your phone (5-volts, 2 amps), and a mini-USB port for servicing.
The Bluetooth is 4.2 and the Boombox also supports JBL's Partyboost for connecting multiple JBL speakers. You may also link two as a stereo pair.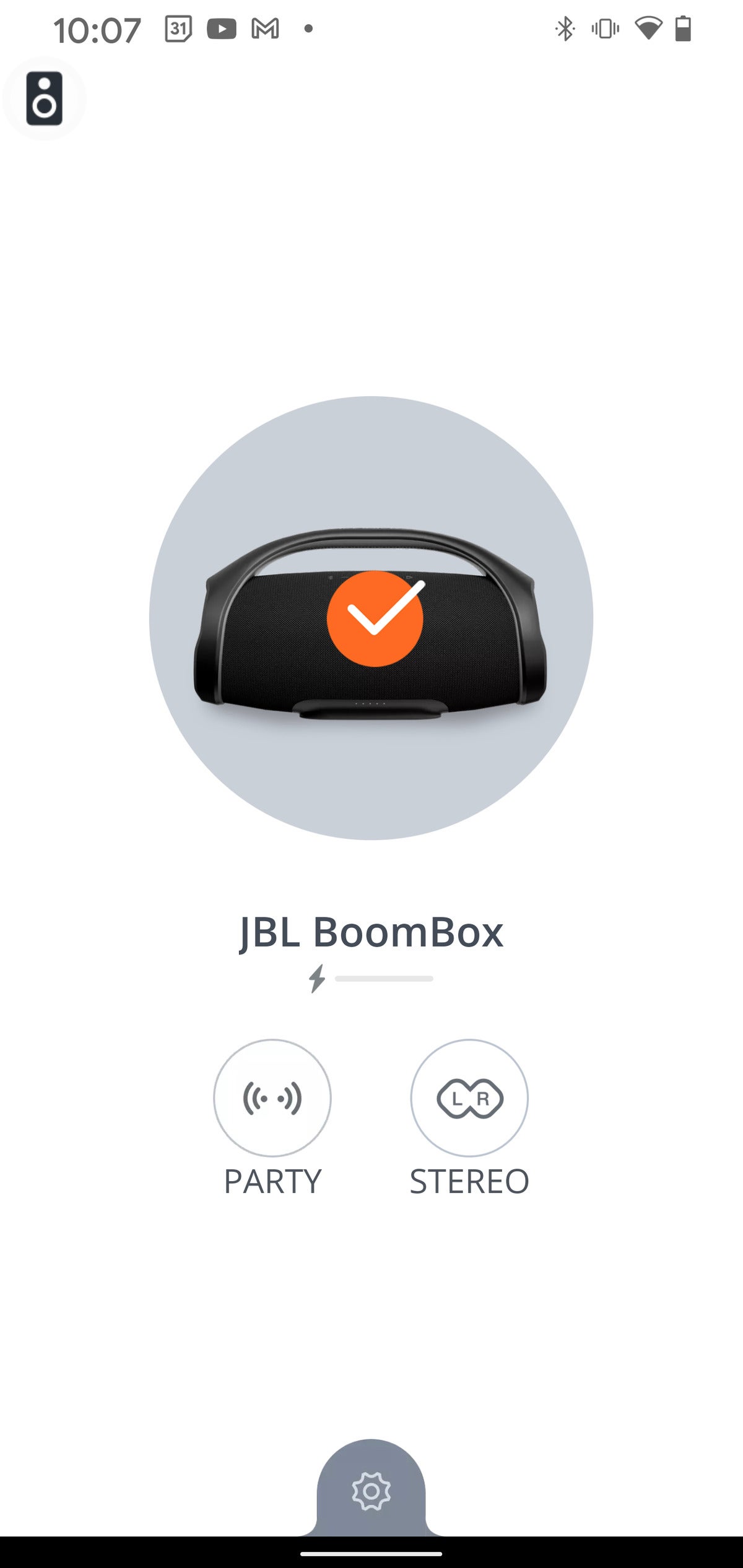 JBL also provides a phone app that makes it easier to adjust settings and turn on Partyboost or stereo pairing. I was hoping for a graphic EQ, but the Boombox I tested showed only "indoor" and "outdoor" modes.
Sound and performance
I've already explained that the Boombox does just that—boom in a nice way. In fact, it will do so at an uncomfortable level if you accidentally crank it up while being right next to it. Yes, I did.
Though my ears were ringing for a while, I was impressed with the overall sound. I'm used to JBL's smaller speakers, which to my taste, often over-emphasize the mid-range. The Boombox has a more natural mid-range balance that didn't tire my ears.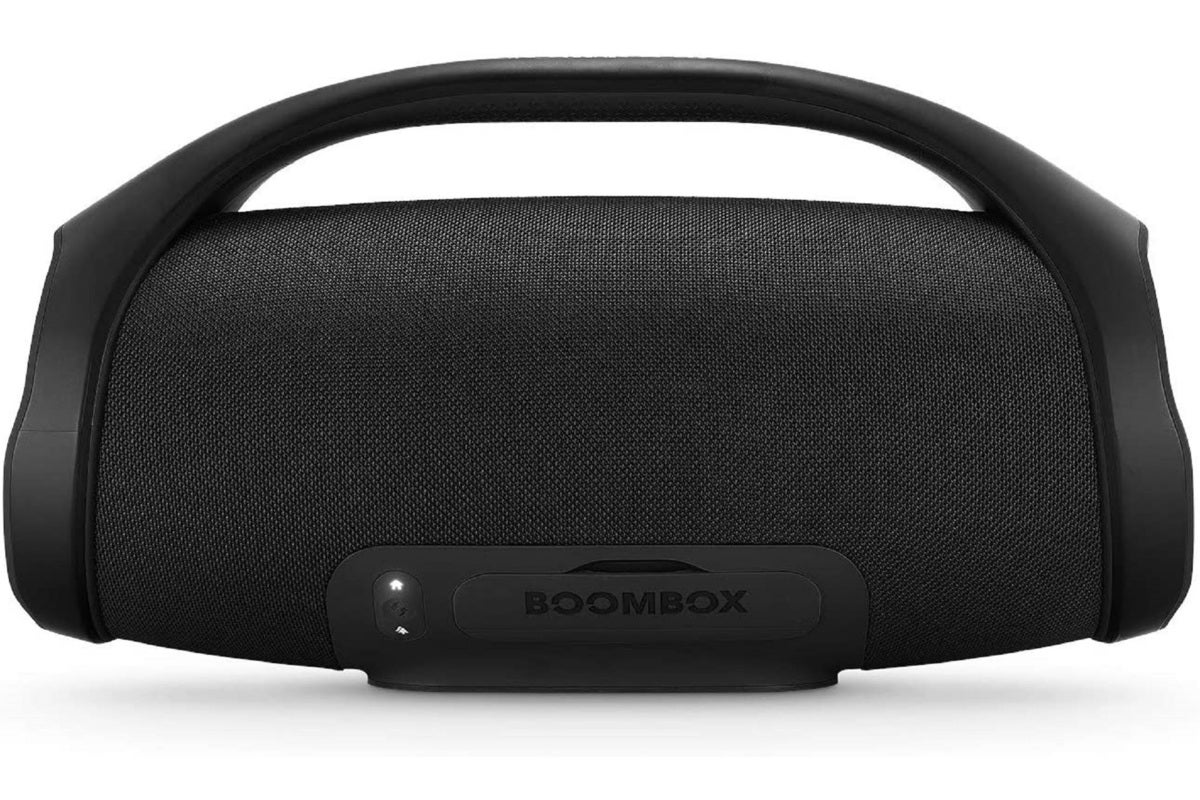 At lower volumes, I found the Boombox exceptionally sonically well balanced nearly across the board. In addition to the nicely understated mid-range (for JBL, at least), the bass was far tighter and punchier than I was expecting, and there's just the right amount of high frequency for my ears. That's using the indoor settings. I listened outdoors at volume and the Boombox sounded fine, albeit not quite as refined as it did indoors.
Runtime for the 10,000mAh battery is said to be 24 hours. I was about halfway to that when I put this article to bed. The charge indicator was about halfway, so I'll call the 24-hour figure close to the truth. At least as the relatively low volumes I was listening at. It's also true that to get to a full charge will take you more 6 hours. It's a large battery, okay? Do it overnight.
Best I've heard
The Boombox is easily the best-sounding large/loud Bluetooth speaker I've tested. I'd say compare it to the similarly-priced and -sized $400 Braven XXL/2, but that speaker is no longer available from Zagg. Regardless, at $400, the JBL is the better deal unless you need its rival's bottle opener.
Note that JBL is also now shipping a second-generation Boombox, the JBL Boombox 2. That speaker has been updated to Bluetooth 5.1, the amplifier puts out 10 more watts RMS per speaker when powered via AC, and there are likely other improvements. I hope they're worthwhile as the price has also been raised to a boutique-level $500. Gulp.