At a Glance
Expert's Rating
Pros
Smooth pan-and-tilt
Temperature and noise detection
Great image quality
Cons
Must manually record video
Lullabies don't include song titles
Our Verdict
The Papalook BM1 Baby Monitor is full of features that should help parents and baby sleep better at night.
Best Prices Today: BM1 Full 1080P HD Baby Monitor
Papalook, a manufacturer of webcams and other electronics, recently introduced its first baby monitor, and it seems to have already made an impression on parents. The BM1, which includes a 1080p camera and a parent unit with a 5-inch display, was awarded the Mom's Choice Awards—Gold Award Excellence Seal of Approval . It's not hard to see why. The BM1 is packed with the types of features that help parents rest easier at night knowing their little one is safe.
The BM1 camera has a snowman-style body topped with a pair of cute critter ears very similar to Netgear's now discontinued Arlo Baby. A 160-degree field of view plus the ability to pan 355 degrees and tilt 160 degrees provide ample room coverage, and infrared night vision allows you to view your child in the wee hours without turning on room lights that might disturb the tot's sleep.
A "tail" on the back of the camera is a temperature sensor that rotates with the camera base to detect the room's temperature in real-time. If the temperature falls outside a preset range of 64-86 degrees F, it will trigger an alarm. The BM1 also detects and alerts you to noise such as your child crying. You can select from three sensitivity levels or turn off noise detection. Should your child wake up in the night, you can soothe them with your voice using two-way audio. The camera can also play eight popular lullabies including the alphabet song and Hayao Miyazaki's light music.
This review is part of TechHive's coverage of the best video baby monitors, where you'll find reviews of competing products, plus a buyer's guide to the features you should consider when shopping.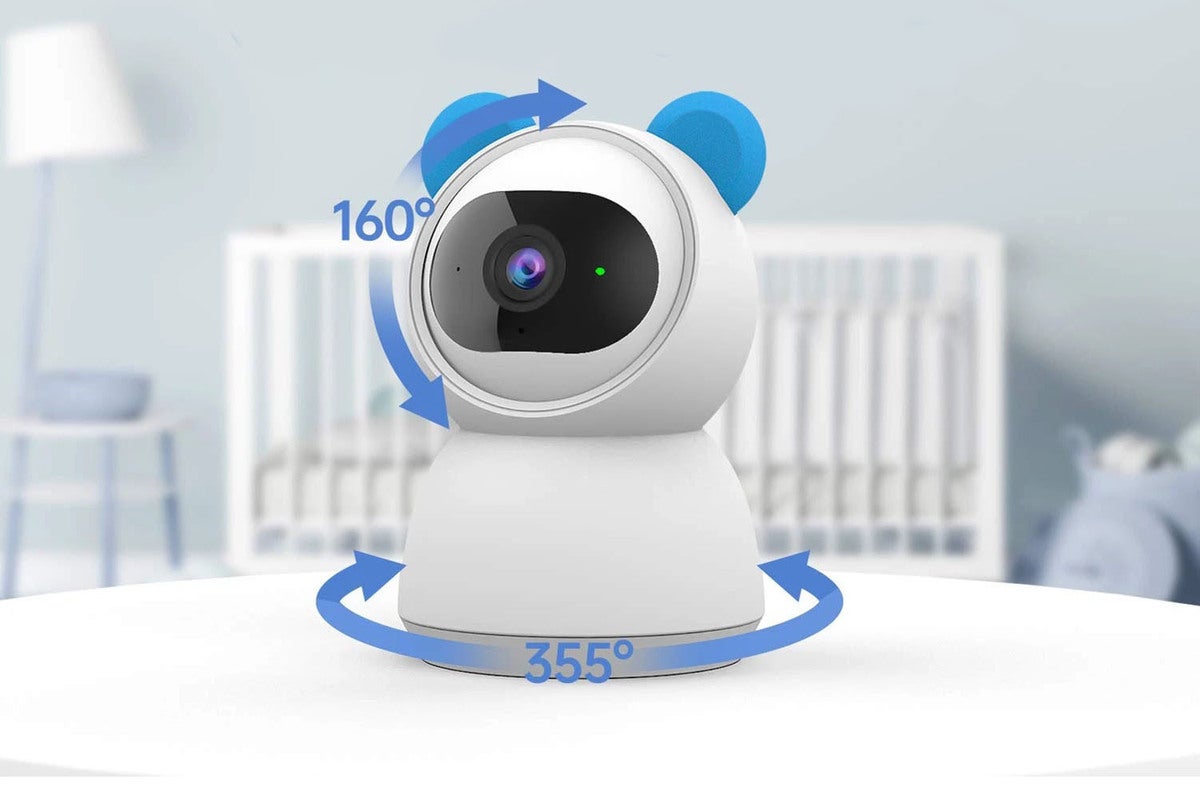 In addition to the color display, the handheld parent unit provides controls for panning and tilting the camera and operating the 2X optical zoom, using two-way audio, lullaby playback, and adjusting detection sensitivity. You can carry the monitor with you or set it on a table using a kickstand that flips out from the back.
The BM1 supports video recording and both the camera and the parent unit have a slot for a Class 4 TF card up to 256GB (not included) for capturing video of your child to share with family or to track their growth.
The BM1's turnkey setup is a blessing to every bleary-eyed new parent. You just plug in the camera and power on the parent unit and the two pair automatically. The parent unit runs on a 3600mAh rechargeable battery that Papalook says will give you between 10 and 15 hours of operation per charge depending on screen and audio usage.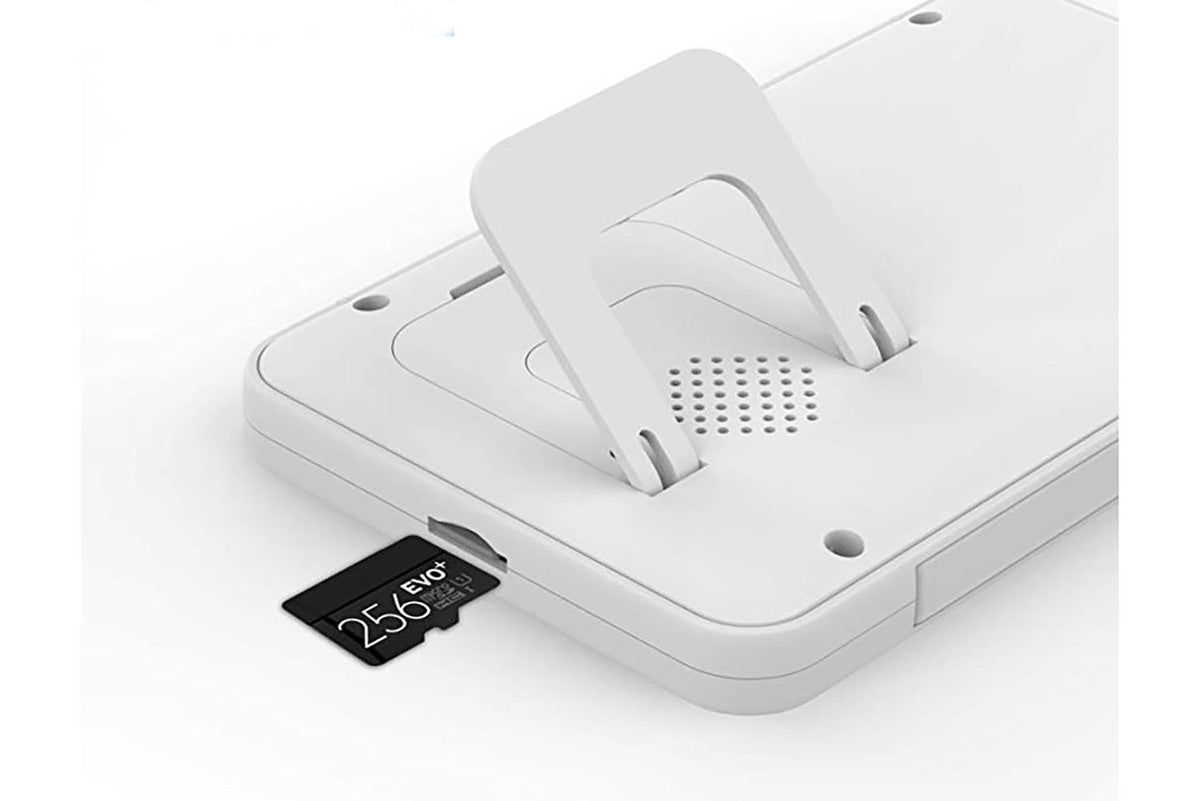 The 5-inch display is a considerable upgrade from the 3.5-inch screens typically used by baby monitors. It provides much more detail and clarity, with richer and more accurate color. The camera automatically switches to black-and-white night vision in low light and illuminates the room well enough to see clearly without the risk of waking the baby or shining a bright light in their eyes.
A directional pad on the parent unit is used to navigate menus and pan-and-tilt the camera. The camera responds quickly to this input, moves smoothly, and stops as soon as you depress the buttons. There's little noise when it's rotating, so you shouldn't have to worry about it waking your baby.
Temperature and noise detection worked well in my testing. When triggered, the parent unit emits a short persistent beep. It's enough to get your attention without startling you out of your sleep. The noise sensor can be set to detect various volume levels, from a child's shouting cry to conversational speech.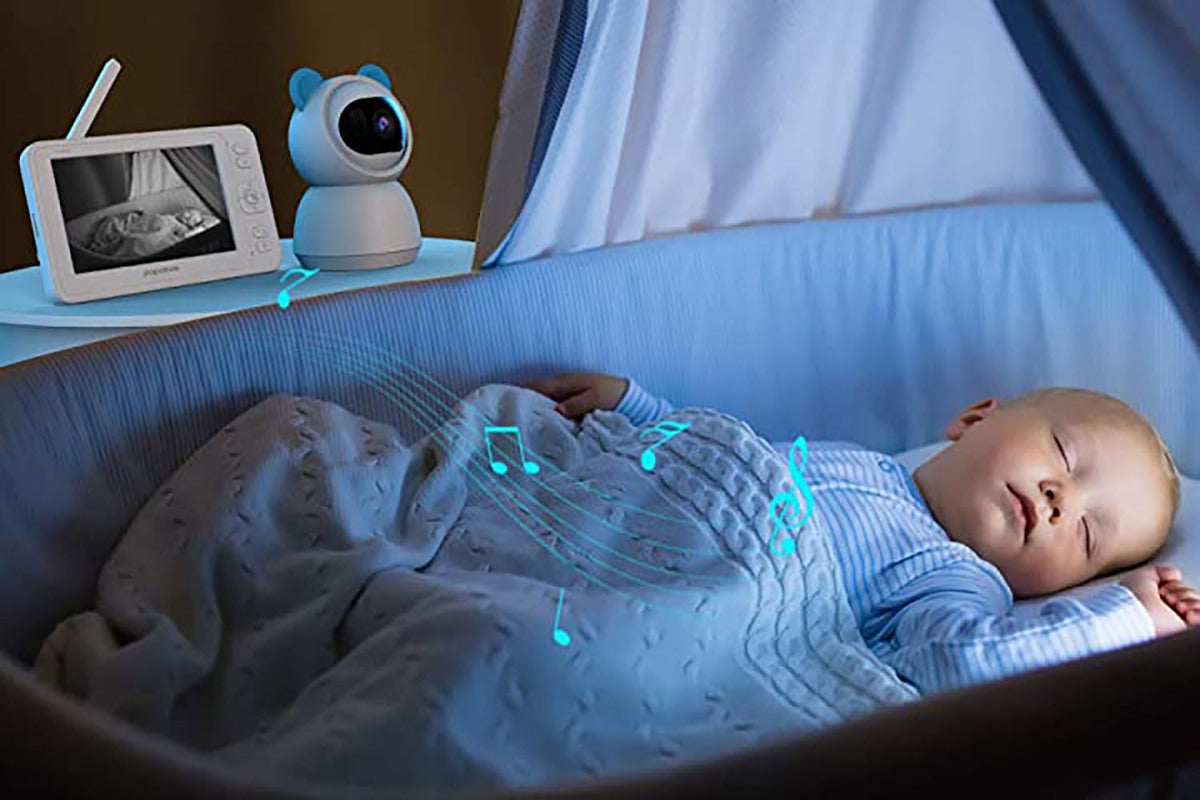 You can select lullabies from a dedicated menu. Unfortunately, the songs are numbered rather than titled, so you'll have to sample each one to find the selection you want until you memorize the number system. The lullabies are performed in a soothing music-box style, and you can have them play just once or loop them.
You have to initiate video recording manually, so this feature is really for preserving memories rather than for health monitoring or security. From the recording menu on the parent unit, you select either "record by monitor" or "record by camera" and toggle the setting to "on," then "off" when you're done. The video can be viewed directly on the parent unit by selecting the playback option and searching for the video by date.
Considering most parents will be using the BM1 in some state of sleep deprivation, Papalook has smartly made navigating the various menus straightforward. There's a settings button that takes you 10 submenus where you can toggle cameras if you're using more than one, set feeding-schedule alarms, adjust detection sensitivity, access lullabies, and more just using the directional pad and selection button. There's also a dedicated button for the parent unit's brightness and volume settings. Most functions only take a couple of button clicks to access and are easy to intuit by just spending some time exploring.
The BM1 performed reliably in my testing and it offers just the kind of easy setup new parents prize. At $140 on Amazon, it compares favorably with similarly priced baby monitors like the Panasonic video baby monitor and the Eufy SpaceView Baby Monitor , but I would give the edge to the BM1 for its higher resolution.
Best Prices Today: BM1 Full 1080P HD Baby Monitor