At a Glance
Expert's Rating
Pros
Wide, immersive soundstage courtesy of Dolby Atmos
Supports Creative's Super X-Fi headphone technology
Easy setup
Three HDMI ports, plus eARC support
Cons
Tall enough to block the bottom edge of some TV screens
No Wi-Fi connectivity or AirPlay/Chromecast support
Room calibration isn't a push-button process
Our Verdict
The SXFI Carrier's audio performance is impressive and enveloping, but the lack of Wi-Fi support in a soundbar this expensive is disappointing.
Best Prices Today: Creative SXFI Carrier
Remember the Creative Sonic Carrier? That monster of a soundbar packed 16 drivers in a mammoth, 60 inch-wide cabinet, and it cost a whopping $3,998. At the time, we called it the best-sounding soundbar you could buy, but at nearly four thousand bucks, we had serious questions about its value, particularly given that it didn't quite deliver the degree of immersion that we'd hoped.
Now comes the Creative SXFI Carrier, a narrower soundbar that pares down the drivers, adds Creative's Super X-Fi headphone technology, and slashes the price tag, all while throwing in a generous dose of Dolby Atmos sound—indeed, Creative says it worked closely with Dolby on the SXFI Carrier, which it bills as the first "Dolby Atmos Speaker System" soundbar.
This review is part of TechHive's coverage of the best soundbars, where you'll find reviews of competing products, plus a buyer's guide to the features you should consider when shopping for this type of product.
But while the SXFI Carrier does, indeed, deliver an expansive, Atmos-enhanced soundstage given its smaller form factor, you'll be giving up some key features for the still-lofty $999 sticker price—namely Wi-Fi, which means no casting, native streaming music support, or voice assistant control. We also thought its room calibration features were a bit undercooked, and while the SXFI Carrier is much narrower than the humongous Sonic Carrier, it's still tall enough to block the top edge of a TV when set directly in front of it.
Specifications
While it's billed as a 5.1.2-channel soundbar, the SXFI Carrier doesn't ship with physical surround speakers that would count as two of the five channels (the initial "5" numeral) in the soundbar's "5.1.2" designation.
The main soundbar unit comes equipped with a total of seven drivers: a pair of 3.5-inch midbass drivers for the center and height channels, two 2×4-inch racetrack drivers for the (virtualized) surround channels and left/right channels, and a trio of .75-inch tweeters that supply high-frequency sound for the left, right, and center channels. Each of those drivers is powered by its own Class D amplifier, as is the wireless subwoofer and its 10-inch driver.
At 34.6 inches across, the SXFI isn't particularly wide, and it's a full two feet shorter than its predecessor, Creative's massive—and massively pricey—Sonic Carrier. But while it's positively compact compared to the 15.2-channel Sonic Carrier, the three-inch-high SXFI Carrier is still on the tall side. Sitting a few inches in front of my low-slug 55-inch LG C9 OLED TV, the top of the SXFI blocked an inch or so of the LG's bottom edge.
During a conversation with the SXFI Carrier's product manager, I was told that Creative opted to go for a slightly taller design rather than swap in smaller 2- or 2.5-inch height drivers that are more prone to distortion. We'll see whether that design paid off in the performance section of this review.
Inputs and outputs
In a large rear cavity of the SXFI Carrier, you'll find a trio of HDMI ports. Two of these are HDMI 2.1 inputs, which support not only Dolby Vision and HDR10+ but also 8K video passthrough, which means you'll be ready once Microsoft and/or Sony enables 8K output for the Xbox Series X and PlayStation 5 gaming consoles.
The third HDMI connector can act either as an HDMI output or an HDMI-ARC interface, complete with eARC support for lossless Dolby TrueHD and DTS-HD Master Audio. Unfortunately, eARC's support for DTS-HD Master Audio is moot on the SXFI Carrier, given that the soundbar lacks a DTS decoder (not a huge surprise, given Creative's close collaboration on the soundbar with DTS rival Dolby). We'll discuss the ramifications of that missing DTS decoder in a bit.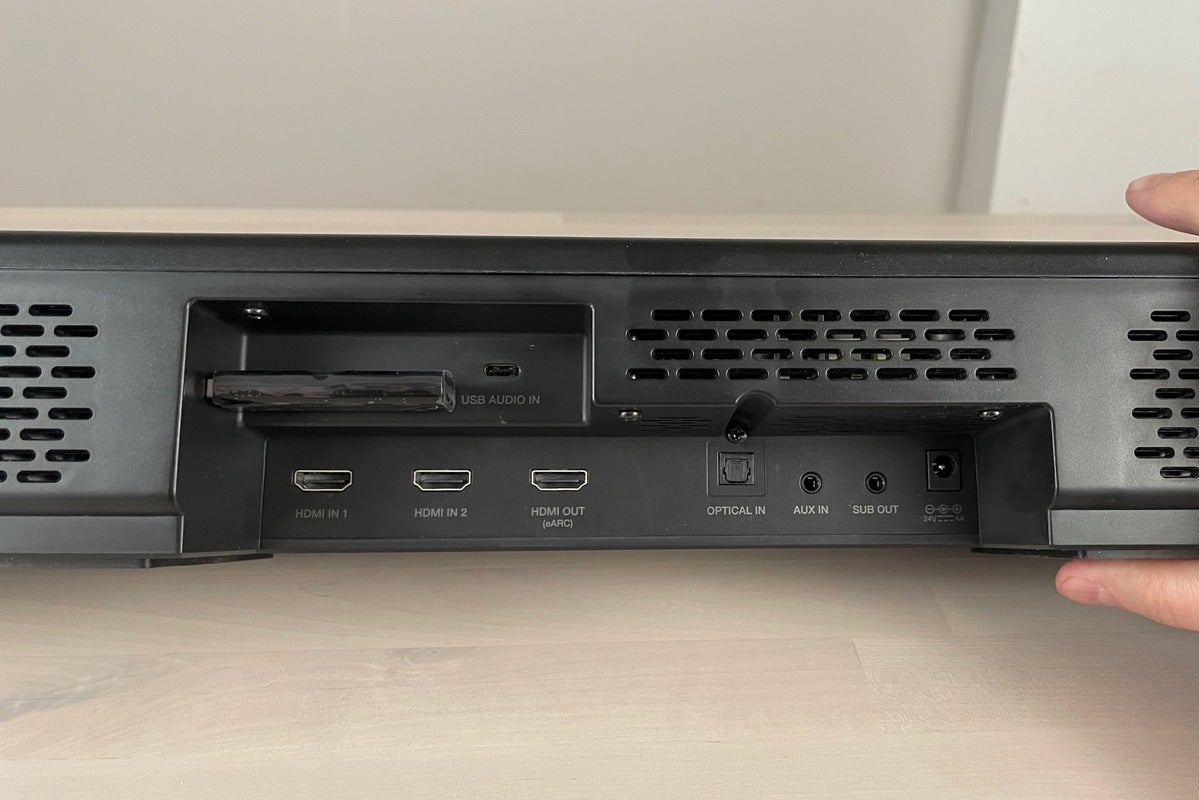 Besides the HDMI ports, the SXFI Carrier has an optical digital audio (Toslink) input, along with a 3.5mm auxiliary input. Unusually for a soundbar that ships with a wireless subwoofer, the SXFI Carrier comes with a 3.5mm subwoofer output, giving you the option of using a wired connection with the included (or even a third-party) subwoofer. Yet another 3.5mm jack on the front of the soundbar serves as a headphone output.
Finally, there are a couple of USB ports. A USB-A port is specifically designed for the dongle that connects Creative's wireless SXFI Theater headphones to the soundbar, while a USB-C port supports the playback of 24-bit/96kHz digital audio files.
Setup
As with most other soundbars, the SXFI Carrier can sit in front of your TV, or it can be mounted on the wall under your TV. The soundbar has a pair of rear mounting holes, but no screws or brackets are included in the box, which means you'd need to supply your own.
As with most other soundbars with wireless subwoofers (well, wireless save for the power cord) SXFI's subwoofer comes pre-paired with the main soundbar unit. Once I powered up both the soundbar and the subwoofer, they automatically found each other and connected seamlessly. If there is a problem, you can press and hold the Reset button on the back of the sub to retry the connection.
Thanks to its two HDMI inputs and single HDMI-ARC port, you're free to connect your video sources in one of two ways: either directly to the soundbar's HDMI inputs, or to your TV's HDMI inputs.
If you decide to use your TV's inputs (which means you could attach as many HDMI-enabled video sources as your TV allows, rather than being limited by the soundbar's two HDMI inputs), you'd then connect your TV to the SXFI Carrier via their respective HDMI-ARC connectors (an HDMI cable is included). As I previously noted, the soundbar's eARC support means it can handle lossless audio via HDMI-ARC, but there's a catch: your TV must also support eARC for the lossless trick to work.
Now, about the SXFI Carrier's missing DTS decoder. If you're a Blu-ray aficionado, you'll know that many Blu-ray discs come with lossless, DTS-HD Master Audio soundtracks. The good news is that you can still enjoy lossless DTS audio over the SXFI Carrier despite its lack of a DTS decoder; all you need to do is offload the decoding to another device, such as a Blu-ray player, a game console with an integrated Blu-ray drive, or even your TV. In the case of a Blu-ray player, you could set it to send uncompressed, already decoded PCM signals to the soundbar. Just dive into the Blu-ray's audio output settings and select "PCM" rather than "bitstream" or "auto."
Calibration
Once you're done with the physical setup, you can calibrate the SXFI Carrier's audio using the Creative mobile app, but don't expect to simply press a button and be done with it.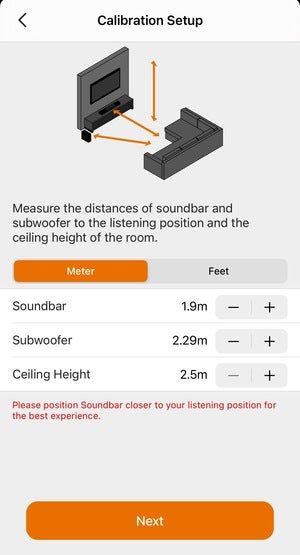 While LG's auto-calibrating soundbars and Sonos's Trueplay-enabled Arc soundbar can automatically detect the acoustics of a room and calibrate their sonics accordingly (the LG uses its built-in microphones to help with the calibration process, while the Arc relies on an iPhone's mic), the Creative app requires that you measure the distances between the soundbar, the subwoofer, and the sofa yourself, as well as measure your ceiling height. If your ceiling is too high or short, the app will admonish you if it thinks your sofa is either too close or too far away, and that's exactly what happened with my smallish, low-ceilinged home theater room. Rather than lug my sofa to a new position (I'm fine with where it is, thanks), I entered the room measurements as best I could and crossed my fingers.
For the subwoofer, you're supposed to press a "play" button on the app to trigger test signals from the subwoofer and the main soundbar unit, and then listen closely to "match" the sounds using "+" and "-" decibel buttons. I did my best to match the test signals, but who knows if I managed to nail an accurate reading. In the end, I just picked a bass setting I liked best, just as I would have with a typical bass volume setting.
Finally, there's a setting that lets you adjust the decibel level for the height channels (which were supposedly adjusted after you entered your room measurements). As with the bass settings, you can tap "+" and "-" buttons to either boost or dial back the soundbar's height effects.
Buttons, remote, and app controls
Along to top of the soundar are six buttons: power, volume up/down, source select, mode (for toggling through the soundbar's various audio modes, which we'll cover a bit later), and Super X-Fi, which enables Creative's signature "holography" audio-processing technology for listening with headphones (we'll discuss that later, too).
A single LED lets you know the soundbar's power and Bluetooth connection status, while a one-line display shows you the active input or the detected sound mode (Dolby Atmos, multichannel PCM, and so on).
The remote is a somewhat cluttered affair, although the most important buttons—power, mute, and a five-way playback pad—are easy to find in the dark. In a nice touch, you also get six customizable C buttons that let you set discrete sound mode, input, output (headphone or speakers), Super X-Fi, and bass level settings.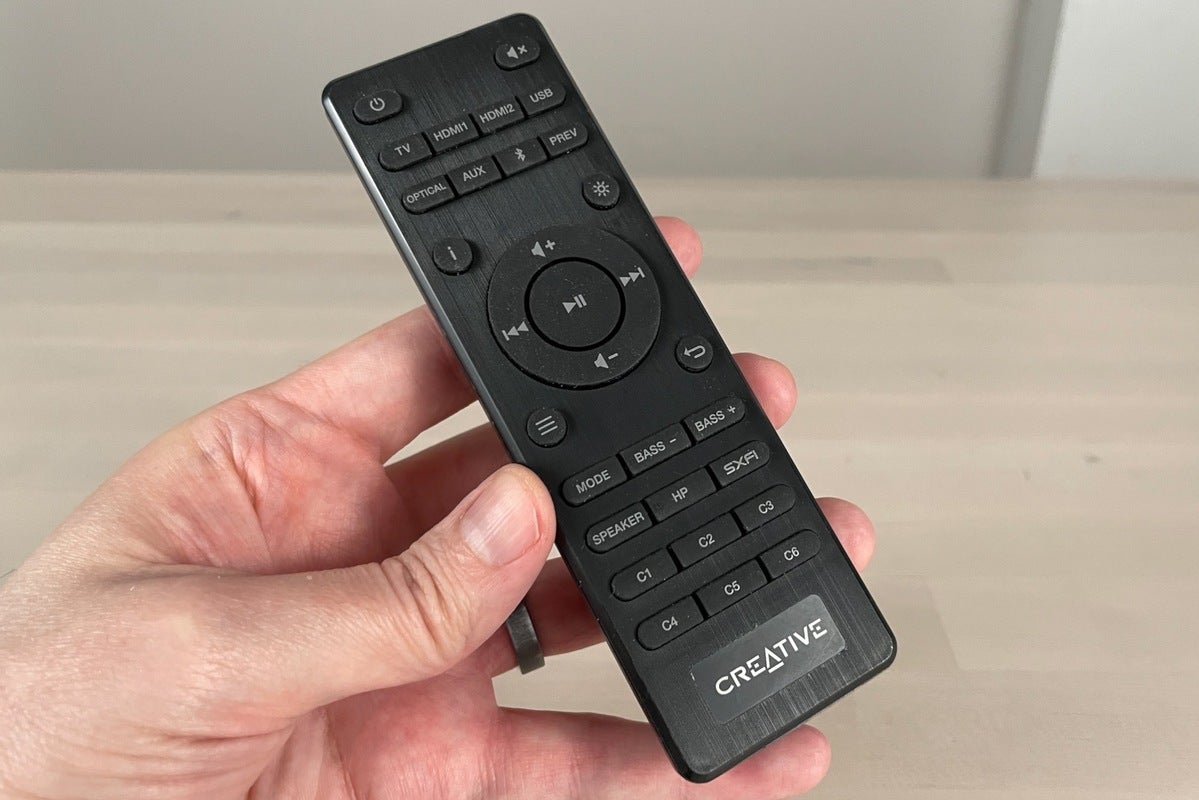 The Creative app controls the soundbar via Bluetooth, but aside from letting you switch sound modes and sources, its primary functions are for audio calibration (which we covered earlier) and programming the remote's six "C" buttons.
Features and sound modes
Because the Creative SXFI Carrier lacks Wi-Fi support, you won't be able to listen to streaming audio services directly over the soundbar, nor will you be able to cast audio via AirPlay 2 or Chromecast; voice assistants are out of the question, too. Instead, you have two options: You can either play streaming music apps on a TV or a set-top box and listen through the soundbar, or you can pair the soundbar with your phone via Bluetooth 5.0 and stream tunes that way (only the default SBC Bluetooth codec is supported, by the way). The SXFI Carrier's missing Wi-Fi connectivity is a tough pill to swallow given its $999 price tag.
The SXFI Carrier offers a range of familiar-sounding audio modes, including Movie, Music, Night, Neutral, and "Superwide," but what makes them different from the norm is that most of them, aside for the Neutral setting, are upmixed for Atmos, including the stereophonic Music mode. When I asked Creative why all sound sources, including 2.0-channel audio, are upmixed with Atmos, here's what they told me:
We have extensively evaluated Atmos upmix with stereo audio sources to ascertain if a pure stereo bypass mode would be needed. What we've found is that the Atmos processing sounds really natural and unhyped, and did not produce any artifacts like panning sonic images to musically inappropriate locations within the sound stage. The upmixed stereo really sounds just like a pair of hifi speakers placed conventionally around 45 degrees apart in front of the listener. Where there are ambient cues present, those are rendered appropriately and realistically. Turning off the upmixing collapses the soundstage to the physical width of the soundbar, which we feel that is both spatially incorrect and unappealing.
Atmos upmixing for stereo sources also allows "all the drivers to be fully utilized, [including] the center channel drivers," I'm told.
Just to be clear, there is the "Neutral" mode for those who want unprocessed 2.0-channel audio, while the "Superwide" mode is "essentially neutral mode with stereo width enhancement," providing "wider, more spacious audio" from stereo mixes.
Back to the Atmos-enhanced sound modes: "Movie" mode delivers a "subtle boost" to surround levels and "enhanced" dialog, while the "Night" mode features dialog enhancement plus "more aggressive normalizer and compression" settings for late-night listening.
Super X-Fi Headphone Holography
The Creative SXFI Carrier is just the latest Creative audio product to offer the company's Super X-Fi DSP technology, which is designed to deliver an enhanced, personalized audio experience tailored for your ears—literally. Using Creative's Super X-Fi mobile app, you actually snap photos of your ears, which the app then uses to create a customized Super X-Fi audio profile. You can then listen to the SXFI Carrier using one of Creative's Super X-Fi-enabled headphones, or you can even plug a standard pair of cans into the 3.5mm jack to get the Super X-Fi effect.
Creative supplied me with its wireless, over-ear SXFI Theater headphonesRemove non-product link, which connect to the Carrier over the 2.4GHz band via (as I mentioned earlier) a wireless USB-A dongle. Having previously created a Super X-Fi profile for myself, I slipped the $200 headphones on and queued up the Marketplace Chase chapter on the standard Blu-ray of Star Wars: The Force Awakens.
I won't go into too much detail about the SXFI Theater's performance (this isn't a headphone review, after all), but I was duly impressed as the Tie Fighters strafed Rey and Finn as they made a mad dash for the Millenium Falcon, even if the Super X-Fi mode had only a subtle effect on the audio. Switching to a pair of wired, old-school Sony MDR-V6 studio monitorsRemove non-product link, the Super X-Fi effect was much more overt, giving greater depth to the surround cues but adding an unwelcome hollowness to the dialog. If you're not a fan of the Super X-Fi processing (and I have to admit, I'm only so-so about it), you can always turn it off.
Click here to read about the Creative SXFI Carrier's audio performance
Performance
Stowing the headphones, I started off my proper SXFI Carrier listening tests with the Battle of Hoth sequence from the 4K UHD Blu-ray of Star Wars: The Empire Strikes Back (yes, there's a bit of a Star Wars theme here), which has a remastered Dolby Atmos soundtrack. As the Rebel speeders buzzed around the Imperial Walkers, I was surprised by the width and depth of the soundstage that the relatively narrow SXFI Carrier managed to deliver, as well as the pronounced height effects as ice pellets clattered through the top opening of a snow-clogged Rebel corridor ("Transport, this is Solo—better take off, I can't get to you").
The Atmos-enabled sound was free from the shrillness that sometimes plague DTS Virtual:X audio, which is DTS's virtualzied 3D sound format. And indeed, the Dolby Atmos-enabled SXFI Carrier did the best job yet of fooling my ears into thinking they were hearing surround cues from physical rear speakers, although that's not to say it can replace physical surround setups; when I switched back to my proper 5.1.2-channel rig, I could hear the difference.
I also tried the "I'm the king of the world!" scene from the Blu-ray of Titanic, which has a 5.1-channel DTS-HD Master Audio soundtrack. This sequence combines a variety of sonic elements, including the hiss as the ship's bow slices through the water, the deep "kerplunk" of the massive pistons in the engine room, James Horner's sweeping score, and of course, Leonardo DiCaprio's iconic (or infamous, take your pick) line.
Offloading the DTS processing to my 4K UHD Blu-ray player, the SXFI Carrier deftly handled the scene, delivering the complexity of the overlapping sonic elements within a wide soundstage but without being too showy about it. Dialog was impressively crisp throughout ("Let's stretch her legs") and plenty of deep but not boomy bass. Still, I would have preferred tighter punch from the subwoofer.
To test out the SXFI Carrier's performance with a streaming set-top box, I dialed up the iTunes version of Superman on my Apple TV 4K. Now with a remastered Dolby Atmos soundtrack, the swooshes of the famous opening titles seem to fly around and above you, and the Carrier managed just that, while faithfully pumping out John Williams's rousing score. Again, I could have done with more punch in the bass department—Richard Donner's "directed by" credit lacked the hard "thunk!" I've heard from other wireless subwoofers. Still, the overall sound was immersive and relatively engrossing given the SXFI Carrier's small form factor.
For music, I called up Bruce Springsteen's "The Ghost of Tom Joad" on Tidal, and streamed it to the SXFI Creative via Bluetooth. Using the soundbar's Atmos-enabled Music mode, the sound was—as promised—surprisingly wide and expansive, but without any distracting, over-processed hollowness. Skipping to "Solitary Man" by Johnny Cash, I could have sworn that the sound was emanating from my own bookshelf speakers flanking the Carrier—but no, it was the soundbar, all right. Janelle Monáe's "I Like That" floated pleasantly around the room, while Carlos Kleiber's legendary performance of Beethoven's Fifth Symphony felt big and atmospheric, although my ears missed some detail in the high-end.
Bottom line
Like I mentioned earlier, the Creative SXFI Carrier marks the first of what will hopefully be many more "Dolby Atmos Speaker System" soundbars, so perhaps its rough edges are to be expected.
Yes, the SXFI Carrier's audio performance is impressive and enveloping (a few bass-response quibbles aside) for a soundbar this small that lacks physical surround speakers. But the lack of Wi-Fi support in a soundbar this expensive is disappointing, and the room calibration process needs sprucing up. And while the SXFI Carrier is much smaller than the three-year-old Sonic Carrier, it's still boxy enough to (potentially) take a slice out of your TV's bottom edge (unless you mount it on a wall, of course).
If you're intent on snapping up a Dolby Atmos-enabled soundbar that doesn't need surround speakers, and you don't care about Wi-Fi connectivity or audio casting, the SXFI Carrier could make for a nice fit in your home theater, provided you have the cash for it. But while it's ostensibly a more affordable remake of the Sonic Carrier, the SXFI Carrier feels very much like a "version 1.0" soundbar—and personally, I'd be more interested in the SXFI Carrier 2.0.
Best Prices Today: Creative SXFI Carrier