At a Glance
Expert's Rating
Pros
Exceptional sound for its size
Auto Trueplay now works over Bluetooth
Sound Swap feature lets you "swap" music with other Sonos speakers
Small and light, with a waterproof design
Cons
Slow wireless charging (at least with third-party chargers)
Sound Swap doesn't work across Wi-Fi, Bluetooth, and AirPlay 2 modes
Our Verdict
Small, lightweight, packed with great networking features plus your choice of Alexa or Google Assistant, the sweet-sounding Sonos Roam just became the portable smart speaker to beat.
Best Prices Today: Sonos Roam
It's become de rigueur to call the Sonos Move a luggable speaker rather than a portable one. Tipping the scales at six pounds, the Move delivers big, bold, yet refined sound that you can take to the backyard, the park, or even the beach, but it's a hefty, bulky smart speaker better suited to the trunk of a car than the confines of a backpack.
With the compact, lightweight Roam, Sonos is aiming for a speaker that you'd cheerfully toss into a purse or a knapsack, but without compromising—well, not too much—on audio quality. Has Sonos delivered on its promise? Let's give it a listen.
This review is part of TechHive's coverage of the best smart speakers, where you'll find reviews of the competition's offerings, plus a buyer's guide to the features you should consider when shopping for this type of product.
Design
Measuring 6.1 x 2.4 x 2.4 inches (HxWxD) and weighing a hair less than a pound, the $169 Sonos Roam is about the same size as a 500ml water bottle, making it Sonos's smallest speaker by far. Available in either shadow black or lunar white flavors (I tested the lunar white version), the Roam was a pleasure to tote around, fitting neatly in my hand and feeling impressively light but not insubstantial. On a recent jaunt to the park, I could barely feel the Roam in my shoulder bag, while the same couldn't be said of the luggable five-pound Sonos Move.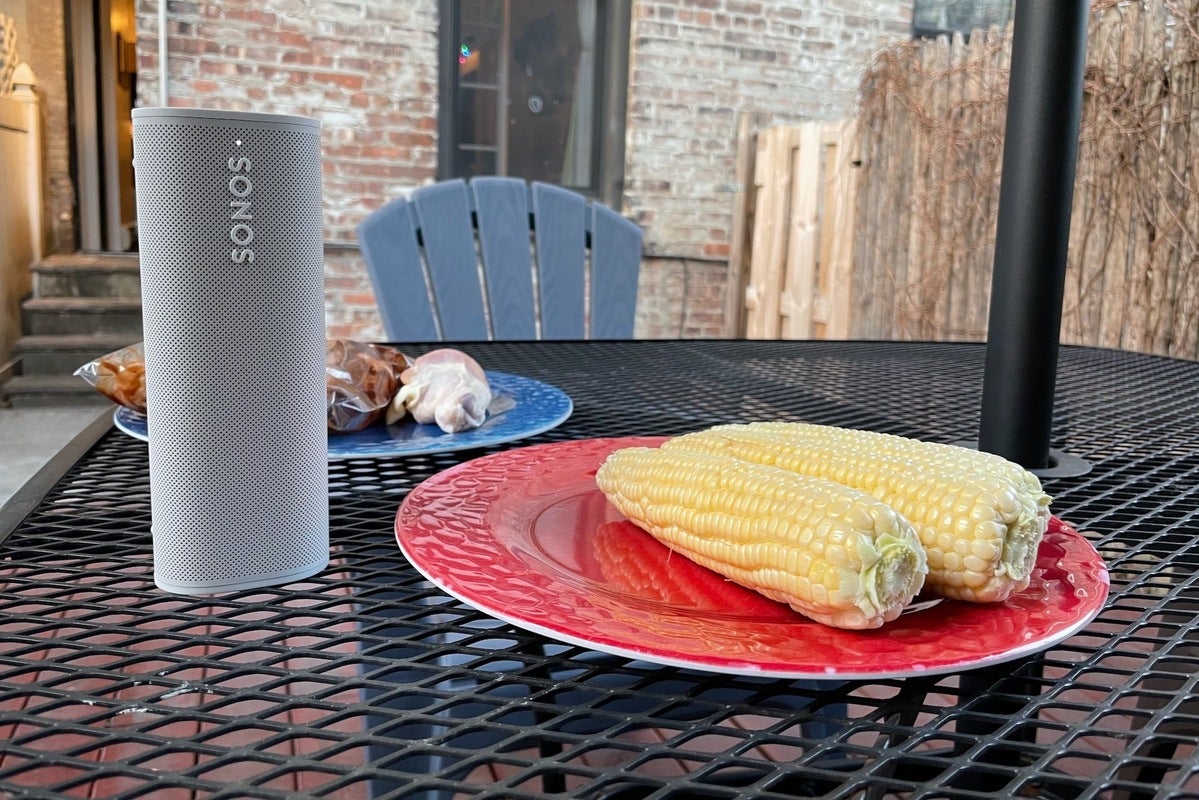 Thanks to its rounded triangular design, the Roam can sit in a variety of positions during playback. The speaker has four rubberized feet along one side for when it's sitting horizontally on a smooth tabletop, but it can also remain stable laying on the other side—and since "Sonos" is a palindrome, the logo never looks upside down. Another option is to place it vertically on its (also rubberized) end cap, which came in handy when using the Roam on a crowded backyard table.
Not only is the Roam versatile in terms of how you can place it, but it's also tough. Equipped with an IP67-certified shell, the Roam has been designed to withstand being dunked in up to a meter of water for 30 minutes, and it's also completely resistant to dust ingress. Sonos encouraged me to put the Roam's ruggedized design to the test, so I went ahead and held it under a faucet and then submerged it in a bowl of water, while the speaker was still playing. As promised, the Roam didn't skip a beat, although it took a little time for its speaker grille to completely dry.
Buttons and interfaces
While one of the Roam's rubberized end caps serves as a base, the other holds four buttons: two for volume control, a play/pause button, and a mic mute button. Unlike Sonos's other speakers, the Roam's buttons are both tactile and clickable rather than flat and touch-enabled. Sonos said it went the tactile way to prevent accidental button presses when (for instance) the Roam is floating around in a backpack, or in case you decide to toss the Roam on a picnic blanket.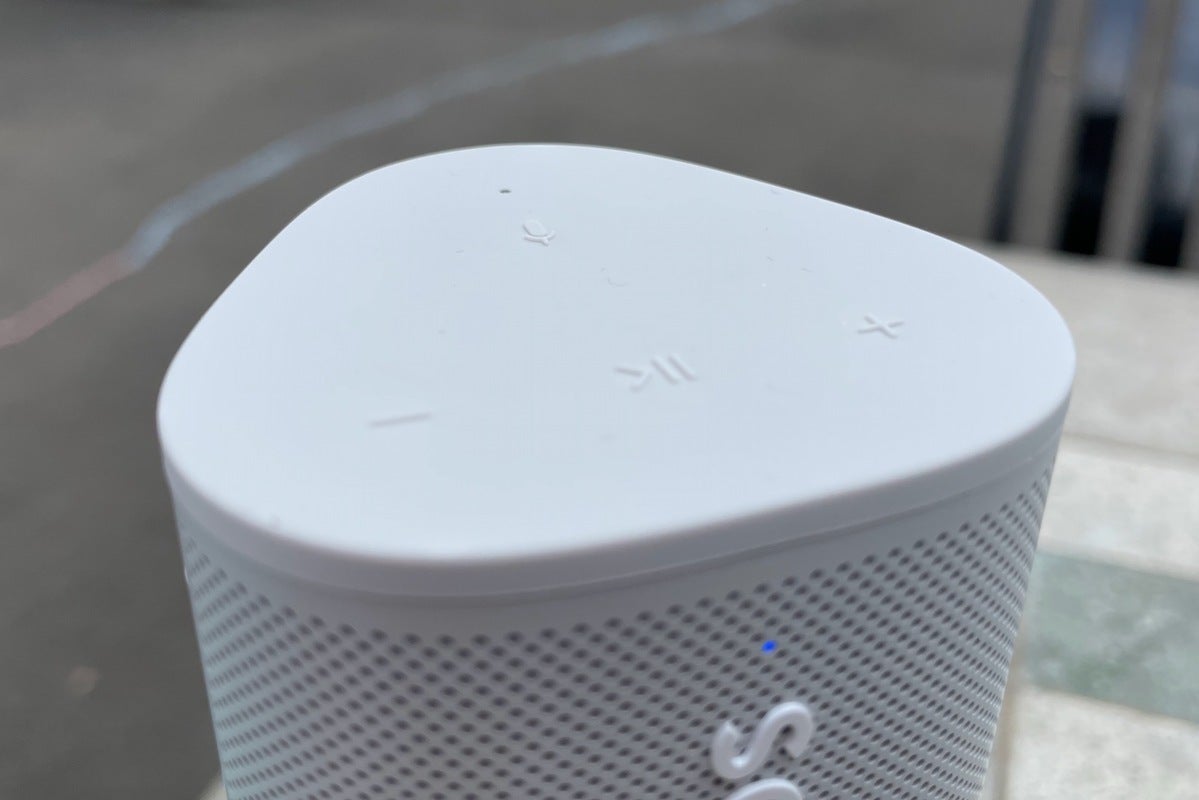 The Roam's play/pause button can perform a variety of functions. For example, you can double-press the button to skip a track, or triple-press it to go back to the previous tracks. Long-pressing the play/pause button also lets you group the Roam with other Sonos speakers, as well as trigger the new Sound Swap feature, which I'll cover a little later.
On the back of the Roam are a USB-C charging port (you can also charge the Roam via Qi wireless charging, as I'll also discuss later) and a power button. Pressing the button once puts the Roam in a power-save mode that helps the battery to keep its charge for up to 10 days, or you can press and hold the button for five seconds to turn the speaker off completely. The Roam will also go into its low-power "sleep" mode after about a half hour or so if it's not playing music while running on battery power.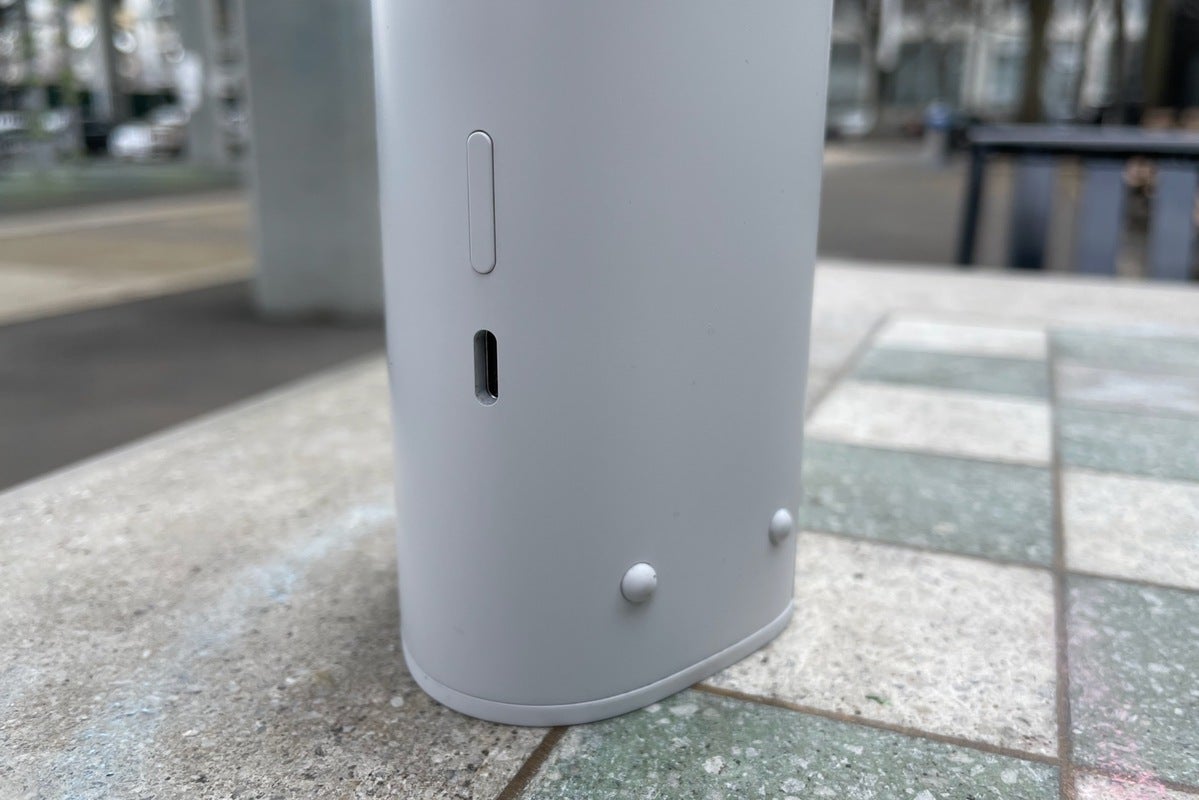 In addition to the buttons, there are three LEDs on the Roam: one that tells you when the microphone is active, a second that glows either white or blue depending on whether the Roam is connected to Wi-Fi or Bluetooth, and an orange light that indicates that the Roam is charging or running low on juice.
Setup
Mentioned in this article
Sonos Move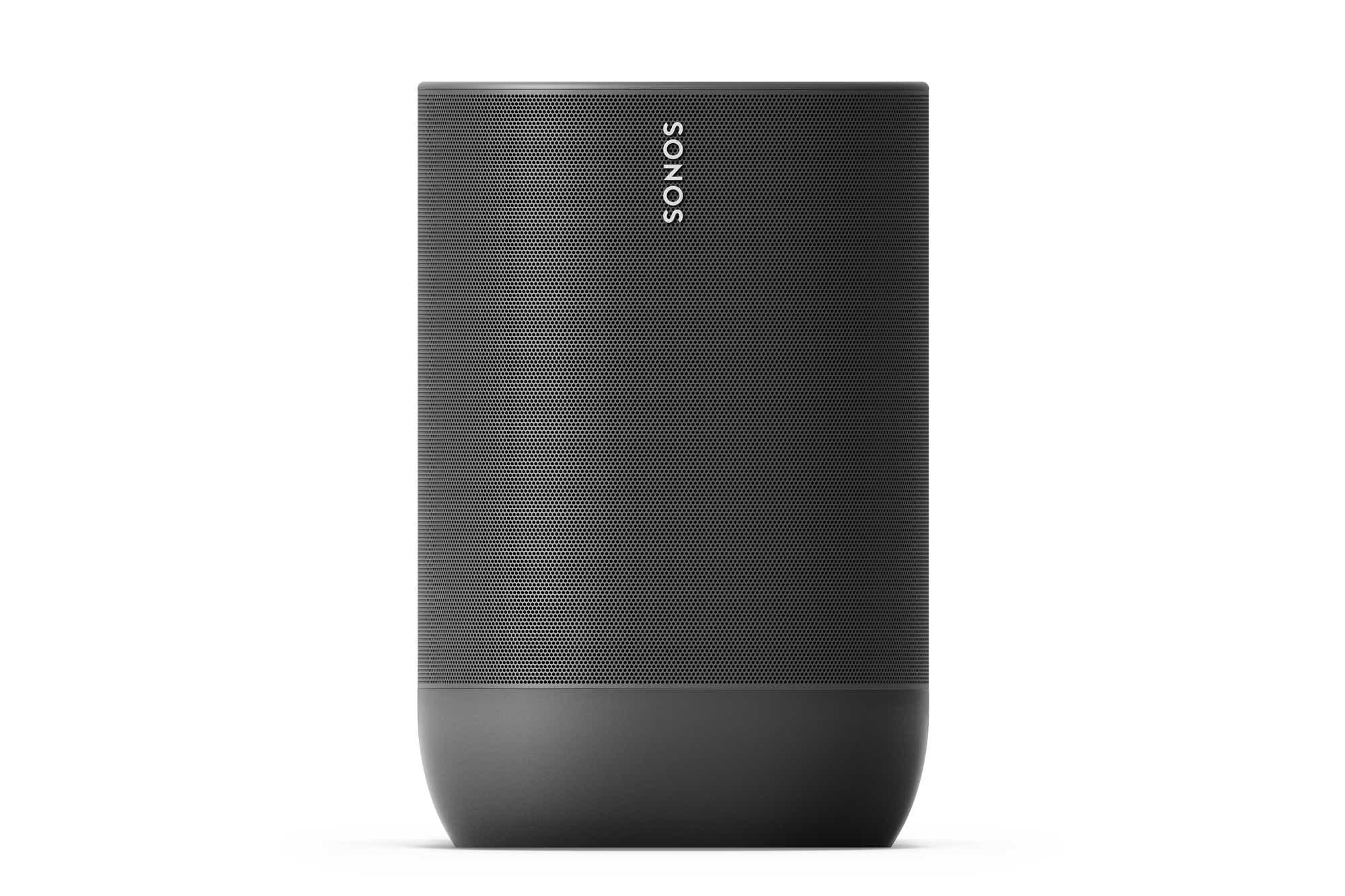 Price When Reviewed:
$399
Connecting a Sonos speaker to a home wireless network has always been a snap, and the Roam is no different. If the Roam is your first Sonos speaker, you'll first need to install the Sonos S2 mobile app for iOS or Android (I used the iOS version), then create a Sonos account and enter your Wi-Fi credentials. If you already own a Sonos speaker, all you'll need to do is tap the Add Product button in the Sonos app.
Setting up the Roam in my Brooklyn apartment, the Sonos app discovered the Roam almost instantly. It then prompted me to tap my iPhone on the side of the speaker between its four feet, thus allowing the devices to identify each other using their respective NFC (near-field communication) chips. It took a couple of tries for the NFC handshake to work, but once it did, the Sonos app connected the Roam to my wireless network and automatically downloaded a firmware update. Once that was done, the Roam was ready to go, with the whole setup process taking less than five minutes.
Specifications
The Sonos Roam comes with a pair of drivers: a 16mm tweeter and a mid-woofer with an oval (aka "racetrack") design. When I asked for the exact size of the woofer, I was told that it's "not measured by a standard dimension," but based on a blow-up view of the Roam on the Sonos website, the driver appears to fit snugly in the top half of the speaker.
Both of the drivers get their own Class H amplifiers, a departure from the Class D amps that power Sonos's other speakers (and most powered consumer speakers). Sonos said it opted for the Class H amps because they "don't sacrifice power for size." Sounds good, but we'll judge whether the new amplifiers translate into "no-sacrifices" audio later in the review.
The Roam supports both Wi-Fi 5 (802.11ac) and Bluetooth 5.0, making the Roam only the second Bluetooth-enabled speaker from Sonos (following 2019's Move, of course). The Roam supports the standard SBC and AAC codecs but not the high-resolution aptX HD or LDAC codecs from Qualcomm and Sony respectively.
When connected to Wi-Fi, the speaker (along with Sonos's other, newer networked speakers) supports up to 24-bit/48kHz high-resolution audio. For now, however, the only way to hear 24-bit audio via Sonos's multiroom audio platform is by playing local FLAC or ALAC audio files or (as I'll detail in a bit) streaming high-resolution music from Qobuz, provided you're a Qobuz Premier subscriber.
As with Sonos' other speakers, you can cast music to the Roam via Apple's AirPlay 2 protocol, and it will also appear as a HomeKit device in the Apple Home app. Sonos has yet to play nice with Chromecast.
Features and functionality
Thanks to the Sonos wireless platform, you can group the Roam with other Sonos speakers on your home network. (You can also group Sonos speakers with AirPlay 2-compatible speakers, if you wish.) One method for grouping Sonos speakers is via the Sonos app; you just tap the System tab (on iOS), tap the grouping icon on an available speaker, then select the speakers you want to group. You can also create standing groups, like "Upstairs," "Kitchen," "Living Room," or "Everywhere," allowing you to play tunes in some or all of your rooms. The sleek, intuitive Sonos app makes the whole speaker-grouping process easy.
If you'd rather not pull out your phone, you could also group the Roam to a Sonos speaker group by pressing and holding the play/pause button, a process that's similar to other Sonos speakers. Adding a twist, the Roam's new Sound Swap feature lets you "swap" music with the nearest Sonos speaker in your home if you keep holding the play/pause button, making for a clever way of (for example) grabbing music from a Sonos speaker group and taking it into the backyard, or swapping the tunes back inside once you return.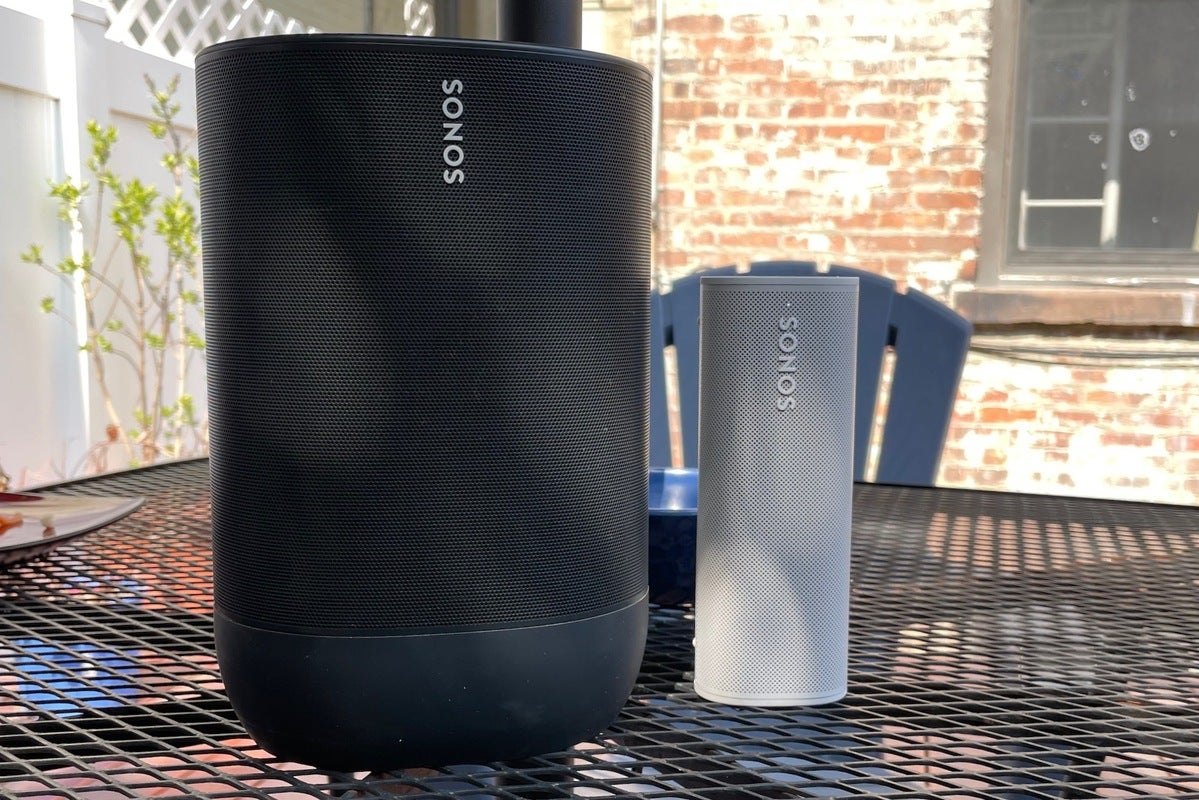 The Roam's grouping and Sound Swap features get more complicated once you throw its Wi-Fi and Bluetooth capabilities into the mix. If you're coming home with the Roam connected to your phone via Bluetooth, you can seamlessly group the Roam with your other Sonos speakers while still playing Bluetooth tunes (the Roam automatically reconnects to Wi-Fi once it's back in range). That said, Sound Swap won't work across Bluetooth and Wi-Fi (or AirPlay 2, for that matter), so you'll need to stop Bluetooth streaming on the Roam and queue up some tunes via Wi-Fi before you start swapping music back and forth.
Much more simple is Auto Trueplay, a feature that automatically tunes the Roam's audio depending on the surrounding acoustics. Initially, Sonos' Trueplay feature required help from an iPhone's integrated microphone to detect the acoustics in a room, but with 2019's Sonos Move, Trueplay earned its "Auto" designation by using its built-in mics to perform those measurements, all without any prompting from the user. With this year's Roam, Auto Trueplay drops the Wi-Fi-only requirement it had on the Move, meaning the feature now works over Bluetooth as well as Wi-Fi. (The Move's Auto Trueplay feature will soon work over Bluetooth as well.) We'll talk more about Auto Trueplay in the performance section.
Music streaming services and local music support
Sonos supports more than 100 streaming music services, ranging from Apple Music and Amazon Music to Spotify and Tidal, with Audible, Deezer, Pandora, TuneIn, iHeartRadio, and YouTube music also in the mix.
As I already mentioned, Qobuz is (for now) the only streaming service that allows for 24-bit audio streaming via Sonos. Amazon Music (which has a high-resolution "HD" tier) and Tidal streaming is restricted to 16-bit CD-quality tunes, while Deezer's 16-bit audio streams (the service lacks a high-res tier) are supported.
Besides music streaming services, the Sonos app lets you connect with local media servers and UPnP servers, or you can connect to a networked folder on a PC or NAS box that contains music files. Plex users can also stream their music libraries to the Sonos Roam and other Sonos speakers, provided they've enabled remote internet access on their Plex servers. If you have 24-bit audio files on your local network, you can stream them to Sonos speakers, including the Roam, with the caveat that Sonos's wireless platform only supports a maximum sampling rate of 48kHz.
Voice assistants
Sonos has been offering the choice of onboard Alexa or Google Assistant on its speakers for years now, and the Roam follows suit. From the Sonos app, you simply pick which assistant you want installed on the speaker, and the Roam does the rest, pausing only so you can enter either your Amazon or Google credentials.
Once Alexa or Google Assistant is installed, the Roam essentially becomes a smart speaker, performing pretty much any task that an Amazon Echo or Google Nest speaker can. You can ask about the weather, get your schedule, set alarms and timers, and control your smart home devices. Even better, you can use voice commands to play music—for example, you could say "Alexa, play Taylor Swift on Spotify"—as well as pause or resume tunes, skip tracks, and adjust the volume.
Click here to read about the Sonos Roam's battery life and audio performance
Battery life
Sonos claims that the Roam should get about 10 hours of battery life on a single charge, or about an hour less than the far heavier Sonos Move. While I didn't perform any scientific battery life tests, I repeatedly managed to play the Roam on and off in my house or the backyard for most of a day without the speaker running out of juice (it generally had about a 30 percent reserve left). Personally, I'd feel pretty comfortable taking the Roam out for a day of music without getting stressed about battery life.
Sonos says you can charge the Roam using the included USB-C cable and a minimum 10-watt USB charger, or using "any" Qi charger. In my tests, however, some Qi chargers worked better than others. A popular RAVPower QC 3.0 wireless chargerRemove non-product link barely worked at all (I own three, and the Roam had trouble with all of them), mainly because the silicon ring that serves as a phone grip prevented the Roam from sitting flat on its bottom (which serves as the speaker's charging contact). I had better luck with an Anker PowerWave wireless chargerRemove non-product link, which has a perfectly flat charging surface, although even then, the Roam charged slowly—indeed, if the Roam's battery was almost depleted when I began charging it at night, it frequently wouldn't be quite full yet by morning. It's worth noting that I left the Roam powered on with its voice assistant engaged while charging; naturally, the speaker will charge much faster if you put it into standby mode.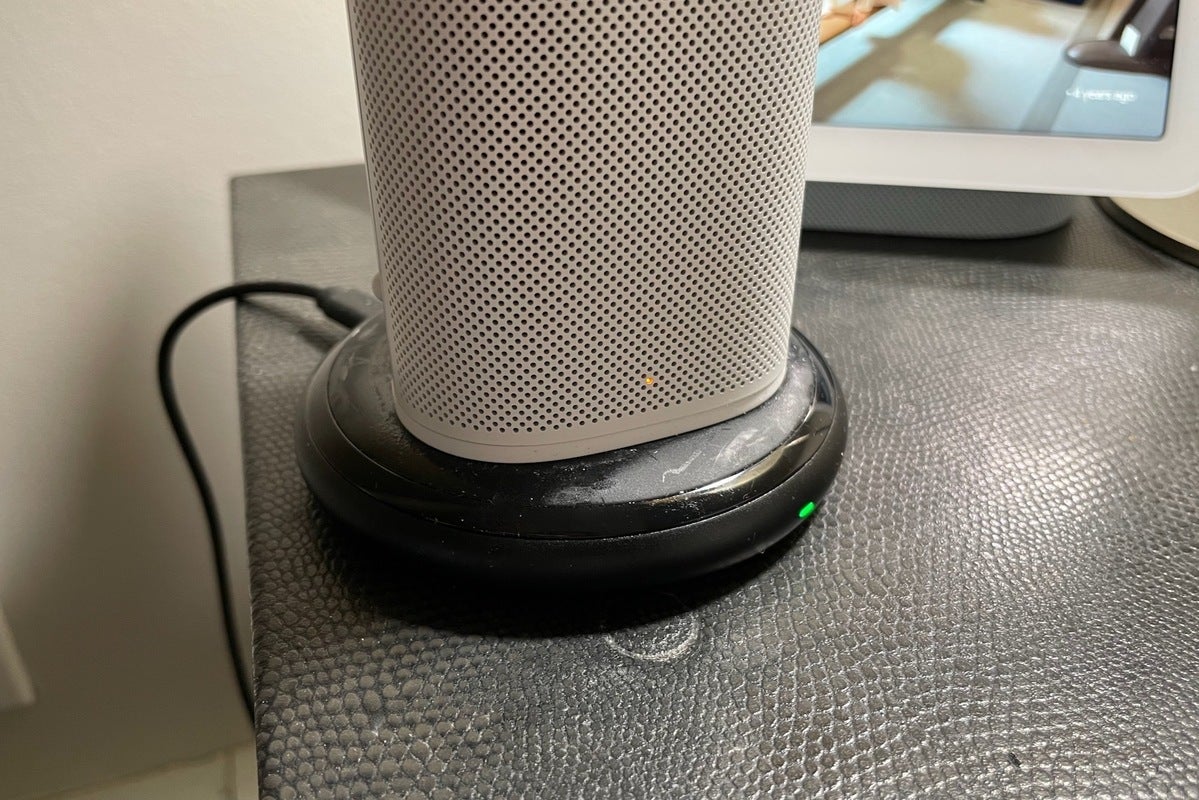 If you don't want to play guessing games with a third-party Qi wireless charger, you could opt for a custom Sonos wireless charger that snaps onto the bottom of the Roam with magnets. At $50, the Sonos charger is pricey, boosting the overall price of the Roam to $219. Then again, most wireless chargers don't come with USB adapters, so buying your own would probably cost at least $30 with the adapter included. Sonos didn't send us its wireless charger for evaluation.
There's one more interesting side note when it comes to battery life on the Roam. In a note to reviewers, Sonos said that it is "working closely with our partners at Google to issue an update that improves battery life of the speaker when Google Assistant is enabled." When I enquired further about the Google Assistant battery life issue, I was told simply that "we will let you know when an update is available in the coming weeks." What I can say is that during my tests and alternating between Alexa and Google Assistant, I didn't notice any appreciable difference in battery life.
Audio performance
When Sonos first announced the diminutive, .95-pound Roam, I'm sure plenty of Move owners groaned, slapped their foreheads, and/or shook their fists at the sky. Who'd want a Sonos speaker that's the size of a bowling ball with the featherweight Roam on the scene?
Well, Move users can relax. The Roam and the Move may both be portable, but they're very different speakers.
Compared side-by-side, the Move sounds way bigger, with deeper bass, greater definition, and far more power. The Move could easily entertain a large crowd at, say, a barbecue or a beach party, particularly once you cranked up the sound. The Roam, on the other hand, sounds somewhat smaller, because it is smaller. But given its compact form factor, the Roam still packs in exceptional—sometimes shockingly exceptional— sound.
I tested a wide range of music on the Roam, ranging from Taylor Swift's Evermore and Led Zeppelin I-IV to Kraftwerk's Computer World and a complete set of Maurice Ravel's solo piano works, both indoors and outside. After about a week of listening, I'd describe the Roam's sound profile as detailed and tight, with plenty of punch without overlooking the midrange. Indeed, too many portable Bluetooth speakers try to cover up underwhelming sonics with huge, too-boomy bass, but the Roam manages to pack a low-frequency punch that doesn't swamp the mids.
I'll give you a couple of examples, starting with Shostakovich's Violin Concerto in A minor (as performed by Viktoria Mullova and Andre Previn on Philips Classics). As the third movement segues into the fourth, a long violin solo ends with a furious burst of percussion. On the Roam, the pounding timpani sound thrillingly alive, bassy while also controlled and detailed. I played the same piece on Anker's Soundcore Motion+, a $99 Bluetooth speaker that's more than twice as heavy as the Roam, and the percussion failed to excite due to the Motion+'s narrower dynamics. Now, the Motion+ is a fine speaker for the price, and you can certainly crank it louder than the Roam, but the Motion+ can't match the Roam's subtlety and detail.
Next, we'll take a sharp left turn to Ciara's "Level Up," an addictively pulsing track with a punchy, infectious beat. On a lesser portable speaker, "Level Up" can sound a bit lifeless, with the vocals, percussion and bass all blending together (the Motion+, to be fair, handled "Level Up" somewhat better than the Shostakovich), but the Roam teases out the detail in Ciara's voice and the thumping low end, which sounds powerfully bassy but never boomy.
The Roam's audio quality gets a solid assist from Auto Trueplay, which automatically tinkers with the sound whenever you pick up the Roam and place it down in a new location. Because it now works over Bluetooth, Auto Trueplay is available not just indoors and in Wi-Fi-blanketed backyards but also on the beach, in the wilderness, or anywhere else out of Wi-Fi range. At a busy playground, for example, I could still hear the nuances of DJ Grumble's "Flamed," while Janelle Monáe's "I Got the Juice" kept its shimmer even when I put the Roam on the top shelf of a liquor cabinet with a driver-blocking lip.
Bottom line
No, the Sonos Roam doesn't sound as big as the Sonos Move, but it's also not nearly as big as the Move, which means you can take that vaunted Sonos sound—complete with vibrant detail, surprisingly powerful bass, and exciting dynamics—practically anywhere. Even better, the grab-and-go Roam packs all the networking and grouping features you'd expect from a Sonos speaker, along with your choice of Alexa or Google Assistant, all for a reasonable (in a decidedly non-Sonos way) price tag. Grab it and go, indeed.
Best Prices Today: Sonos Roam