At a Glance
Expert's Rating
Pros
Appealing industrial design
Mobile app is light-years ahead of the competition
Different filters let you customize usage for your environment
Cons
No broader smart-home connectivity
One-piece filter means there's no pre-filter that you can periodically clean
Our Verdict
The Mila air purifier's stylish look is beaten out only by its impressive mobile experience.
Price When Reviewed
$349
Best Prices Today: Mila air purifier
Most air purifiers—even the fancy schmanzy NuWave OxyPure—are festooned with buttons and settings that give you control over air speed and running time. The new Mila purifier has virtually none of that, and it doesn't just aim to take the burden of management off of the user, it does so in style. Recent updates to the Mila's firmware and the appliance's companion app make it even better (more on that below).
While the OxyPure is a smart device in the sense that it can connect to your smart phone, the $349 MilaRemove non-product link (also available at Amazon) is much more intelligent. On top of the stylish, 15-pound, 12 x 12 x 16-inch unit, you'll find a single, round touchscreen with, essentially, two options: auto or manual. Mila's goal is to get you to let it do the heavy lifting, and to do the bulk of your interactions with the device through a sophisticated mobile app on your phone.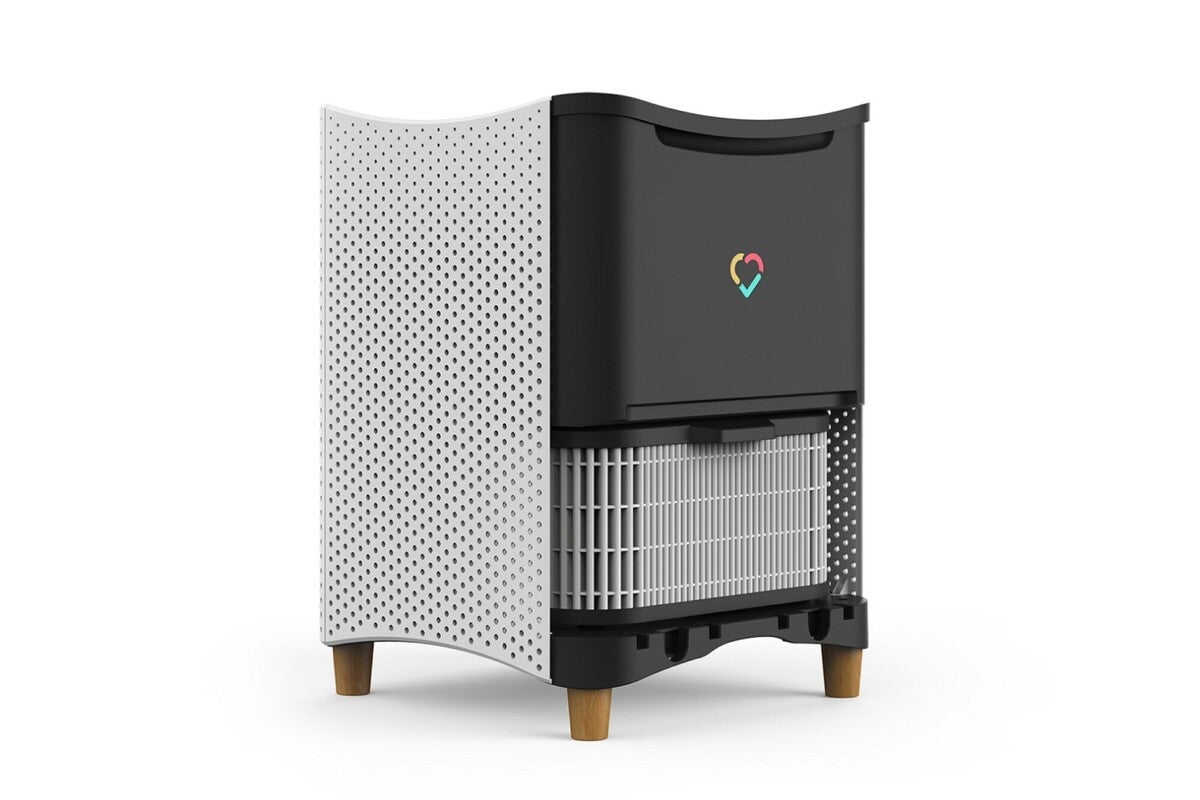 Before we look at the app, though, let's consider the hardware. It's definitely the best-looking air purifier we've tested, reasonably compact and featuring a polka-dot pattern that wouldn't look out of place at a MoMA exhibit. The unit pulls air in through the bottom of the unit, passes it through the filter, and exhausts clean air up top. It boasts a Clean Air Delivery Rate (CADR) ranging from 245 (m3/H) for the Mama to Be filter, to 447 (m3/H) for the Basic Breather filter. Those numbers measure the amount of air—in cubic meters per hour—that can be cleared of particulate matter, although the manufacturer doesn't specify which particulates that range of numbers applies to. You can use a drop-down tool on the company's website to see the specs for its other five filters.
This review is part of TechHive's coverage of the best air purifiers, where you'll find reviews of the competition's offerings, plus a buyer's guide to the features you should consider when shopping for this type of product.
Mentioned in this article
NuWave OxyPure Smart Air Purifier
Price When Reviewed:
$599.94
Mila includes a single filtration unit that can handle up to 1,000 square feet of space, but it offers a whopping seven different filter types that you can match to how you use it. They all include a HEPA filter and all but two include a carbon filter, the only difference being the HEPA class rating and the type and amount of carbon included. For example, the Critter Cuddler filter offers an H13 HEPA filter and includes 0.84 pounds of modified granular carbon, while the Mama-to-Be filter has an H14 HEPA filter and 0.70 pounds of pure granular carbon.
The performance differences are significant and depend on the specific chemical or compound you're targeting for removal. Filters last about six months and cost $59 and up (though many are currently sold out). Also note that you'll need to purchase a filter separately on top of the $349 price for the hardware, though you'll get your first one free if you sign up for automatic recurring orders with a new filter delivered every six months.
Mila's onboard LCD offers some basic information about your room's air condition, but the real fun starts when you install the Mila app and pair it to the unit. (The unit connects to 2.4GHz Wi-Fi networks, but can also work offline.) Mila's app is nothing short of insanely comprehensive, giving you an immense amount of control over how you want the purifier to work and information about its performance. Detailed graphs display air quality over time—both inside and outside—and not just in the abstract, but in detail, tracking particulate matter PM1, PM2.5, and PM10 conditions independently, along with CO2, CO, and VOCs (volatile organic compounds), plus humidity and temperature.
You can also fine-tune settings to ensure Mila stays quiet, have it emit white noise to help with sleeping, or (my favorite) activate its "turndown service" to perform a deep clean before you go to sleep. Naturally, you can also activate manual operation as needed.
Mila doesn't connect to other devices such as Alexa, and the system is definitely not cheap, costing a minimum of $400 to get you in the door—plus replacement filters twice a year. It is less expensive than the OxyPure, though it doesn't have as extreme a filtration system, but for most households Mila will probably do just as good a job (and look better doing it). Watch for sales: The unit is often available for $50 off its list price.
Updated July 9, 2021 to report on some new features users can get if they update the Mila's firmware and its companion app. The most notable of these are real-time air quality alerts you can opt to have pushed to your phone. I had to uninstall and reinstall the app and power cycle the Mila a few times for push notifications to begin working, but eventually I began receiving regular notifications of high AQI levels, notices that I should shut windows because outdoor air quality was worsening, and even a couple of notifications that Mila was concerned about the possibility of mold in my home.
There's clearly some room for improvement here: The mold notices seem largely driven by a momentary bump in humidity, and an alert that my AQI hit a phenomenal 999 (the equivalent to a virtual "gas chamber") for an hour one recent afternoon seems questionable at best. This information is roughly logged within the app as well.
If you use the Mila in your bedroom, a daily sleep analysis is now provided, and the air purifier can now automatically detect when cooking is underway, causing it to kick into a higher gear.
Upcoming features will include pollen alerts, a child lock mode, and an alert that tells you when it's ideal to open windows. Beyond that, updates will provide much-needed insight into your filter lifespan, plus optimized settings support for additional room types beyond the home, including classrooms, offices, hospitals, and more.