Hulu has terrific homegrown films–dramas, comedies, science fiction, and more–plus intriguing serial content that make the service worthy of signing up for.
The least-expensive way to sign up for Hulu is the ad-supported version, which costs only $6.99 per month ($69.99 per year). You can dispense with the ads by signing up for Hulu's ad-free program at $12.99 per month. The Disney Bundle includes Hulu, Disney+, and ESPN+ for $13.99 per month, or $19.99 per month for the ad-free version. Hulu's subscription prices are slated to increase in December, 2022.
If you're looking for live TV streaming along with Hulu's other content, check out Hulu + Live TV at $69.99 per month. That level of service also includes subscriptions to Disney+, ESPN+, and the local broadcast television channels in your area, but enter your zip code on Hulu's website to ensure those local channels available to you. An ad-free version of that bundle with live TV costs $75.99 per month.
Updated August 22, 2022 to add two additional picks to Jeff's recommendations. His earlier picks follow, starting with Amazing Grace.
Not Okay
Searchlight Pictures
Yet another dark satire on the pitfalls of social media, Quinn Shephard's Not Okay (2022) is fearless, and right on the money, while remaining somewhat light and springy. Danni (Zoey Deutch) works at a high-stress magazine and dreams of being a writer, or at least of having a bigger social media following. To gain attention, she pretends to go to a writer's retreat in Paris, faking several photos in front of historic landmarks. Unfortunately, there's a terrorist attack, and, panicking, she continues the lie.
Shockingly, she finds her social status rising and goes with the flow. She meets school shooting survivor and activist Rowan Aldren (an astonishing Mia Isaac, also in Prime Video's Don't Make Me Go) and they become friends, speaking at an anti-violence rally together. The other shoe inevitably drops and Shephard handles it with the viciousness it deserves. Usually in these types of "lie" comedies, forgiveness eventually comes, but this film understands that life, and especially life online, is not that simple.
Prey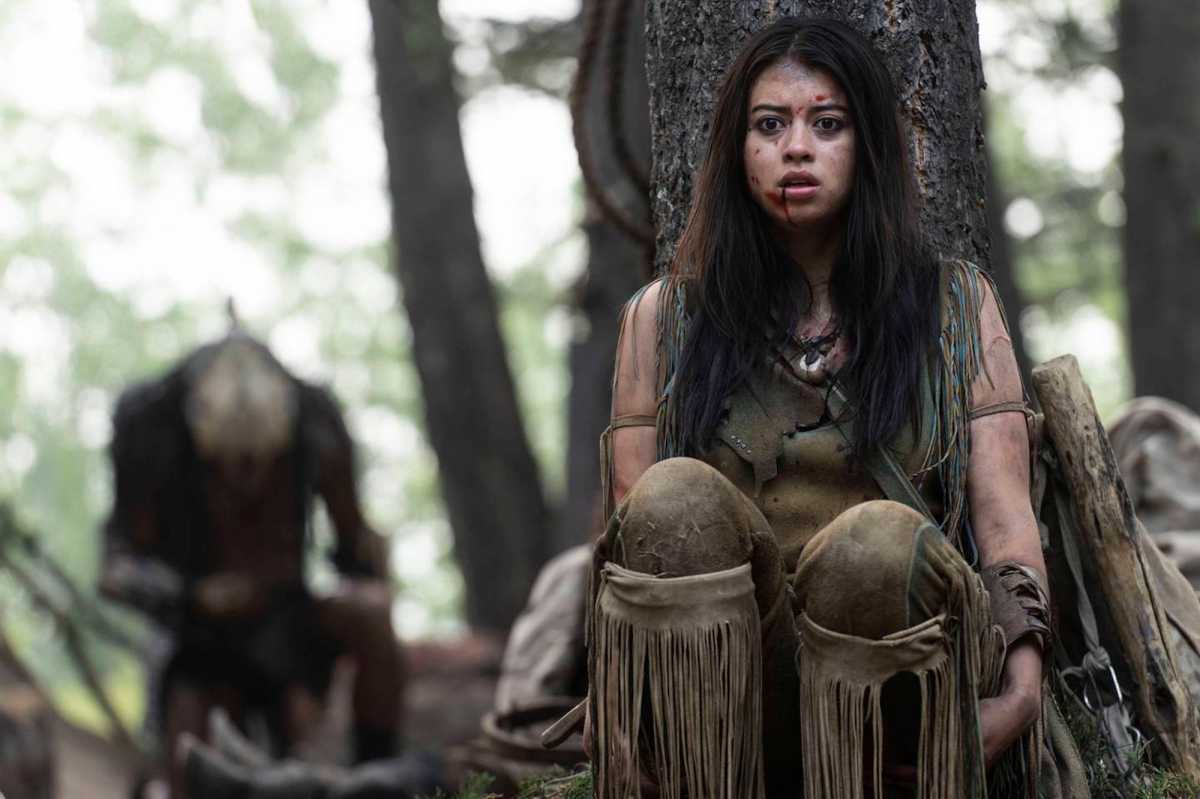 Hulu
Complete with a great idea and a great character, this sequel in the Predator franchise deserved a big-screen opening, but even at home, it's a blast, and a big hit for Hulu. Centuries ago, Taabe (Dakota Beavers) is his Comanche tribe's star hunter. His sister, Naru (an amazing Amber Midthunder) wishes to hunt as well, but the men deny her that right, even though has more than enough skill. In fact, she's the only one who notices something's amiss in the woods, so she sneaks out to track it.
Naru is alone on screen with only her dog, some wild animals, and our old dreadlocked friend—with its familiar, terrifying clicking sounds—for a long time, and it's exhilarating to see her constantly, fearlessly shifting to be able to keep up with her lethal foe. (One sequence involving a bear is particularly striking.)
Throughout, via both culture and gender, director and co-writer Dan Trachtenberg (10 Cloverfield Lane) keeps the period drama feeling relevant and modern. One quibble is the smeary-looking digital effects; otherwise, Prey (2022) works largely because of humans that we care about.
Here are Jeff's earlier recommendations follow, also in alphabetical order.
Amazing Grace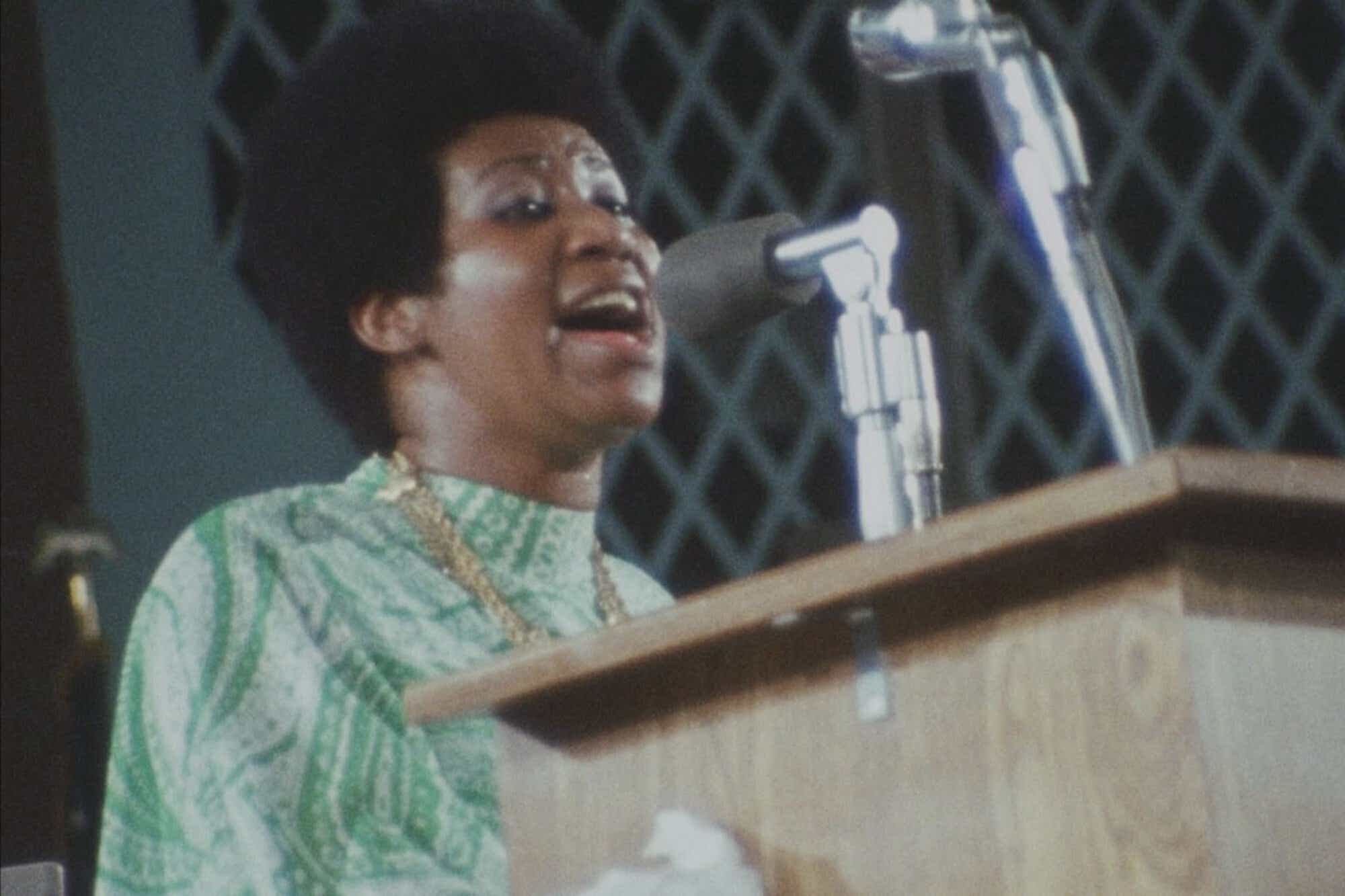 Neon
In 1972, Aretha Franklin was at the height of her powers, when she decided to record a live gospel album, recorded at the New Temple Missionary Baptist Church. Director Sydney Pollack was tasked to film the sessions, but since he somehow neglected to use clapboards, the sound could not be easily synced. The film sat for years, until Alan Elliott painstakingly put it all together, but Franklin sued for appropriating her image without permission, and the film was shelved again.
Finally, after Franklin's death in 2018, her family allowed it to be released. And now Amazing Grace (2018) can be enjoyed in all its rapturous glory, as Franklin's powerful vocals lift and soar through traditional gospel music like the title track and "What a Friend We Have in Jesus" as well as covers like Carole King's "You've Got a Friend" and George Harrison's "My Sweet Lord." Even Mick Jagger and Charlie Watts turned up to listen and learn.
Bad Hair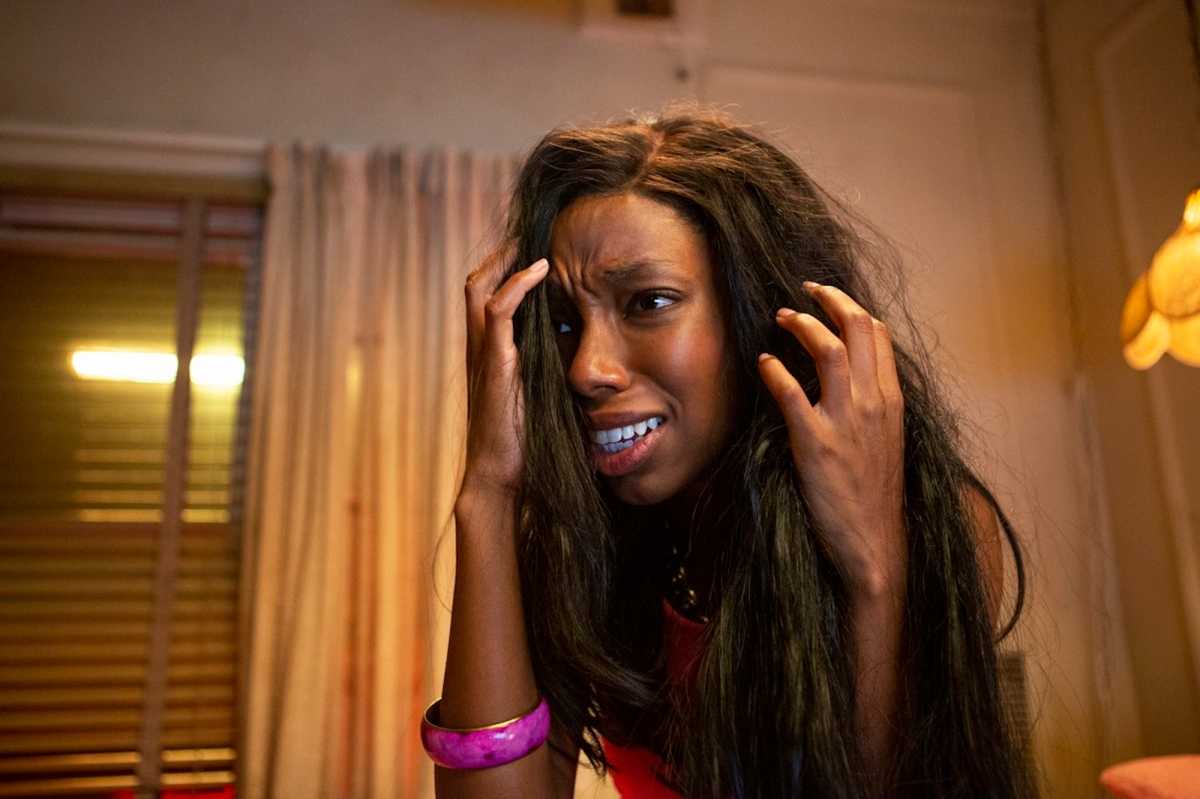 Hulu
In the 1980s, shy Anna (Elle Lorraine) works as an assistant on a TV station that showcases Black artists. Her glamorous boss, Zora (Vanessa Williams), suggests that Anna replace her natural Afro-textured hair with a weave. Anna does, and things begin to turn around for her, but scary things also begin to happen; it becomes apparent that the hair may have a mind of its own.
Directed by Justin Simien (Dear White People), Bad Hair (2020) follows the traditional "be careful what you wish for" horror trope, and things don't always come together, but Simien provides just enough dark humor and self-awareness that it succeeds. It's also a welcome entry in the Black horror genre, touching on all the racial, cultural, and economic roadblocks that cause Anna's trouble in the first place. Recording artists Usher and MC Lyte co-star, along with Jay Pharoah, Lena Waithe, Kelly Rowland, Blair Underwood, and James Van Der Beek.
Big Time Adolescence
Hulu
Saturday Night Live star Pete Davidson had his first starring role in Big Time Adolescence (2020), bringing his strangely likable troubled-soul presence to a surprisingly touching coming-of-age comedy. He plays 23-year-old Zeke, who is dumped by his girlfriend Kate (Emily Arlook), but remains close friends with Kate's 16-year-old brother Mo (Griffin Gluck). It goes without saying that Zeke is something of a bad influence, introducing Mo to drinking and pot-smoking, and supplying his classmates with drugs at parties.
Mo becomes more popular and even kisses a girl, but Zeke's reckless antics continue to turn things upside-down. It's somewhat familiar mis-matched buddy territory, but the movie is genuinely funny and stays in touch with its humanity, rather than relying on surface, sitcom gimmicks.
Boss Level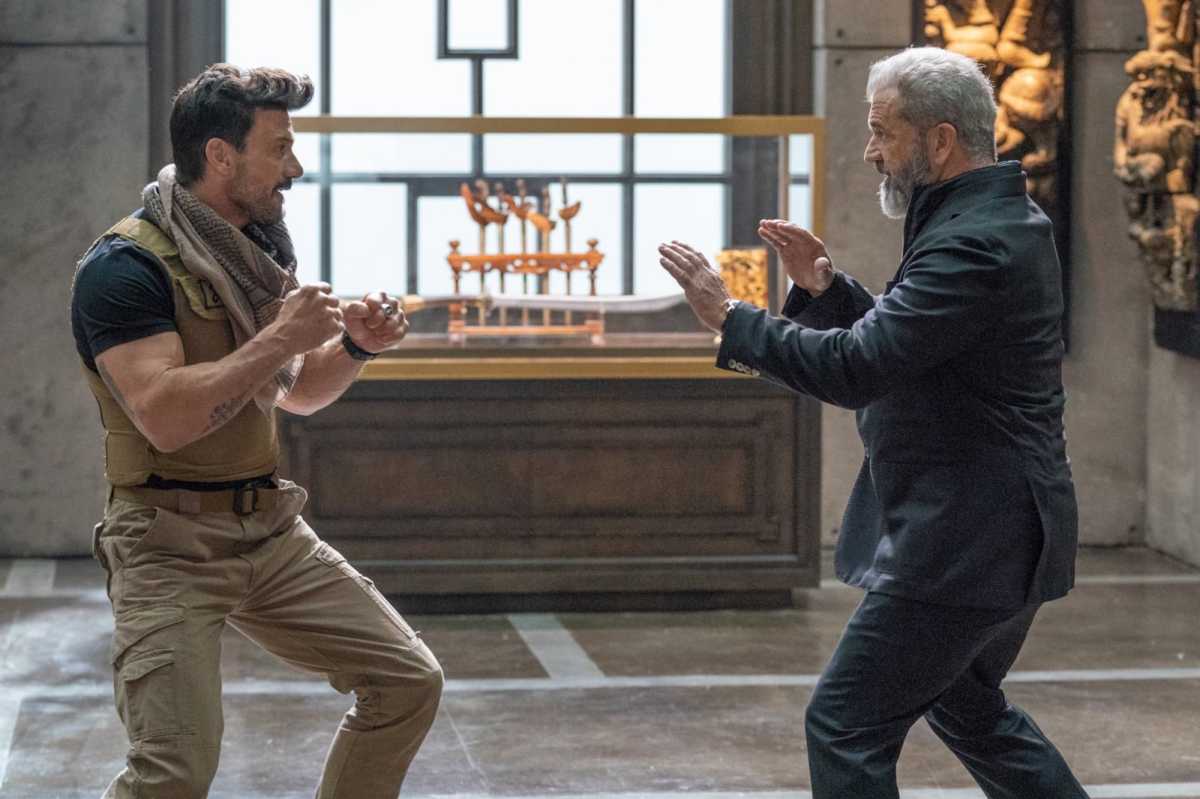 Hulu
There are two Groundhog Day-like "stuck in a 24-hour time loop" movies on this list, proving that you can always approach an old idea with a fresh angle. Directed by Joe Carnahan, Boss Level (2021) comes right out swinging as our hero, ex-soldier Roy Pulver (Frank Grillo), wakes up dodging a machete in his apartment, and seconds later, machine-gun fire from a helicopter shatters his windows. Roy must hit the ground running, every morning, to avoid a team of elite assassins, all trying to kill him. He has never survived past 12:47 p.m., and has lately decided to spend his last moments at the bar. But this time, he finds a clue that will help him figure out why this is all happening to him, and perhaps also save his wife (Naomi Watts) and son (Rio Grillo, Frank's real-life son).
The 94-minute movie pulses along like a beast on adrenaline. It's paced just right to be exciting without being exhausting, and yet doesn't leave much time to ask questions. Mel Gibson co-stars as a sinister bad guy, along with Will Sasso, Michelle Yeoh, and Ken Jeong.
Crime + Punishment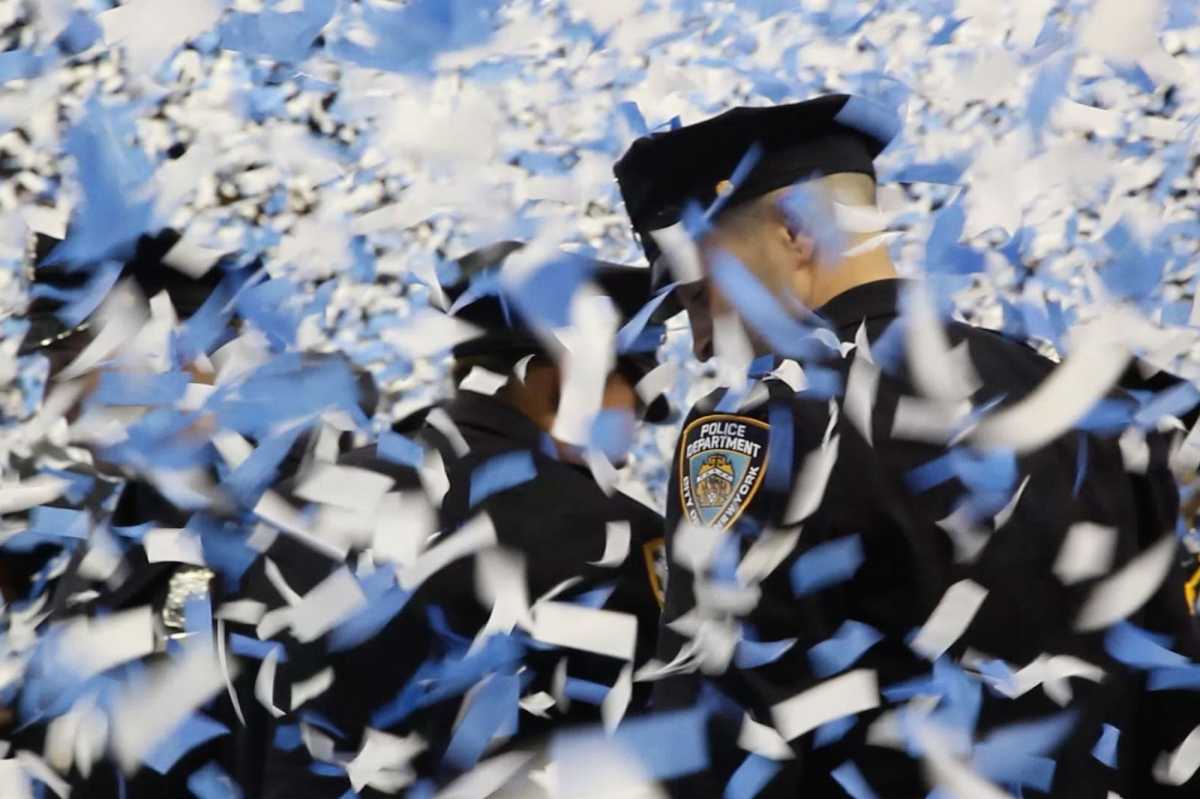 Hulu
Stephen T. Maing's documentary Crime + Punishment (2018), which made the shortlist for the 2019 Academy Award nominations for Best Documentary, seems even more relevant now than it was when it first appeared. It deals with quotas within the New York Police Department, which were made illegal in 2010, but which still exist. Police officers are expected to make a certain number of arrests per month, and they are encouraged to target mostly Black and Latinx citizens.
Maing captures audio and visual evidence of this, as well as evidence of punishments doled out to officers who refuse to comply. The main focus is a harrowing trial in which brave officers, known as the NYPD 12, come forward and attempt to sue the department, while the main subject is a former officer-turned-private investigator, Manny Gomez, a bear-sized, highly persuasive, old-school New Yorker who is as devoted to fighting corruption as he is to tasty lobster roll pastries.
Culture Shock (Into the Dark)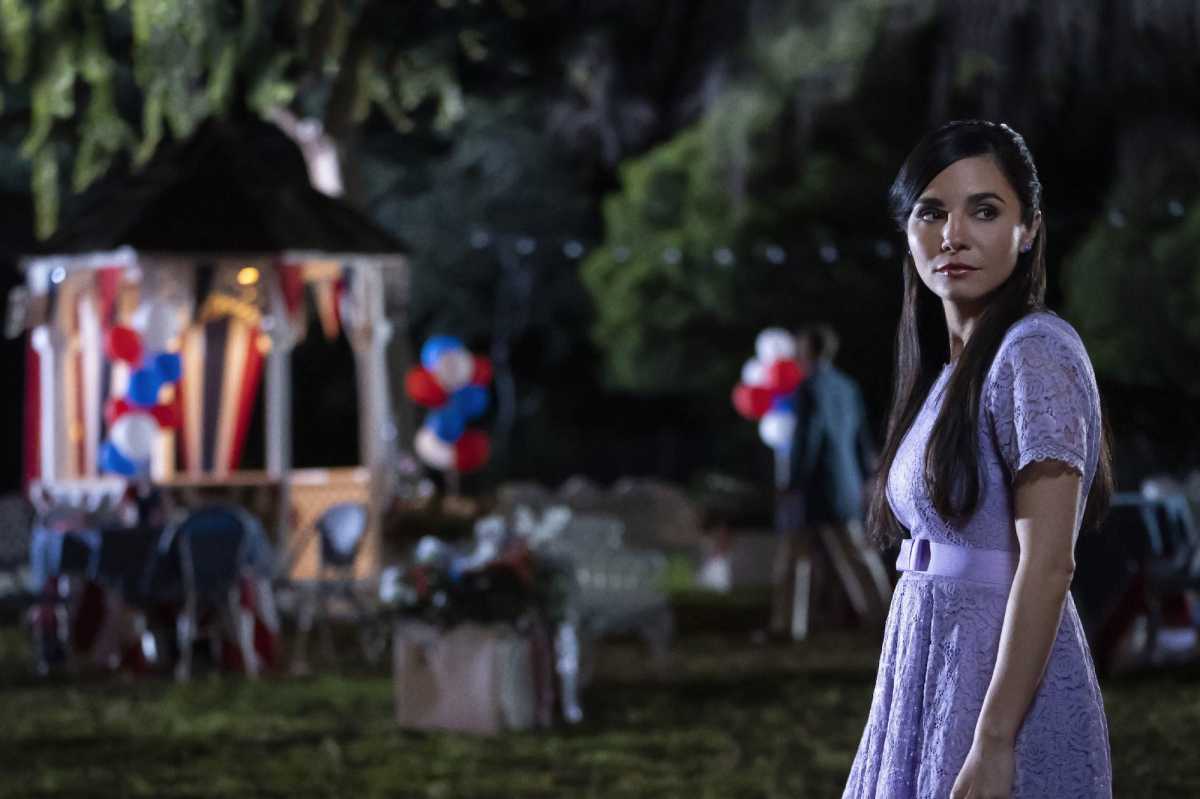 Hulu
Arguably the best of the feature-length Into the Dark episodes, Gigi Saul Guerrero's Culture Shock (2019) grapples with America's shameful treatment of immigrants, as well as anticipating a show like Disney+'s WandaVision. Marisol (Martha Higareda) is a Mexican woman who has already made one failed attempt to get to the United States. Now pregnant, she must try again, at any cost. She hires a coyote (Sal Lopez) for the trip, and along the way she befriends a young boy, Ricky (Ian Inigo), and the tough-looking Santo (Richard Cabral), who seems determined to protect her. They are nearly caught, but then Marisol wakes up to find herself in a perfect, pastel-colored vision of the suburban American dream, with American flags and fireworks and community barbecues.
Barbara Crampton (Re-Animator) plays a woman who smiles too broadly (creepy, David Lynch-style), and Shawn Ashmore plays the mayor. Where it goes from there definitely tingles the synapses. This is a nimble, wise, and deeply effective horror-satire.
Fire Island
Searchlight Pictures
This gay-themed romantic comedy isn't hilarious, but it is filled with lightweight soap opera turns, gorgeous summer scenery, sunsets, and a selection of perfectly chiseled abs and biceps, and it's good enough to inspire easy grins from both LGBTQ+ and straight viewers.
Loosely based on Jane Austen's Pride and Prejudice, Fire Island (2022) feels effortless, focusing on the loose, silly relationships between five friends who vacation on the titular island every year, staying in a house owned their "Den Mom" (Margaret Cho).
This year looks to be their last one, so Noah (Joel Kim Booster, who also wrote the screenplay) makes it his mission to find a man for his best friend Howie (SNL star Bowen Yang, in a surprisingly touching performance). Director Andrew Ahn captures a light, relaxing, vacation vibe that is nearly irresistible, even when the movie falls back on creaky genre staples.
Good Luck to You, Leo Grande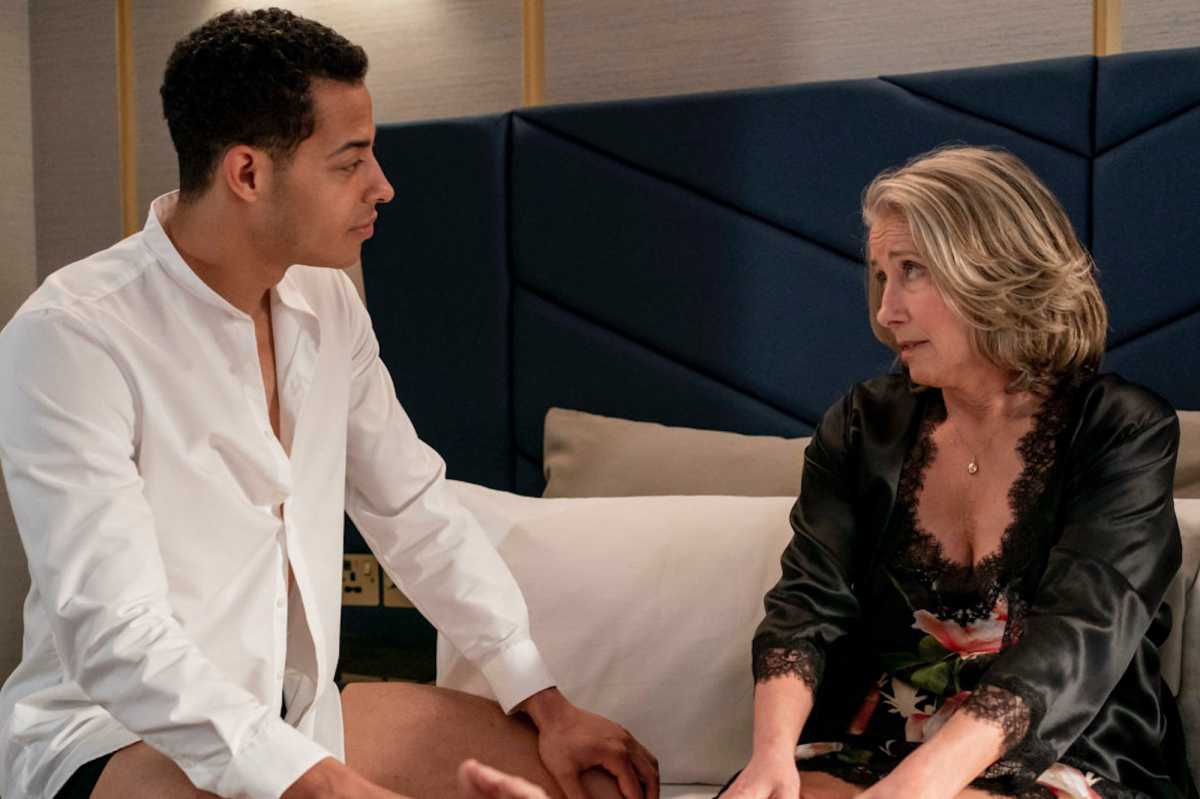 Lionsgate
In Good Luck to You, Leo Grande (2022), a woman called Nancy (Emma Thompson) does the craziest thing she has ever done in her life; she hires a sex worker and meets him in a hotel. She's a nervous wreck; her late husband was her first and only sexual partner, and it was a largely passionless relationship. She has never even had an orgasm. But Leo (Daryl McCormack) is amazingly understanding, listens to her, and speaks calmly and confidently.
The movie is almost all talk (it does have some sexual situations and nudity), but it's smart talk, about real things. The dialogue—by comedian Katy Brand—and the outstanding performances manage to explore taboo situations like pleasure and age. Director Sophie Hyde keeps the largely interior, one-set movie lively and kinetic, never letting it feel constricting or stage-bound.
Happiest Season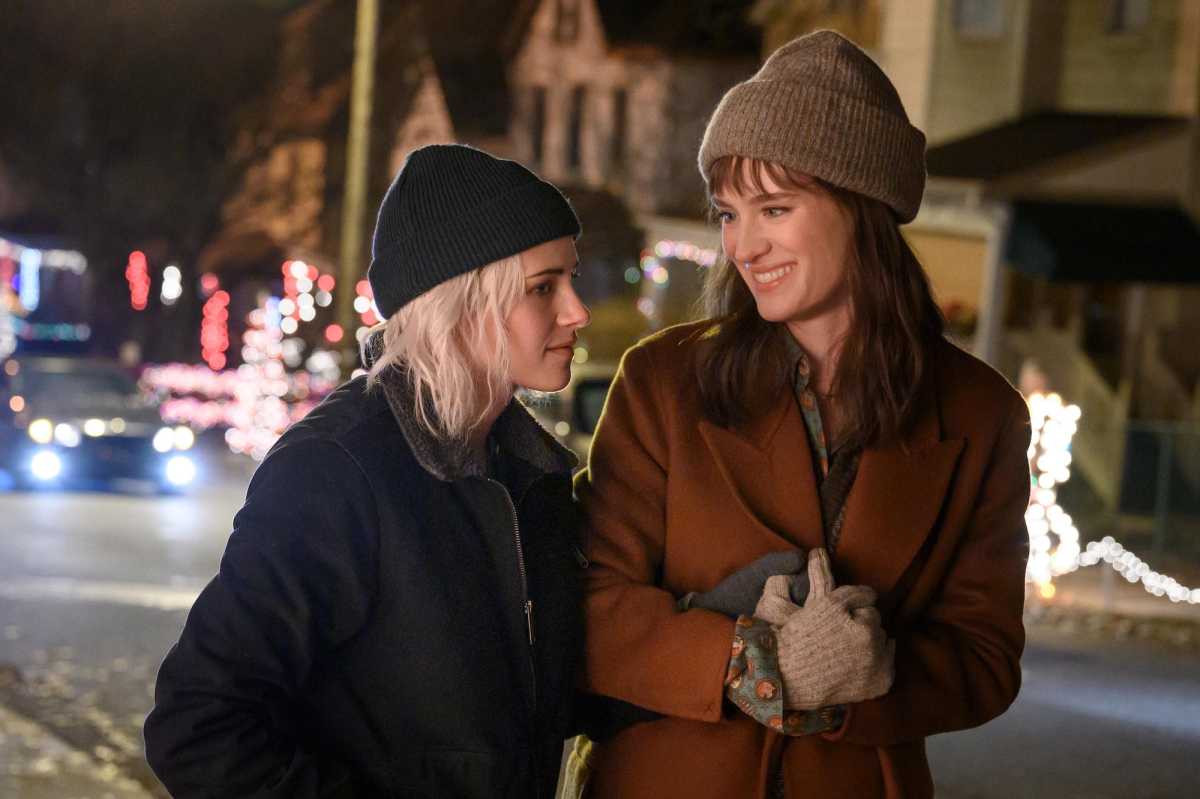 Hulu
Performer Clea DuVall co-writes and directs this Christmas movie, an attempt to create a perennial classic for the LGBTQ+ community, and she succeeds so well that it could also become a classic for anyone with an open heart who loves the holidays. Happiest Season (2020) uses the old trope wherein one partner hasn't yet "come out," but DuVall fortunately digs into the characters' emotions, rather than employing it as a slapstick device.
On a romantic impulse, Harper (Mackenzie Davis) invites her partner Abby (Kristen Stewart) home to her family for the holidays. It's not until they're halfway there that Harper admits that her conservative, politically active family doesn't know about her sexual orientation, and could Abby please pretend to be her roommate? Abby is furious, but goes along with it, haphazardly navigating the next several days for a comically touching effect. The extraordinary cast includes Mary Steenburgen and Victor Garber as Harper's parents, Alison Brie and Mary Holland as her sisters, Aubrey Plaza as an ex-girlfriend (and a temptation for Abby), and Dan Levy as Abby's comical best friend.
Homeroom
Hulu
Filmmaker Peter Nicks directed the eye-opening documentary Homeroom (2021) in the same vérité vain as his previous works, The Waiting Room (2013) and The Force (2017). Unlike those two, this one was nearly derailed, twice, first by the death of Nicks's teen daughter Karina, and then, months later, by COVID-19. It was meant to follow a group of seniors, the graduating class of 2020, through their final year at Oakland High School. The focus was going to be on teen mental health, but after COVID, the focus instead became Denilson Garibo, a student member of the School Board, who continues to fight to have police removed from the school. (The board meetings are outrageous free-for-alls, which tend to devolve into shouting and rage.)
There's no way to know what the original film might have been like, but this one—tying uniquely into the other events of 2020, such as the murder of George Floyd, the Black Lives Matter marches, and the "defund the police" movement—uncovers the unending well of resilience and strength that today's teens actually have.
I Am Greta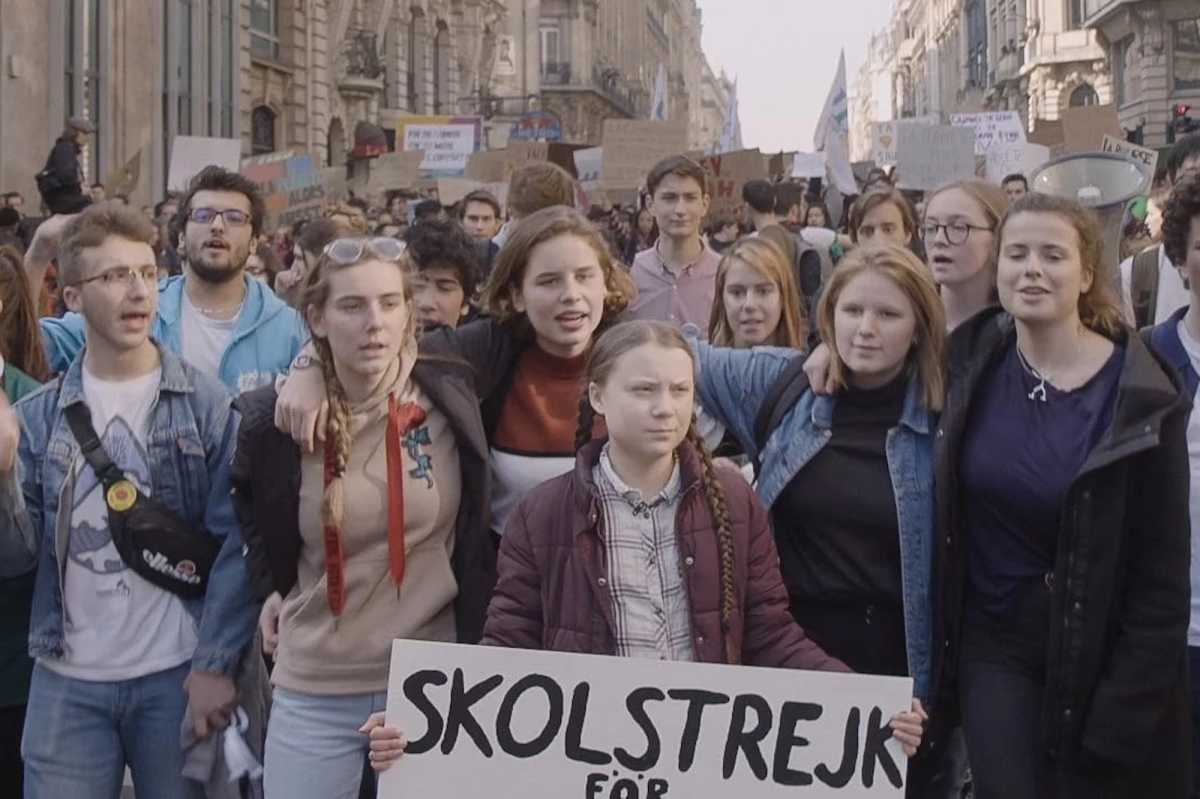 Hulu
Nathan Grossman's documentary I Am Greta (2020) follows Swedish teen activist Greta Thunberg from her humble beginnings, staging a solo walkout from school on Fridays to call attention to the threat of Climate Change, to her international celebrity as she begins being recognized and invited to publicly speak. (Her speeches are boldly terse, scolding the old white men who have refused to act.) The film doesn't dig very deep, and anyone who has followed the news knows the story, but it's still filled with amazing moments that let us in on the way her brain works, from her insistence on a meat- and dairy-free diet to taking a small boat across the Atlantic rather than take an environment-destroying airplane.
After seeing this, it's difficult to deny that Climate Change is a pressing crisis, or that Greta deserves our admiration for leading the fight. Hulu viewers can choose between watching the film in Swedish, with subtitles, or in an English dub.
Little Monsters
Hulu
Yes, it's another zombie movie, but Abe Forsythe's Little Monsters (2019) is likely the sweetest zombie movie ever made. It works largely due to its contagious good nature, and largely thanks to the awesome presence of the mighty Lupita Nyong'o (12 Years a Slave, Black Panther, Us), who manages to be both adorable and badass. Alexander England co-stars as Dave, a struggling metal musician who has gone through a savage breakup and is now staying with his sister Tess (Kat Stewart) and her 5-year-old tractor-loving son Felix (Diesel La Torraca).
Dave takes Felix to school and immediately crushes on his teacher, Miss Caroline (Nyong'o). He volunteers to chaperone a field trip to a farm, hoping for a chance to flirt with her. But a bloody zombie attack forces the field trip to hole up in the gift shop, where they must placate the children and figure out a way to escape. Josh Gad co-stars—and parodies his own image—as a famous kids TV star, Teddy McGiggle, who is an absolute scoundrel off-camera.
Love and Monsters
Hulu
This movie takes place during an apocalypse ruled by giant insects, where more than nine-tenths of the world's population has been wiped out, but, weirdly, it's a teen-friendly romance, with lots of comedy thrown in. And it works beautifully. Love and Monsters (2020) begins with likable dork Joel (Dylan O'Brien), living in a bunker with several others, all coupled up. He's not much good in a monster fight, and basically the only thing he does is make minestrone for everyone.
One day, he decides to leave and walk the 85 miles to the bunker where his ex, Aimee (Jessica Henwick), lives. On the surface, he meets a friendly dog called "Boy" and runs into survivalists Clyde (Michael Rooker) and young Minnow (Ariana Greenblatt), who teach him a few things. Happily, where it all goes is not so cut-and-dried, and it feels organic and fresh. It received an Oscar nomination for its monster FX.
Minding the Gap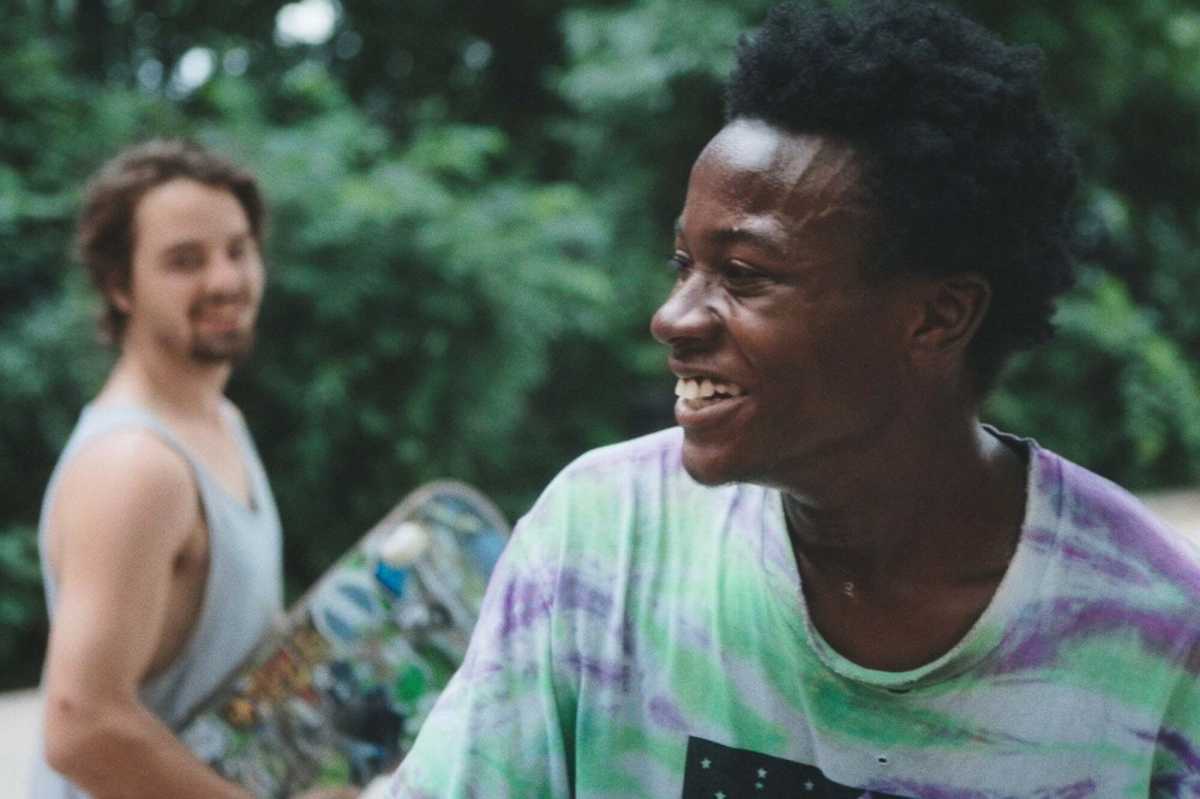 Hulu
Filmed over the course of 12 years in Rockford, Illinois, this great, Oscar-nominated documentary traces the nuanced, layered lives of three skateboarding friends as they grow and face life changes. Director Bing Liu is one of the trio, and with his camera so ever-present, the other two, Keire Johnson and Zack Mulligan never seem guarded.
We watch them grow from childish teasing to being able to confide in each other. We see Zack's volatile relationship with his girlfriend Nina, complicated when Nina becomes pregnant. We see Keire begin to wrestle with his identity as an African-American. And we see Liu interviewing his mother about the relationship she had with the man who helped raise him, and abused him. At the center of Minding the Gap (2018), however, are the beautiful, fluid skateboarding sequences, showing the three gliding through the streets like superheroes, escaping life for just a little while.
Palm Springs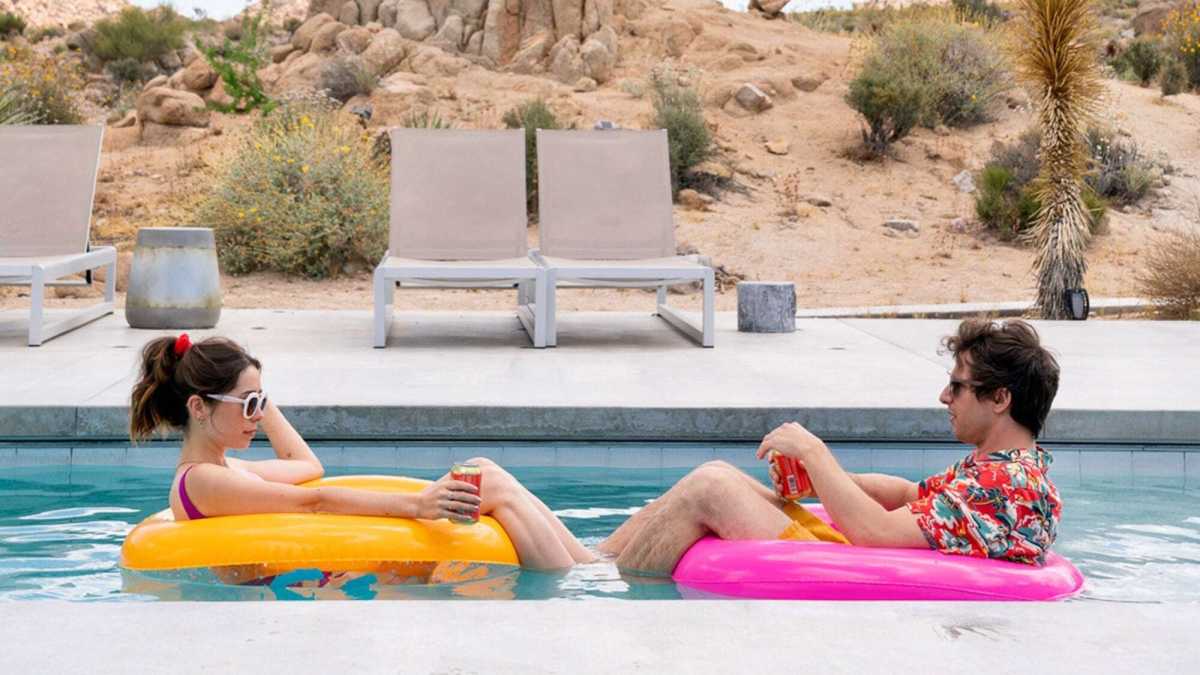 Hulu
Our second "time loop" movie, Palm Springs (2020) is so loose, cheerful, funny, clever, adorable, and thoroughly entertaining, that many film critics named it one of the best films of the year. (According to Metacritic's roundup of lists, it was ranked the 12th best film of 2020.) It's one of those films that was sorely needed during the first year of the pandemic, a tonic for jangled nerves.
Andy Samberg plays Nyles, stuck in a time loop on the day of a friend's wedding. The movie cleverly lets us get through one day before letting us know that Nyles has been in this loop for some time and has learned to just enjoy himself the best he can. On this particular day, however, he accidentally brings Sarah (Cristin Milioti) along with him, and she becomes stuck too. As the couple deals with their feelings for each other, and Nyles's past within the loop, they must decide whether to relax and enjoy, or try to break out. J.K. Simmons co-stars in a great performance as another time-looper with a different agenda.
Plan B
Hulu
This Hulu original sounds like it could be pretty formulaic, but instead it's not only wildly funny, it also makes you want to clap and cheer. Directed by Natalie Morales, Plan B (2021) would make a great double-bill with Booksmart, both movies about two teen girls on nighttime odysseys. This one follows Sunny (Kuhoo Verma), who sees her crush leaving with another girl at a party; she gets drunk and has the most awkward, horrible sex in the history of movies with the next closest guy.
The next morning, she discovers the condom still inside her, so she and her best friend Lupe (Victoria Moroles) hit the road to find the "Plan B" pill. The only catch is that they're in South Dakota, and it's not so easy to find such things. The movie taps into Sunny's Indian identity (she's constantly on the lookout for the "Indian Mafia"), as well as Lupe's identity as both Latinx and LGBTQ+, but always with large doses of silly, witty, warm humor.
Pooka! (Into the Dark)
Hulu
The weirdest and most divisive of the Into the Dark horror movies, Pooka! (2018) was apparently popular enough to warrant a sequel (Pooka Lives!) in Season 2. An out-of-work actor, Wilson Clowes (Nyasha Hatendi), takes a job wearing the giant-sized "Pooka" suit to help promote a weird new Christmas toy. The toy repeats whatever it hears, in either "naughty" or "nice" mode. The launch is a success, and Wilson is finally doing well. He even meets and begins dating a pretty real-estate agent and single mom, Melanie (Latarsha Rose).
But Wilson begins to experience strange, violent events when his suit seemingly switches to "violent" mode, and he becomes increasingly dependent on it. The creepy eyes and massive size of the suit make for some truly unsettling images, and the talented director Nacho Vigalondo (Timecrimes, Colossal) and Bear McCreary's eerie score exploit them for all they're worth.
The Princess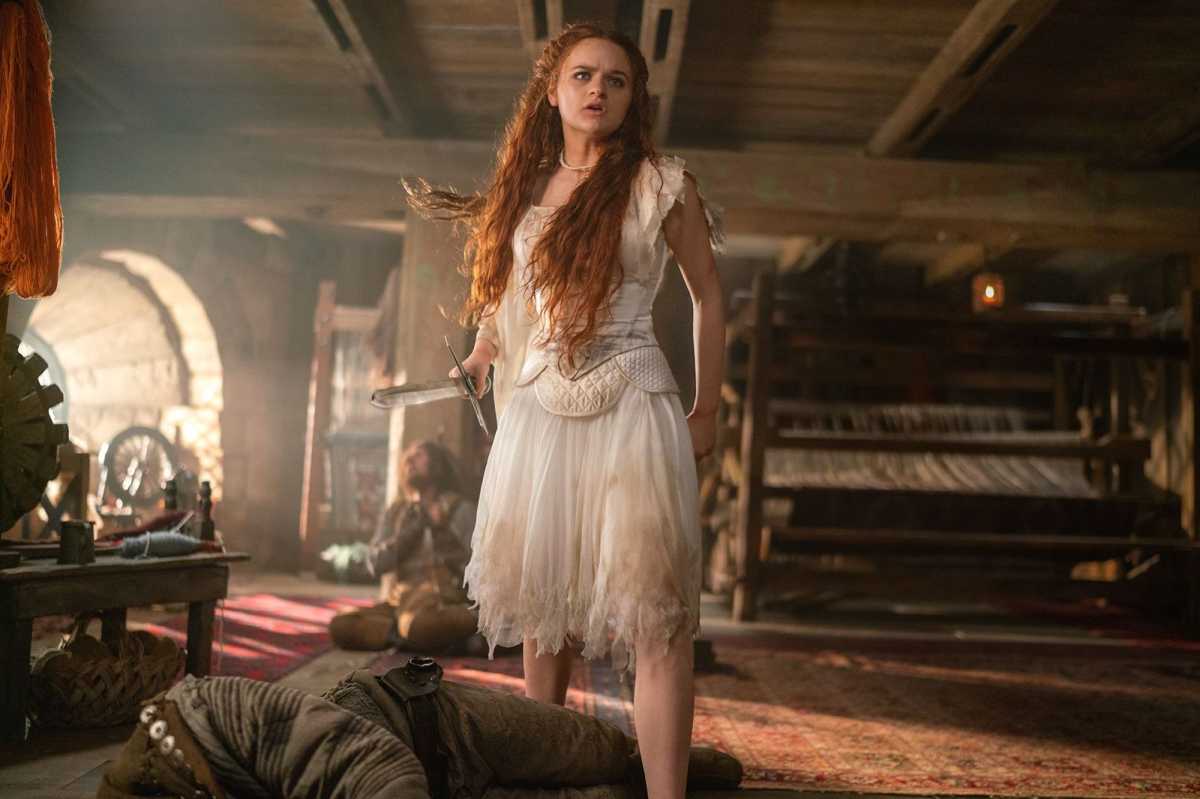 20th Century Studios
The princess (Joey King) wakes up, wearing a willowy wedding dress, locked in a high tower in a castle. Two men enter, intending to do her harm, but she leaps into action, kills them both, and escapes. (She has been trained, in secret, by the faithful Linh, played by Veronica Ngo.) For the rest of the movie, she makes her way down through the castle, hoping to rescue her family, the king and queen and her younger sister, from the evil warmonger she was supposed to marry.
There's probably way too much plot in The Princess (2022), and it's at its best when it's moving, when King is showing her stuff, taking punches, getting hurt, and slowly ripping off the sleeves and bottom of the dress (and sliding on a pair of good boots). As the villain Dominic Cooper scowls and shouts, and Olga Kurylenko, as his lover and sidekick, occasionally does something nasty, and they distract from the main thrust. But it's a quick and ridiculously fun 94 minutes anyway.
Run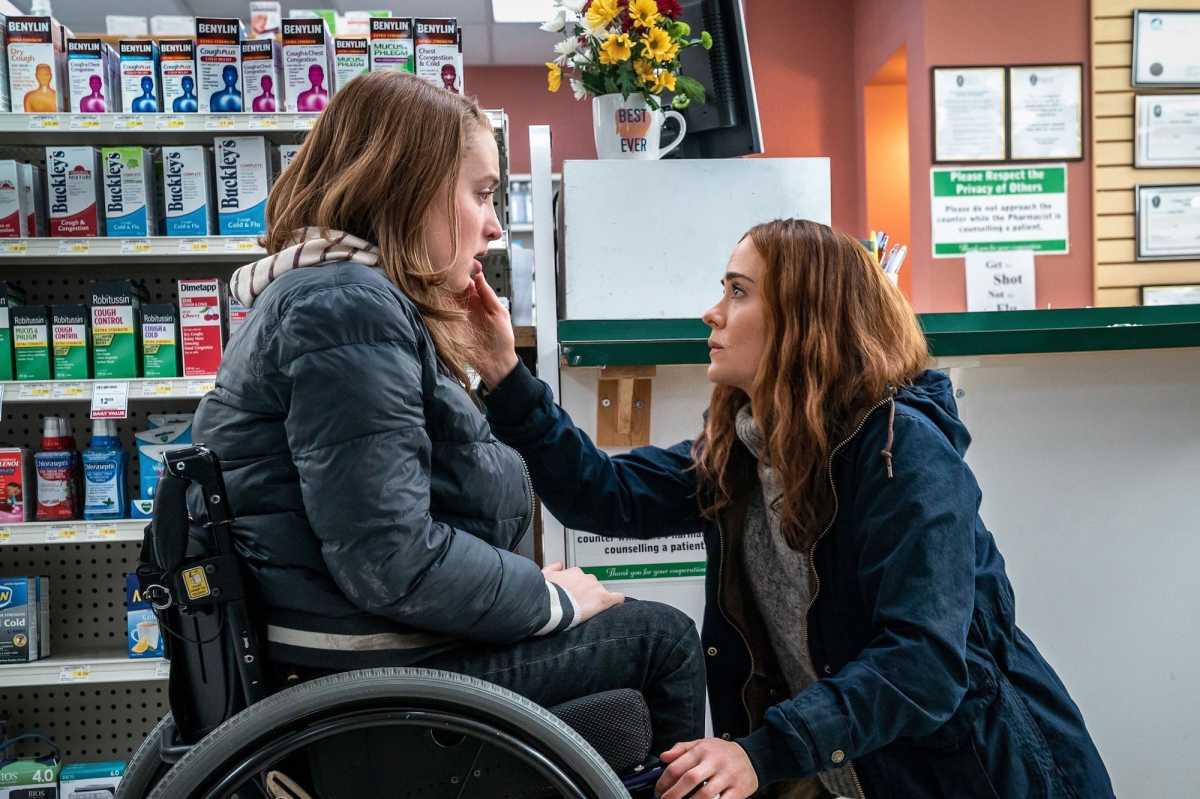 Hulu
Created by writer/director Aneesh Chaganty and writer/producer Sev Ohanian, the team behind the intensely clever found-footage film Searching (2018), the thriller Run (2020) doesn't try very hard to play up the "is she or isn't she a psychopath?" angle, and Sarah Paulson's icy, calculating countenance certainly disguises very little. But the focus here is not on the puzzle, but on the escape, by Kiera Allen as teen Chloe.
In a flashback, we see that Paulson's Diane has given birth to a sick child, and 17 years later, Chloe is wheelchair bound, with heart troubles, asthma, and other maladies. When Chloe begins to suspect that something is amiss with her mother, she must overcome her physical limitations and use her cunning to hatch a plan. Chaganty and Ohanian craft a snap-tight, exhilarating, 89-minute package here, and a very satisfying stream.
Summer of Soul
Fox Searchlight
Questlove makes his directing debut, bringing this phenomenal footage to the world's eyes for the first time. Like other Black stories that have been swept under the rug, Summer of Soul (…Or, When the Revolution Could Not Be Televised) (2021) not only tells that story but gives a hint of its powerful impact at the same time. In the summer of 1969 when Woodstock became a legend, the Harlem Cultural Festival provided an alternate place to go, and a friendly place for Black faces. The free concert took place over six weekends and included a legendary slate of acts, with a remarkable variety of music.
Sly & the Family Stone gives an electrifying performance, as does young Stevie Wonder, Nina Simone, Gladys Knight & the Pips, B.B. King, and more. There's a lot of ground to cover, and Questlove does an impressive job of interspersing backstory and music in just in 2 hours. Yet it's impossible not to be moved by surviving musicians watching their performances, moments of pure exaltation on stage, and revelations like the fact that this concert meant more to Black folks that summer than did the moon landing.
The Valet
Hulu
Mexican star Eugenio Derbez—last seen as Bernardo "Mr. V" Villalobos in Oscar-winner CODA—plays Antonio, a humble, good-hearted valet in Los Angeles, separated from his wife, living with his mom, riding his bicycle all over the city, and sporting a ridiculous, Frankenstein-like flat-top hairdo. Meanwhile, superstar Olivia Allan (Samara Weaving)—whose Oscar-bait Earhart biopic is about to open—is having an affair with a married billionaire, Vincent (Max Greenfield).
When Antonio accidentally appears in a paparazzi pic with Olivia and Vincent, Vincent makes a deal to have Antonio pose as Olivia's boyfriend. Of course, the odd couple help each other out along the way. While The Valet (2022) is long (123 minutes) and familiar, it has a true warmth to it, and Weaving and Derbez share a sweet chemistry.