At a Glance
Expert's Rating
Pros
Laser navigation and mapping results in more efficient cleaning
Can vacuum, mop, or do both together
App allows you to customize and track cleaning jobs
Cons
Sometimes couldn't find its way back to the charging dock
App has little support documentation, and some features are hard to intuit
Our Verdict
Proscenic's M6 Pro delivers balanced vacuuming and mopping with plenty of customization to tailor jobs to your needs.
Best Prices Today
Proscenic's M7 Pro recently left us with a great first impression of the company's robot vacuum line, and the M6 Pro only reinforces it. This mid-priced hybrid uses laser navigation for more efficient cleaning; it can vacuum, mop, or do both in sequence; and it's managed by a well-designed app that lets you customize cleaning jobs to your needs.
The M6 Pro measures about 13.75 x 3.75 inches (WxH) due to its laser turret. Underneath are a rubber-and-bristle rolling brush and a single spinning side brush. A 0.55-liter dustbin inserts under the vacuum's top lid. A separate water tank assembly that includes a .18-liter water tank and .3-liter dustbin in separate compartments is also included for mopping jobs. Also in the box are the M6 Pro's charging dock and power cord; a mopping attachment and microfiber pad; an extra side brush, HEPA filter, and mopping pad; and a remote control with two AAA batteries.
This review is part of TechHive's coverage of the best robot vacuums, where you'll find reviews of the competition's offerings, plus a buyer's guide to the features you should consider when shopping for this type of product.
To set up the M6 pro, you attach one of the side brushes and then assemble the charging dock. The power supply inserts in a compartment you access from the bottom of the dock and allows you to coil the cable so you expose only the length necessary to reach the electrical outlet. The dock also saves space by having its charging contacts on the front, eliminating the flat base common to most docks. To charge, the M6 Pro just rolls forward until it touches the contacts. The vacuum provides about 110 minutes of continuous cleaning on a full charge.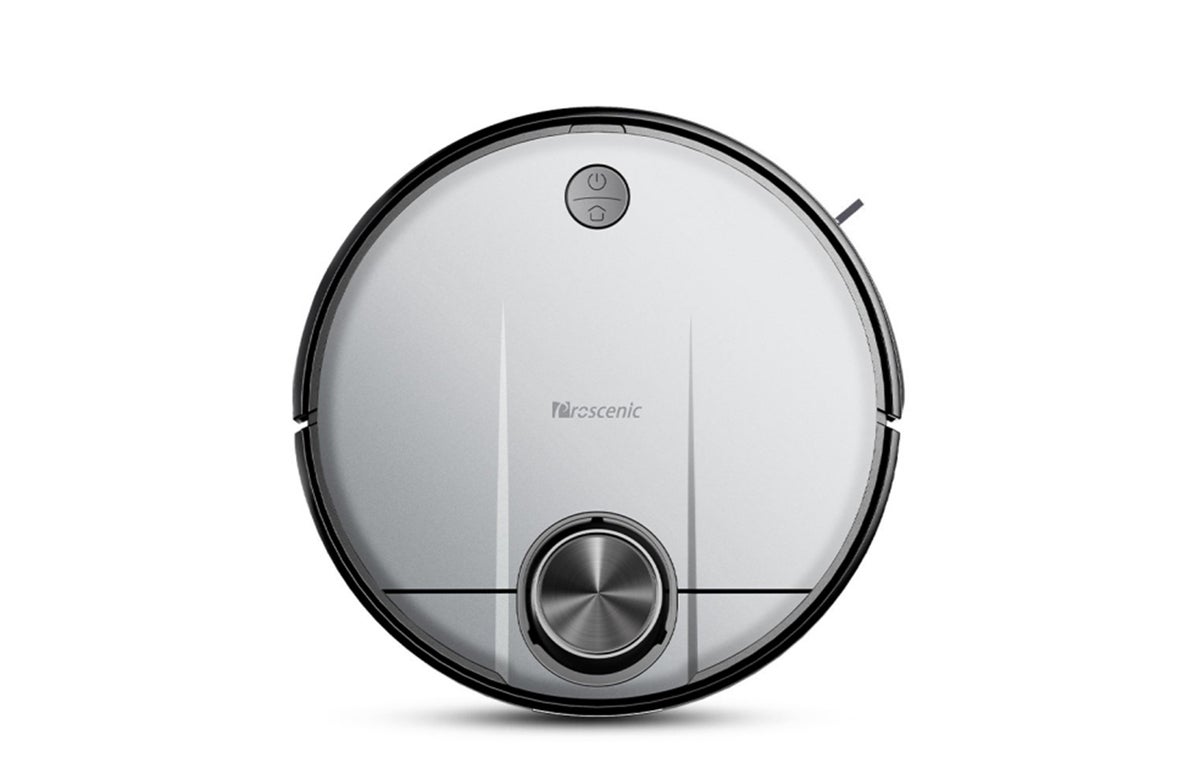 You can start and stop cleaning jobs with the remote control, the ProscenicHome mobile app, or Amazon Alexa and Google Assistant voice commands. The app provides the most customization, allowing you to save up to five floor maps, create and merge rooms, and add virtual walls.
Mentioned in this article
Proscenic M7 Pro (dust bin sold separately)
The first time the M6 Pro cleans an area, it creates a map. Once you save it, you can name the floor plan, demarcate and name rooms by drawing lines on the map, and create virtual walls. "Walls" is actually a bit misleading; this feature drops a bounding box on the map that you can move and resize to block the M6 Pro's access to entire rooms if you want.
After the M6 Pro has scanned and mapped the layout, it navigates that space pretty efficiently, displaying its path in the app as a squiggly line. There are several cleaning modes including spot, edge, area, and twice—where the vacuum takes two passes over the floor—and both the app and remote give you manual control, as well. You can adjust suction higher or lower using a slider control in the app. The M6 Pro has a max suction power of 2600Pa.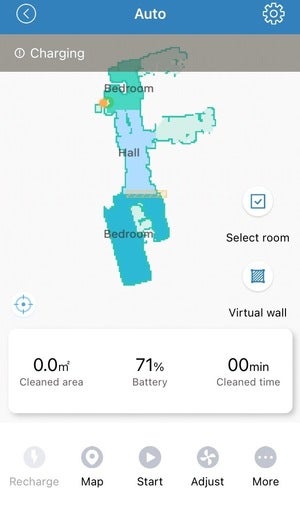 The vacuum did a consistently good job vacuuming my carpeted floors. It pulled up dust, food crumbs, and pet hair without much issue, and it had no problems navigating around obstacles or avoiding the virtual boundaries I set. A couple of times it couldn't find its way back to its dock, but this was the only hiccup I encountered.
Mopping worked better than expected, mostly because of the M6 Pro's unique approach. Most vacuum/mop hybrids use a small capacity water reservoir affixed with a microfiber cloth. As those robot vacuums move, they drag the dampened cloth across the floor, wiping away surface grime but inevitably leaving deeper dirt behind. The M6 Pro's tank holds more water than those robot vacuums, and you can control how much is distributed to the mopping cloth through the app. Further, the M6 Pro uses a Y-shaped cleaning path when it mops, enabling it to make three passes at each section of the floor for a deeper clean.
The ProscenicHome app gives you a full range of options for controlling the M6 Pro and tracking cleaning jobs. As the vacuum works, the app displays its progress in the map along with cleaning time, the size of the area cleaned, and the current battery level. A toolbar along the bottom houses controls for selecting floor maps, starting and stopping jobs, choosing cleaning modes, adjusting suction power, scheduling cleanings, reviewing cleaning histories, and recharging the battery. Further options, such as setting the voice prompt volume and enabling quiet mode, are located in the settings menu. Most of these are self-explanatory, but a few aren't and I would've appreciated more documentation to shorten the learning curve.
Overall, though, the M6 Pro impressed me with its thorough cleaning and straightforward operation. I never felt I needed to babysit it while it did its job and I could be confident that my floors would look markedly better by the time it was done. If you have both hard and carpeted floors in your home and want a robot vacuum that can effectively balance the cleaning needs of both, the M6 Pro is on the shortlist of those that can deliver.
Best Prices Today
Note: When you purchase something after clicking links in our articles, we may earn a small commission. Read our affiliate link policy for more details.
Michael Ansaldo is veteran consumer and small-business technology journalist. He contributes regularly to TechHive and PCWorld.