At a Glance
Expert's Rating
Pros
Endlessly tweakable
Very sensitive
More than one year of battery life promised
Cons
The Shelly app is frustratingly slow
All programming is left to the user
Comparatively expensive
Our Verdict
Shelly Motion is a versatile sensor with lots of configuration options and long battery life, it requires a lot of DIY work to deliver its full value.
Best Prices Today: Shelly Motion
Motion sensors aren't the sexiest smart home category, but Shelly—a Bulgarian company whose smart plug we recently reviewed—is working hard to make its sensor enticing to the masses. The big selling points: More than one year of battery life, despite connecting to Wi-Fi, and a response time of 200 milliseconds—faster than the blink of an eye.
Let's start with the hardware. Compared to other motion sensors on the market, the Shelly Motion offers few surprises, featuring an oblong, almost egg-shaped design with a sensor bulb protruding from the front. The bulb lights up in (pinkish) red when motion is detected, and a tamper-proofing system causes the sensor to cycle through a variety of colors if it is moved.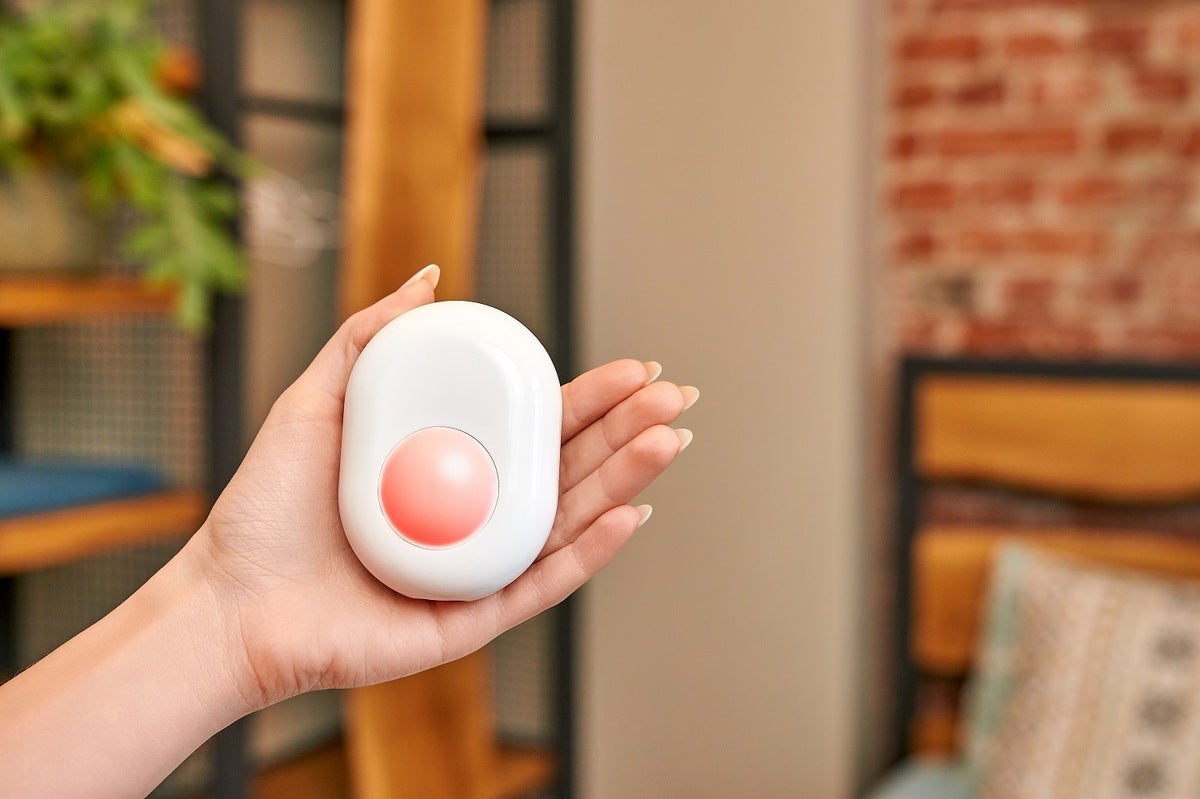 The sensor mounts to the wall via a mounting plate connected to the sensor via a ball-and-socket hinge, allowing for easy and flexible aiming. You don't need to be too accurate at placing it, though; in my testing, the sensor had a huge, room-filling range and was incredibly sensitive, regularly alerting even to the cat strolling by at higher levels of sensitivity. (Motion detection sensitivity is adjustable, as is the tamper detection sensitivity.)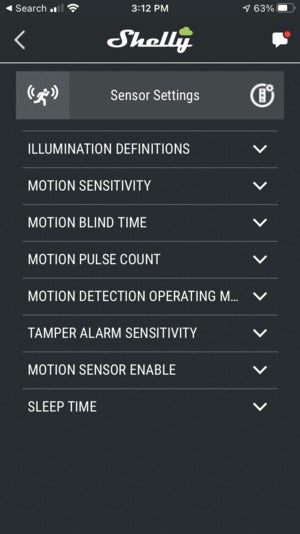 The Shelly Motion sensor is set up through its eponymous app, connecting directly to Wi-Fi (2.4GHz only), with no hub required. Shelly's app was the brand's Achilles heel when I reviewed the company's smart plug, and it remains a sore spot with the sensor. Doing just about anything with the app is ploddingly, maddeningly slow, whether you're setting up schedules, updating firmware, or changing settings. The entire system has a distinct tendency to fail at random times.
And while the sensor has a vast array of settings available, understanding what they are is challenging. What is Motion Pulse Count? How are Illumination Definitions used? The Shelly Motion offers myriad options, but experimenting with, say the 256 levels of motion sensitivity will probably consume several weeks of your time. Shelly's claims that its sensor is incredibly fast is a curious battle to fight: The sensor response time isn't the bottleneck, it's the app that's unbearably slow.
Another challenge is that, while Shelly makes a wide range of products, they're not part of a cohesive system that most homeowners are probably looking for when it comes to setting up a security solution. A sensor on its own just doesn't do much. It needs to communicate with other devices to be very useful. And unfortunately, all that configuration work is on you. If you want a push notification or your Shelly Plug-connected lights to flash when the Shelly detects motion, you must program a rule to do so. And since the ecosystem of Shelly products is relatively small, you'll probably need to use Alexa or Google Assistant and some third-party products if you want to rig up something truly worthwhile.
The Shelly Motion sensor is quite sensitive and offers lots of options—and the promised year of battery life is compelling. But for $40, you'll find numerous less-expensive alternatives, and they'll probably be a lot easier to use.
Best Prices Today: Shelly Motion