As I write this column, I'm downloading dozens of movies from streaming services such as Netflix, Amazon Prime, CBS All Access, and Peacock.
But instead of using the built-in download function in those services' mobile apps, I'm using a program called PlayOn to make recordings of each video. That means I can keep the recordings indefinitely, transfer them to practically any device, and feed them into my whole-home DVR.
Mentioned in this article
Channels DVR (2020)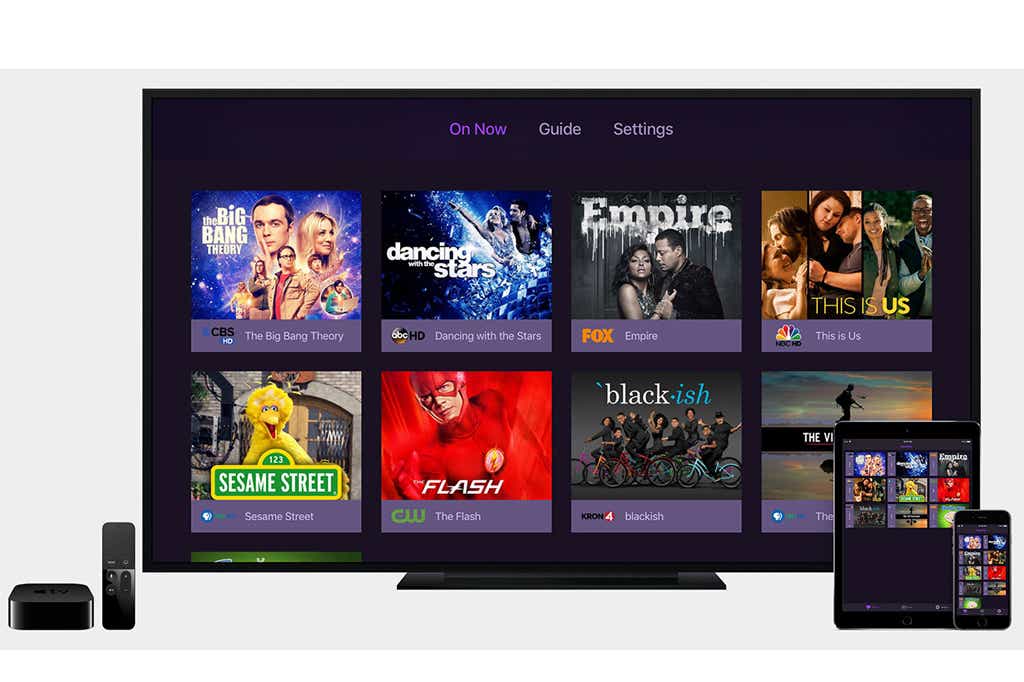 Price When Reviewed:
$8 per month or $80 per year (as of Feb. 2022)
Although PlayOn isn't new—it's been around for well over a decade now—the reason I'm gorging on it now is because of a couple big updates to the service: Its desktop PC software no longer requires Adobe Flash to function, and the cloud-based version now integrates with Channels DVR, which provides a slick interface for viewing all of PlayOn's recordings.
Those two changes turn PlayOn into a much more viable way for cord-cutters to record video from Netflix and other on-demand streaming sources. While not everyone needs what PlayOn has to offer, it's worth considering if you want more control over your cord-cutting setup.
No more Flash headaches
If you have a desktop PC that runs Windows, I'd suggest using PlayOn's desktop software, which has a one-time cost of $70 (and is often on sale for less). After installing the app, you enter the logins for all your streaming subscriptions, then use PlayOn's menu to navigate their catalog. For any movie or TV show, you can press a record button to add the video to your DVR queue, and PlayOn will quietly run in the background, recording each video as an MP4 file on your hard drive.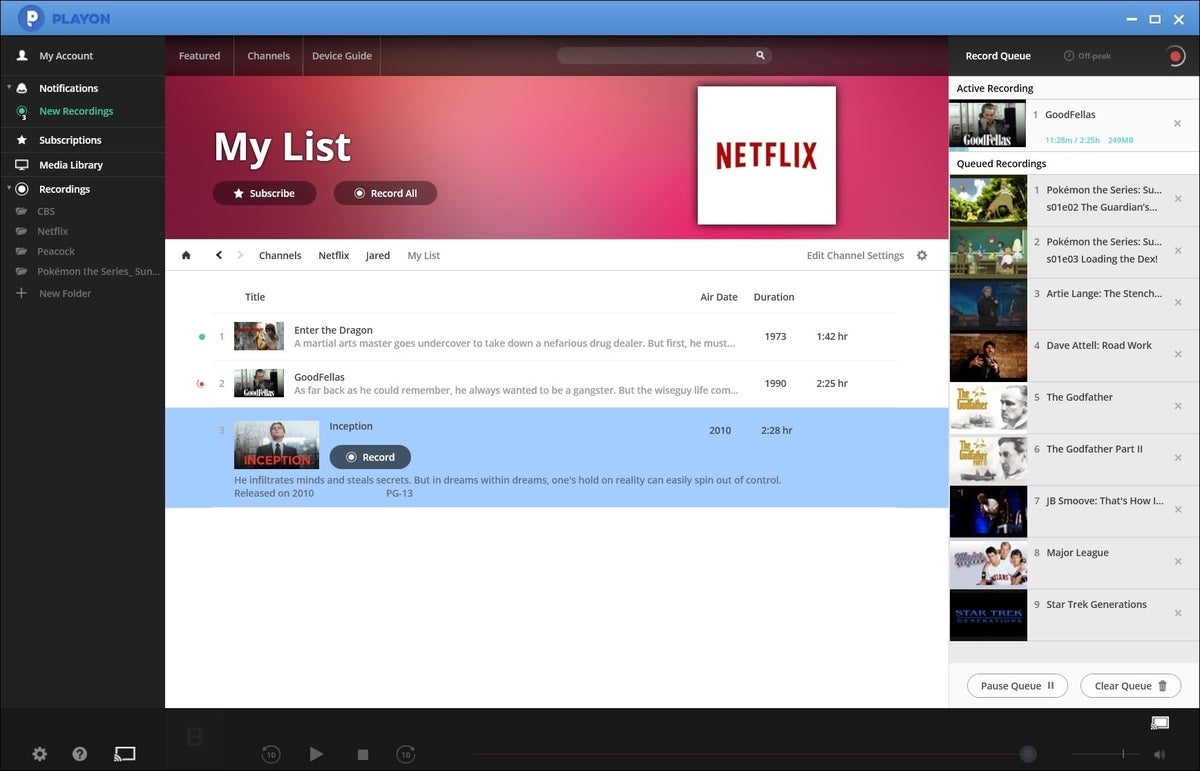 Until last month, PlayOn came bundled with Adobe Flash, which some streaming services used to rely on for web playback. There was no way to prevent PlayOn from installing Flash, so using the software meant opening yourself to potential security vulnerabilities.
Fortunately, that's no longer the case. Adobe discontinued Flash at the end of 2020, and PlayOn stopped bundling the software in a recent update. Even without Flash installed, I haven't run into any major issues recording video from Netflix, CBS All Access, Peacock, and Disney+.
PlayOn's desktop software still has some drawbacks. Occasionally, it might fail to record a program, in which case you'll need to re-add it to your queue and start again. Also, video resolution is limited to 720p, and that's not going to change for the desktop version. (PlayOn says it plans to add 1080p video support later this year, but only for the cloud version of its service.)
But if you can live with those downsides, PlayOn's desktop software works pretty well. Once your recordings are complete, you can view them directly through PlayOn or cast them to Roku, Fire TV, Android TV, or Chromecast devices over Wi-Fi. Alternatively, if you're running a Plex server or Channels DVR setup, you can have those scan your PlayOn video folder to automatically add new recordings to your library.
Personally, I'm running a Channels DVR server on my Nvidia Shield TV streaming box, and when PlayOn's recordings are complete, I just drop them onto the hard drive that Channels scans for content. Since I'm already using Channels to record from both over-the-air and live streaming sources, adding recordings from PlayOn gives me even more to watch in one place. Without the security risks of running Adobe Flash on my PC, I plan to use PlayOn a lot more often.
PlayOn plus Channels
If you don't have a desktop PC on-hand, PlayOn also offers a cloud-based version of its service.
Unlike PlayOn's desktop software, PlayOn Cloud uses remote servers to record video from streaming services. All you need to do is set up the DVR through PlayOn's iOS or Android apps, and you'll get a notification when each recording is ready to download.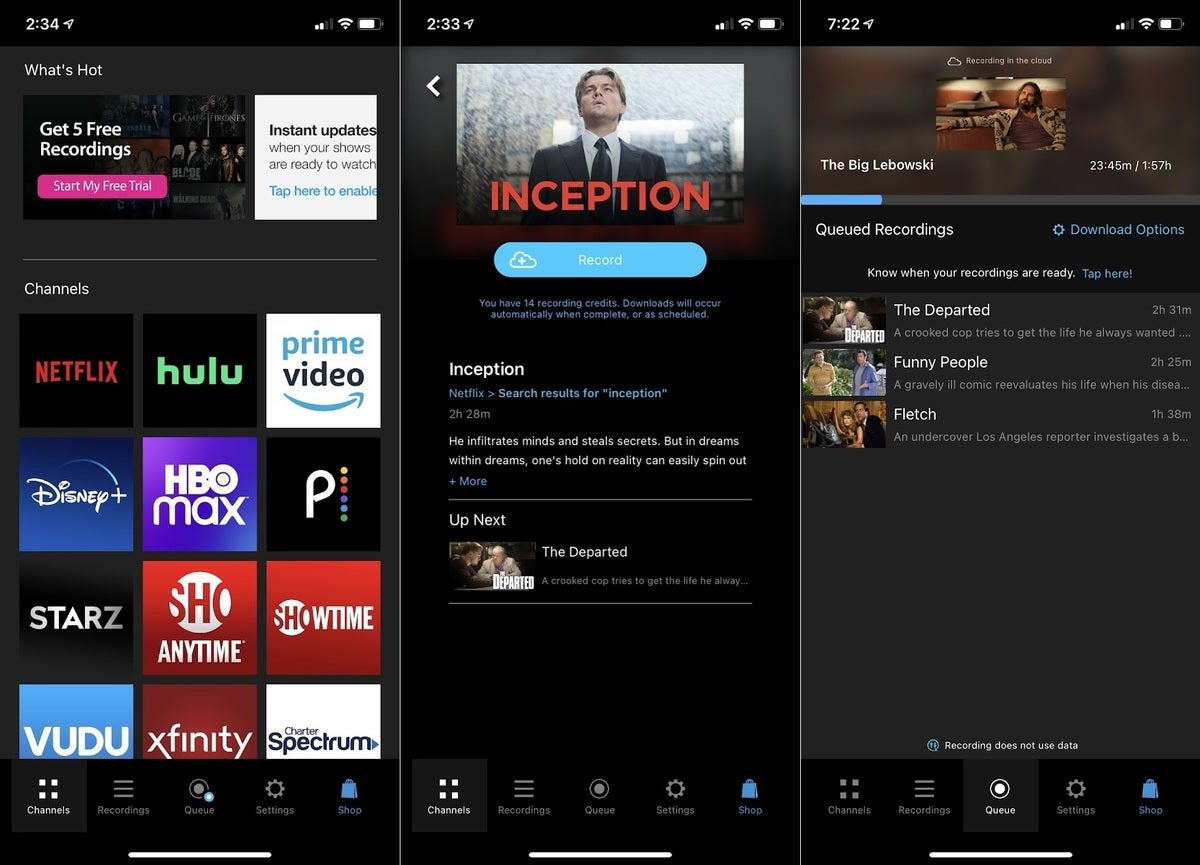 It's a neat idea, but as I wrote last June, the execution is a bit clunky. There's no built-in way to organize your library, and downloading huge video files to your phone or streaming box can quickly lead to space constraints. (If you have a Mac or PC, you can use PlayOn's desktop downloader instead.) While you can have PlayOn store recordings online until you're ready to view them, this requires an extra subscription on top of the roughly 14 cents PlayOn charges per recording.
That's where the new tie-in with Channels DVR comes into play.
With Channels, you set up a home media server using a PC, NAS box, Nvidia Shield TV streaming box, or Raspberry Pi mini-computer, then plug in a hard drive with ample storage. Channels can record video from a growing number of sources, including over-the-air TV tuners and certain live TV streaming services, and you can use Channels' apps for Amazon Fire TV, Android TV, or Apple TV to view the recordings. If you have the technical wherewithal, it's an excellent way to roll your own whole-home DVR.
The integration with PlayOn Cloud just adds even more content to that setup, including the on-demand catalogs of Netflix, Disney+, and the like. Whenever PlayOn completes a recording, Channels will automatically download the video to your media server, so you can stream it to all your other devices. That means you don't have to use PlayOn's apps to view the recordings or pay PlayOn for extra storage.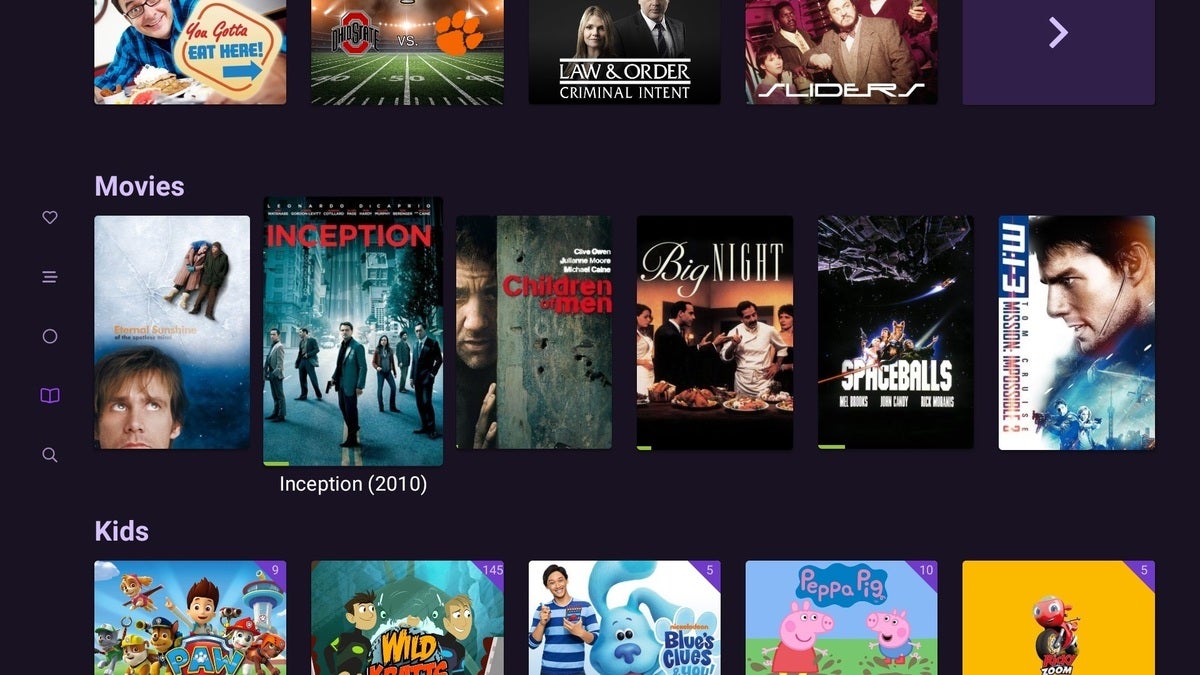 (As of now, Channels' PlayOn support is in beta. You can enable it by long-pressing the "check for update" button at my.channelsdvr.net, then using the "Add Source" button to connect your PlayOn account. Support in the stable version of Channels should arrive next week.)
Why bother with any of this, especially if it involves added time and expense? As I've written before, I hear from a lot of folks who still want the simplicity and dependability of a cable-style DVR, including the ability to watch offline, at any time, all through one menu. While the number of streaming sources keeps growing, services like PlayOn and Channels are trying to pull things back together again.
Sign up for Jared's Cord Cutter Weekly newsletter to get this column and other cord-cutting news, insights, and deals delivered to your inbox.