At a Glance
Expert's Rating
Pros
Less bloated than some other live TV bundles (for now)
TVision Hub device offers familiar features for cable customers
DVR makes ad-skipping easy
Cons
Options for managing the DVR are too limited
TVision Hub falls short as a streaming device
No Roku support
Our Verdict
T-Mobile's live TV streaming service lacks the polish of its peers, but its pricing stands out—for now.
Best Prices Today: TVision by T-Mobile
I had high hopes for TVision by T-Mobile when the self-proclaimed "Un-Carrier" announced the service last fall.
Whereas most live TV streaming services put nearly all their channels into one expensive bundle, TVision offers a $10-per-month bundle for entertainment channels, plus another bundle starting at $40 per month with local channels, news, and sports. T-Mobile also sells its own $50 streaming player, the TVision Hub, with a remote control that resembles what you'd get with a cable box. By combining inexpensive TV service with familiar hardware, TVision could be a great gateway to cord-cutting.
In practice, T-Mobile's TVision service and Hub device fall a bit short of those admittedly lofty expectations. The service doesn't support 60-frames-per-second video—a necessity for smooth sports and news channel playback—and it could use more ways to manage your DVR and channel guide. The Hub device also has its own little annoyances, including a lack of master TV volume controls on its remote.
More importantly, TVision is only available to T-Mobile wireless subscribers at the moment, and T-Mobile has suggested that its current pricing won't apply to everyone else. Some TV networks have also claimed that T-Mobile tricked them into unbundling their channels, creating even more uncertainty about how long TVision's current pricing and packaging will last.
That's not to say prospective cord-cutters should avoid TVision outright, but jumping in now would mean using a promising-but-flawed service that's subject to change in the months ahead.
T-Mobile TVision: Bundle details
As of January 1, 2021, TVision offers the following channel packages:
TVision Vibe ($10 per month): AMC, Animal Planet, BBC America, BET, BET Her, CMT, Comedy Central, Discovery, DIY Network, Food Network, Hallmark Channel, Hallmark Drama, Hallmark Movies & Mysteries, HGTV, IFC Investigation, Discovery, Motortrend, MTV, MTV Classic, MTV2, OWN, Paramount Network, Sundance TV, TLC, Travel Channel, TV Land, VH1, WE TV, BBC World News, Nick Jr, Nickelodeon, Nicktoons, and Teennick.
TVision Live ($40 per month): Everything above, plus NBC, ABC, Fox, Telemundo, ESPN, ESPN2, FS1, FS2, NBCSN, ABC News Live, CNBC, CNN, Fox Business, Fox News, HLN, MSNBC, NBC News Now, Bravo, Cozi, E!, FX, FXX, Nat Geo Oxygen, SyFy, TBS, TNT, TruTV, USA, Cartoon Network, Disney Channel, Disney Junior, Disney XD, and Freeform.
TVision Live+ ($50 per month): Everything above, plus ACC Network, Big Ten Network, ESPN College Extra, ESPNews, ESPNU, Golf Channel, NFL Network, Olympic Channel, SEC Network, Nat Geo Wild, TCM, and regional NBC Sports channels where available.
TVision Live Zone ($60 per month): Everything above, plus Longhorn Network, MavTV, NFL Redzone, Outside TV, CNBC World, Fox Deportes, ESPN Deportes, and Universo.
Add-ons: Starz ($9 per month), Showtime ($11 per month), Epix ($6 per month).
Looking through the channel list, the big omissions are CBS and regional Fox Sports channels. Cord-cutters can still get the former as a separate service (through CBS All Access, at $6 per month), but the latter is becoming harder to get without traditional cable TV service, as most other live TV streaming services have dropped Fox Sports regionals over the last year to keep their costs down.
TVision does include the other major broadcast networks—ABC, Fox, and NBC—but in some areas, the local ABC or Fox affiliates are not available and you get a national broadcast feed instead. T-Mobile's website lets you plug in a zip code to check on local coverage in your area.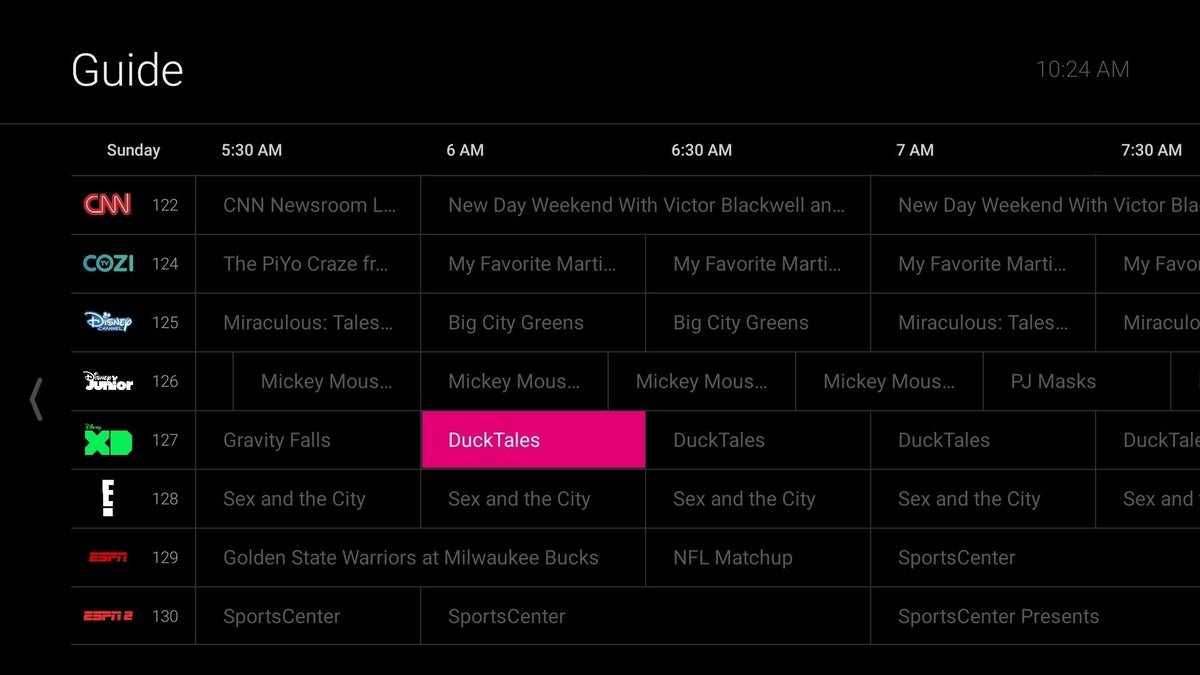 Subscribers can watch on up to two devices at a time for the Vibe package, or three devices at a time for all other packages, but with one big exception: If someone's already watching on TV at home, you can't stream from another TV outside the home at the same time. TVision doesn't currently support logging into individual "TV Everywhere" channel apps either, so you can't use those as a workaround for the service's device limits (T-Mobile says it plans to offer TV Everywhere logins in the future.)
As for DVR service, TVision's Live plans include 100 hours at no extra charge, but it's a $5-per-month add-on for Vibe subscribers. These recordings are stored online, so you can access them from any device.
Choose your streaming device
Unlike typical cable TV service, TVision isn't tied to a specific set-top box. The service offers apps for Fire TV, Android TV, Apple TV, iOS, and Android, and it works the same across all those devices. (Roku support is notably absent for now.)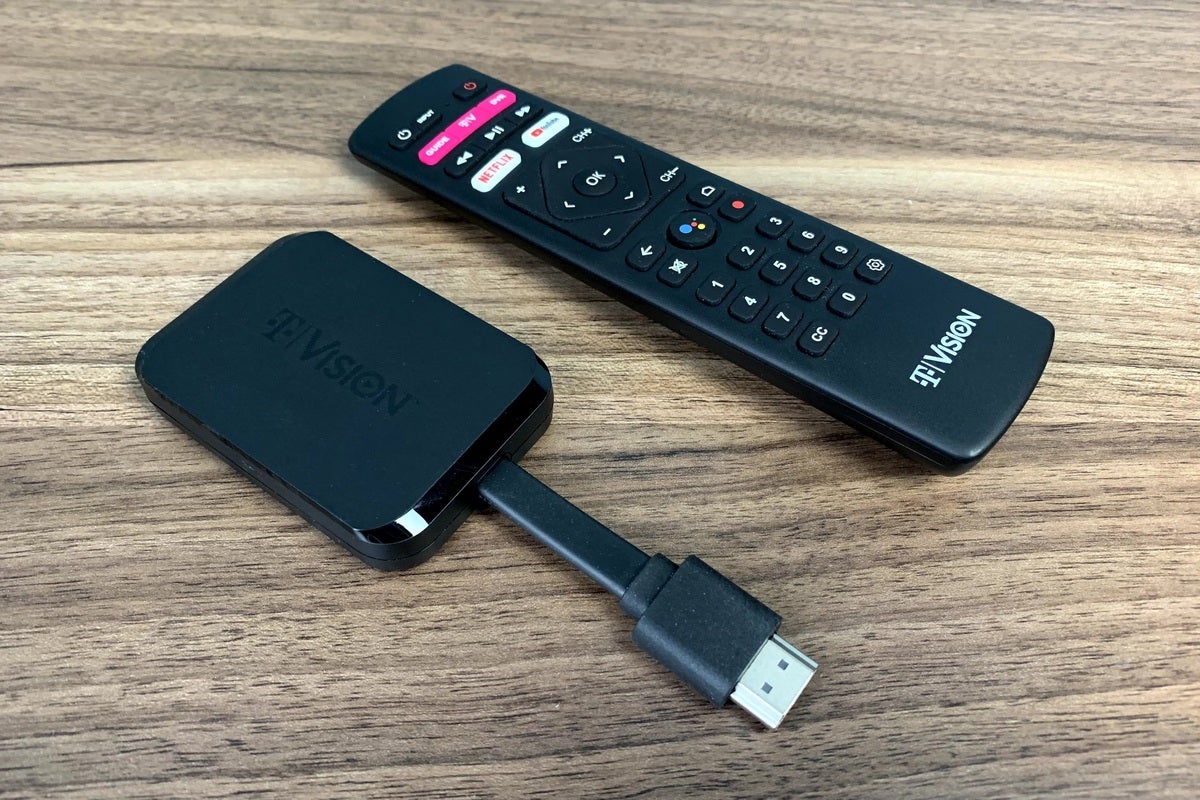 The best version of TVision, though, is on T-Mobile's own Hub device, a $50 streaming dongle that runs Google's Android TV operating system. With the Hub, you get a remote control that's optimized for TVision, with buttons that can instantly launch the app, load the TV guide, and bring up the DVR list. The remote also has channel up/down buttons, a recording button for the DVR, and a number pad. This brings the experience much closer to what you'd get with a cable box, and it also supports other streaming apps, including Netflix, Amazon Prime, and Disney+.
The Hub also has a nifty integration with Google Assistant, so you can press the button in the middle of the remote and say things like "tune to ESPN." No other streaming device offers this level of voice control for T-Mobile's service.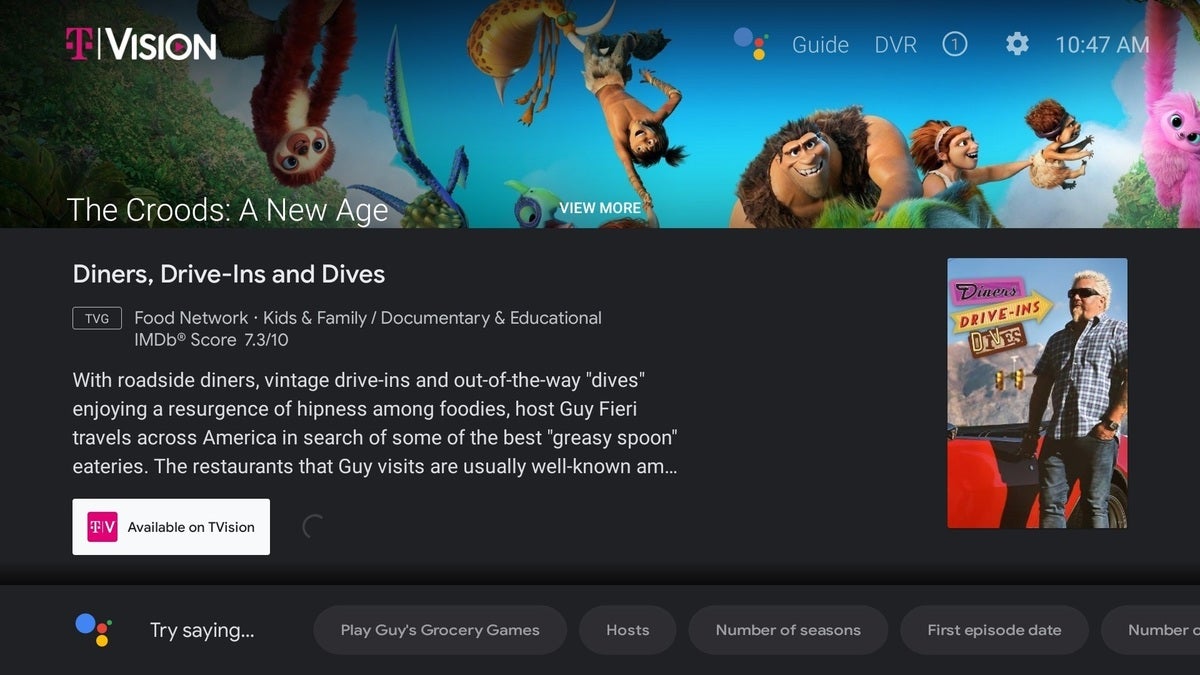 Unfortunately, T-Mobile erred in its handling of volume control on the Hub. Although the Hub's remote has an infrared emitter for controlling TV power and switching inputs, its volume keys don't support infrared control. Instead, they control an internal volume level on the Hub itself, which means you can't increase the volume beyond whatever maximum level you've set with your TV remote. (I also could not get the remote's input button to work with my Vizio TV.)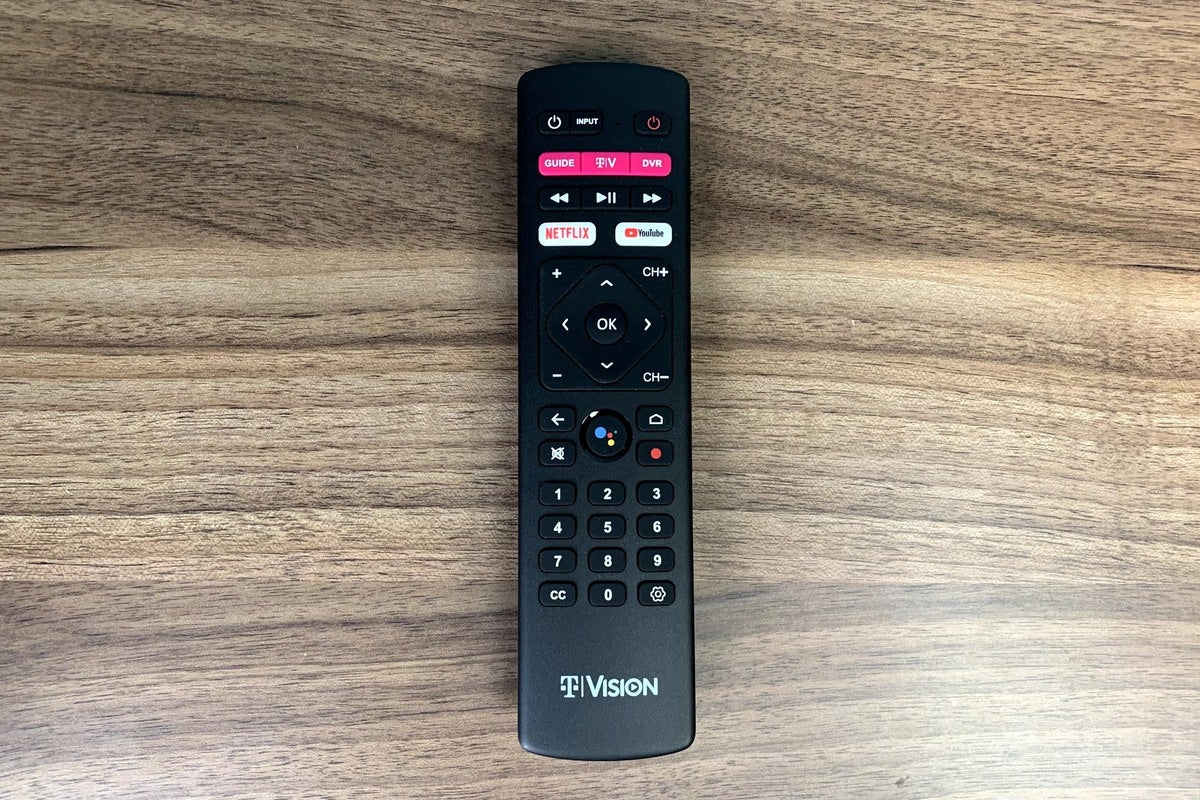 The Hub has a few other issues as well. The home screen is less customizable than other Android TV devices, so you can't rearrange the order of certain home screen apps, and while a Netflix app is built-in, it doesn't put any content recommendations on the home screen like it does with other Android TV devices. For apps that do offer home screen recommendations—like Amazon Prime and HBO Max—you can't rearrange the order of them.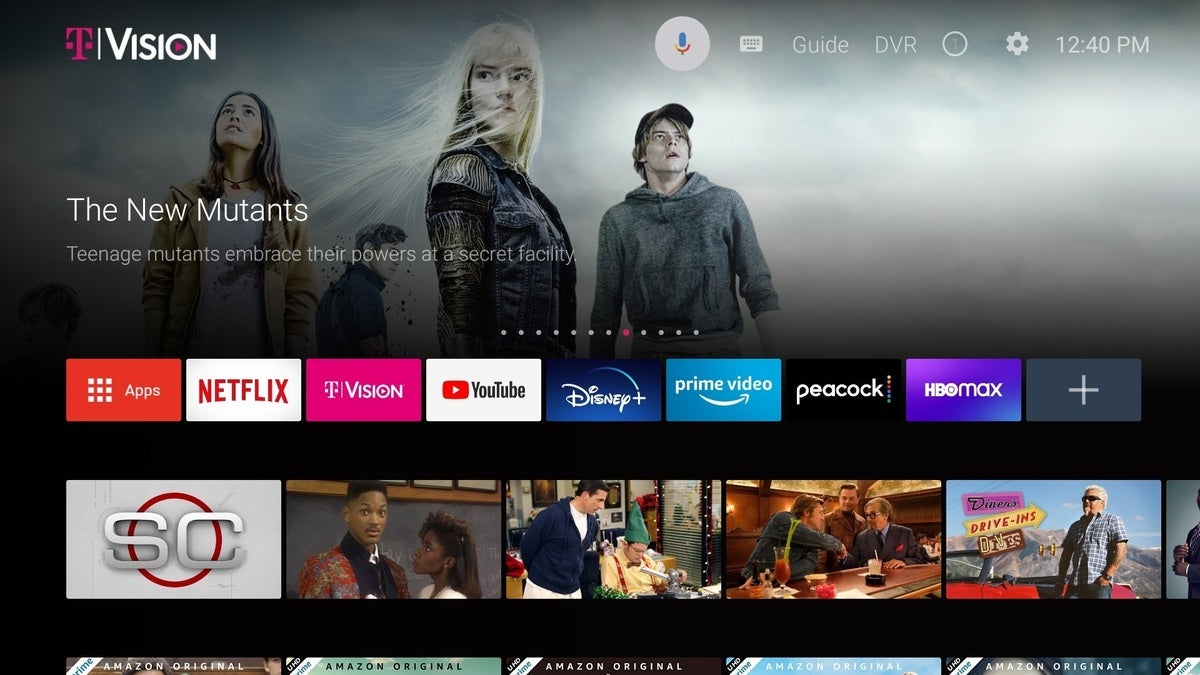 Also worth noting: While the Hub can stream 4K HDR video and Dolby Atmos audio, it doesn't support Dolby Vision HDR. If that feature is important to you, or you're turned off by the Hub's other limitations, I'd suggest using TVision with a Fire TV Stick 4K or Chromecast with Google TV instead, even if it means giving up the Hub's unique remote.
The TVision experience
While testing out the TVision experience, my heart sank when I realized that all its channels are limited to 30 frames per second. That means live sports, news, and talk shows look choppier than they do on cable and on most live TV streaming services. This limitation applied to every streaming device I tested with TVision, including the Hub, Amazon's Fire TV Sticks, the new Chromecast, and an Apple TV 4K.
Not to be overly dramatic, but the lack of 60-frames-per-second support is a major knock on what is otherwise a decent enough service.
The TV guide loads smoothly and includes filters for sports, news, movies, and kids programming. While watching a live channel, you can pause and rewind to the time you started watching. You can set up individual or series-based recordings for any program, and the DVR has no restrictions on ad-skipping. You'll also get visual thumbnail previews while fast forwarding or rewinding, so you can easily avoid commercial breaks.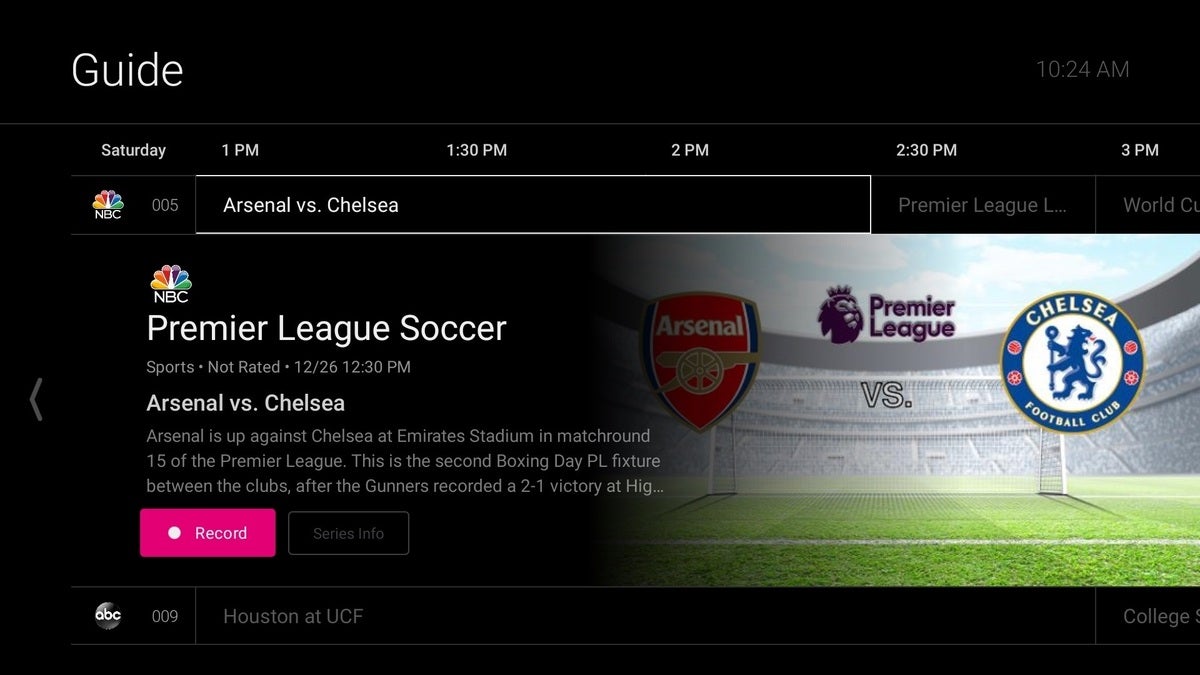 Still, TVision's DVR features could use more work. You can't limit how many recent recordings to keep from a given program, and the DVR menu doesn't indicate which episodes you've already watched or started watching. There's no easy way to delete already-watched recordings, either; your only options are to remove episodes one-by-one or clear out the entire series. Worst of all, TVision automatically deletes old recordings when you run out of space, offering no way to "protect" certain shows from being tossed out.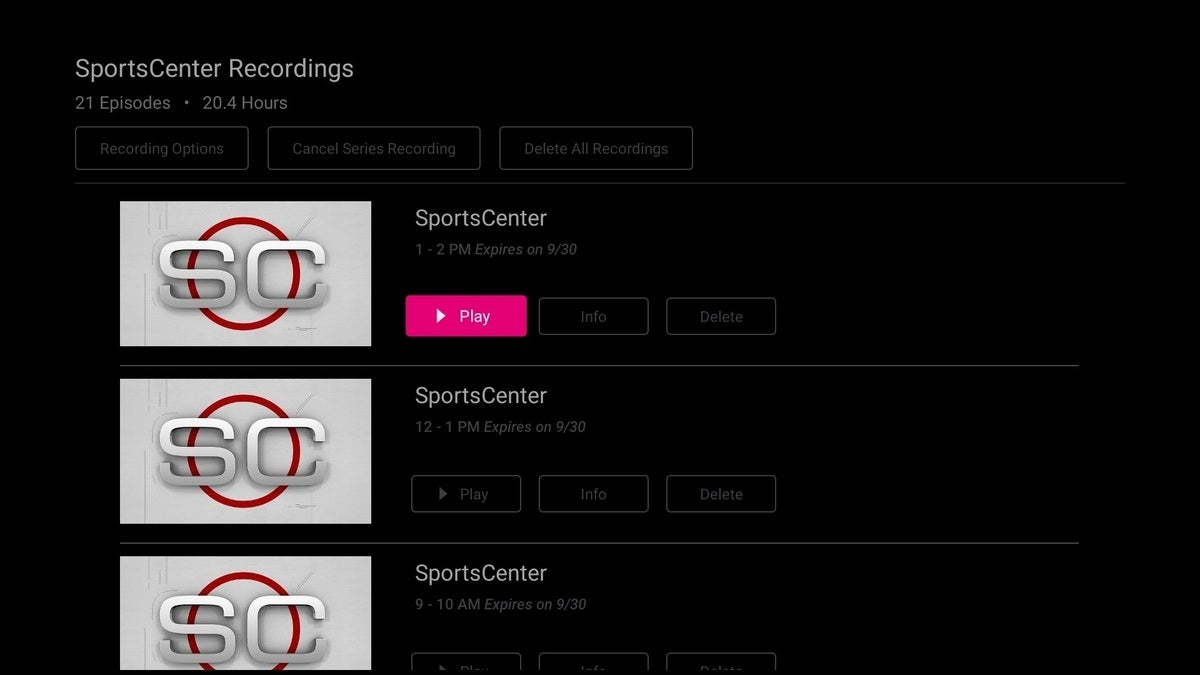 I also ran into a few other annoyances: There's no "favorites" list for the channel guide, and TV listings are limited to seven days, rather than the 14 days offered by many cable boxes. On the Hub, the guide also has a bug where the filter menu fails to disappear after you open it, covering up the part of the guide until you make a selection.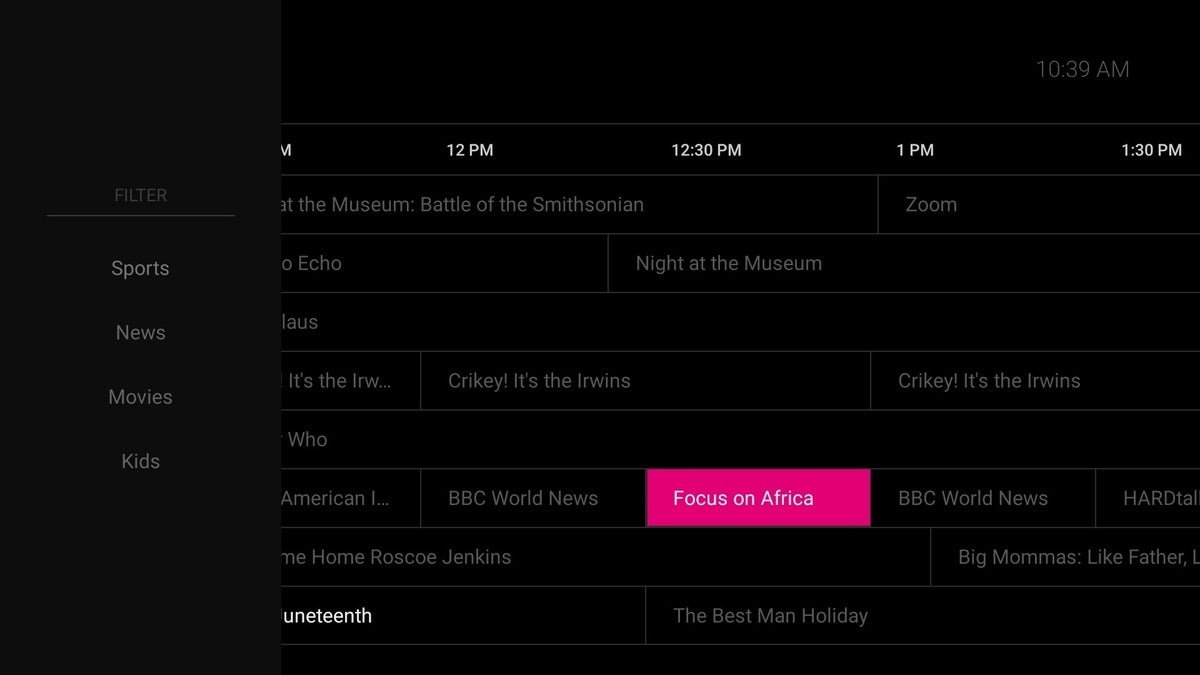 Watching recordings while they're still in progress is a convoluted process as well. You can select them from the DVR list, but you if choose the program from the grid guide, it'll load the live version instead, with no ability to jump back to the start of the recording.
A risky bet
In a way, TVision reminds me of the early years of live TV streaming services, when packages were cheaper and more flexible, but when the overall experience was less refined than cable. Services like Sling TV, Hulu + Live TV, and YouTube TV have since done a lot of catching up on the experience side, but they've also become more expensive and more bloated.
TVision seems likely to follow the same pattern. Already, the carrier has added its $10-per-month "Vibe" channels to the pricier "Live" lineup in a concession to complaining TV networks, and while those channels carry no extra charge for now, they'll almost certainly result in future price hikes. As Variety reported last month, the fate of the Vibe package also remains up in the air.
All this makes TVision tricky to judge. The current pricing and packaging is compelling, but the service itself has some notable flaws, and even if T-Mobile makes improvements to the latter, TV networks could force some major adjustments to the former. If this is the way you decide to cut the cord, just be sure you're willing to roll with whatever changes occur.
Best Prices Today: TVision by T-Mobile