From vacuums and thermostats to sprinkler controllers and even headphones, budget smart device maker Wyze has been bombarding us with new products across an impressively wide range of categories, and now it's capping off 2020 with one more gadget: an outdoor smart plug.
Mentioned in this article
TP-Link Kasa Smart Wi-Fi Outdoor Plug (model KP400)
Price When Reviewed:
$44.99
Unlike its new robot vacuum or Bluetooth headphones, the Wyze Plug OutdoorRemove non-product link doesn't represent an entirely new category for Wyze, which already has an indoor smart plug (the Wyze PlugRemove non-product link) on the market.
Characteristically, though, the $10 Wyze Plug Outdoor is much cheaper that most of its competitors. For example, our current favorite, the TP-Link Kasa Smart Wi-Fi Outdoor Plug, has a list price of $25, although it's currently on sale for $20.
Like most of Wyze's smart products, the two-outlet Plug Outdoor connects directly to Wi-Fi networks, meaning it doesn't require a hub.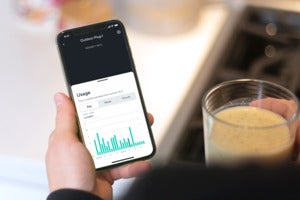 The Plug Outdoor's weatherproof housing comes with a pair of flaps designed to seal the two three-prong outlets, which can be controlled independently. The plug has an IP64 rating, which means it's completely protected from dust and water sprayed from any direction.
Compatible with both Alexa and Google Assistant, the Plug Outdoor supports up to 15 amps of output along with overload protection, making it suitable for controlling outdoor lights and fans, or even backyard ovens.
The plug boasts regular daily schedules and a vacation mode, which randomly turns the outlet on and off to fool potential intruders. You can also set the plug to respond to triggers from motion sensors or other compatible smart devices, while an ambient light sensor can turn the plug on and off at dusk and dawn.
Besides its scheduling features, the Plug Outdoor also supports energy monitoring, which allows you (via the mobile Wyze app) to keep tabs on the power use of plugged-in appliances. You can also get alerts if daily, weekly, or monthly energy consumption hits a certain level.
Wyze says that the Plug Outdoor has a Wi-Fi range of up to 300 feet in "open space," although your mileage may vary.
We'll have a full review of the Wyze Plug Outdoor once we've spent quality time with a review unit.