At a Glance
Expert's Rating
Pros
Easy to set up
Chromecast audio support
Three HDMI inputs, plus an HDMI-ARC port
Subtle 3D audio mode doesn't sound too harsh
Cons
Mediocre bass response
Limited support for Google Assistant voice commands
Many buttons on the remote are perfectly flat
Our Verdict
The 2.1-channel MagniFi 2 soundbar does a solid job at delivering virtualized 3D audio, but gets tripped up by its mediocre bass response.
Polk Audio manages to tease some relatively impressive virtual 3D audio out of its 2.1-channel MagniFi soundbar, which makes the speaker's subpar bass response all the more disappointing. Equipped with built-in Chromecast and Google Assistant support, the MagniFi 2 is easy to set up, and Polk Audio's custom digital sound processing delivers subtle surround and height effects without undue harshness.
The $499 MagniFi 2 also comes with three HDMI inputs, a pleasant surprise for a soundbar in this price range. But while it's unquestionably an upgrade over standard TV speakers, the MagniFi 2's otherwise crisp audio is undermined by muddy bass from the wireless subwoofer, robbing the sound of punchiness.
This review is part of TechHive's coverage of the best soundbars, where you'll find reviews of competing products, plus a buyer's guide to the features you should consider when shopping.
Configuration
Polk Audio has three lines of soundbars. The budget Signa series includes soundbars that range in price from $129 for the 2.0-channel Signa Solo to $249 for the 2.1-channel, Chromecast-enabled Signa S3. The mid-range MagniFi line includes the MagniFi 2, which we're reviewing here, along with the compact 2.1-channel MagniFi Mini ($299) and the 5.1-channel MagniFi MAX SR ($599), which comes with wireless surrounds and Chromecast support. Finally, the 2.1-channel Polk Audio Command Bar (which we've also reviewed) comes with onboard Alexa, complete with Alexa's telltale halo light on top.
The Polk Audio MagniFi 2 is a 200-watt, 2.1-channel soundbar, with two oval-shaped 1 x 3-inch midrange drivers and one 0.75-inch tweeter for each of the left and center channels in the main unit, plus an 8-inch down-firing cone in the ported wireless subwoofer for low-frequency effects. Each driver gets its own dedicated Class-D amplifier.
Like other 2.1-channel soundbars, the MagniFi 2 lacks a dedicated center channel, which is typically reserved for dialog. Instead, the left and right channels combine to create a third, "phantom" center channel, a technique that can (depending on the quality of the soundbar's audio processing) make dialog sound distractingly echo-y. We'll evaluate the MagniFi 2's audio quality a little later in our review.
The MagniFi 2 doesn't support immersive 3D audio formats such as Dolby Atmos or DTS:X, nor does it come equipped with DTS Virtual:X, a popular sound mode that teases virtualized surround and height effects from as few as two drivers, without the need for either in-ceiling speakers or upfiring drivers that bounce audio off the ceiling. Instead, the MagniFi 2 boasts Polk Audio's own SDA (Stereo Dimentional Array) audio processing and its new 3D audio mode, which allows the soundbar to deliver virtualized surround and height cues.
Virtualized 3D sound has its pros and cons. Unsurprisingly, you'll hear more precise height cues from upfiring drivers that bounce sound off your ceiling, or—even better—height speakers that are installed in your ceiling. That said, not everyone wants to go through the hassle of installing in-ceiling speakers, and upfiring drivers won't be effective if you have a vaulted ceiling or acoustic ceiling tiles. In those scenarios, a soundbar with a virtual 3D sound mode might be your best option. Again, we'll assess the effectiveness of the MagniFi 2's custom 3D audio mode in the performance section of our review.
The MagniFi 2 can't be upgraded with wireless surround speakers for true surround sound—or at least, not quite yet. While Polk's existing SR1 wireless surround kit, which works with the MagniFi MAX soundbar, isn't compatible with the MagniFi 2, a new SR2 wireless surround kit ($199) that will work with the MagniFi 2 is due in January 2021, so hang tight.
Measuring about 37.5 x 3 x 2.1 inches (LxWxH), the fabric-covered MagniFi 2 is a tad narrower than the width of my 55-inch LG C9 OLED, and it's just shy of the bottom edge of the LG's low-slung screen. The 14.6 x 12.1 x 145-inch (LxWxH) subwoofer has a rounded rectangular design that tapers from bottom to top, a departure from the boxy-looking subwoofers that typically ship with soundbars.
Setup
The main MagniFi 2 soundbar unit can be either placed directly in front of your TV, or mounted on a wall below your TV. The soundbar comes with a mounting guide but no screws or brackets. I opted to simply put the MagniFi 2 in front of my OLED. The roughly 10-foot power cord comes in two segments, with a chunky AC brick in the middle (meaning no annoying wall wart), while the second segment terminates in a standard two-prong plug.
Once the main soundbar component is plugged in, you can then place the included subwoofer nearby and then connect its own power cord (so no, the subwoofer isn't truly wireless). The subwoofer comes pre-paired to the main unit; there's also a button in back of the main soundbar housing that triggers the manual pairing process. For me, the subwoofer paired seamlessly with the soundbar.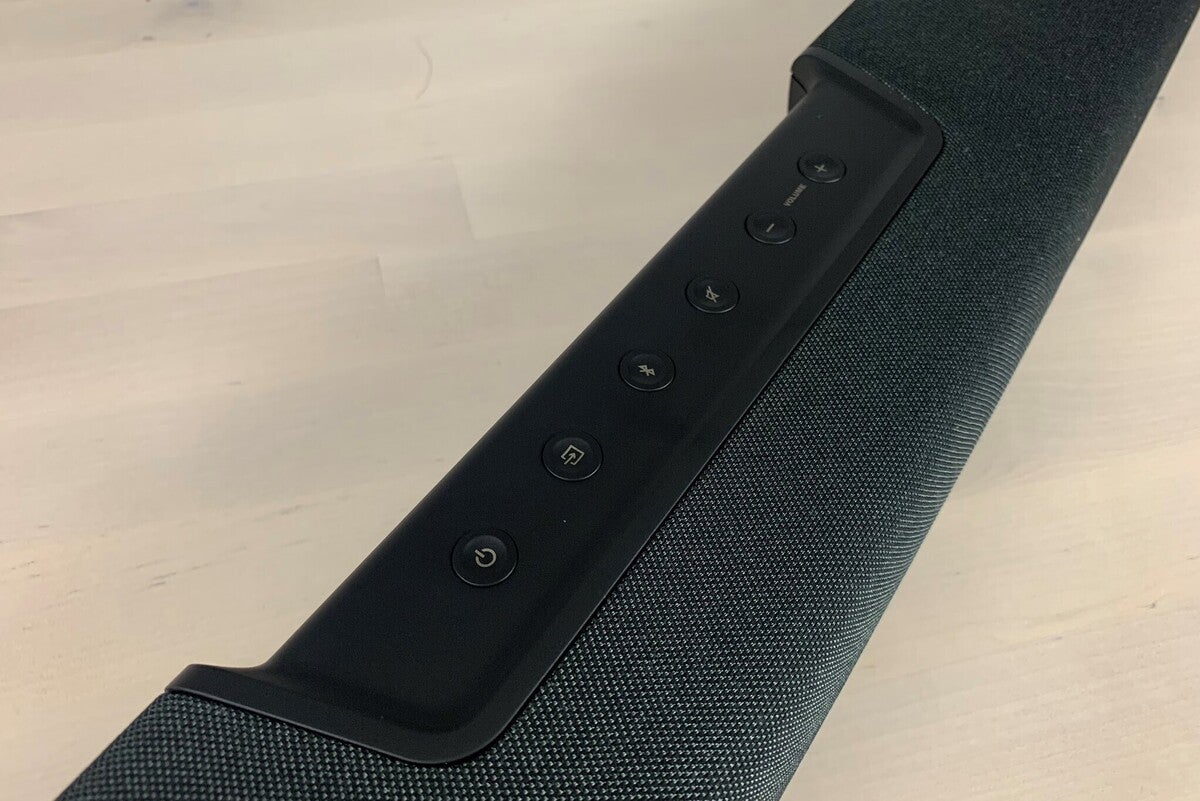 With the soundbar and subwoofer both powered up, it's time to connect the MagniFi 2 to your home Wi-Fi network, which you can do with the Google Home app for iOS or Android (you'll need to install it and sign in with your Google Account, if you haven't already). Setting up a soundbar with Google Home is typically a painless process, and indeed, I immediately found a "Set up Polk MagniFi 2" banner on the app's main screen. Tapping the banner steps you through the process of selecting your home wireless network.
Everything seemed to be going smoothly when, oddly, I got a "Something went wrong" error after the app had successfully connected the soundbar to my Wi-Fi router. Backing up and repeating the connecting process seemed to fix the problem, so it might have been a random hiccup, and the MagniFi 2 didn't have any subsequent connectivity issues.
Ports and connectors
When it comes to connecting the MagniFi 2 to your TV, you have a coupe of options. First, you could plug all your video sources (such as a set-top box, a game console, and a Blu-ray player) into your TV's HDMI inputs, and then connect the TV to the MagniFi 2 via the soundbar's HDMI-ARC (short for Audio Return Channel) port. (A high-speed HDMI cable is included in the box, by the way.) It's a convenient method if you already happen to have your video sources plugged directly into your TV, but the downside is that the MagniFi's HDMI-ARC port doesn't support eARC ('enhanced" ARC), which allows the lossless Dolby TrueHD and DTS-HD Master Audio formats prized by Blu-ray aficionados. (Click here to read more about eARC.)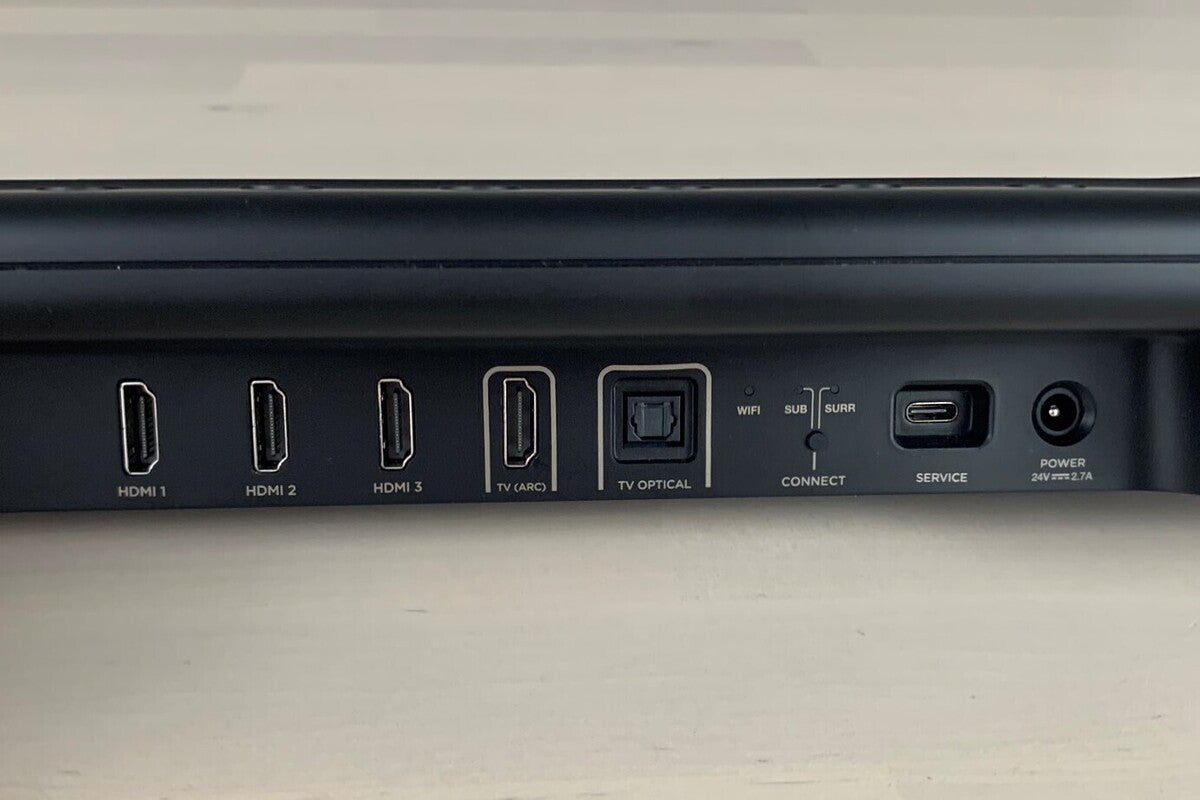 An alternative is connecting video sources into the MagniF 2i's HDMI inputs, and luckily, there are three of them, a rarity for a $499 soundbar. Plugging a standard or UHD Blu-ray player into one of the MagniFi 2's HDMI means you'll be able to enjoy lossless audio, and the soundbar can pass 4K HDR video to your TV. Of course, the downside of connecting video sources through the MagniFi 2's HDMI ports is that you won't be able to pipe audio from smart TV apps through the soundbar; for that, you'll have to go the HDMI-ARC way.
Besides HDMI connectors, the MagniFi 2 has an optical (Toslink) input that can support Dolby Digital (but not Dolby Digital Plus) audio, while a USB-C port is reserved for firmware updates.
Remote control and buttons
On top of the main Polk Audio MagniFi 2 soundbar cabinet are buttons for power, input select, Bluetooth, mute, and volume up/down. On the front of the soundbar and peeking out from its fabric covering are 10 status LEDs that flash in different colors to indicate volume levels, detected audio signals (such as Dolby or DTS), Bluetooth pairing status, and more. Most of the LEDs go dark after a brief period of inactivity, and while a single audio mode LED does remain lit, it's not bright enough to be distracting.
The MagniFi 2's non-backlit remote is logically laid out (with the volume rocker in the center and the mute button just beneath), but many of the buttons are perfectly flat and edgeless, making them difficult to find in the dark. The good news is that the most important buttons, including the volume rocker, the power, mute, and input buttons, and the volume buttons for the optional (and not-yet-available) wireless surround speakers do have either tactile bumps or indentations. That said, the level buttons for bass response and voice boost (more on that in a moment), along with the audio modes and 3D buttons are all flat as a pancake, and I had to turn on my phone's flashlight to find those buttons while watching a movie or a show.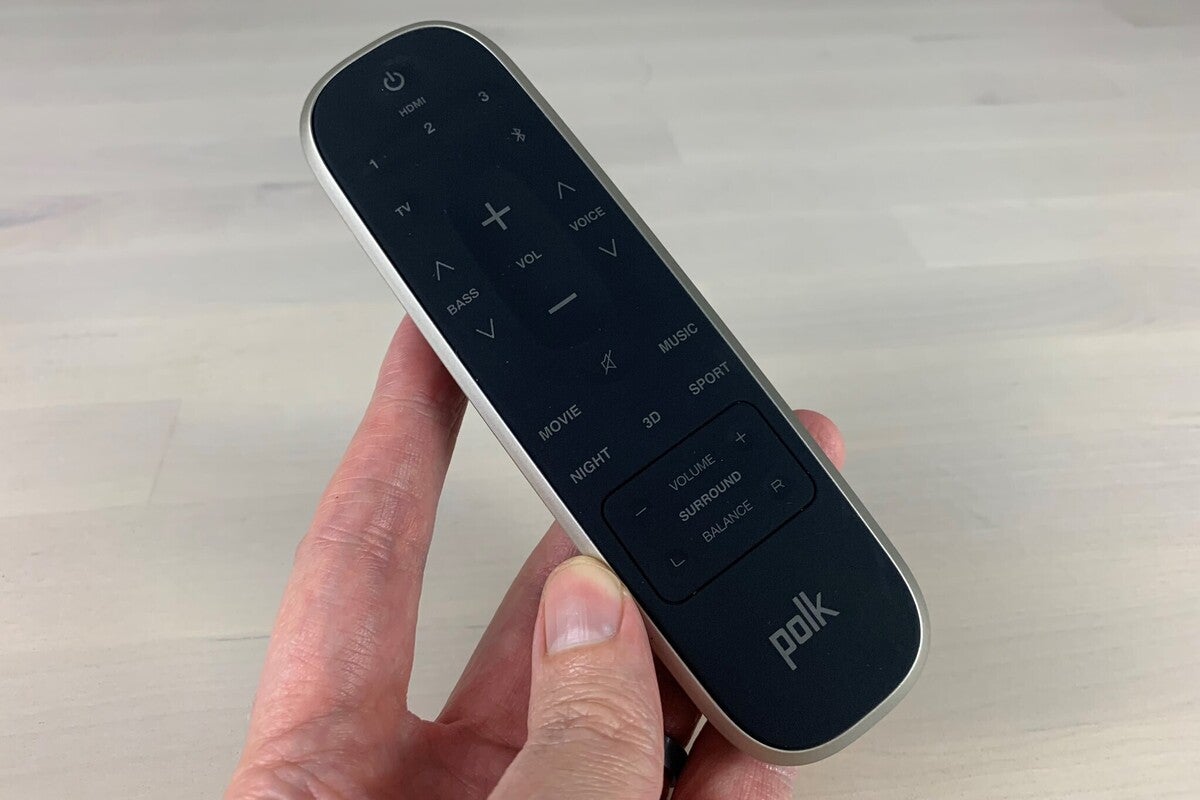 While the MagniFi 2 is Wi-Fi-enabled, it lacks a dedicated mobile app for controlling playback tweaking its settings. You can take some measure of control using the Google Home app, but for the most part, the available settings (volume, speaker name, room, speaker group, and so on) are pretty much the same as they are for any Google smart speakers, which means no equalizer or discrete volume levels.
Features and functionality
The Polk Audio MagniFi 2 comes with built-in Chromecast, which means you can "cast" audio to it from supported Chromecast-enabled apps such as Spotify, YouTube Music, Tidal, Deezer, Qobuz, and so on. You can also add the soundbar to a Google speaker group for multi-room audio, as well as designate it as the preferred audio playback speaker for, say, a Google Nest Mini or a Google hub. If your favorite music app (such as Apple Music) doesn't support Chromecast, you can always stream tunes to the soundbar via Bluetooth 4.0.
Besides its Chromecast support, the MagniFi 2 also supports Google Assistant voice commands, but only to a limited degree. You can, for example, ask Google to play music on the MagniFi 2 as you would any Chromecast-enabled speaker ("Hey Google, play The Beatles on Polk Soundbar") as well as control the volume and pause or resume the music. That said, a Polk rep told me that Google Assistant voice commands won't work for soundbar functions on the MagniFi 2, which means you won't be able to ask the Assistant to change video inputs or sound modes, and in my tests, asking Google to turn the soundbar on or off didn't work, either. Still (and as I've said before), I don't think it's a dealbreaker for a soundbar to have iffy or no voice assistant support, given that it's almost always easier to simply use the remote.
Click here to read about the MagniFi 2's sound modes and performance
Sound modes
The Polk MagniFi 2 offers a total of five audio modes. The Music mode boasts a narrower, "more natural" sound, while Movie mode bumps up the bass and widens the sound stage. The dialog-enhacing Sports mode is a de facto "voice" mode, although at any time, you can press the "Voice" volume buttons on the remote to either boost or dial down the dialog. There's also a Night mode, which compresses audio dynamics for late-night listening (always a plus in our book).
Finally, 3D mode creates virtualized height cues by way of Polk Audio's in-house SDA audio processing, essentially tricking your ears into thinking they're hearing sound coming from the ceiling. It's worth noting that unlike other 3D sound modes, Polk Audio's version is exclusive of the soundbar's other sound modes; in other words, you can't activate Movie mode and 3D mode at the same time. After sampling the various sound modes, I opted to keep the 3D mode enabled for movies and TV shows, while sticking with Music for tunes.
Performance
When it comes to virtual 3D modes, balance is the key. If the virtual 3D effects are too aggressive, they tend to add an unpleasant harshness to the sound. If the effects are too subdued, well, what's the point? Polk Audio audio seems to have taken a more conservative route with its 3D audio technology, opting for dialed-back effects to keep the shrillness at bay. That's mostly a good thing, given that toned-down virtual 3D effects are preferable to exaggerated but harsh-sounding ones. The bad news, however, is that the MagniFi's prowess in the virtual 3D department is undercut by its underwhelming bass response.
Starting off with the battle on Hoth from Star Wars: The Empire Strikes Back (the UHD version), I liked the MagniFi 2's overall flat sound signature (flat as in sonically flat, not boring flat), and I could hear some subtle virtualized height effects, such as when a hog-tied Imperial Walker tumbles and explodes, spewing debris that cascades into the air before plopping into the snow. The dialog in the Falcon ('Never tell me the odds!") sounded impressively crisp and clear for a soundbar lacking a center channel, although Han's voice sounded a tad quiet until I maxed out the "Voice" volume setting. And while the MagniFi's height and surround effects were somewhat restrained compared to similar soundbars with virtual 3D modes (I only got a vague sense of surround cues as the Rebel snowspeeders buzzed the Imperial Walkers) the soundbar's 3D audio mode was thankfully free of the annoying harshness that plagues many of its competitors.
Unfortunately, the MagniFi 2's bass response leaves much to be desired. During the battle on Hoth, the footsteps of the Imperial Walkers should sound like solid, tight thunks; instead, the thunks were replaced by dull squishes. And when the corkscrewing Millenium Falcon shot past the screen during the Star Destroyer chase, the deep roar of the Falcon's engines was conspicuously absent. Cranking the bass only resulted in an overall—and unpleasant—boominess.
Switching over to the launch sequence from Apollo 13 (the UHD Blu-ray again), I had a similar reaction. While I admired the overall crisp, flat sound of James Horner's soaring score, the bass was curiously missing. For example, as the Saturn V rocket rises off the launchpad and shoots past the camera, there should be a deep rumble, not a light whoosh, while the punch of the Saturn V's stage separations sounded more like a light pop. On the plus side, the MagniFi's 3D mode was again shrill-free, even if the surround effects (such as the gurgle of the fuel pumps just prior to launch) were quite subtle.
I also sampled the opening drag race of 2 Fast 2 Furious, and I appreciated the clear dialog at the raucous starting line (albeit with the "Voice" volume setting cranked up) and the clean but restrained 3D effects as Brian, Suki, and their fellow racers hurtled around the makeshift course. Once again, though, I was disappointed by the deficient bass, with the huge beats of Ludacris's "Act a Fool" on the soundtrack sounding pale and empty.
The story improves somewhat when switching to music (I streamed music from Spotify via Chromecast), with the title track of Bruce Springsteen's The Ghost of Tom Joad sounding crisp, flat, and natural, with plenty of detail in his unadorned vocals and reedy harmonica plus a nice, gentle warmth as the synthesizers kicked in. I also enjoyed the clean timbre of Bertrand Chamayou's keystrokes during his performance of Maurice Ravel's solo piano works for Erato. Ciara's "Level Up," however, was again deficient in the bass department, and while dialing up the bass volume helped to fill the gap, the audio was overly boomy when I switched directly back to Tom Joad.
Bottom line
The MagniFi 2 does a solid job at delivering virtual 3D thanks to Polk Audio's SDA audio processing technology, while its Chromecast support and trio of HDMI inputs are welcome additions for a $499 soundbar. But mediocre bass hamstrings the MagniFi's overall sound, and that's a shame given the soundbar's otherwise impressive performance.