At a Glance
Expert's Rating
Pros
Great sound for a $100 smart speaker
Handsome rectangular design (it grows on you)
Google Assistant aided by on-device AI chip
Cons
Google Assistant's smart home compatibility falls short of Alexa's
Capacitive touch controls and mic mute switch are well hidden
Our Verdict
Improving on the original Google Home in every way, the Google Nest Audio is the new $100 smart speaker to beat.
Best Prices Today: Google Nest Audio
The replacement for Google's original, now discontinued smart speaker is here, and after listening to it for a few days, I'm not missing the old Google Home one bit. The rectangular Nest Audio delivers truly impressive sound considering its $100 price tag, and its sturdy, fabric-covered design looks handsome in person. With Google Assistant on board, the Nest Audio can also respond to voice commands and take charge of smart home devices. Waiting in the wings, however, is Amazon's refreshed Echo speaker, which also costs $100 and packs in stereo (rather than mono) sound, plus a Zigbee smart home hub.
Design and specifications
From the moment pre-announcement photos of the speaker appeared online, the Nest Audio's industrial design provoked furrowed brows and even some derision; indeed, I wrote that it looks like a "potato sack" or "a pillow standing on end." Well, shame on me. Seeing it in person, the Nest Audio looks smaller than I imagined, and certainly more stylish and elegant than a crumpled pillow.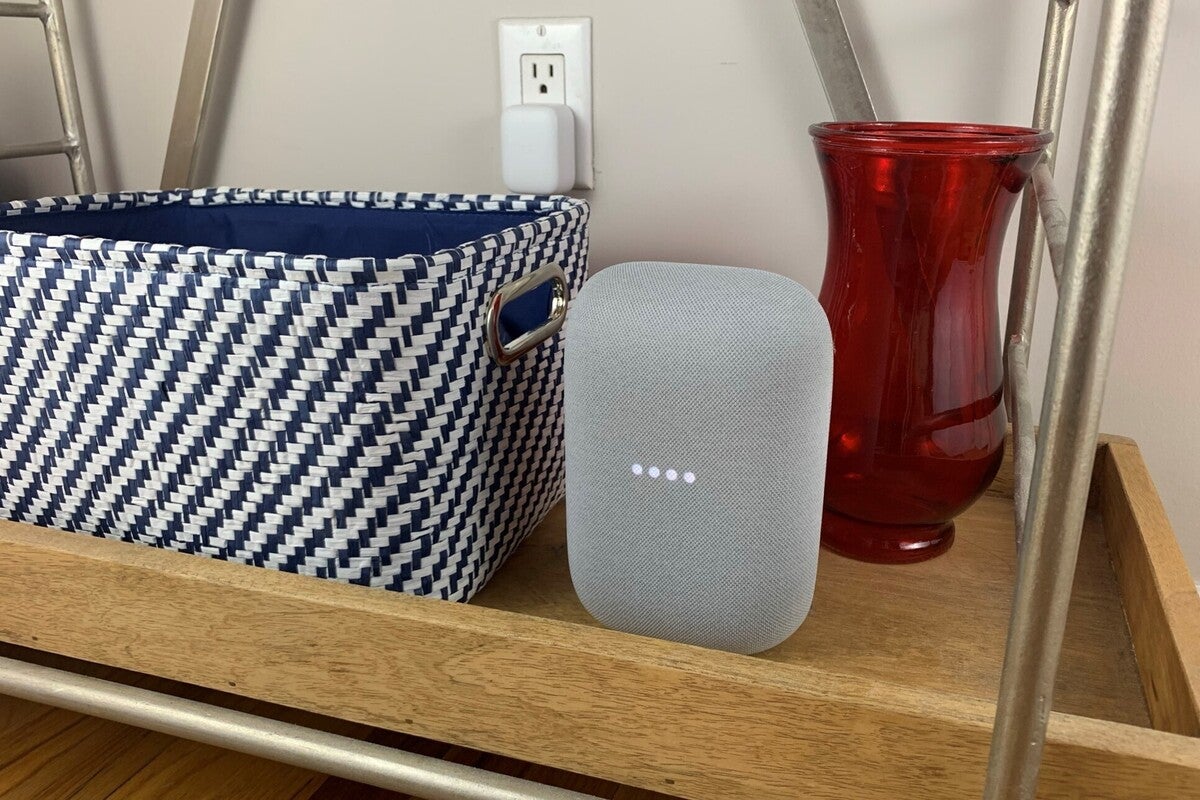 Placing it next to a red vase on a shelf near my dining room table, I actually thought it looked pretty sharp. The Nest Audio's design makes even more sense when you see how its two front-firing drivers (a tweeter and a mid-woofer, which we'll discuss in more detail momentarily) are vertically stacked, just like a conventional speaker.
Measuring 6.89 x 4.89 x 3.07 inches (HxWxD), the Nest Audio is more than an inch taller than the Google Home speaker it's replacing, but it's a half inch shorter than the biggest Google speaker, the Google Home Max. Weighing in at 2.65 pounds, the Nest Audio feels reassuringly substantial, and given its heft along with its broad, rubberized base, the speaker never felt in danger of tipping over.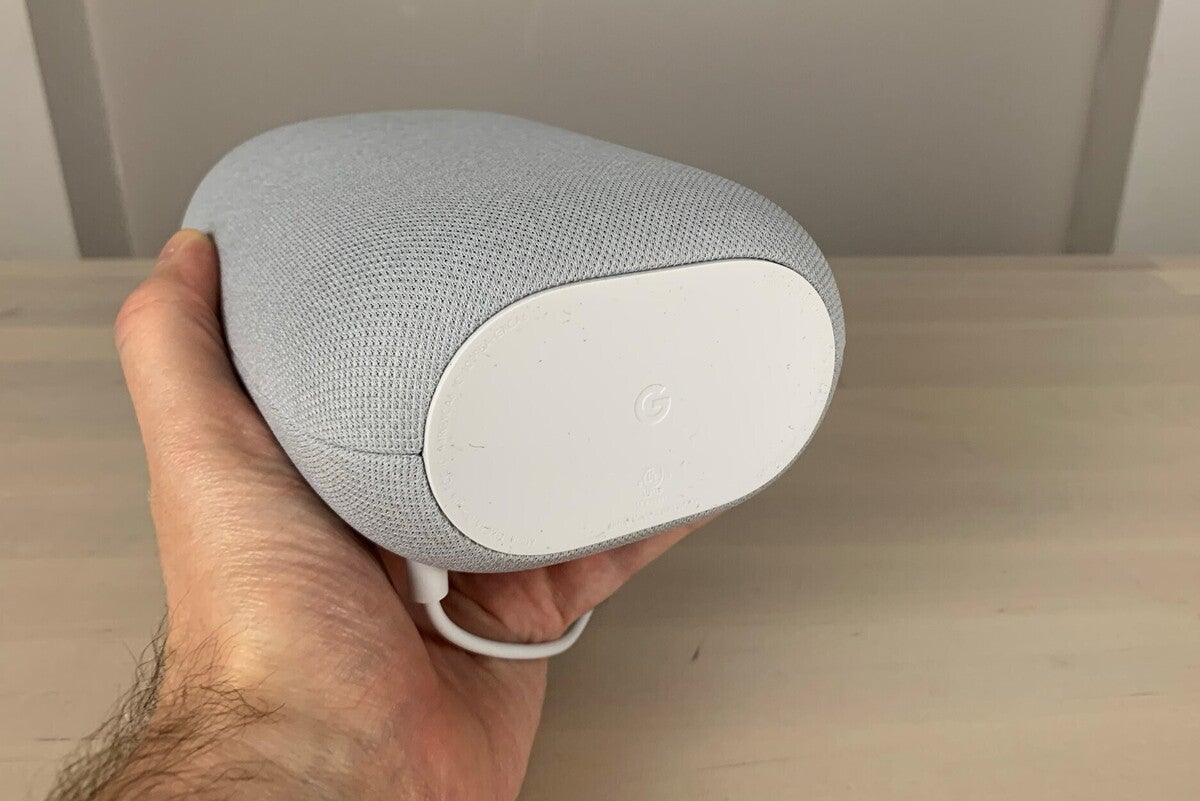 The Nest Audio's tight, tactile fabric covering, which comes in "chalk", "charcoal," "sage," "sand," and "sky" flavors (I tested the chalk version), should feel familiar to anyone who has a Google Home Max or a Nest Mini. The fabric wraps around the entire shell of the Nest Audio, save for its base. The front of the Nest Audio is featureless, save for the four telltale LEDs that peek through the fabric when you're chatting up Google Assistant or adjusting the speaker volume.
Ports and connectors
As for ports on the Nest Audio, there's only the barrel-shaped DC power port in back. That port connects to a roughly five-foot power cord with a 24V adapter, necessary to accommodate the Nest Audio's 30W power draw. That adapter comes in the form of a chunky, 1.5 x 2-inch wall wart, which will block any outlet that's directly beneath it.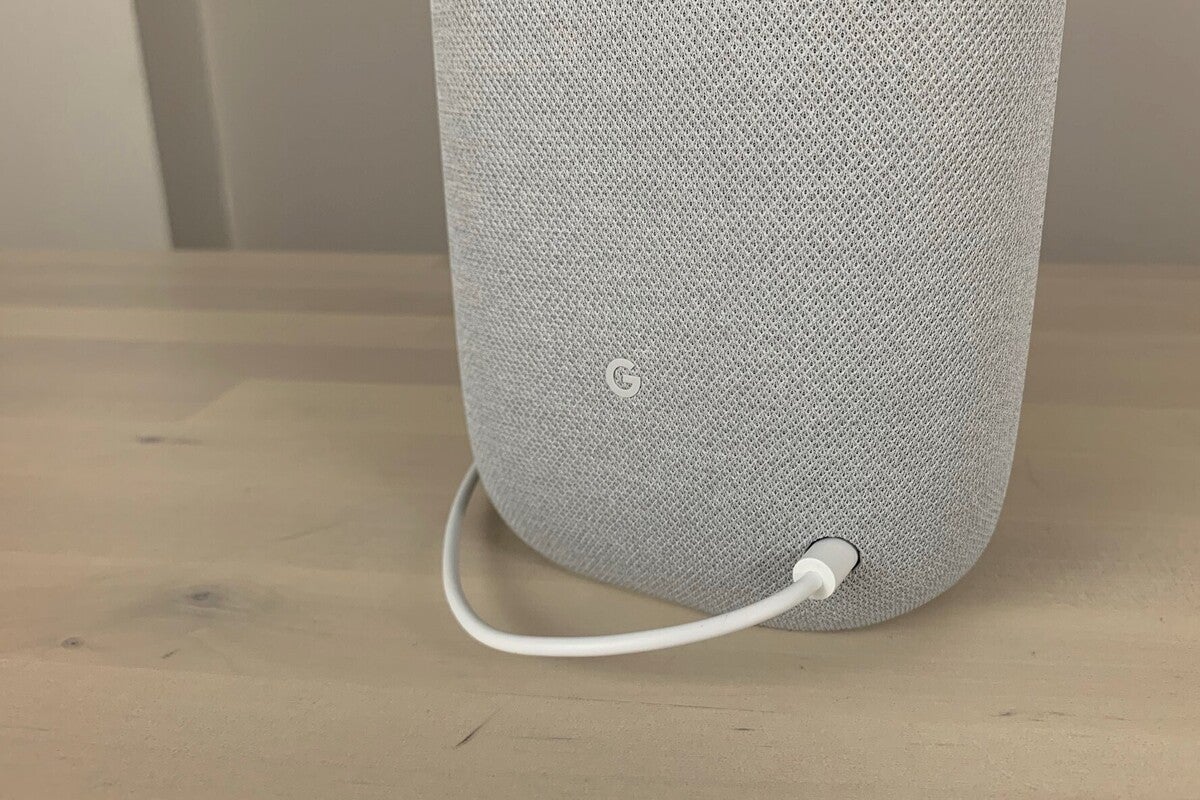 Notably, there's no 3.5mm audio jack for connecting an external speaker, although one could argue that with its improved speakers (compared to the Google Home), the Nest Audio doesn't need an analog audio output. In any case, if you do want to connect the Nest Audio to an external speaker, you can always do so via Bluetooth 5.0. (It's worth noting that most of Amazon's competing Echo speakers do come with 3.5mm audio outputs.)
Setup
As with Google's other smart speakers, getting the Nest Audio connected to Wi-Fi is a snap. If you're already using the Google Home app, a "Set up Nest Audio" banner simply appears at the top of the app's main interface. Tap it, and the app connects the Nest Audio to your Wi-Fi network; I had to pick my network from a list of nearby Wi-Fi networks, but I didn't need to enter my network password. If this is your first Google speaker and you're new to the Google Home app, you'll need to install the application and sign in with your Google account to get started.
Mentioned in this article
Google Nest Mini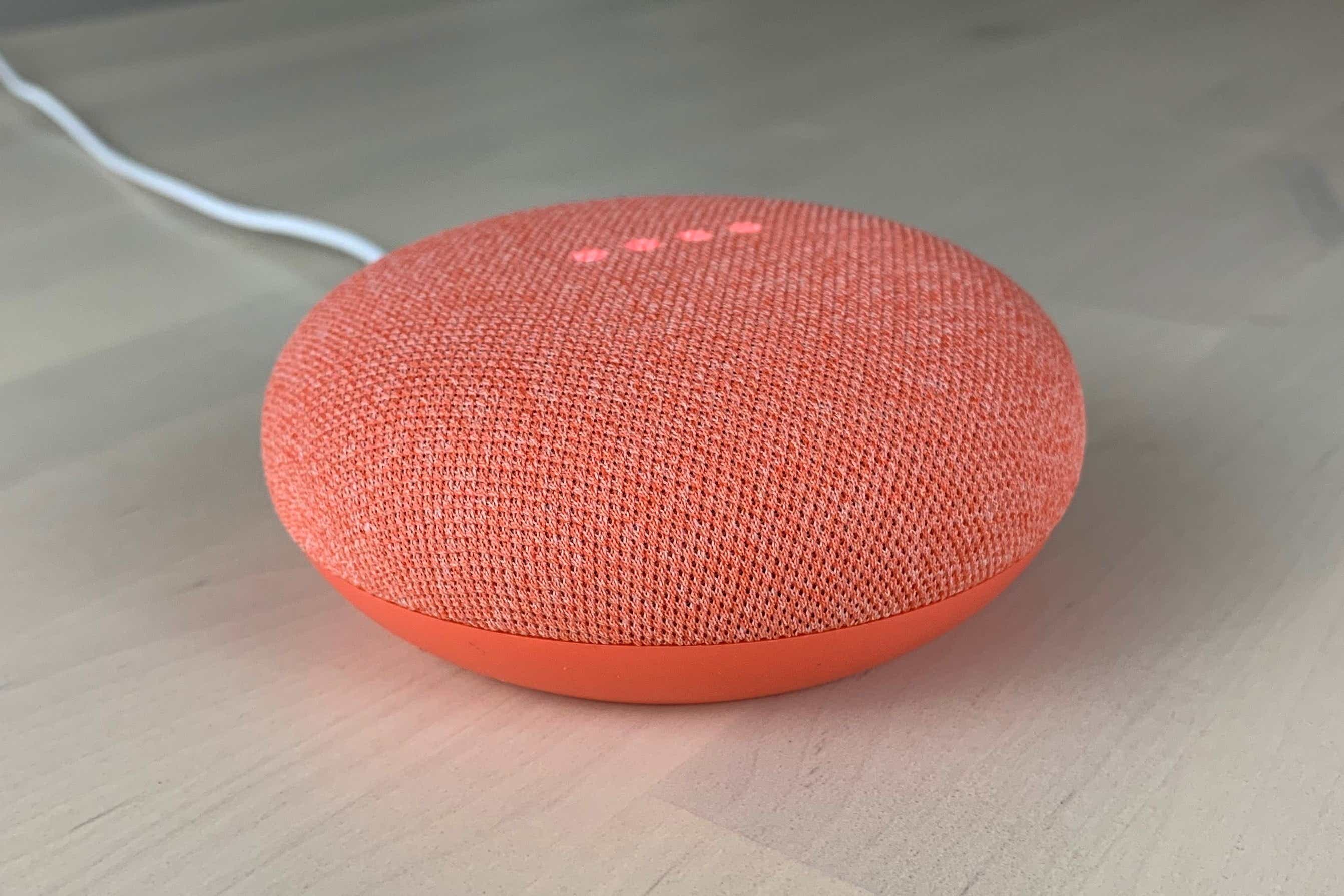 While connecting the Nest Audio to your home wireless network will likely be done in less than a minute (it was for me), you'll spend considerably more time navigating a parade of opt-ins and disclaimers for Google's various services and privacy policies. For example, the Google Home app will give you the option of activating Voice Match, a feature that lets Google Assistant identify you according to the sound of your voice. You'll also need to decide whether the Assistant can save recordings of your voice (a flashpoint in last year's brouhaha over the "human review" of recorded voice assistant interactions), as well as whether you'd like personalized results when you ask to hear your agenda or look up a contact. To enable many of these options, you'll need to agree to lengthy privacy agreements.
Once you've waded through the thornier Google Assistant options, you'll get the option of linking music and video services, as well as setting up voice calls via Google Duo. Finally, you pick which room of your home the Nest Audio will occupy ("Dining Room, "Entertainment Room," "Kitchen," and so on), firmware updates (if any are needed) are automatically installed, and you're ready to go.
Physical controls
While the Nest Audio doesn't have any obvious audio playback controls, you can control music on the speaker by tapping it.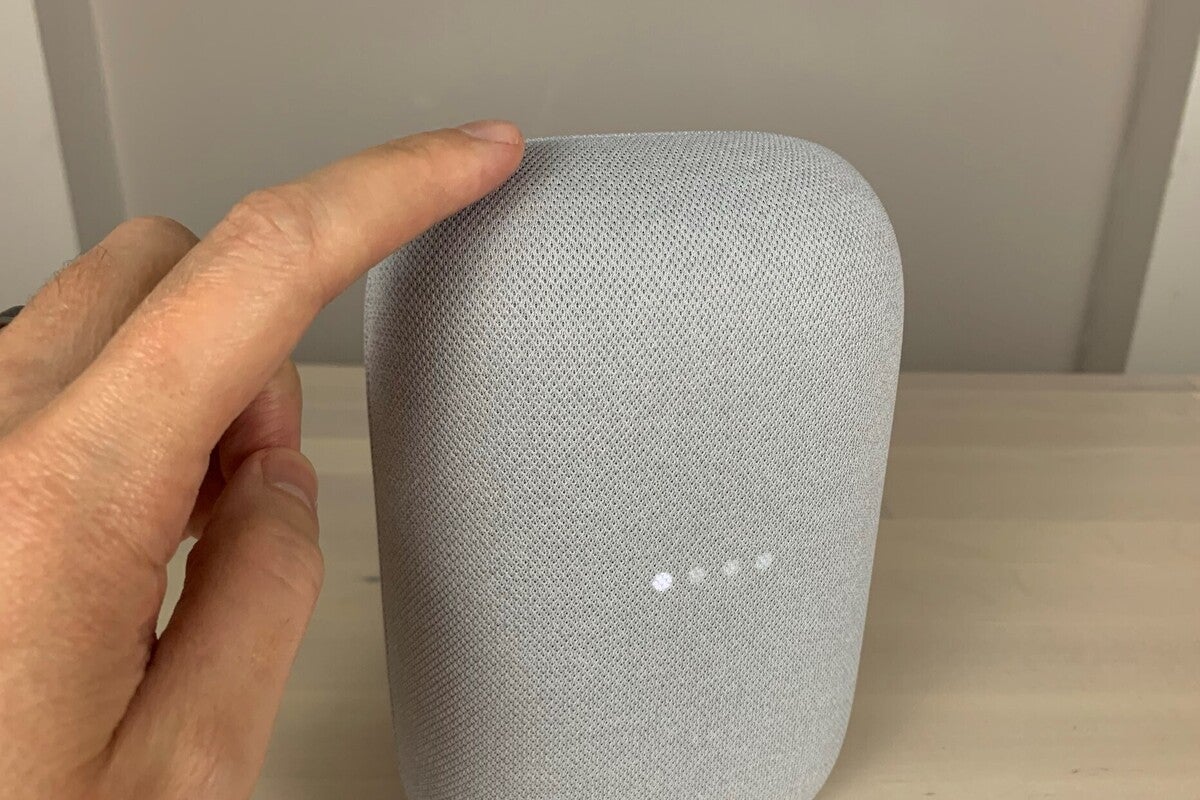 If you tap the very top of the speaker, you'll pause any music that's playing; tap the top again, and playback will resume. You can also adjust the volume by tapping the left top corner (volume down) or the right top corner (volume up). When you tap any of the capacitive buttons, the four LEDs on the speaker will light up, with the number of bright dots corresponding to the volume level. Pretty cool, but unless you've happened to read the instructions, there'd be no way to know that the invisible buttons are there, and unlike last year's Nest Mini, there are no proximity LEDs that light up when your fingers are near the buttons.
Besides the capacitive-touch playback and volume buttons, there's also a microphone mute switch in back of the Nest Audio. When you engage the switch, Google Assistant will say "The mic's off," and the four front LEDs will glow orange.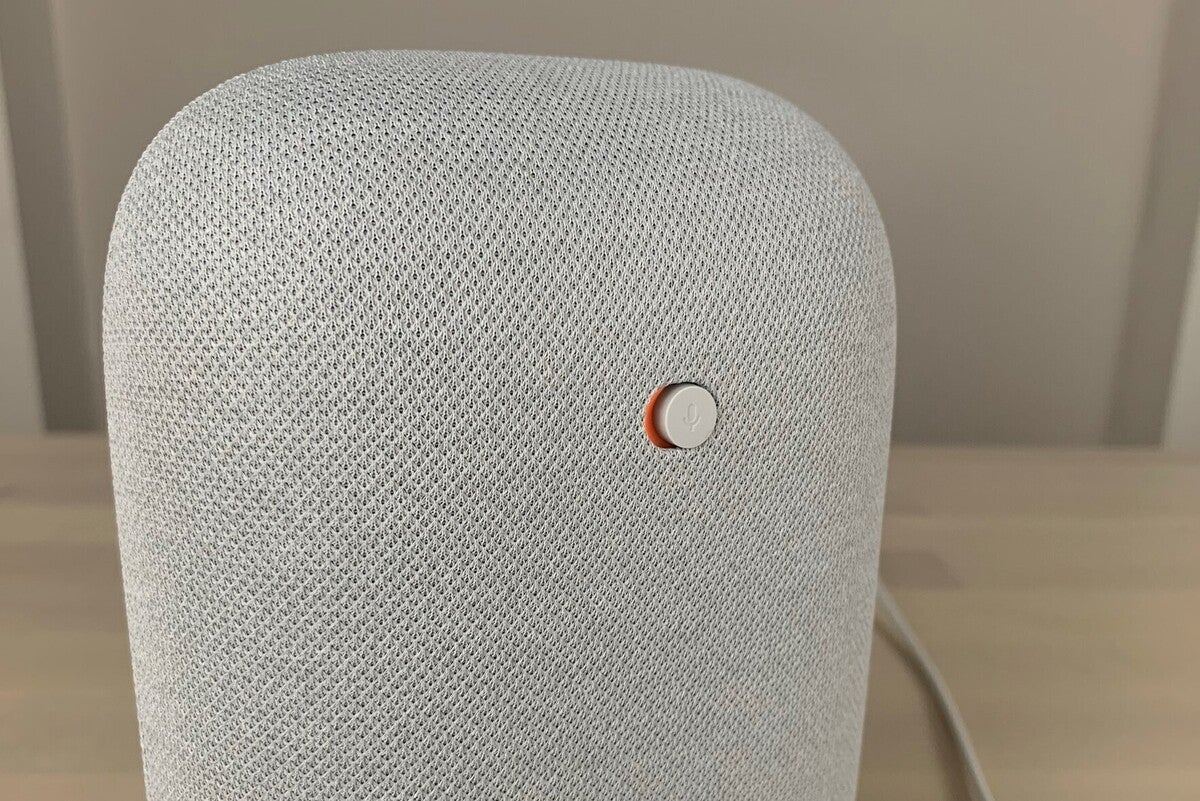 Because the mic mute switch sits in the back of the Nest Audio, it's easy to miss unless you know it's there; we'd prefer that the switch were placed a little more prominently, perhaps on the top side of the speaker.
Chatting with Google Assistant
Google Assistant remains one of the most intelligent voice assistants around, and since it's backed by Google search, the Assistant is tough to stump. You can also ask the Assistant to set alarms, check your schedule, tell you the weather, read headlines, play music, or even call one of your contacts (thanks to the Nest Audio's support for the Google Duo voice- and video-calling app).
As with last year's Google Nest Mini, the Nest Audio comes equipped with its own dedicated machine-learning chip that processes your questions locally, versus sending them to the cloud, which speeds the Assistant's responses. Google Assistant still takes a moment or two to mull your queries before doling out its answers, but it's nonetheless relatively quick to respond, and Google says the chip can also help the Assistant learn your favorite commands and requests.
The Nest Audio is outfitted with a trio of far-field microphones designed to catch your voice even when you're across the room. Standing in one corner of my dining room while the Nest Audio was in the other, a good 20 feet away, Google Assistant was able to answer my questions even when I spoke in a quiet voice. Nice, but the three-mic array does have its limits, as I learned when my calls to the Assistant went unheeded after I backed into an adjacent room a few more feet away.
Controlling your smart home devices
Google Assistant has long trailed Amazon's Alexa when it comes to smart home compatibility, but it's catching up fast. At last count, the Assistant can control more than 50,000 smart home devices from 5,500 brands, including such prominent names as Philips Hue, TP-Link/Kasa Smart, Harmony, LG, Samsung, August, Arlo, and Wyze. Naturally, Google Assistant also integrates with Nest-branded smart-home devices, including security cameras, doorbells, and thermostats.
Add a Nest Audio to your compatible smart home system and you'll be able to control your home with voice commands. Say "Hey Google, turn downstairs lights off," for example, to douse the light in your basement, or "OK Google, I'm home now" to activate a routine that (say) switches on your kitchen lights, tees up your favorite playlist, and opens your drapes. And if you're a Nest Aware subscriber (starting at $6 a month), the Assistant can even alert you if it hears the sound of smoke alarms or breaking glass.
Music and audio quality
Of course, one of the Nest Audio's primary upgrades compared to the Google Home is—you guessed it—is audio performance. Google says the Nest Audio should be about 75 percent louder than the Home, while delivering 50 percent deeper bass along with better overall clarity.
While the discontinued Google Home had a single 50mm full-range driver and dual 50mm passive radiators to enhance its bass response, the Nest Audio comes equipped with a 75mm paper-cone mid-woofer and a 19mm textile-dome tweeter driven by a pair of Class D amplifiers. A wave guide enclrcling the tweeter helps to spread higher frequencies evenly around the room (bass is generally nondirectional). The Nest Audio's DAC can handle audio with up to 24-bit resolution and sampling rates up to 48kHz.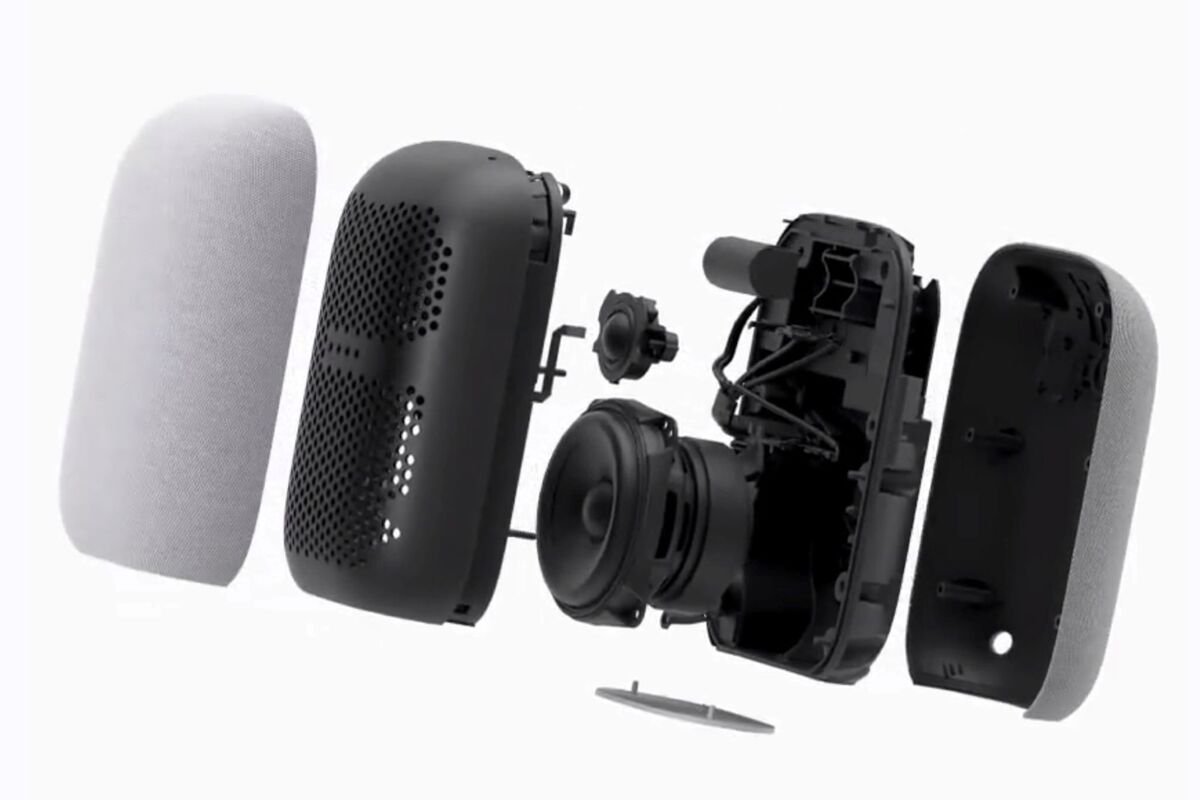 Now, I don't have a Google Home speaker on-hand for an A/B comparison, but I can say that for a $100 powered speaker, smart or otherwise, the Nest Audio punches well above its weight. Just to be clear, we still think that the three-year-old Google Home Max and the Amazon Echo Studio, which supports 3D audio (including Dolby Atmos), deliver better sound. But at $300 and $200 respectively, the Home Max and Echo Studio are both much pricier than the Nest Audio.
Mentioned in this article
Google Home Max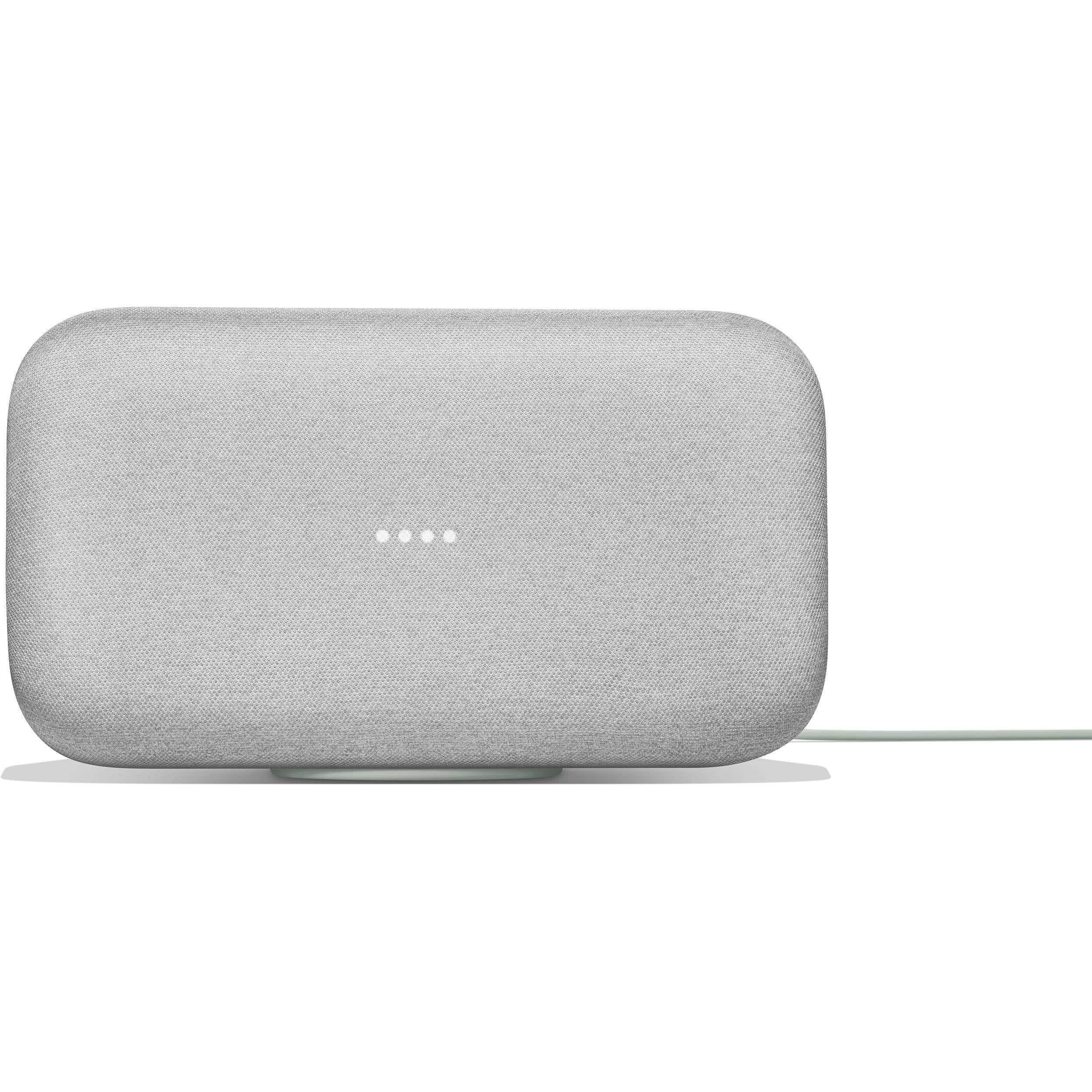 Price When Reviewed:
$179
Teeing up Carlos Kleiber's legendary recording of Beethoven's Fifth Symphony with the Vienna Philharmonic for Deutsche Grammophon, I was impressed not only by the detail of the strings and the punchiness of the timpani but also the attention to the mid-range; in other words, we're talking full, detailed, deep (but not overly boomy or muddy) and surprisingly well-balanced sound, which you generally don't hear from a $100 speaker.
I also sampled the title track from Bruce Springsteen's The Ghost of Tom Joad, and I liked the natural sound of The Boss's spare vocals, the reediness of his harmonica, and warmth of the synthesizers. The driving beats of Ciara's "Level Up" sounded deep but pleasingly tight, while "Band on the Run" by Paul McCartney and Wings was impressively crisp and full-bodied, even when I cranked the volume. That's high praise for a smart speaker in this price range.
Besides the design of its drivers, the Nest Audio employs a trio of audio technologies to boost its sound in different scenarios. An Ambient IQ feature ups the volume of Google Assistant (but not music) depending on the background noise, which I noticed when the Assistant raised its voice to compete with a whirring fan. Media EQ tunes the sound according to whether you're listening to tunes, podcast episodes, or Google Assistant, while a bass extension feature favors lower frequencies when you dial down the volume.
Mentioned in this article
Amazon Echo Studio
Price When Reviewed:
$200
The Nest Audio is a monophonic speaker, but you can pair it with a second Nest Audio for stereo performance. You can also ask Google Assistant to transfer your music from, say, the Nest Audio in your den to the Nest Hub Max in your kitchen, or you can add the Nest Audio to a Google speaker group to pipe tunes throughout your house. During most of my testing, I had the Nest Audio in a speaker group with a Nest Hub Max in my nearby kitchen, and I didn't hear any latency issues between the two devices while they were playing the same music.
Like Google's other smart speakers, the Nest Audio is compatible with music-streaming services as YouTube Music (naturally), Spotify, Pandora, and Deezer, and you can "cast" audio to it via Chromecast-enabled apps, including the higher-resolution music services Qobuz and Tidal.
Nest Audio or Amazon Echo?
Naturally, the $100 Nest Audio invites comparison with the $100 Echo, Amazon's flagship smart speaker that just got a spherical revamp. That said, it's tough to stack them against each other given that we've neither seen (not in person, anyway) nor heard the new Echo, which isn't slated to ship until later this month.
We can tick off several empirical differences between the two speakers, starting with the most obvious: the Nest Audio is powered by Google Assistant, while the Echo runs on Alexa. Each of those voice assistants has its pros and cons—the Assistant has the edge on sheer knowledge thanks to Google, while Alexa (which is compatible with more than 100,000 smart home devices, versus about 50,000 for Google Assistant) is tops when it comes to smart home compatibility—but in the end, the deciding factor may be whether you're already invested in one assistant or the other. If, for example, you already have a few Google Nest Minis scattered around the house, you'll probably want to go for a Google Assistant-powered Nest Audio rather than the Echo and Alexa.
Other differences include the fact that the Echo has prominent physical volume and mic mute buttons rather than capacitive ones, while the Echo has twin tweeters that deliver stereo sound, compared to the Nest Audio's mono sound. Now, it's questionable whether the Echo's drivers can offer much in the way of stereo separation within such a small housing, but again, we can't pass judgement on the Echo's audio quality until we've actually heard it.
The Echo also has a built-in Zigbee home hub, allowing it to control Zigbee-enabled devices like Philips Hue smart lights, and it will also act as a bridge for Sidewalk, Amazon's upcoming long-range, low-power neighborhood network. That said, without also supporting the other big smart home standard—Z-Wave—the Echo isn't the smart home ace in the hole that it could have been.
Again, though, we won't render a verdict in the matter of Nest Audio vs. Echo until we've spent quality time with the new Amazon speaker.
Bottom line
Improving on the original Google Home in every way, the Nest Audio is the new $100 smart speaker to beat. It has great sound for a speaker in its price range, a handsome, homey design, intuitive controls (once you know they're there), and Google Assistant, which gets a boost thanks to an on-device machine learning chip. We're eager to compare the Nest Audio to the new, $100 Amazon Echo, which is set to arrive later in October. But for those already invested in the Google Assistant ecosystem, the Nest Audio is easy to recommend.
Best Prices Today: Google Nest Audio