At a Glance
Expert's Rating
Pros
Self-emptying dustbin
Excellent cleaning performance
Can clean targeted areas on demand
Cons
Clean Base requires more floor space than a conventional dock
Clean Base requirements can make setup complex
Our Verdict
The Roomba i3+ brings fully automated cleaning to a mid-priced robot vacuum.
Best Prices Today: iRobot Roomba i3+
$379.00 ($379.00 / Count)
iRobot's Roomba i7+ and Roomba s9+ were game changers with their self-emptying dustbins. They removed the last manual task—dumping all that collected dirt and debris—from robot vacuuming, making it a truly automated experience. Unfortunately, these model's $800-plus price tags put this luxury out of reach of many budgets.
The i3+ would seem to be iRobot's corrective. It includes iRobot's self-emptying dock—called the Clean Base—smart navigation, iRobot Genius Home Intelligence, Alexa and Google Assistant support, and other premium features for just $599. (The vacuum is also being sold as the i3 without the cleaning dock for $399.)
This review is part of TechHive's coverage of the best robot vacuum cleaners, where you'll find reviews of competing products, plus a buyer's guide to the features you should consider when shopping for this type of product.
Design
While the i3+ builds on both the aforementioned models advances, its design hews closer the to the i7+. The vacuum is round, rather than D-shaped as with the s9+, and features a partially textured top to give it some eye appeal, as the vacuum and its portly Clean Base aren't easily concealed. Clean, Home, and Spot buttons are on top in a pattern familiar for Roomba users, and an RCON sensor sits on the forward rim to aid in navigation to and from its dock.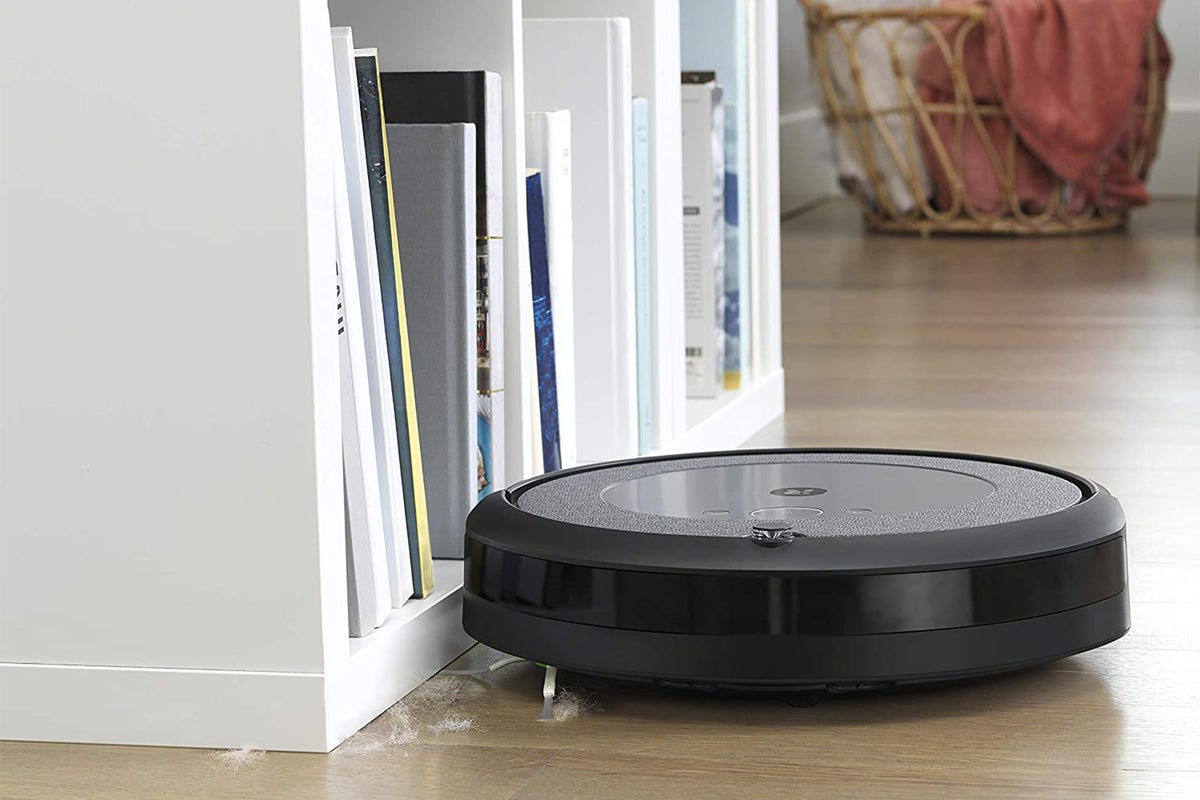 Underneath, the i3+ is equipped with a pair of multi-surface rubber brushes and a specially designed edge-sweeping brush, and its suction power is 10 times that of the Roomba 600 series. A high-efficiency filter captures 99 percent of pollen, mold, dust mites, and cat and dog allergens, according to iRobot.
The Clean Base, which is essentially a trash bin fused with a conventional charging dock, measures 12.2 x 15.1 x 19 inches (WxDxH) and houses a single disposable bag that holds 60 days' worth of dirt. When the vacuum docks to recharge, a vent on the Clean Base sucks the dustbin's contents from a port on the bottom of the vacuum. You can also trigger this process on command from the iRobot Home app.
Included with the i3+ are two bags and one extra filter. You can purchase three-pack replacements for each of the last two for $20 and $35 respectively.
Setup and performance
As with its predecessors, the i3+ is easy to set up but requires some forethought. The Clean Base requires four feet of clearance in front of it and 1.5 feet on either side. It also needs 1 foot of clearance on top to accommodate its open lid, and it must be at least four feet from any stairs. This is all in addition to the usual requirements of proximity to an electrical outlet and a wall to set the Clean Base against.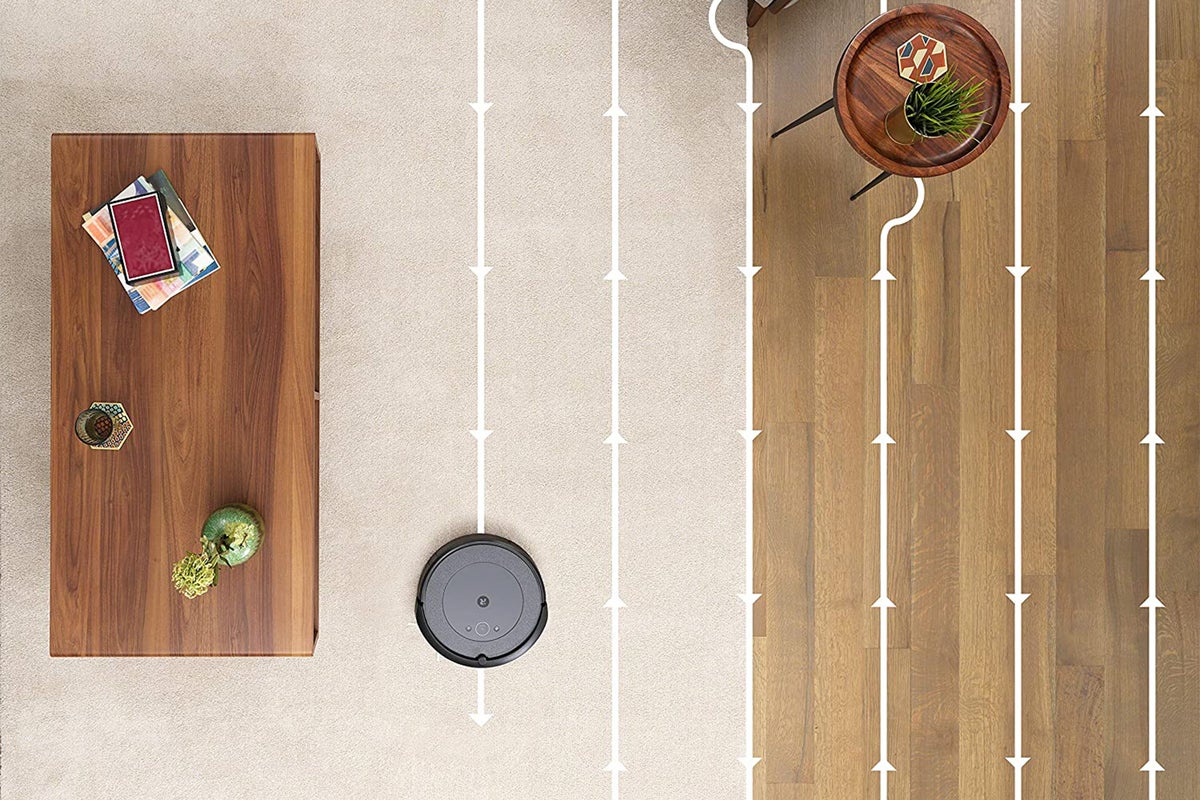 When all that's sorted, you set the vacuum on the dock's charging pins and follow the iRobot Home app's prompts to connect to your Wi-Fi network. This took just a couple of minutes for me.
At is most basic, cleaning is a simple as pressing the Clean button on the vacuum and letting it do its thing. The robot will navigate the room using its various sensors and clean in neat, methodical rows, returning to the dock when it needs to recharge its battery, empty its dustbin, or the cleaning job is done. During cleanings, it uses iRobot's Dirt Detect technology to identify areas of built-up dirt and will go over the area multiple times until its cleaned. You can spot clean a designated area by tapping the Spot button on top of the vacuum; the robot will clean in an outward spiral up to about 3 feet until the floor is scrubbed clean.
After a job is completed, the redesigned iRobot Home app saves a map of the layout showing you where it cleaned. These aren't the smart maps you get with the i7+ and s9+, so you can't designate rooms, set no-go zones, or deploy the vacuum to specific spots, but they do give you an idea of how well the i3+ has covered the room.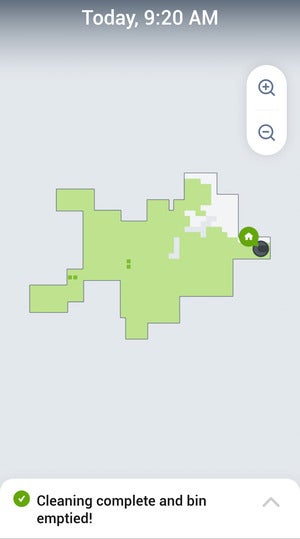 If you'd rather run the i3+ when you're not home, you can schedule cleanings in two ways. A conventional clock-based system lets you set a start time and repeat it on designated days. Alternately, you can use location-based cleaning when you pair the i3+ with a service like Life360 or the August Wi-Fi Smart Lock. When this is enabled, the vacuum will start cleaning the first time it detects you leaving your home on the chosen days.
iRobot says that it will soon be adding an additional feature to the i3+: the ability to set cleaning intervals of 15, 30, or 45 minutes. The feature is intended for short cleaning jobs, and when it's enabled, the vacuum will clean outward from its dock for the selected duration. It appears you'll be able to add your desired intervals as one-touch widgets to the Favorites menu in the iRobot app.
I was impressed with how well the i3+ cleaned the downstairs level of my home. The layout includes carpet, hardwood, and vinyl tile and vacuum did a fantastic job removing the dust, pet hair, and food crumbs that settle on these each day. The vacuum transitioned the different floor types with ease, and the few times it got hung up on an obstacle, I was immediately alerted in the app.
After each cleaning job, the app produced a cleaning report. These included a map of the area cleaned, with darker patches denoting particularly dirty areas that were given more attention; the square footage of the area cleaned; and the duration of the cleaning. These reports are saved in a comprehensive cleaning history.
As you use the i3+ over time, it learns your cleaning habits and makes recommendations. These can be schedules based on past cleaning jobs or cleaning suggestions based on pet shedding and allergy seasons. Most of these were pretty obvious—recommending I vacuum more often when a lot of pet hair was present or suggesting I clean at a particular time of day when it noticed I was usually running cleaning jobs at that time.
Verdict
The i3+ successfully brings some of the sophisticated features of its higher-end self-emptying models to a mid-priced robot vacuum. You don't get all the features of the i7+ or s9+—you don't get the customization that smart apps enable, for example, and it doesn't come with a virtual wall barrier, though you can buy one separately for $60—but those omissions are necessary to keep the price down. Still, you get enough advanced functionality to make vacuuming a lot less dreadful. If the i3+'s $600 price tag is within your budget, it's well worth considering for the luxury of fully automated cleaning.
This story was updated October 14 to correct our reporting on this product's capabilities. The overall verdict was not impacted.
Best Prices Today: iRobot Roomba i3+
$379.00 ($379.00 / Count)