At a Glance
Expert's Rating
Pros
Cleans carpeted and hard-surfaced floors
Multiple cleaning modes with strong suction
App provides real-time cleaning data
Cons
No physcial or virtual boundaries provided
No smart navigation
App frequently loses connection with robot
Our Verdict
The Amrobt 350 Pro's strong cleaning and low price make a great option for your first robot vacuum/mop hybrid.
Budget robot vacuums are nothing new, but it's rare to see robot vacuum/mop hybrids priced less than $300. That makes Amrobt's 350 Pro something of an outlier at just $178, particularly as it performs about as well as its higher-priced competitors.
The Amrobt 350 Pro looks like a lot like other robot vacuum/mop combos. Its circular body has a matte black finish with a glossy tempered-glass top. The cleaning hardware is fairly typical, consisting of one main roller brush and a pair of spinning side brushes. It has a slim water tank and a cloth module that attaches to its underside for mopping.
Accessories include the vacuum's charging dock and power supply, a remote control that runs on two AAA batteries, a pair of extra side brushes, and a cleaning tool to remove and hair or carpet fibers that get tangled in the brush bristles.
This review is part of TechHive's coverage of the best robot vacuums, where you'll find reviews of competing products, plus a buyer's guide to the features you should consider when shopping for this type of product.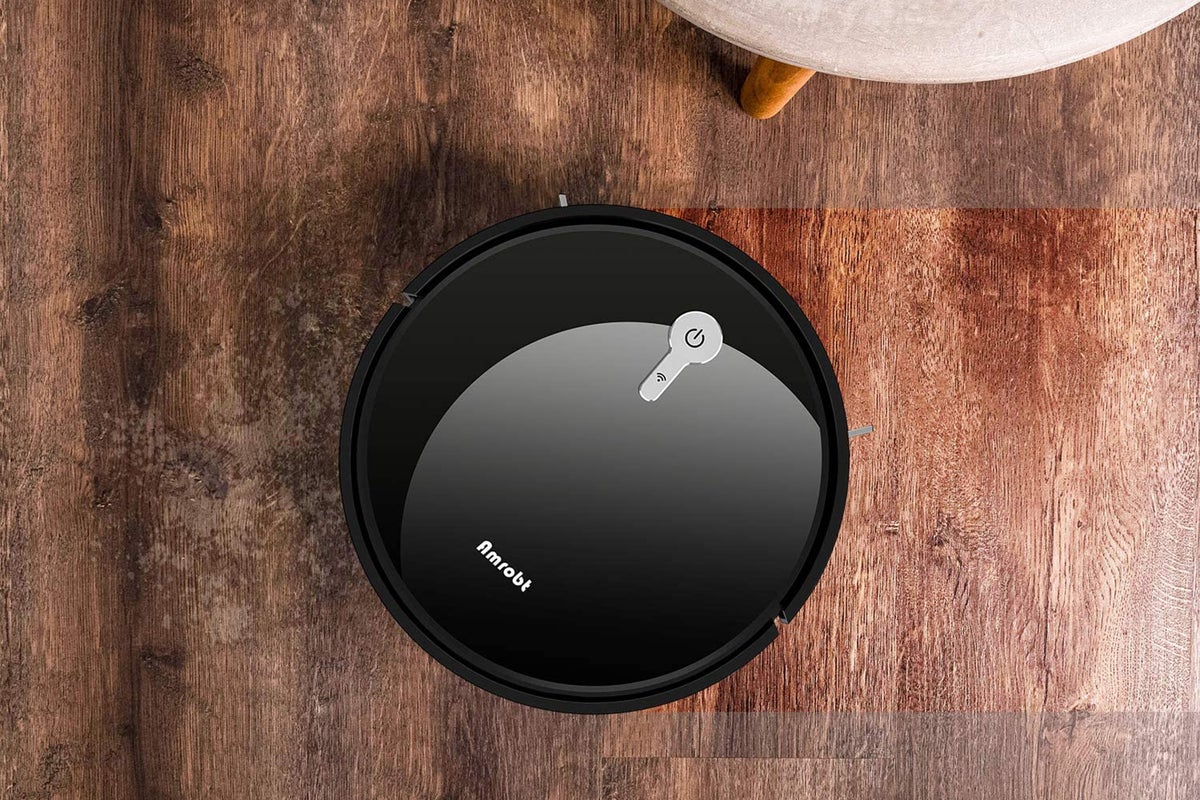 Installing the 350 Pro as your household helper is straightforward. Placing and plugging in the charging dock and snapping on the two side brushes is the extent of the assembly required. There's a power switch on the side of the vacuum you need to flip to power it on, then you just set the vacuum on the dock to charge.
The physical remote gives you complete control of the 350 Pro, but you can also use the third-party Smart Life app. Both options let you manage cleaning preferences and schedules, but the app also displays a floorplan of the room it's cleaning and adds details about each job. During the pairing process, the app scans for the vacuum and your Wi-Fi and prompts you through getting everything connected.
There are four cleaning modes. Auto mode, best for general cleaning, works in a random pattern, cleaning open areas, around furniture, and touching up along walls until an entire level of your home is cleaned. Zig-zag mode cleans in a more predictable up-and-down pattern. Edge mode cleans exclusively along walls, and Spot mode cleans localized areas in an outward spiral up to about three feet. In any of these modes, the vacuum returns to its dock when it's done or its battery dips below a 20-percent charge.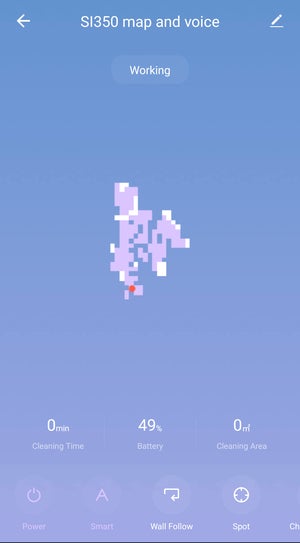 The 350 Pro is very quiet, so I didn't find it intrusive to run in the same room I was in. But if you'd rather schedule cleanings for when you're not home, you can do so by selecting a start time and day(s) of the week on the remote control or in the app.
I used the vacuum on the downstairs level of my home, which includes both low- and medium-pile carpet, hardwood, and vinyl tiles. Its 1800Pa suction was great at pulling up dust and dog hair, and it had no issues transitioning from one type of flooring to another or navigating around furniture. The only trouble it encountered was when one of its side brushes got ensnared in the medium pile carpet and pulled completely of the bottom of the vacuum. At that point, the vacuum stopped cleaning. This was an anomaly in a series of otherwise smooth cleaning sessions.
I took advantage of the mopping function to go over my kitchen floors. The microfiber cloth comes pre-attached to the water tank, so all I had to do was fill the tank with tap water. The 350 Pro vacuums and mops together, so you don't need to remove the dustbin as you do with some other models. You just snap the water tank over it.
The mopping results were about what I've come to expect from these hybrid vacuums. The 350 Pro drags its dampened cloth over the floor it has just cleared of debris, removing surface grime and leaving a glistening sheen of moisture. It's perfectly adequate for touch up cleaning, but be prepared to get your old stick mop out for deeper stains.
The Smart Life app is helpful, if not strictly necessary. The floorplan lets you see what areas have been cleaned in real time, and you can visually locate the vacuum on the map when you lose track of it. It doesn't have much utility beyond that, though; you can't set virtual boundaries or mark points to which you can deploy the vacuum as you can with other products and their proprietary apps. The cleaning time and area are also displayed and saved along with the floorplan in your cleaning job history.
And while my experience with the vacuum itself was mostly issue free, the app was consistently a problem. Starting during the setup, I intermittently received "network unavailable" messages and lost connection to the vacuum. I ran the "check device network" utility in the app several times and was told the network connection was poor. This didn't square with network tests I ran independently of the app, however. Also, I was running the same Smart Life app concurrently with Amrobt's MAX HEPA11 Air Purifier on the same network without any problem. I haven't seen this issue mentioned in any user reviews, so perhaps this part of my experience was another anomaly, but it was persistent enough to warrant mention.
On the whole, though, I was happy with the 350 Pro's cleaning performance, and it's a great value for a vacuum/mop hybrid. The app issue can be fixed with future updates, but capable cleaning at this price is hard to come by.