At a Glance
Expert's Rating
Pros
Pulls double-duty as a PA and pure listening speaker
Very good sound
Excellent and very granular mobile app for volume, EQ, and linking speakers
Affordable for a light-duty PA
Cons
Expensive for casual listening
Output level adequate only for small gatherings
Our Verdict
Mackie's unique PA/casual listening speaker sounds very good in either role. It's expensive in the latter scenario, but pretty cheap in the former. It's a delightfully cool product.
Best Prices Today: Mackie Freeplay Live
Mackie's Freeplay Live Bluetooth speaker caught me by surprise. I'm accustomed to personal speaker systems (those little boxes on stands that you see next to some of your higher-class street performers). Personal PAs (public address systems) that also sound excellent playing tunes—not so much. That's the Freeplay Live in a nutshell, hence the initially raised eyebrows and subsequent appreciation.
For those unfamiliar with the Mackie name, the company has been building affordable, high-quality studio mixers and monitors, live sound reinforcement, and other professional audio products since 1988. It's much less known in the consumer electronic circles we typically cover.
This review is part of TechHive's coverage of the best Bluetooth speakers, where you'll find reviews of competing products, plus a buyer's guide to the features you should consider when shopping for this type of product.
Design and features
Measuring 7.75 x 14 x 7 inches (HxWxD), the Freeplay Live is no dainty little travel speaker, which is what we usually review, That's actually on the small side for a personal PA, and its 9 pounds make it a little less hefty than the typical PA. It feels even lighter that that when you're lugging it around, thanks to a rounded-edge, easy-on-the-fingers handle integrated into the top of the unit.
Next to the cavity that forms the handle are the membrane control buttons: plus/minus for adjusting various levels including overall volume; a Bluetooth auxiliary input toggle; the input level selectors (mic/line); a Bluetooth pairing button; reverb on/off; and the Live/Music EQ toggle. The latter switches the overall sound from what you need for PA use, to a more clear mix for simple listening.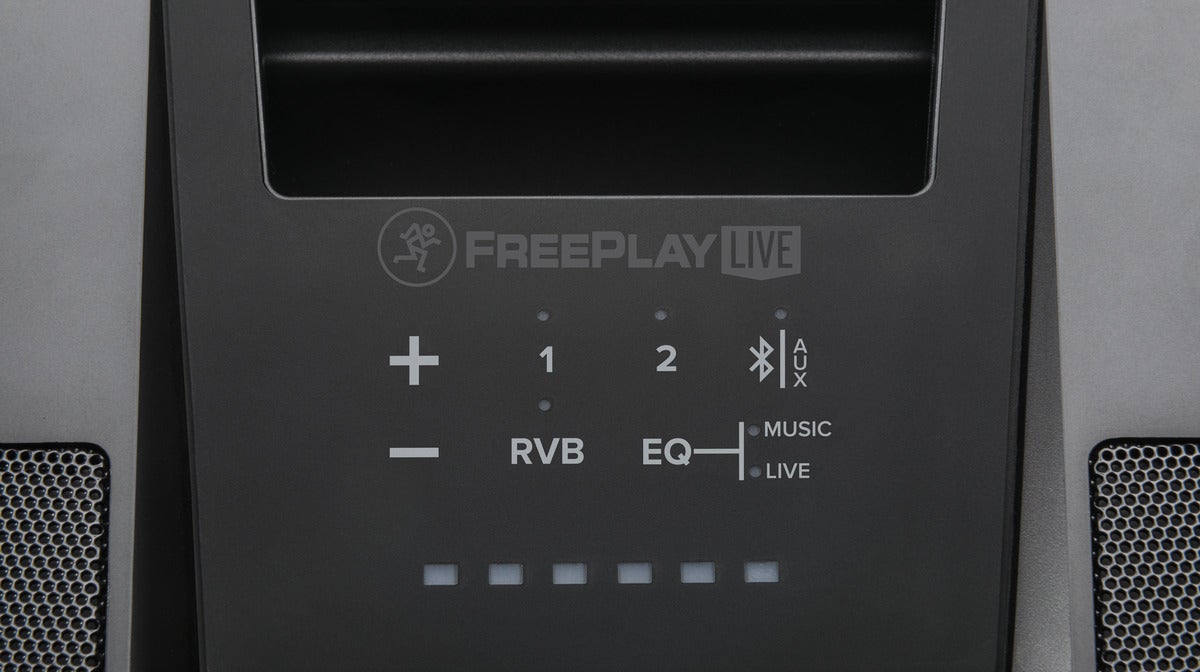 On the back of the Freeplay Live are a DC jack for the included AC adapter, a beefy power switch, two combo XLR-1/4-inch TRS (Tip/Ring/Sleeve) balanced microphone/line inputs, the 3.5 mm stereo auxiliary input, and a 1/4-inch monitor output. The latter is to pass through signals to outboard gear, such as another Freeplay Live or a subwoofer.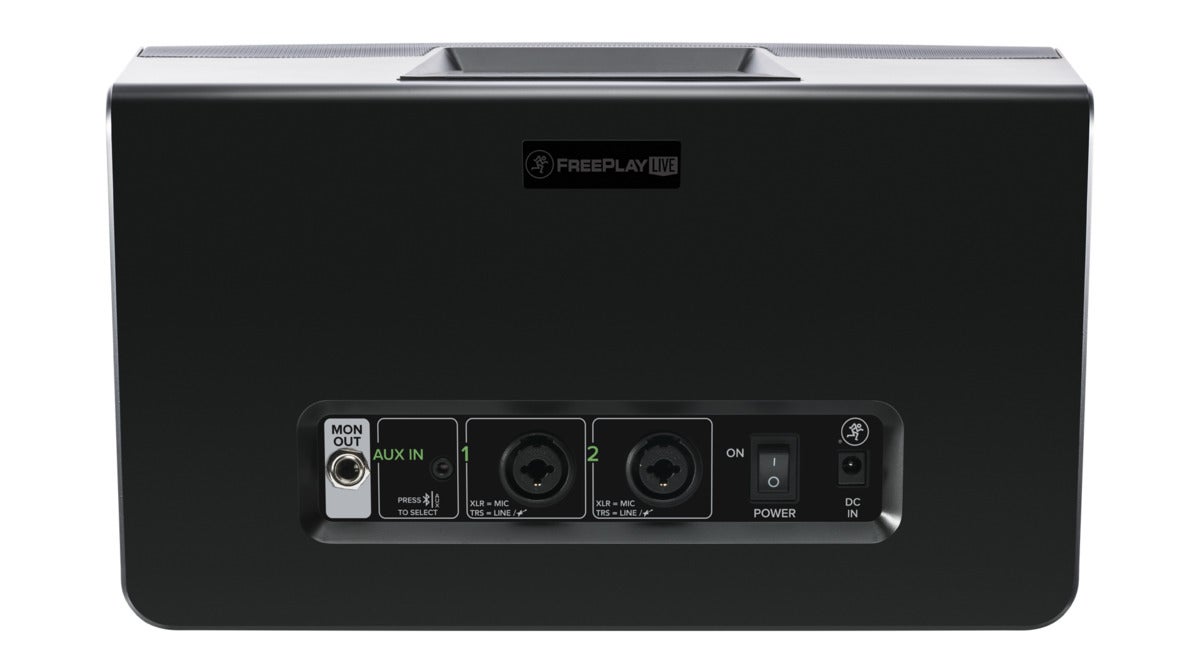 There's also a receptacle on the bottom of the enclosure for an included adapter that marries to a standard screw-on 5/8-inch, 27-thread-per-inch UNS microphone stand.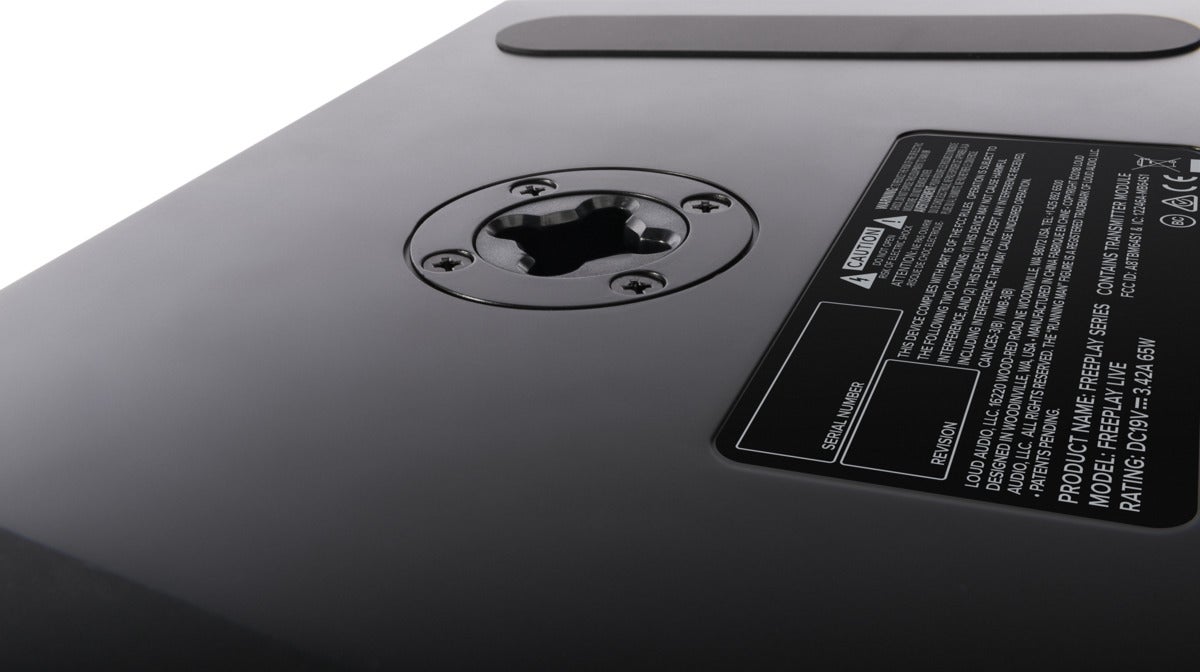 Inside the Freeplay Live are two 1-inch tweeters and a single 6-inch woofer (crossed over at 3kHz) driven by a 150-watt (75 watts RMS) Class-D amplifier. Peering behind the black metal mesh cover with a flashlight, it appeared all three fire directly forward. The Bluetooth is 4.2, and you can link two Freeplay speakers into a stereo pair. (Other brands of true-wireless-stereo speakers are not supported.)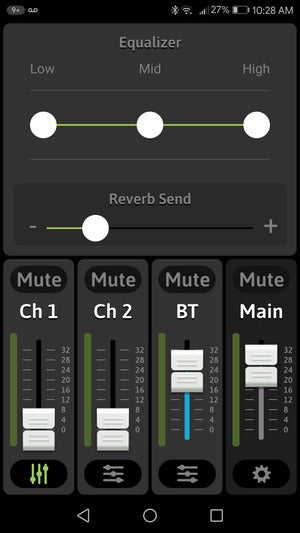 Mackie also provides an Android/iOS app for the speaker, and it's one of my favorites: straightforward, intuitive, with large, easy icons and controls.
With it you can control the EQ of the overall output and individual inputs, including Bluetooth, separately. If you're using one channel for vocals and the other for a guitar, separate EQ is very handy. There's also a control for the amount of reverb you'll hear.
Sound and performance
Despite it's diminutive size, the Freeplay Live makes for a pretty decent light-duty sound-reinforcement module. I plugged in a couple of low-impedance mics (Nady RMS-4 and Shure SM57), as well as several guitars and found it sonically pleasing. I wasn't particularly impressed with the reverb—you can hear separation between reflections. It is, however, effective when applied in minimal quantities in a dull room.
If you wonder what I mean by light duty, it's the relatively moderate amount of sound pressure, aka volume, produced by the Freeplay Live. The Live is fine for use on a less-noisy street with acoustic instruments, or at a tail-gate party where you only want the sound to cover perhaps a 25-foot or so radius. It will all depend on the the number of obstacles—excuse me—listeners in the way, but it's not going to manage much more than that.
Simply listening to tunes after switching the EQ to Music is the same deal volume wise, but the FreePlay Live has no business sounding as good as it does. There's plenty of thump, the highs are clear, and the mid-range is decently well defined. The mids aren't as punchy or balanced as with some pure listening speakers, but considering this speaker's dual roles, I'm not stressing over it.
Where normal listening sound falls a bit short is with stereo separation. To be fair, that's simply the nature of most single-body speakers. There is some, thanks to the dual tweeters; however, I wish that Mackie had shipped me a pair of Freeplay Lives to test them in a true stereo configuration. I'm guessing pairs is the optimal way to employ them in either the PA or listening role. Then again, that's $900 worth of speakers and again, a Freeplay Live sounds darn good flying solo.
In my experience, the battery life came in right around the claimed 15 hours. I got right around that, but I was listening at low levels. Cranking the Freeplay Live for PA use or party use is likely to reduce that, though, with so much time to spare it should easily get you through any event.
Dual-purpose or PA
The Freeplay Live is a great light-duty PA and a surprisingly sonorous general listening speaker. It's nigh on the perfect sound reinforcement accoutrement for small outdoor or indoor gatherings where someone will be taking mic in hand. Tail-gating and wedding receptions come to mind. And of course, street performers who aren't working mid-town Manhattan (non-pandemic, that is).
The price is a bit daunting if you're simply looking to play tunes. Even as a $900 pair, though, the Freeplay Live is priced at the low end when it comes to portable PAs—most of which are massive overkill for the kinds of events I've mentioned.
My only caveat is to make sure the volume is adequate for your needs before you send in the warranty card or ditch the receipt.
Best Prices Today: Mackie Freeplay Live