Have you cooked up a clever, helpful, or elaborate Alexa routine that you want to share with the world? Instead of having to describe it step-by-step, now you can send it to anyone in just a few taps.
Related product
Amazon Echo Dot (3rd gen)
Price When Reviewed:
$49.99
Amazon has announced that starting today, you can send your Alexa routines to friends, loved ones, or anyone else using a sharable URL. All you need to do is open the Alexa mobile app, pull up a routine you've created, tap the three-dot overflow button, then tap Share Routine.
When you do, the Alexa app will create a custom URL that you can send via text or email, or you could share it on a social account.
To receive an Alexa routine, you'll need to tap the link on your phone to open the Alexa mobile app. You'll then get a chance to review the routine and (if you wish) customize the steps before saving it. Any steps that require additional information—for example, a step that involves turning on a particular smart light in your house—will be highlighted in yellow.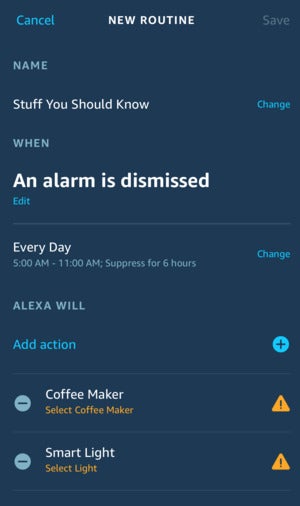 Of course, there are privacy implications when it comes to sharing your Alexa routines. If, say, you share a "Go to sleep" routine that includes your actual bedtime, you'll essentially be telling the world—including potential intruders—when you turn in for the night.
Also, keep in mind that once you share an Alexa routine, you can't unshare it, even if you delete it. By the same token, because you're really only sharing a copy of the routine, any changes made to the routine by those you've shared it with won't alter the original routine.
To kick off the arrival of sharable Alexa routines, Amazon is sharing some routines of its own, including a few from some familiar online brands and even a celebrity or two. (The following descriptions are from Amazon, by the way.)