At a Glance
Expert's Rating
Pros
Surprisingly easy installation
Beautiful and interactive lighting scenes
Touch actions let you control other smart devices
Alexa, Google Assistant, and HomeKit compatible
Cons
Expensive
Panels can be difficult to remove from a wall (but don't appear to cause any damage)
Chunky AC adapter
Our Verdict
The first of its new Shapes series, Nanoleaf's Hexagon light panels improve on a winning formula.
Best Prices Today: Nanoleaf Shapes Hexagons
Nanoleaf has made a name for itself with its eye-catching, interactive, and modular light panels, and with its new Shapes line, Nanoleaf has made a good smart gadget even better.
With its first Shapes panels, the six-sided Hexagons, Nanoleaf smoothed the rough edges of its earlier products—replacing the old, too-loose connectors and refining the installation process—while keeping the gorgeous animated lighting scenes, the smart "touch actions," and the integrations with Amazon Alexa, Google Assistant, and Apple HomeKit.
Needless to say, Hexagons don't come cheap, nor are they terribly utilitarian. But if you can afford them, the Hexagon panels do an amazing job at setting the mood.
This review is part of TechHive's coverage of the best smart light bulbs, where you'll find reviews of competing products, plus a buyer's guide to the features you should consider when shopping this category.
Mentioned in this article
Nanoleaf Canvas Smart Light Squares
Price When Reviewed:
$249.99
Hexagons mark the first entry in the Nanoleaf Shapes series, which is essentially the next generation of Nanoleaf's triangular Light Panels (formerly known as Aurora) and Canvas Smart Light Squares. Nanoleaf says more Shapes panels with different shapes (natch) will be announced in the future.
The Shapes series, including Hexagon, boasts three key innovations over Light Panels and Canvas. For starters, Shapes panels boast new, lockable "links" that are much more secure than the slide-in connectors that came with the Light Panels and Canvas squares. Also, Shapes panels come with separate, snap-on mounting plates, which means you no longer need to tape or screw the light panels directly to your wall. Finally, different shapes in the Shapes series will be compatible with each other, whereas the triangular Light Panels and Canvas squares can't be connected together.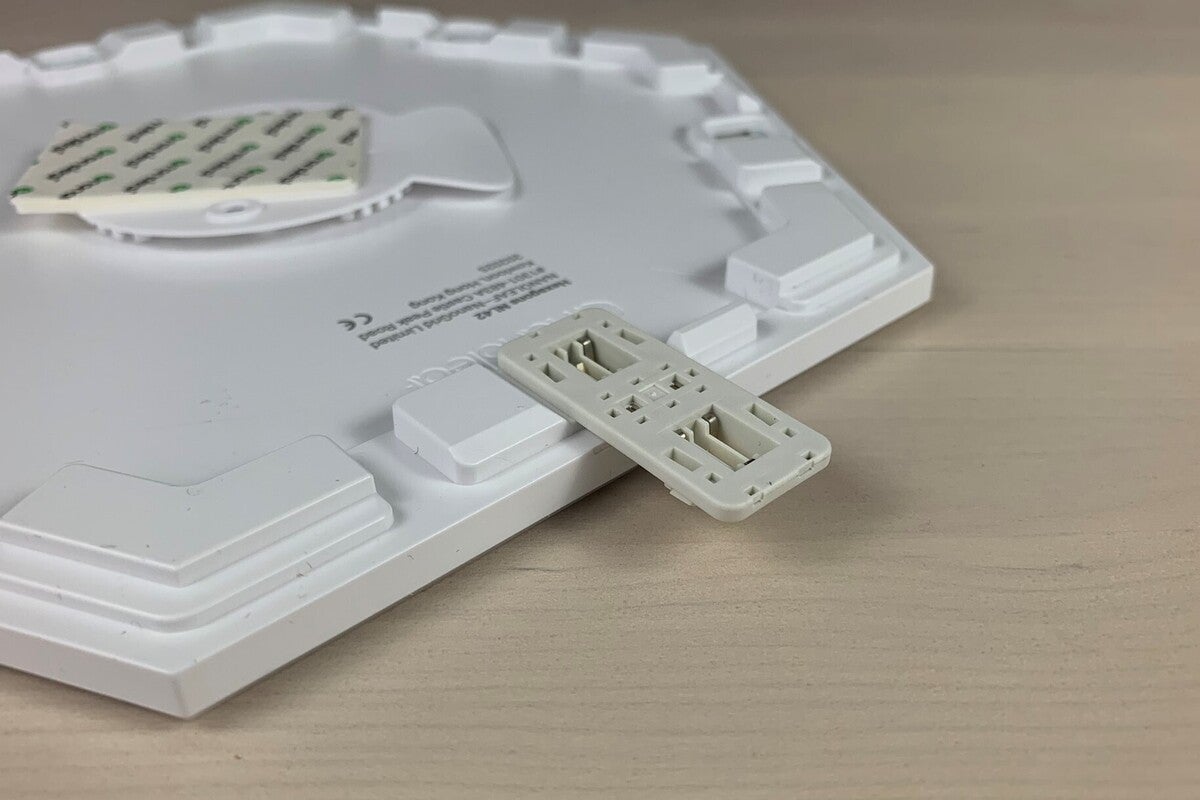 A Nanoleaf Shapes – Hexagons starter kit, which includes seven Hexagons, a power adapter, a snap-on controller, and enough mounting plates, adhesive tape, and links to install the panels on a wall, sells for a somewhat steep $200. A three-panel expansion pack, which comes with mounting materials but no controller or power plug, goes for $60.
The 0.24 inch-thick Hexagon panels measure eight inches from side to side, or nine inches if you measure from one corner to the other. Weighing in at a little less than half a pound, the individual panels feel light yet sturdy.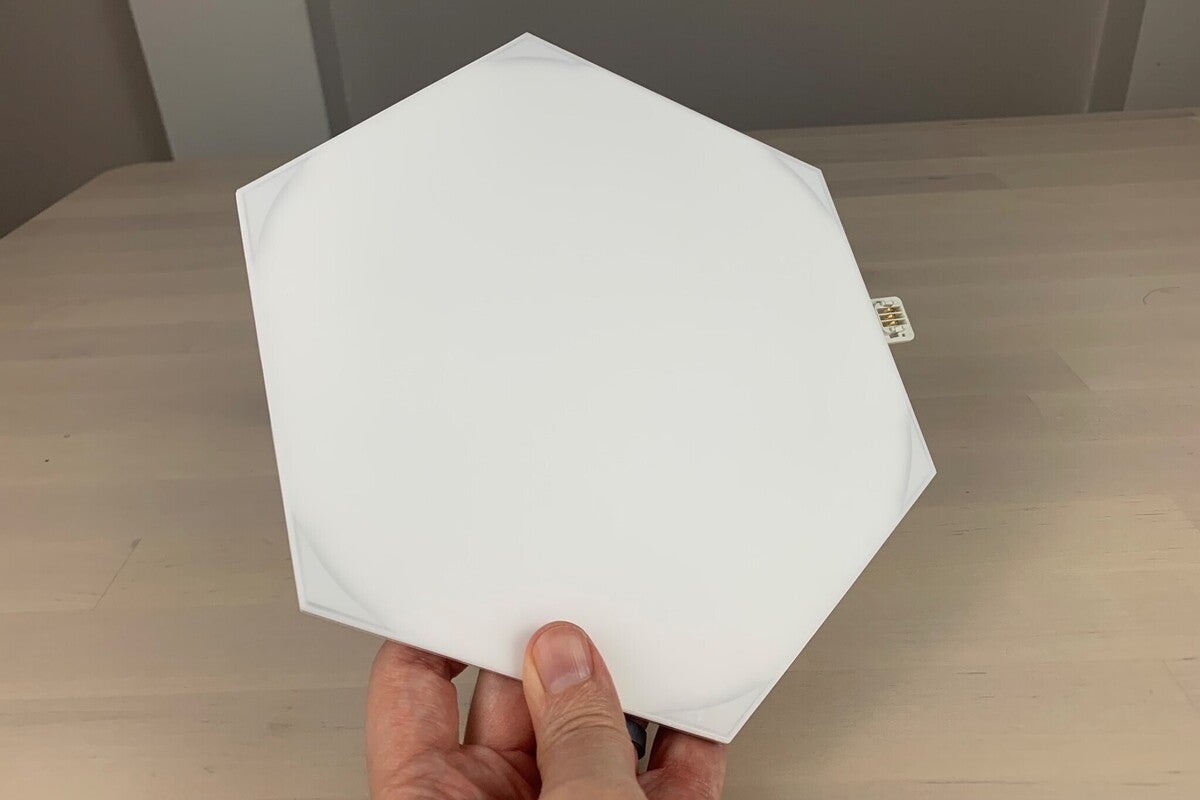 Each Hexagon panel emits up to about 100 lumens of brightness, so if you were to install (say) 16 of them on a wall (a single power supply can handle up to 21 panels), tune them to a cool white temperature and crank the brightness all the way up, the panels could probably light up a room. That said, Nanoleaf's light panels are more about decoration and mood than task lighting.
Speaking of color temperature, the Hexagons can be tuned from a very warm 1,200 Kelvin to a cool, "energizing" 6,500K, and then can glow in more than 16 million colors. Rated to last up 25,000 hours, the indoor-only panels will connect to 2.4GHz Wi-Fi networks without needing a hub.
Installation and setup
The hardest part about installing the Hexagons on a wall is deciding how you'll arrange the panels. A quick Google Images search reveals dozens of imaginative designs, ranging from stripes and zig-zags to snakes and even a giant Space Invader. If you want to preview how your design will look, the Layout Assistant feature on the Nanoleaf mobile app will render your creation in AR on your wall. In the end, I opted for a simple "X" design (boring, yes, but easy).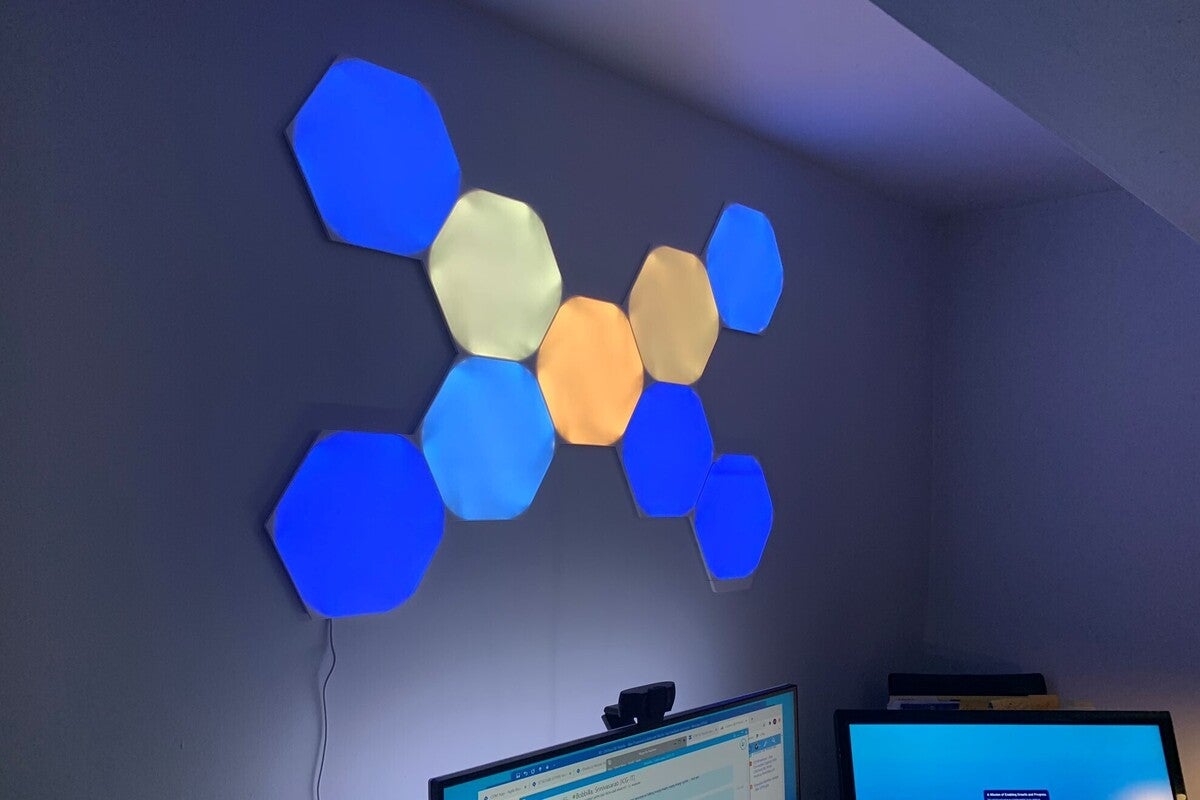 I was dreading the actual process of sticking the Hexagons on my wall, but it turned out to be an easier process than I expected. First, you're supposed to carefully clean the area of the wall where you're planning on mounting the panels (I skipped that step, shhh!). You then attach the adhesive tape to the mounting plate (which comes pre-snapped into each panel), snap on links for any connecting panels, and press the panel to the wall where you want it to go, holding it in place for 30 seconds to secure it. After that, just rinse and repeat for additional panels, snapping the connecting links in as you go. If you want to install the Hexagons on a brick wall or wallpaper, Nanoleaf recommends mounting them with screws (the mounting plates are predrilled, but there are no screws in the box).
The included adhesive tape did a nice job of securing the panels to my office wall; indeed, weeks after installation, none of the panels felt like they'd loosened in any way. If you do want to remove a panel, you can do so by detaching the panel from the mounting plate, then pulling out the mounting tape from behind the panel. Trying it myself, I found that I really had to tug the tape to pull it free, but once I did, the mounting panel came loose without leaving a mark.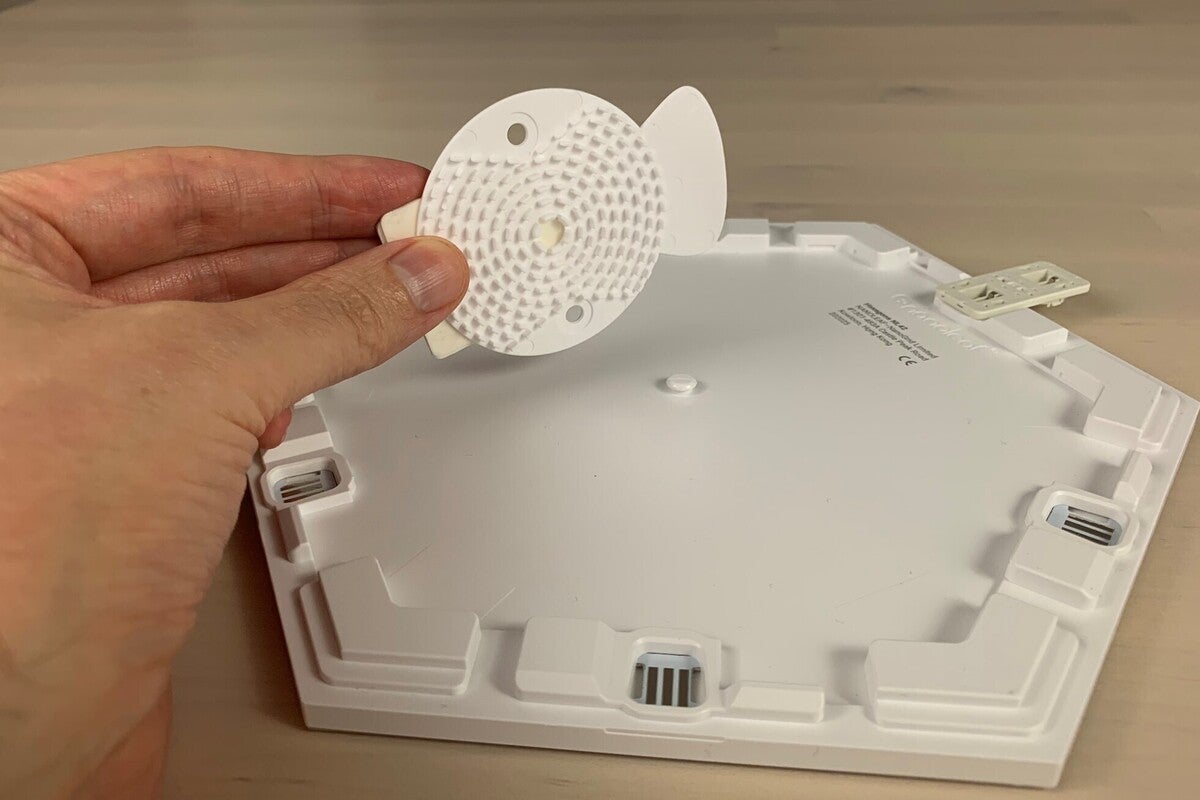 Besides connecting the panels themselves, you'll need to connect a small control panel, which comes with touch-sensitive power and brightness buttons, along with controls that let you play and shuffle your various lighting scenes (more about those in a moment). The power cord—which, unfortunately, terminates in a chunky rectangular plug that blocks any AC outlet beneath it—connects to another snap-on module.
With the panels installed and powered up, the last step is to pair them with the Nanoleaf app for iOS or Android. Using the iOS version of the app, I selected the "Start Pairing" option, scanned a QR code in the Quick Start guide (there's another QR code on the AC plug), and voila—the panels were connected to my home Wi-Fi network.
Features and functionality
Like other smart lights, the Nanoleaf Hexagons boast lighting scenes, but these scenes—or Scenes—aren't the usual "morning" or "energize" type. Instead, the Hexagons come with hundreds of animated lighting scenes, some of which are preloaded on the app while others, many of them crowdsourced, can be downloaded. Some of the scenes are pretty basic—yes, there is a static "reading light" scene, for example—but others (like "Vibrant Sunrise," "Triluminox Energy Crystal," and yes, "Netflix and Chill") are colorful and elaborate, with the panels pulsing, rippling, and fading in and out in a multitude of colors.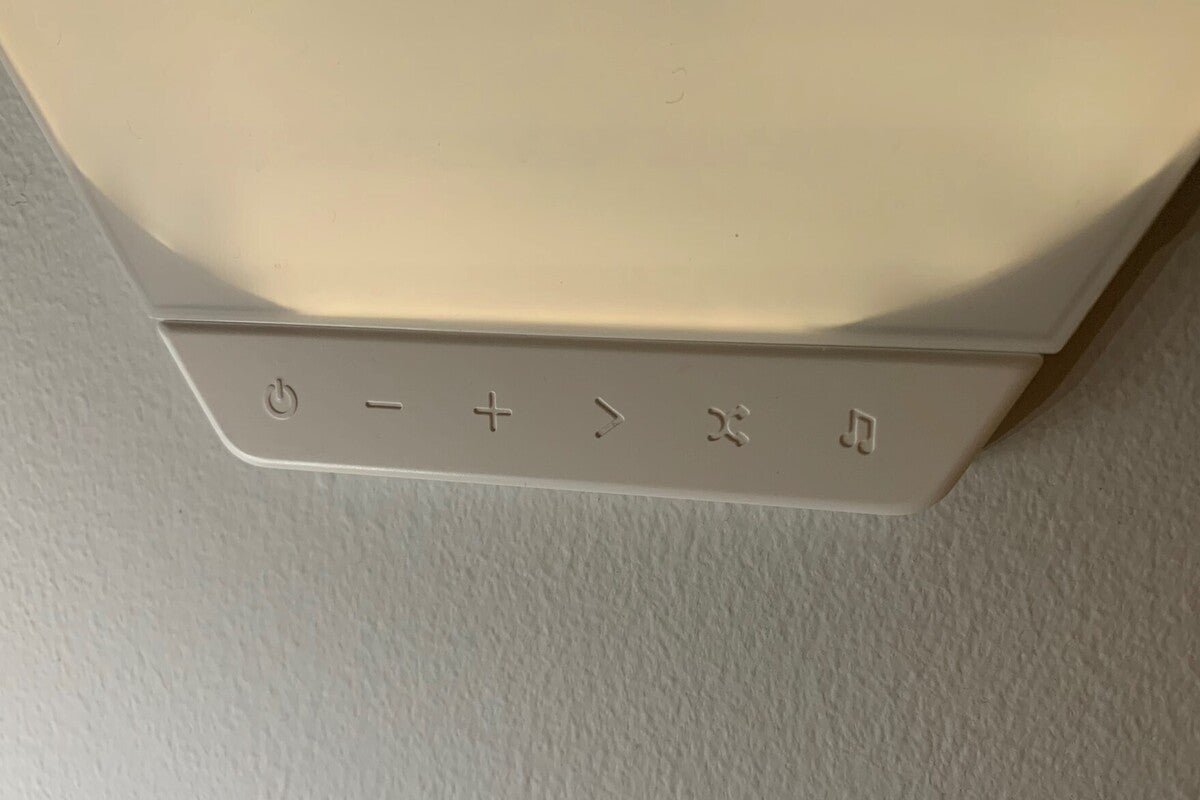 With the help of an integrated microphone, rhythm scenes pulse to the beat of your tunes, while interactive scenes (including "Touch Paint, which lets you "paint" the panels with your fingertips, as well as games such as "Whack a Mole," "Simon," and "Canvas Crush") react when you tap on the touch-sensitive panels. You can activate your Hexagon scenes in a variety of ways, such as by scheduling them (there are daily and weekly schedules, but no vacation modes or sunrise/sunset scheduling), by arranging them in playlists, using voice commands, or by tapping the buttons on the snap-on control panel.
While the various lighting scenes can be gorgeous to look at, it's worth noting that the panels themselves aren't lit perfectly evenly. The very tips of the Hexagons aren't lit at all, and you can also see faint shadowy areas around the edges of the panels. Personally, I rarely noticed the slight imperfections in the lit panels, but this might bother nitpickers.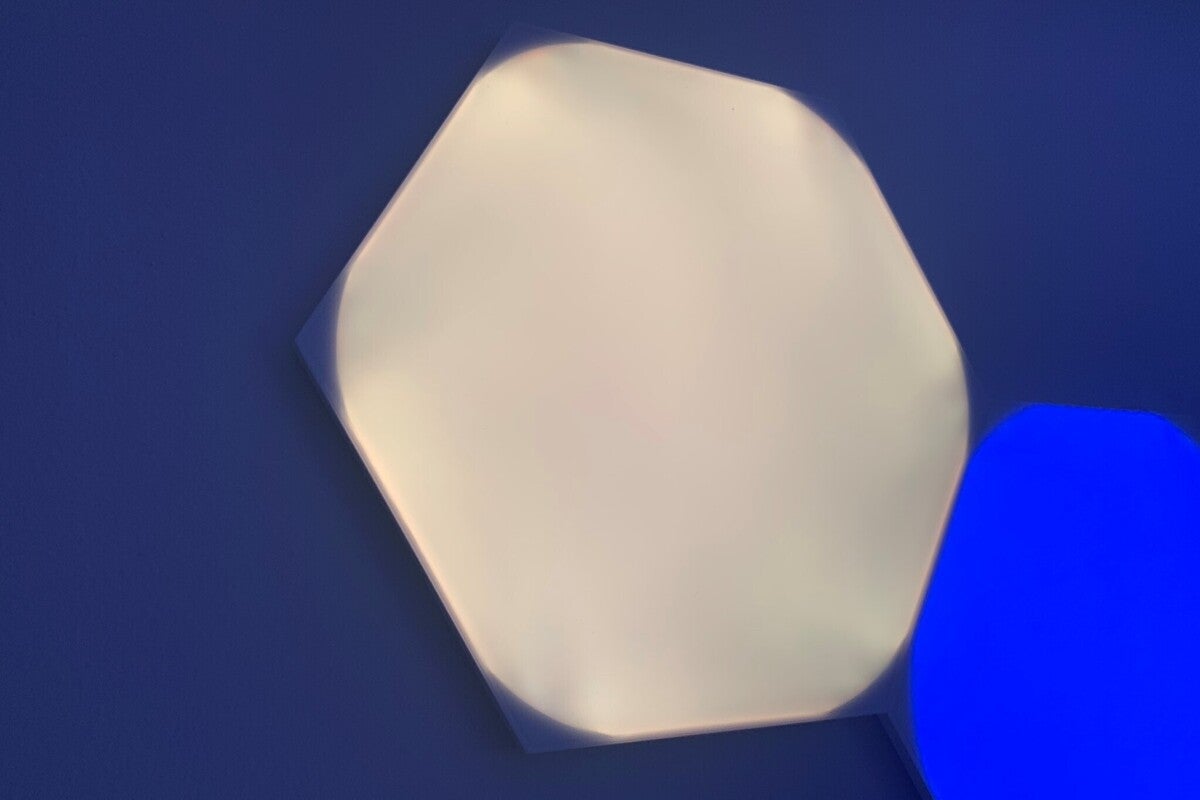 Besides scenes, you can also program touch gestures for the Hexagon panels. For example, you can double-tap a panel to turn the Hexagons on or off, swipe up or down to adjust the brightness, or swipe across to change scenes. Even better, you can configure "touch actions" that let you trigger HomeKit devices or scenes by tapping, double-tapping, or long-tapping a panel—perfect for, say, turning on your Hexagons and closing your HomeKit-enabled drapes at the touch of a panel. Meanwhile, a screen-mirroring feature on the desktop version of the Nanoleaf app lets you sync the images on your PC display with your Hexagons, which is cool for playing games but a tad blinding if you're browsing mostly white webpages.
Speaking of HomeKit, the Hexagons are HomeKit compatible, and they also work with Alexa ("Alexa, set Office Hexagons to Stardust") and Google Assistant ("Hey Google, dim the Hexagons") voice commands and routines (including sunrise and sunset scheduling, by the way). Integrations are also available for IFTTT, SmartThings, Homey, and Flic.
Bottom line
Yes, they're expensive, and they lack the utility of smart spot, flood, or even A19 bulbs, but Nanoleaf's Shapes Hexagon light panels are tops when it comes to setting the mood in a dining room, a den, or a bedroom. The new and improved Hexagons are easy to install, fun to configure, and they play nice with other smart-home devices, particularly HomeKit-compatible ones. I didn't think I needed the Hexagons on my office wall, but now that they're there, I don't want them to go.
Best Prices Today: Nanoleaf Shapes Hexagons