Believe it or not, you can't ask Alexa to dial 9-1-1 (or at least, not without some elaborate workarounds), but thanks to a recently added feature, you can ask her to call a trusted friend or loved one if you need immediate help.
Mentioned in this article
Amazon Echo Dot (3rd gen)
Price When Reviewed:
$49.99
The first step is to pick an emergency contact from the list of contacts that Alexa drew from your phone's address book (assuming you granted her permission to do so).
Once you pick an emergency contact, Alexa will both dial and message that person if anyone in your household asks Alexa to "call for help." You can only pick one emergency contact for Alexa at a time, so choose wisely.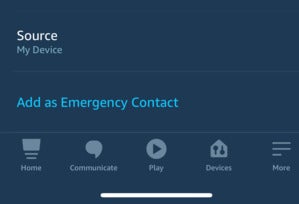 How to designate an emergency contact
Open the Alexa app on your iPhone or Android phone, tap the Communicate tab, then tap the Contacts button in the top-right corner of the screen.
Next, either search or browse for a person you'd like to designate as your emergency contact. Remember, you can only pick one, so make sure you choose someone you trust and who'd be able to help if the need arises. The person must also have a U.S. phone number listed in their contact details; an email address for iMessage won't work by itself.
Once you've found the right person, tap their name, then tap Add as an Emergency Contact. If the contact has multiple phone numbers listed, you'll need to pick one that Alexa can call in an emergency. After you've chosen the correct contact number, you're all set.
Asking Alexa for help
Now that you've designated an emergency contact, anyone in your home can say "Alexa, call for help" if they need assistance.
When that happens, Alexa will call and text your emergency contact, and the contact will be able to call you back on your Echo Dot, Echo Show, or another Alexa-enabled device that supports Alexa Communications functionality.
One more thing: As the Alexa app will warn you before you pick an emergency contact, using Alexa to call for help isn't a substitute for dialing 9-1-1 in a dire emergency (such as, say, a fire in your kitchen). If something really bad is happening, call the authorities first, then ask Alexa to call your emergency contact.