At a Glance
Expert's Rating
Cons
Serious reliability and unresponsiveness issues
Significant setup trouble
Poorly translated mobile app
Our Verdict
Braumm's outdoor smart plug is too unreliable for serious consideration—even before you take it outside.
Best Prices Today: Braumm Smart WiFi Outdoor Outlet
Outfitting an exterior electrical socket with an add-on Wi-Fi smart plug makes a ton of sense, saving you from having to put on your shoes or tromp out in the rain to turn on the Christmas lights or activate the bug zapper. The catch? If the smart plug isn't reliable, you'll have an even bigger headache to contend with than if you used a regular outlet.
Unfortunately, Braumm's Smart WiFi Outdoor Outlet is that headache, and I can't conceivably recommend it anyone buying it in its current state.
The device looks innocuous enough. It's a single-outlet smart plug with a short pigtail that attaches to your outlet. As is typical, it's a grounded, three-prong outlet with a rubber cover to protect the circuitry when it's not in use. A large power button and status LED are placed on the top of the device. The outlet is rated for 125 volts and 15 amps maximum, with a total energy support of a respectable 1,000 watts.
This review is part of TechHive's coverage of the best smart plugs, where you'll find reviews of competing products, plus a buyer's guide to the features you should consider when shopping.
Like many of its competitors, the Braumm Smart WiFi Outdoor Outlet can connect only to a 2.4GHz network, and that's where my problems with the device ostensibly began. I initially set up the device about 25 feet from my router—which, like many routers, operates both 2.4- and 5GHz networks under the same SSID. This is not normally a problem for modern smart home gear, but Braumm's outlet refused to connect to the network no matter which of its three specified setup methods I pursued.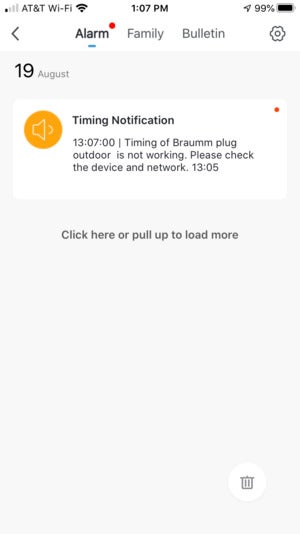 Stymied, I took the issue up with Braumm, which quickly dismissed the matter as "most likely a router issue" and suggested that I "may need to make sure that my Wi-Fi network name is specific to 2.4GHz." The problem? My router doesn't allow me to discrete SSIDs for its 2.4- and 5GHz networks, so I was stuck. For a company in 2020 to fail to account for this—or to offer unworkable advice by way of a fix—is baffling.
I eventually did get the Braumm to connect—by plugging it in to an outlet within 4 feet of my router—and once there, running the configuration through Braumm's mobile app. This time the setup worked, and I was able to use the app to turn the plug on and off, set schedules, and use the countdown timer, which is noted in the app as "Left time." Alexa and Google Assistant are also both supported.
Mentioned in this article
TP-Link Kasa Smart Wi-Fi Outdoor Plug (model KP400)
Price When Reviewed:
$44.99
At least, the system sometimes worked. Typically, the outlet would work fine for a while, and then disconnect completely for a few minutes. If I turned the outlet on and off in quick succession, it would sometimes disconnect from the network. Sometimes the app would stop responding if I was on the device-specific sub-page (the page with the large power button icon), but it would work fine if I tried to control the device from the primary page which lists all the Braumm devices you have connected.
Occasionally Braumm's app would record a notification that the plug wasn't working (in fairly rough English), but usually not. Sometimes outages would last for a few seconds, sometimes considerably longer. The further I moved the device from my router, the worse the problem got.
On the plus side, I did have times when I had no trouble with the outlet, but these were uncommon. Most of the time the Braumm outlet was slow to react at best, completely unresponsive at worst. Put simply: There are plenty of better options on the market. Starting with our favorite pick in this category: The similarly priced TP-Link Kasa Smart Outdoor Plug, which not only has no problem connecting to 2.4GHz networks, but has two independently controllable outlets to the Braumm's one.
Best Prices Today: Braumm Smart WiFi Outdoor Outlet