At a Glance
Expert's Rating
Pros
By far the best blacks of any LCD TV we've tested
Excellent overall picture
Cons
Overpriced when not on sale
No Bluetooth
Our Verdict
Super granular mini-LED backlighting delivers the most stunning blacks we've seen from an LCD TV. Quantum dots refine the color, and processing is top-notch. One of the best values in LCD TVs we've tested.
Best Prices Today: TCL 8-series 4K UHD LCD TV (65-inch class, model 65Q825)
It took forever and a day to get a TCL 8-series TV in house, but the wait was absolutely worth it. Thanks to an uber granular mini-LED backlight array, the 65Q825 I tested delivers the best blacks I've seen from an LED-backlit LCD TV. By far. In fact, it's closer to OLED than standard LCD in that regard.
As of this writing, this 65-inch TV was on sale at Best Buy for the ridiculous sum of $999 at Best Buy, where it's sold exclusively. That's a patently ridiculous price. the 65Q825 is a $1,500 TV if it's a dime, and its list price is $1,999—something I was completely ready to believe after seeing it. Lest I sound the schill, it's not a perfect TV by any means, but it does show where array backlighting is headed.
Updated later on August 3, 2020: Best Buy has raised the price of this TV back to its MSRP of $1,999—which is $200 more than Best Buy's current price for the 75-inch model. Keep a close eye on prices for this TV.
This review is part of TechHive's coverage of the best smart TVs, where you'll find reviews of competing products, plus a buyer's guide to the features you should consider when shopping.
Design and specs
Beyond the mini-LED backlighting array, there's not a lot special about the 65Q825. It's a Roku TV, it uses quantum dots to refine color, and the panel is a 120Hz, 10-bit, 4K UHD (3840 x 2160 pixels). But mini-LEDs are special. I'll discuss that in more detail in the performance section.
The 65Q825 I tested measures 56.9 x 32.9 x 3.1 inches (WxHxD), or 13.2 inches deep with the rather unusual stand that sticks out quite a bit in front of the TV. It's a rather hefty unit at just under 70 pounds hung on the wall, and around 79 pounds with the stand. The VESA mount point is of the 300mm x 300mm variety.
The port array is par for the course: four HDMI inputs (one ARC—not eARC), coax input for an over-the-air antenna or cable/satellite, composite video/stereo audio via a 3.5mm jack, a headphone jack, and a 10/100 ethernet port. Wi-Fi is 802.11ac, but disappointingly, there's no Bluetooth. More on that in a bit.
In terms of features, there's no virtual "companion" (Google Assistant, Amazon Alexa, etc.) as you'll find in some other TVs, though you can control the TV via other devices that do. There is also voice control via the Roku remote if you want to order your TV around, and a Roku mobile app that lets your cell phone replace the remote and provide the missing Bluetooth. Dolby Vision and HDR10 are supported on the HDR front, and Dolby Digital and Atmos are available for surround audio users.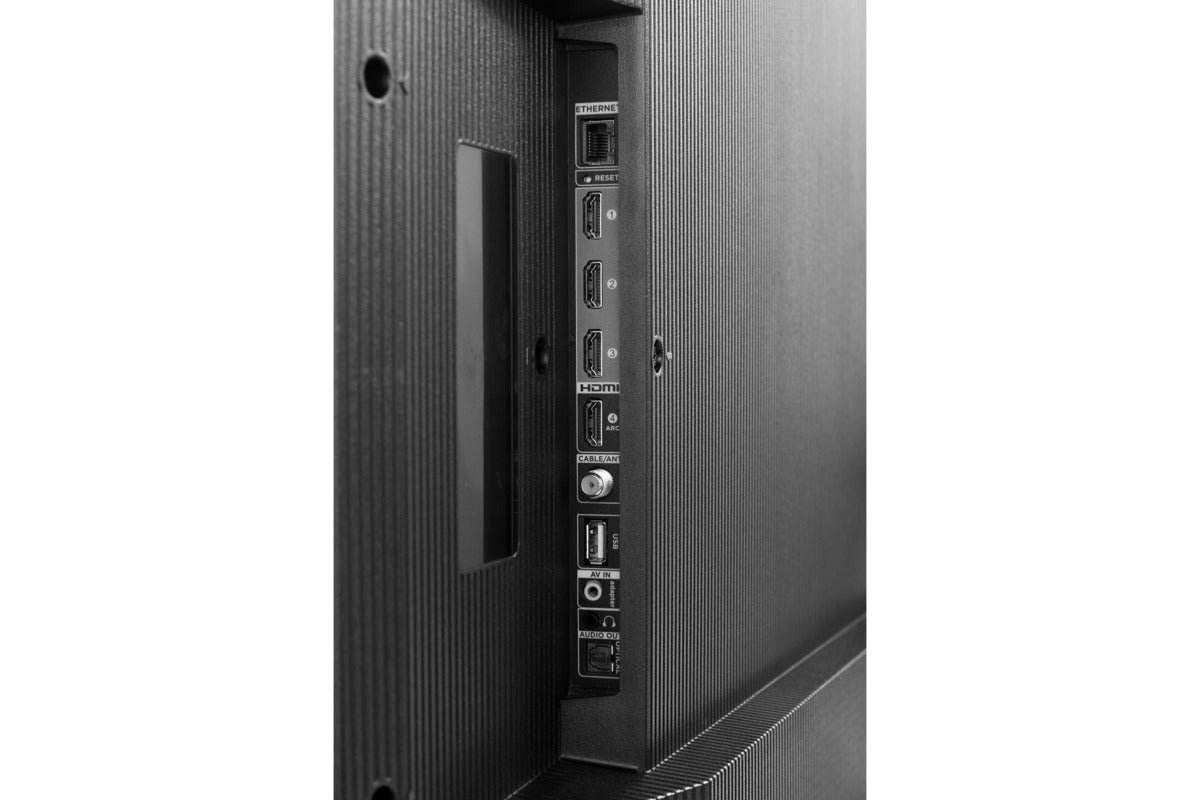 The Q825 also features game sync, and an auto-game mode that will communicated with your gaming console.
Interface and remote
The Roku interface is friendly and quick, it has great setup and recognition, and an extremely broad streaming ecosystem. It's about on par with the other interfaces. Kudos for one thing, though: The USB media player seems far more robust in this latest iteration than before. Too bad it doesn't support DLNA for playback across the network. Plex is available in the app store for that.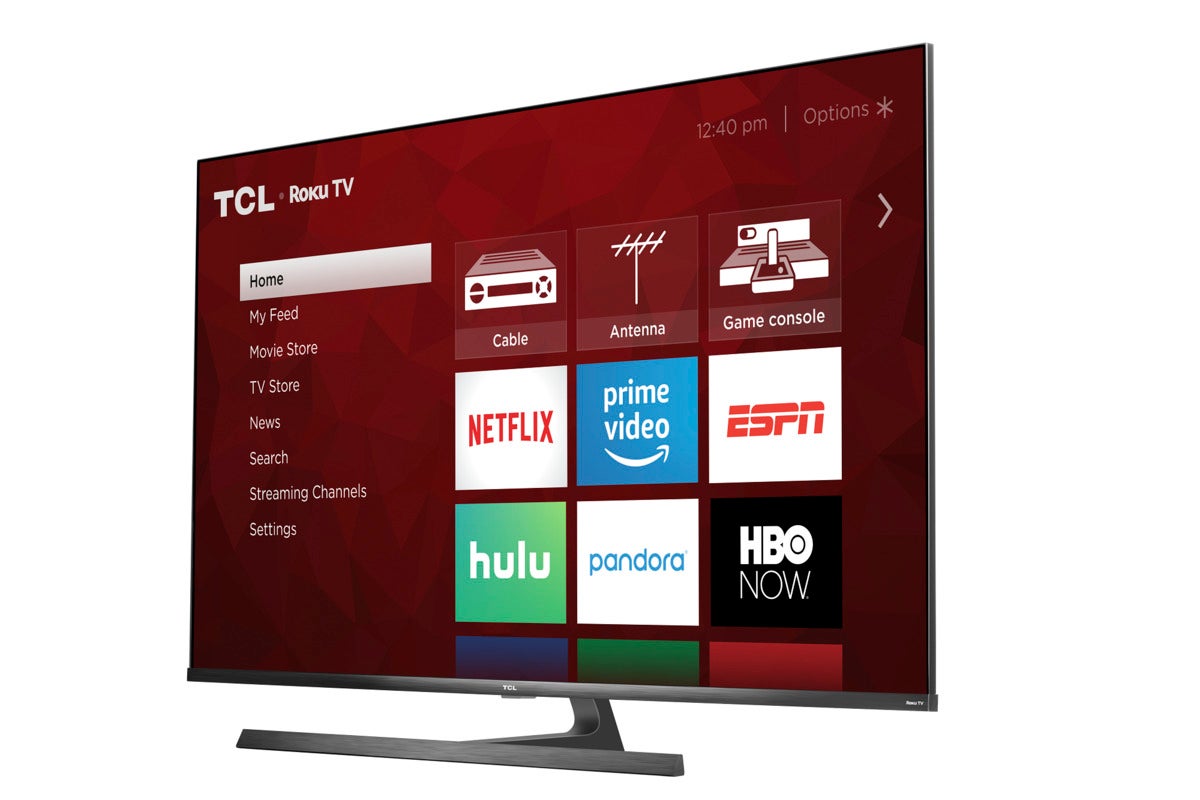 All that said, having lived with Roku for an extended period for the first time, I'm not as happy with it as I once was. My major beef is that Roku TVs, including the one I'm currently using, support only Roku-branded wireless gear. Excuse me. What about those expensive Bluetooth headphones I already own?
Not being a phone-centric person, I work around this issue by plugging an outboard Bluetooth transmitter into the TV's the headphone jack/line-output. That means I can't switch back to TV sound without getting up and unplugging the 3.5 mm cable. It's not ideal, but with the Q825's picture—it's worth the hassle. For shame, Roku. Suggestion: When you add Bluetooth, add Apple AirPlay support as well.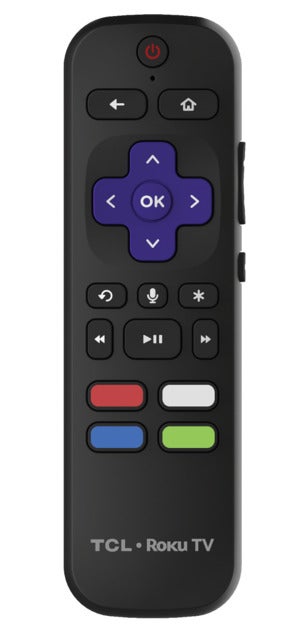 The remote on the other hand is one of my favorites—small but not too small, logical, and easy to use. I quite like it. Almost as much as Samsung's One Remote.
Performance
Having heard about mini-LED's blacks, the absolute first thing I did when I fired up this TV was to throw a starfield at it. Pinpricks of bright light on a pure black background give most LCD TVs fits, resulting in medium-gray backgrounds; obvious halos; and an abundance of mottled, cloudy artifacts.
OLEDs do starfields almost perfectly; the Q825 merely does them very, very well. It doesn't deliver pure black, but close enough that you have to look hard to see the difference. When you jump to a lighter screen (our test moves to all black) you probably wouldn't notice.
Given the Q825's current stupidly low pricing, I figured something picture-related just had to be sub-standard, but the mini-LED array seemingly makes just about everything better. There was almost no moiré or shimmer, pans were smooth (after I boosted the motion compensation), and quantum dots make the colors rich and accurate.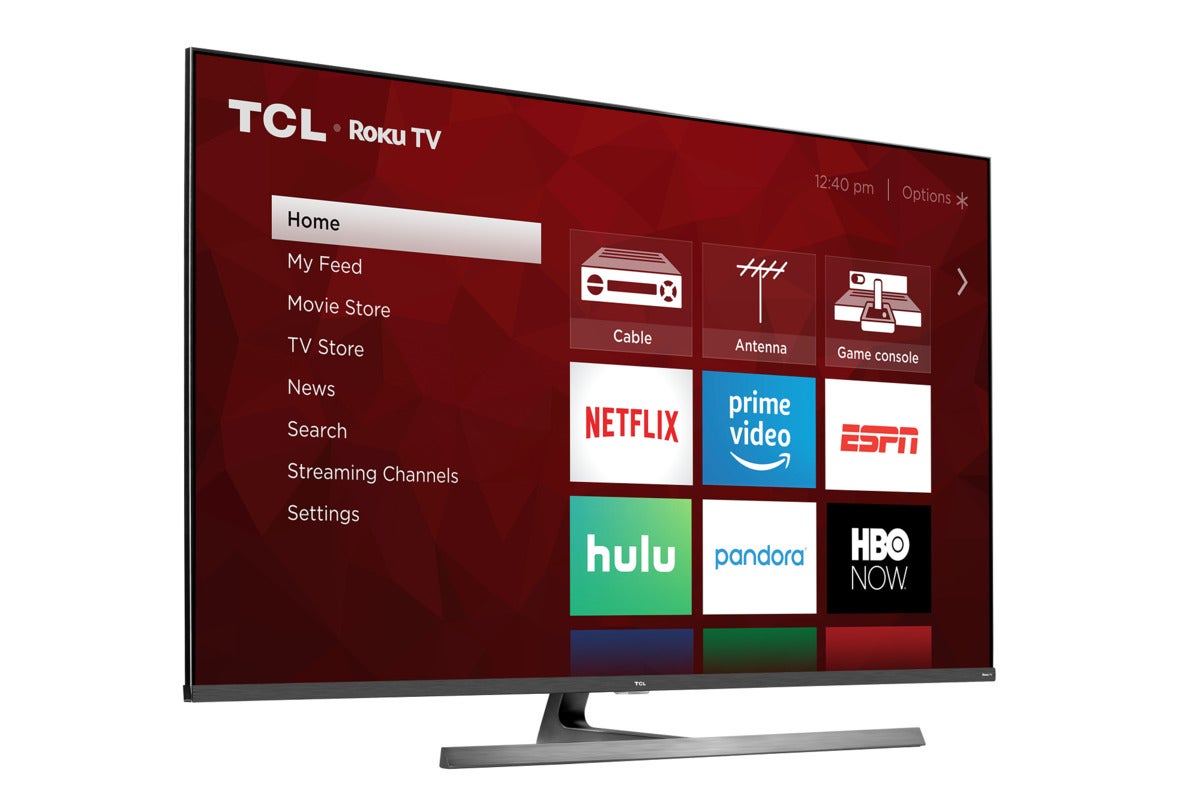 I kept throwing my most problematic material at it and the 65Q825 kept coming up smelling like roses. Mostly. It failed on one highly detailed pan, but I'm calling that an outlier as it aced others that should've exhibited the same artifacts. Screen conformity was also very good, though off-angle viewing isn't on par with some of the top-end LCD sets from Sony and Samsung.
The 65Q825 registered 1,980 lux on our newest light meter at zero distance; however, while it rendered HDR well, it didn't quite reach Samsung standards for bright detail. That might be a choice on TCL's part, or it might be that mini-LEDs aren't individually as bright as the larger LEDs other company's use.
There was one other thing I found rather odd about the 65Q825. Outside of the brightness control, which can morph those great blacks to medium gray if turned up too far, picture adjustments seemed to have very minimal effect—as if the company didn't want you messing with a good thing.
Niggling aside, I'm tempted to call the Q825 hands-down the best LCD picture I've seen. A few improvements here and there, and I might give in to that temptation.
Black without worry
OLEDs are prone to burn-in under heavy usage, as well as loss of brightness over time. Most users watching perhaps only one or two hours of TV a day needn't worry. Leave an OLED TV on for 10 to 12 hours a day, on the other hand, with static elements such as logos on display, burn-in will occur and brightness will diminish.
Being inorganic, LEDs and LCDs might fail, but they don't wear—and they aren't susceptible to burn-in. That's why mini-LED is starting to show up in computer displays. Better blacks and a richer picture with no worries.
A favorite LCD TV
I hate to sound like a fan boy, but if the Q825 were available in smaller sizes, I'd likely buy one. Deep blacks make everything better when it comes to TVs, and that's why OLEDs remain popular despite the continuing high cost of admission.
The 65Q825 delivers the closest thing to OLED black other than OLED itself, and it handles some extremely dark content even better than OLED does. Color me impressed, color me envious.
Caveat. A good part of my enthusiasm is due to the Q825's current price (the 75-inch model is only $1,500 right now $1,799 as of August 3). If you only encounter this TV selling at its full $1,999 MSRP, there are other TVs you should consider, including Samsung QLEDs and OLEDs from LG and Sony.
This article was edited on 8/4/2020 to note that the TV can be controlled by external Alexa devices.
Best Prices Today: TCL 8-series 4K UHD LCD TV (65-inch class, model 65Q825)