At a Glance
Expert's Rating
Pros
Supports Apple HomeKit Secure Video
Can distinguish motion from people, pets, and vehicles
Easy to set up and operate
Cons
Requires significant participation in the Apple ecosystem
Some features not supported by older versions of iOS
Image quality suffers from dull colors and fuzziness when zoomed
Our Verdict
The Eve Cam is an overall good camera that will appeal mostly to Apple enthusiasts and users who prioritize privacy.
Privacy concerns have dogged Wi-Fi security cameras since they were introduced. But despite warnings from advocates and experts—and at least one high-profile breach—the market shows no sign of slowing down. The adoption of Apple's HomeKit Secure Video, on the other hand, just might indicate that the industry is taking users' fears more seriously. That would include the Eufy Security EufyCam 2, the Logitech Circle View, and the Eve Cam, reviewed here.
HomeKit Secure Video performs all video analysis on the user's local devices, as opposed to performing it on a possibly insecure server in the cloud. Post processing, the video captured by a HomeKit Secure Video-compatible security camera is first encrypted and then stored in the user's Apple iCloud account. By keeping most of the video processing local and requiring the user's encryption key to access those clips, HomeKit Secure Video is widely considered to be a more secure alternative.
This review is part of TechHive's coverage of the best home security cameras,

where you'll find

reviews of competing products, plus a buyer's guide to the features you should consider when shopping.
Mentioned in this article
Eufy Security EufyCam 2
The trade-off for that peace of mind, however, is some fairly strict requirements. For a HomeKit Secure Video camera like the Eve Cam to do everything it can, the user must have an iPhone, iPad, or iPod Touch running iOS 13.2 or later; the Home app set up on that iOS device must use the Apple ID associated with the user's iCloud account; a home hub needs to be set up on an Apple HomePod, Apple TV, or iPad; and you need to subscribe to one of two iCloud storage plans. Given all this, it's certain the Eve Cam will appeal to Apple enthusiasts more than the average security camera buyer.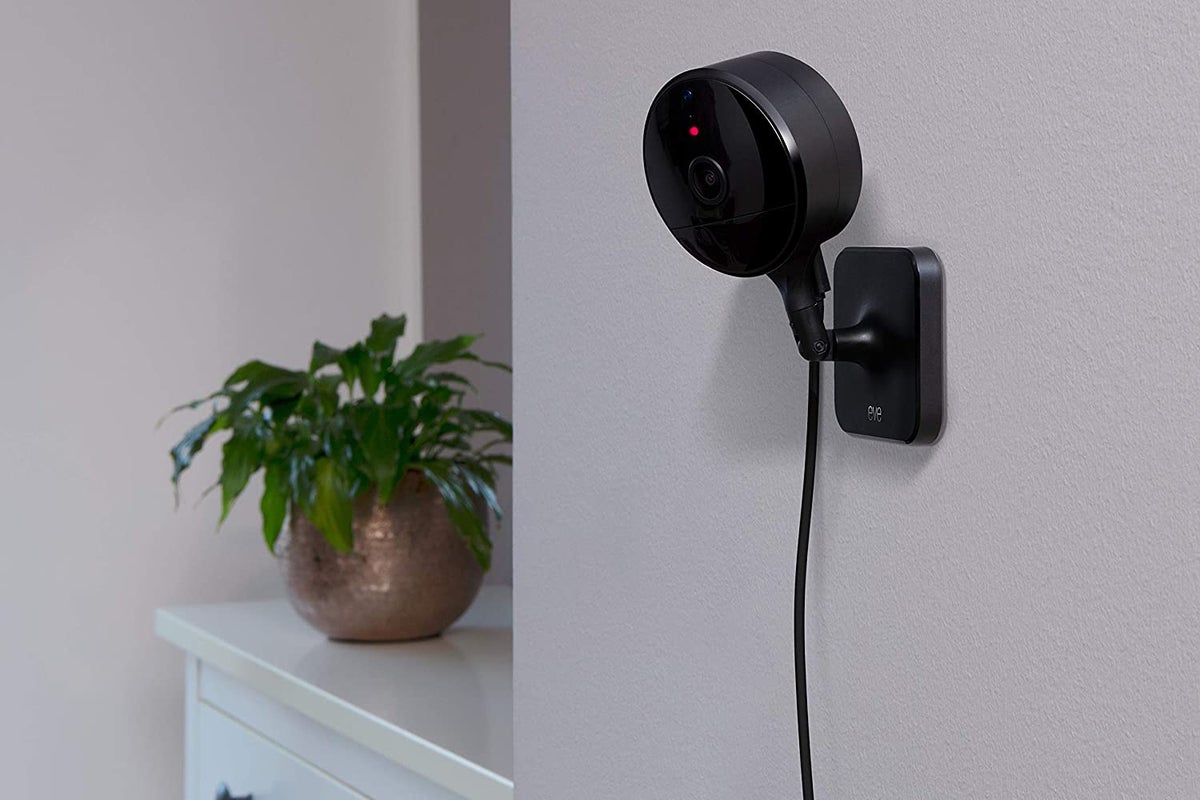 Despite its deep ties to the Apple ecosystem, the Eve Cam's design is surprisingly unimaginative. Its inspiration, at least from an industrial design standpoint, seems to be the five-year-old Nest Cam: It employs a similar swivel joint and attaches to a base with a magnetic bottom for quick mounting to metal surfaces. It's functional enough, but its basic form and plastic construction are a world away from the Apple design aesthetic.
Feature-wise, Eve Cam is on par with other indoor cameras, offering a 150-degree field of view, 1080p video capture, motion detection, two-way talk, and night vision. Out of the box, the camera can only stream live video and notify you of detected motion. To store video clips, you need either a 200GB iCloud storage plan for one camera, or the 2TB storage plan for up to five cameras. Those cost $3 and $10 per month respectively.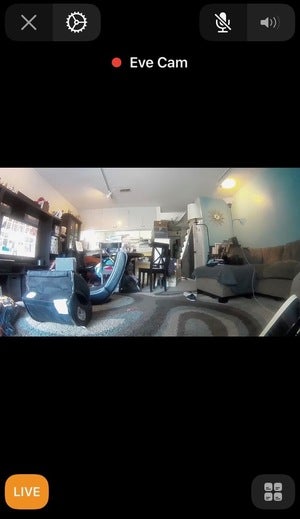 The beauty of HomeKit devices is you don't need to download a separate app or register a new account to operate them (though Eve does offer its own Eve for HomeKit app, which we'll look at shortly). Everything is managed through the Home app on your iPhone or iPad and your iCloud account.
Setting up an Eve Cam is similar to the process for connecting other HomeKit accessories: As soon as you use the Home app to scan the HomeKit QR code printed on the camera or its instruction manual and assign the camera to a room, it's added to the home screen with your other "favorite" HomeKit accessories.
The camera can rest freely on a table or shelf or stuck on something metal, like an iron stair railing. You can also mount it to a wall with the included hardware. The camera's 150-degree lens should cover most rooms without warping the image, and its swivel joint and 180 derees of tilt let you fine-tune the viewing angle.
To view the camera's live feed, I just had to scroll down the Home app's screen, where the Eve Cam was displayed with a screenshot of its current view. As you watch the live stream, you can communicate with anyone in the room by activating the microphone and speaker using the buttons on this screen. From the settings options, accessible by tapping a cog icon, you can toggle various notification settings and set detection and recording preferences for Home and Away modes. The camera uses your phone's GPS radio to determine when you're in the camera's primary location and when you're not.
The Eve for HomeKit app provides much of the same functionality, but with the addition of a timeline denoting when motion was detected. When you want to access the videos to see who or what triggered the detection, however, you must switch over to the Home app, where they are displayed beneath the live feed, sorted by activity (person, pet, etc.). As a further privacy measure, Apple doesn't allow third-party apps to access these clips.
The Eve Cam produces a sharp image, but colors are very much dulled down, and white and brightly lit areas tended to wash out. The image gets decidedly fuzzier when you zoom in, too. That made my family members' features pretty indistinct when I focused in on them, which didn't make me confident it would provide usable forensic evidence if it captured a crime in progress.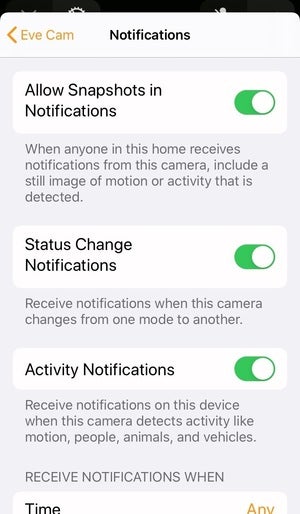 With the full HomeKit setup, the Eve Cam can identify people, pets, and—curiously for an indoor camera—vehicles. You can choose to be alerted to activity by any or all of these sources. Motion detection was consistently accurate and timely in my testing, with each notification accompanied by a screenshot of the triggering human or animal.
Notably missing from the Eve Cam is the ability to create activity zones that will designate specific areas to monitor for motion—or ignore, as the case may be. This feature, along with facial recognition, will reportedly become available when iOS 14 is released this fall.
On balance, the Eve Cam is a good camera, but it's not one all shoppers will—or even should—put on their list to consider. Because of Eve Cam's deep reliance on the Apple ecosystem, the $150 Eve Cam really only offers value to those who've already invested in it. Users for whom privacy is the top priority are also good candidates, as long they're willing to spend extra cash beyond the price of the camera itself. For the vast majority of users, there are a plethora of home security cameras to choose from that will give you better image quality and don't require fealty to one manufacturer's ecosystem.