At a Glance
Expert's Rating
Pros
Dual 2.5GbE ports with link aggregation
Excellent performance
4K UHD video decoding
Cons
Appearance and construction don't quite match the performance
Drive trays don't slide in or out as smoothly as we'd like
Our Verdict
Speed, speed, and a few neat streaming tricks highlight Asustor's excellent NAS box.
Best Prices Today: Asustor Nimbustor 2 (model AS5202T) (two-bay, unpopulated)
The Nimbustor 2, AS5202T is my first look at an Asus NAS box. Up close, its appearance doesn't quite live up to the top-tier look in the photos; its performance and features, however, most definitely do.
It's not simply the fast 2.5GbE networking (that's 2.5 gigabits per second ethernet using CAT5e cables, for the uninitiated—5Gbps with link aggregation), it's the speed of setup, the super-responsive web-based configuration interface, and just overall snappiness. It's not even that pricey—I found it on Amazon for $299 (unpopulated, of course). OK, you can find a two-bay NAS for much less; but if you value your time, it's worth it. It might also be worth if you want to use the AS5202T as a media box for your TV—it offers 4K UHD decoding and output via HDMI.
This review is part of TechHive's coverage of the best NAS boxes for media streaming and client backup,

where you'll find

reviews of competing products, plus a buyer's guide to the features you should consider when shopping.
Design and specs
The Nimbustor 2, which I'll hereinafter refer to by its model name, the AS5202T, is a black two-bay box (a four-bay version is also available that was selling for $429 on Amazon as of this writing). The front has the usual power and quick copy buttons, plus one Type-A 5Gbps USB port, as well as the power and drive status/activity lights. On the back, you'll find the aforementioned dual 2.5Gbps (RJ45) ethernet ports that may be aggregated for better performance, two more USB 3.2 (Gen 1) ports, and an HDMI 2.0a output.
Inside, there's 2GB of DDR4-2400 memory and an Intel Gemini Lake Celeron J4005 CPU running at 2GHz. Bottom line in term of specs: It's fast, and it's loaded. Most of the NAS boxes passing though our lab use older DDR3 memory.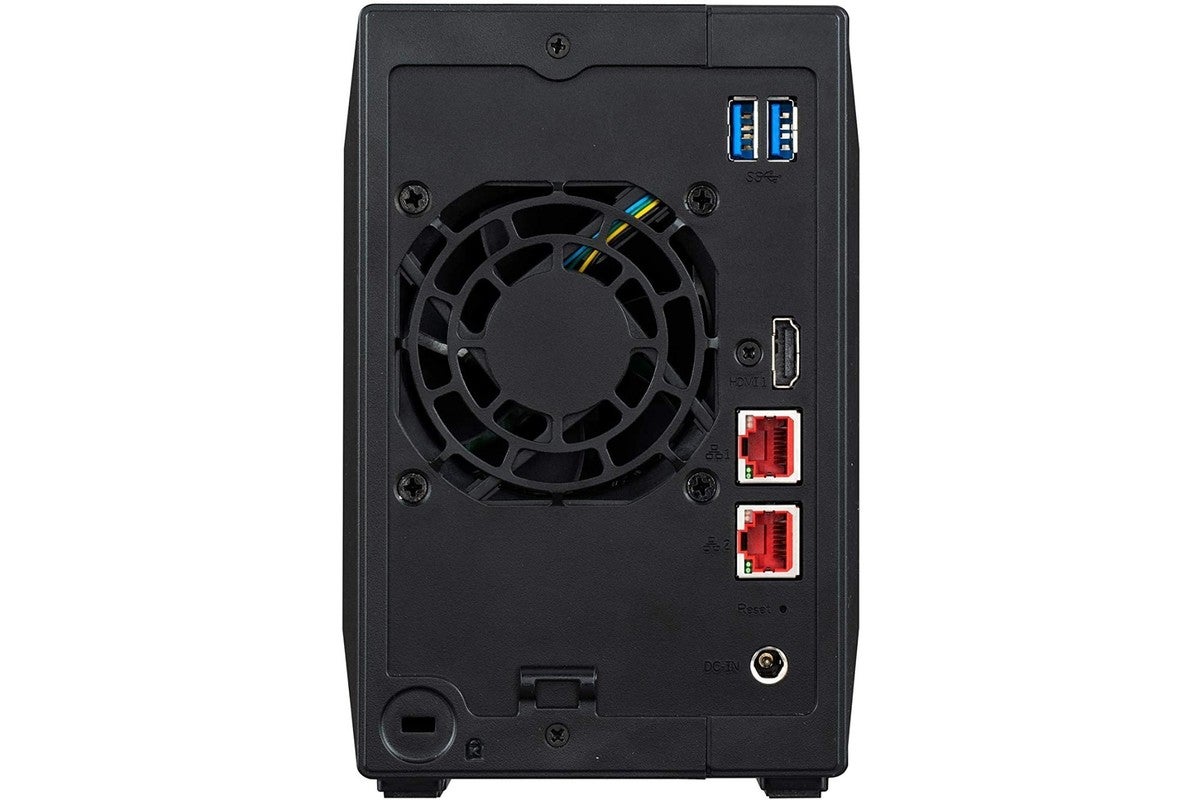 In keeping with my above comment about the appearance, I wasn't in love with the key-less drive trays either. They have tool-less install rails, but they're also a bit cheap looking and don't slide in and out particularly easy. As this is something you'll only deal with rarely, it's not a bit deal. However, the overall construction seems a bit slanted towards saving money. At the price point, and considering the internal components, I call it livable.
Note that the AS5202T is about to be "supplanted" by a newer AS6602T sporting a 2019 Celeron J4125, which will no doubt offer some minor improvements, even if they aren't apparent on Intel's website. Other features will remain the same in the essentials.
Operating system, services, and apps
Mentioned in this article
Roon, from Roon Labs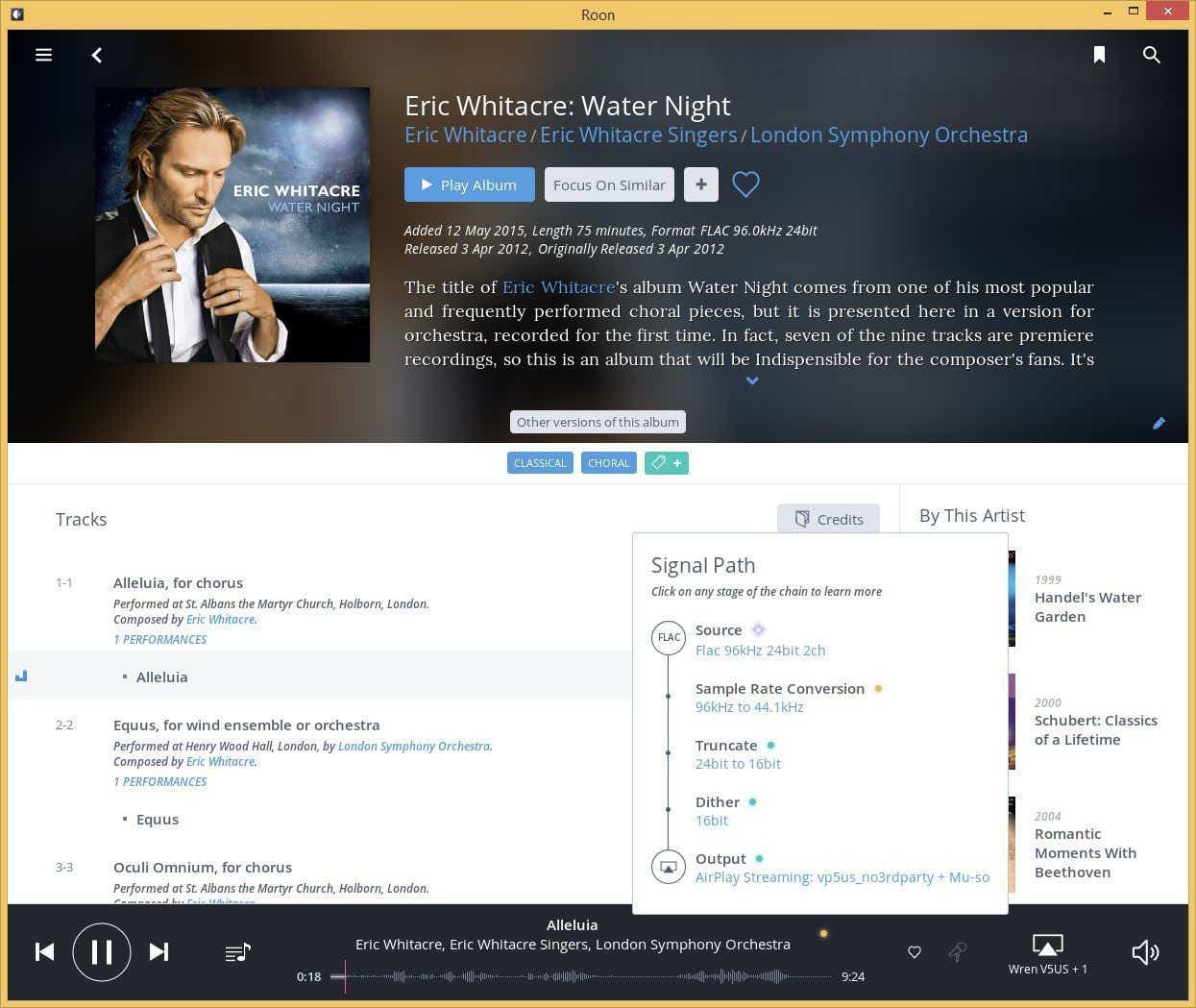 By and large, the AS5202 and the ADM (Asustor Data Master) operating system sport the same features that the heavyweights such as QNAP and Synology offer. I was even pleasantly surprised that FTP backup of remote computers is supported. That's something I do on my own home network.
There's also a plethora of media servers, including iTunes, and several UpNP/DLNA servers. Why more than one, I don't know, but choice is always good. The Plex media server and Roon Labs' super-powerful Roon Server are also available in the App Center. Me? I stick to the basics.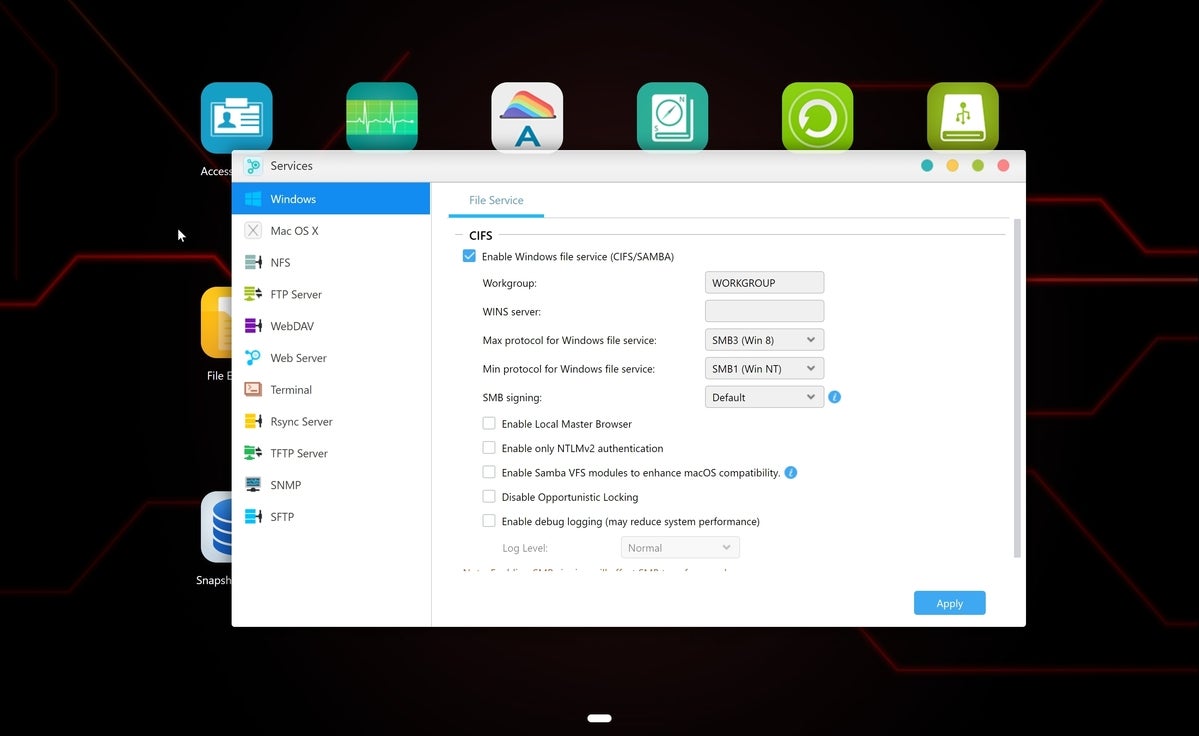 Backup is well represented. In addition to the FTP (which is a bit primitive in that it doesn't let you browse FTP sites), there's sync with online services, SMB and Rsync, and so on. Asustor also provides EZ Sync clients for major operating systems and smartphones, so you can keep mobile data backed up, too.
For some reason, Asustor doesn't preinstall the Asus Portal that's responsible for outputting video to a TV or computer display attached to the box's HDMI port. Once Portal is installed, you can stream, browse the web, and play movies off the box directly to said display, which can be any resolution up to 4K UHD (3840 x 2160).
Mentioned in this article
PowerDVD 20 Ultra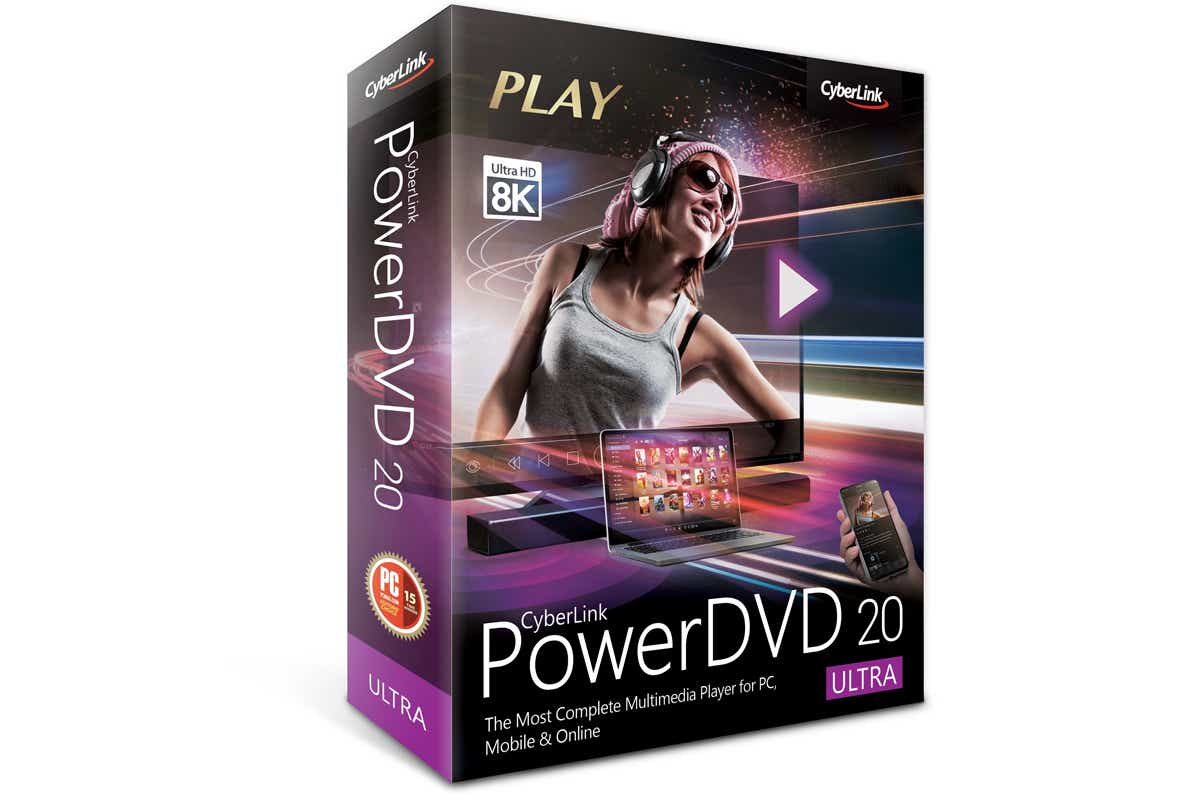 Price When Reviewed:
$99.99
Asustor is related to Asustek, a major motherboard and PC peripheral vendor catering to enthusiasts, and gaming influences are apparent. From the styling and logos, to one trick I haven't seen outside of Cyberlink's PowerDVD—the ability to "pin" YouTube videos for offline viewing.
Generally, I found ADM exceedingly well organized, though the company might consolidate the energy-saver functions to a single location. On the other hand, link aggregation/trunking of the two 2.5GbE ports was a breeze. Unlike some other boxes, it just worked (round-robin), without any configuring of the network switch or router, assuming you have a 2GbE switch or router. You can see the results below.
Performance
Speed is where the AS5202T justifies it's hefty price tag. Just as a bit of background, USB-C 2.5GbE adapters, such as this Trendnet model, cost only about $40, so you can add that speed to any computer easily. Switches supporting 2.5GbE, on the other hand, are rare; but there are some affordable ones, including the the $180 Zyxel XGS1210-12 that I used in testing. Note that the switch must support multi-gig (2500/5000), and not fall back to gigabit or 10/100 when 10GbE is not available.
Even without link aggregation, the AS5202T read and wrote at 293MBps over a single 2.5GbE connection. That's likely a good enough boost for most users, considering that gigabit tops out at just below 120MBps.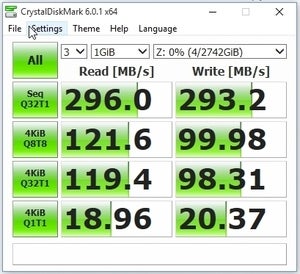 As shown below, read speed increased by almost 80MBps, but write speed decreased by about 40MBps when using the AS5202's round-robin link aggregation. As noted, this requires no help from a switch or router. This will likely be worth it if you're primarily streaming, but a single 2.5GbE connection will be better if you're continually writing to the box. Other, faster link aggregation modes are supported, but these require a switch or router that supports them.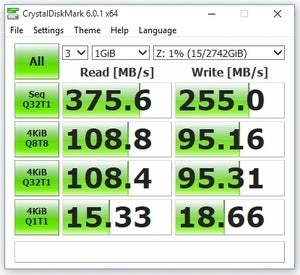 On the other hand, if you're waiting on upgrading to 2.5GbE, the round-robin link aggregation increase both read and write speeds when used over gigabit connections.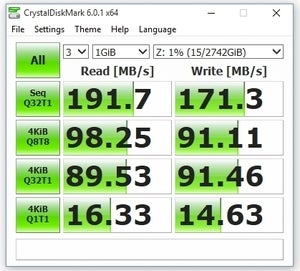 Below is the AS5202's speed over a single gigabit connection—no faster than any other box. Unless you use both ports and link them, you might as well opt for a cheaper box.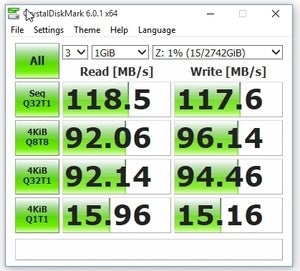 I truly enjoyed my short time with the AS5202T. So much so that I've opted for USB 2.5GbE adapters for my own home network, including my mainstay QNAP gigabit NAS box. Once you're used to the speed, it's hard to go back.
Note: testing was performed on Windows 10 64-bit running on a Core i7-5820K/Asus X99 Deluxe system with four 16GB Kingston 2666MHz DDR4 modules, a Zotac (NVidia) GT 710 1GB x2 PCIe graphics card, and an Asmedia ASM2142 USB 3.1 Gen 2 (10Gbs) card. Also on board are a Gigabyte GC-Alpine Thunderbolt 3 card. A QNAP QNA-T310G1S Thunderbolt 3 to 10GbE adapter was connected to one of the 10GbE SFP+ ports on a Zyxel XGS1210-12 10GbE/2.5GbE/gigabit switch.
Conclusion
When it comes to performance, the AS5202T is hands-down the best home-user NAS box I've tested. Throw in the ability to drive a display, and you've got one heck of a capable box. While the operating system isn't quite as mature as say, QNAP's or Synology's, it's darn close and I'm a fan of the way features and settings are organized. Highly recommended.
This article was edited 8/13/2020 to correct the link to the Asustor App Store.