At a Glance
Expert's Rating
Pros
Over-the-air DVR works offline
Streams live and recorded TV to other devices at full broadcast quality
Lots of neat features for power users
Cons
Crude, clunky, and confusing interface
Persistent issues with Wi-Fi connectivity and loading TV guide data
No Netflix or Amazon Prime video support, and weak performance with other apps
Our Verdict
The VBox Android TV gateway is promising on paper, but bugs and limitations make for an aggravating experience.
Best Prices Today: VBox Android TV Gateway
When a little-known company called VBox Communications asked if I wanted to review its VBox Android TV Gateway, I was intrigued.
Despite the lack of brand recognition, VBox was promising something that no other company had delivered: An Android TV streaming box that doubles as a whole-home DVR for free over-the-air channels. The hardware is reasonably priced at roughly $180, and it has no subscription fees. On paper, it seemed like a compelling alternative to the likes of Amazon's Fire TV Recast, Nuvyyo's Tablo Quad, the AirTV 2, and DIY DVR solutions such as Plex and Channels.
But after setting up the VBox TV Gateway myself, the problems quickly began to pile up. The software is buggy and confusing, DVR features are limited, and it doesn't support Netflix or Amazon Prime for streaming. VBox's DVR does have some redeeming qualities—particularly for folks who need an offline solution—but for most cord-cutters it's better off staying in obscurity.
This review is part of TechHive's coverage of the best over-the-air DVRs, where you'll find reviews of competing products, plus a buyer's guide to the features you should consider when shopping for this type of product.
Two devices in one
The VBox TV Gateway serves double-duty as both an Android TV player for streaming video and a TV tuner for over-the-air antennas.
Internally, the tech specs are similar to what you'll find on other Android TV devices, with a quad-core processor, 8GB of storage, and 2GB of RAM. It also includes a standard-looking streaming remote, with a directional pad for navigation, buttons for home, back, and menu functions, and a Google Assistant button for voice search.
The VBox is much larger than the typical streaming box, though, presumably to make room for the quad tuner inside. It can play or record up to four broadcast channels at a time, and it can also stream broadcast TV over Wi-Fi to other phones, computers, streaming players, and game consoles.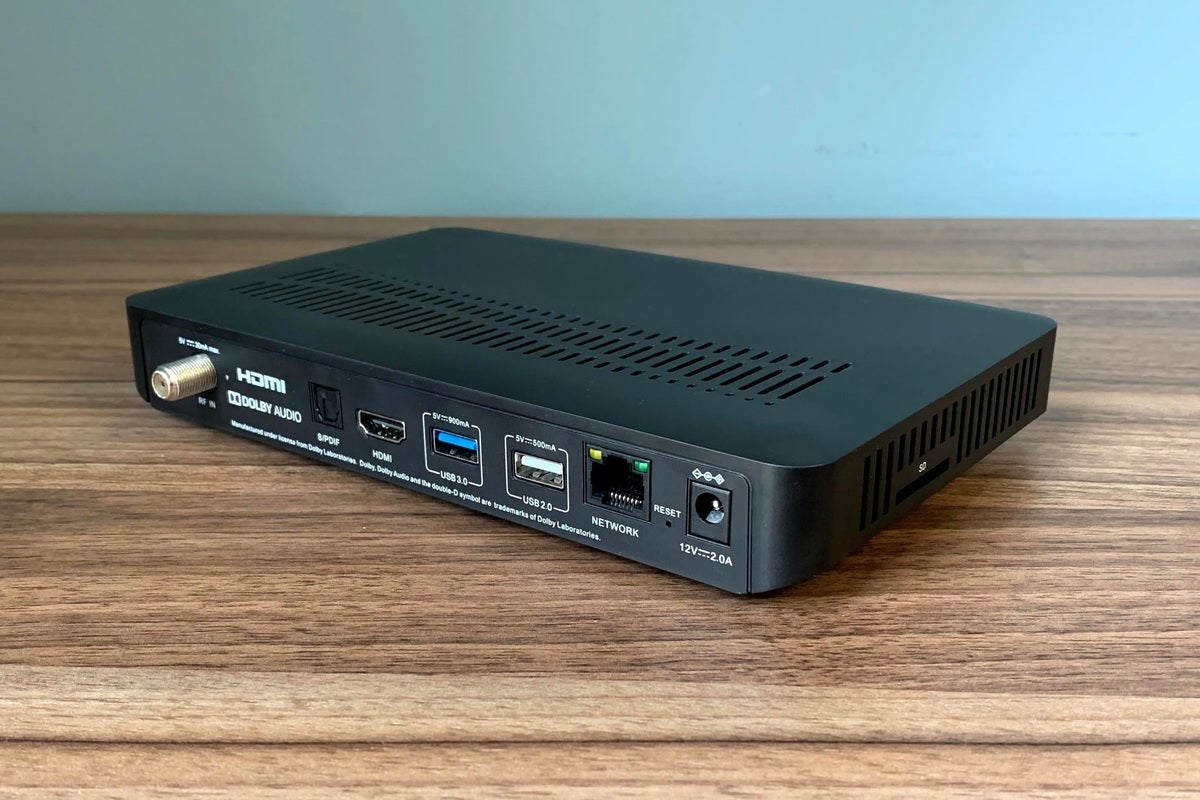 Around back, you'll find two Type-A USB ports (one USB 2.0 and one USB 3.0), so you can plug in an external hard drive for recording and still have room for other accessories, such as game controllers. There's also an SD card slot for more expandable storage, optical (Toslink) audio output, an ethernet jack, and a coaxial cable for plugging in any over-the-air antenna.
Conflicting setup steps
Like other Android TV devices, setup involves choosing your Wi-Fi network, logging in with a Google account, navigating through various data-sharing and voice-control prompts, and then using apps to stream video.
Setting up live TV is where things get complicated.
While the device comes pre-loaded with an app called "VBox TV Source," you're actually not supposed to use it. VBox says it's deprecating that app, which was meant to tie into Android TV's oft-neglected Live Channels menu, and recommends installing a separate "VBox Live TV" app from the Google Play Store instead. Unless you check VBox's printed manual or website, you might not realize an extra download is necessary.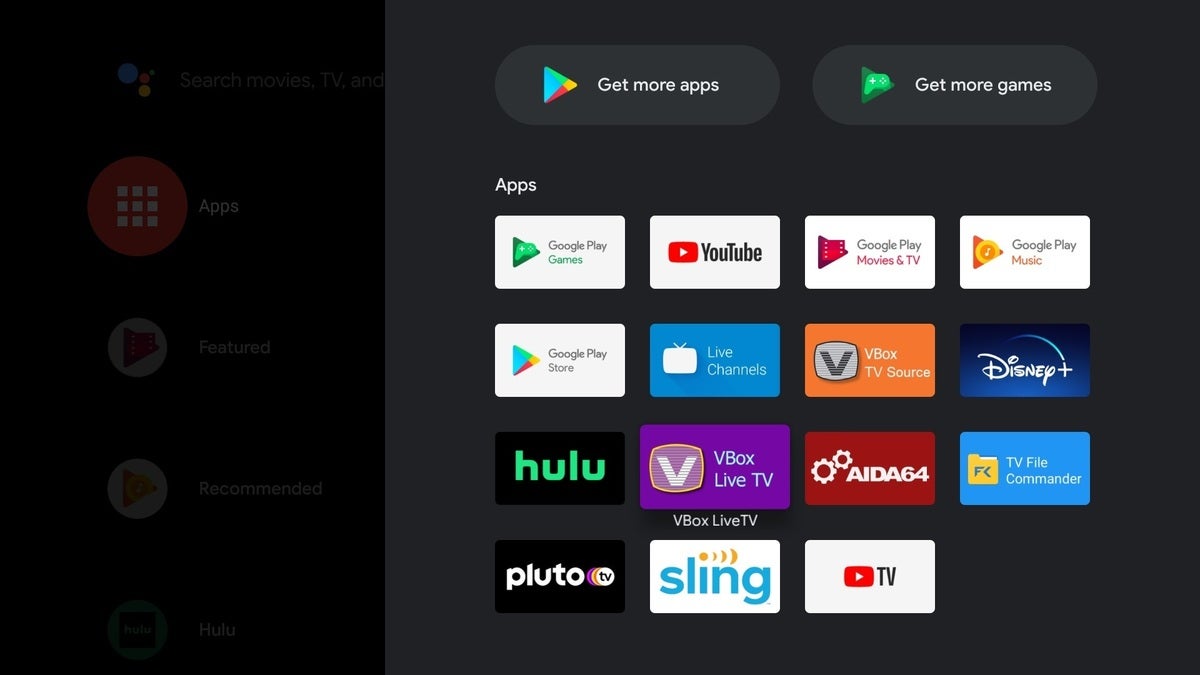 The remote control presents its own mysteries. By default, it uses infrared to communicate with the set-top box, which feels clunky and slow. You can pair the remote via Bluetooth as an alternative, but the setup process never mentions this, and pairing instructions appear only in the printed manual.
Worse yet, the remote's infrared controls only work with certain Samsung, Sony, and Panasonic TVs. If you have a different brand of TV, you'll need a separate remote for volume and power controls.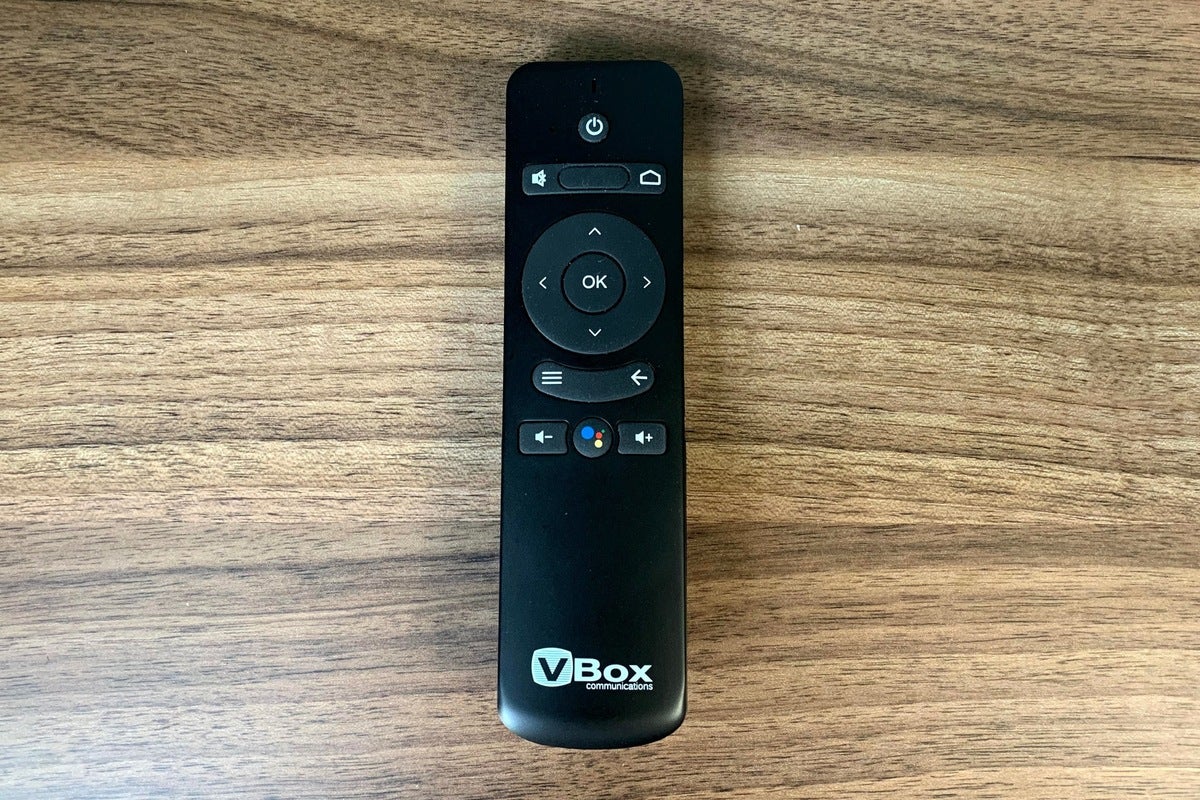 One other quirk worth noting: The system's frame rate is limited to 30 frames per second by default, making certain videos look choppy and giving the menu system a sluggish feel. For smoother 60-frames-per-second playback, you must dig into the VBox's display settings and choose the higher frame rate manually.
Ugly software
If you make it through those hurdles, the VBox Live TV app offers an aesthetically crude but functional way to watch free over-the-air channels. Clicking the remote's select button brings up a menu, from which you can access a mini-guide, a full-screen grid guide, a channel recall button, a numeric channel selector, and a DVR area (strangely called "My Zone").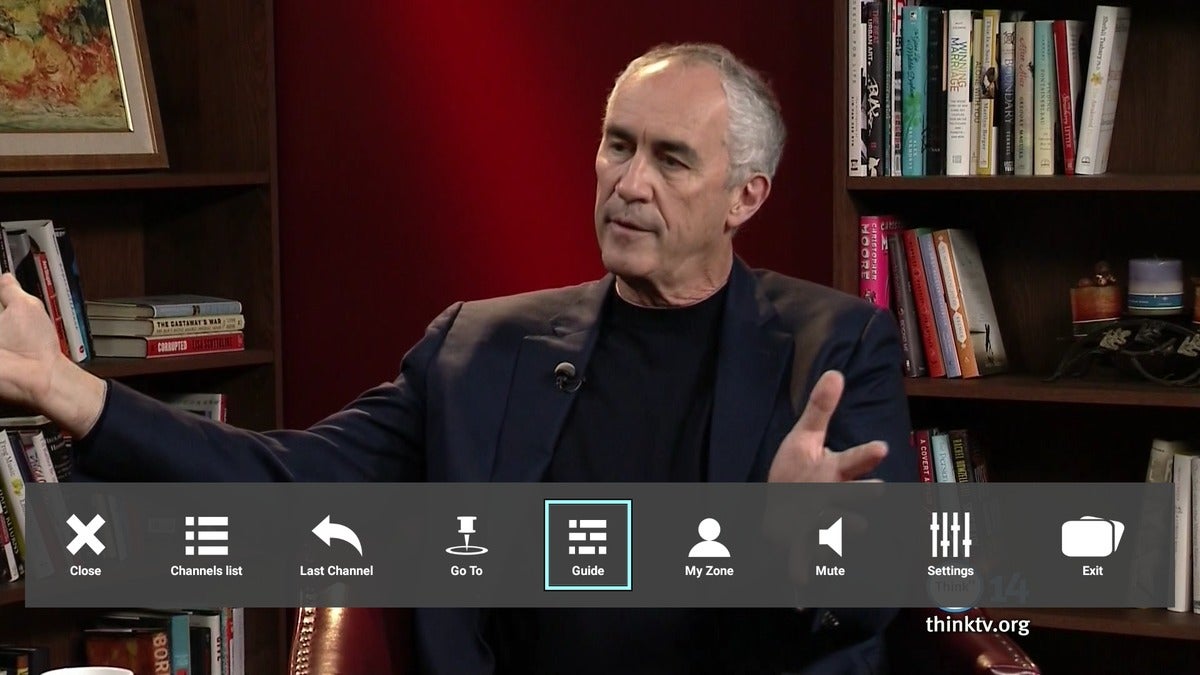 But even here, more confusion abounds: Tapping right during video playback brings up a mini guide, but tapping up or down brings up a different guide for seeing what's coming up on each channel. Tapping left brings up yet another guide, this one offering DVR and other channel-specific settings. All of this should really be streamlined into a single menu.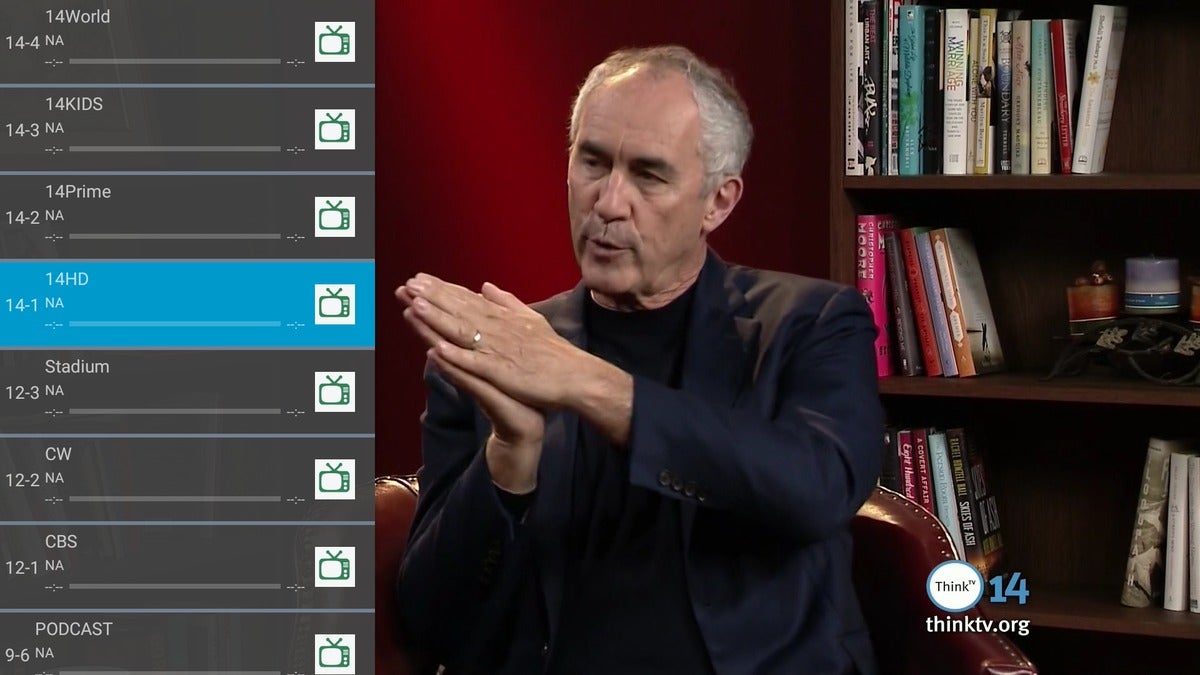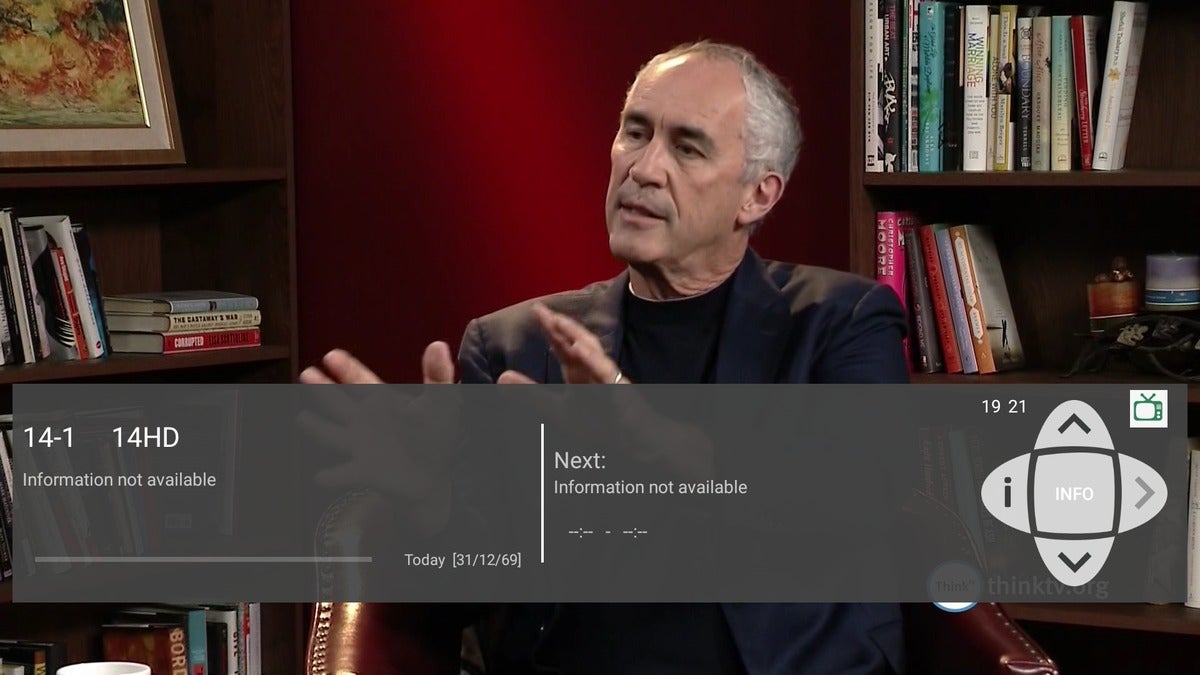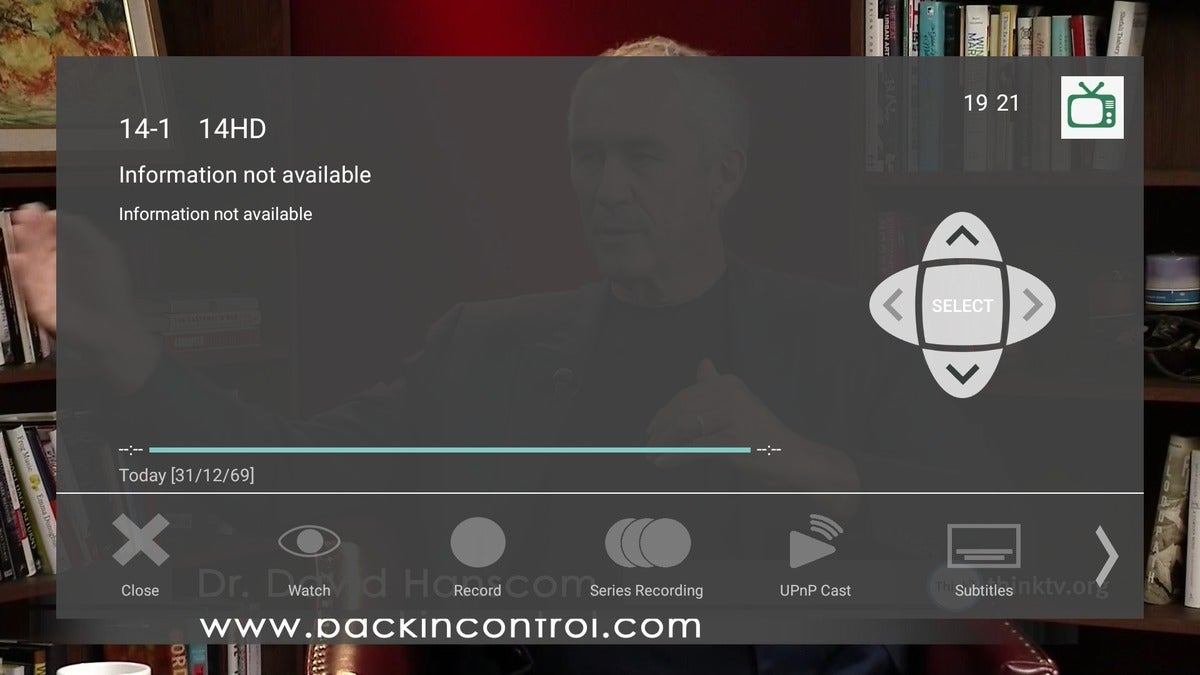 I also had a lot of trouble getting guide data to load reliably. On several occasions, I had to visit VBox's settings menu to manually resync the guide, and while making screenshots for this review, I couldn't get guide data to load at all. (That's why there's no program info available in any of the screenshots here.)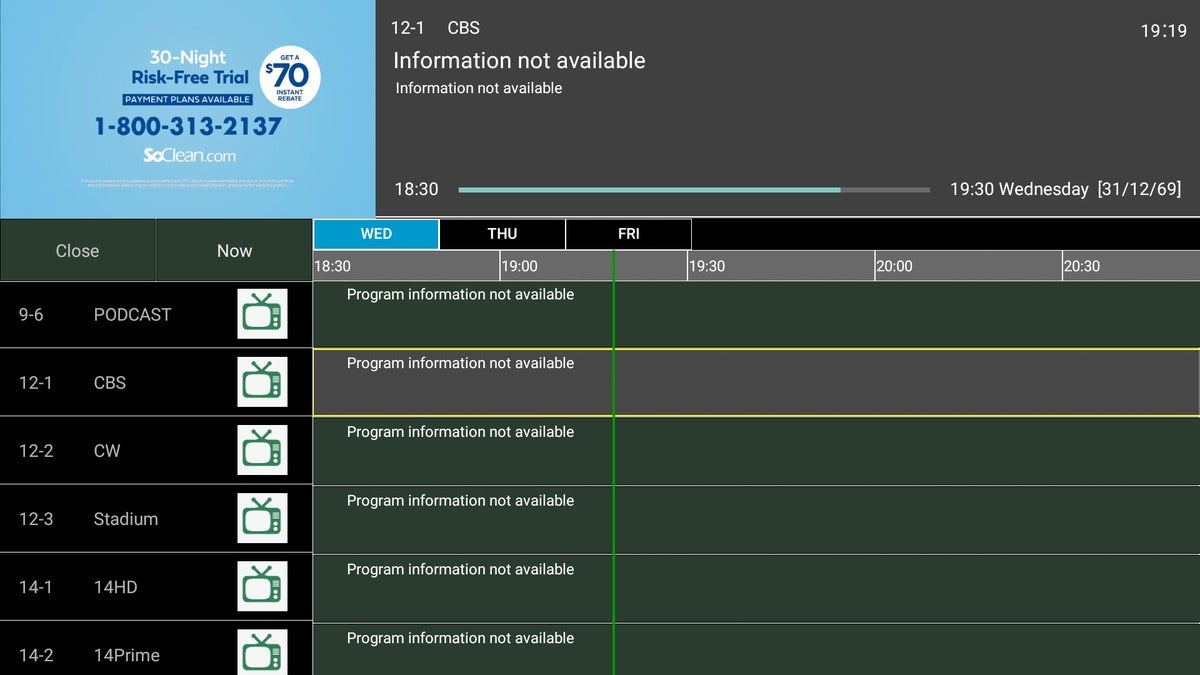 DVR options are just as clunky. There's no search function for broadcasts and no way to browse by genre, so the only way to find programs for the DVR is to scroll through the grid guide. From there you can set up one-off or recurring recordings, but you can't easily create recordings for an entire series. Instead, VBox merely asks which days of the week it should record the time slot you've selected. For recording reruns that air at varying times—or on different channels—that's a huge hassle.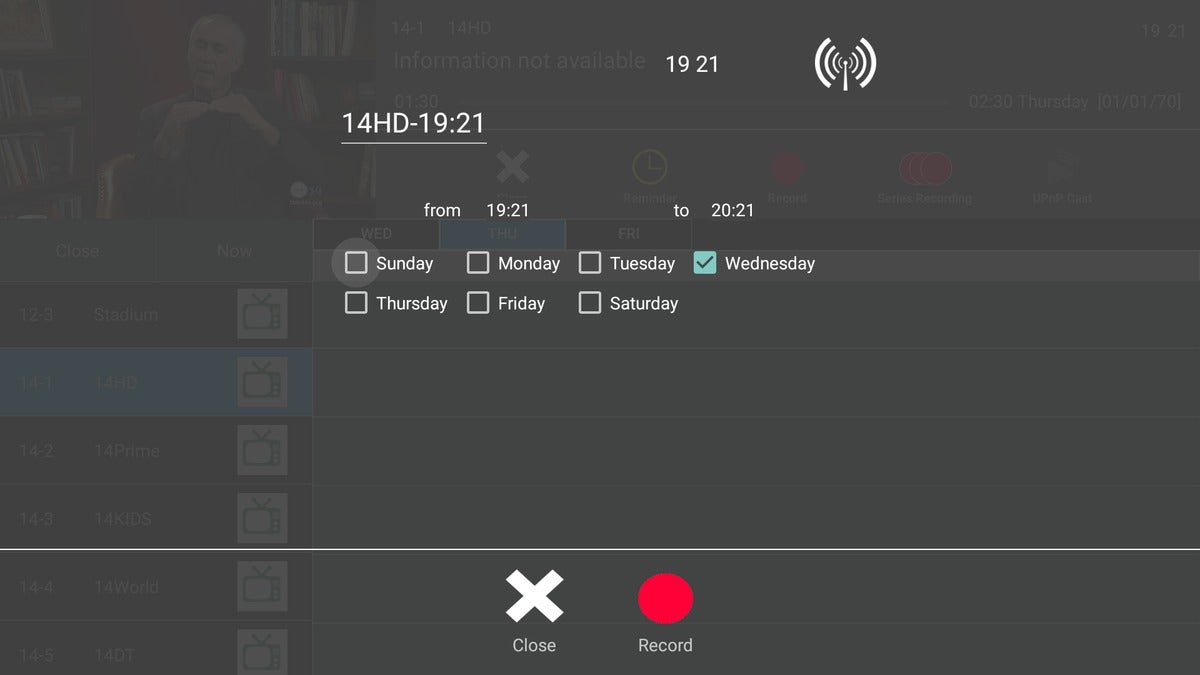 Control over your recordings is limited as well. You also can't automatically delete older episodes of a program, automatically clear out old recordings when storage space runs out, or replace standard definition recordings with HD versions when they become available. Overall, the VBox's recording capabilities are more akin to cheap DVRs like the Mediasonic Homeworx than to pricier solutions like Tablo and TiVo.
Multi-room DVR and more
Despite all those problems, the VBox Android TV Gateway has some saving graces as an over-the-air DVR.
Unlike most over-the-air DVRs I've tested, it doesn't require an internet connection. You can watch live TV, play recordings, and even browse the grid guide offline—an essential feature for cord-cutters in RVs or who otherwise have limited internet access.
It also works as a multi-room DVR, letting you stream live or recorded TV to other devices over Wi-Fi. All you need to do is download the VBox Live TV app, which is available on Android TV, Windows, Xbox One, iOS, and Android. (A Fire TV app is available as well, but for reasons unclear, you must sideload it.)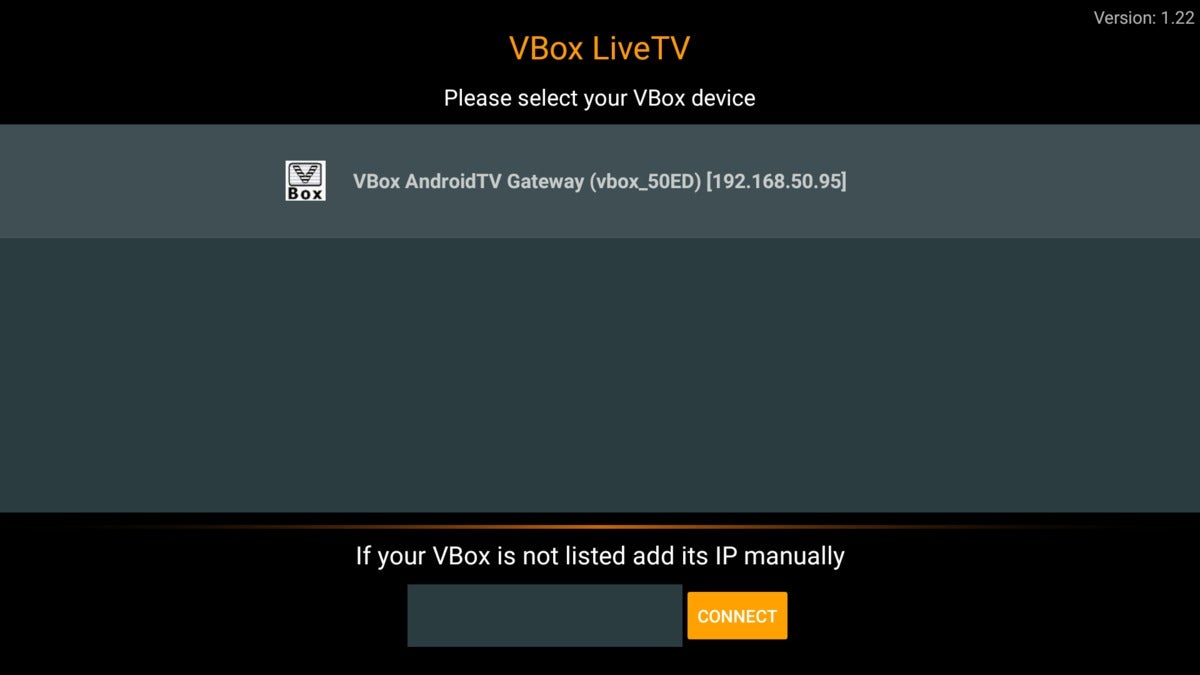 The VBox streams video to these devices at native quality, so you don't lose any of the crispness that comes from direct antenna input. If you're short on Wi-Fi bandwidth, however, the box also supports transcoding to lower video resolutions at a maximum 30 frames per second.
Also impressive: In addition to saving recordings onto external hard drives or SD cards, VBox supports networked storage. I have a 4TB hard drive connected to my router's USB port, and the VBox recognized and connected to it without issue.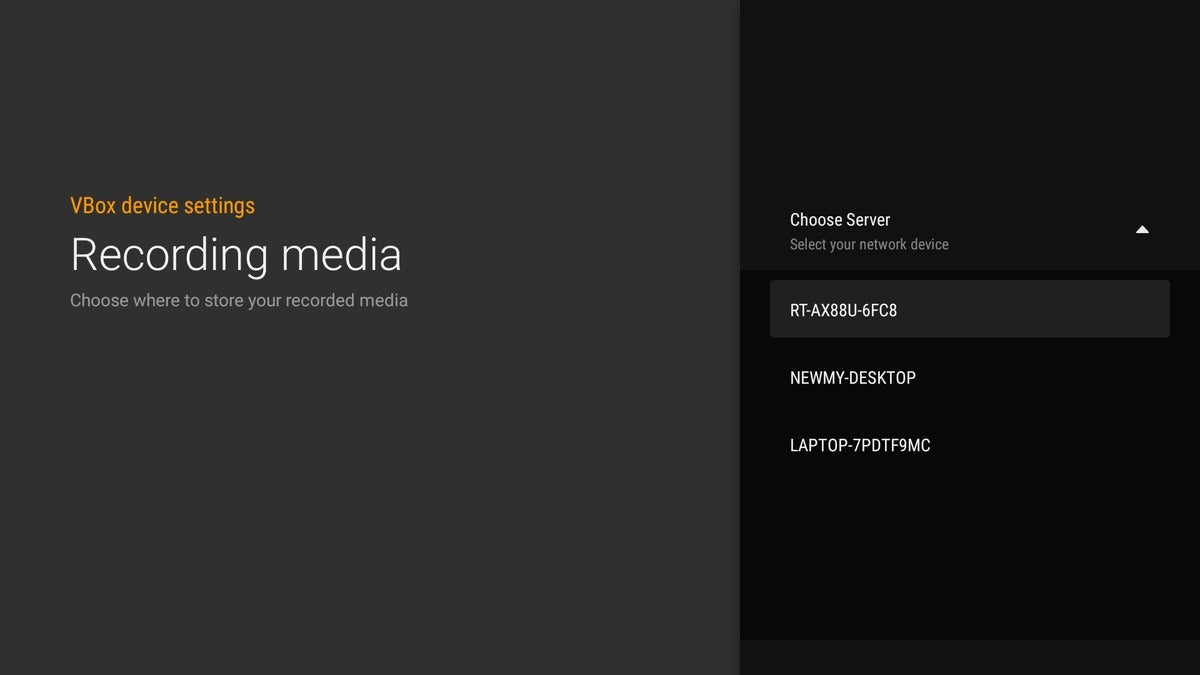 If you really want to go wild, you can dig into VBox's Advanced Settings menu to upload logos for each channel (VBox's guide doesn't provide them automatically), supply your own TV guide via XMLTV, create custom transcode settings (alas, still limited to 30 frames per second), or hook into IPTV services. The VBox even works as a backend for live TV in the media server software Kodi, though as with many of my attempts to accomplish things in Kodi, this did not work for me.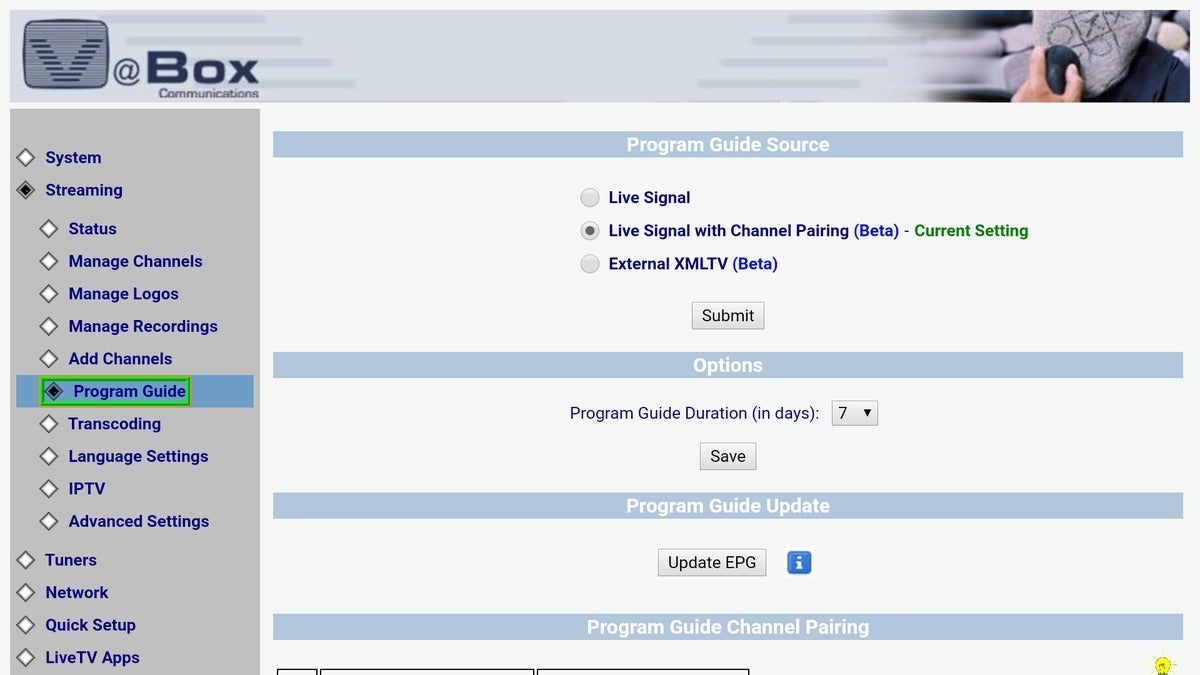 Through this menu, you can also set up out-of-home viewing, but you'll need to keep a notepad handy to use it. To access the VBox remotely, you must enter a specific IP address and port number listed in the advanced settings menu. (It'll look something like this: https://123.456.789.12:33345)
But even with these powerful features, I ran into rough edges. The VBox Live TV app routinely crashed on a TiVo Stream 4K, rendering it unusable, and on other devices the app would often fail to detect the VBox hardware on the same network. The only way to connect was to type in the device's IP address manually.
I should also note that throughout most of my testing of the multi-room feature, some of my local PBS stations would not play audio. VBox eventually sent me a software update that fixed the problem, but it's unclear what the underlying issue was or whether the update will be available to all users.
Streaming box shortcomings
While the VBox Android TV Gateway has some redeeming qualities as an over-the-air DVR, it outright fails as a streaming player.
The device runs on Google's Android TV 8.0 Oreo operating system, but unlike most Android TV devices, it doesn't support Netflix or Amazon Prime Video. That alone will make it a non-starter for many cord-cutters in the United States.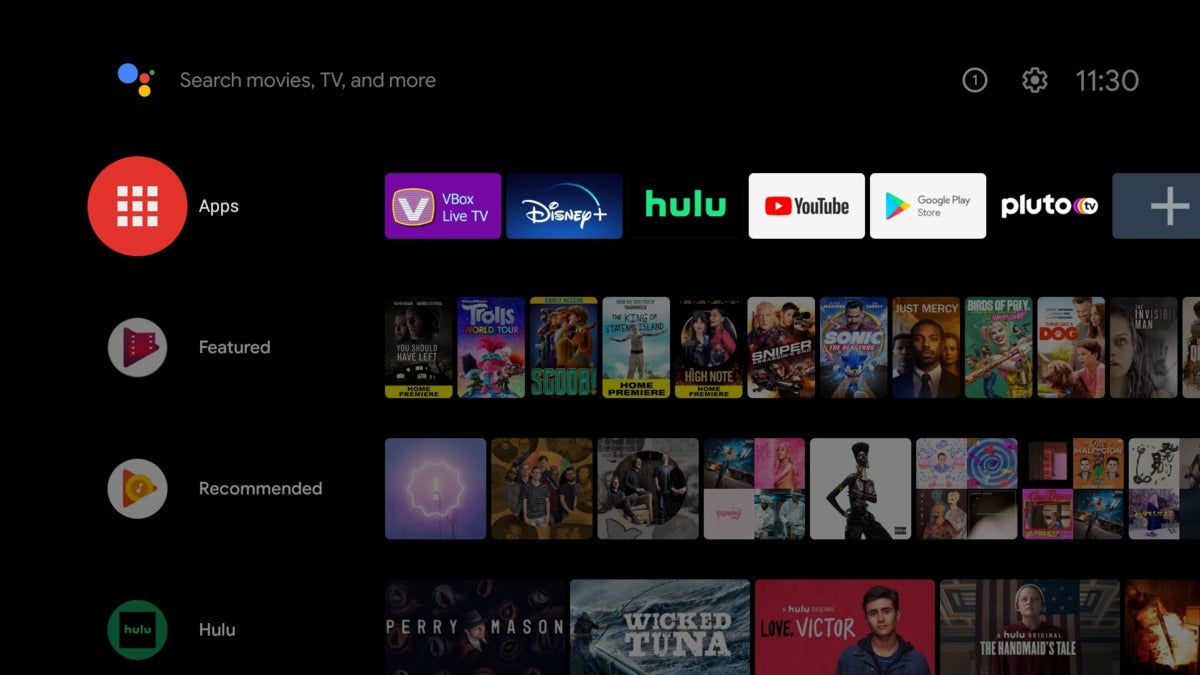 I also ran into issues with other apps. In Hulu, live TV channels were stuck at 30 frames per second, giving a choppy appearance to news, sports, and talk shows. I was able to get 60-frames-per-second video in YouTube TV, but with an unacceptable amount of stuttering and freezing. In YouTube and Disney+, I couldn't get HDR playback to work even though the VBox ostensibly supports it. The system was also slow to respond to button presses, and on several occasions, it lost Wi-Fi connectivity without explanation.
The VBox Android TV Gateway might have some value as an offline over-the-air DVR. Outside of Mediasonic's Homeworx and other cheap tuners with USB storage support, there just aren't many other options for folks without internet connectivity, and VBox provides a faster interface and more features.
But in practically every other way, this device falls so far short of it's promises that I can't recommend it to anyone. Other over-the-air DVRs offer much slicker software, better features, and far fewer frustrations for not a lot more money.
Best Prices Today: VBox Android TV Gateway