At a Glance
Expert's Rating
Pros
Multiple cleaning modes
Mapping navigation
Excellent navigation and cleaning
Cons
Does not support virtual boundaries
Mapping features are limited
Our Verdict
The Eufy G30 Edge is an easy-to-use mapping robot vacuum that cleans thoroughly and efficiently.
Best Prices Today: Eufy G30 Edge
The handful of Eufy robot vacuums we've tried out have been above-average cleaners. But none of them have included advanced features like a navigation camera and mapping. Instead, Eufy has focused improvements on suction power and dust collection while keeping prices budget friendly.
The RoboVac G30 Edge a step forward: It uses what Eufy calls Smart Dynamic Navigation to map the room and plot a more streamlined path through it. While its $370 price tag is slightly higher than some of its competitors, it's still within the affordable range for a quality robot vacuum.
This review is part of TechHive's coverage of the best robot vacuums,

where you'll find

reviews of competing products, plus a buyer's guide to the features you should consider when shopping.
In most other ways, the G30 Edge is like past Eufy offerings. It has a 2000Pa max suction, it boasts multiple cleaning modes, and it uses BoostIQ to automatically optimize suction power according to the type of floor it's cleaning. Its 100-minute runtime is also comparable to its stablemates. And, like the RoboVac 30C, it can be used with Amazon Alexa or Google Assistant for voice control.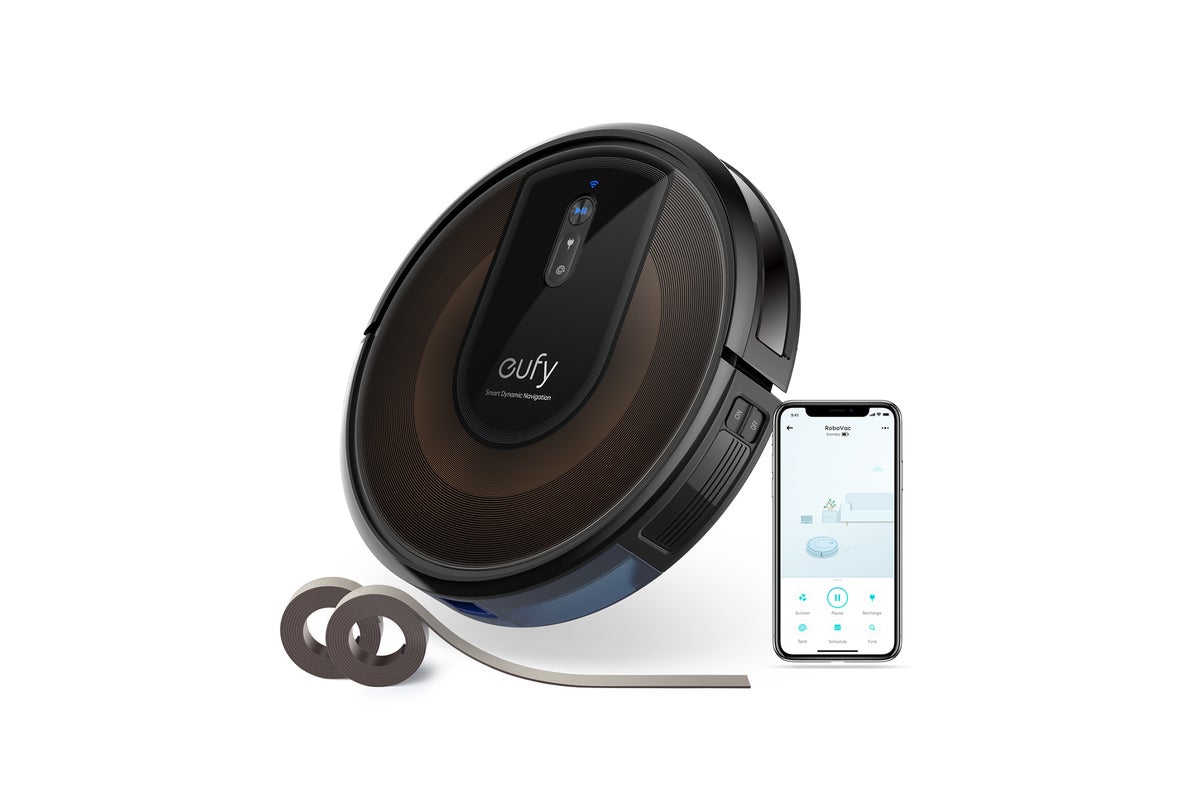 Our favorite budget vac
Ecovacs Deebot N79S
The vacuum requires minimal setup. You must snap on one of the supplied spinning edge brushes, but after that it's a simple matter of setting it on its plugged-in charging dock and connecting to the Eufy Home app. The app guides you through this last process in a minute or two.
During the first cleaning, the G30 Edge creates a map of the room's floor plan. You can view its progress in the app along with the square footage of the area the vacuum has covered and the cleaning time elapsed. This first cleaning was the longest in my tests as the robot got the feel for the room and its many obstacles. Cleanings were quicker once the G30 Edge was familiar with the layout.
Beyond enabling this efficiency, the mapping feature doesn't do much else. You can't delineate rooms or set virtual no-go zones, as you can with some other robot vacuums, by drawing boundaries on the map. Indeed, the G30 Edge requires the use of old-school magnetic tape to tell its sensors to steer clear of marked areas, just like Eufy's cheaper RoboVacs. Many robot vacuums still use this method of boundary control, though, because it's generally effective. It worked flawlessly to keep the G30 Edge from barreling into my dog's food and water dishes and rolling over a power strip on the floor.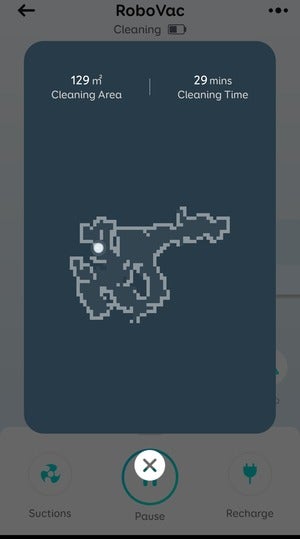 You can choose from three suction strengths—Standard, Turbo, and Max—from a designated button at the bottom of the app, or just leave it set to BoostIQ to let the robot choose on the fly. I did the latter most of the time, as the living room area I used for testing is composed primarily of low-pile carpet, hardwood, and vinyl tile. The G30 Edge had no issues rolling from one surface to the next and ably sucked up the pet hair, food crumbs, and dirt and dust that had been accumulating faster than normal during the coronavirus lockdown.
On the rare occasions the vacuum did get stuck, it would let me know with a voice alert and a pop-up notification in the app. For example, I got a "rolling brush stuck" message when a twist-tie got wrapped around that brush. Once I removed it, I needed only to press the Clean/Pause button on top of the vacuum to get it to continue its cleaning.
The Eufy Home app is pretty minimal, with the upside being that it's a breeze to navigate. The top of the home screen displays the vacuum's battery level along with cleaning area and cleaning time stats. Vacuum controls, a scheduling option, and detailed cleaning history are accessible from a tool menu on the bottom of the screen. But I wasn't crazy about the fact you must open a separate pop-up window every time you want to view the map, especially since the valuable real estate in the center the home screen, where other robot vacuum apps typically locate the floor plan, was here occupied by a static graphic of a living room.
Other settings can be accessed from a three-dot menu in the upper right corner. The most useful of these include an auto-return feature that when enabled will send the G30 Edge to its dock to top off its battery when it's too low to continue cleaning. There's also a Find My Robot feature that makes the vacuum emit a chime so you can locate it, and a directional pad for manually controlling the robot.
Verdict
Eufy's Smart Dynamic Navigation makes the G30 Edge a more efficient navigator than past RoboVac's we've reviewed, which translated to even cleaner floors in my home. Of course, it only scratches the surface of what a mapping robot vacuum can do, and the perks that mapping often brings—such as virtual boundaries, pin-and-go navigation, and customizable room settings—were missed here. (Check out our recent review of the Roborock S6 MaxV for some next-level navigation.) Still, if you're looking for a diligent, no-nonsense robot vacuum to support your housework, you'll find the G30 Edge a welcome addition to your broom closet.
Updated May 20, 2020 to report that Eufy has pushed the RoboVac G30 Edge's launch date out to mid June and reduced its price to $369.99.
Best Prices Today: Eufy G30 Edge
Note: When you purchase something after clicking links in our articles, we may earn a small commission. Read our affiliate link policy for more details.