At a Glance
Expert's Rating
Pros
Truly wireless surround speakers
Dolby Atmos, DTS:X, and eARC support
Auto room calibration
Crisp, tight sound
Cons
Wireless surround speakers must be charged frequently
Very few audio settings
Our Verdict
For once, the wireless surround speakers on JBL's first Dolby Atmos-enabled soundbar are, in fact, truly wireless, but it's not a setup that will work for everyone.
Price When Reviewed
$1,195.00
Best Prices Today: JBL Bar 9.1
The "wireless" surround speakers that come with many soundbars are almost never truly wireless; instead, they require either power cables or a wired connection to a "wireless" sound module (which itself will need a wired power source). That makes the wireless surround speakers that come with the JBL Bar 9.1 notable exceptions.
When they're not magnetically attached to the main soundbar unit, the Bar 9.1's compact and battery-powered surround speakers can go practically anywhere in your living room (although they'll do best somewhere behind your sofa, of course), no power cables or other wires required. When they're snapped into the main soundbar unit (which makes the Bar 9.1 feel like the Nintendo Switch of soundbars), the surround speakers boost the audio of the soundbar's primary drivers.
That's pretty neat, but you'll need to balance the appeal of the JBL Bar 9.1's truly wireless speakers with the reality that they must be charged frequently. (The speakers can also be powered via USB, but doing so means they're no longer wireless.) Another important caveat about the JBL Bar 9.1 soundbar is that it lacks many of the granular settings adored by audiophiles, save for a few settings on the remote.
This review is part of TechHive's coverage of the best soundbars,

where you'll find

reviews of competing products, plus a buyer's guide to the features you should consider when shopping.
Still, this Dolby Atmos- and DTS:X-capable soundbar doesn't disappoint in the audio department, delivering crisp, punchy sound and tight bass, while the auto-calibration feature is a welcome bonus. (You can read an in-depth explainer of immersive audio here.)
Configuration
JBL bills its Bar 9.1 as (natch) a "9.1-channel soundbar," but it's more accurately described as a 5.1.4 system: In addition to the traditional left, center, right, rear surround and low-frequency effects channels (the "5.1" part), you also get front and rear height channels (the ".4" at the end).
On the main soundbar unit, the left, right, and center channels are powered by four racetrack (or oval-shaped) full-range drivers and three one-inch tweeters, while a pair of upfiring drivers supply audio for two of the four height channels. The two remaining height channels come from the upfiring drivers in the two wireless surround speakers, each of which comes equipped with one-inch tweeters.
Those (total) four upfiring drivers provide the height effects for Dolby Atmos and DTS:X, the two competing immersive audio formats that the JBL Bar 9.1 supports. The idea behind the upfiring drivers is that they bounce sound off your ceiling, which makes for an easier alternative to installing height speakers in your ceiling. Not all ceilings are ideal for the upfiring trick, however; for its part, Dolby recommends a flat ceiling that's between 7.5 and 14 feet high, and a vaulted ceiling won't work.
The main soundbar unit measures 34.8 x 2.4 x 4.7 inches with the wireless surround speakers detached. That's actually relatively compact compared to similarly priced soundbars I've tested, and in particular the soundbar's 2.4-inch height won't block the bottom edge of most TVs. Even with my low-slung 50-inch LG C9 OLED TV, the JBL Bar 9.1 only blocked a sliver of the set's bottom edge, and the (barely there) obstruction didn't bother me in the slightest. The JBL Bar 9.1 looks a tad more imposing with its 6.8 x 2.4 x 4.7-inch wireless surround speakers attached, which bring the soundbar's overall length to 48.4 inches, or nearly the entire length of my 50-inch LG TV.
Last but not least is the Bar 9.1's wireless subwoofer, which measures an imposing 12 x 17.3 x 12 inches and tips the scales at 24.5 pounds, making it one of the biggest subwoofers I've seen that's paired with a soundbar.
Physical setup & those "truly" wireless surround speakers
With its truly wireless and detachable surround speaker modules, the JBL Bar 9.1 is one of the most unusual soundbars I've tested from a setup standpoint. (It's worth noting that JBL's older Bar 5.1 soundbar was the first to come with battery-powered wireless surround speakers.) That said, I didn't encounter any serious problems getting the Bar 9.1 up and running, and its wireless setup was particularly easy.
First up is placing the main soundbar unit in front of your TV, or (optionally) mounting it under the TV on a wall; a mounting kit for both the soundbar cabinet and the wireless surround speakers is included. A five-foot AC cord (which is thankfully free of bulky bricks or outlet-blocking wall warts) attaches to a rear power port. The wireless subwoofer (which, unlike the surround modules, does have a power cord), comes pre-paired to the soundbar, and in my case it connected automatically as soon as I powered it up.
Now it's time for the wireless—and yes, we do mean wireless—surround speakers, which are packed separately in the box from the main soundbar unit. When I first picked them up, I was surprised by how heavy they were; indeed, each of the modules weighs a little more than two pounds, which gives each speaker a reassuringly substantial heft. A flat rectangular protuberance on the side of each surround module fits into the corresponding side of the main soundbar housing, and a set of hidden magnets holds the modules in place. When you fit the speakers onto the soundbar, they snap in with a solid, satisfying thwunk, while disconnecting the modules requires pulling them straight out using a fair amount of force.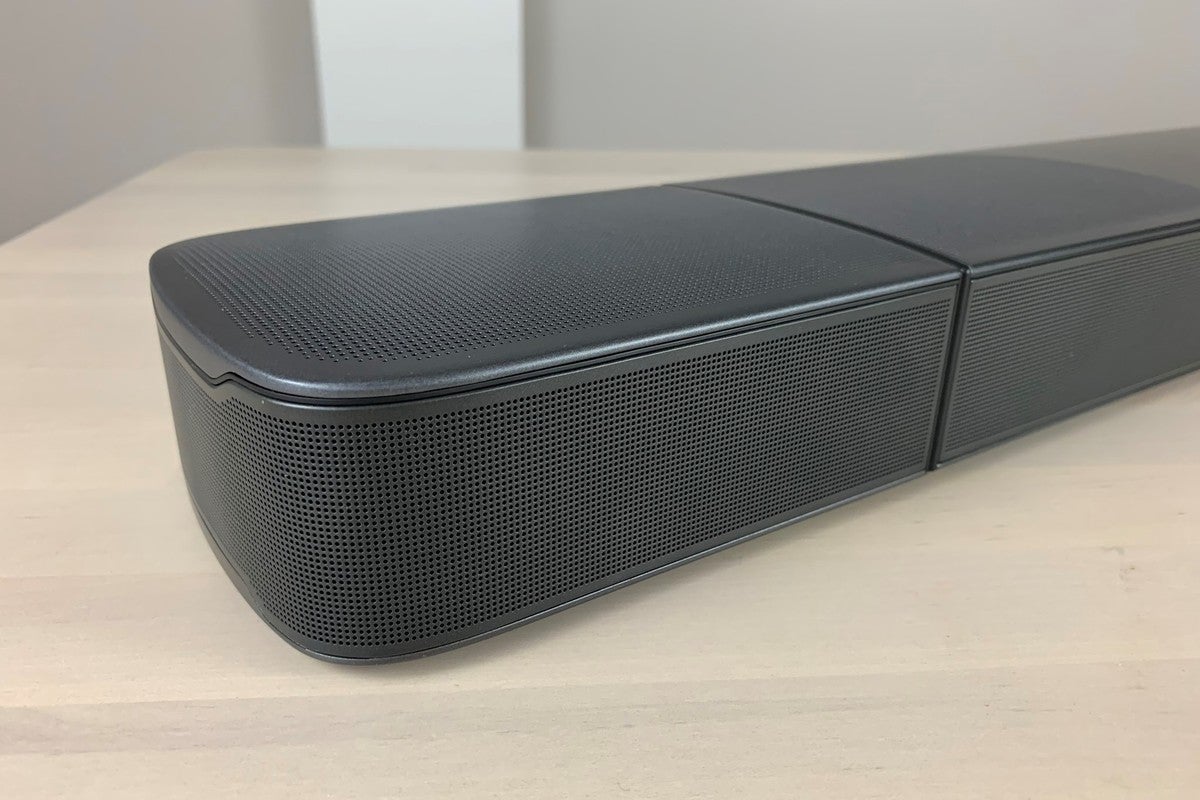 When the surround speakers are connected to the soundbar, their tweeters and full-range upfiring drivers boost the sound of the drivers in the main unit, essentially turning the soundbar into a 3.1.2-channel configuration. You'll need to detach the surround speakers and place them for the full 5.1.4 effect.
Of course, the beauty of the Bar 9.1's truly wireless surround speakers is that you have much more freedom in terms of placement than you would with typical "wireless" surround speakers that are tethered to power cords (or in some cases, to a powered wireless unit). If you want to mount the surrounds higher up on a rear wall without dealing with unsightly wires, for example, you're certainly free to do so, or you could put the speakers in another location where wires wouldn't be ideal.
I was initially a bit confused on exactly how the wireless surround speakers should sit once they're detached, but here's how it works. Taking the left surround module as an example, you detach it from the left side of the soundbar, place it in the left-rear position, and then turn the speaker completely around relative to how it was positioned on the soundbar. That way, the side and front speaker grilles are facing your ears, the magnetic connector is facing away from you, and the solid rear panel and its integrated mounting hole are facing the wall.
Like the wireless subwoofer, the wireless surround should come pre-paired to the soundbar, and indeed, they paired automatically for me and I never encountered any wireless connection snafus. The speakers should also reconnect automatically to the soundbar after the main soundbar unit goes to sleep, although I occasionally had to press the small power buttons on the connector ends of the speakers to get the modules to reconnect.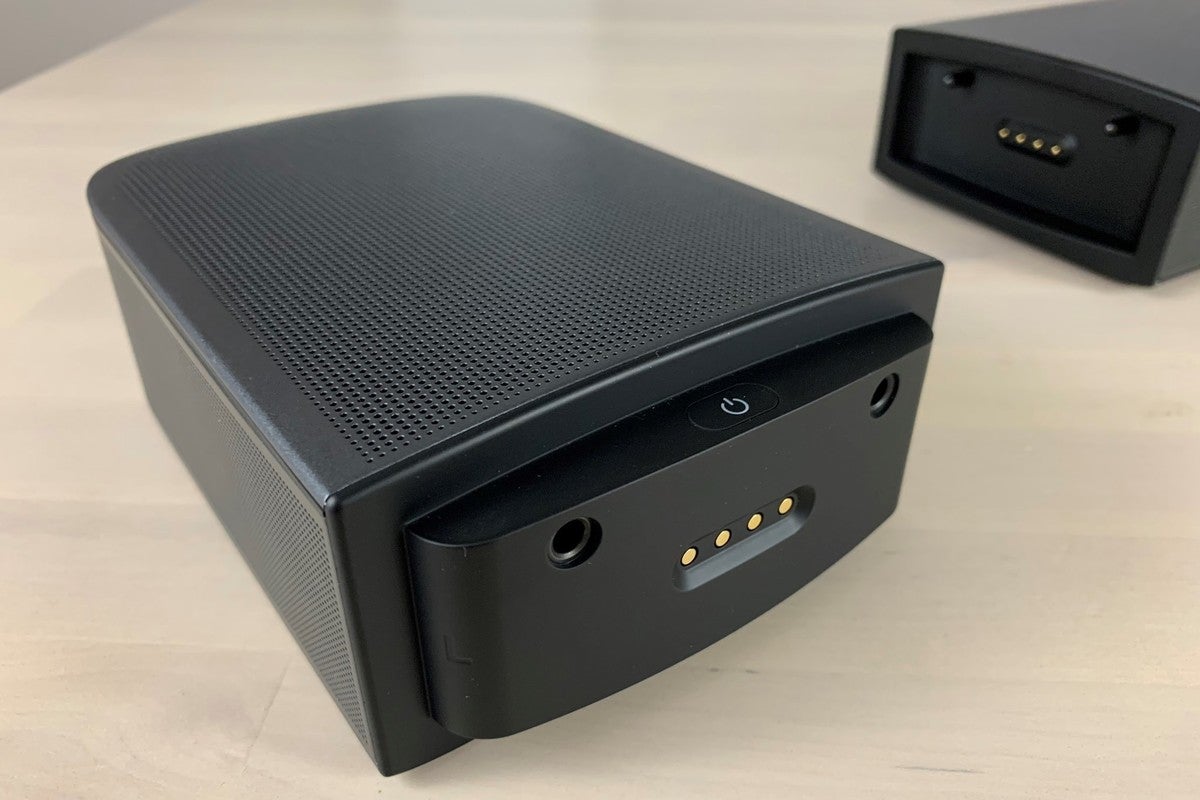 While the idea of truly wireless surround modules that you can snap on and off of the soundbar has a certain geeky appeal, there's also the reality that the speakers will eventually run out of juice. JBL promises 10 hours of battery life from the wireless surround speakers, after which you'll need to reconnect the modules to the main soundbar unit for a good three hours or so of recharging. While that 10-hour figure sounds about right based on my experience with the Bar 9.1, I did find that the soundbar would start flashing a "low battery" warning for the wireless speakers if I forgot to recharge them overnight, every night. An indicator light on each speaker module will flash red when the battery level falls below 20 percent.
Now, if having to recharge the wireless surround speakers on a regular basis sounds like a hassle, there's a crucial feature on each module that I've yet to mention: a Micro-USB charging port, which means you could keep the speakers plugged to a power source all the time if you wanted to. (You'll have to supply your own Micro-USB charging cables and adapters). Of course, if you do end up using those Micro-USB charging ports, then you're back to dealing with power cables, and there goes the advantage of "truly" wireless surround speakers. In the end, you'll have to decide what's more important to you: the freedom of using the JBL's surround speakers without any wires, or being able to leave the speakers where they are without worrying whether their batteries are about to die.
Wireless setup and auto room calibration
Once you have the main Bar 9.1 soundbar and speakers set up just the way you like, it's time to connect the unit to your wireless network, and doing so turns out to be a fairly simple and painless process. The first step is pairing the Bar 9.1 with your phone via Bluetooth, then you open the Google Home mobile app (assuming you already have it installed) and discover the soundbar. Once discovered, Google Home can add the soundbar to your Wi-Fi network without having to key in your network credentials. The short process worked seamlessly for me, and once the Bar 9.1 is connected to Wi-Fi, you can cast audio to it via AirPlay 2 or Chromecast.
Next, you can employ a feature that deserves to be found in more soundbars: auto-calibration, which you can start by pressing and holding the HDMI button on the remote for more than five seconds. The two-step process involves first putting the wireless surround speakers so they're flanking the primary listening position, while for the second step you put the speakers further apart and slightly behind you (a diagram in the user manual shows the speakers sitting just behind a sofa). During each step, you'll hear the typically loud blips and bleeps as the soundbar takes readings on the size and layout of your listening area.
Inputs and outputs
The JBL Bar 9.1's input and output ports sit in a rear central cavity, and you get a fairly standard set of connectors, including two HDMI ports (a standard HDMI input and an HDMI-ARC output), an optical (or Toslink) input, a USB port that (in the U.S., anyway) supports MP3 playback, and the power port.
You have two options for connecting the JBL Bar 9.1 to your TV. The first option is to connect a video source to the soundbar's HDMI input and then connect the soundbar to your TV via the HDMI-ARC output port. (The Bar 9.1 supports 4K and HDR/Dolby Vision passthrough.) That setup will work fine as long as you're only dealing with a single video source; if, on the other hand, you have multiple sources (such as a UHD Blu-ray player, a set-top box, and a game console), you'll have to manually swap HDMI cables in and out of the single HDMI input.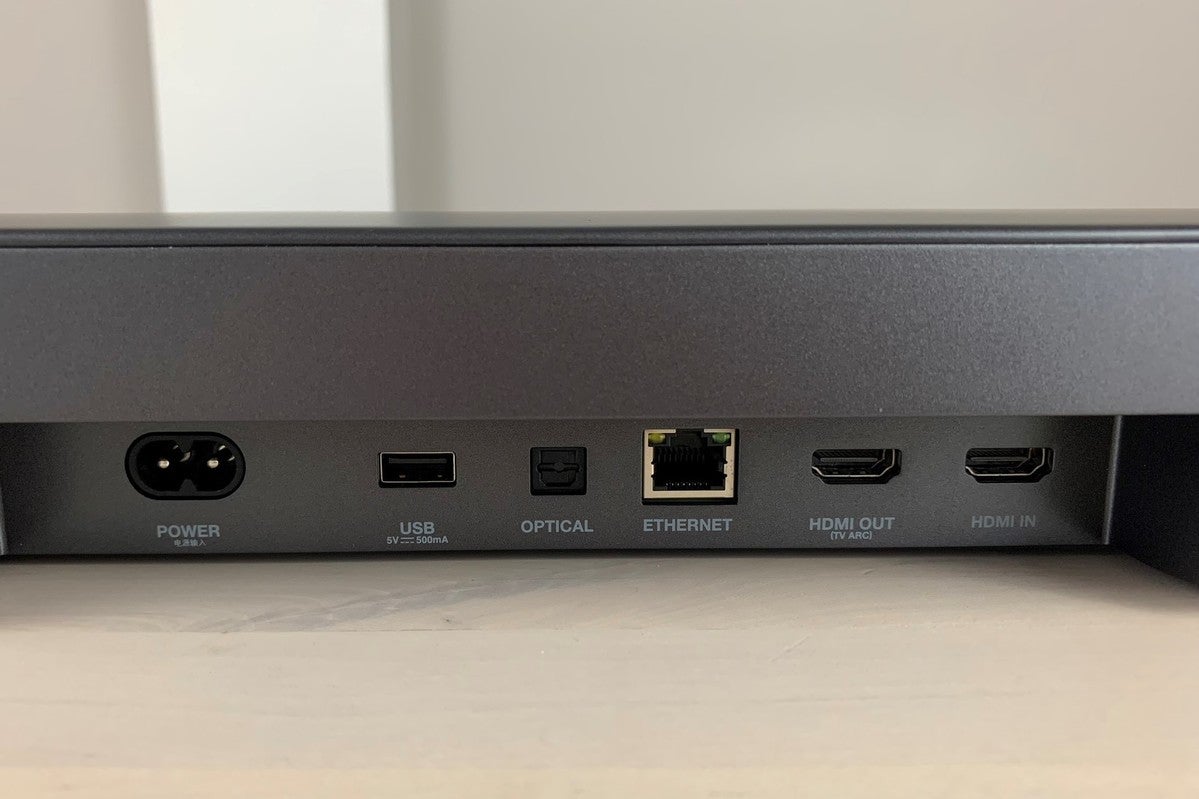 The second option is to connect your video sources to your TV's HDMI inputs and then connect your TV to the soundbar via its HDMI-ARC (short for "audio return channel") port, which allows you to switch between multiple sources without having to manually switch cables. Even better, the Bar 9.1 supports eARC, an enhanced version of the standard ARC protocol that supports lossless Dolby TrueHD and DTS-HD Master Audio formats. (Garden-variety ARC lacks the bandwidth for lossless audio, although it can support Dolby Digital Plus and DTS audio formats.) I used the HDMI-ARC setup for the majority of my testing, and it worked flawlessly. You can read more about the differences between ARC and eARC in this article.
Controls, remote, and indicators
Sitting atop the JBL Bar 9.1's main soundbar housing are buttons for power, volume up/down, and input select, while a digital readout in front tells you which input is active, what type of audio format has been detected (in the case of Dolby Atmos or DTS:X) or is being applied (as in Dolby Surround or DTS Neural:X upmixing), and whether the wireless surround speakers need to be reconnected or their batteries need recharging.
The JBL Bar 9.1's non-backlit remote has a straightforward layout, with the power button sitting at the top, TV, Bluetooth, HDMI, and Dolby Atmos buttons in a square just beneath, a volume rocker in the middle, a mute button below the volume control, and a pair of three-step buttons for adjusting the bass and rear speaker volume levels.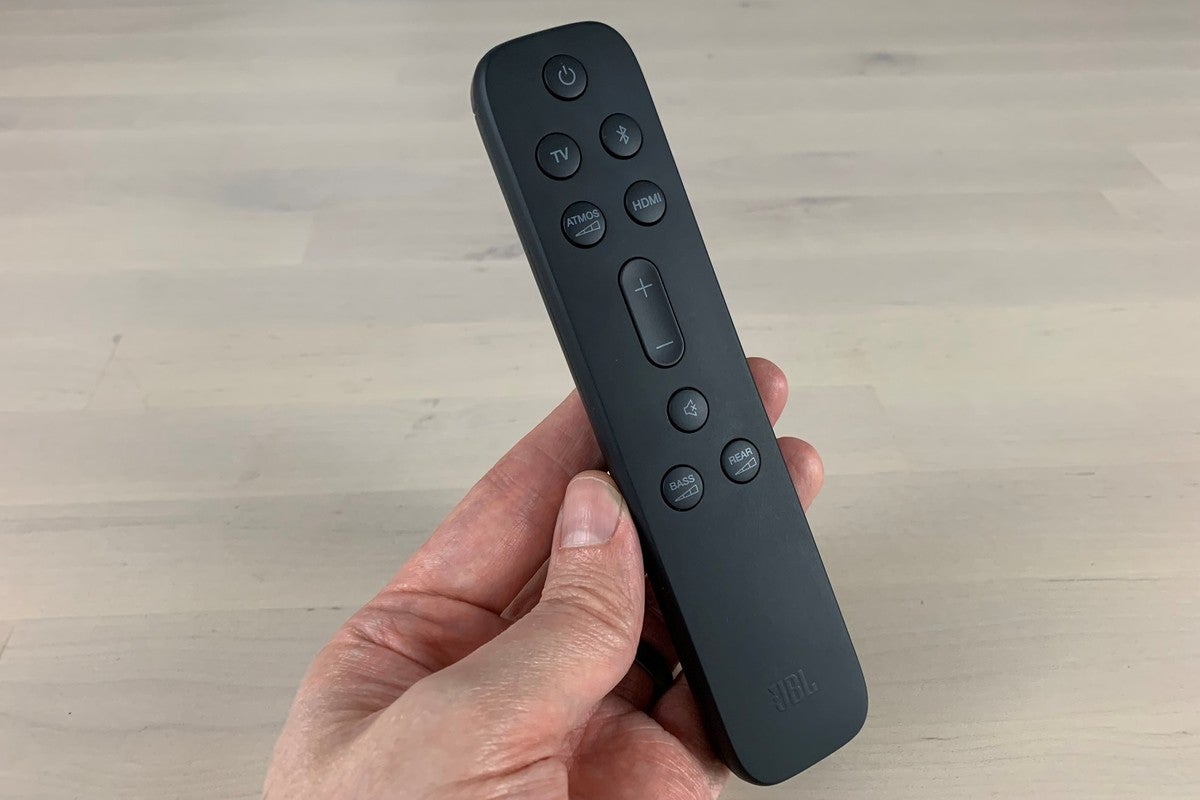 So, where's the settings button? Well, there isn't one on the remote. There aren't any significant settings present in the Google Home app, either, save for toggling the full dynamic range setting on and off. There's also no JBL companion app for the soundbar. Instead, the Bar 9.1's settings are pretty much relegated to those Atmos, Bass and Rear buttons, save for the ability to toggle between the soundbar's "Smart" and "Standard" sound modes (which we'll cover in a bit). While the lack of involved settings may be ideal for those who'd prefer to simply power up the Bar 9.1 and start listening, audiophiles will be frustrated by the lack of more granular audio controls.
Sound modes
Before we delve into the JBL Bar 9.1's audio performance, let's take a moment to discuss its various sound modes. Unlike other soundbars that have Movie, Music and Voice sound modes, the Bar 9.1 has only Smart and Standard modes.
Smart mode, which is enabled by default, automatically applies a "Movie EQ" setting to audio coming from the HDMI and Optical inputs. The Movie EQ setting enhances surround effects and low-frequency response for audio coming from the HDMI and optical inputs, while also applying either Dolby Surround or DTS Neural:X upmixing (depending on whether the video source features Dolby or DTS audio), which means you'll hear upmixed height cues even when you're listening to non object-based audio sources.
Besides the Movie EQ setting, there's also a "Music EQ" preset that's automatically applied to all audio coming from Bluetooth, AirPlay 2, and Chromecast sources. The Music EQ setting dials down the bass and surround effects compared to the Movie EQ preset, and it also turns off the Dolby Surround and DTS Neural:X upmixing.
While you can't change the behavior of the Bar 9.1's Smart mode in terms of the Movie EQ or Music EQ settings, you can temporarily switch from Smart mode to Standard mode, which features a "standard" equalizer preset that is (according to a JBL rep) more suitable for say, a newscast or dialog-heavy content (although Dolby Surround/DTS Neural:X upmixing is still applied). To turn on Standard mode, you must press and hold the Mute button on the remote and then press the volume-up button. As I just mentioned, switching to Standard mode is only temporary; if you power off the soundbar and power it back up again, it will be back in Smart mode.
The Bar 9.1 also has a night mode that compresses the dynamic range of the audio, handy if you want to watch movies or TV shows late at night without disturbing slumbering housemates. To engage night mode, you must press and hold the mute button on the remote for more than three seconds, then press the volume-down button.
There's no obvious dialog-boosting mode, although the Standard sound mode essentially serves that purpose (and as we'll soon see, dialog on the Bar 9.1 sounded impressively crisp and clear in both Smart and Standard modes). There is also no "pure" or "direct" mode for the HDMI and optical inputs that delivers audio without any Dolby Surround or DTS Neural:X upmixing (save for actual Dolby Atmos or DTS:X soundtracks, of course). That means if you want to hear non-3D Dolby or DTS soundtracks exactly as the content creators intended, you're out of luck.
Performance
While it's disappointing that there are so few settings available for tinkering with the audio, the good news is that JBL has done a fine job of tuning the Bar 9.1's sonics. My overall impression was of clean, crisp, and tight sound that (in a good way) eschews excessive warmth for precision. The four up-firing drivers manage to deliver palpable height cues, while music sounds detailed and alive with the wireless surrounds docked. My only real complaint is that the Bar 9.1's soundstage is a bit narrow, a common issue when it comes to soundbars (as opposed to separate speakers that can be placed more widely apart).
My first stop was the UHD Blu-ray of Star Wars: The Rise of Skywalker, which boasts a Dolby Atmos soundtrack. As Kylo Ren stalks into the ominous floating pyramid on Exegol to find the resurrected Emperor Palpatine, I was impressed by the sharp, screeching lighting strikes that felt like they were coming from above, as well as the crash of water as a Star Destroyer emerges from a turbulent ocean. John Williams's score sounded crisp and detailed (but never shrill), while the roar of the Millennium Falcon's engines was punctuated by a deep but tight thump of bass. As I mentioned earlier, though, the Bar 9.1's soundstage did sound a bit narrow, an issue that some (and generally pricier) soundbars manage to overcome with side-firing drivers.
Next, I teed up the thrilling launch sequence from Apollo 13, which features an object-based DTS:X soundtrack on the 4K Blu-ray version. While the deep roar of the Saturn V's engines can sound overly boomy and muddy on other soundbars, the JBL Bar 9.1 manages to keep the sound pleasingly crisp and tight, while still packing in plenty of punch in the low-frequency department. Height effects were clearly evident as the rocket swooshed off the launch pad, and I liked the panning sound of the gurgling fuel pumps behind my left shoulder just before takeoff. Last but not least, Tom Hanks's rapid-fire dialog ("Houston we have a center engine cutoff, go on the other four?") sounded clear and distinct despite the surrounding cacophony.
I also tried a pair of Dolby Atmos trailers. Listening to the "Leaf" version, the Bar 9.1 did a great job of reproducing the swirling sound of the floating seed pod as it twirled around, above, and behind the frame, while also handling the sharp, deep thunderclap in the "Amaze" trailer without veering into overly boomy territory.
Switching to music (I docked the wireless surround speakers for my music tests, alternating between AirPlay 2, Chromecast, and Bluetooth), I enjoyed the clear, clean acoustics of "The Ghost of Tom Joad," by Bruce Springsteen. The Boss's spare guitar playing and honking harmonica had a crisp, flat sound (that's a good thing), with the rising synthesizer sounding warm but not muddy. Vlado Perlemuter's rendition of Maurice Ravel's solo piano works likewise sounded detailed and atmospheric but not overly bright or shrill (also a good thing), while the punchy beats in Ciara's "Level Up" sounded tight as a snare drum, lively and exciting.
Bottom line
Overall, the JBL Bar 9.1 does what it does quite well; the question, however, is whether you like what it does. Yes, the idea of truly wireless surround speakers that you can put anywhere in your living room (well, within reason) has a certain appeal, but you'll have to decide for yourself whether the freedom from wires is worth the hassle of keeping the speakers' batteries charged. Likewise, you'll be pleased with the Bar 9.1's sound signature if you're a fan of tight, spare, and flat audio; if you're looking for something else, the soundbar's minimal sound settings won't be much help. Still, the JBL Bar 9.1 has plenty to offer, assuming you can embrace its quirks.
Updated on April 29, 2020 with details on the Bar 9.1's night mode. The original version of this review incorrectly stated that the soundbar lacked a night mode; we apologize for the error.
Best Prices Today: JBL Bar 9.1