At a Glance
Expert's Rating
Pros
Onboard battery will always be charged
Automatically lights up when power is cut
Motion- and ambient-light-activated nightlight
Cons
Produces only 50 lumens of brightness
Four-hour battery life
Our Verdict
The Eton American Red Cross Blackout Buddy Color is a great emergency flashlight and a motion-activated nightlight in one.
Best Prices Today: Eton American Red Cross Blackout Buddy Color
If you're familiar with the Eton brand, you're probably an NPR listener who's at least heard of the company's emergency wind-up radios—if you haven't received one as a thank-you gift for pledging. Eton's American Red Cross Blackout Buddy Color is a terrific emergency flashlight for any home.
When there's a blackout, the last thing you want to do is stumble around in the dark looking for a flashlight, only to discover when you've finally laid hands on one that its batteries are dead. That won't happen with the Blackout Buddy Color, because it's designed to be left plugged into an AC outlet when it's not otherwise needed. When the power goes out, an ambient light sensor automatically turns the flashlight on if it's dark, making it easy to locate. The same thing happens if you pull the flashlight out of the electrical socket.
It's not the brightest flashlight in the world, with its trio of LEDs producing just 50 lumens of brightness, but it will light your way for four hours on a full charge. A switch on the side lets you turn the flashlight off when you don't need the light, and the prongs on the back fold in so you can easily slide it into your pocket if you need to carry it somewhere.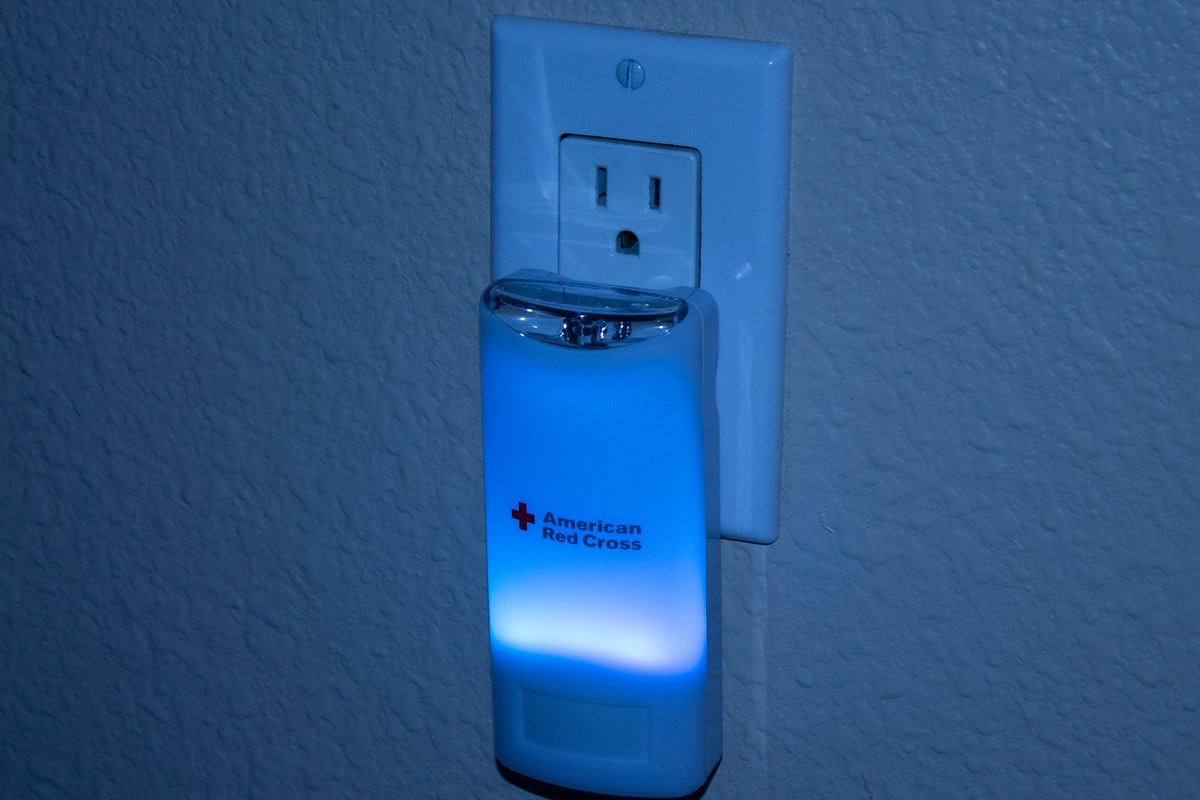 When it's not being used as an emergency flashlight, the Blackout Buddy Connect Color can function as a color nightlight (you press the power button repeatedly to cycle through the available pastel colors, plus white). The ambient light sensor works here, too, automatically turning the nightlight on when the room is dark and turning it off in the daytime or when a lamp is illuminating the room.
If you don't want the nightlight on all night, you can configure the flashlight so that a passive infrared motion sensor near the bottom of the device will activate this soft secondary light only when motion is detected. The nightlight will automatically dim 30 seconds after it stops detecting movement. The nightlight function can also be fully defeated.
The Blackout Buddy Color offers a lot of features for $15, and it's available in a two-pack for $25.
Eton also makes a "smart" version of this flashlight—the Blackout Buddy Connect Color—that has an onboard Wi-Fi adapter and a smartphone app. It's also compatible with Alexa and Google Assistant. As promising as that device's feature set sounds—you can schedule the nightlight, customize its color, use voice commands to turn it on and off or dim its brightness—the connected version costs twice as much, and Eton's Android app is so buggy that we couldn't use it (we used an iPad to configure it).
Trust us, your money will be better spent on a two-pack of the dumb model.
Best Prices Today: Eton American Red Cross Blackout Buddy Color