At a Glance
Expert's Rating
Pros
Easy setup
No wireless bridge or hub required
Alexa and Google Assistant support
Nifty dynamic lighting modes
Cons
Too dim (350 lumens) to light an entire room
No HomeKit support (although you can assign lighting modes to Siri shortcuts)
Our Verdict
Easy to set up and compatible with Alexa and Google Assistant, WiZ Connected's attractive, Wi-Fi-enabled ST19 filament bulb doesn't require a hub, and the price is right.
Best Prices Today: WiZ Connected ST19 Filament Dimmable bulb (amber)
Anyone looking for a stylish yet inexpensive vintage smart bulb that doesn't require a pricey hub should consider WiZ Connected's dimmable white ST19 filament bulb. This Wi-Fi-enabled bulb screws into a standard E26 socket, and while it's too dim to light an entire room (it's a 40-watt equivalent), it'll do just fine as an accent light in a dining or living room.
Setup is a snap, and you can put the dimmable light on a schedule, set it to a variety of lighting modes, group it with other WiZ Connected bulbs, and control it with Alexa and Google Assistant voice commands.
Design & specifications
WiZ Connected (owned by Signify, the company behind the popular Philips Hue lighting brand) offers two versions of its dimmable ST19 filament bulb: one with amber-colored glass (the one we tested) and another with clear glassRemove non-product link. In addition to its elongated ST19 bulbs, WiZ also sells standard A19Remove non-product link and globe-shaped G25 filament bulbsRemove non-product link.
This review is part of TechHive's coverage of the best smart lighting products,

where you'll find

reviews of competing products, plus a buyer's guide to the features you should consider when shopping.
Rated to last up to 15,000 hours, the ST19 bulb comes fitted with an E26 base that will screw into a standard light bulb socket. The amber version of the bulb is tuned to a very warm white 2,000 Kelvin, while the clear bulb is designed to shine at a slightly cooler (but still warm) 2,700 Kelvin. Four linear LED filaments sit inside the bulb.
Both the clear and amber versions of WiZ's ST19 filament bulb emit 350 lumens at full brightness, which is too dim for lighting an entire room or a workspace; think decorative or accent lighting instead.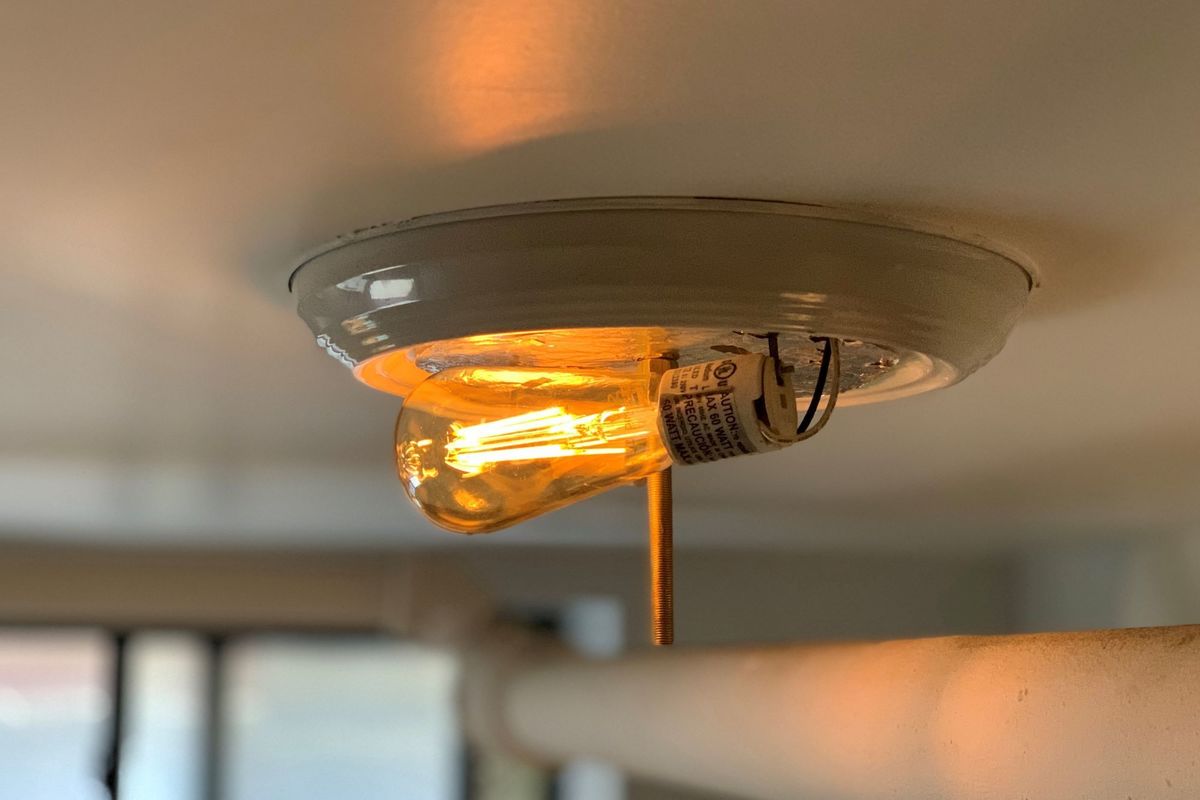 Setup
Getting WiZ's ST19 filament bulb up and running only takes a few minutes. Once you've downloaded the WiZ app (assuming you haven't already), you can add the Wi-Fi-enabled bulb to your WiZ "home" in one of two ways: either via "Smart Pairing" or manually. The Smart Pairing setting lets you quickly connect a series of WiZ bulbs all at once, but it only works if your phone is connected to your router via the 2.4GHz wireless band, so you might need to disable your router's 5GHz wireless network first (you can turn it back on once the pairing process is complete). Manual pairing, on the other hand, entails connecting to each new bulb via a temporary Wi-Fi signal. That's a tedious process, but doing it that way means you won't need to mess with your router's dual-band settings.
In any event, I managed to add the ST19 filament bulb to the app in a matter of minutes (both the "smart" and manual pairing methods worked fine), and I added it to one of the rooms in my home as defined in the app ("Office," in this case), where I also have a couple other WiZ bulbs installed.
Features, app support, and smart home integrations
Once you've used the WiZ mobile app to group the ST19 filament bulb with your other WiZ smart lights, you can start controlling it, put it on a schedule, and even set it to a daily "rhythm" using the WiZ mobile app.
Because the filament bulb is only dimmable rather than tunable (meaning you can't change its color temperature), there are just a few lighting modes available, including the standard "white" mode, a nightlight mode, and "progressive" wake-up and bedtime modes that gradually brighten and dim the bulb over a 30-minute time frame.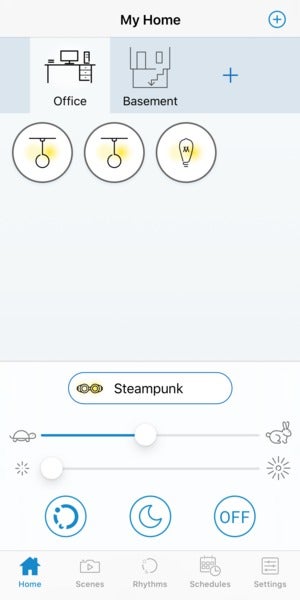 More interesting are a quartet of "dynamic" modes, including a pulse mode that makes the bulb's brightness gradually step up and down, a candlelight mode that makes the filaments gently flicker, and a moody "steampunk" mode that randomly dims and brightens the bulb, almost as if the bulb were connected to an unsteady electrical current. For each of the four modes, you can adjust both the brightness as well as the speed of the effect.
Besides using the app to control the bulb's modes, you can also use the optional Wi-Fi WiZmote, which gives you one-touch access to four "favorite" modes. Another intriguing control method is the WiZclick feature, which essentially imparts smarts to an otherwise "dumb" light switch by letting you toggle between the first two of four favorite modes. Switching on the switch normally activates the first favorite mode, while flipping the switch twice in quick succession activates the second favorite.
The app also lets you put the bulb (or a room, or the entire house) on a daily or weekly schedule, activate a randomized vacation mode to fool would-be burglars while you're away from home, or incorporate the bulb into a lighting scene. Finally, a circadian rhythm mode lets you set wake-up and bedtimes, and then automatically changes the brightness of the bulb depending on the time of day.
WiZ's ST19 filament bulb is also hip to a variety of integrations, including Alexa, Google Assistant, IFTTT, Samsung SmartThings, Conrad Connect, Enki, ImperiHome, and Alice. You can use Alexa, for example, to turn the bulb on and off with voice commands, change the bulb's mode or room scene, or set up a routine triggered by voice, the time of day, a motion sensor, or a variety of other conditions. And while the ST19 filament bulb doesn't support Apple HomeKit, you can assign WiZ room scenes to a Siri shortcut.
Bottom line
WiZ Connected's ST19 filament bulb checks many of our boxes when it comes to smart lighting: it's easy to set up, works without a hub, comes equipped with a variety of lighting modes, and it's controllable via voice commands. We also love its attractive vintage design, which is perfect for adding a touch of class to a living space. Best of all, it's reasonably priced.
Best Prices Today: WiZ Connected ST19 Filament Dimmable bulb (amber)