At a Glance
Expert's Rating
Pros
Eufy says its camera batteries can last up to one year on a charge
Smart motion detection, including human detection
HomeKit compatible
Cons
No audio detection
Expensive compared to some competitors
Our Verdict
The EufyCam 2 is an excellent outdoor camera starter kit for anyone, but users prioritizing battery life or Homekit compatibility will get the most bang for their buck.
Best Prices Today: Eufy Security EufyCam 2
If you don't have the luxury of outdoor electrical outlets, a battery-powered camera can be a necessity for monitoring your home's perimeter. They eliminates the logistical nightmare of getting a power cord to an indoor AC source, but they have a drawback of their own: You must pull the camera down every 2-3 months to recharge its battery, or add the expense of a compatible solar charger, if one's available, to keep it topped off.
The EufyCam 2 has no such requirements. Eufy says its cameras can run on a single charge for up to a year. That coveted ability along with some state-of-the-art AI security features makes it a compelling purchase for home security DIYers.
This review is part of TechHive's coverage of the best home security cameras,

where you'll find

reviews of competing products, plus a buyer's guide to the features you should consider when shopping.
Design
Mentioned in this article
Arlo Pro 2 (two-pack)
Price When Reviewed:
$479.99
The EufyCam 2 comes as a two-camera starter bundle with a base station and camera mounts. While the EufyCam E I reviewed recently took its look nearly wholesale from the Arlo Pro 2, Eufy's flagship camera has always sported a unique two-tone rectangular design.
That is unchanged with the EufyCam 2, but the base station has been redesigned to more closely resemble the camera. Its slimmer, squatter design gives the system a cohesive aesthetic and also makes it easier to find space for it next to your other networking hardware.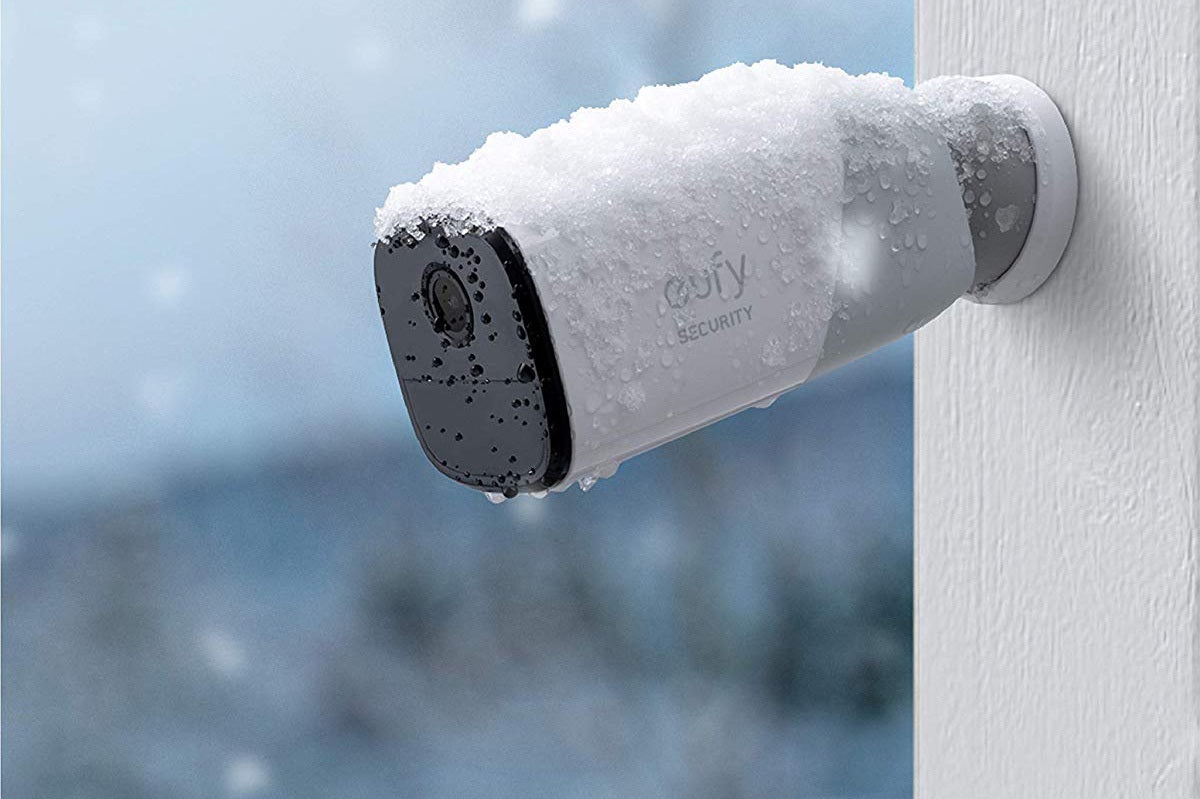 The cameras have a 140-degree field of view, and they capture video in 1080p resolution. They also boast night vision, two-way talk, and smart motion detection. Each camera is rated IP67, meaning it's protected from total dust ingress and immersion in up to 1 meter of water for a defined length of time and pressure.
The system works with both Alexa and Google Assistant, but it also integrates with Apple's HomeKit (as does the Arlo Pro 2). That means video from its cameras can be viewed on your iPad or AppleTV and stored on Apple's iCloud. Updated June 9, 2020 to report that Eufy has begun rolling out support for Apple's HomeKit Secure Video. If you own one of these cameras, look for firmware update 2.1.0.4h to enable the new feature. You can read more about HomeKit Secure Video in this article from our sister site Macworld.
As with Eufy's other security cameras, the EufyCam 2 provides local and cloud storage options. The camera ships with a 16GB of embedded memory (EMMC). You can get additional storage in the cloud through a pair of subscription options. A Basic plan gives you 30 days of storage for one camera for $3 per month or $30 per year. The Premier plan provides the same video history for up to 10 cameras for $10 per month or $100 per year.
Setup and installation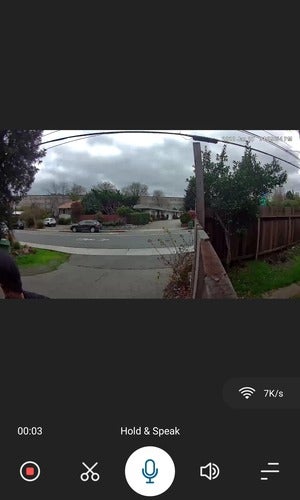 Installing the camera isn't difficult, but it does take some time. You must connect the base station and each camera in turn with the help of the Eufy Security app. The base station needs to be plugged into an electrical outlet and connected to your router via an ethernet cable.
You'll scan a QR Code on the bottom of the base station to get it online, and then sync each camera to the base station by pressing a button on the camera's rump and waiting for confirmation from the app.
When you're ready to mount the camera, you can use the app to help you determine if the signal is reaching the desired location. You'll know you've found a good spot when the signal strength reads "Great."
Eufy also recommends you mount the camera 7 to 10 feet high, out of direct sunlight, and away from reflective surfaces for optimum performance.
The kit comes with different mounts for installing the camera outdoors or indoors. The outdoor mount requires you to drill a pair of holes into an exterior wall, then insert the supplied anchors and screws into the mounting bracket. Next, you'll screw the mount into the bracket and the camera onto the mount. Indoors, you can stick the camera magnetically onto any iron surface or install it on any wall, including drywall, using the indoor mount. Here you'll need to attach a bracket to the wall using a single screw, then attach a magnetic ball mount to the bracket and stick the camera on the ball mount.
Performance
I mounted one camera above my front door and the other on a side exterior wall facing the entrance to my driveway. In each location, the camera's wide-angle view gave me ample coverage of the surrounding environment. Live and captured video was sharp with accurate colors in day mode and strong contrast when night vision was active. In either mode, you can zoom in on the live video by pinching the image with little loss of image quality.
Motion detection worked reliably in my tests, and alerts arrived promptly. There are several ways to fine-tune the relevance of motion notifications. The first is the camera's working mode. The app offers four to choose from during to installation process: the optimal battery-life option limits video clip length to 20 seconds and automatically adjusts the detection time period to reduce the chance that the camera will detect the same event multiple times; optimal surveillance mode expands the video clip length up to 60 seconds and records each event as much as possible; and customized recording mode lets you set all the parameters. You can change working modes at any time in the app settings.
You can further adjust motion detection by increasing or decreasing the sensitivity on a slider and creating activity zones. In the latter case, the camera will only send you an alert and record video when motion is detected in one of these zones (it will still record activity outsides these zones without alerting you). A human-detection option makes the camera try—mostly successfully—to recognize human shapes and filter out cars, animals, and other moving objects. It will also attempt to detect and identify faces in the video image, though I found the person had to be facing right into the lens for this to work.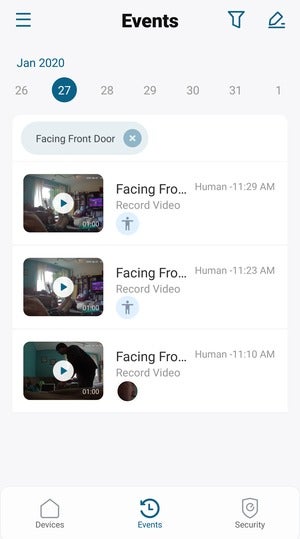 The app
The Eufy Security app has a straightforward interface that makes it easy to intuit camera controls. It opens to the home screen showing all connected cameras, each displaying its last captured image. Tapping one opens its live feed, with a toolbar on the bottom that includes buttons for manually recording video, taking a screenshot of the feed, activating two-way talk, and muting/unmuting the camera's speaker.
A three-line icon opens another set of buttons. These in turn open a library of saved video clips, turn night vision on and off, activate the system's onboard siren, and access the camera settings.
An events tab on the home screen lets you choose from a quartet of preconfigured security modes. In the default Home mode, the camera will detect motion, record video, and push alerts to your phone. In Away mode, the camera will do the same and sound an alarm to scare off any intruders.
Schedule mode allows you to automatically activate Away mode during preset times, so you don't need to remember to toggle it on every time you leave for work, for example, while Disarmed mode turns motion detection off completely. In Geofencing mode, the system uses your phone's GPS to signal it to activate the mode of your choice when you're away from home.
Verdict
The EufyCam 2 is a compelling starter option if you're looking for an outdoor security camera. But so is the Arlo Pro 2. While the Arlo Pro 2 is no longer Arlo's best security camera (that would be the pricey Arlo Ultra), it is HomeKit compatible and it costs about $50 less than the EufyCam 2. All that said, the EufyCam 2's year-long battery life will justify the higher price tag for many.