Recently, I've been noticing that the list of smart devices and scenes in my Alexa app has turned into a mess, clogged with old smart gadgets I'm no longer using, and duplicate scene entries that were making a mockery of my attempts to create new Alexa routines.
How did my Alexa app get so junked up with devices and scenes? Well, my own use case might be a little different than yours, given that I review smart gadgets for a living. I'm constantly asking Alexa to discover new devices, and then forgetting to delete them once I've finished reviewing them.
A more common issue has to do with scenes, particularly if—like me—you're a fan of smart lighting. I'm constantly tweaking the lighting scenes in various rooms, and that has led to a series of duplicate scenes in Alexa; I probably had three entries for "Bright in kitchen" before I cleaned things up.
Making matters worse, I'm an inveterate tinkerer when it comes to the devices and activities on my Harmony Companion universal remote, resulting in multiple duplicates of (for example) "Watch TV" and "Play PS4" in my Alexa app.
Related products
Amazon Echo Dot with Clock
Now, you can always dip into the Alexa app and selectively prune your list of smart devices and scenes, but doing so involves going through them one at a time. I had more than 60 scenes listed in Alexa, with more than half of them being duplicates. Life is too short to go through and delete 30-odd duplicate scenes one by one.
Luckily, there's an easy way to start fresh. Using Alexa's web interface, you can have her "forget" all your smart devices and scenes, and then ask her to rediscover them. Doing so will clean out all the old, unused entries in Alexa's smart device list, as well as dedupe Alexa's list of scenes.
Note: Before you try this tip, be aware that asking Alexa to forget your smart devices and scenes will also wipe any groups (for both rooms and speakers) that you've previously set up in Alexa. And while routines won't be deleted, you'll probably need to go back and re-add the actions in your routines.
For me, cleaning out the clutter of old and duplicate devices and scenes in Alexa was worth the trouble of recreating the groups and routines I wanted to keep; for others, it might be a case of throwing out the baby with the bath water. Proceed with caution.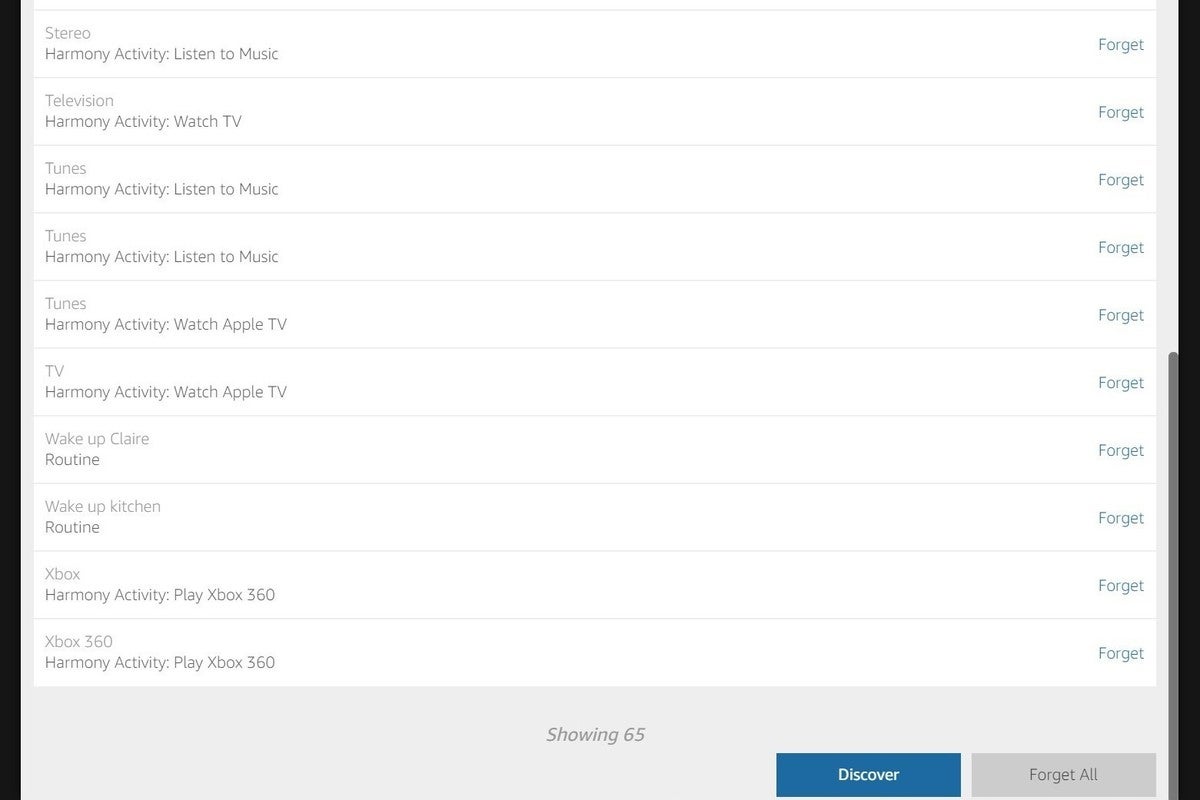 How to make Alexa forget all your smart devices and scenes
First, visit alexa.amazon.com in a desktop web browser (if you try browsing to that URL on your phone, Amazon will simply prompt you to download the Alexa mobile app). Next, click Smart Home in the left-hand column, and then click either Devices or Scenes.
Now, scroll all the way down and click the Forget All button. When you do, a pop-up will warn you that you're about to wipe all your devices and groups from Amazon's records. If you're ready to move ahead, click OK. Keep in mind that if you ask Alexa to forget all devices, she'll also forget all scenes, and vice versa.
Next, click Discover to have Alexa rediscover all your smart devices and scenes. If you're a Philips Hue user, be sure to click the button on your Hue Bridge before clicking the Discover button.
Last but not least, check out Alexa's list of smart devices and scenes: Both should be drastically paired-down and cleaned of all old and duplicate devices and scenes. Hurrah!