At a Glance
Expert's Rating
Pros
Slim and trim design
Out-of-home control
Alexa and Google Assistant support
Cons
Gets pretty loud when the fan is on its highest setting
No 5GHz Wi-Fi support
Voice commands are somewhat limited
Our Verdict
Compact, reliable, quiet, and (best of all) inexpensive, the Wi-Fi- and smart-enabled Coway Airmega AP-1512HHS can scrub harmful airborne particles from a room.
Best Prices Today: Coway Airmega AP-1512HHS
Compact, reliable, relatively quiet, and (best of all) inexpensive, the Wi-Fi- and digital-assitant-enabled Coway Airmega AP-1512HHS can scrub most of the harmful airborne particles from a room without creating too much of a racket.
An update of the well-regarded Airmega AP-1512HHRemove non-product link, the AP-1512HHS comes in the same stylish, slim-and-trim shell as its predecessor, while adding smart features that let you control the device remotely or via Alexa or Google Assistant voice controls. You can also put the $300 AP-1512HHS on a schedule using the IoCare mobile app, as well as monitor both indoor and outdoor air quality. Easy setup and quiet operation (save for the occasional roar when the fan spins up to its highest setting) round out the package.
Design
Looks matter when it comes to an appliance that'll be sitting conspicuously in your bedroom, kitchen, or living room; after all, for an air purifier to run properly and efficiently, it should be placed in a relatively central location in the room with at least a foot of free space on all sides, meaning you can't just tuck it into a corner or under a table.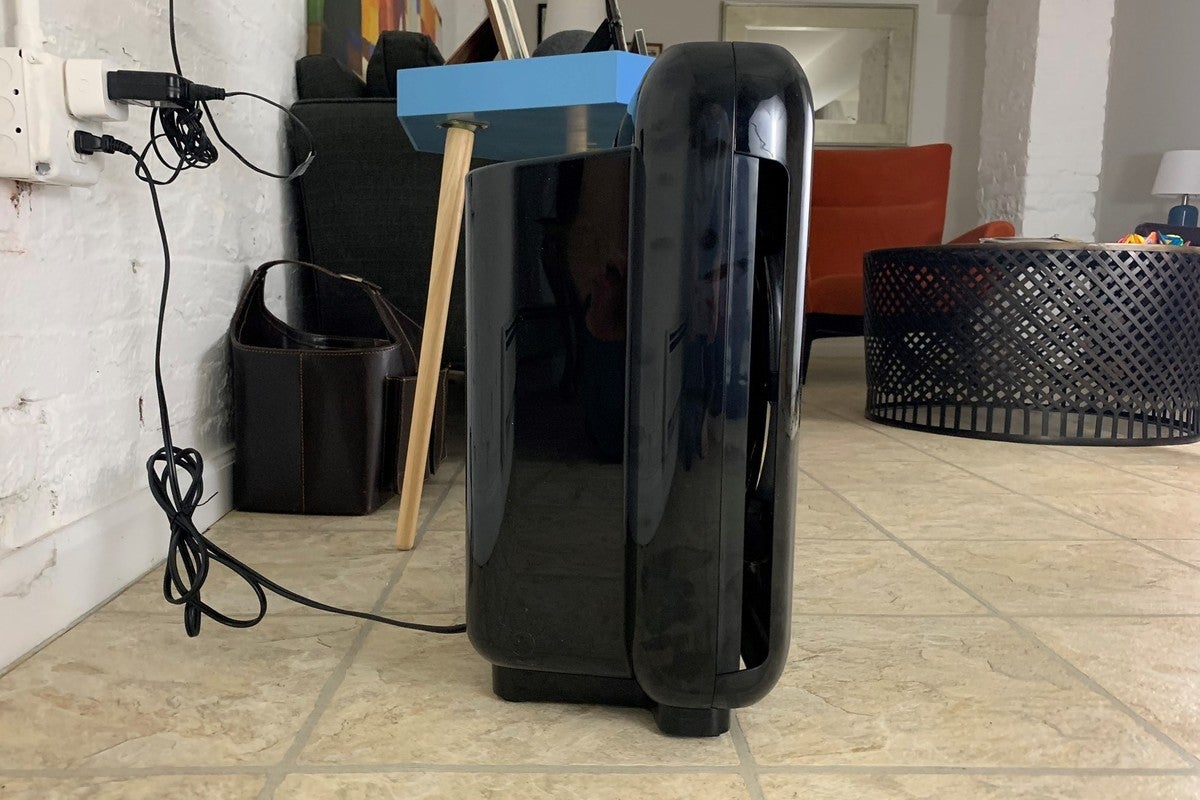 WIth its rounded corners, glossy plastic surface, and nifty looking ring in the front, the 16.8 x 18.3 x 9.6-inch Airmega AP-1512HHS manages to look more like, say, a stylish subwoofer than an air purifier, and that's a good thing. An integrated handle lets you pick up and move the 12.3-pound appliance, which is rated to cover rooms up to 325 square feet, with relative ease.
Buttons and indicators
Sitting along the top of the AP-1512HHS are buttons for power, fan speed (which includes auto and "Eco" settings, which we'll cover in a moment), a Wi-Fi toggle, and a filter-reset button that lights up when you need to clean or replace the unit's air filters.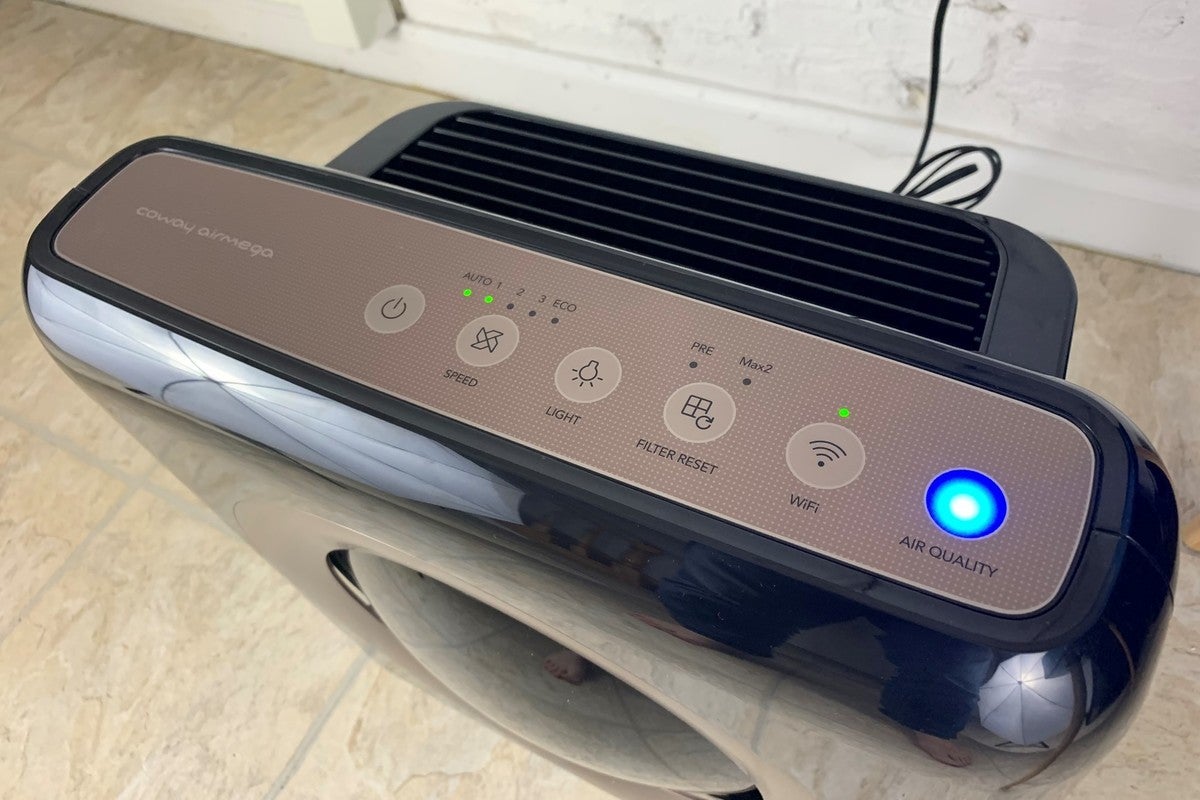 There's also a large circular indicator light that glows blue when the nearby air quality is "good," dark purple when the air quality is deemed "unhealthy," and red when the AP-1512HH detects "very unhealthy" levels of air pollutants. You can turn off the bright indicator, which glows distractingly in a dark room, by toggling a light button.
Air filters
Let's talk a little more about the AP-1512HH's filters. First, there's a mesh "pre-filter" that acts as the first line of defense against dust, hair, and other relatively large airborne particles. Then there's Coway's two-part "Max2" filter, which is comprised of a honeycomb activated-carbon filter plus a "true" HEPA (short for High Efficiency Particulate Air) filter. Combined, the filters are rated to catch up to 99.97 percent of air particles as small as 0.3 microns, including fine dust, mold, pollen, and even cigarette smoke.
The pre-filter can be cleaned once or twice a month with water or using a vacuum cleaner, while the two-part Max2 filter needs to be replaced annually. A replacement set of Max2 filters will set you back $70, so you should factor that into the AP-1512HH's sticker price.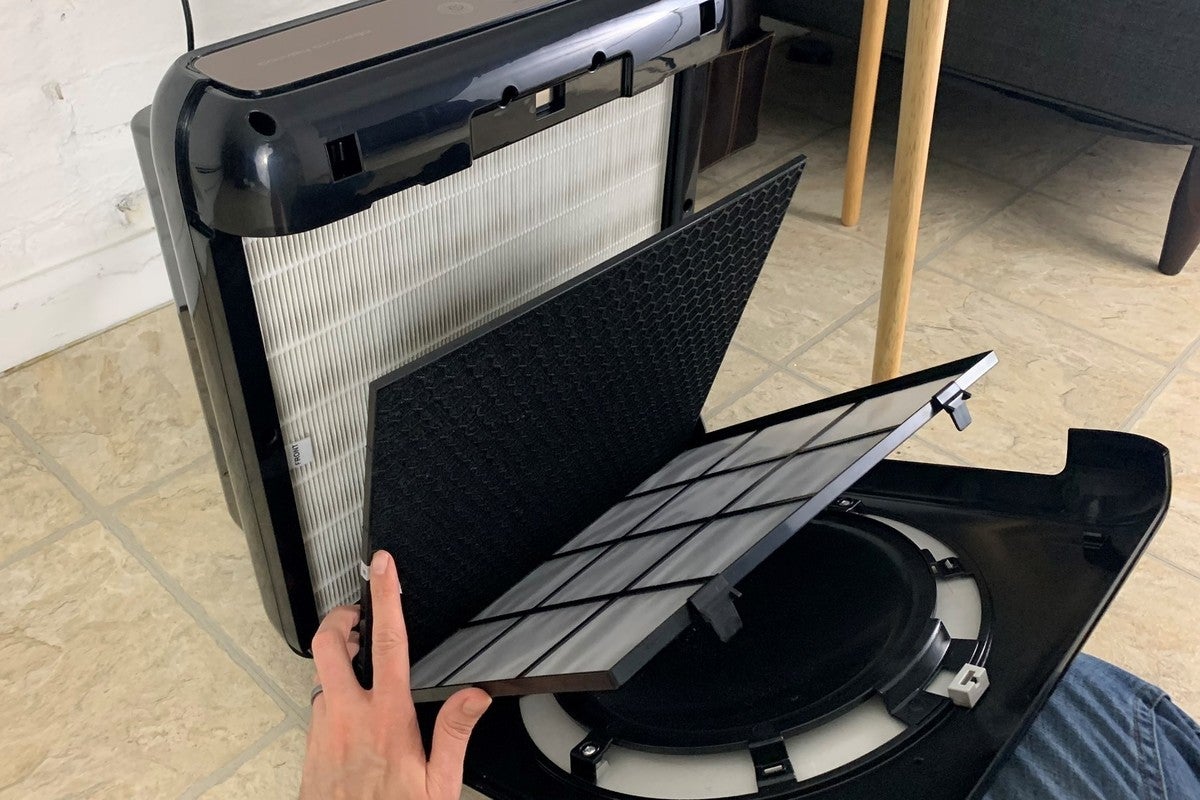 Setup, mobile app, and smart features
From cracking open the box to powering it on, getting the Coway Airmega AP-1512HHS up and running took less than 10 minutes. Once you remove the Airmega from its packing materials, you pop off the front cover, pull out the pre-filter with help from a couple of plastic tabs along the top edge of the assembly, and then remove the two-part Max2 filter. Once that's done, you (gently) tear the filters out of their bags, put them back in the Airmega, snap the front cover back on, and press the power button. Easy.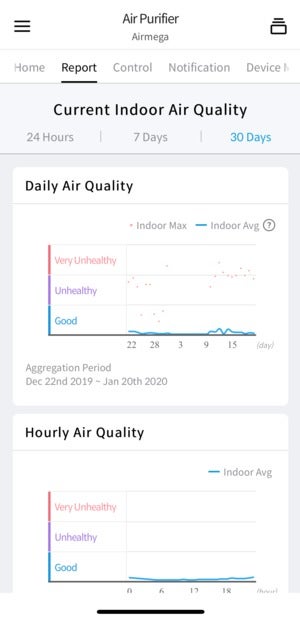 Installing the Coway IoCare app and registering the Airmega is also a simple process. The app lets you identify the Airmega model by scanning its barcode; once that's done, the app finds the air freshener's Wi-Fi signal and connects it to your Wi-Fi network. The one hiccup I encountered was that the AP-1512HHS (like many smart home devices, unfortunately) is only compatible with 2.4GHz Wi-Fi networks, which meant I had to temporarily deactivate the 5GHz band on my router to get the Airmega to connect.
With the Airmega connected to Wi-Fi, you can control all its features using the IoCare app. Besides simply turning the air purifier on and off, you can set its fan speed, switch it to automatic or the power-saving "eco" fan mode, set a sleep timer, or turn its air quality indicator on and off.
You can also set one or more schedules for powering the Airmega on and off at particular times and days of the week. Editing or deleting the schedules is easy, although it took me a while to figure that to do so, you must first swipe the entry for a schedule from right to left.
The app serves up monthly, weekly, and hourly charts detailing the air quality in the room, along with local outdoor air quality fetched over the internet via the EPA's AirNow program. You can also set it to send you mobile alerts if your indoor air quality falls to "very unhealthy" levels, or if you need to clean or replace the air filters.
Finally, you can control the Airmega AP-1512HHS with your voice via Alexa or Google Assistant, although voice commands are limited to such basic features as turning the unit on or off, changing fan speeds, and disabling its light.
Performance
The AP-1512HHS did a nice job during several weeks of testing, switching itself on and off according to its various schedules and roaring to life when it detected unsafe air quality in my Brooklyn basement. Indeed, "roar" is the operative word when the Airmega spins up to its top fan speed, although the AP-1512HHS is whisper-quiet at its lowest setting. The air purifier only cranked itself up to its top speed once or twice each day during my tests, and even then only for a minute or so at a time.
Related product
Awair Glow C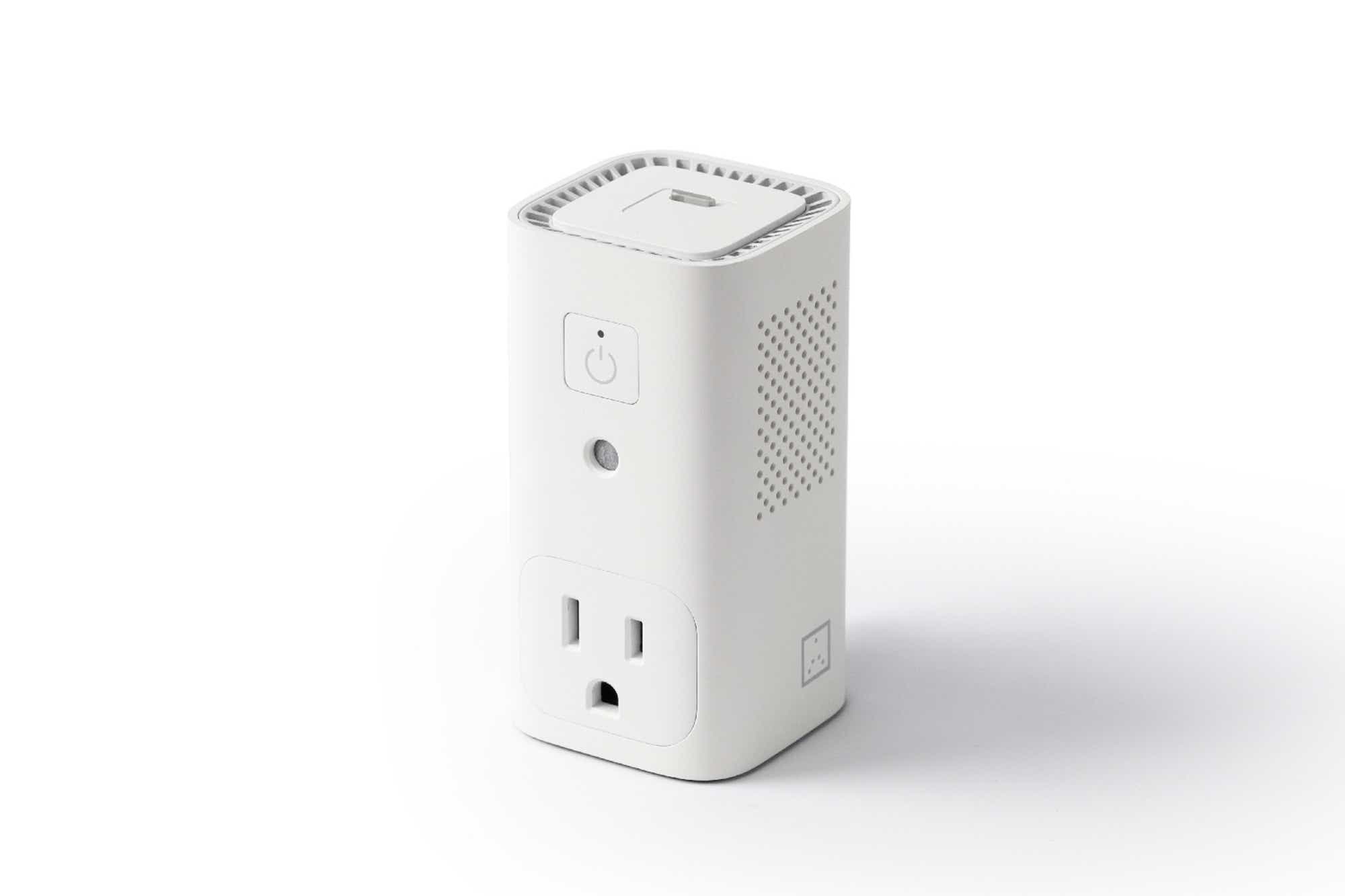 Price When Reviewed:
$99.00
After a few weeks, the IoCare app warned me that it was time to clear the pre-filter, which (once I pried it out of the Airmega) was indeed covered with a fine coating of dust particles and hair. A gentle cleaning with my vacuum cleaner did the trick, and the AP-1512HHS was back in service within a few minutes. The Max2 filter was still sitting at the 94-percent mark after about a month of use (it needs cleaning when the reading falls to zero percent).
Operationally, I never encountered any substantial hiccups, with the AP-1512HHS always springing to life as expected and maintaining its wireless connection. While Coway replaced my initial review unit citing potential Wi-Fi issues, I never ran into any wireless trouble with either the first AP-1512HHS I received or its replacement.
Bottom line
We'd already heard good things about Coway's existing AP-1512HH air purifier, and the company's smart-enabled update doesn't disappoint. With the new AP-1512HHS, Coway wisely declined to fix what wasn't broken, keeping the older model's compact, eye-catching design while adding remote connectivity and air-quality monitoring, along with Alexa and Google Assistant support. Factor in a reasonable $300 price tag, and the Coway AP-1512HHS makes for one of the most compelling air purifiers we've tried at this price point.
Best Prices Today: Coway Airmega AP-1512HHS