3: Beasts of No Nation (2015)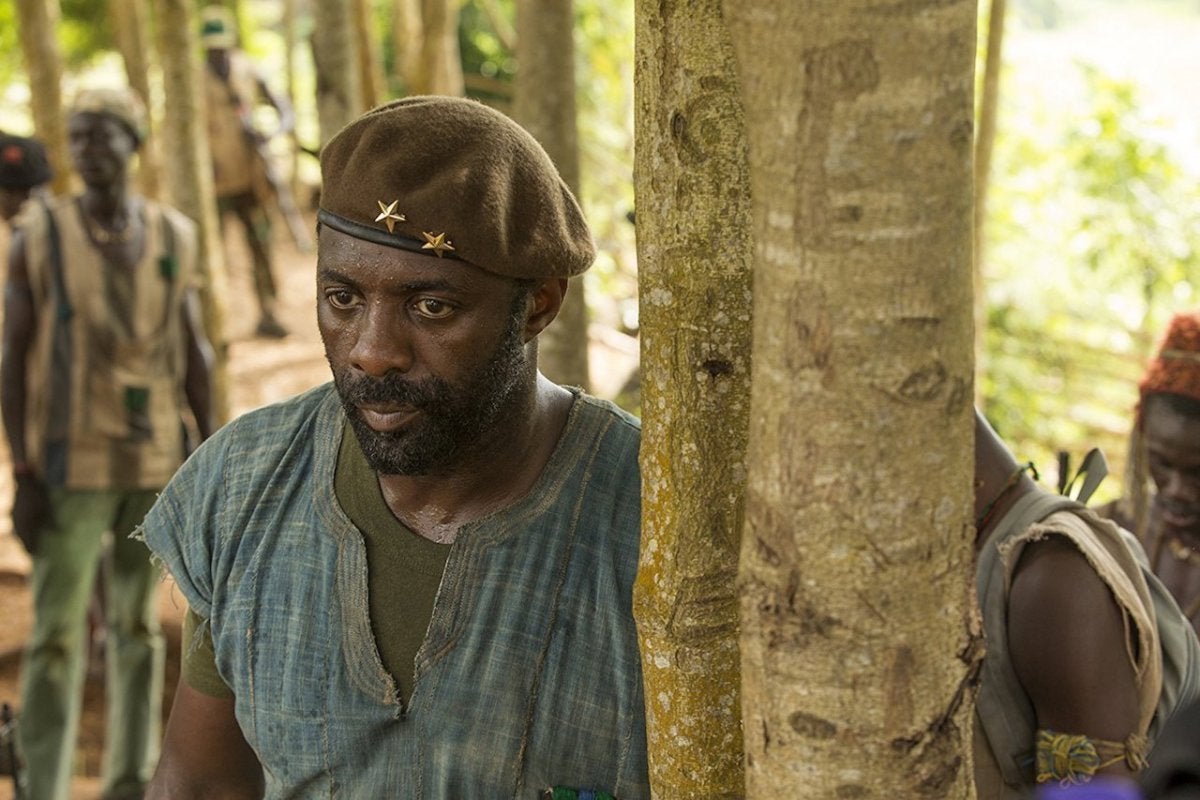 Netflix's very first original movie, Beasts of No Nation (2015), caused some controversy with theater chains, as well as for its lack of Oscar nominations in a year dominated by whites. But, as directed by Cary Joji Fukunaga (Sin Nombre, Jane Eyre) the movie itself is a powerhouse, crisply-paced, brutal, and yet still somewhat optimistic. It was an audacious first release, and still one of Netflix's finest.
Abraham Attah gives an astonishing performance as Agu, a young boy caught in an African civil war. When his father and brother are killed, he runs into the jungle and is discovered by a band of guerrilla soldiers, most of them young men not much older than Agu, and led by the fearsome Commandant (Idris Elba). He ensures their survival, but also exposes them to shocking horrors. In one heartbreaking moment, we see how Agu has become numb, laughing and playing games as men are shot behind him. Elba's creation is monstrous, proud and vain and vile, and the actor received numerous other nominations and awards for his performance.
2: Okja (2017)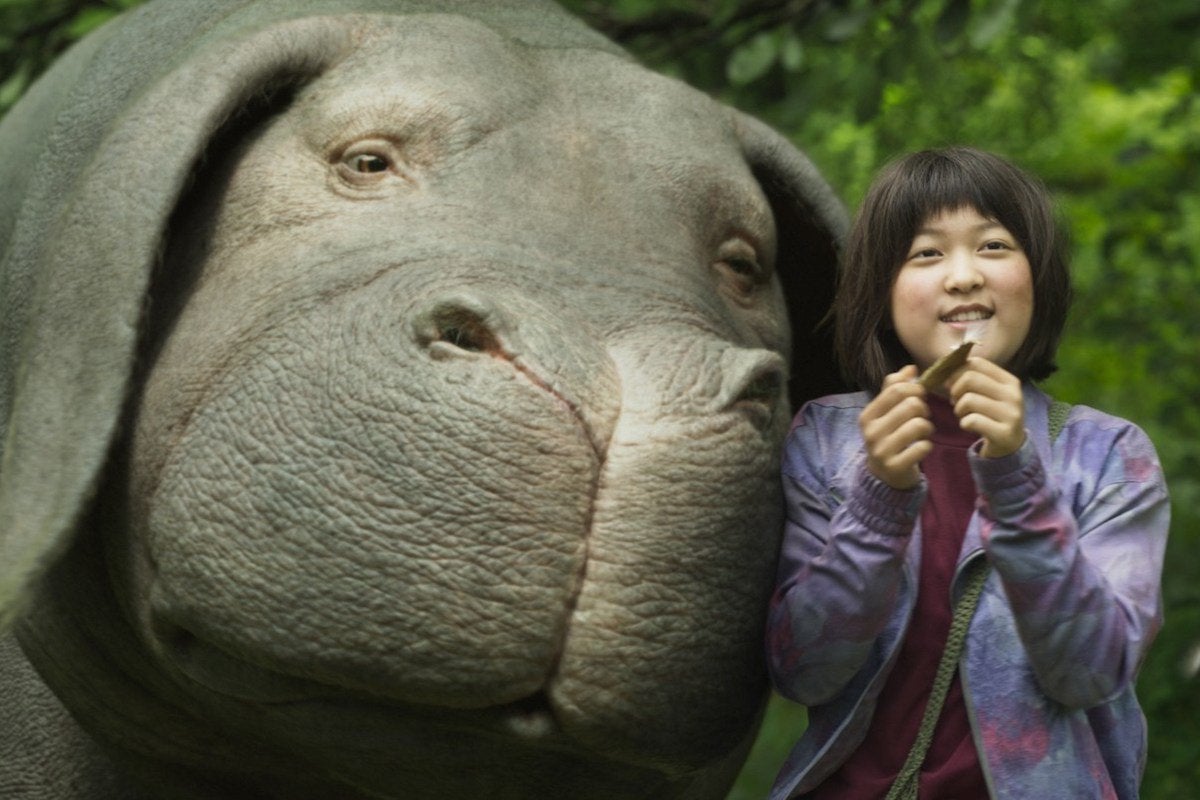 The Korean director Bong Joon-ho usually makes films about battling some kind of monster, either literally (Memories of Murder, The Host), or figuratively (Mother, Snowpiercer), and yet the real monster is usually us. The slick, international, all-star Okja (2017) is perhaps his busiest, but most playful work, offering laughs, thrills, weird visuals, and some disconcerting thoughts about food.
CEO Lucy Mirando (Tilda Swinton) has developed a kind of super-pig designed to ease world hunger and bolster her company's image. The pigs have been sent to the four corners of the world to be raised by local methods, to see which works best. A young girl in rural Korea, Mija (Ahn Seo-hyun), is clearly the winner, but she has also bonded with her pig, Okja. When Okja is picked up and shipped off to the city, she follows, like a pint-sized action hero. She meets a group of eco-terrorists called the Animal Liberation Front (members played by Paul Dano, Lily Collins, and others), who have a plan. Shirley Henderson and Giancarlo Esposito co-star, and Swinton has a dual role as her own twin sister, but Jake Gyllenhaal steals the show as an outlandish television host, in the looniest performance he has ever given.
1: Mudbound (2017)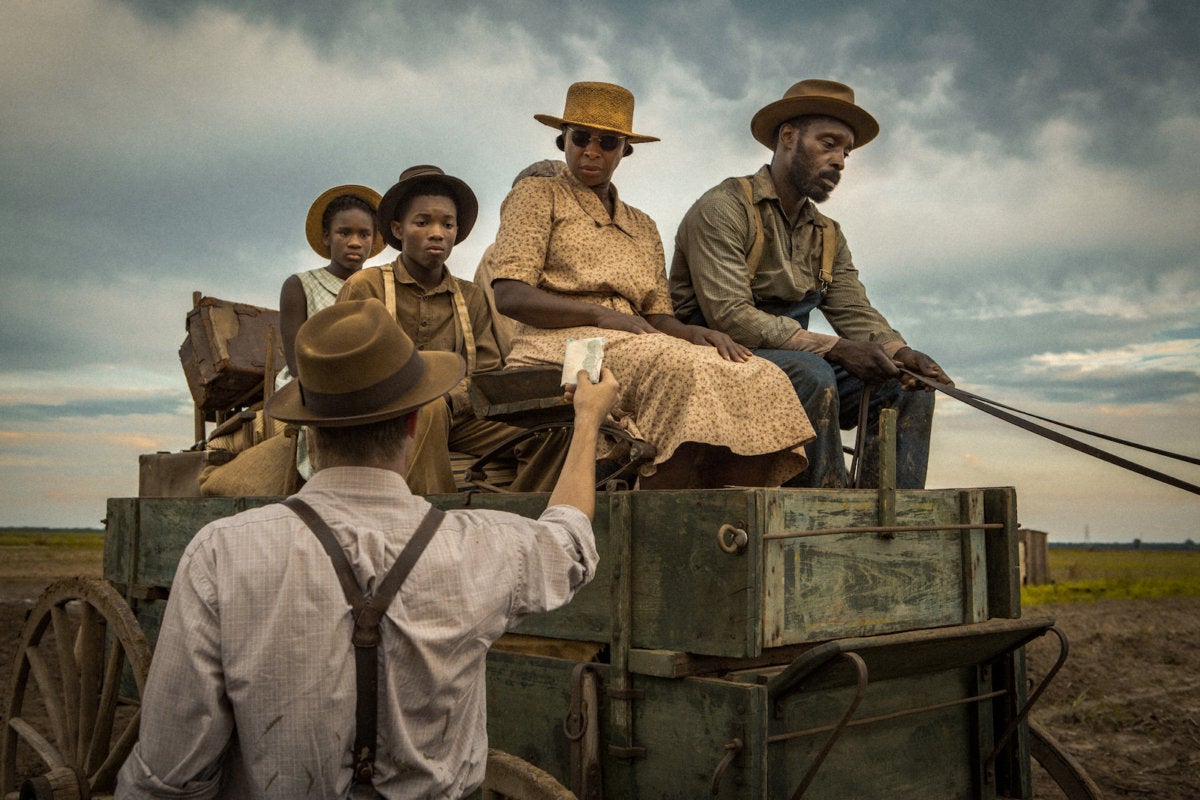 Dee Rees's follow-up to her remarkable debut Pariah, the excellent Mudbound (2017) is like a Gone with the Wind for the streaming age, a sweeping slice of Americana, epic, but intimate. It's based on a novel by Hillary Jordan and features Carey Mulligan, Jason Clarke, Jason Mitchell, and Jonathan Banks. The story follows two farming families, one black and one white, over several years in and around WWII. In one crucial plot thread, a member of each family, Jamie (Garrett Hedlund) and Ronsel (Jason Mitchell), returns from war; they form an unlikely friendship, much to the rage of the rest of the community. (Ronsel is forced to duck down in the front seat of Jamie's truck to avoid being seen in a place of equality.) Mary J. Blige steals the movie in her role as Ronsel's mother, a strong, caring midwife glaring from behind sunglasses, and received a Best Supporting Actress nomination (as well as one for Best Song).
Many of the characters narrate their inner dreams, hopes, and fears in whispered voiceover, adding Malick-like poetry to the images. The 134-minute movie focuses on small incidents, having to do either with survival in the muddy farmland, or with the deep, frightening racism of that time and place, and never feels too overstuffed or too long.