Updated
Best soundbars to improve your TV's audio
TV speakers suck, but not everyone has the room—or the budget—for an A/V receiver and six or more loudspeakers. A soundbar can fit under or in front of your TV, and a good one will knock your socks off.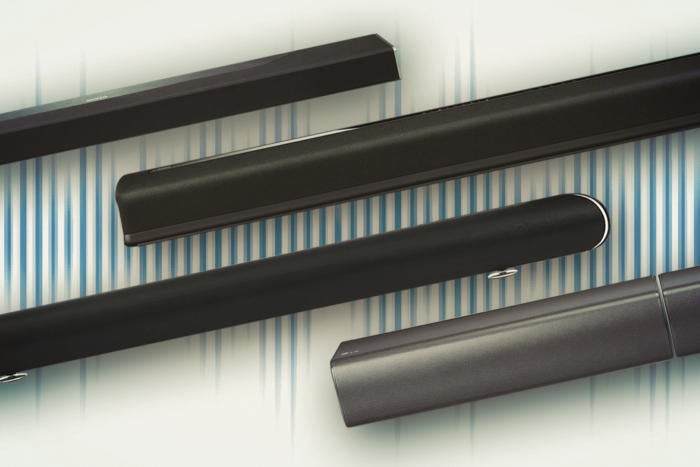 Today's Best Tech Deals
Picked by TechHive's Editors
Top Deals On Great Products
Picked by Techconnect's Editors
HDMI 2.0a If you don't already have a 4K UHD TV that supports HDR (high dynamic range), the next set you buy probably will. You can learn more about HDR in this story, but it basically pumps up the contrast to reveal more detail and produce vibrant color. You'll need a soundbar that supports HDMI 2.0a to ensure HDR information is passed through the soundbar from the source (e.g., an Ultra HD Blu-ray player) to your television.
Lossless audio: Do you have a growing collection of high-resolution music files in FLAC or ALAC formats? If you want to listen to them through your soundbar, you'll want to make sure it can decode those files.
Multi-room audio: Some soundbars can be components in a multi-room audio system, but this usually entails choosing one platform and sticking with it all over your home (speakers that support DTS Play-Fi are an exception to that rule). The more typical proprietary systems include Denon's Heos, Yamaha's MusicCast, and—one of the most popular systems—Sonos. Sonos even allows you to pair its Playbar or Playbase with its wireless subwoofer and wireless satellite speakers (the Play:1, Play:3, or the second-generation Play:5) as surround channels to create a true 5.1-channel surround-sound setup. But you can't go beyond that to add rear surrounds or height channels with a Sonos system.
Music streaming: Many of today's soundbars can stream music over Wi-Fi or Bluetooth, but only a handful support Bluetooth with aptX for near CD-quality streaming. Apple's AirPlay is an important feature for Apple enthusiasts with iPhones and iPods. Audio enthusiasts will want to know if the soundbar can decode lossless codecs such as FLAC and ALAC.
Room correction: Your room plays a critical part in how your soundbar will sound. Some manufacturers, such as Paradigm, build sophisticated and highly effective room-correction technology into their soundbars. The sonic benefits of a good soundbar with well-implemented room correction can be jaw-dropping, but that feature is usually expensive. You'll typically won't find room correction in soundbars priced less than $1,000.
Subwoofer support: If you love good, deep bass, then you'll want to scope out a soundbar that can connect to a subwoofer. Some soundbars come pre-packaged with a sub (in many cases, a wireless model), while others provide a subwoofer output so you can use a cable to hook up your model of choice. The pre-packaged route might look attractive, but it typically means you can't upgrade either component without junking them both. 
Our latest soundbar reviews
Note: When you purchase something after clicking links in our articles, we may earn a small commission. Read our
affiliate link policy
for more details.
Shop Tech Products at Amazon