Updated
DirecTV Now review: Hard to resist, despite its flaws
Cloud DVR and an excellent grid guide help redeem AT&T's streaming TV service.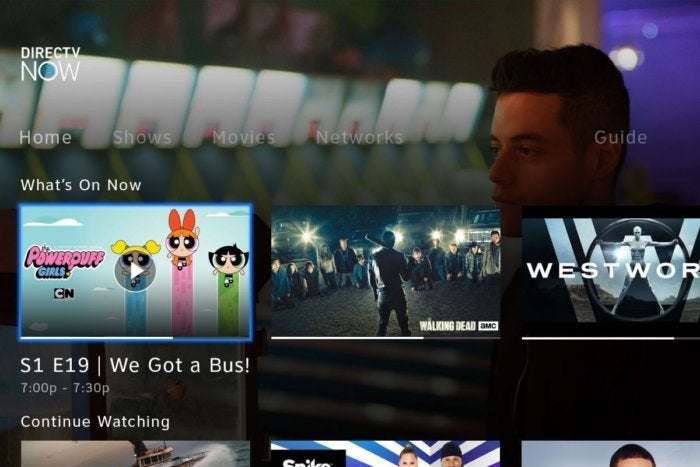 Today's Best Tech Deals
Picked by TechHive's Editors
Top Deals On Great Products
Picked by Techconnect's Editors
DirecTV Now has never been the best live TV streaming service, but that hasn't stopped people from signing up in droves.
AT&T understands the best way to a cord cutter's heart is through the wallet, so early on, the company offered a deep discount on one of its pricier service tiers. Since then, AT&T has wooed potential subscribers by giving away Apple TVs, Fire TV Sticks, and Roku players, and by reducing prices for AT&T wireless subscribers. Those perks have helped DirecTV Now become the second-largest streaming TV bundle in the U.S., behind only Sling TV, despite a buggy launch, a lack of DVR, and a long list of interface annoyances.
Now, AT&T is looking to fix some of DirecTV Now's longstanding problems: A new interface launched last month, along with free cloud DVR service (technically still in beta) and a more expansive on-demand catalog. While some bugs and annoyances have stuck around, and DirecTV Now's DVR is stingier than what other streaming bundles provide, the improvements make DirecTV Now easier to recommend, with or without AT&T's largess.
Editors' note: This review was updated in its entirety after AT&T introduced a number of changes, improvements, and additional features, including cloud DVR service. We found these significant enough to raise our score for the service by a full point. However, after publishing, AT&T also announced a $5 per month price hike for all DirecTV Now plans from July 26 onward. This review has been updated to reflect the new pricing.
The maximalist bundle
DirecTV Now gives you a bundle of traditional TV channels starting at $40 per month. These include all four major broadcast networks, major cable news networks, national sports from ESPN and Fox Sports, and dozens of entertainment channels. AT&T works with all the largest TV networks and many smaller ones, so if there's a particular channel you want, odds are DirecTV Now offers it. (One notable exception: NFL Network and Redzone are not available.)
DirecTV Now's prices can be higher than other bundles for certain channels. Packages with regional Fox Sports channels, for instance, start at $55 per month, which is $5 to $10 more than other bundles. DirecTV Now also offers a $65-per-month tier with more entertainment and sports channels, and a $75-per-month package that adds Starz Encore and a few other channels.
Still, there are ways to defray the costs. HBO and Cinemax are each available for $5 per month each—much cheaper than other TV services—while Showtime and Starz each cost $8 per month. If you're an AT&T wireless subscriber, you can also get $15 per month off DirecTV Now with an Unlimited &More or Unlimited &More Premium data plan. The latter also includes your choice of HBO, Cinemax, Showtime, Starz, VRV, Pandora Premium, or Amazon Music Unlimited at no extra charge.
As with other streaming bundles, DirecTV Now provides live, local broadcast channels, but not all of them are available in every market. If a live broadcast isn't available in your area—as shown with AT&T's channel lookup tool—you'll still receive prime-time on-demand programming, but you won't be able to watch local news, sports, or live primetime shows.
Beyond live TV, DirecTV Now includes a catalog of on-demand programming, and many channels allow you to scroll back in time through the TV guide and watch certain programs that have aired in the past 72 hours. (Look for the "VOD" tag in this list to see which channels have on-demand video.) But in both cases, availability can depend on the program and the network, which is why you really need a DVR to make sure your favorite programs are available.
To that end, DirecTV Now finally provides cloud DVR service, storing up to 20 hours of video for up to 30 days. An optional $10-per-month upgrade to 100 hours of video and 90 days of storage will become available this summer.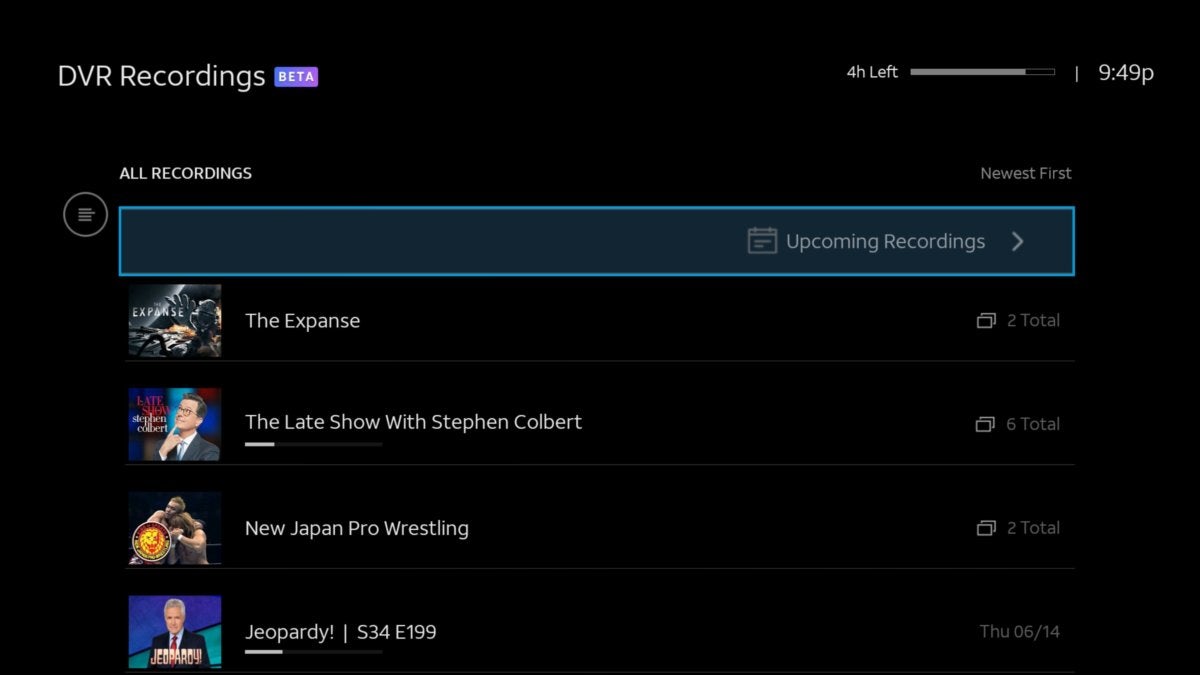 Other streaming TV services' DVRs are more generous. PlayStation Vue, Philo, and YouTube TV do not put strict limits on recording hours, though they delete recordings after 28 days, 30 days, and nine months respectively. Hulu, Fubo TV, and Sling TV store recordings indefinitely, but have storage limits of 50 hours, 30, hours, and 50 hours respectively. (Sling TV also charges $5 per month extra for DVR service.)
Still, DirecTV's DVR does not restrict ad-skipping, like YouTube TV and Hulu do, and it works on all channels except HBO and Cinemax. To make the most of your recording space, DirecTV Now also lets you record individual episodes or just new ones.
For device support, DirecTV Now currently works with Apple TV, Amazon Fire TV (but not first-generation models), Roku, Chromecast, iOS, Android, and the web. The service also works with more than 60 TV Everywhere apps, which you can access on devices that DirecTV Now doesn't support. Plans allow streaming on up to two devices at a time, and you can purchase a third stream for $5 per month.
Great grids but clunky menus
If grid-based channel guides are your preferred way to watch TV, you might love DirecTV Now. Channels appear in alphabetical order, and display the next two hours of programming without having to scroll. Highlighting a program brings up an image thumbnail and a text description of the episode, and you can view just favorite channels, filter by genre, and quickly jump ahead to a specific day. No other streaming bundle executes the grid guide as well as DirecTV Now does.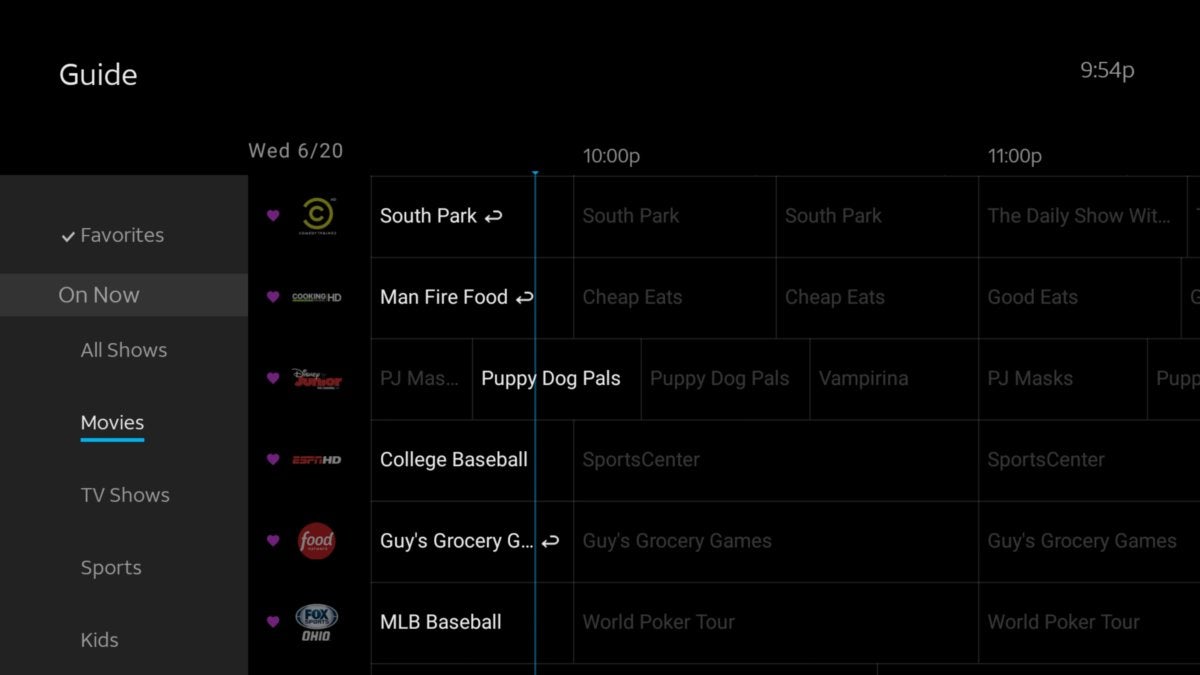 DirecTV Now's main DVR menu isn't bad either, though it takes a few clicks to get to. You can see a list of all recorded shows, quickly delete series or individual episodes, and view a chronological list of upcoming recordings. All this is helpful for managing the limited amount of storage space that DirecTV Now provides.
So where DirecTV Now's software fall short? Pretty much everywhere else.
There's no attempt at personalization in DirecTV Now's menus, so when you scroll through the "Watch Now" and "Recommended" sections, you'll only see generic trending programs and curated picks. (Even if DirecTV Now did offer more personalization, the service does not support multiple user profiles.) And while DirecTV Now has a "Continue Watching" section on the home screen, it only shows individual episodes or movies you haven't finished, rather than entire series that you're in the middle of watching.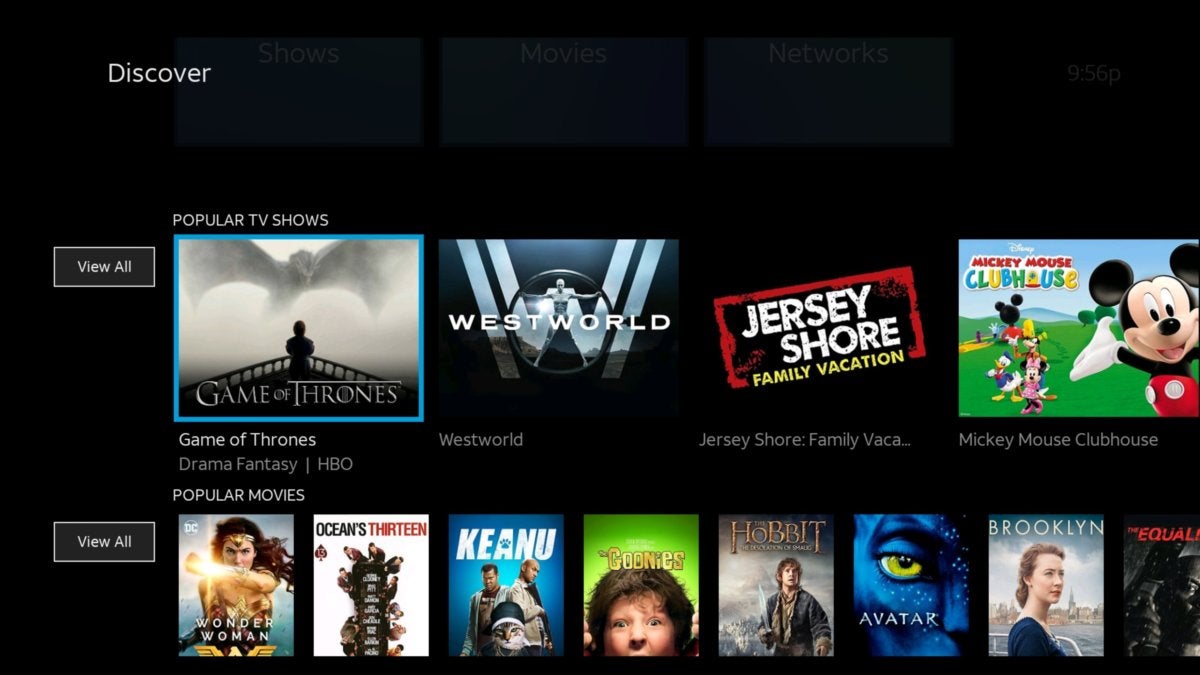 For reasons unclear, AT&T also still thinks people want to blindly flip through channels like they did in the analog TV era, letting you swipe or press left or right from any live TV channel to switch to the next one. This could be somewhat useful if it flipped to the last channel you were watching or cycled through just your favorites, but why would anyone want to move one-by-one between dozens of channels in alphabetical order? You can always try to ignore this feature, but because most apps use directional buttons for fast forward and rewind, you're likely to flip channels by accident at some point.
Trying to navigate the interface while watching video isn't ideal either. DirecTV Now continues to play audio in the background while a video is playing, but it doesn't offer a mini-guide or picture-in-picture mode on TV devices, so the video becomes obscured behind DirecTV Now's main menus. In some parts of the interface, the menu covers up the video entirely.
I've also run into some glitches, including image thumbnails that disappear, menus that fail to display any content, and general sluggishness to render images and text on the screen. And on Roku players, DirecTV Now is currently unable to pause live TV. DirecTV Now had lots of problems during its initial launch in late 2016, and with the redesign, it seems to be going through growing pains all over again.
Streaming quality and reliability
As with other streaming bundles, the resolution with most live channels is 720p, but DirecTV Now supports 60-frames-per-second video on all sports, news, and broadcast channels on Apple TV, Roku, and Fire TV. (This is less of a differentiator than it used to be, as other bundles including Hulu and YouTube TV have expanded their own 60-frames-per-second support.) Some on-demand programming also supports Dolby Digital 5.1 audio on Apple TV.
For the most part, streams have been reliable and fast to load, but I did run into one unusual error on Amazon's Fire TV that prevented a couple of local broadcast channels from playing. After attempting to load Fox and CBS, DirecTV displayed a 10006-008 error code and a "This content has an issue and can't play" message. Restarting the app and the Fire TV did not immediately resolve the problem, though it eventually went away on its own.
Those issues, along with DirecTV Now's interface foibles and stingy DVR, make the service less desirable than it could be. But between the excellent grid guide, basic recording capabilities, and AT&T's relentless attempts to buy up new subscribers, resisting DirecTV Now seems increasingly futile.
The DirecTV Now channel list as of May 16, 2018
At a Glance
DirecTV Now

Cloud DVR and an excellent grid guide help redeem longstanding issues with AT&T's live TV service.

Pros

Powerful grid guide
DVR has no ad-skipping restrictions
Broad selection of channels

Cons

DVR limits both recording space and storage time
Software suffers from bugs and sluggish performance
No personalized viewing recommendations
Shop Tech Products at Amazon