SLIDESHOW
14 of the most-promising new headphones we listened to at CES 2016
In the market for new headphones? There's a good chance you'll find your next favorite pair in this collection.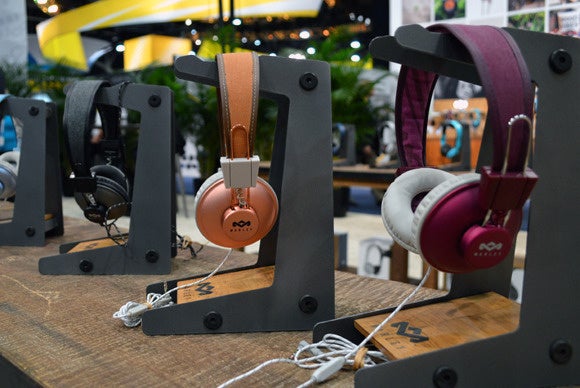 2016 will be a banner year for new headphones
This year's CES saw headphone manufacturers moving in several directions. Almost every lifestyle brand has gone wireless for convenience' sake, but top-of-the-line offerings remain wired so as not to compromise audio quality. Thanks to rumors that Apple is doing away with the 3.5mm audio port on its next phone, several companies are looking to find digital solutions that plug directly into an iPhone's Lightning port (or the microUSB port on every other manufacturer's smartphone).
Bottom line: There's something for everyone. If you're looking for your next wear-em-til-they-fall-apart go-to headphones, here are 14 pair we think you'll want to know more about
Sennheiser HD 800 S
Sennheiser's HD 800 S circumaural headphones have some of the largest ear cups I've ever encountered, but I suppose that's necessary to fit the ginormous 56mm drivers, which offer up incredibly detailed, wide-range sound. You don't have to be an audiophile to hear the difference in these headphones; the HD 800 S have been fine-tuned from their predecessors, the HD 800, to allow for slightly more forgiving, but still entirely natural, audio.
Fabricated from layers of plastic and stainless steel and featuring a silk-gloss matte finish, the HD 800 S are not quite as plush as some of their competitors, but I'm a fan of the machined look, and the ear cups are huge but comfortable. The Sennheiser HD 800 S will be available soon for $1700.
Audeze Sine
Want to know what a pair of $1000+ headphones sound like for half the price? From your smartphone? You're in luck: Audeze, everyone's favorite planar headphone maker, showed off its new ultra-portable (relatively speaking) on-ear Sine headphones ($500), which ship soon. These closed-back headphones have an 80mm by 70mm planar magnetic driver and pump out very neutral, true-to-life sound. I felt as though I was sitting in the front row of a private concert during my demo.
The Sines come with a standard 3.5mm audio cable and a 2.5mm stereo cable, but they also work with Audeze's Cypher Lightning cable, which plugs directly into your iPhone's or iPod touch's Lightning port. This allows the headphones to bypass Apple's digital-to-analog converter in favor of the higher-performing inline DAC that's part of the cable.
JBL Everest 700 Elite
Noise-canceling headphones are tricky, because it's not practical to completely isolate ourselves from ambient noise in many everyday situations. JBL's Everest 700 Elite over-ear headphones have a solution: NXTGen Active Noise Cancellation technology, which lets you choose your level of ambient noise influx. Using JBL's My JBL Headphones app, you can set your outside awareness to high (lots of ambient noise), medium, or low (where you're isolated from outside noises). You can also set each ear cup individually.
The headphones also have a button that lets you toggle between ambient noise levels, but you won't be able to set individual cups from here. The Everest 700 Elites are packed with features, including a foldable design, ultra-plush noise-isolating leather ear pads, and 15-hour battery life. These headphones are available now for $300. We have a set in house and will publish a hands-on review in the coming weeks.
Beyerdynamic T 5 p (second generation)
Beyerdynamic's T 5 p circumaural headphones are designed to give you audiophile sound from a mobile device. These luxury headphones have soft, leather-covered, memory-foam ear pads; a lightly padded leather headband; and a dual-sided cloth-covered cable. They're large and a little heavy, but they do an excellent job of passively isolating noise (honestly, better than many active noise-canceling headphones I've tried).
The T 5 p's feature Beyerdynamic's signature Tesla (after the scientist, not the car) technology, which allows for an impressively wide soundstage despite relatively small (32mm) drivers. The T 5 ps definitely do not disappoint—and for $1099, which is what they'll cost when they hit shelves at the end of January—they shouldn't.
Skullcandy Crusher VRA
Virtual reality is big this year, even in audio. Skullcandy's latest premium addition to its Crusher line is the Crusher VRA, a wireless Bluetooth headphone with 40mm mid-range drivers and proprietary directional bass drivers in each ear cup. The idea here is that you'll be able to feel the bass, sort of like what we saw in Alpine's headphones, except the bass response will be located in the ear cups instead of in the headband.
Putting you-can-feel-the-bass drivers in the ear cups means that the Crusher VRAs will let you hear and feel directional sound if you happen to be, say, watching a movie. After all, there's nothing quite like literally feeling the lumbering steps of the T-Rex in Jurassic Park creeping up on you. The Crusher VRAs will launch this fall and retail for $300.
Bose SoundLink around-ear wireless headphones II
Bose's SoundLink around-ear wireless headphones II are mostly plastic, minus soft leather ear cups and a padded suede headband. But plastic isn't necessarily a bad thing, as these circumaural headphones weigh a measly 5.27 ounces; they're so light you'll barely register putting them on. They also boast several useful features, including the ability to simultaneously connect to two devices at once via Bluetooth.
The right ear cup houses all the controls: a power/pairing mode switch, physical volume up/down buttons, and a play/pause button. An NFC chip lets you easily pair your active device with just a tap. There's no active noise cancellation, but you will get 15 hours of playback time and a 15-minute quick-charge will tack on an extra two hours. The SoundLink around-ear wireless headphones II are available now for $280.
Monster 24K Bluetooth Over-Ear Headphones
These shiny rose-gold headphones (note: they're not made of real gold) are more than just a pretty face. Monster's 24K Bluetooth Over-Ear headphones are chock-full of high-end features, including 24-hour battery life and the ability to plug directly into your smartphone's microUSB port for true digital audio (via a special cable that will be sold separately).
These wireless headphones have Bluetooth 4.0 with aptX support to stream high-definition sound from your audio device. They also have touch controls located just above the ear cups (not on the ear cups, which can be inconvenient) and a built-in microphone with noise cancellation that lets you hear your own voice while you're speaking. The headphones themselves do not feature active noise cancellation, though the memory foam ear cups do a good job of keeping unwanted noise out. The 24K Bluetooth Over-Ear headphones will be available in the second quarter of this year and will retail for $320.
Phaz P5 Bluetooth Digital Headphones
Phaz is still touting its patented "charge while you listen" technology, but its newest P5 headphones offer more than just a full smartphone battery. Phaz says its new P5s are the world's first "universal" digital headphones, which means they connect to your smartphone via microUSB or through Apple's Lightning port; other digital headphones, such as the Monster 24K Bluetooth Over-Ear headphones, are compatible only with either microUSB or Lightning ports.
Connecting directly into the microUSB/Lightning port of your smartphone lets the P5s bypass your smartphone's onboard DAC and amplifier, allowing for better audio quality than you would get if you plugged directly into the 3.5mm port. The P5s also have Bluetooth 4.0 with aptX support and will cost $450 when they drop in August of this year.
House of Marley Rise
Not all headphones need to be overly indulgent, with premium touches like leather and polished aluminum. House of Marley's Rise headphones are simple, wired mid-range headphones made of stainless steel and HoM's signature Rewind fabric, which is made of recycled plastic bottles, hemp, and cotton.
The Rise feature an on-ear design with comfy fabric-covered ear pads and a lightweight metal frame that's easily folded and stashed away. These headphones aren't expensive—they'll cost just $100 when they start shipping in the second quarter of this year—but they do pack 50mm drivers and offer up a nice, balanced sound profile.
MrSpeakers Ether C
MrSpeakers' Ether C over-ear headphones are sumptuously large, with 2.75-inch by 1.75-inch single-ended planar magnetic drivers. The drivers feature MrSpeakers' patent-pending V-Planar surface processing, which allows for a better high-end frequency response and significantly lower distortion.
These closed-back headphones (MrSpeakers also has an open-back version, simply called the Ether) have noise-isolating lambskin ear pads, which do a good job of keeping ambient noise out—though they weren't able to block out the sound of 300 Wyclef Jean fans screaming at the Creative Audio booth. The Ether Cs are made of premium materials, including carbon fiber, micro-suede, and precision-machined aluminum. They look and feel pricey and are available now at prices that start at $1500 with a basic 3.5mm audio cable.
Massive Audio Flex
Massive Audio's wireless Bluetooth circumaural headphones might seem an odd choice for this round-up; after all, these glossy plastic $120 cans aren't exactly in the same league as Sennheiser's HD 800 S. But hear me out: The Flex headphones, which feature 54mm drivers and an impressive 35 hours of battery life are actually pretty good for their price point.
They might not be for audiophiles seeking ultra-natural sound, but anyone who appreciates Beats' over-the-top bass will enjoy the Flex's 'Super Bass' button. In my brief booth test of the Flex, the Super Bass did significantly pump up the bass line (though, at medium-high volume levels, with quite a bit of distortion and fuzzy confusion). These headphones aren't for everyone, but they can hold their own with the bass-heavy popular crowd (they're also available now).
Plantronics BackBeat Sense
Plantronics' BackBeat Sense on-ear headphones give you all the coveted features of the BackBeat Pro, including headband sensors that can tell when the headphones are on your head; extra-long battery life (though the Sense only offers 18 hours to the Pro's 24-plus); and extra-long Bluetooth range if you have the right device, all without the heft or the price.
The Sense, available now, cost $180 and are much, much smaller and lighter than the Pro. These headphones are comfortable enough for all-day wear, and the soft on-ear ear pads do a decent job of blocking out ambient noise (there's no active noise cancellation). The Sense can connect to two devices simultaneously, and can also be located (if they're within Bluetooth range) from your phone via Plantronics' app.
B&O Play H7
I won't lie: The other Bluetooth wireless headphones in this round-up are comfortable enough, but they all look rather utilitarian. B&O Play's H7 headphones are sexy (and comfortable, and functional, naturally). These pretty headphones feature lambskin-covered memory-foam ear cups, a leather-covered padded headband, and a machined aluminum frame. The H7s are fairly lightweight at 8.1 ounces, and while they don't have active noise cancellation, the plush ear cups do an excellent job of keeping ambient noise at bay.
The H7s feature touch controls on one ear cup and a built-in microphone for taking calls. But these sleek, stylish headphones don't come cheap: They're currently available for the retail price of $449, almost as much as those drool-worthy Audeze Sines.
Audio-Technica SonicPro ATH-MSR7NC
The unfortunate truth about headphones with active noise cancellation is that audio quality is often compromised. Active noise cancellation, after all, produces noise to mask noise. That's why so many higher-end models tend to feature only passive noise isolation, which focuses on sealing your ears so ambient sound can't reach them.
Audio-Technica's SonicPro ATH-MSR7NC might be a game-changer. These Hi-Res Audio-certified circumaural headphones feature proprietary active noise cancellation that works with air vents to maintain top-quality sound. And these headphones do sound excellent, with true but not overpowering bass and detailed audio. They're definitely the best-sounding headphones I've tried with active noise cancellation. The SonicPro ATH-MSR7NC headphones will be available this April, and will retail for $300.
Next Up: Check out these related slideshows
Today's Best Tech Deals
Picked by TechHive's Editors