SLIDESHOW
These exotic turntables will have vinylphiles drooling
Many music lovers prefer vinyl LP records over even the highest-definition digital recordings. Getting the most out of vinyl requires a finely crafted, precision turntable. Here are seven beauties.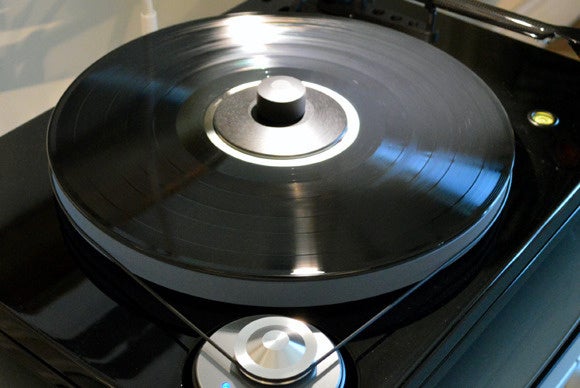 A well-engineered turntable is a thing of beauty
There's a reason some of us maintain impressive vinyl collections despite the fact that our phones can store thousands and thousands of tracks: Analog recordings sound better and deliver higher fidelity because they haven't been digitized and compressed.
But the detailed, multi-layered sound you'll get out of your records is only as good as your turntable. Everything from plinth material to tonearm rigidity to motor location and damping material, makes a difference. Getting the most out of vinyl calls for precision, too, which means high-end turntables can be very, very expensive. We found these seven examples to be among the best and most beautiful at CES.
Grand Prix Audio Monaco v2.0
Grand Prix Audio's Monaco v2.0 turntable is ultra-modern: It sports the same structural carbon-fiber plinth as its predecessor, but it's packed with new technology, including a proprietary noise-free infinite pole motor. This minimalist turntable, which can be customized with colorful platters and clamps (for an additional cost), boasts 1/10th ppm speed accuracy and has a speed deviation of less than 0.0002 percent.
The Monaco v2.0 costs $35,000 to $38,000 without the tonearm (it's compatible with a variety of third-party mechanisms), but the setup you see here costs approximately $50,000, including the tonearm, cartridge, and stand. The Monaco v2.0 will start shipping in February. Owners of previous models can send their turntables back to the factory to be upgraded at a discounted price.
Music Hall mmf-7.3
Music Hall's new mmf-7.3 turntable gives you audiophile quality at an affordable price. This belt-driven table features Music Hall's dual-plinth design—two platforms separated by Sorbothane springs allow for less vibration and additional damping. The turntable also has a variable-power external motor, which sits, isolated from the rest of the table, on its own special damping puck that helps to lessen vibration to the cartridge.
The mmf-7.3 comes with acrylic platter, a 9-inch full-carbon tonearm, and a dust cover; you'll need your own cartridge, though Music Hall will include an Ortofon 2M Bronze cartridge for an extra charge. The mmf-7.3 is available now, and retails for $1595.
Well Tempered Royale 400
Well Tempered's turntables are minimalist without appearing overly modern, and the impressively-sized Royale 400 is no exception. There are a few things that are unique about this turntable, including its belt, which is made of 0.004-inch polyester filament, used because of its exceptional uniformity in width. The Royale 400 also has a long (400mm, hence the name) patented tonearm made of soft aluminum filled with sand (this soft material makes it completely non-resonant).
The end of the tonearm is not connected to the table with a bearing, but features a special design that incorporates a golf ball suspended in viscous oil for additional damping. The Royale 400 is available now and costs $12,500.
E.A.T. E-Flat
E.A.T. (European Audio Team) makes turntables that are both affordable and stylish, and the E-Flat is particularly attractive with its shiny white piano finished chassis and flat, modern design. Part of the E-Flat's aesthetic appeal is its 10-inch flat tonearm, which is made of lightweight, ultra-rigid carbon fiber and is thus able to deliver a stable performance despite being, well, flat.
The E-Flat's twin motor is hidden away underneath the platter, which is cleverly constructed of recycled LPs, which helps to give the E-Flat a very streamlined, minimalist look. The E-Flat is available now and costs $4475.
Dr. Feickert Analogue Woodpecker
Dr. Feickert Analogue's Woodpecker turntable is striking, especially in this wooden finish (which costs extra, naturally). The turntable features a high inertia Delrin platter with eight machined brass inserts placed around the edge for extra mass. These brass inserts help stabilize speed and balance the platter. The belt-driven table has a sliding base and a pivot-spindle scale that makes it easy to mount a variety of tonearms (from 9 to 12 inches in length).
The Woodpecker turntable is available now and costs $6500 without the tonearm, cartridge, clamp, and brass inserts in the platter; the setup in this photo retails for approximately $20,000.
E.A.T. C-Sharp
E.A.T.'s C-Sharp turntable is even flatter and sleeker than the E-Flat, though it doesn't come with the flat carbon-fiber tonearm. The C-Sharp is made of "highest density" MDF, carbon fiber, and thermoplastic elastomer, and the ultra-flat chassis features a high gloss finish. It can be paired with the specially-designed C-Note 10-inch carbon-fiber tonearm with a Cardan bearing and a uni-pivot design. The tonearm is filled with silicon-based grease that helps damp cartridge resonances by more than 50 percent.
The C-Sharp has a speed variation of 0.08 percent and has a low-noise motor hidden away and attached to the lower chassis. The C-Sharp is available now and costs $2995.
Clear Audio Master Innovation
If you're looking for a turntable that will blow you away in the looks department, you're looking for Clear Audio's Master Innovation turntable. This belt-driven turntable features a unique dual-platter design. The top platter, which is made of Delrin and is the playback platter, isn't actually connected to the bottom platter (the drive platter). The two platters interact via powerful magnets, so the top platter is sort of levitating above the bottom platter.
This design allows the motor to be as far away as possible from the vinyl, reducing noise and vibration. The Master Innovation is available now for $30,000; the model in this photo includes an optional $12,000 stand and a $10,000 linear tonearm made of machined aluminum.
Next Up: Check out these related slideshows
Today's Best Tech Deals
Picked by TechHive's Editors