SLIDESHOW
The 12 best movies for streaming during the New Year holiday--and the week after
As we look back at 2015, we reflect on some of the best movies currently available on Netflix, Amazon, and other streaming services.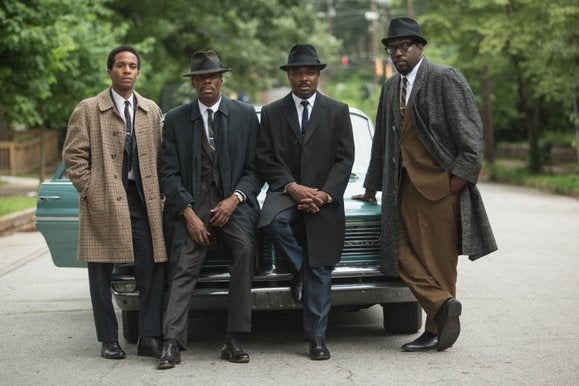 The best movies for streaming this New Year's holiday—and the week after
As we look back at 2015, we reflect on some of the best movies currently available on Netflix, Amazon, and other streaming services.
For this final week of 2015, we look back at some of the best movies of the past year, now available for streaming. Our picks include small indies (Tangerine, Time Out of Mind), a fun "B" movie (Wild Card), foreign-language films (Phoenix), and an Oscar-winner that opened wide back in January (Selma).
Beyond that, we've included some previous Oscar nominees, something for the kiddies, and as a capper, one of the finest of all New Year's Eve movies, a film that looks back and finds both sadness and joy.
Tangerine (Netflix)
★★★★☆
Writer/director Sean Baker wowed Sundance when he revealed that his newest feature film Tangerine (2015) had been shot entirely on three iPhone 5s smartphones, with nothing more than a few filmmaking apps, a special lens, and a device for smooth tracking shots. But it's easy to forget about all this stuff from the moment this movie starts.
 It's Christmas Eve in Los Angeles, and rather than red and green and white, the colors are pink and orange; it's warm and doesn't feel like a holiday at all. Two transgender sex workers, Sin-Dee (Kitana Kiki Rodriguez) and Alexandra (Mya Taylor), are sharing a snack when Sin-Dee learns from Alexandra that her boyfriend (James Ransone) cheated on her while she was in prison. Thus begins a day-long odyssey across the city to find the cheater, and the girl he cheated with, plus a stop for Alexandra to sing in a club.
The images are weirdly, artfully beautiful; the excellent performances are street-level realistic; and the result is surprisingly touching. It's fine alternative holiday viewing. After this and his remarkable Starlet (2012), Baker has become a filmmaker to watch.
Phoenix (Netflix)
★★★★☆
German director Christian Petzold, and his stars Nina Hoss and Ronald Zehrfeld, follow up their Barbara (2013) with an even more striking movie: Phoenix (2015). Set in the aftermath of the Holocaust, it involves a woman, Nelly (Hoss), whose face has been destroyed in a concentration camp. She has reconstructive surgery and begins looking for her husband (Zehrfeld), whom her friend Lene (Nina Kunzendorf) insists turned her in to the Nazis.
Nelly finds him, working in an American district of Germany; he doesn't recognize her, but she reminds him of his wife. So he concocts a scheme to train this new woman to pose as his wife so he can collect her inheritance. This setup sounds like a sitcom, but Petzold uses the background of the Holocaust to add a horrific scale to his prickly story. Small things like a shopping list or photographs take on more ominous significance. It's difficult to grasp something as cataclysmic as the Holocaust, but its effect on just a few people can be extremely powerful.
Time Out of Mind (Netflix)
★★★★☆
Oren Moverman's striking, haunting Time Out of Mind (2015) disappeared quickly after it arrived, perhaps because the prospect of watching a movie about a homeless man proved too daunting—or depressing—to most audiences. On the contrary, this movie is moving, mysterious, and subtle in ways that are difficult to imagine.
Richard Gere stars as the homeless man, who hocks his coat for alcohol, looks for a missing girlfriend, and checks into a homeless shelter. We are given clues as to his past, but nothing definitive; he's a fascinating mixture of a human.
Moverman shot on the streets of New York with hidden cameras and long lenses, using only street noises and no musical score, and it's startling to realize that, not only did no one recognize Gere the movie star, but no one even looked at him. It's an unconventional movie, immersive, meditative, and unforgettable. In smaller roles, Ben Vereen is terrific as a fellow homeless man, and Jena Malone, Kyra Sedgwick, and Steve Buscemi also appear.
CBGB (Netflix)
★★★☆☆
By no means is Randall Miller's CBGB (2013) a good movie; it falls prey to all the traditional biopic clichés, and none of the supporting characters have any life. But it's about such a terrific slice of musical history that it's worth checking out for the tunes alone. That, plus Alan Rickman gives a loopy performance as Hilly Kristal, the man who opens a club in New York City meant for "country, bluegrass, and blues" (hence, "CBGB").
It eventually becomes a home for all the fresh, ferocious, fast-n-loud music of the 1970s, including the Talking Heads, the Ramones, Blondie, and Television. Part of the movie focuses on Kristal's decision to become a band manager, and he begins with the volatile group the Dead Boys, fronted by the outrageous Stiv Bators (Justin Bartha) and Cheetah Chrome (Rupert Grint). Malin Akerman appears as Debbie Harry, and Joel David Moore plays Joey Ramone, with other actors turning up briefly as Iggy Pop, Lou Reed, Patti Smith, and other legends from the era. Bonus points if you know what the other half of the club's name, "OMFUG," means.
Popeye (Hulu)
★★★★☆
The very strange, but quite wonderful musical Popeye (1980) is pretty family friendly if parents are looking for something for kids to watch during the holiday break. Robin Williams made his movie acting debut as the famous sailor man, created for the comics in 1929 and then cartoons in 1933. He arrives in the town of Sweethaven, looking for his missing pappy. He meets Olive Oyl (Shelley Duvall, one of the most perfect examples of casting in history), discovers an orphaned baby, Swee'Pea, and crosses the town bully, Bluto (Paul L. Smith).
Strangely, the counterculture director Robert Altman was hired to direct (perhaps because of his many films with Duvall), and he gives it his usual wandering quality, with cameras set up at wide angles and zooming in on the action almost at random, as well as a kind of purposely cluttered soundtrack. Likewise the screenplay was written by the subversive cartoonist Jules Feiffer and the songs by rock star Harry Nilsson. It probably wasn't what anyone was expecting, and it was met with much disdain, but it's very much worth a look today. Be on the lookout for a new animated Popeye movie soon.
A Fistful of Dynamite (Hulu)
★★★★☆
Also known as Duck, You Sucker!, Sergio Leone's A Fistful of Dynamite (1971) came between Once Upon a Time in the West and Once Upon a Time in America and is not quite as well known or appreciated as either of those masterworks. It's set during the Mexican Revolution in the early 20th century, with Rod Steiger as a Mexican outlaw and James Coburn as an Irish explosives expert. Essentially, these opposites reluctantly join forces, and inadvertently become heroes of the war.
Many years after his death, Leone has begun to earn respect for his astounding use of juxtaposition of scale, as well as his morally complex themes, and this amazing movie is a key part of his career. The legendary composer Ennio Morricone—whose new work graces Quintin Tarentino's The Hateful Eight—contributes one of his most outrageous and memorable scores.
Selma (Hulu)
★★★★☆
Publicist-turned-filmmaker Ava DuVernay's Selma (2014) received almost unanimous critical praise, turned a profit at the box office, received an Oscar nomination for Best Picture and an Oscar for Best Song, created controversy over its lack of other nominations (especially one for Best Director), and its purported historical inaccuracies. All that aside, it's a surprisingly good movie, done without annoying biopic clichés, and with a true grasp of a moment in time.
English actor David Oyelowo is remarkably good as Dr. Martin Luther King, Jr. who leads a march from Selma, Alabama to Montgomery to protest the treatment of blacks at the polls. DuVernay treats King as a human being, full of doubts and flaws, but also a commanding, impressive leader; the film's focus on small things, one step at a time, makes it seem less "important" than it may sound. Tom Wilkinson co-stars as President Lyndon B. Johnson, with Tim Roth as Governor George Wallace, and Carmen Ejogo as Coretta Scott King.
Wild Card (Hulu)
★★★☆☆
Legendary screenwriter William Goldman, age 84 as of this writing, contributed the screenplay to Wild Card, his first since 2003's Dreamcatcher. It's based on his own 1985 novel, which was already turned into a 1986 Burt Reynolds movie, Heat. Now Jason Statham takes the lead, as Nick Wild, a kind of jack-of-all-trades in Las Vegas. Statham's fans probably expected more slam-bang action and were disappointed that Wild Card is actually more about character depth and atmosphere.
We meet all kinds of colorful characters in Nick's life, and they all seem to have a shared past, as if they existed before the movie started. The central conflict has nothing to do with a nasty villain, but rather Nick versus himself and his own gambling addiction. A great cast, including Stanley Tucci, Hope Davis, Milo Ventimiglia, Jason Alexander, Sofía Vergara, and Anne Heche, co-star. Corey Yuen provided the fight choreography for the movie's handful of action scenes, though Simon West's directing is only passable.
Hoffa (Amazon Prime)
★★★★☆
After directing a pair of effective black comedies, Throw Momma from the Train and The War of the Roses, actor-turned-director Danny DeVito became ambitious, taking on a serious project: a David Mamet script about the leader of the Teamsters, Jimmy Hoffa. DeVito made his best decision when he cast his old friend Jack Nicholson in the title role; Nicholson gives a ferocious, oversized performance that earned both a Golden Globe nomination and a Razzie nomination.
Made before biopics became regular Oscar-season fodder (and clichés), Hoffa (1992) probably takes on too much material, and probably left out some crucial details, but DeVito shows a confident touch for movement and darkness, and the movie nonetheless feels vibrant and vivid. The cinematography by Stephen H. Burum received an Oscar nomination, as did Nicholson's makeup. DeVito, Armand Assante, J. T. Walsh, John C. Reilly, and Frank Whaley co-star.
The Gambler (Amazon Prime)
★★★☆☆
Another in a long line of remakes, Rupert Wyatt's The Gambler (2014) is more alluring and less profound than the original, but it has a slick-sleazy take on the world of gambling dens and sports betting that's guiltily appealing. Mark Wahlberg takes over the lead role, played by James Caan in the 1974 version, as Jim Bennett, a college literature professor who loses big in an underground club and has seven days to pay back his debt.
He borrows money from a loan shark (Michael Kenneth Williams) and his mother (Jessica Lange) and loses even more. Soon he's forced to coax the school's star basketball player (Anthony Kelley) into throwing the big game for a cut of the take. John Goodman is awesome as a mysterious, powerful, underworld figure, and Brie Larsen plays a talented student who enters into a relationship with the devil-may-care Bennett. The original, written by James Toback, was more immediate and personal, and is better by far, but the remake, taken on its own, is worth a look.
Mission: Impossible - Rogue Nation (Vudu)
★★★★☆
Christopher McQuarrie, who won an Oscar for his screenplay The Usual Suspects and directed Tom Cruise in the underrated Jack Reacher, becomes the fifth director in the "Mission: Impossible" franchise on the fifth film, Mission: Impossible - Rogue Nation (2015).
Ethan Hunt (Cruise) returns, still off the grid from the last film, going after a mysterious and untraceable evil syndicate headed by the elusive Lane (Sean Harris). Hunt's old cohorts Benji (Simon Pegg), Brandt (Jeremy Renner), and Luther (Ving Rhames) help, as does a lovely, lethal double-agent, Ilsa Faust (Rebecca Ferguson).
McQuarrie turns in a top-notch thriller, with strong pacing, beautifully executed set-pieces (including a harrowing underwater one), and a sense that the characters are, in spite of everything, still human.
Radio Days (TubiTV)
★★★★★
Woody Allen's Radio Days (1987) is one of his very best films. It's a wonderfully nostalgic, wistful look at the past, warmly funny and lovingly detailed with moments of sweet melancholy. It's also a terrific New Year's Eve movie.
In addition to writing and directing, Allen narrates the story, centered around a family living in New York in the 1930s-40s. A young Seth Green plays a surrogate for the young Woody, listening to the radio and telling stories about his family and various radio stars of the era. The movie's plot is disconnected, a grab-bag of different segments with different settings and characters, but always with the same tone. It goes down so easily that it might feel like a minor Allen film, but in fact it's one of his most ambitious, one that Roger Ebert compared to Fellini's Amarcord.
The big cast includes Dianne Wiest (fresh from an Oscar in Allen's Hannah and Her Sisters), Mia Farrow, Julie Kavner, Danny Aiello, Jeff Daniels, Wallace Shawn, and Diane Keaton singing a song in a nightclub.
In case you missed last week's list: The best new movies streaming this week include A Very Murray Christmas
Next Up: Check out these related slideshows
Today's Best Tech Deals
Picked by TechHive's Editors