SLIDESHOW
The best new movies streaming this week include "A Very Murray Christmas"
Baby it's cold outside. Let's stay inside and watch some great films.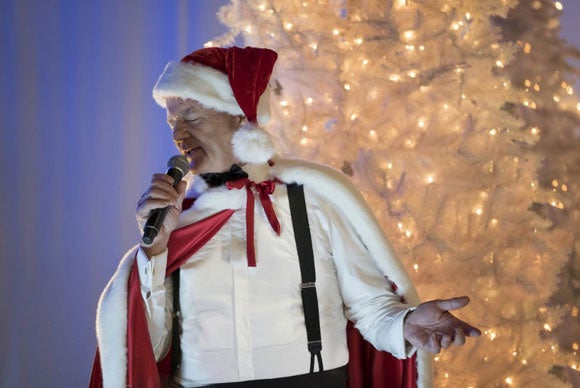 Weather the weather with your favorite warm beverage and these great movies
Christmas is always a good time to curl up and watch movies at home, and there are plenty of good ones to see this long holiday weekend. There are a few Christmas things to perk up your holiday cheer, as well as a couple of award contenders; a strange, funny, colorful experimental film; and some not-too-dreary documentaries. Best of all is a selection of movies that, for whatever reason, went unappreciated in their time.
While you're spreading love and good cheer this season, save a little love for some of these good movies, too! Happy Holidays!
A Very Murray Christmas (on Netflix)
★★★★☆
Director Sofia Coppola reunites with her Lost in Translation star Bill Murray for this low-key, hour-long 2015 Christmas special. It's plotless and slapdash, but it has a very relaxed, quiet pace and the performers are wonderfully raw; they seem to have been coaxed to sing from their hearts rather than practicing to perfection. The idea is that Murray is supposed to do a live Christmas special on Christmas Eve at the Carlyle Hotel in New York City, but a huge snowstorm shuts everything down.
So Murray, pianist Paul Shaffer, and a few others gather in the hotel bar and start to eat, drink, and sing. The French band Phoenix play hotel chefs who perform a song. Chris Rock, David Johansen, Maya Rudolph, Jason Schwartzman, Rashida Jones, and Jenny Lewis sing; George Clooney and Miley Cyrus appear in a dream sequence; and Amy Poehler, Julie White, Dimitri Dimitrov, and Michael Cera turn in funny little appearances.
As any holiday party will, A Very Murray Christmas has some slow spots, but also a great deal of warmth.
Best of Enemies (on Netflix)
★★★★☆
Robert Gordon and Oscar-winner Morgan Neville (Twenty Feet from Stardom) co-directed this documentary about a fascinating part of television history, but one that still feels bracingly relevant. Back in 1968, during the Republican and Democratic national conventions, struggling network ABC hired two intellectuals, right-wing William F. Buckley and left-wing Gore Vidal, to debate each other on the air.
Culling from 2.5 hours of footage, the filmmakers took out anything specifically related to 1968 and left a broader picture of right- and left-wing values. It's not only a brilliant, brainy portrait of political thought, but also an astonishing realization that all intelligent discussion has gone out of politics, to be replaced by shouting, accusations, and button-pushing. Best of Enemies is absolutely essential viewing for anyone even remotely interested in political discourse. Kelsey Grammer and John Lithgow provide the offscreen voices of Buckley and Vidal respectively.
Electric Boogaloo (on Netflix)
★★★★☆
Mark Hartley's Electric Boogaloo: The Wild, Untold Story of Cannon Films (2015) is a "clip show" largely like any other clip show, with occasional celebrity interviews, photographs, and movie clips interspersed artfully throughout. But in this case, the footage produced at Cannon Films, largely in the 1980s by Menahem Golan and Yoram Globus, work better as short clips than they do as actual feature-length movies.
This documentary tells the story of the two Israeli immigrants and film buffs who came to make it big in Hollywood, working briefly for Roger Corman before launching their own company. They made breakdancing musicals, ninja films, sexy softcore dramas, B-grade Sylvester Stallone and Chuck Norris flicks, a Texas Chainsaw Massacre sequel, and—notoriously—the flop Superman IV: The Quest for Peace. Astoundingly, they also made good movies, producing films by John Cassavetes and Jean-Luc Godard, and even one Oscar-winner for Best Foreign Language Film (The Assault). 
Bo Derek, Dolph Lundgren, Elliott Gould, and Molly Ringwald are among the interviewees. Anyone in love with the seedier side of movies should check this out.
Top Five (on Hulu)
★★★★☆
Chris Rock wrote, directed, and stars in what could be his best film, Top Five (2014). This showbiz movie isn't strictly autobiographical, but it certainly seems to be based on Rock's own experiences. He plays Andre Allen, a comedian-turned-actor who has become rich and famous for his roles in a series of brain-dead cop comedies. He has decided to do something "serious," and so his new film about slavery is about to be released. Meanwhile, his fiancée (Gabrielle Union) is relentlessly documenting their lives for a reality TV show while a journalist, Chelsea Brown (Rosario Dawson) is spending the day with him.
Unfortunately, Andre and Chelsea begin to develop feelings for one another, and she is not telling the entire truth about who she really is. Consistently wise and funny, the movie is blessed with an insider's look at showbiz as well as a truthful appreciation of human feelings. Many celebrities and comics appear in small roles, and we get to hear lots of "top five" lists of favorite hip-hop artists. (What are yours?)
Darkman (on Netflix)
★★★★☆
Many years before directing the blockbuster Spider-Man films, Sam Raimi made his first big-time Hollywood appearance with his own, made-up superhero. Inspired by the old Universal horror films, as well as The Phantom of the Opera, Darkman (1990) has an operatic hugeness, with over-the-top emotions and darkly comic spins sprinkled throughout its action plot.
Liam Neeson stars as the hero, who was on the verge of developing an artificial skin when a bad guy, Durant (Larry Drake), destroys his lab as well as his face. Going into hiding, he creates masks that last only 99 minutes in the light, and uses them to hunt down the bad guys as well as patch things up with his girlfriend, Julie (Frances McDormand).
Blow Out (on Hulu)
★★★★★
Brian De Palma is one of the greatest and most marginalized directors in film history, and Blow Out (1981) is a strong contender for his best movie (it was a major influence on Quentin Tarantino). In a story loosely inspired by Michelangelo Antonioni's Blowup, John Travolta stars as a soundman, working in sleazy horror movies. While out recording some audio for his library, he picks up the sound of a car accident. But listening to the tape, he realizes that it might actually have been an assassination.
He becomes obsessed with finding out what really happened, and gets involved with a woman (Nancy Allen) connected to the incident. De Palma displays an astonishing use of the widescreen frame, split images, and trick focus, as well as an impressive use of sound (appropriate for this movie). It's a technically superb, thematically surprising film, also starring John Lithgow and Dennis Franz.
One from the Heart (on Hulu)
★★★★★
Filmmaker Francis Ford Coppola followed up his incredible, unmatched track record of the 1970s (The Godfather Parts I-II, The Conversation, and Apocalypse Now) with this strange, beautiful romance. Unfortunately, the experimental techniques used to make it, in addition to negative press coverage, contributed to the movie becoming an expensive flop, and resulted in Coppola declaring bankruptcy.
All these years later, One from the Heart (1982) can be appreciated for what it is: a dreamy, highly stylized, musical heartbreaker. In a kind of artificial Las Vegas setting, Frederic Forrest and Teri Garr play a couple who break up after five years; they both head out into the night and meet perfect new partners (Raul Julia and Nastassja Kinski), before realizing that they love each other after all. Lainie Kazan and Harry Dean Stanton also star, and Tom Waits provided some of the music.
Cutie and the Boxer (on Amazon Prime)
★★★★☆
An Oscar nominee for Best Documentary, Zachary Heinzerling's Cutie and the Boxer (2013) tells the story of artist Ushio Shinohara and his wife Noriko with wonderful intimacy and an eye for visual splendor. Living in New York, Ushio paints with boxing gloves, hammering the canvas and splattering the colors everywhere, while Noriko ponders her supporting role in their 40-year marriage, looking to find something of her own to do and say. She eventually creates a comic strip about "Cutie," who falls in love with a struggling older artist.
The movie captures the couple's intimate conversations, slyly revealing both points of view, while expertly showing off the various artworks. In a time of so many dreary, cautionary documentaries, this one is delightfully fascinating.
The Imaginarium of Doctor Parnassus (on Amazon Prime)
★★★★☆
Filmmaker Terry Gilliam is one of the true visionaries of our time, and yet is consistently overlooked and forgotten. Part of this is due to his seemingly unending bad luck with money and production troubles, and in the case of The Imaginarium of Doctor Parnassus (2009), the premature death of star Heath Ledger overshadowed the film itself. (That, and it was released opposite Avatar.)
Christopher Plummer stars as the title doctor, who runs a traveling carnival show with a magic mirror that leads to other worlds. Long ago, he made a deal with the devil (Tom Waits) and must try to save his daughter (Lily Cole) from his clutches. Hope comes when the doctor and his assistant (Andrew Garfield) rescue a hanged man (Ledger), who must have been sent for a reason. Gilliam had completed Ledger's real-world scenes, and then cast Johnny Depp, Jude Law, and Colin Farrell to "double" as Ledger for the scenes inside the Imaginarium (where, to be sure, anything can happen). Gilliam's personal, dazzling vision is on full display here, and despite its flaws, it's a wonderful entertainment.
The Forbidden Room (on Fandor)
★★★★☆
Canadian auteur Guy Maddin (The Saddest Music in the World, Brand Upon the Brain!, My Winnipeg, et al) makes strange and funny experimental films inspired by the early days of cinema. He re-creates battered, emulsified film stocks, including jumps and scratches, and incorporates intertitles to tell his sometimes silent, fantastic, unrealistic stories.
His latest, The Forbidden Room (2015), also copies the old two-strip Technicolor technique from the late 1920s, resulting in bold, beautiful color swaths. The movie has been described as a "nesting doll," with stories appearing inside other stories. It's difficult to follow on the whole, but in any given moment, it can be funny or startling or both. Stories involve a submarine crew about to run out of air, a lumberjack hoping to rescue a pretty woman from vampires, and a moustache that comes back to life after its owner dies.
It may take a few moments for casual viewers to get the hang of Maddin's unique rhythms, but there's great pleasure to be had here.
Bug (on TubiTV)
★★★★☆
William Friedkin was once the biggest director in the world, after winning Oscars for The French Connection and breaking box-office records with The Exorcist. Lately he has been responsible for several, small, underrated gems, each displaying his unquenchable curiosity for all the things in the world, as well as the things beyond it. Bug (2007) was based on an off-Broadway play by Tracy Letts (who also adapted the screenplay), and stars Ashley Judd as cocktail waitress Agnes. She meets Peter (Michael Shannon, who also appeared in the play), and they hit it off. That is, until he announces that he has bugs crawling under his skin and may have been the victim of government experiments while serving in the military.
They both hole up in a room lined with foil, hearing sounds of hovering helicopters outside, and trying to fight the unseen bugs. This is paranoia at its highest, with two tightly wound performances driving it home. Harry Connick, Jr. co-stars as Agnes' abusive ex-husband and Lynn Collins is her best friend.
Ant-Man (on Vudu)
★★★★☆
Part of the gargantuan Marvel Universe, Ant-Man (2015) somehow feels like a much smaller, more refreshing, more purely entertaining movie than most of those other action behemoths, perhaps because the filmmakers gave themselves license to mess around and have fun. Paul Rudd stars as Scott Lang, a master thief who, after a robbery, begins working with scientist Hank Pym (Micahel Douglas). The inventor of the Ant-Man suit, Pym has selected Lang to take over as the shrinking superhero and help stop the evil Cross (Corey Stoll) from taking over the world.
Like other Marvel heroes, Lang has money problems and needs a job before his ex-wife will let him visit his daughter. But that doesn't stop him from cracking jokes or finding himself in delightfully silly situations. Michael Pena is also very funny as one of Lang's thief pals who lends a hand, Evangeline Lilly plays Lang's love interest (and a possible future hero herself), and Anthony Mackie makes an appearance as the Falcon.
Cult director Edgar Wright was originally at the helm, and portions of his screenplay with Joe Cornish are still evident; Rudd and Adam McKay did a re-write and Peyton Reed directs, seamlessly.
You'll find previous installments in our Now Streaming series right here. 
Next Up: Check out these related slideshows
Today's Best Tech Deals
Picked by TechHive's Editors