SLIDESHOW
22 off-kilter, unusual, and lesser-known holiday movies now streaming
Take a break from tradition (and the stress of shopping) and spend some quality time with these unusual films with links to the holidays.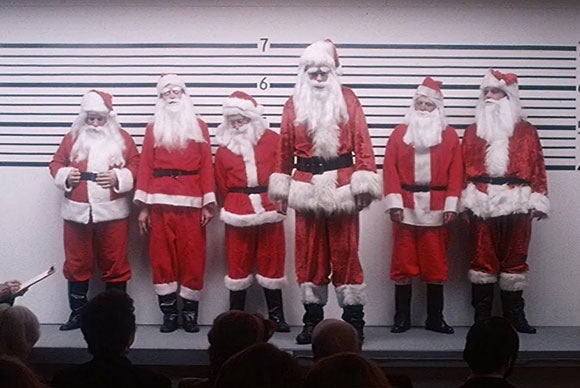 The stranger side of the holidays
Let's face it, sometimes we get tired of seeing all those cheerful holiday classics over and over again. Sometimes you want to see someone take the wind out of the holidays in a humorous way, or perhaps talk about what life is really like with all those family members around and awkward relationships bumping up against one another.
The following is our list of unusual holiday films, for those with a taste for something slightly out of the mainstream. Enjoy!
Addams Family Values (Netflix)
Yes, Addams Family Values (1993) takes place during summer, but it was released in November and it contains an essential Thanksgiving sequence: Wednesday (Christina Ricci) is forced to perform in a Pilgrim-themed play at her irritatingly cheerful summer camp, and she catapults the whole thing into chaos with a speech about what really happened at the first Thanksgiving.
Raul Julia, Anjelica Huston, and Christopher Lloyd co-star as other members of the Addams clan, and Joan Cusack plays a villainous nanny. The great playwright and columnist Paul Rudnick wrote the clever screenplay (much improving on the bland 1991 film), and Barry Sonenfeld directed.
American Movie (Crackle)
Chris Smith directed this memorable documentary about aspiring Wisconsin filmmaker Mark Borchardt, who dreams of making a horror film called Coven (which he pronounces COH-ven). In American Movie (1999), Smith follows Borchardt and his half-alert pal Mike Schank as they try to procure money from "producer" Uncle Bill and actually start shooting, but meanwhile there's a great deal of talking and drinking, and a memorably dysfunctional Thanksgiving scene.
Smith's film is funny, definitely, but he also manages to capture Borchardt's suffering and humanity without ridiculing him.
Bad Santa (Netflix)
Perhaps the funniest—and filthiest—Christmas movie ever made, the acclaimed filmmaker Terry Zwigoff holds nothing back in Bad Santa (2003). Billy Bob Thornton stars as Willie T. Soke (a character very much out of W.C. Fields), a drunken department store Santa and expert safe cracker. Each year with his more sober and responsible partner Marcus (Tony Cox)—who plays an African-American elf with white plastic ears—they work all December listening to wishes from kids, and then robbing the store on Christmas Eve.
This year, Willie meets a hopeless doofus of a kid (Brett Kelly), a pretty barmaid with a "Santa" fetish (Lauren Graham), and a crafty store detective (Bernie Mac), who shake up the usual plans. Co-written, without credit, by Joel and Ethan Coen, this movie never forgets to deliver the laughs, even up to the climax. (Netflix offers the 91-minute theatrical cut, but there is also an 88-minute director's cut, and a 98-minute "unrated" version.)
Broadway Danny Rose (Hulu)
Filmed in lovely black-and-white, Woody Allen's Broadway Danny Rose (1984) is only barely a Thanksgiving movie, but it makes a good double-bill with Allen's Hannah and Her Sisters (1986), which is centered around a family turkey dinner. Allen plays the title character, the fast-talking, but good-hearted agent Danny Rose, who firmly believes in his quasi-talented acts (including a "balloon folder").
When his star, singer Lou Canova (Nick Apollo Forte), becomes involved with a gangster's moll, Tina (Mia Farrow), Danny gets in the middle of all the trouble. In one striking scene, Danny and Tina are on the run and escape through a warehouse filled with Macy's Thanksgiving Day Parade floats!
Christmas Evil (Fandor)
Possibly the original killer-Santa slasher movie, Christmas Evil (1980) has some fascinating touches, and is the favorite holiday movie of filmmaker John Waters. It starts with a flashback explaining the killer's homicidal association with Santa, then cuts to the present. Harry (Brandon Maggart) works in a toy factory by day, and by night dresses up as Santa, spies on neighborhood kids, drives a van with a sleigh painted on the side, delivers presents to hospitals, and kills people in bloody ways.
Director Lewis Jackson keeps things a little less gory and more deliberate than you might expect, focusing on human relationships and reactions, and genuinely pondering the idea of who gets to decide what is "naughty" and what is "nice."
A Christmas Tale (Hulu)
French filmmaker Arnaud Desplechin delivers one of the cinema's most complex dysfunctional family holidays with A Christmas Tale (2008). It begins as Junon (Catherine Denueve), recently diagnosed with leukemia, assembles her entire family for a holiday gathering. Everyone there has his or her own emotional struggles, as well as some kind of conflict with at least one other person present.
Desplechin's approach is far from linear, as events start heading down one road, then double back and start again. But he creates a very lovingly messy, truthful portrait close to life. Mathieu Amalric, Hippolyte Girardot, Emmanuelle Devos, and Denueve's real-life daughter Chiara Mastroianni are also among the French-speaking cast.
Confidential Report (Hulu)
Effectively kicked out of Hollywood at the end of the 1940s, writer-director-actor Orson Welles traveled the world for the rest of his career, scraping together whatever pennies he could to continue making films. The ramshackle but fascinating Confidential Report (1955)— a.k.a. Mr. Arkadin—was one of Welles' few original screenplays, and, not surprisingly, resembles Citizen Kane in many ways.
Robert Arden stars as Guy Van Stratten, who learns the name "Arkadin" from a dying man. He contacts Arkadin (Welles), who then hires Van Stratten to investigate his own past (which, apparently, he can't remember). One crucial scene takes place at a Christmas party. After this, Welles was given one more shot in Hollywood: Touch of Evil.
Deadfall (Netflix)
In the sturdy little pulp thriller Deadfall (2012), Eric Bana and Olivia Wilde star as Addison and Liza, a brother-sister team who pull off a casino heist on Thanksgiving, but accidentally crash their car in a snowstorm. After Addison kills a cop, they split up and set out through the frigid woods. Liza meets an ex-boxer (Charlie Hunnam) and tries to get herself invited for Thanksgiving dinner at his house. But Addison can't seem to keep a low profile.
Oscar-winner Stefan Ruzowitzky directs, making excellent use of the snowy locations. Kate Mara, Sissy Spacek, Kris Kristofferson, and Treat Williams co-star.
Fanny and Alexander (Theatrical Version) (Hulu)
The master Swedish filmmaker Ingmar Bergman announced his retirement after this three-hour family epic (which was edited down from a five hour-plus mini-series), and thus he seemed to throw everything he had into Fanny and Alexander (1983).
Though it introduces many members of a large family, it essentially focuses on the title children, whose father suddenly dies, and whose mother marries a pious, punishing bishop; he turns out to be one of the most thoroughly hateful and evil of all movie villains.
The movie opens with a lengthy, joyous, and beautiful old-fashioned Christmas celebration; it went on to win an Oscar for Best Foreign Language Film, as well as Oscars for Costume, Set Design, and Cinematography.
Four Brothers (Netflix)
John Singleton's Thanksgiving-set crime drama Four Brothers (2005) wobbles between realism and movie-ism, but ultimately the chemistry and performances win the day. Foster brothers Bobby (Mark Wahlberg), Angel (Tyrese Gibson), Jeremiah (Andre Benjamin) and Jack (Garrett Hedlund) return home to attend the funeral of their mother (Fionnula Flanagan), shot during a convenience store robbery.
After eating turkey dinner, they figure out that her death was no accident and begin investigating. Show-stealer Chiwetel Ejiofor co-stars as a flashy gangster, with Sofia Vergara as Angel's feisty girlfriend. Also with Terrence Howard and Josh Charles.
Happy Christmas (Netflix)
A member of the so-called "mumblecore movement," writer/director Joe Swanberg gives us this appealingly off-kilter Christmas movie, in which characters seem to be forming their thoughts as they go, rather than speaking completed dialogue. Swanberg stars as new father Jeff (his real-life baby Jude plays the movie baby). His wife Kelly (Melanie Lynskey, who gets to keep her New Zealand accent) is getting antsy and wants to return to her writing career. Meanwhile, his sister (Anna Kendrick), has just gone through a breakup and comes to stay for Christmas.
Jeff rents Kelly an office in which to write, and Jenny begins hanging out with her, working on an erotic novel. The low-key movie, shot in Swanberg's house, is Christmasy in only a background way, but you'll find yourself becoming involved with the characters anyway. Lena Dunham co-stars as Kelly's wisecracking pal.
The House of Yes (Netflix)
Many Thanksgiving movies are about dysfunctional families, but it's hard to get more dysfunctional than The House of Yes (1997). Jackie Pascal (Parker Posey) is as obsessed with Jackie Onasis as she is with her twin brother Marty (Josh Hamilton). In November of 1983, Marty brings home his new fiancee (Tori Spelling) for dinner, meeting his weird mother (Genevieve Bujold) and fresh-faced younger brother Anthony (Freddie Prinze Jr.).
Over the course of a thunderstorm and several bottles of rum, the family's darkest secrets come out. It was based on a play by Wendy MacLeod and directed by Mark Waters (see also Mean Girls).
In Bruges (Netflix)
The acclaimed British-Irish playwright Martin McDonagh, an Oscar-winner for Best Live Action Short Film (Six-Shooter), made his feature writing and directing debut with this quirky gangster movie. In Bruges (2008) definitely takes cues from Quentin Tarantino, but quickly finds its own rhythm and style.
Colin Farrell and Brendan Gleeson play a pair of hitmen who are sent to Bruges (in Belgium) at Christmastime, with no idea what they are doing there. They're not sure if they have a new job, or if they're simply hiding out from the last one. While they wait to hear from their boss (Ralph Fiennes), they become involved with some of the locals. Copious use of the "f-word" and much shooting follows.
Mean Girls (Netflix)
Tina Fey wrote the clever screenplay for Mean Girls (2004), taking a realistic look at just how vicious high school girls could possibly be to each other (many saw it as an update of Heathers, from 1989). Lindsay Lohan stars, before being ground up into tabloid headline fodder, as Cady, who returns with her parents to the U.S. after being raised in Africa.
She immediately tangles with three popular, and dangerous "mean girls" (Rachel McAdams, Lacey Chabert, and Amanda Seyfried). One scene takes place at the winter talent show as the girls perform "Jingle Bell Rock" in sexy Santa outfits.
Rare Exports (Hulu)
An import from Finland, Rare Exports: A Christmas Tale (2010) is truly unlike any other Christmas tale you may find. A businessman bankrolls an expedition to dig up the remains of the real Santa Claus, but what is found is actually still alive. Meanwhile, a young boy begins researching Santa and finds out that the original figure was not a jolly old soul, but rather a vindictive monster that attacked and destroyed any children it deemed naughty.
Soon children are disappearing, reindeer are slaughtered, and a hair dryer is missing. A strange, bitey old man is found; could he be Santa Claus? It's even stranger than it sounds, but if your holiday tastes run toward the unusual, this may be essential viewing. Jalmari Helander wrote and directed.
The Ref (Netflix)
One of the earliest and most acid of Christmas black comedies, The Ref (1994) centers on jewel thief, Gus (Denis Leary), who, on Christmas Eve after a bungled robbery, has the misfortune to run into feuding couple Lloyd (Kevin Spacey) and Caroline Chasseur (Judy Davis). Holding them at gunpoint, Gus forces them to pretend he's a holiday guest to evade the cops. But their insane bickering, even in the face of mortal danger, as well as other bizarre events, adds a whole new level to Gus's simple crime wave.
B.D. Wong co-stars as the ineffectual marriage counselor, with J.K. Simmons as a commander from the couple's son's military school. Ted Demme directs, and Marie Weiss and Richard LaGravenese co-wrote the screenplay.
Santa Claus Conquers the Martians (Hulu)
Recommended only for lovers of "so bad they're good" movies, Santa Claus Conquers the Martians (1964) was a low-budget quickie aimed at kids and doomed to be forgotten. But thanks to its arrival in the public domain, and an appearance on "Mystery Science Theater 3000," as well as its effervescent badness, its cult status has endured.
On Mars, the green-faced children are miserable because they don't get to have Christmas, so a plan is launched to kidnap Earth's Santa Claus (John Call) and two earth children, to make toys for the martians. A dorky martin called Dropo (Bill McCutcheon) eventually saves the day. A young Pia Zadora plays a helpful girl martian named "Girmar" (her brother is named "Bomar"—get it?). The theme song "Hooray for Santy Claus" will never leave your brain once you hear it.
Serendipity (Netflix)
Here's a cuddly holiday romance for lovers of lightweight love stories. Jonathan (John Cusack) and Sara (Kate Beckinsale) meet during the Christmas season while reaching for the last pair of gloves at Bloomingdale's. They spend the evening together and feel a strong bond, and a strong sense of destiny, but Sara insists that if it's really meant to be, they will find each other once again. She writes her number in a copy of Love in the Time of Cholera , and it's up to Jonathan to find it.
Serendipity (2001) was a victim of fate during the time of the 9/11 attacks, and it was one of the movies whose images of the twin towers were digitally erased. But its charm has endured.
Smoke (Netflix)
With the help of writer Paul Auster, director Wayne Wang made a curious two-parter: first, a portrait of a neighborhood smoke shop Smoke (1995), and then its more ramshackle "B" side Blue in the Face. The former is certainly the more accomplished of the two, with Harvey Keitel as shop proprietor Auggie Wren. He deals with a steady stream of tobacco-addicted customers, as well as a former flame (Stockard Channing) and a girl who may be his daughter (a ferocious Ashley Judd).
William Hurt plays "Paul," a writer who has been commissioned to write a Christmas story for the New York Times, but is stuck. So Auggie sits down and tells him one, in which "every word is true." (Auster himself published the story in the New York Times, and based this screenplay on his experience.)
Tinker Tailor Soldier Spy (Netflix)
Based on a John le Carré novel, and directed by Sweden's Tomas Alfredson (Let the Right One In), Tinker Tailor Soldier Spy (2011) is a remarkable achievement, a very moody and atmospheric take on a brainy, wordy novel. Gary Oldman gives a great, Oscar-nominated performance as former British Intelligence agent George Smiley. He is called out of retirement following a blown operation in Hungary (which resulted in an agent's death) to find a mole buried deep within MI6. The only one he can trust is his young assistant (Benedict Cumberbatch).
Alfredson's use of tones and colors is masterful, with unspoken moments adding immeasurably to the complex plot. Many viewers complained that it was too hard to follow, and did not compare with the 1979 mini-series of the same name (with Alec Guinness), but for those with patience, it's terrific—especially the scenes of a Cold War-era office Christmas party!
Tokyo Godfathers (Crackle)
The "3 Godfathers" story has been told many times, most notably in John Ford's 1948 film with John Wayne. Essentially, it's a modern update on the "three wise men" story, with three misfits finding and having to care for a lost/abandoned/orphaned baby at Christmastime.
Satoshi Kon's wonderful anime Tokyo Godfathers (2003) further updates the story, giving us an alcoholic ex-bicycle racer, a drag queen, and a young twenty-something runaway as a kind of backwards nuclear family. Together they search the city for clues as to the baby's home. The story has an inherent sentimentality, but director Kon keeps things mostly under control with splashes of humor, magic, and big-city atmosphere.
Tuesday, After Christmas (Fandor)
In the 2000s, some of the most fascinating movies came from Romania, and Radu Muntean's Tuesday, After Christmas (2010) is one of the essentials. Middle-aged Paul (Mimi Branescu) is having an affair, and seems to be in love with, a pretty young dentist, Raluca (Maria Popistasu). After Paul's wife Adriana (Mirela Oprisor) meets Raluca during an awkward teeth appointment for their daughter, Paul decides to tell his wife everything. Unfortunately, it's just a few days before Christmas, and they opt to try to keep things civil until after the holidays.
Muntean tells much of his story in long takes, giving the characters time to process the complex emotions roiling under the surface; nothing is soft-pedaled, but neither is it emotionally crushing. Very simply, it's brutally honest.
Don't miss our other collection of great holiday films: 16 of the best traditional holiday movies now streaming.
Next Up: Check out these related slideshows
Today's Best Tech Deals
Picked by TechHive's Editors