SLIDESHOW
16 of the best traditional holiday movies now streaming
What better way to celebrate Thanksgiving Holiday than to binge-watch all your favorite holiday movies!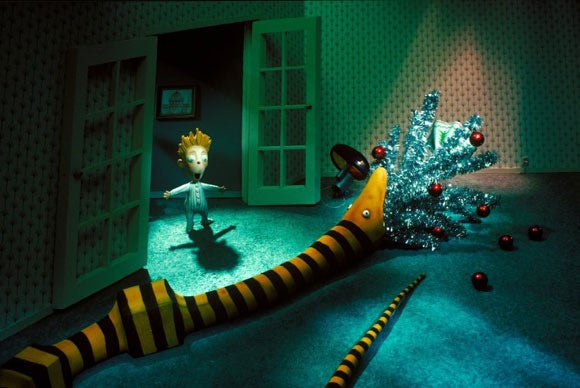 Traditional holiday favorites (and instant classics)
This story was updated on November 23, 2016 to indicate which streaming services are now offering which movies.
Whatever the weather outside, everyone loves to cuddle up inside and watch a great movie or six over the Thanksgiving holiday. It's become part of our celebration. Unlike our hectic real lives, movies provide a glimpse and a wonderful reminder of just how innocent and peaceful the holidays once were, and possibly could be again.
Many of the movies on our list go for laughs, preying on all the seasonal stress. Others go for the heartstrings just as effectively. These are the films we consider classics. No matter how old or new they might be, these movies see the holidays (and Santa Claus) in a positive light.
Each film is available for streaming, of course. We'll let you know from where in the title for each slide.
Scrooge (1935) (Hulu)
Everyone has their favorite movie version of Charles Dickens' great novel. We've picked two adaptations from the 1930s because they're so lovely in their straightforward simplicity.
First up is the English Scrooge (1935), with Seymour Hicks as Ebenezer Scrooge and some creepy, disembodied ghosts. (Since it's in the public domain, two versions exist: a shorter, 63-minute version, and a longer 78-minute version.)
A Christmas Carol (1938) ($1.99 rental at Amazon Video)
The American A Christmas Carol (1938) was produced at MGM and has some excellent set and costume design, despite its brief 69 minutes.
Reginald Owen plays everyone's favorite miser, Gene Lockhart is Bob Cratchit, and Leo G. Carroll is Marley's Ghost.
A Christmas Story ($2.99 rental at Vudu)
A Christmas Story (1983) wasn't a huge hit when it was released, but it has become a family favorite on television, and now appears in all-day marathons for die-hard fans. Jean Shepherd adapted his novel In God We Trust: All Others Pay Cash and narrates as the grown-up version of Ralphie, nicely juxtaposing the onscreen images of young Ralphie (Peter Billingsley).
Hugely nostalgic and very funny, it's mainly about Ralphie's attempts to make his Christmas wish, for a Red Ryder Carbine Action 200-shot Range Model air rifle, come true, while other things (a tongue stuck to a pole, a flat tire, a leg lamp) happen around him.
Amazingly, director Bob Clark also made the classic horror-slasher Black Christmas (1974), as well as Porky's (1982).
Elf ($2.99 rental at Amazon Video)
Elf (2003) made a box office star out of Will Ferrell and launched director Jon Favreau to the "A" list. It remains a hilarious, kindhearted, and beloved holiday favorite.
Ferrell stars as "Buddy," a human raised by Santa's elves (the joke is funnier considering Ferrell's 6'3" stature). One day he decides to go to New York City to find his real father, a cranky children's book publisher (James Caan).
Ferrell's total dedication to the part, a kind of girlish innocence, really makes this fly, as does an earthy performance by Zooey Deschanel (their duet of "Baby, It's Cold Outside" is a keeper).
Peter Dinklage makes a very funny appearance as a successful children's author. Bob Newhart is Buddy's elf "papa," and Ed Asner is Santa Claus!
Ernest Saves Christmas (Netflix)
Jim Varney's series of "Ernest" movies were seen as vulgar and idiotic, big-screen versions of annoying television commercials, but his Christmas movie, Ernest Saves Christmas (1988) is surprisingly sweet and—apparently—still has its passionate fans. Ernest has no real character arc, and basically seems to exist only to be a doofus and to help people, sometimes both at the same time.
The real Santa Claus (Douglas Seale) is looking for a replacement, and may have found one in a laid-off kids' TV-show host (Oliver Clark). For his part, Ernest sometimes elicits a giggle when in one of his various disguises, including a snake handler.
Love Actually (Netflix)
The Oscar-nominated screenwriter Richard Curtis made his directorial debut with Love Actually (2003), a mammoth multi-character holiday comedy with an astounding cast, many of whom went on to greater fame.
Hugh Grant plays the prime minister, in love with a member of his staff (Martine McCutcheon), and Keira Knightley, Chiwetel Ejiofor, Andrew Lincoln, Colin Firth, Liam Neeson, Alan Rickman, Emma Thompson, Martin Freeman, Laura Linney, Rowan Atkinson, and others appear in funny, heartbreaking, sweet, and charming segments.
Billy Bob Thornton is the boorish President of the United States, and Bill Nighy provides the centerpiece as a sellout pop musician working on a terrible Christmas song.
It's a Wonderful Life ($9.99 purchase at Vudu)
Originally a box-office failure, Frank Capra's It's a Wonderful Life (1946) is now one of the ultimate Christmas movies, thanks to the period in which it fell into the public domain and was played on television hundreds of times during the holiday season.
It's a truly wrenching experience, unafraid to explore the depths of despair, and Jimmy Stewart gives one of his finest performances as George Bailey, a man who reaches the end of his rope. It's only this darkness that allows the feel-good ending to pay off as well as it does, wringing tears every time.
Meet John Doe (You'll find this one at Archive.org)
If It's a Wonderful Life isn't to your taste, there's always Capra's Meet John Doe (1941), also set at Christmas time, with Barbara Stanwyck as a savvy newspaper columnist who requires a down-and-out everyman to help save her job, and ex-ballplayer Gary Cooper fits the bill.
Before long, they have created a symbol that everyone wants to believe in.
Miracle on 34th Street ($2.99 rental at Amazon Video)
This great New York City Christmas movie won an Oscar for Edmund Gwenn as Best Supporting Actor, because how can the REAL Santa Claus not win? It begins at the Macy's Thanksgiving Day Parade as Kris Kringle takes the seat in the sleigh when the actor hired to play him falls down drunk. Then Santa becomes interested in helping a busy, successful single mom (the late, great Maureen O'Hara) and her spunky daughter (eight year-old Natalie Wood).
John Payne plays the single nice guy who puts up Kris in his apartment. The black-and-white cinematography captures a chilly-weather, seasonal hustle-bustle as well as a big-hearted romance. (The original title was The Big Heart.) Look for the wonderful Thelma Ritter as a Macy's customer. Director George Seaton won an Oscar for his screenplay, as did Valentine Davies for his original story.
The Nightmare Before Christmas ($2.99 rental at Vudu)
Tim Burton wrote and produced, and Henry Selick performed the directing duties, on this unique stop-motion hybrid, one that had the audacity to combine Christmas themes with Halloween ones. In The Nightmare Before Christmas (1993), Jack Skellington is the king of Halloweentown, in charge of the annual Halloween festivities.
Grown bored with the usual spooky stuff, he stumbles into the neighboring Christmas Town and gets all kinds of new ideas for scares. Unfortunately, Santa gets kidnapped in the process. Danny Elfman wrote the wonderful, off-kilter songs and performs Jack's singing voice. Chris Sarandon, Catherine O'Hara, and William Hickey provide other voices, and Patrick Stewart narrates.
Planes, Trains & Automobiles ($2.99 rental at Vudu)
One of the best of all Thanksgiving movies, Planes, Trains & Automobiles (1989) features that old comedy formula, combining an uptight snob with an obnoxious doofus, the latter eventually helping the former loosen up. But under the writing and directing of John Hughes, the humor is genuinely warm and funny, and it works beautifully.
Neal (Steve Martin) and Del (John Candy) are both trying to get home in time for the holiday dinner, and find that they must team up in order to make any headway. But, of course, absolutely everything goes wrong. The movie would be fine for families, if not for a tirade Martin throws, during which he drops 18 F-bombs in less than a minute, necessitating an "R" rating.
Rocky (Hulu)
Rocky (1976) is great entertainment for any time of the year, but it also includes a memorable Thanksgiving sequence. Paulie (Burt Young) brings Rocky (Sylvester Stallone) home for Thanksgiving, surprising his sister Adrian (Talia Shire), whom Rocky has a crush on. The dinner goes badly, but Rocky saves the day by taking the shy, skittish Adrian to a skating rink, for one of the loveliest "dating" sequences ever filmed.
All three actors received Oscar nominations, and Stallone received one for the screenplay that, legend has it, he wrote in three days. The movie won three Oscars: Best Picture, Best Director (John G. Avildsen), and Best Editing. Six sequels followed over the next 40 years, including this year's excellent Creed.
The Shop Around the Corner ($2.99 rental at Google Play)
People remember Jimmy Stewart for his adventures in Bedford Falls at holiday time, but fewer know him for his wonderful, romantic performance in Ernst Lubitsch's The Shop Around the Corner (1940), a much more graceful movie that is no less touching.
Stewart plays Alfred Kralik, a sales clerk in a shop in Budapest during the holidays. He has a secret pen-pal romance going on, but discovers to his chagrin that the mystery girl is in fact his annoying co-worker, Klara (Margaret Sullavan). All this happens amidst an atmosphere of declining business, potential layoffs, and a secret affair with the boss's wife.
Movie fans will recognize the boss, Mr. Matuschek, as the Wizard of Oz himself, Frank Morgan. The Shop Around the Corner was remade as the ineffectual You've Got Mail in 1998. 
Trading Places ($2.99 rental at Vudu)
After a memorable movie debut in 48 Hrs., Eddie Murphy followed up with this ambitious comedy, co-starring with his fellow "Saturday Night Live" alum, Dan Aykroyd. A pair of old millionaires (Don Ameche and Ralph Bellamy) make a bet that environment, and not upbringing, can form a person. So they set about turning a homeless beggar (Murphy) into a success, and simultaneously turning a successful businessman (Akyroyd) into a tramp.
Fortunately, the duo figures out what's going on, and with the help of a hooker-with-a-heart-of-gold (Jamie Lee Curtis), they attempt to turn the tables. Directed with his usual loud-quiet-loud comic timing, and set in his beloved Pittsburg during Christmas and New Year's, John Landis makes Trading Places (1983) a jubilant seasonal celebration (though definitively rated "R" and not for the kiddies).
While You Were Sleeping (Netflix)
Sandra Bullock was hot off of her star turn in Speed (1994) when she took on the above-average romantic comedy While You Were Sleeping (1995), set during Christmas and New Year's in Chicago. She plays Lucy, a token-taker for the train, secretly crushing on one of her customers, the handsome Peter (Peter Gallagher).
One day she saves his life, but he goes into a coma, and in the hospital, she is mistaken for his fiancee. She gets to know his family (including a wonderful Peter Boyle) and slowly falls in love with Peter's more rugged, less smarmy brother (Bill Pullman). Michael Rispoli provides some rather broad comic relief as Lucy's flirty neighbor, but otherwise, this material is handled with uncommon grace and intelligence. Bullock sparkles.
White Christmas (Netflix)
In 1942, Bing Crosby's recording of "White Christmas" from the movie Holiday Inn was a huge success. It became the biggest-selling single of all time. The official movie, White Christmas, came in 1954 and was directed by Michael Curtiz. While it's a little on the lethargic side, and isn't actually very Christmasy, it's still a favorite of many audiences thanks to its rich color "Vistavision" cinematography and its old-fashioned feel.
Crosby stars with Danny Kaye as a pair of war veterans who become entertainers. Paired with girl singers Rosemary Clooney and Vera-Ellen, they team up to raise money and save the struggling Vermont hotel owned by their former commanding officer. Part of the plot is that the snow actually isn't falling, and hence we get the equally good song "Snow."
Don't miss our other collection of great holiday movies: 22 off-kilter, unusual, and lesser-known holiday movies now streaming.
Next Up: Check out these related slideshows
Today's Best Tech Deals
Picked by TechHive's Editors