SLIDESHOW
The 6 best (and 4 worst) smart-home products we saw at CES 2015
CES was the year of the connected home, but that doesn't mean every product we saw on the show floor deserves a gold star.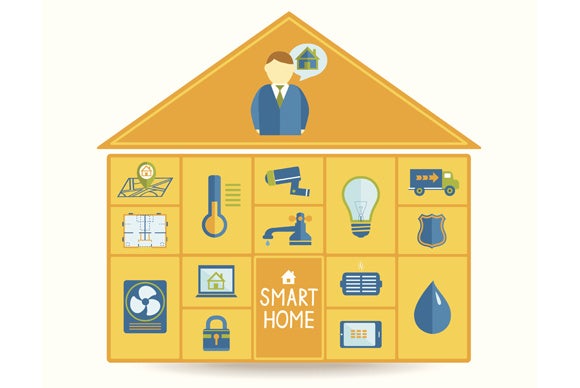 CES: A Disneyland for smart home geeks
Whether you call it the connected home, the smart home, or just the Internet of Things, the concept of connecting everything inside the home to the Internet dominated this year's CES. 
I don't think we could have seen every system, gadget, appliance, light bulb, and sleep monitor if we had three weeks to wander the cavernous halls of the Las Vegas and Sands Expo convention centers and the surrounding hotels. It was like a Disneyland for smart-home geeks in Vegas this week.  
Here are my picks for the 6 best connected-home products I saw at the show, and the 4 worst. I limited my choices to connected-home systems, hubs, controllers, and one wildcard. Enjoy!
Best: Belkin WeMo expansion
Belkin's WeMo products are extremely popular, and the company has done a terrific job expanding its lineup with new devices and capabilities. Not every add-on has scored (the WeMo Mr. Coffee and the Rival Crock Pot are solutions looking for problems), but the new additions announced at CES are right on the mark.
Door and window sensors, in conjunction with a time-and-date calendar, are the best tools for turning lights on and off when you leave and return from home, and they're useful for lots of other things, too. The Alarm sensor, meanwhile, can send you an alert when your smoke or carbon monoxide detector goes off.
But I'm particularly enthusiastic about the water sensor, which can monitor your water consumption and inform you of potentially devestating leaks.
Best: EchoStar Sage
If you're looking for something more ambitious than what you can do with a WeMo configuration, but aren't prepared for the expense of a centrally monitored solution, EchoStar's Sage might be just the ticket. I can't give a full-throated endorsement until I've reviewed it, of course, but it looks very promising.
For me, the best feature is that you can get alerts and feeds from your security cameras right on your television. Until now, that was something you found only with custom-installed systems such as Control4 or Crestron.
You won't be able to add just any device to a Sage system—EchoStar wants to certify each product to ensure it complies with its security and ease-of-installation objectives—but you should be able to build out an elaborate system without forking out a lot of money. And there are no ongoing subscription fees.
Worst: First Alert Onelink
Sorry, First Alert. I really like your talking smoke and carbon-monoxide detector, but why can't it whisper to your Wi-Fi thermostat to shut off your HVAC system if it detects smoke or CO, so it doesn't feed the flames or spread the fumes around the house?
Your smart watch is okay, as smart watches go, but why can't the Wi-Fi Environment sensor send it a message when the sensor detects dangerous conditions in the baby's room? The sensor can detect temperature, humidity, carbon monoxide, and more, but only talks to the smartphone app. 
A connected home needs more than just a two-way street to the Internet. All of the smart devices inside it need to talk to each other as well. 
Update: A First Alert spokesperson reached out to let us know that its Onelink system would be compatible with Apple's HomeKit ecosystem. We'll figure out what benefits that delivers when HomeKit becomes a real thing.
Best: Lowes Iris expansion
My opinion of the Lowes Iris system has changed considerably since I first reviewed it. I would even call it "most improved connected-home system of 2014." Iris has come a long way since I first reviewed it, but it still uses the same hub.
If you were an early adopter, that means you don't have to buy a new control panel to take advantage of any of the new features.
Lowes has added door locks, irrigation control, leak detectors and water shut-off valves, smart water heaters, garage-door openers, in-wall electrical outlets, and more to its Iris collection. Lowes remains protocol agnostic and its management seems willing to add any tech that it thinks would be beneficial to its customers.
I'm going to take a fresh hands-on look at the Iris system in the coming months and will write an all-new review then.
Worst: Hi WiFi
Free or not, this is just a dumb idea.
Okay, so I can create a motion-detection zone without buying any additonal hardware. I simply triangulate my smartphone, my tablet, and my Wi-Fi router. Brilliant.
Okay, I'm getting ready to leave for work. I obviously need my smartphone. And I want to read that new novel on my tablet while I'm on the train.
Whoops, there goes my free motion-detection zone.
Even if I use a discarded smartphone or tablet, what are the chances that they're going to stay in the right place forever unless I super-glue them to a surface somewhere.
Free doesn't always equal value.
Best: Pella Insynctive
Pella made all the right moves in entering the connected-home space. I suspect most of its doors and windows with built-in sensors will sell into the new-construction market, but it's good to know they're available for retrofits, too.
And the motorized blinds and shades are more than just luxury items. Program them to open and close as needed to keep your home warm in the winter and cool in the summer, and you can reduce your utility bills as well as your carbon footprint.
I also applaud Pella for not reinventing the wheel by coming up with some proprietary protocol. Insyncrity is based on Z-Wave technology, and Pella's products can be controlled by either DIY or custom-installed connected-home hubs.
Worst: Kidde Safety RemoteLync
If I'm going to put something in my home, I want it to look attractive, even if it ends up behind some piece of furniture. The people behind the Leeo Smart Alert Nightlight understand this quirk of human behavior. The people at Kidde apparently don't have an aesthetic bone in their body.
The primary functions of both the RemoteLync and the Leeo is to listen for the sound of your smoke or CO detector and to call your smartphone if they go off. But the Leeo also provides an optional second service that's even more useful, at least on a day-to-day basis: It will illuminate your hallway with a nightlight.
The box-like RemoteLync does nothing else, and it's ugly to boot. They're priced about the same, which one would you buy?
Best: Witricity
This was easily the wildest demo I got at CES. Who'd have thought that enough electricity could safely pass through the air (or concrete, or even your body) to charge a cell phone or turn on a light bulb. This isn't some pie-in-the-sky concept, either, it's just about ready to ship (the technology has been in development for more than eight years).
Imagine being able to place your laptop and your cell phone on top of your desk and have both of them magically charge without needing an AC adapter. And if that's not cool enough for you, think of pulling your electric car into your garage and charging its battery without ever needing to plug it in.
The best part is that the technology is not at all expensive. In fact, it's so cheap that Witricity is running a marketing test with Gillette in which the retail packaging for Gillette's razors will have flashing LEDs powered not by batteries but by Witricity's technology. Gillette wants to see if the flashy packaging will catch customers' eyes while they're in the store.
Best: Zuli Smart Plugs
Over the past few years, Bluetooth has transitioned from a protocol in search of a purpose to being adopted for roles its inventors never envisioned.
The developers of the Zuli Plug have made one of the best uses of it, creating a custom mesh network that shrinks geo-fencing down to the level of room fencing.
As long as you have your smartphone, you can turn the lamp plugged into a Zuli Plug to your preferred brightness the instant you walk into the room. And when you leave, that light will automatically turn off.
At CES, the company announced its participation in the 'Works with Nest' program, so that you can now have your Nest thermostat bring the temperature to your desired setting the moment you return home (without needing to walk past the thermostat).
I can't wait to see what these guys come up with next.
Worst: Umbrela
Thumbs up for the idea of a connected-home control panel that can be mounted in place of an existing light switch.
Thumbs down on the idea that you need to put one of these $500 panels in every room of your house in order to realize the dream of a connected home
Yes, there's a smaller $300 version of the Umbrela, but it would still be less expensive to install one control panel and upgrade your outlets and switches with Z-Wave or ZigBee devices.
I realize the Umbrela does more than just control lights, but it's just a stupid-expensive solution if you want to control all of your connected-home systems.
Next Up: Check out these related slideshows
Today's Best Tech Deals
Picked by TechHive's Editors