It looks like Samsung is taking another swing at the media player market. Today, the company announced its latest Android powered media player, the Galaxy S Wi-Fi 4.2. A follow up to the 4.0 and 5.0, the Galaxy S 4.2 is essentially and Android phone without the phone.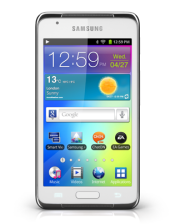 The Galaxy S 4.2 is running on a 1 GHz single-core processor and will ship with Android 2.3 (Gingerbread). Like its predecessors, the media player will support a variety of audio and video formats and will have full access to the Android Market and other Google services.
The 4.2-inch 480 by 800 resolution display will give you some room to watch movies and play games, and you'll be able to wirelessly stream content to and from the device using Samsung's AllShare and Kies apps. Samsung is pushing the idea of the Galaxy S 4.2 as a gaming machine, though the lack of a quad-core or even a dual-core processor means that the Galaxy S 4.2 might have trouble playing more graphically instense games down the road.
While no official pricing or release has yet been announced, it would be safe to speculate that Galaxy S 4.2 will retail somewhere around the same price as the current Galaxy Players ($200-$240). Stay tuned to PCWorld.com for more news from the Barcelona based trade show.

For more blogs, stories, photos, and video from the world's largest mobile show, check out PCWorld's complete coverage of Mobile World Congress 2012.
This story, "Samsung Announces The Galaxy S 4.2 Media Player " was originally published by PCWorld.