Today, Panasonic announced their 2011 HDTV lineup, and they're emphasizing 3D and Internet-connected features across the both their LED and plasma TV models.
Viera Connect: New and Improved Internet-connected TVs
Panasonic changed the name of their Internet TV features from Viera Cast to Viera Connect. What's in a name change? In this case, a pretty significant amount: In addition to Internet streaming sources like Hulu Plus, Netflix, YouTube, CinemaNow, and Amazon VOD, Viera Connect also lets you watch archives from several sports sites (MLB, NBA, NHL, and MLS) as well as Web apps like Facebook, Napster, Skype, Ustream, and Gameloft. During their press conference they demoed Asphalt 5, a racing game from Gameloft that features an online multiplayer mode, and is playable with the stock Panasonic remote or a generic USB gamepad.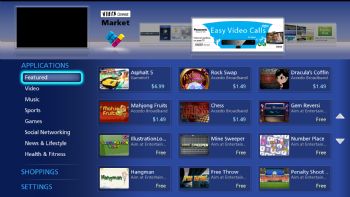 Perhaps the most interesting Viera Connect addition is the Viera Connect Market, which lets you download third-party apps to your TV to personalize your TV-watching experience. No word yet on what kind of apps we'll see in the market, or how the development process works, but if the Gameloft demo is any indication, this TV packs plenty of power.
Panasonic's New Plasmas: 3D Everywhere
Panasonic is known for plasmas, and their three new plasma series all have the new Viera Connect features and support for active-shutter 3D (one pair of glasses included).
A also have the new Infinite Black Pro 2 Panel, which creates "more subtle, delicate blacks" than last year's TVs, as well as improved 3D images thanks to new crosstalk reduction circuitry, filters that block out ambient room light, new phosphors that boost the TV's light output by 30%, and an overall power consumption cut of 25%.
At the high end is the VT30 series (55-inch and 65-inch). Following that is the GT30 line (50-inch, 55-inch, 60-inch, and 65-inch) and ST30 line (42-inch, 46-inch, 50-inch, 55-inch, 60-inch, and 65-inch). Expect to see these TVs start shipping in the Spring.
New LCDs By Panasonic
In addition to their flagship plasma line, Panasonic is also continuing their LCD TV run, with both LED back-lit and CCFL back-lit LCDs in store for 2011.
Their high-end LCD line is called the DT30 (32-inch and 37-inch), and features the Viera Connect Internet TV functions, active-shutter 3D, and an LED back-lit LCD panel with a 120hz refresh rate. It's targeted at gamers, though they didn't explain why during the press conference.
After that comes the TC-L42E30, a 42-inch LED back-lit LCD panel with a 120hz refresh rate and Viera Connect support.
Finally, they're releasing a slew of low-end LCD models aimed at smaller size classes: the C30 (19-inch, 720p, 60hz), the E3 series (32/37/42-inch LED back-lit LCD panel without the full Viera Connect features), the C3 series (32-inch, 720p), the U3 series (32/37-inch, 1080p, 60hz), and the X30 series (32-inch, 720p, 60hz, comes with iPod/iPhone attachment kit).
Check out PCWorld's complete coverage of CES 2011.
This story, "Panasonic Expands Connected TV, 3D TV Offerings" was originally published by PCWorld.