SLIDESHOW
Then and Now: How Technology Has Changed Our Lives
Advances in technology have fundamentally changed these 11 aspects of everyday existence.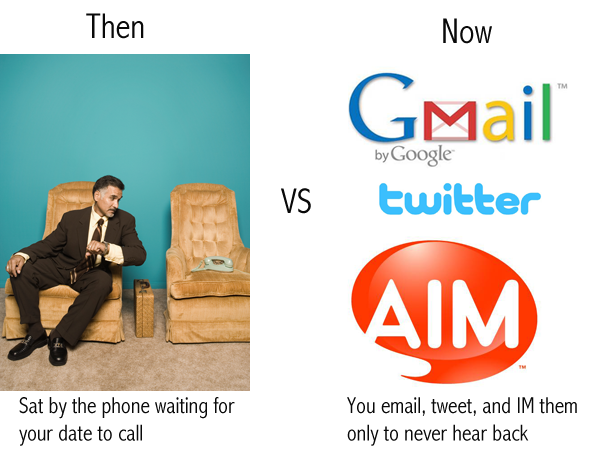 Dating
No more waiting nervously by the phone for us. Instead, we now wait nervously in front of the computer hoping that someone will IM, e-mail, or tweet us. If only these new technologies could make us better communicators, too.
Parents
In the past, if you didn't live at your parents' house, you largely controlled their visibility in your public life. But the parent-as-Facebook-friend phenomenon has changed all that. Now my wall is studded with embarrassing posts and my inbox is flooded with FarmVille invites.
From Four Square to Foursquare
Frankly I prefer playing four square over checking in on Foursquare. Maybe we should put this one in the "for worse" category.
Event Planning
In the olden days, if you sent out an RSVP invitation through the mail and received an acceptance, you could feel pretty sure that the person was going to attend. With Facebook that's often not the case: People are far more likely to indicate that they will be coming, whether they've actually committed to it or not. Let's just say if you're planning something important and you want a definite head count, using Facebook may not be the best way of getting it.
Flirting
Traditionally, many people in the pocket protector set were too self-conscious to recognize flirtation signals from interested parties. Nowadays we're too enthralled by our smartphones to notice others putting their moves on us--and since geeks have recently acquired a cachet of sexiness, this preoccupation leaves a lot of flirts unanswered. Maybe Microsoft was onto something with its Windows Phone 7 ads...
Computers
One of the benefits of having a technology go mainstream is that the cost of ownership for related products drops dramatically. Whereas you used to have to take out a small loan to buy a computer (and build a room to house it in), now you can get a decent all-purpose machine for less than $1000.
Opinions
Back in the days when cars had distinct bumpers, people used to plaster them with stickers that elaborated their views on controversial subjects in a few words. Today, Twitter seems to be the forum of choice for ranting, raving, and sharing stream-of-consciousness insights. It may be great way to express yourself, but it hardly guarantees that what you express is great.
People Talking to Themselves
In the past if you approached lone pedestrians talking loudly and gesturing emphatically, you would probably have given them and their invisible friends a wide berth. Now when you see people talking to themselves, you tend to assume that they are using a Bluetooth headset.
Horror
People used to rent scary movies to satisfy their morbid curiosity or their need for visceral shocks. In the Internet age, scary movies have to compete with the likes of 4Chan and the horrors it produces. Remember: What you see, you cannot unsee.
Next Up: Check out these related slideshows
Today's Best Tech Deals
Picked by TechHive's Editors